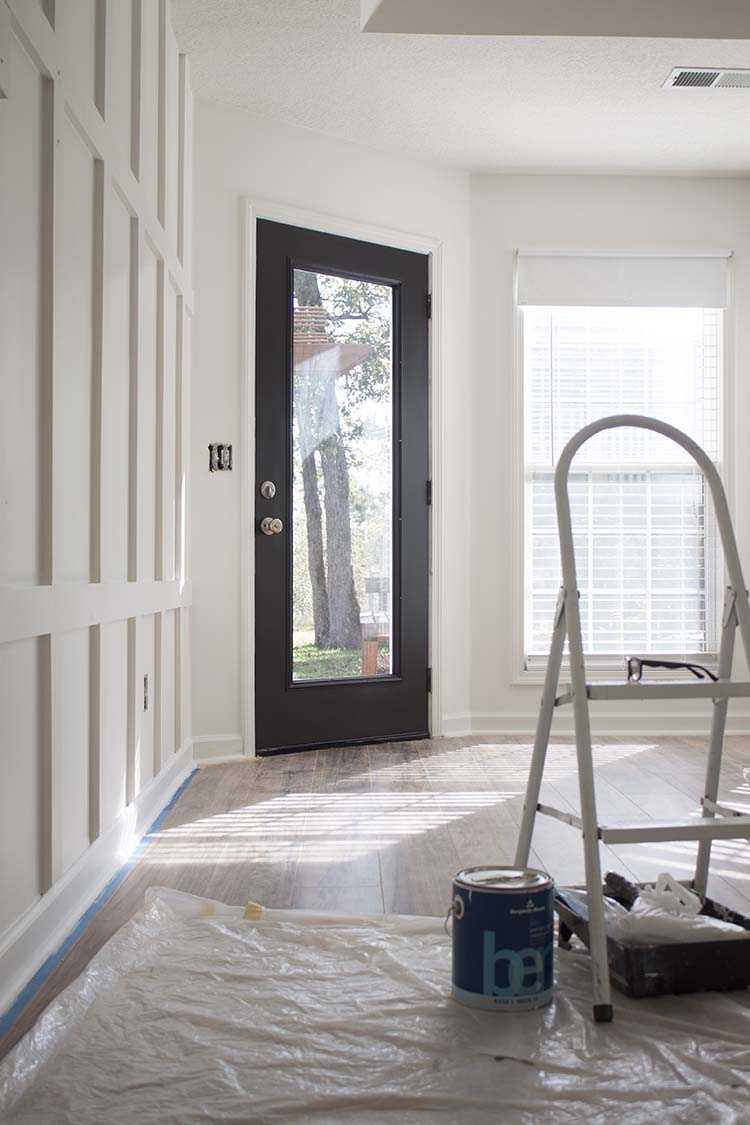 I'm not going to imply that the One Room Challenge is cursed, but I might be! I completely missed the week 2 master bedroom makeover update because of a hurricane which, by the time it reached us, was just a tropical storm. (I am happy to say that the Fancy Farmhouse Coop made it through its first severe storm completely unscathed!)
My first One Room Challenge, our modern farmhouse laundry room, was the most challenging makeover ever. Not because of the design process, but because of life. We did get through the second ORC successfully with the Teen Boy's Modern Bedroom Makeover which lifted my sails just enough to make me believe I could do it again.
Where We Started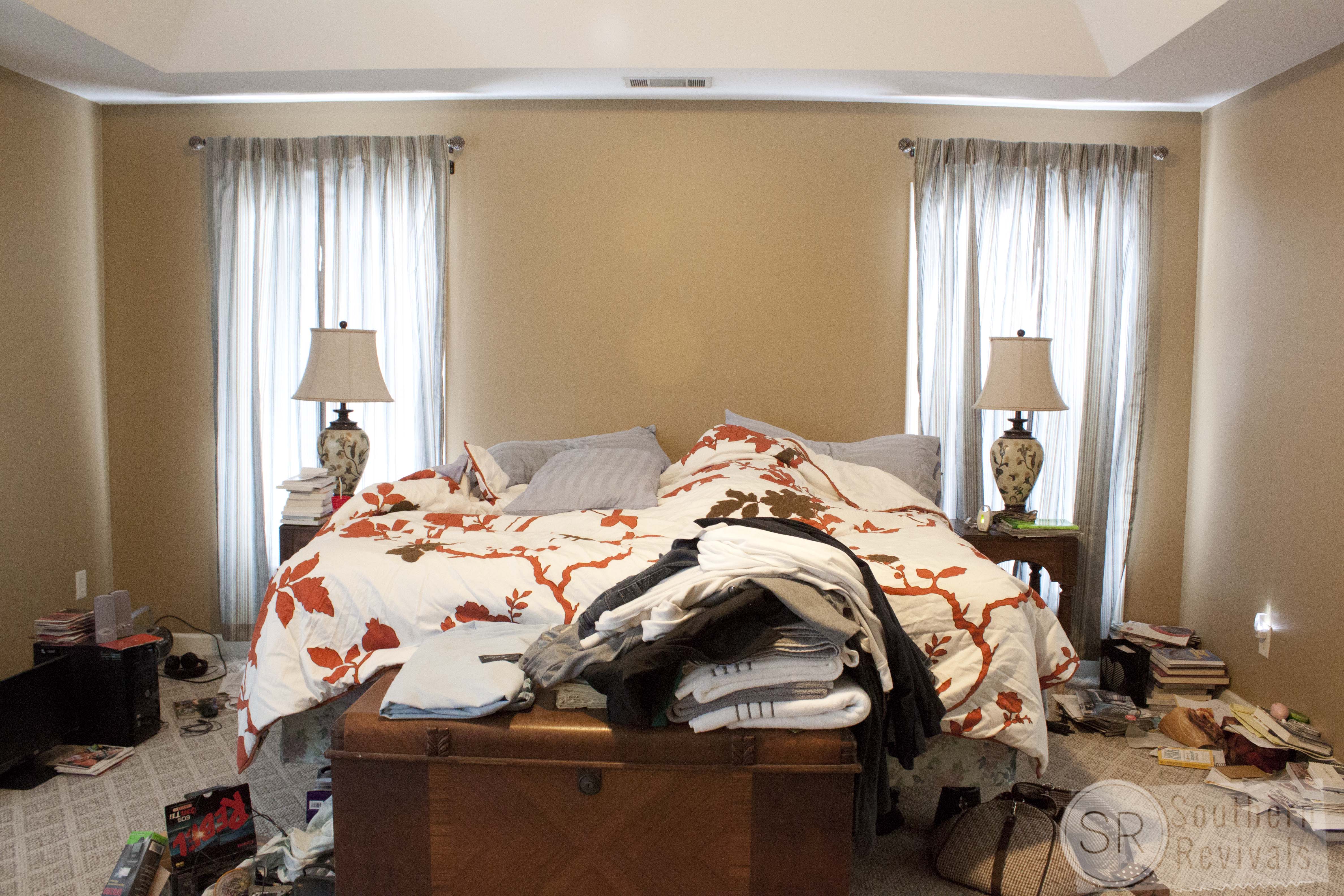 Here's a look back at where we started…sort of. Actually, when we moved in the floor was VCT tiles on top of linoleum and the walls were Lemon Sherbet Yellow with white stripes.
And when I shared the above pic for the first time I thought it might be fun to (and authentic) if I showed you what it was really like living through DIY projects. We had just finished our IKEA Billy Hack Built-ins Office Makeover and everything from our office was stored here.
Well, the resulting, under $500 master bedroom makeover, was featured on House Beautiful, Country Living, and Elle Decor and my authenticity did not go over well. That's when I learned to stop reading the comments section and just enjoy the honor.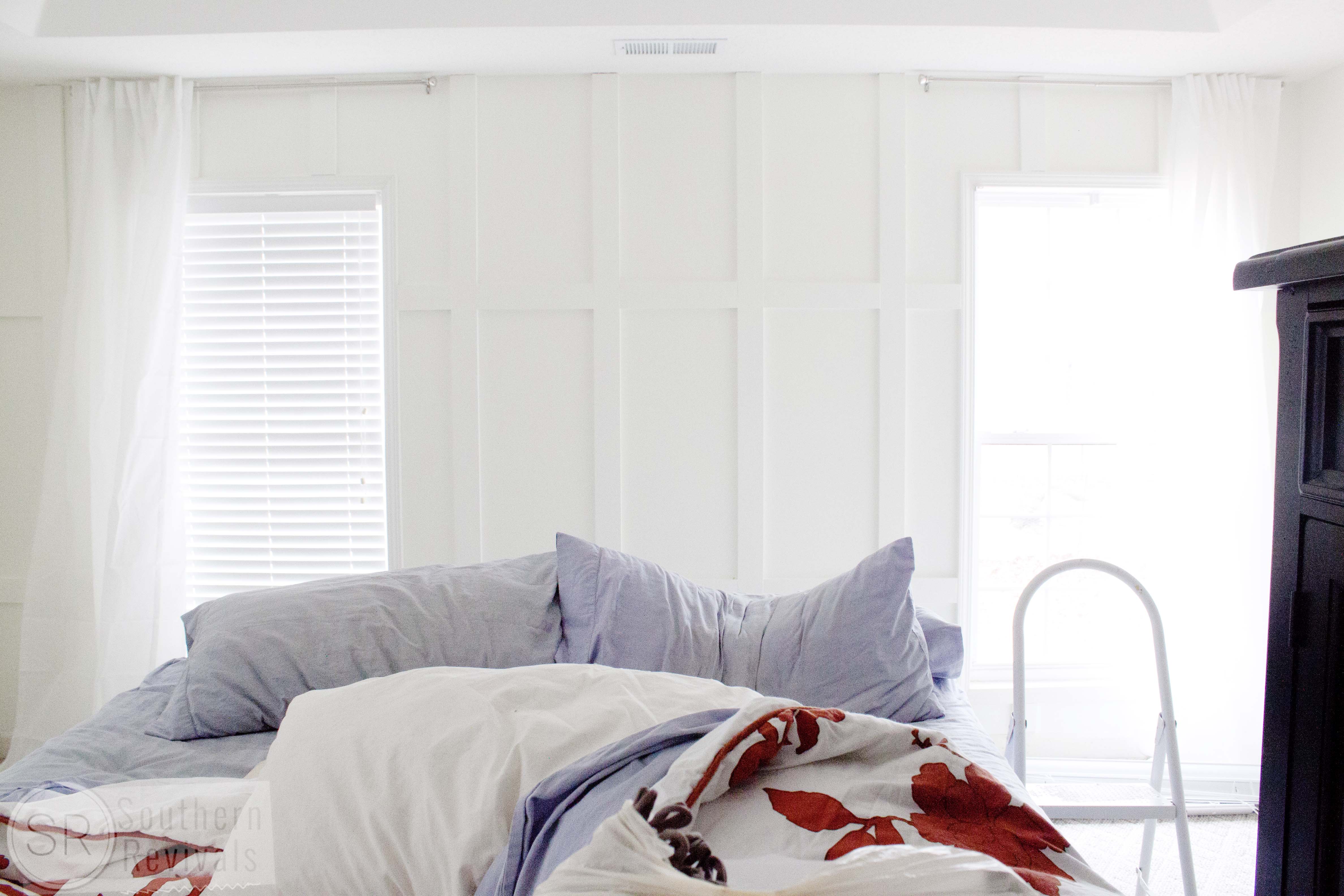 That aside, the decisions I made to brighten up the walls and add interest with our faux board and batten treatment are still holding up 5-years later.
What We've Done So Far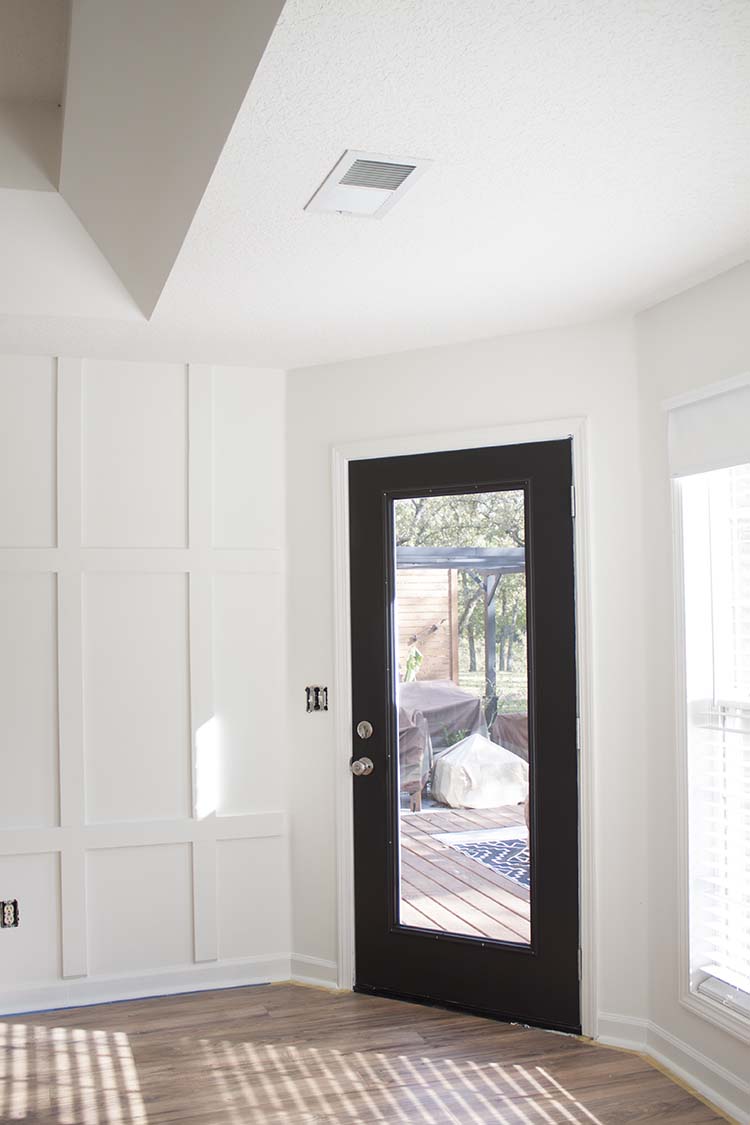 I did repaint the walls white…again. I know that sounds ridiculous but he first time I painted the room I used a white with a very heavily green undertone which I didn't realize until it was too late. I've lived with it for years and it was time for a change.
We finished installing our beautiful and modern farmhouse laminate flooring and installed a new exterior door. I was nervous at first about switching out our 9-lite for a full-lite but I'm loving it so much. Last night I watched an entire herd of deer playing in the backyard. (Btw, that's your second sneak peek at our backyard makeover!) And painting it black might've been my best idea yet!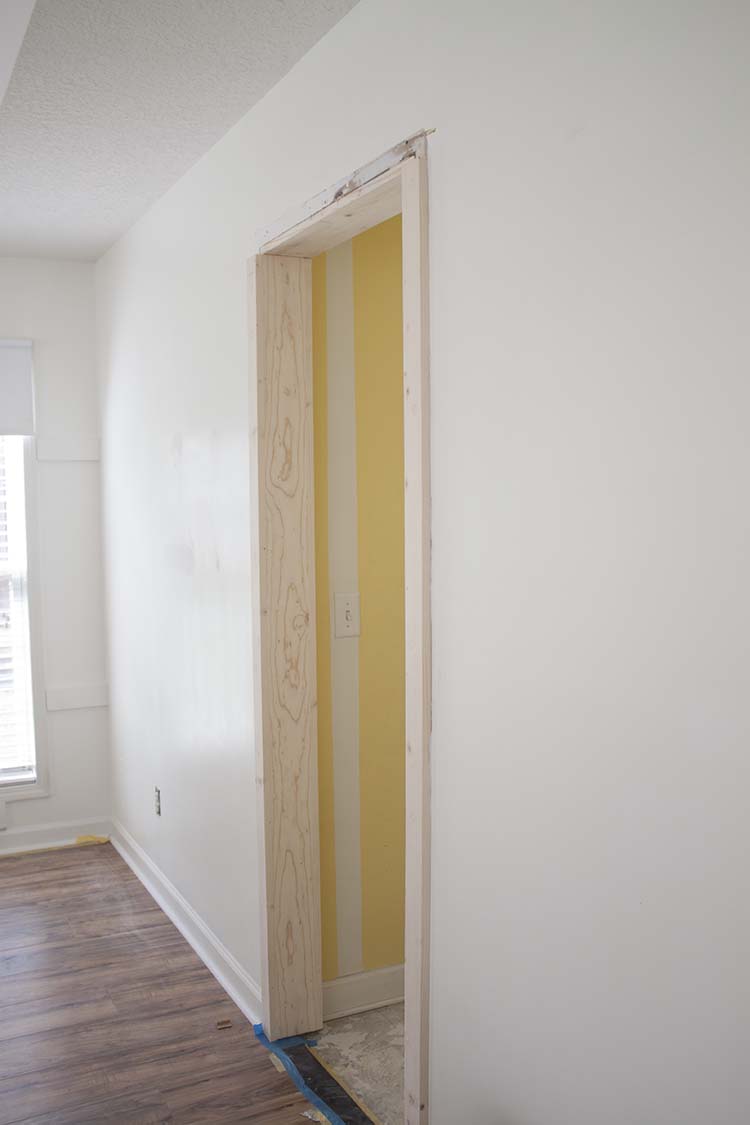 Speaking of black doors, we've torn out our old traditional door frame and built a new barn-door-ready one just like we did for the laundry room.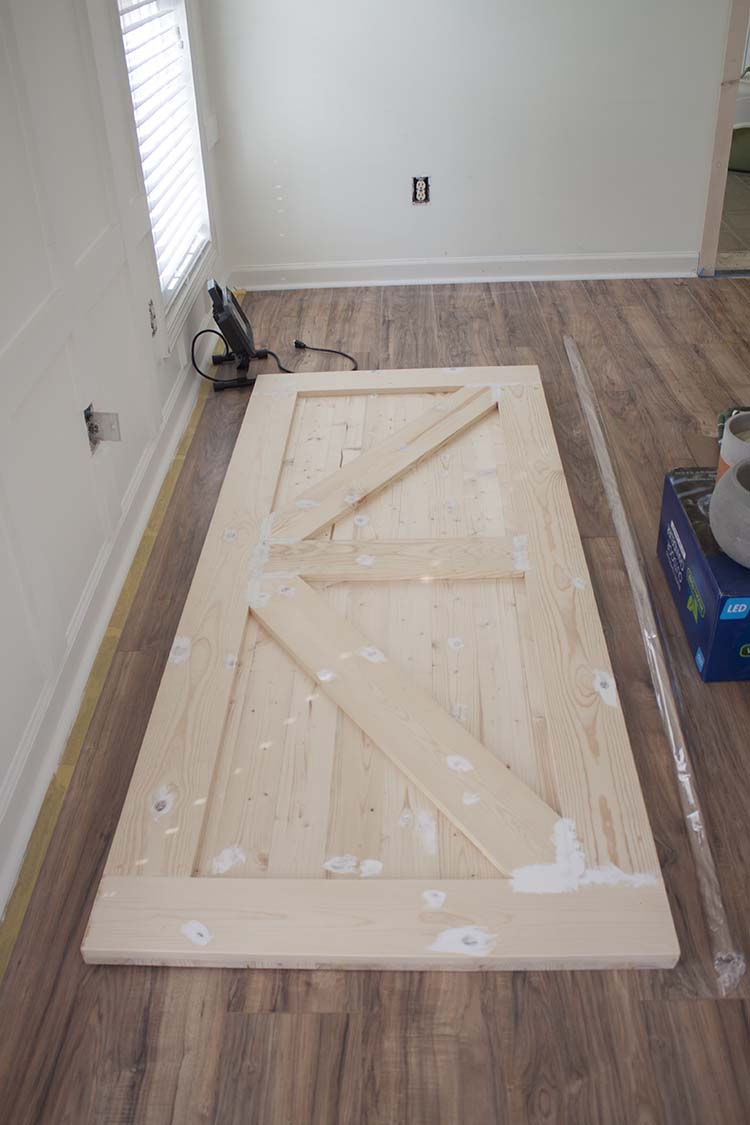 This barn door will hide our eyesore of a bathroom until we can get to the master bathroom makeover plan. It's patterned after our very first DIY barn door with some subtle differences and the installation is going much more smoothly this time thanks to all the things we learned the first time.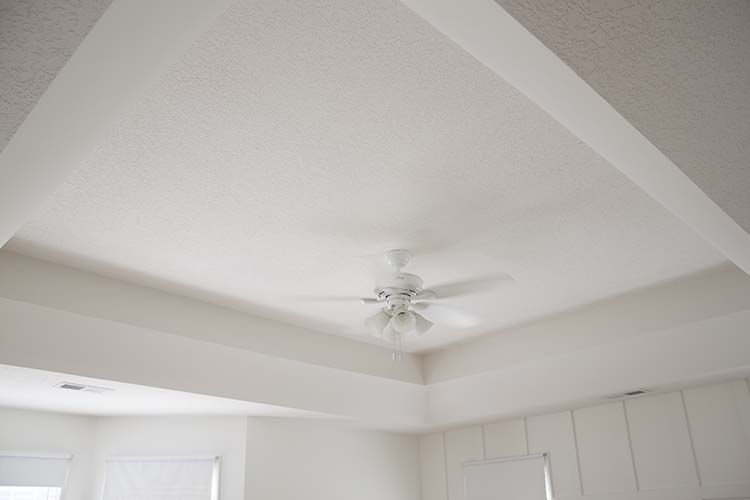 I am trying really hard to see how much we've accomplished in 3 short weeks but I'm so far away from halfway done that I'm really starting to panic.
We Still Need to…
BUILD AN ENTIRE BED!
decide whether we're leaving the ceiling as is or adding an architectural element.
find something special to replace that ceiling fan.
get a chaise.
find lamps that I actually like.
figure out our nightstand situation.
Decor – pillows, throws, and other pretty stuff that doesn't just feel like "stuff" and make me crazy.