This shop has been compensated by Collective Bias, Inc. and its advertiser. All opinions are mine alone. #HomeGatingHacks #CollectiveBias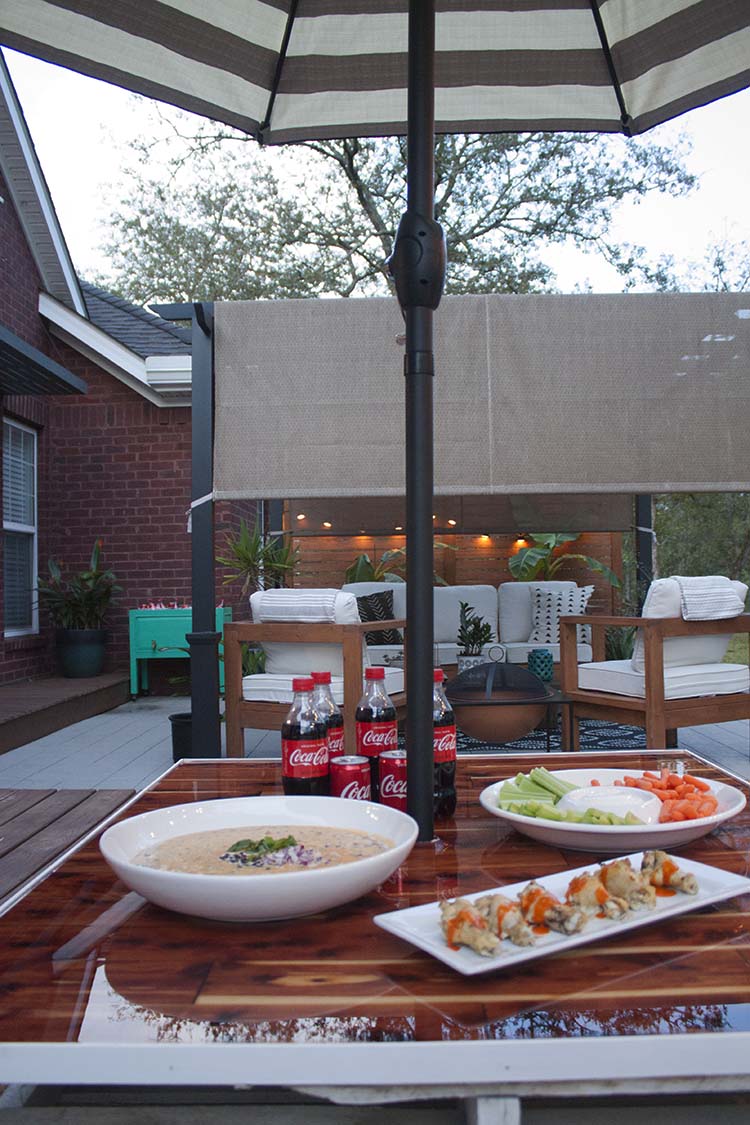 My weekends are spent at football games, band competitions, and teenage rock concerts. Sometimes there are also birthday parties. My birthday weekend was no exception. I took full advantage with a little backyard tailgating in our newly made over space. Here's our backyard makeover sneak peek, a Cowboy Queso Dip recipe, and my best laid-back backyard tailgating ideas.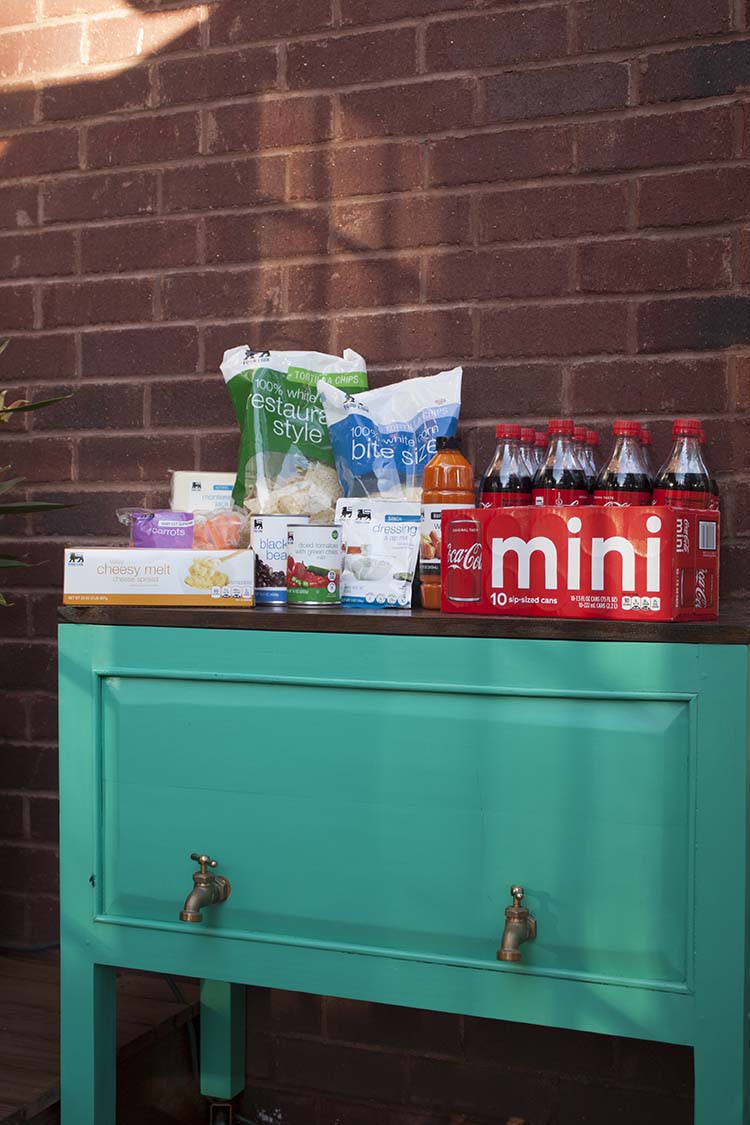 I can't be wrong thinking the best thing about football is the food, can I? And since I spend much of my weekends and, let's be honest, most of my week running here and there, a football watch party from the backyard, a.k.a. homegating is just about the most relaxing way to do it. Plus, it also means I get to plan the menu so I get to have all my favs!
I shopped at Food Lion using their MVP Rewards Program by activating my monthly offers from the Shop & Earn page on Food Lion's mobile app. You can also do that in-store at the kiosk. It personalizes my offers based on the things I buy. I earn rewards each time I shop with my MVP card, I can track my progress toward rewards from the Shop & Earn page and check my rewards balance from my MVP wallet. I have until the end of the month to redeem my points.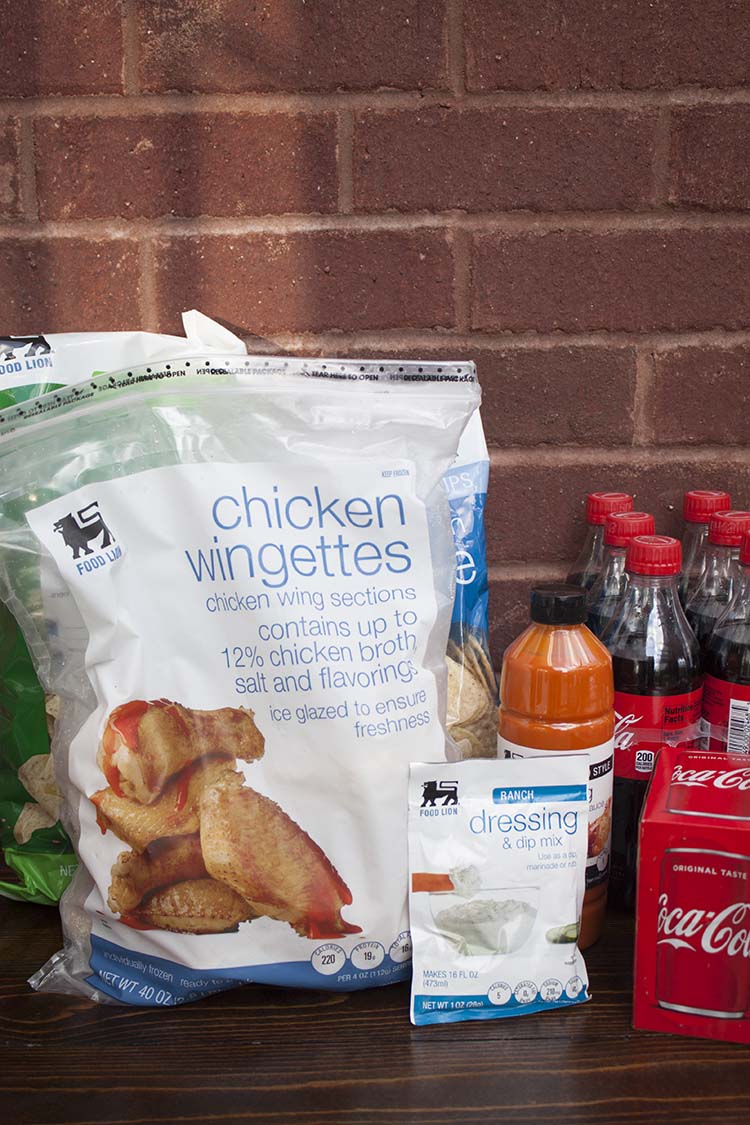 And I choose to redeem my points on homegating food! I chose the Food Lion brand Chicken Wingettes because paired with their Ranch dressing and dip mix as a dry rub, it only takes about 30 minutes for delicious hot wings.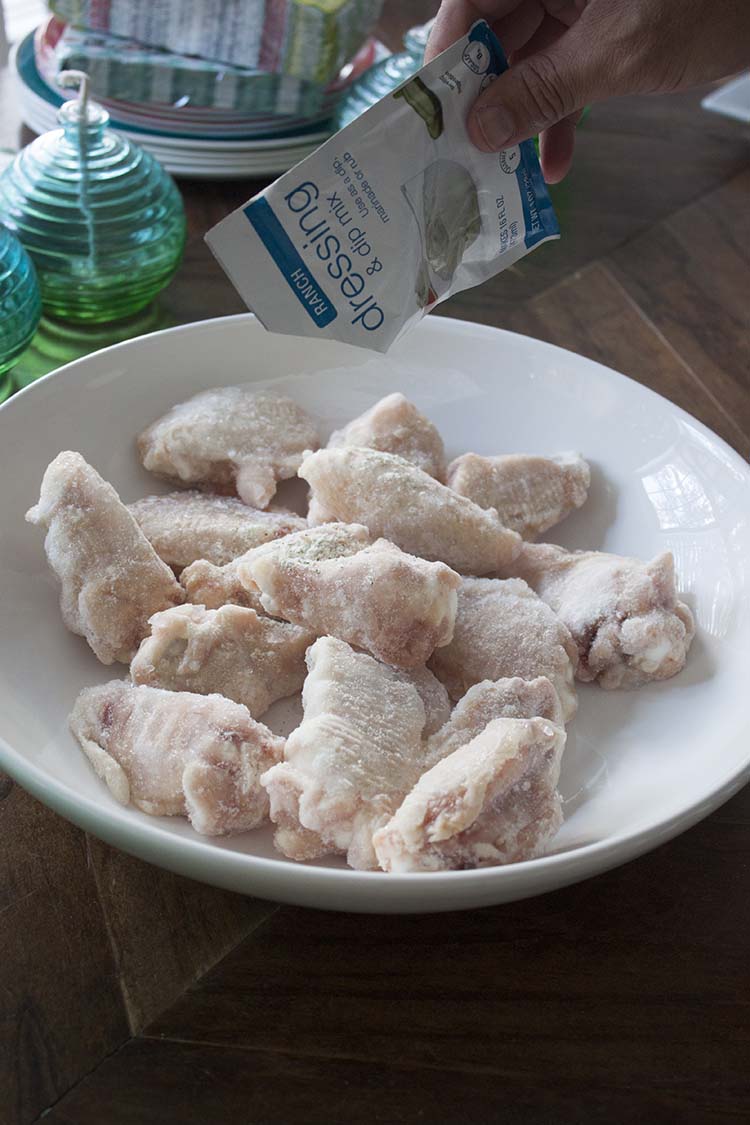 You just toss the frozen wings with dressing mix in a bowl, transfer to a baking pan, and bake. It's so simple! And you can do any flavor you like. Terriayki, anyone?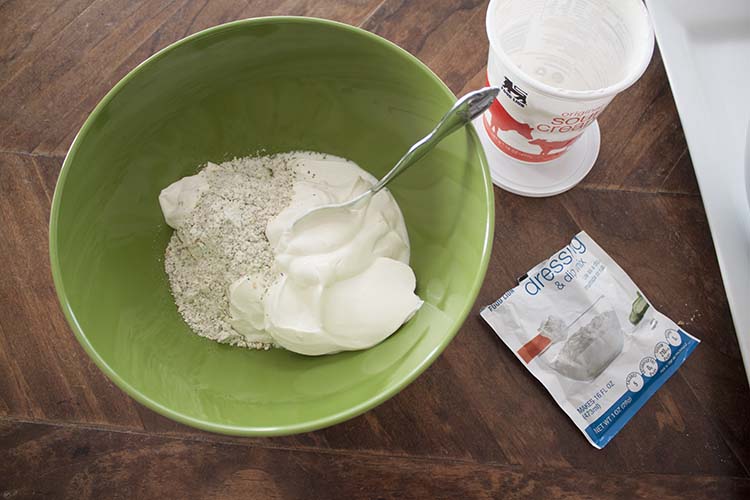 I also got some sour cream and mixed that with another Ranch dressing and dip mix to go along with those carrots and celery sticks because who doesn't love ranch?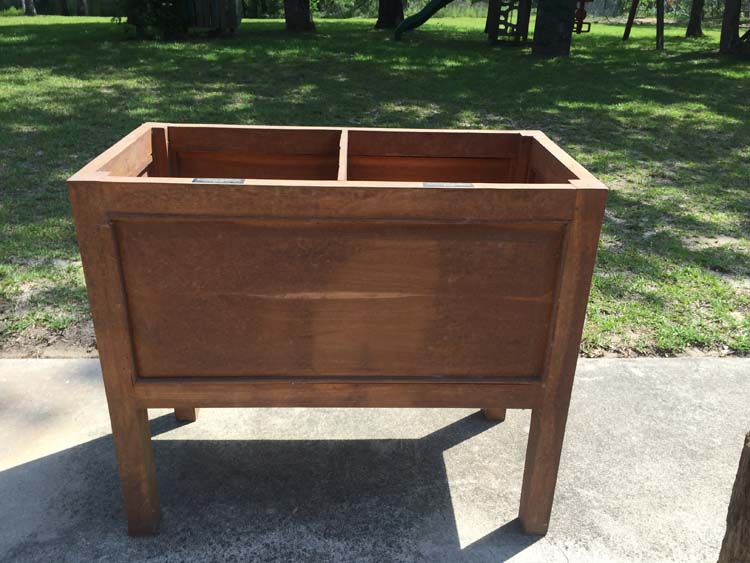 You might remember that planter turned cooler I made a while back? Well now that our backyard patio is complete (I mean just look how sad they both look above!), I can finally enjoy it in this pretty new space.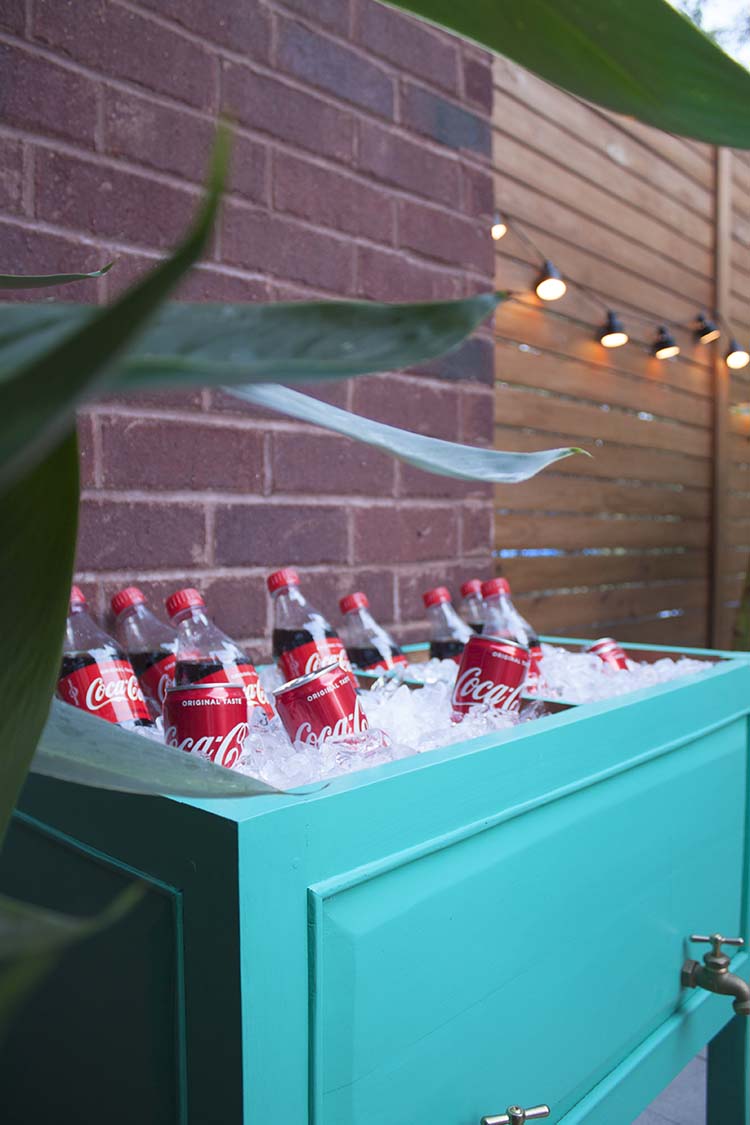 It makes the perfect beverage cooler! It takes a lot of ice to fill it up but it's like having a never-ending supply of beverage cooling power that I can just roll around anywhere. But once the ice does melt I can just turn those taps and use the water for plants or anything else. How cool is that?!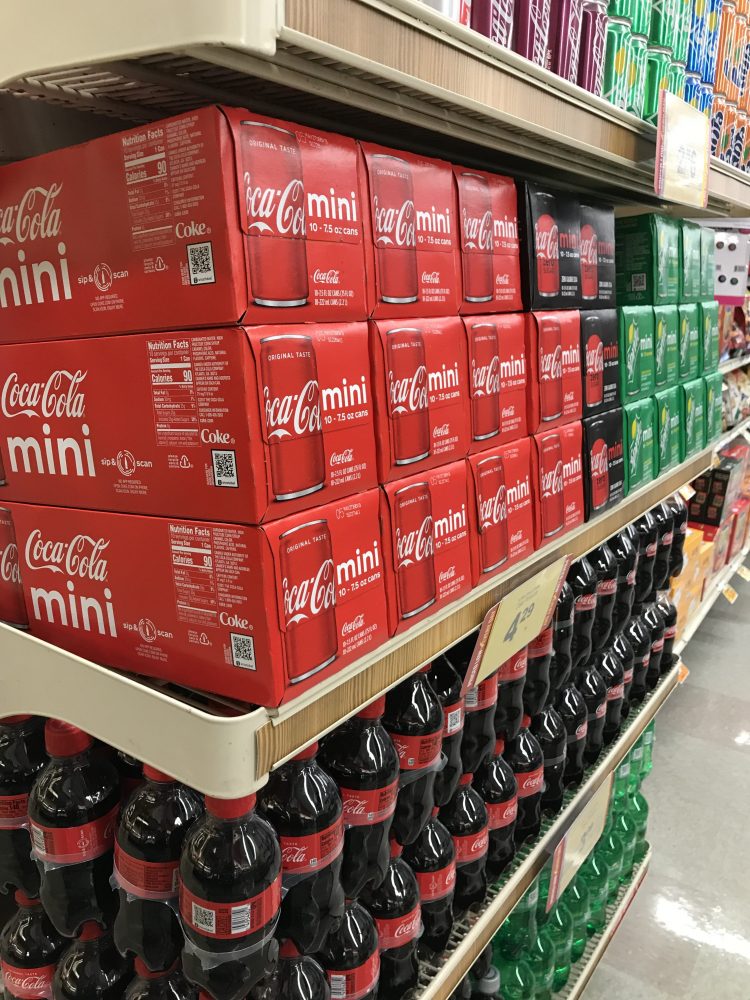 We love pairing our tailgating favorites with an ice cold Coke and we are not alone. I volunteer at concessions for our local high school football games and we sell more Coke and Coke Zero than anything else. There's a Coke for everyone and it's just synonymous with football. For our party, I got the bottles and the mini cans which are my personal fav because how cute are they?
Cowboy Queso Dip Recipe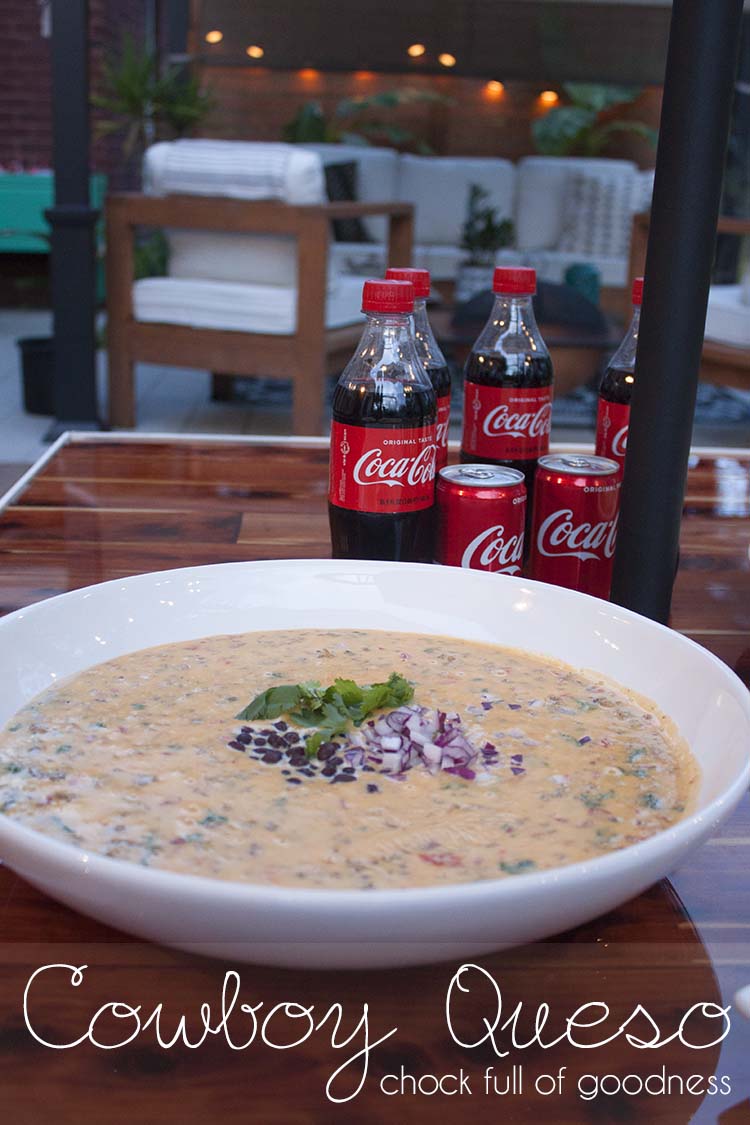 Cowboy Queso it an absolute must at our house for any occasion. Now I won't pretend that I'm the pioneer of Cowboy Queso but I will tell you that you won't find a more flavorful version than mine thanks to my special secret ingredient. Here's my recipe:

How to Make Cowboy Queso Dip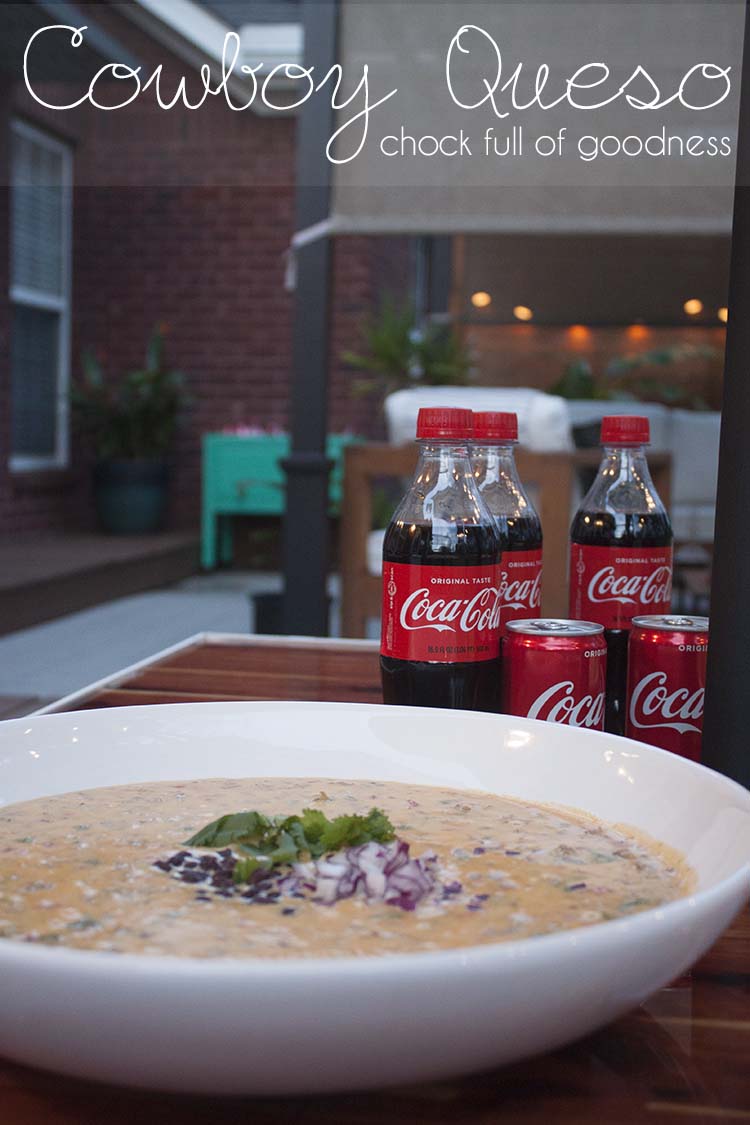 Ingredients
32 oz loaf FL Cheesy Melt, cubed
16pz block FL Monterey Jack, cubed
1 lb ground sausage
10oz FL Diced Tomatoes with Green Chilis
15.25 oz FL Black Beans, drained
1 Chicken Bullion cube
1 bunch cilantro stripped from stems and roughly chopped. Set some aside for garnish
1 small diced red onion or green onion,for garnish, if desired
Instructions
In a large pot, brown sausage over medium-high heat. Lower heat to a simmer.
Add in chicken bullion and diced tomatoes with green chilis. Stir until well combined and bullion is dissolved.
Stir in cheese cubes, heat until fully melted.
Add in black beans and cilantro. Stir until combined.
Garnish with onions, cilantro, and black beans.
Serve immediately with your favorite chips or veggies.
https://www.southernrevivals.com/cowboy-queso-dip-backyard-makeover-sneak-peek/
©Southern Revivals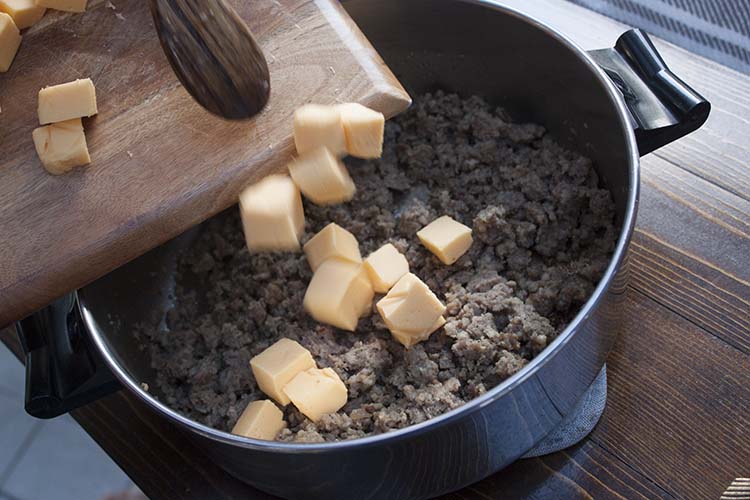 Start by browning your sausage into a medium to large pot.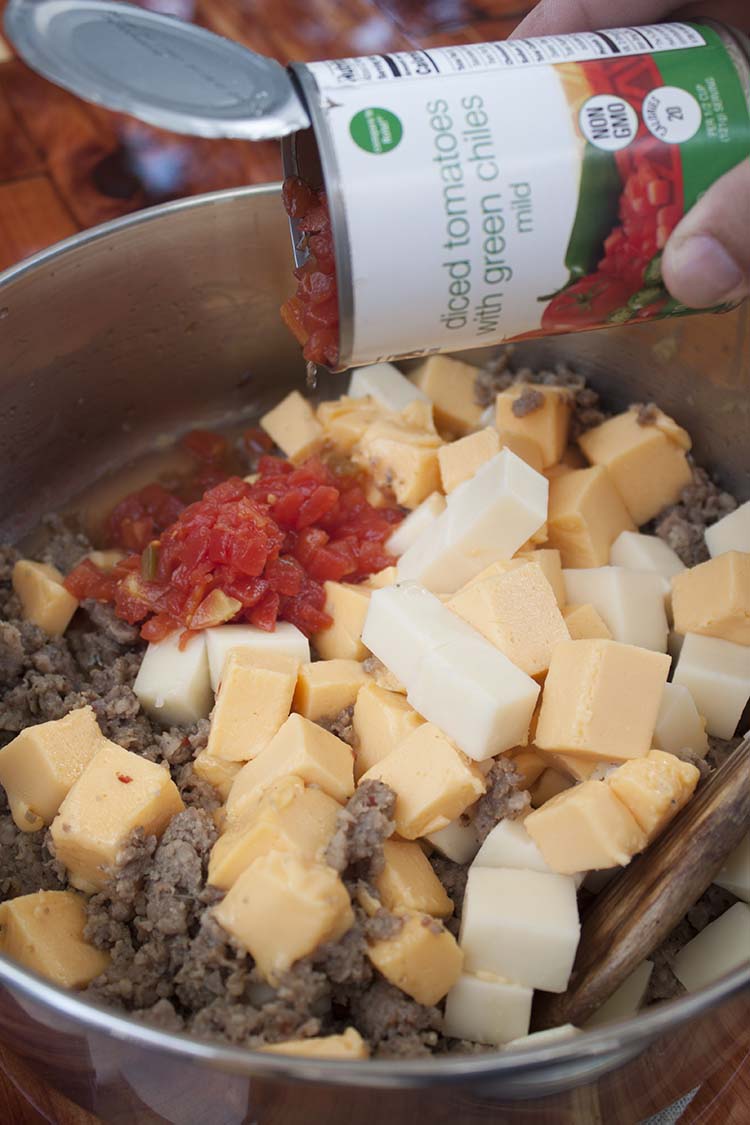 Then stir in the diced tomatoes with green chilis and my special secret ingredient, a chicken bullion cube, until dissolved. A couple of years ago I was at a Tex-Mex place in NYC and their queso had the most amazing flavor. I swore to myself that I'd figure it out. Then, the other day while working on another recipe with bullion, it hit me! That's the secret to super flavorful queso.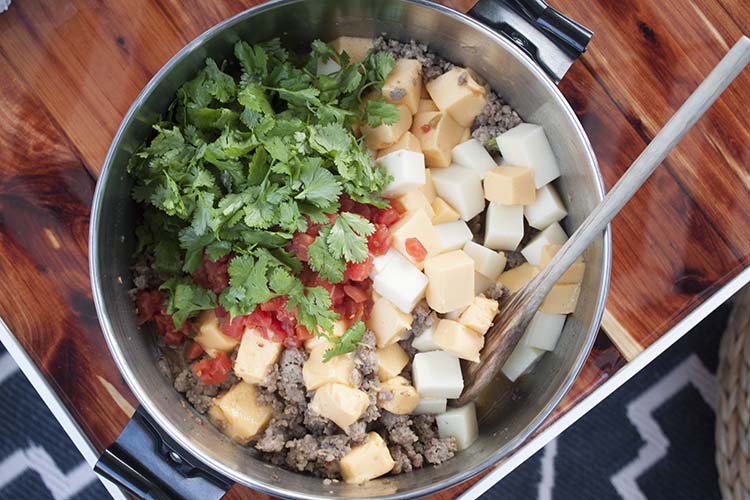 Mix in your cheese cubes with the browned sausage and stir until melty, add drained black beans and stir until heated through, then throw in a small bunch of roughly chopped cilantro leaves.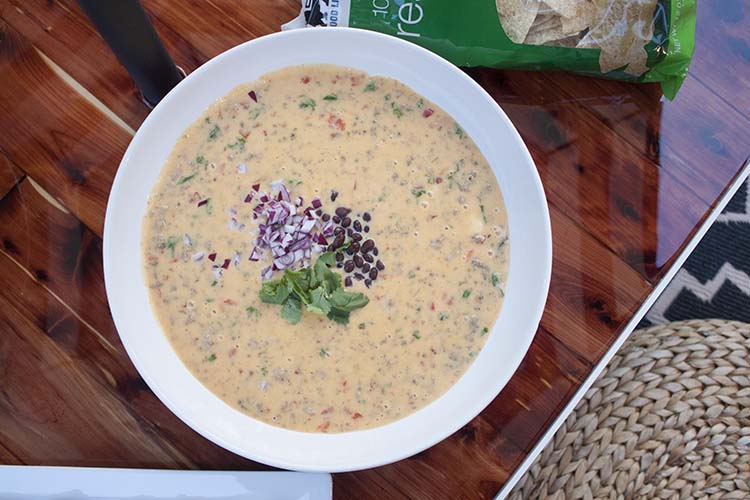 Garnish with reserved cilantro, onions, and a smattering of black beans. Serve with tortilla chips or veggies.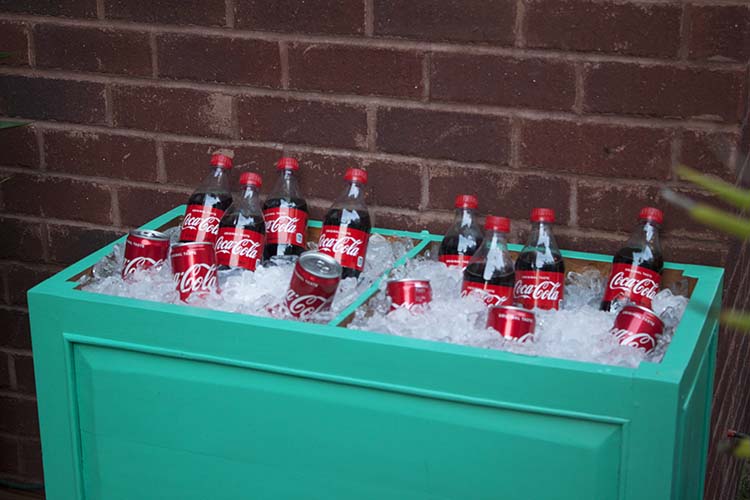 Pair it will your favorite Coke…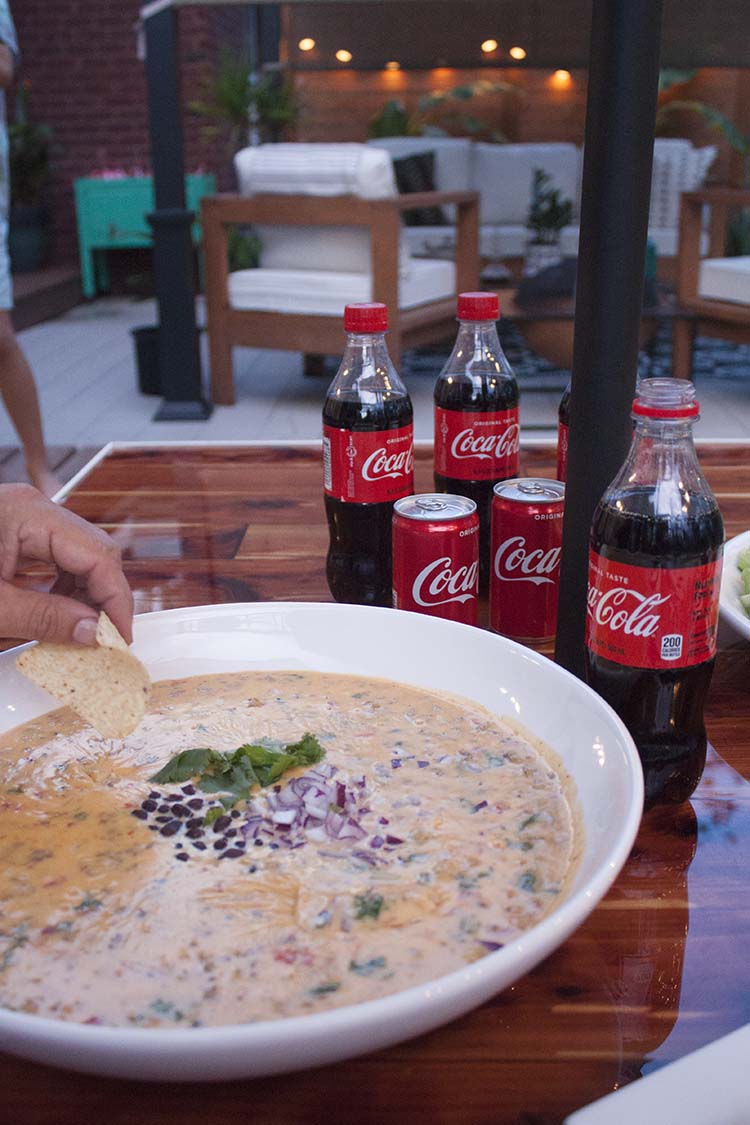 and take a dip! Or three.
I served the dip alongside baby carrots, celery sticks, and ranch wings drizzled with buffalo sauce. Easy peasy but so delicious. Recognize that table? That's right, it's my outdoor pallet coffee table with yet another outdoor makeover. I'll be sharing just how it got that smooth as glass top in a future post.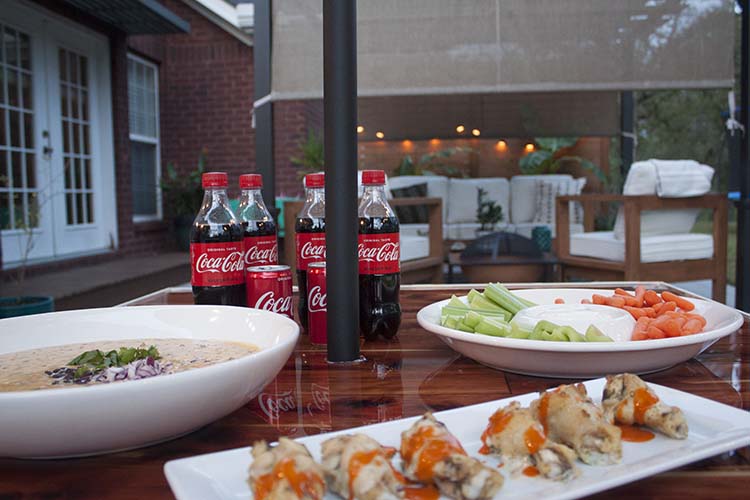 The rest of the backyard makeover posts will join our DIY Outdoor Bench and DIY Garden Trellis tutorials to show you how we pulled all of this off. And in case you missed it, see how we turned our plain concrete slab into a faux cement tile patio.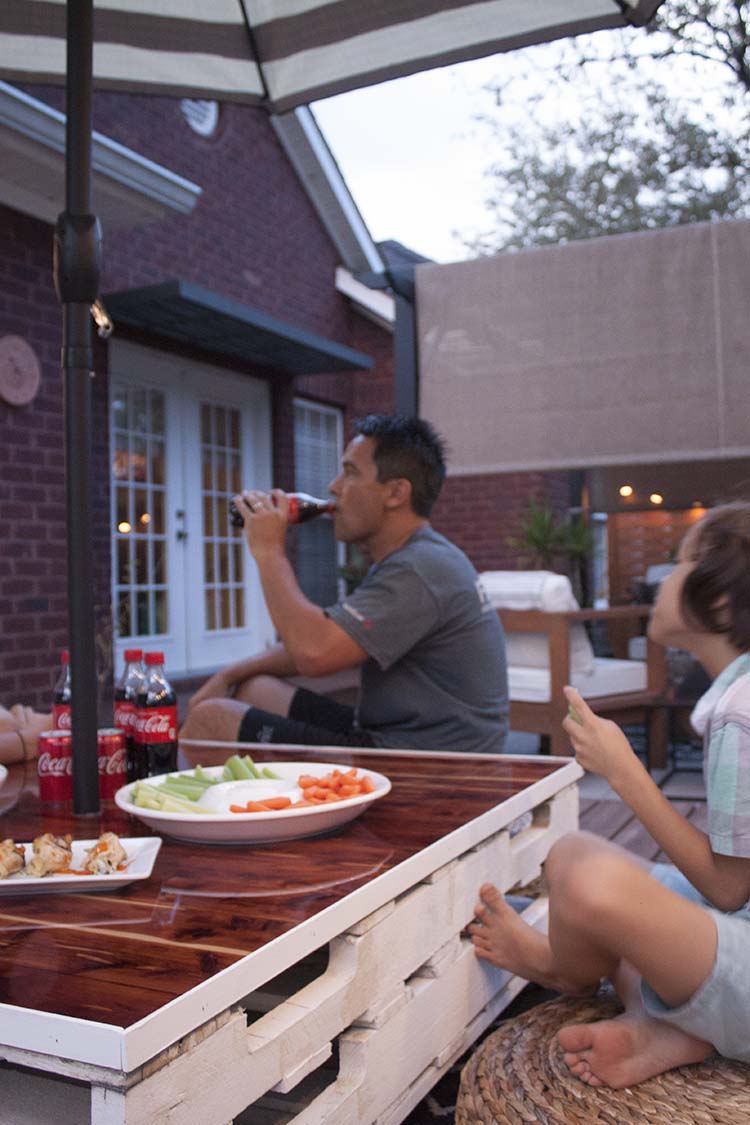 Because everyone needs an outdoor oasis to enjoy their favorite foods, beverages, and people! And don't forget to join the MVP Rewards Program to redeem your Food Lion MVP Points for your favorites.