This shop has been compensated by Collective Bias, Inc. and its advertiser. All opinions are mine alone. #LetsMakeSmores #CollectiveBias #sponsored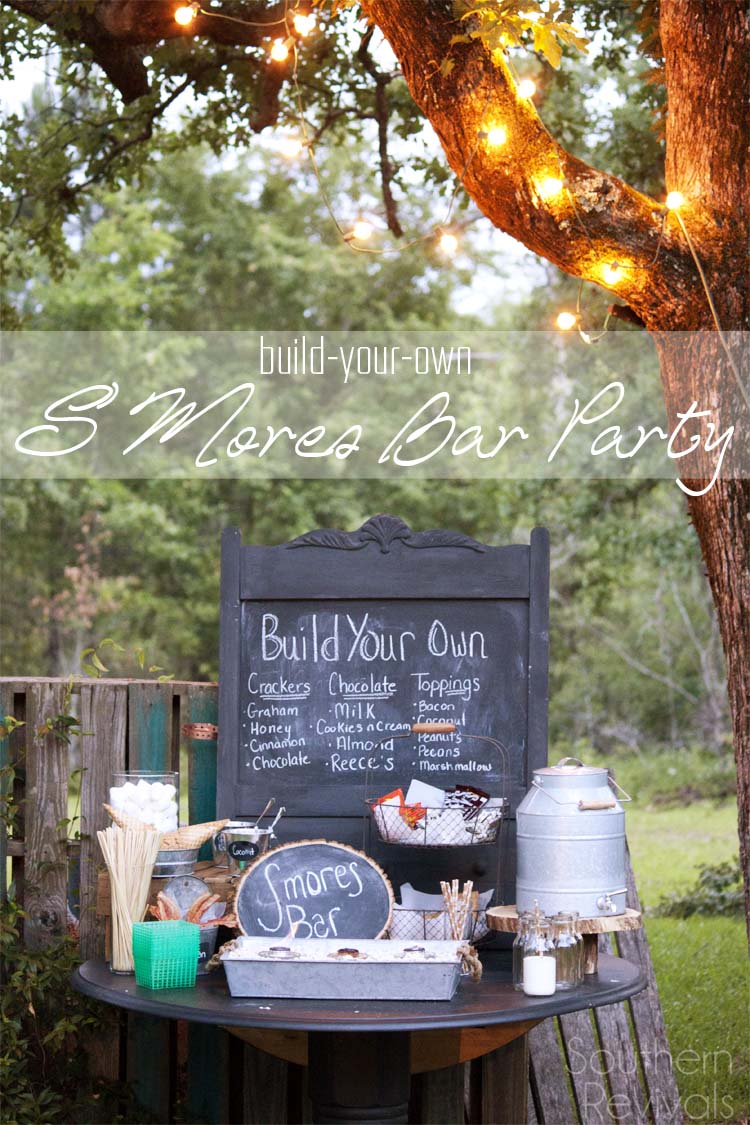 It's one of our favorite pastimes. In fact, I don't think I've ever met anyone who didn't love a S'More. My little camper returns from camp today and we're celebrating with a Summer S'mores Bar Party. Want to come? Tons of S'More combos, maybe even some you haven't thought of yet and a quick and delicious recipe for S'Mores cheesecake. Let's make some S'mores!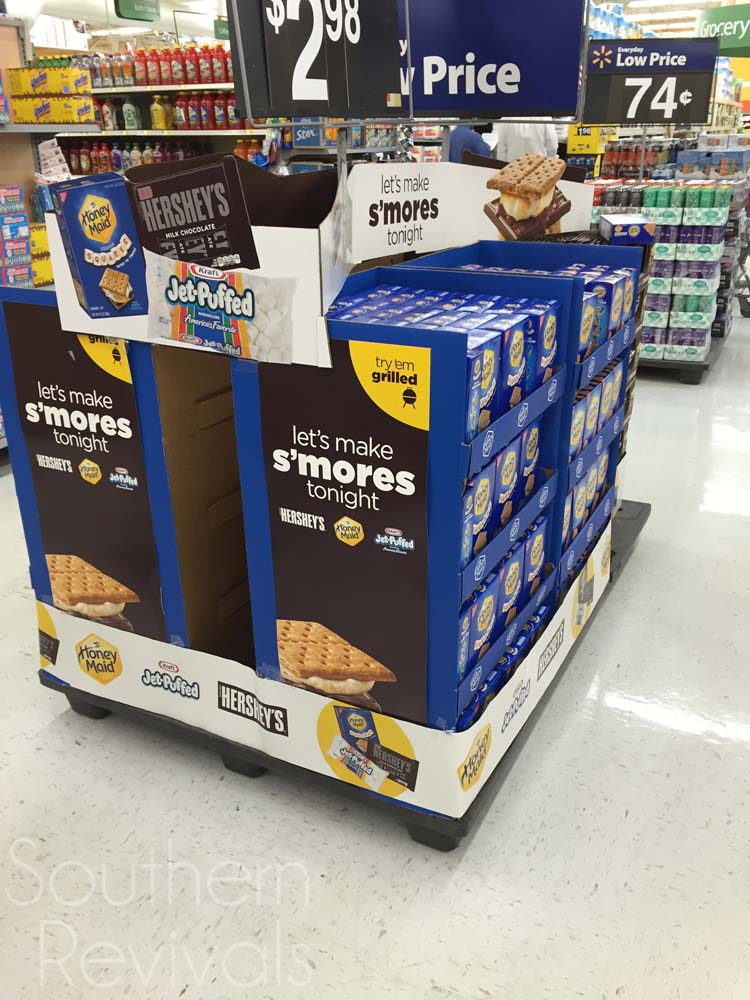 You know that special spot in Walmart where they've conveniently got everything handy for S'Mores making? I'll never forget how excited we were the first time we saw those square Honey Maid Graham Crackers. I think we might've stocked up on a few boxes just in case they were temporary.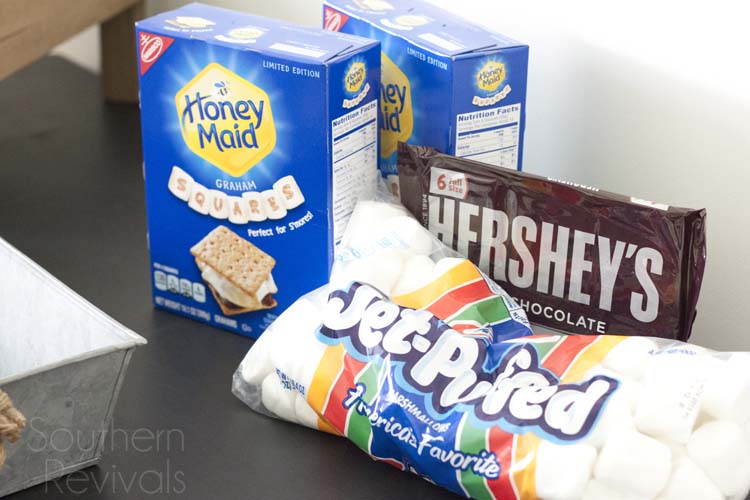 There is never a time, especially not during the Summer, that we don't have S'Mores making supplies on hand.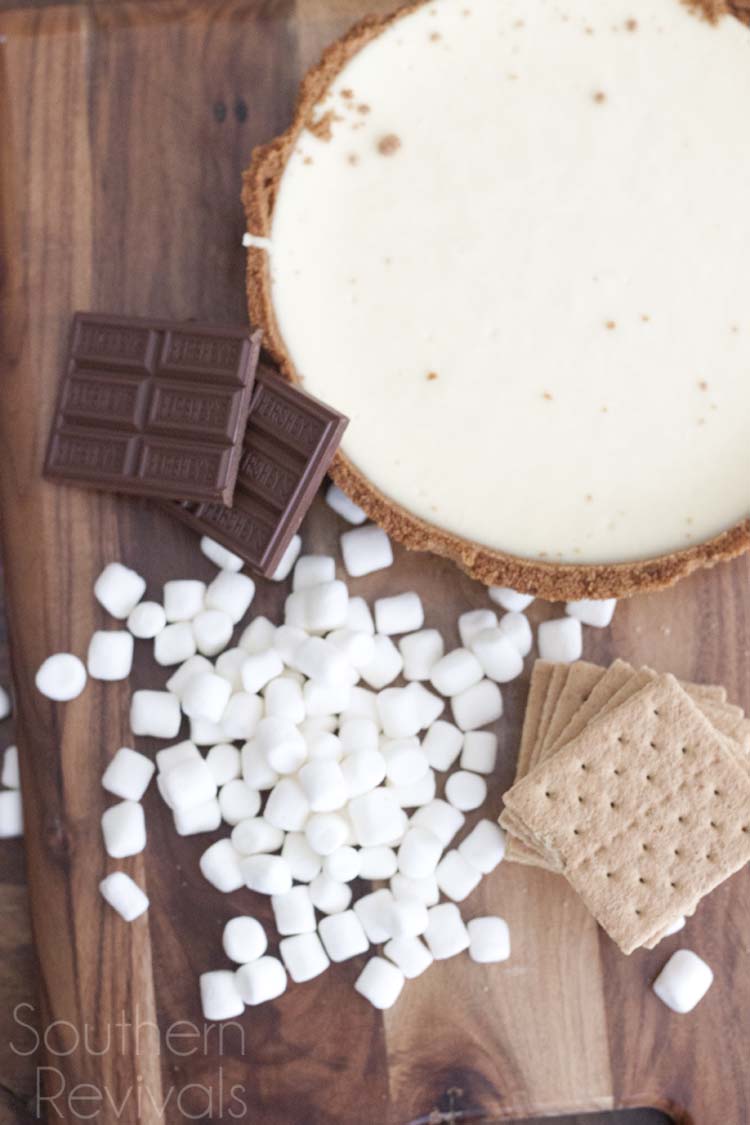 We spend a lot of time out of doors this time of year. And since we started building the boys a (unintentionally) giant clubhouse this week, we've found ourselves outside even more than usual. And when you're in the groove it's so much easier to BBQ or picnic than to have to go inside and prepare a meal. Especially since we've been working night and day to get this build done. We've worked up a major sweat by dinnertime.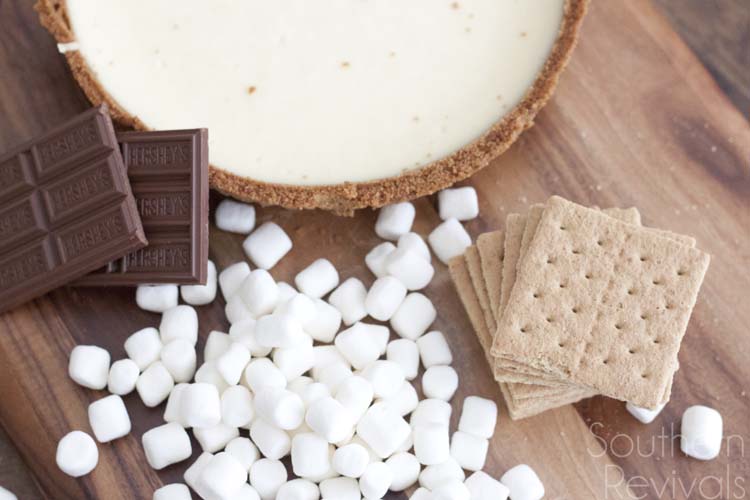 Tonight is extra special since our oldest will be coming home from his first camping experience and he'll be surprised to find that he now has a new clubhouse to play in. So naturally, we're celebrating with S'Mores.
S'Mores Bar Party + S'Mores Cheesecake Recipe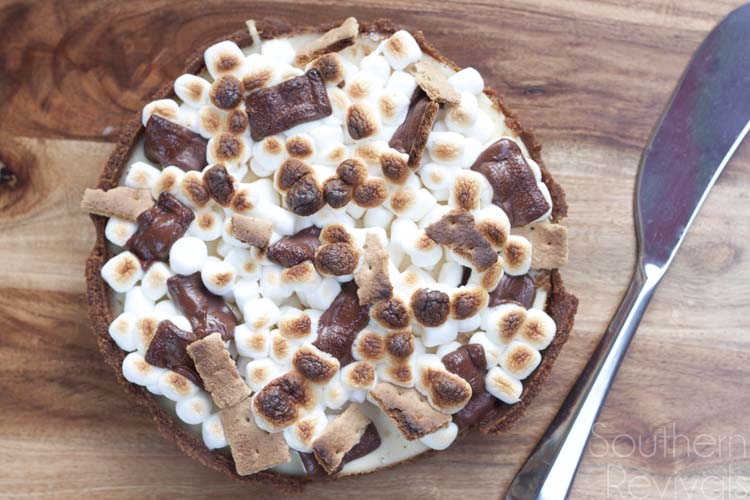 Ingredients
Cheesecake - I like this recipe
Jet-Puffed Marshmallows (enough to cover the top of pie)
Honey Maid Graham Squares (broken into bite-size pieces)
Hershey's Milk Chocolate bar (broken into squares)
Instructions
Have your prepared cheesecake in the frozen state prior to starting. This way it will hold up better in the oven.
Remove from the freezer and place approx 2 cups of mini-marshmallows on top of your pie.
Top with graham cracker and chocolate pieces.
Place under your oven's broiler (at least 6" away) and broil on low for about 2 mins or until marshmallows begin to brown and chocolate is melted.
Allow pie to continue to thaw until ready to serve.
TIPS: I like to prepare my pie in a tin with crust all the way up the sides for this recipe. It helps it to hold up better in the oven. Also, if you want to make sure all of the marshmallows get nice and melt-y, just place a sheet of tin foil lightly over the top of your pie for 1 min. Remove tin foil and allow to broil for 2 mins or until desired for a golden bubbly top.
https://www.southernrevivals.com/smores-bar-party-smores-cheesecake-recipe/
©Southern Revivals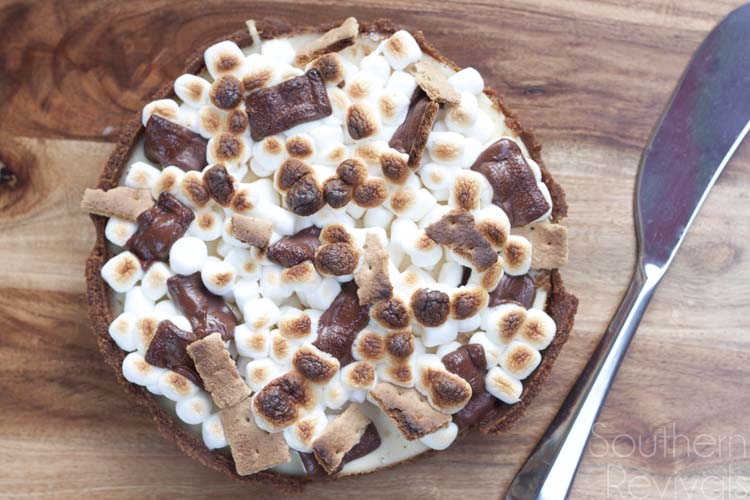 Then you get this. And this, THIS, is amazing.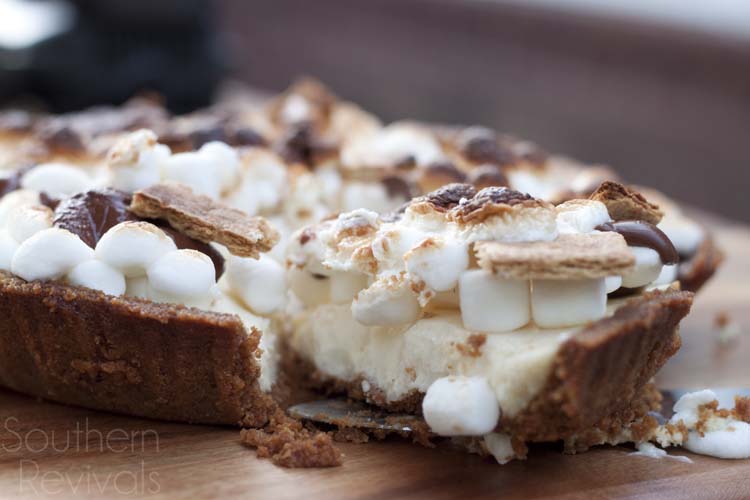 BBQ chicken, that Artichoke salad recipe I posted on Facebook the other day….and this, for dessert. It is heaven in your mouth!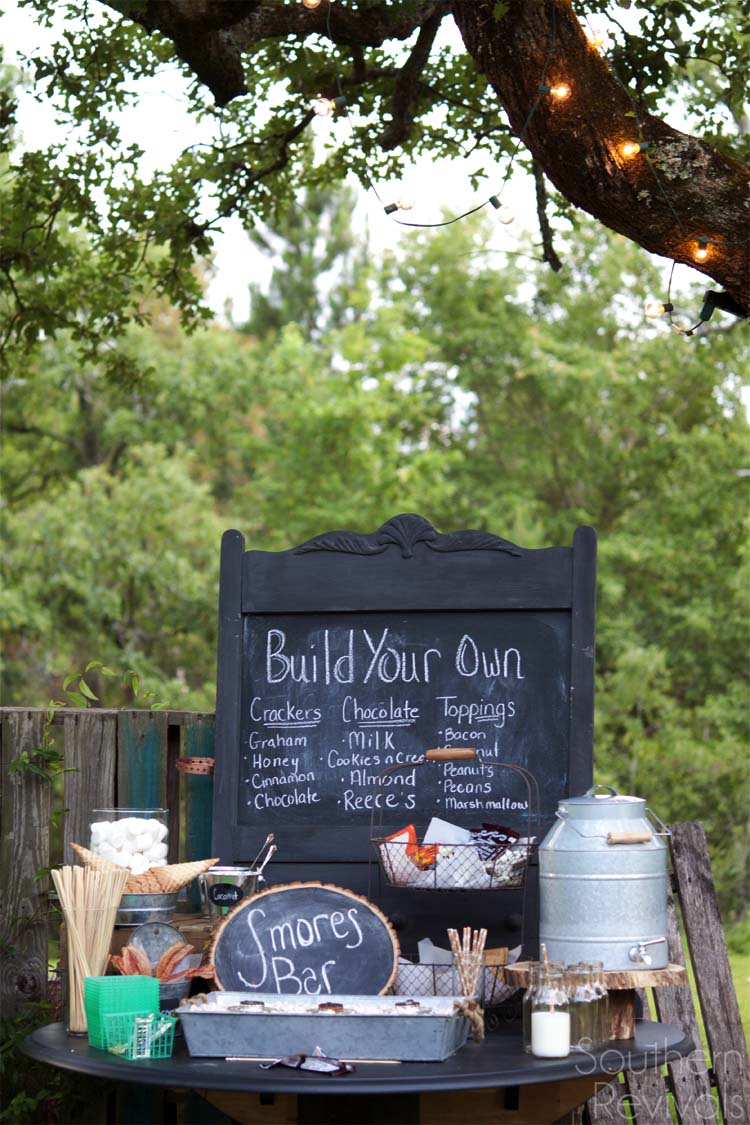 But a party just isn't a party, in my opinion, unless your guests can DIY their favorite S'More.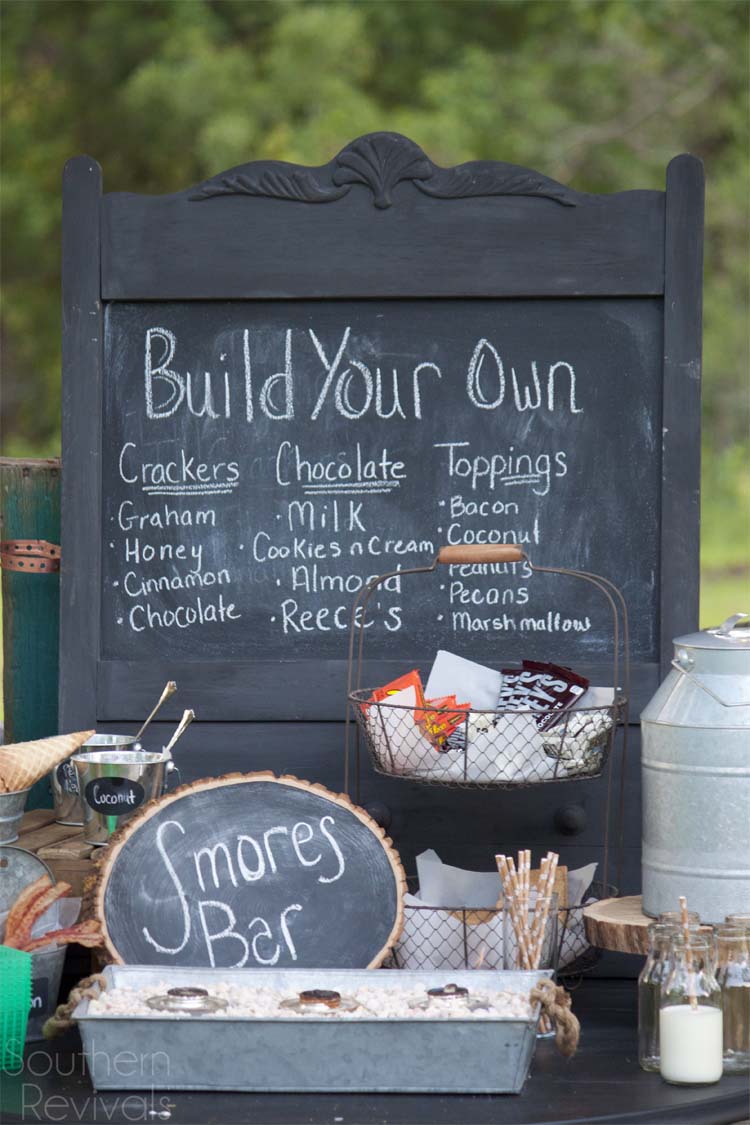 The combinations are as endless as they are delicious.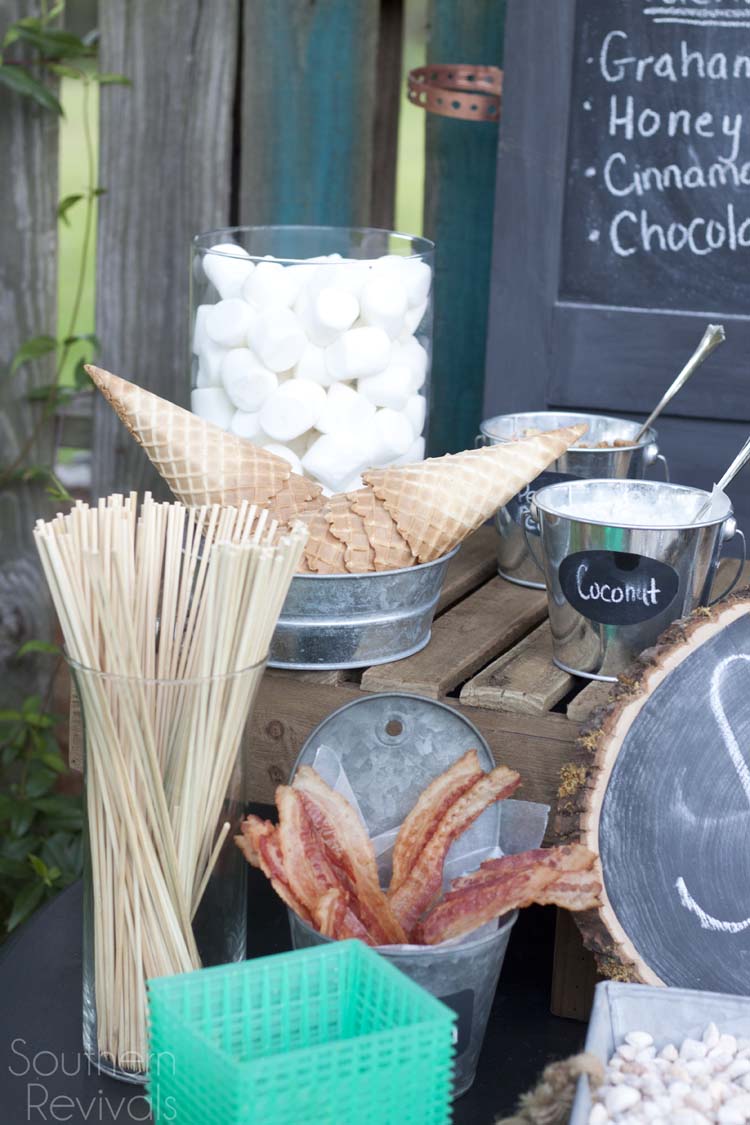 Yeah. You saw that right. It's bacon.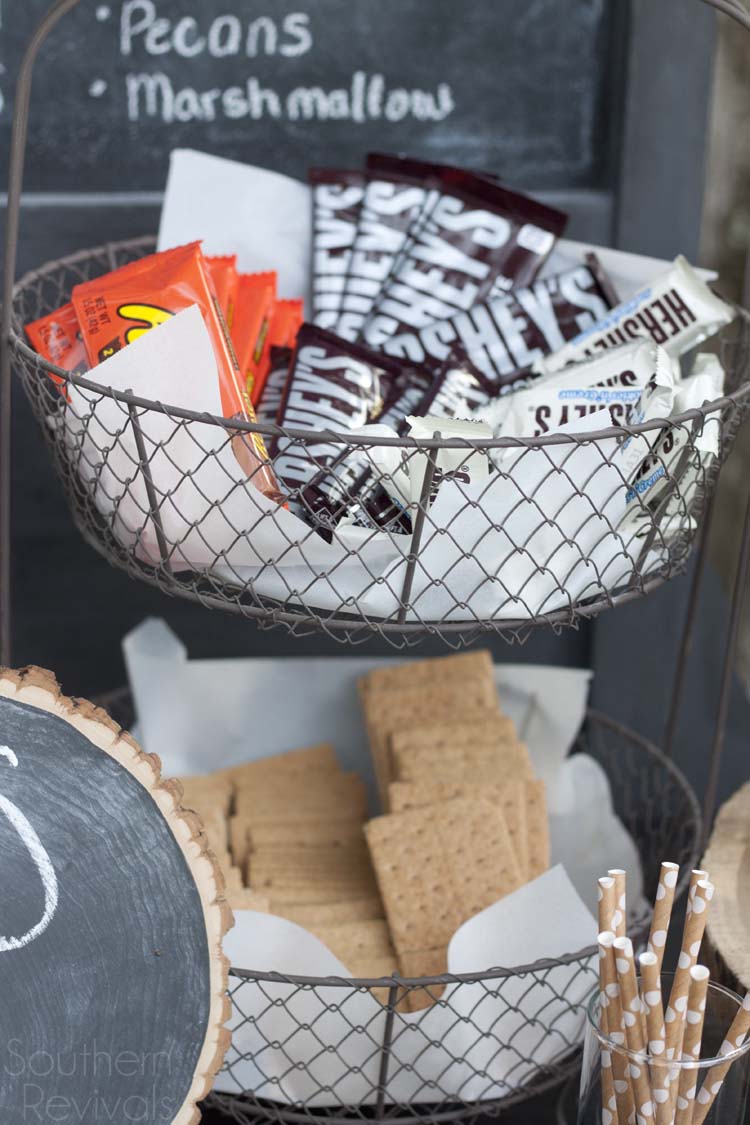 The ever delicious and always necessary, Hershey Milk Chocolate bar. But don't stop there, no ma'am!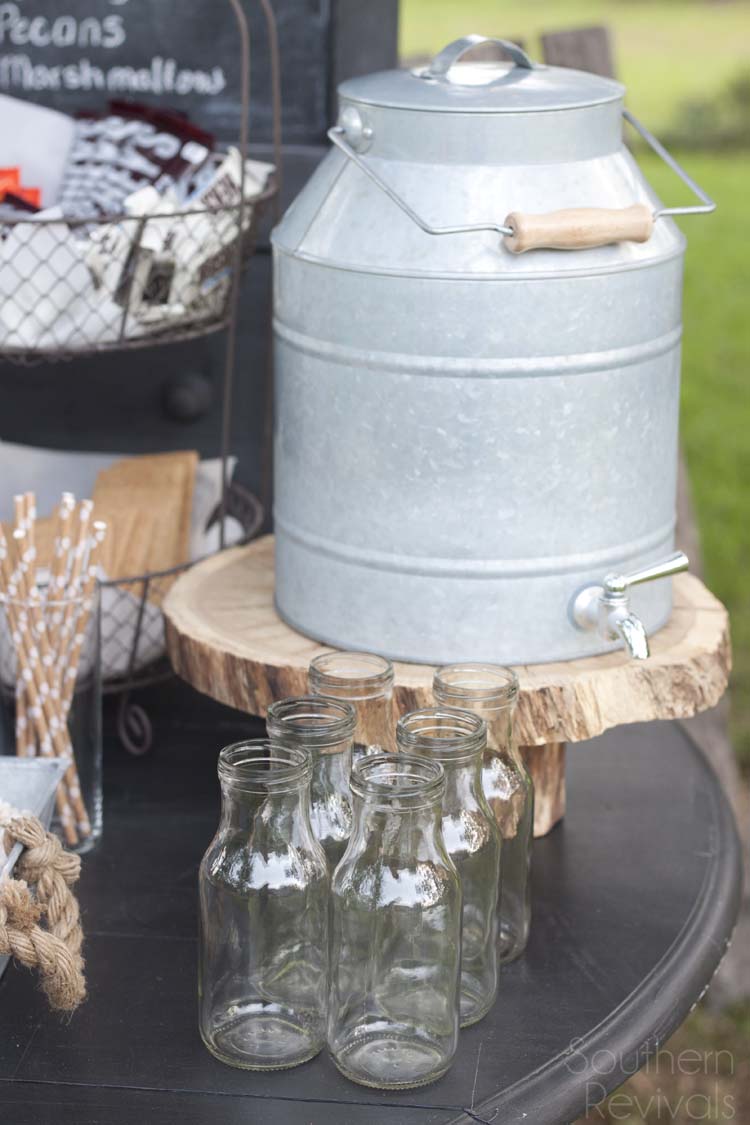 Must have some wholesome refreshments to wash it all down.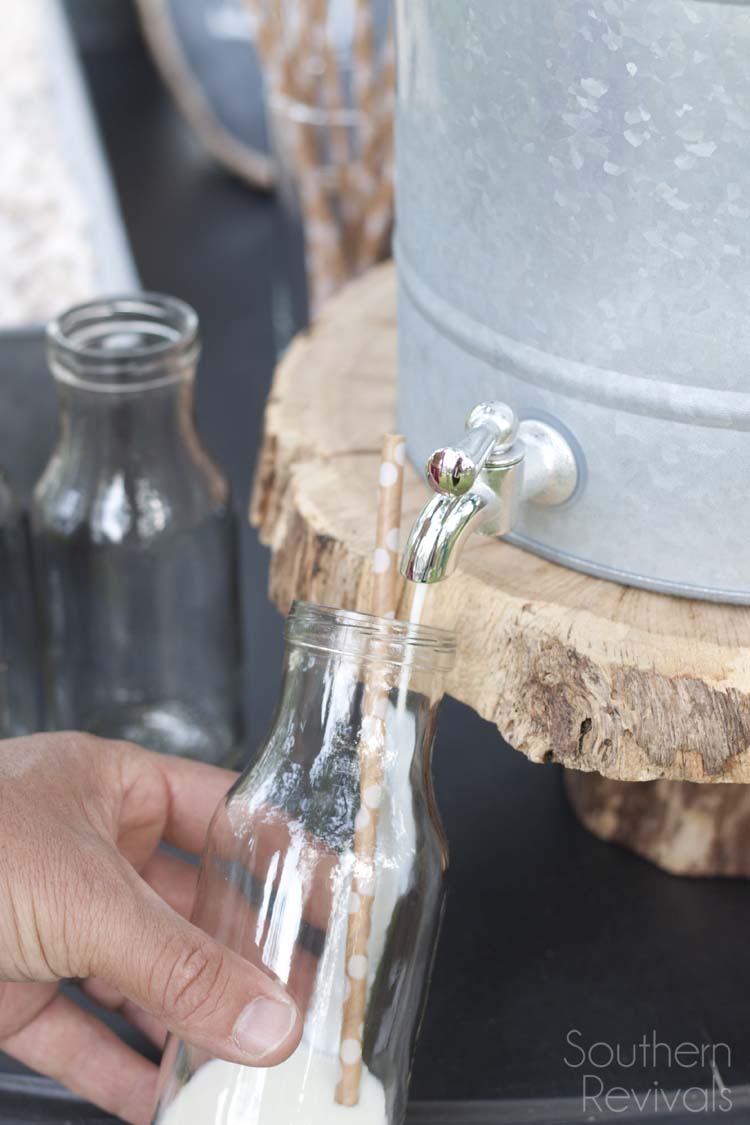 Or, if you're me, an excuse to use your new galvanized drink dispenser. I saw it when I was getting my S'mores supplies and I. Could. Not. Resist. And I always enjoy any excuse to use my recycled once-a-cold-coffee-beverage milk bottles. I thought it all looked great with my DIY Wood Slice Pedestal Stand.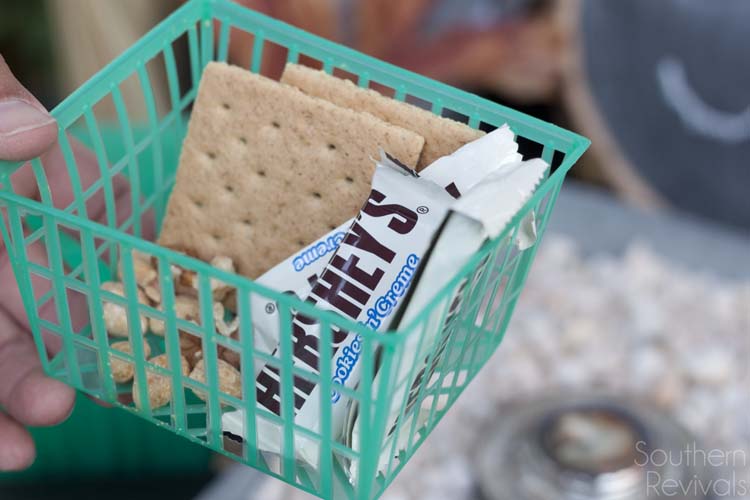 Guests compile their favorite treat ingredients in these little strawberry baskets.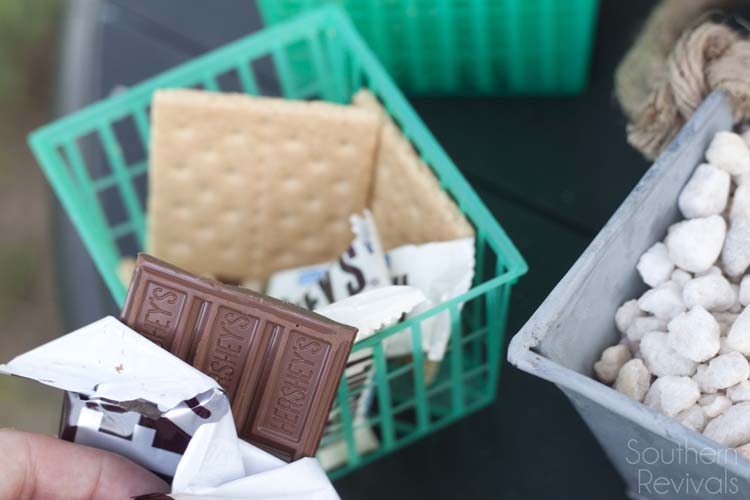 One kind of chocolate, or two, it's up to you!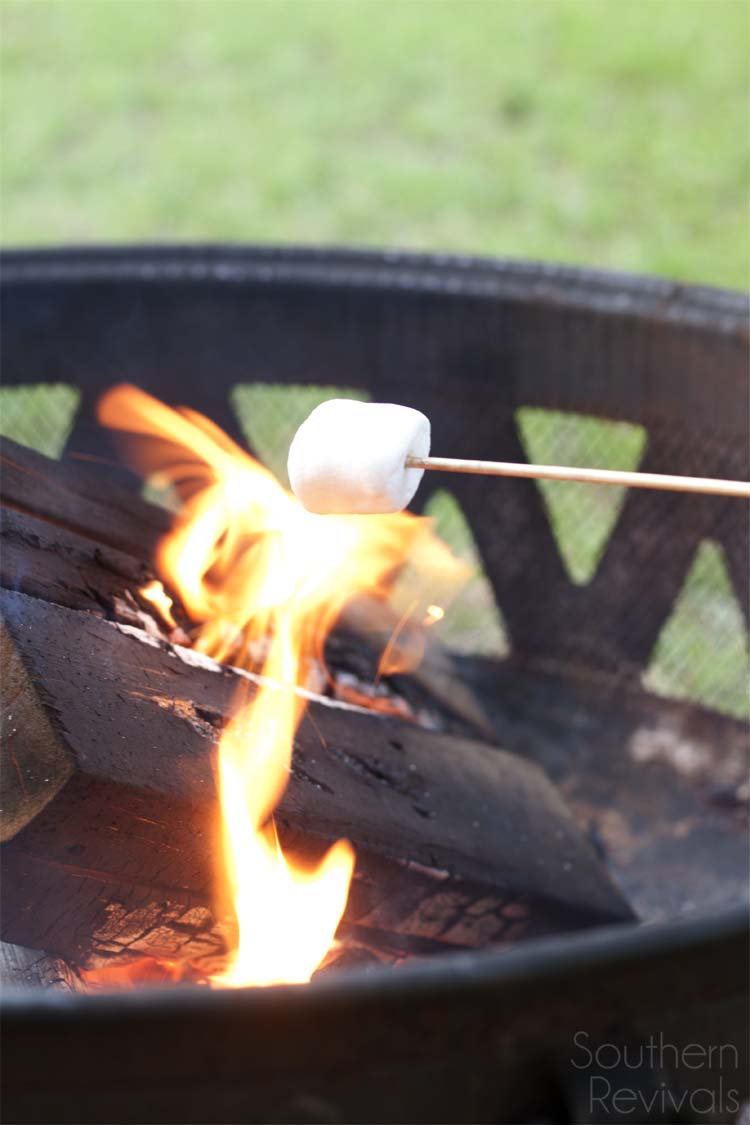 Then you can roast your marshmallow over the campfire or…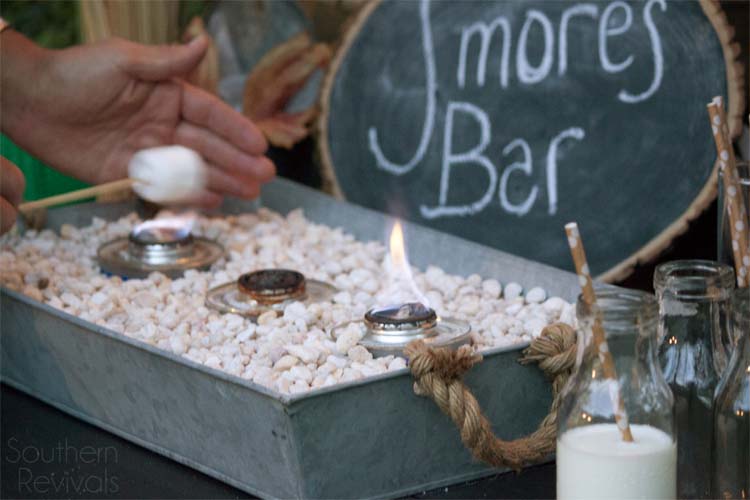 Right at the table!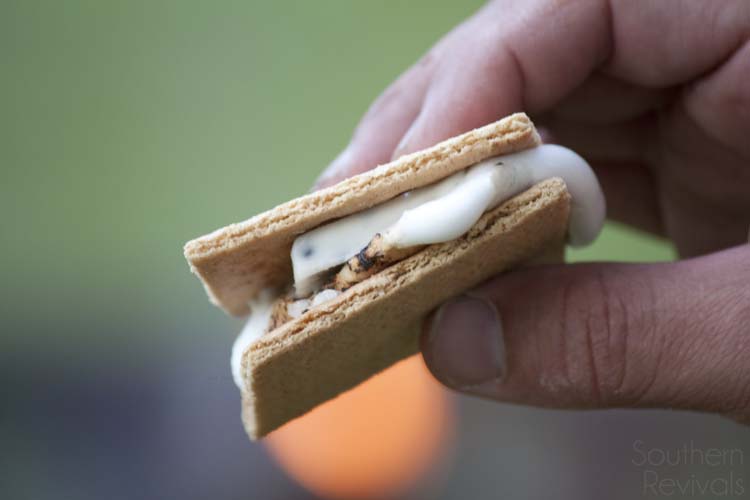 Cookies n Cream S'More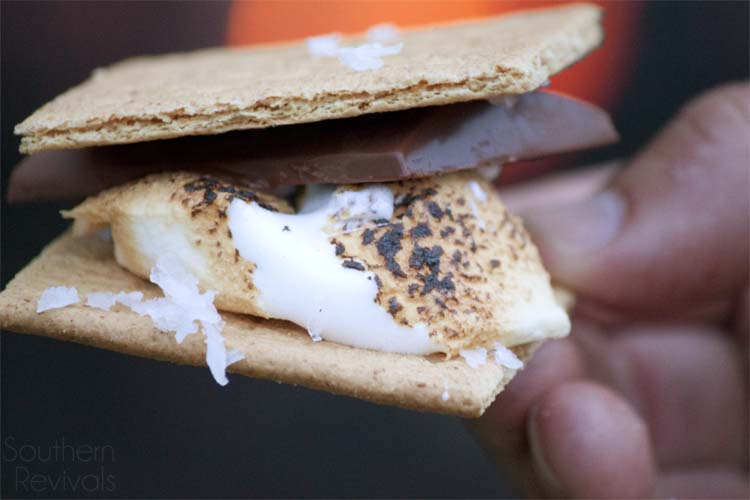 Hershey's Milk Chocolate with Almond sprinkled with a little fresh coconut!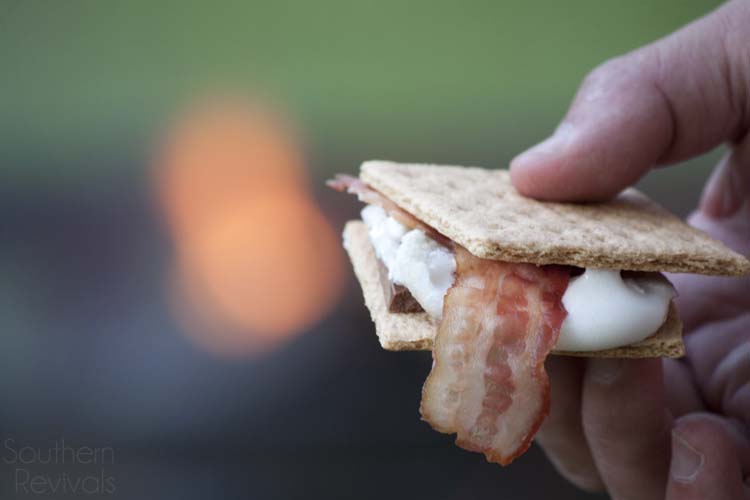 Or if you're a little daring, add bacon.
If  you haven't tried the bacon and chocolate trend yet, you are missing out my friend!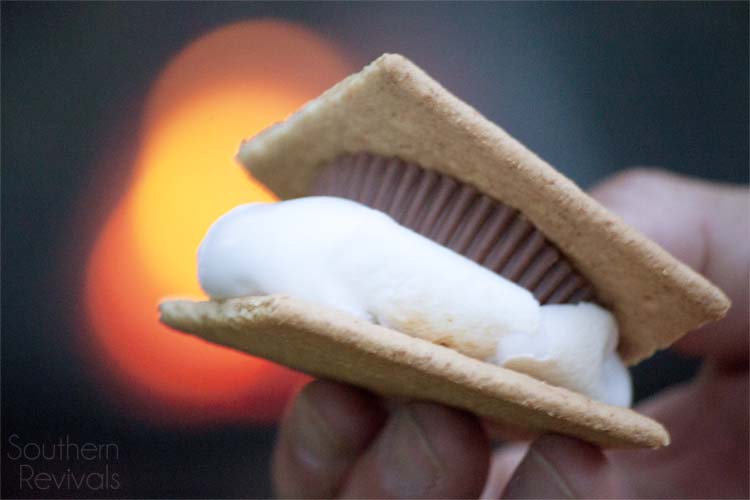 But of all the possible combinations, a Reece's S'Mores may be my all time favorite!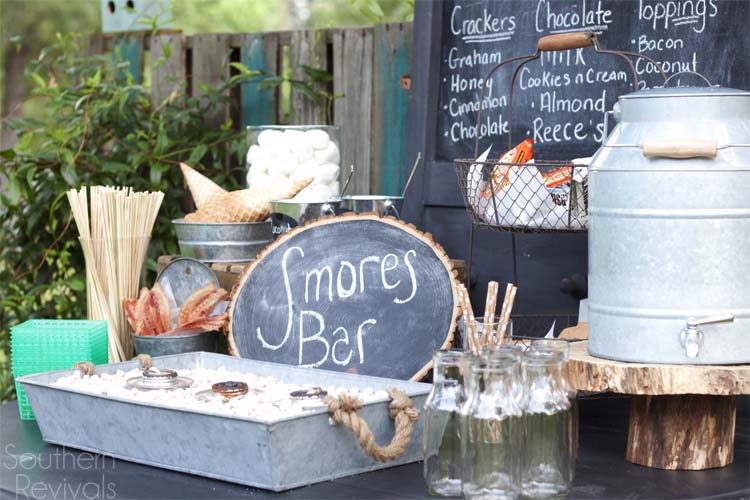 No matter how you stack 'em, you really can't go wrong with a S'More.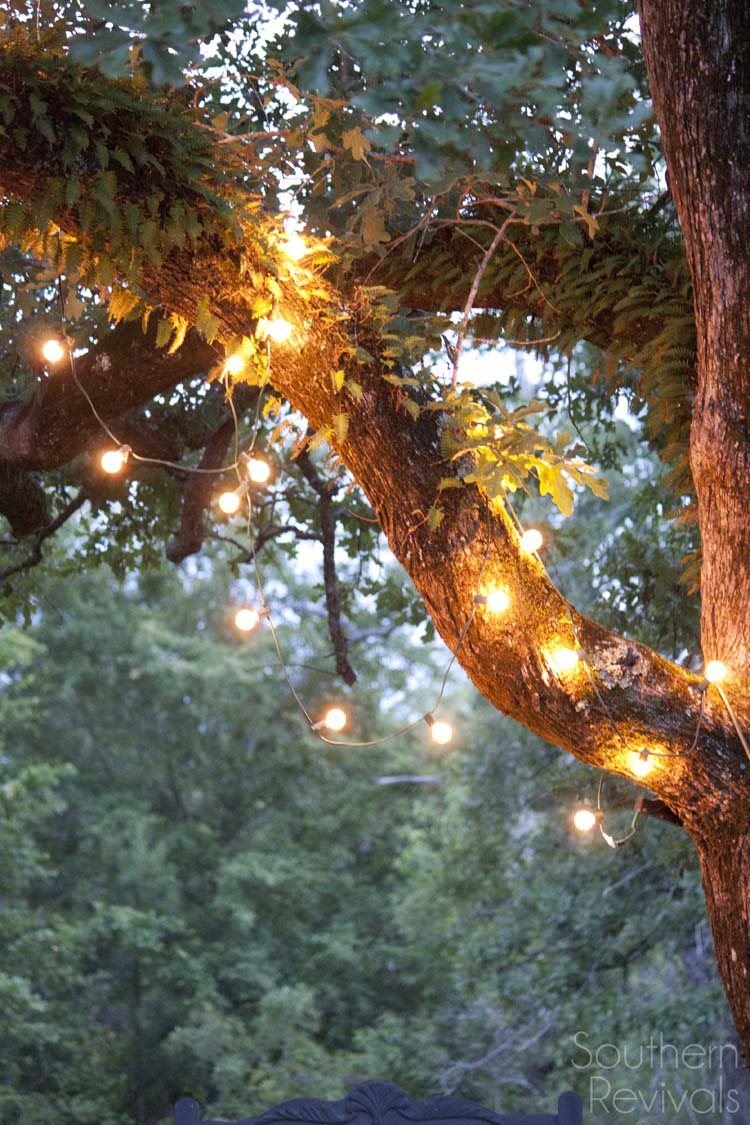 And I have ALWAYS wanted to hang lights in our oak trees. That really has nothing to do with S'Mores but I'm convinced it makes everything look and taste better. Maybe it's just me?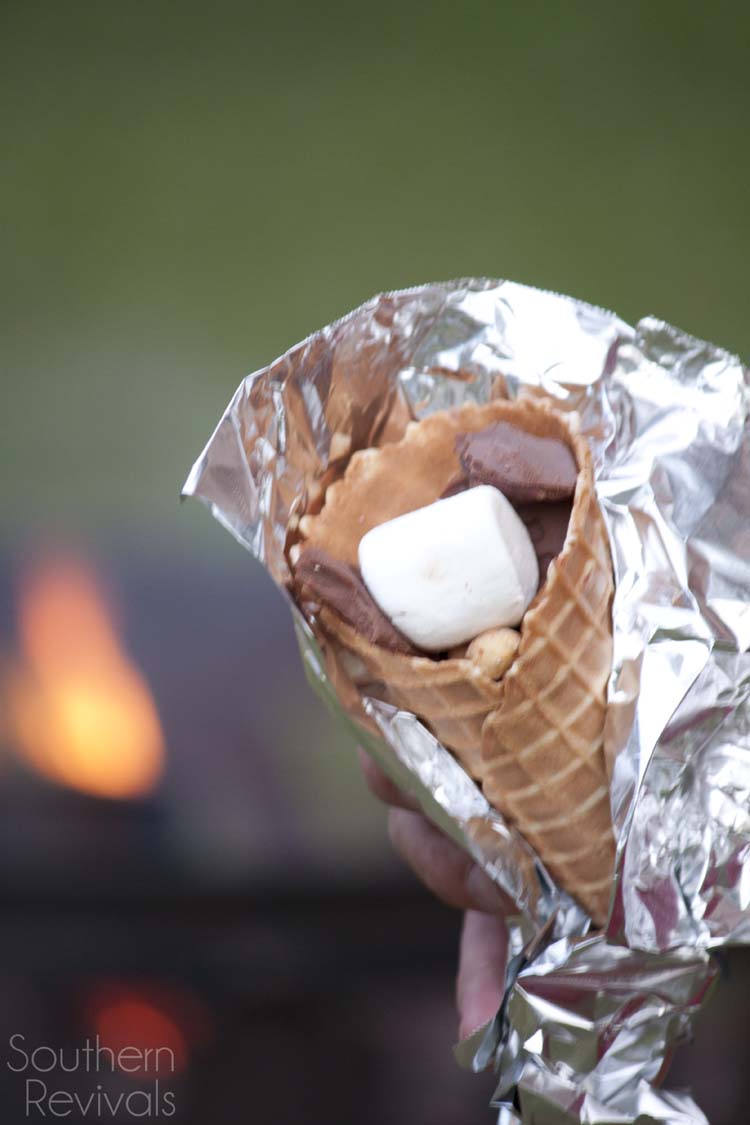 And just to add the proverbial cherry on top of this amazing S'Mores Bar sundae, you can pop your entire S'more combo inside of some homemade waffle cones….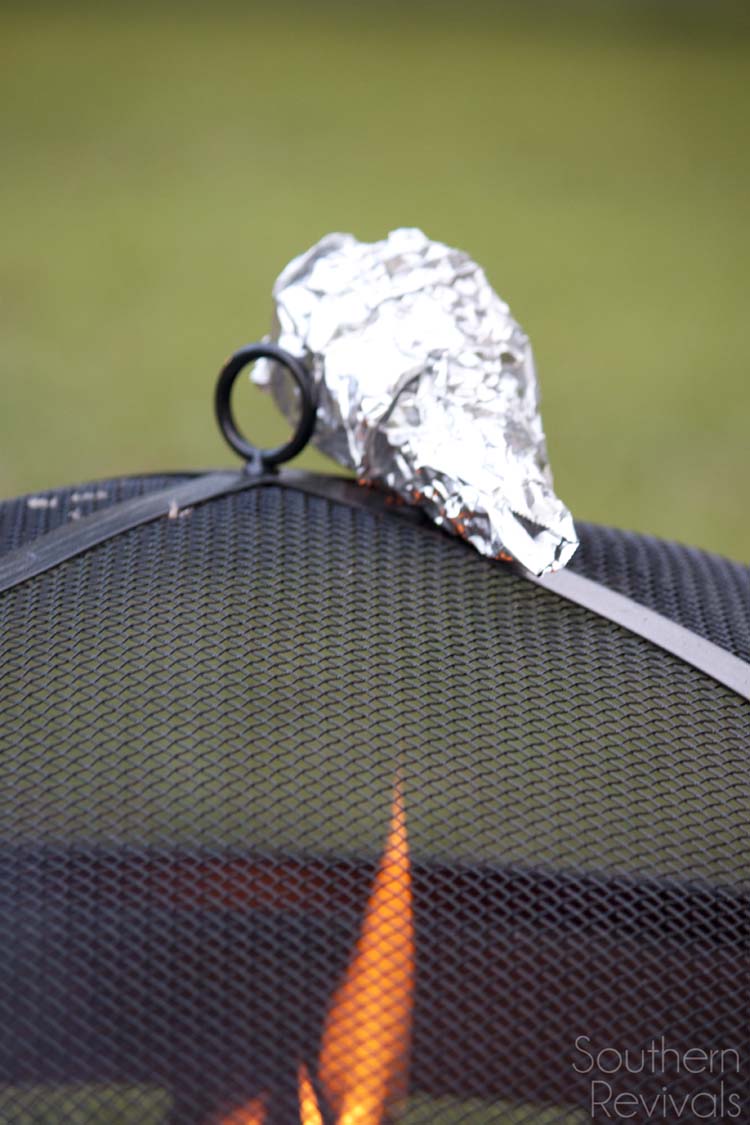 Wrap it tin foil and place it on top of the campfire while you man the grill.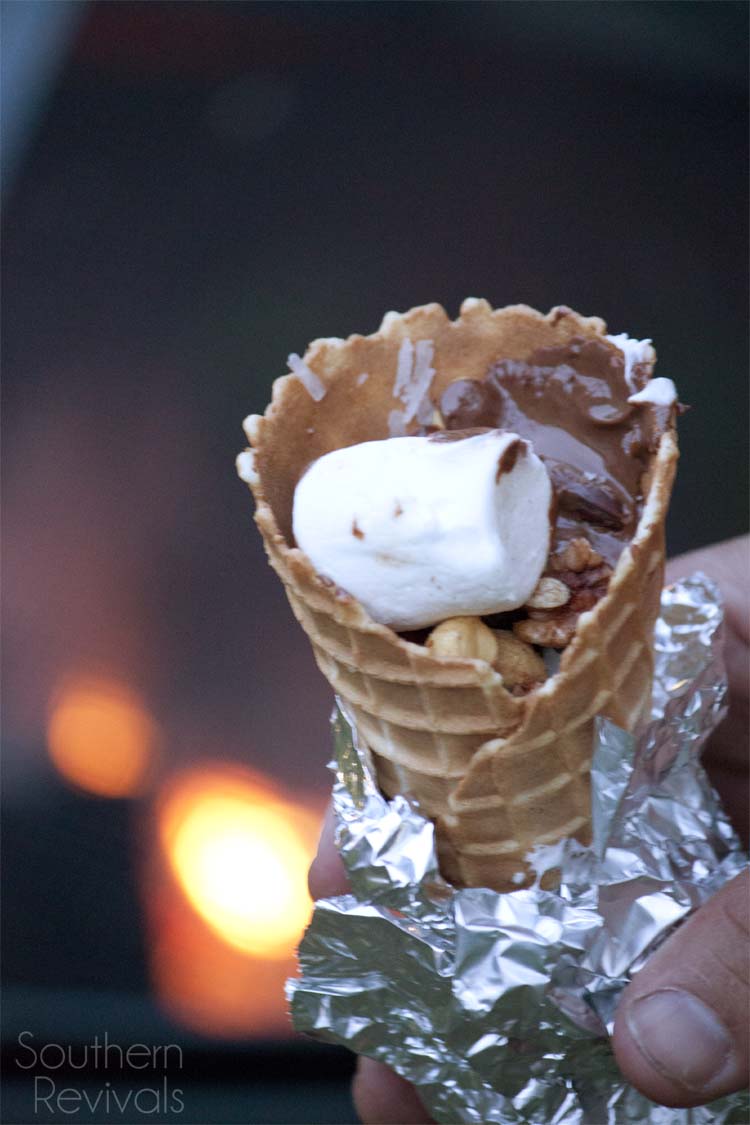 And when you're done, it'll be there waiting for you like a warm, delicious hug.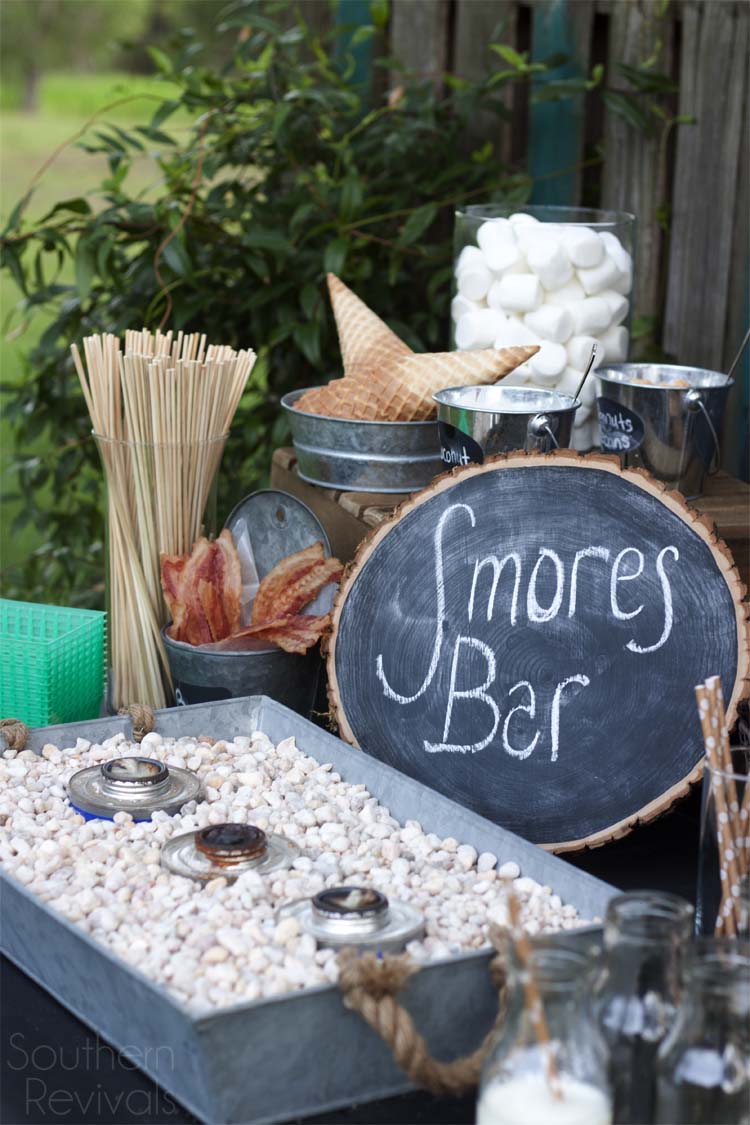 So are you getting ready for some backyard fun this Summer? What's your favorite S'More combo? Are you willing to try a new one?