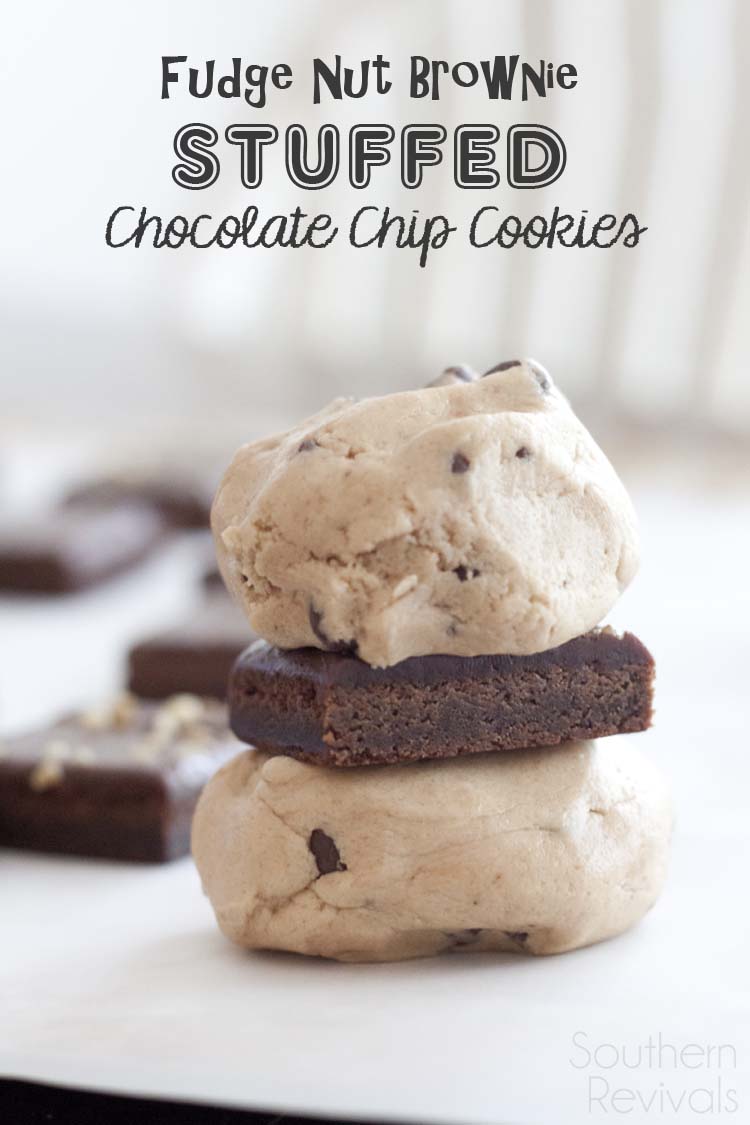 So. The other day I had this bright idea to stuff some snack cakes inside chocolate chip cookie dough. And the results were crazy delicious. If you're brave enough to marry brownies with cookie dough then this Brownie Stuffed Chocolate Chip Cookies recipe is for you!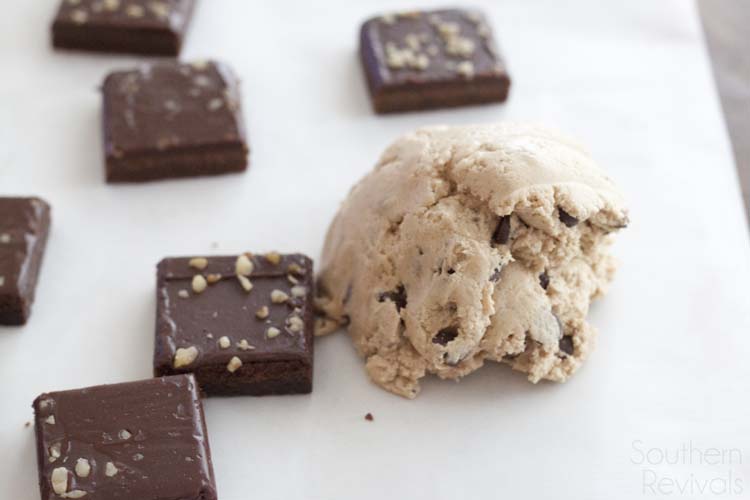 I don't know what came over me. Maybe it was the fact that I just learned that I'm headed back to NYC and I'm torn between: Ok, I've got 3 months to cleanse and tone before I go and I'd better eat all of this bad stuff in the house because throwing it away is wasteful and I can't have it in the house for the next three months. Can you identify? Tell me I'm not the only one who prepares for a diet by eating everything in the house.
Fudge Nut Brownie Stuffed Chocolate Chip Cookies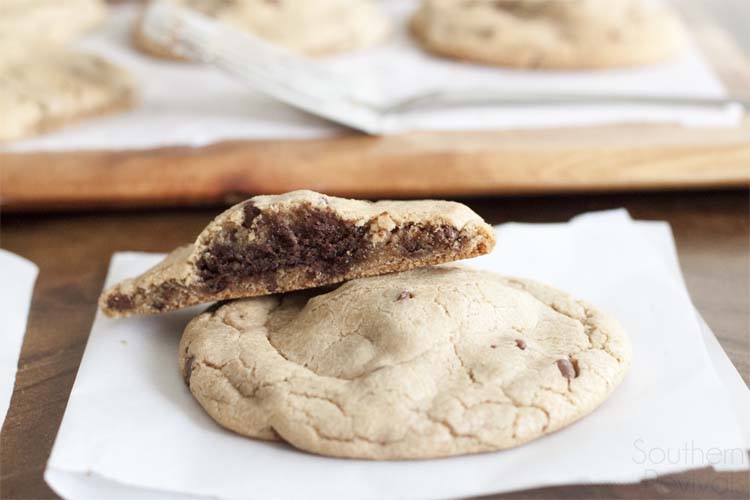 Ingredients
1 cup butter, softened
1 Cup granulated sugar
1 Cup brown sugar, packed
2 eggs
1 TBS vanilla
3 1/2 Cup all purpose flour
1 teaspoon kosher salt
1 teaspoon baking soda
12 bag semi sweet chocolate chips
Box of 6 snack size brownies, such as Little Debbie, cut in half
Instructions
Preheat oven to 350 degrees
Cream butter and sugars until light and fluffy
Add eggs and vanilla, combine
In a separate bowl whisk together flour, soda and salt. Gradually add to sugar mixture.
Add in chocolate chips
Add a large scoop of dough to Silpat or parchment lined baking sheet. Top with brownie. Top with another large scoop of dough. Press sides of dough together to completely cover brownie.
These cookies are so large they bake in two batches so while one batch is baking I'm putting together the next batch on another baking sheet.
Bake for 20 - 25 until golden brown.
Allow to cool for 10 - 15 mins.
Eat. They are good anytime but they are exceptional warm!
https://www.southernrevivals.com/fudge-nut-brownie-stuffed-chocolate-chip-cookies/
©Southern Revivals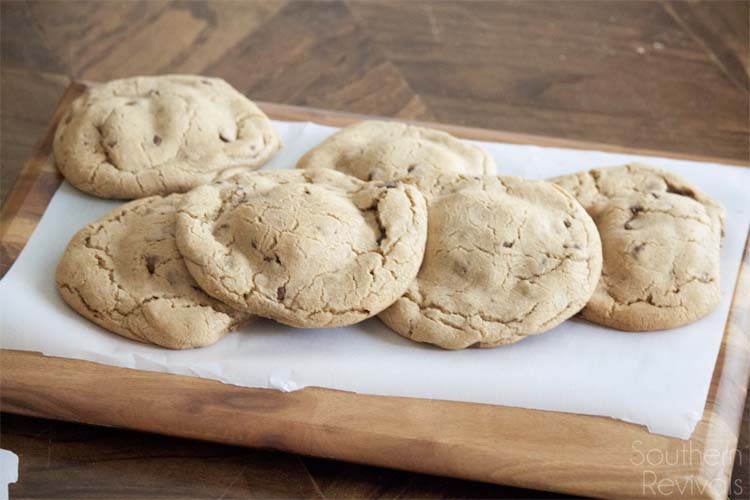 We had these little snack cake brownies in the house which is unusual and I thought the best way to get rid of them was to stuff them into chocolate chip cookies. Thankfully, my husband is the kind of man who can eat any and everything and still look like he did was he was in high school. So he often rescues me from myself and eats the rest.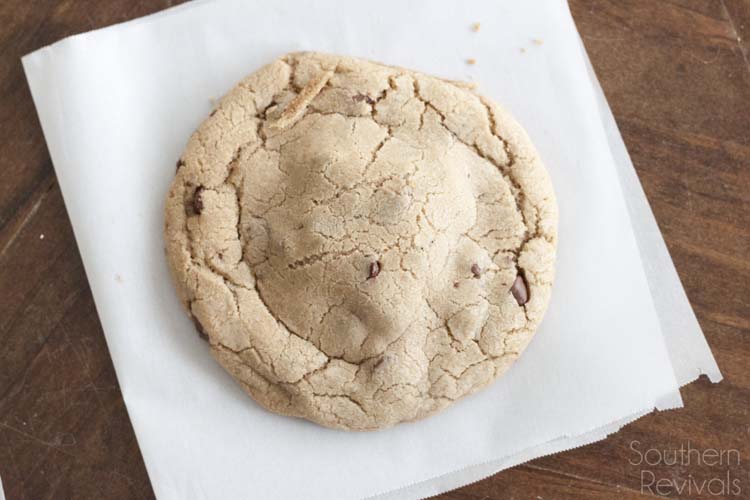 These cookies are so big, you really only need one to satisfy even the most intense craving. And let's be honest, we all deserve a little craving satisfaction every now and again.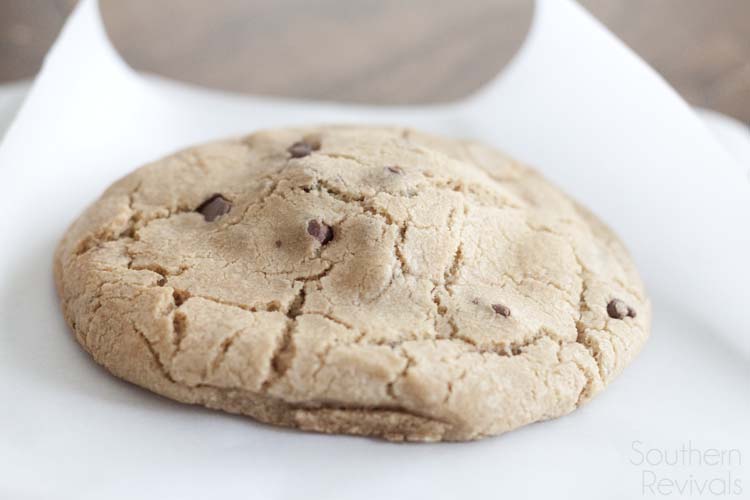 They are kind of like a box of Cracker Jacks. There's a surprise inside.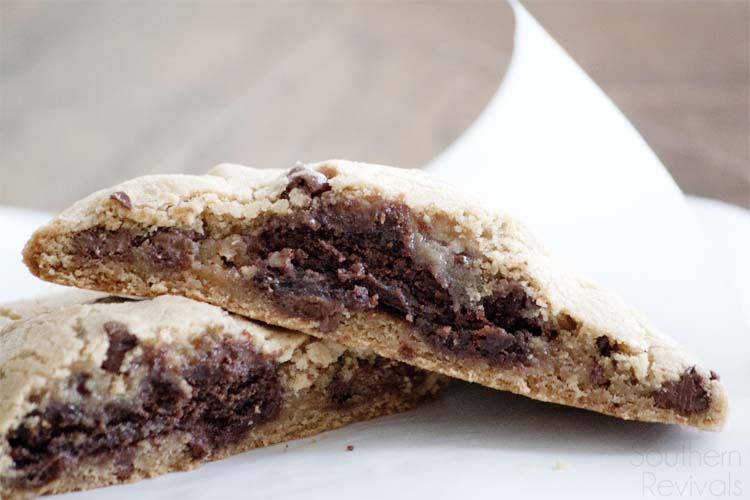 And that surprise is delicious any time but never more than when they're warm and fresh from the oven.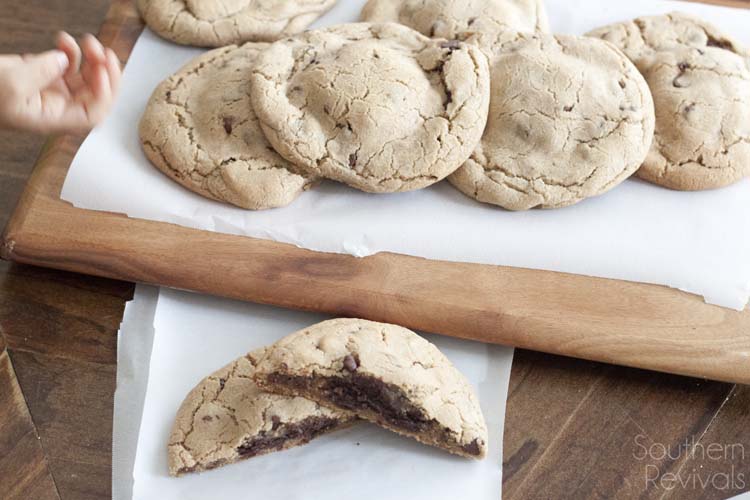 My youngest and I were the only ones home this day and he was at the table eating lunch.
Can I have a cookie, Mommy?
You have to eat  your lunch first. And you can't have a whole one. They're too big. I'll split one with you.
So every time I put my camera back up to my eye I kept getting this little hand photo bombs. Apparently he thought I couldn't see him with the camera in my face. Ha Ha!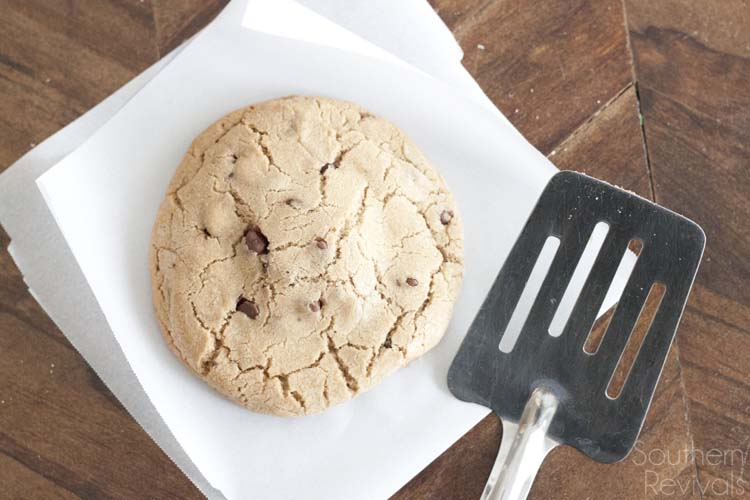 But he ate a good lunch and we finally shared, a still warm and deliciously stuffed, cookie. Big brother eventually had one and Dad took care of the rest. Are you crazy enough to stuff your chocolate chip cookies? What's your stuffing of choice?