I am super excited to announce that I will be at the Augusta, Georgia Michaels Store on Sun, Feb 16th from 1 until 4 pm for Michaels' Pinterest Party. I'll be there as a select Hometalk blogger to help you get your craft on. Hometalk is a home and garden social network that brings together bloggers, professionals and home owners for the latest tips, tricks and advice. For more info on Hometalk, check out this post I wrote about it here: Hometalk: Better than Pinterest?

Check out the Pinterest inspired displays at your local Michaels store, buy your supplies and meet us in the classroom to create your own pin-worthy project! Or, if there's a Pinterest project you've been wanting to try, Michaels has all the supplies you could need. Let's do this!
The first 24 attendees will receive these chalkboard cards http://hmt.lk/1iBRQpB FREE!
*Note: If the Augusta, GA store is not local to you, find the Michaels store nearest you hosting a Pinterst Party with a select Hometalk blogger by, clicking here.
One of the Pinterest inspired store displays is the stretched burlap canvas. These had been calling my name all along. Then, when I got to my local store they were 40% off. That sealed the deal!
I had been searching for some fun art work to go on the wall in my son's new

Big Boy Room

. But it couldn't be just anything on that wall. I love the arrow details we did on the wall so much I had to find something special to go on it.
I got supplies, including a stretched burlap canvas, wooden arrow, paint, Washi tape and glue for attaching the arrow to the canvas.
I taped off some stripes on my canvas and painted it with Martha Stewart Multi-Surface Craft Paint in Wet Cement.
While that was drying I painted the top surface of the arrow with Americana Chalkboard Paint. I used an orange craft paint that I had on hand for the detail around the arrow.
And then I had what is possibly the best idea I've had in while and that was to add this amazing Washi tape around the edge of the arrow to give it a little funky contrast.
And that was it! Including dry time, the project took about an hour to complete.
Something so easy yet so worthy to hang on my favorite wall in the house!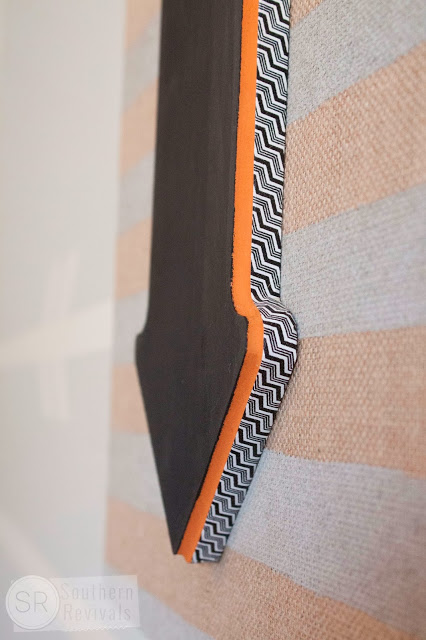 Did I mention I love that washi tape??
Will you be joining a Hometalk blogger for the  Michaels Pinterest Party? If so, I would love to hear about it. Also, be sure to share the event with friends. The more people, the better the party! See you there!
Don't forget to take your coupon shopping with you!
Have a look at my fellow bloggers' projects and get excited about attending an event in your area!