This post brought to you by At Home. The content and opinions expressed below are that of Southern Revivals. I'm proud to partner with home decor superstore, At Home, to bring you these simple spring entertaining ideas and easy Blackberry Peach Crostata recipe.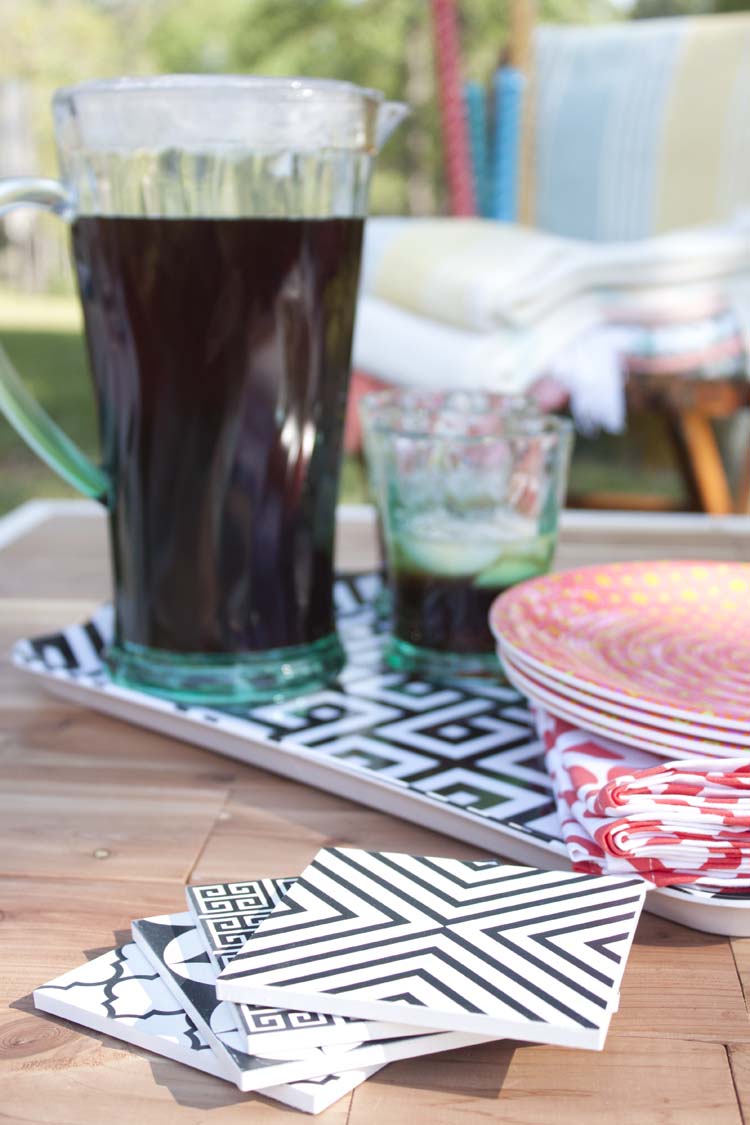 I was in the store the other day staring at the magazine rack while waiting to check out. Usually, I try to resist because I hardly have enough time to read the ones I already have. But one, in particular, caught my attention because it was all about outdoor spaces (and I am obsessed as of late). It was my turn next in line so there wasn't enough time to make a sound decision so home it went with me.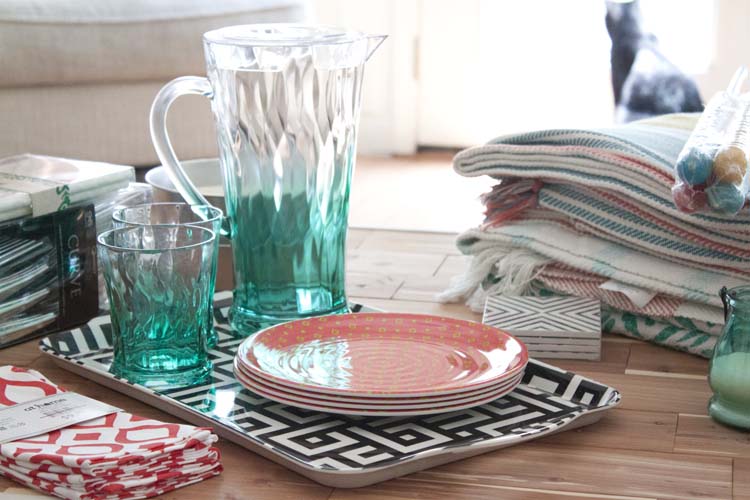 It was almost a week before I ever got the chance to flip through it and I was only a few pages in when I realized this was going to be an "inspiration-only" magazine. There, before me, was a two page spread on a patio makeover budgeted between $14,000 and $16,000, complete $4,000 worth of plants. I'll be honest, I laughed right out loud. Now don't get me wrong. Would I plop down$16 grand on patio makeover if I had it? Maybe. Sometimes it would be nice to just make a phone call, write a check and simply enjoy your new space a couple weeks later. Am I right?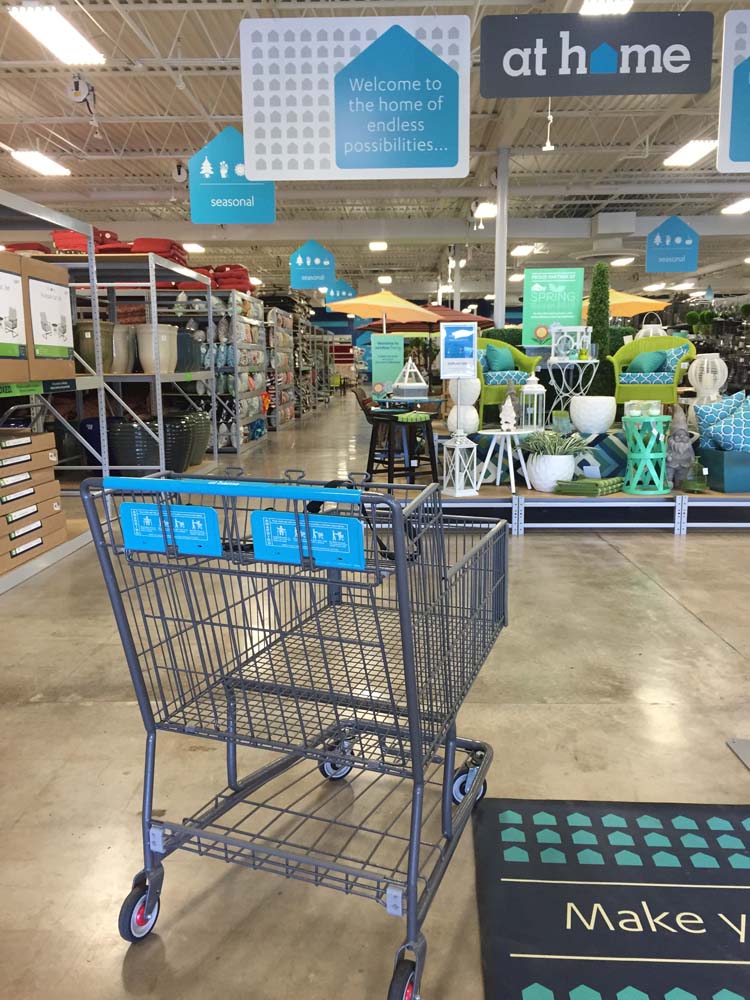 As it is, my current life situation has me figuring out how I can find a budget-friendly way to extend that concrete slab (read, sad excuse for a patio) in our backyard and add a DIY pergola and fire pit. Figure it out I will and I can promise you that I will spend less than some folks apparently spend on plants doing it. I've got our new space all planned and budgeted out. We'll start by extending the patio for around $400 (which I'll share soon) and from there we'll start on the fire pit. Finally, we'll build the pergola. But probably not until early fall because heat exhaustion. I started off at the At Home Patio section of the store. If you've never visited an At Home store it is a self-described home decor superstore where the buggies are the size of some electric cars I've seen driving down the road.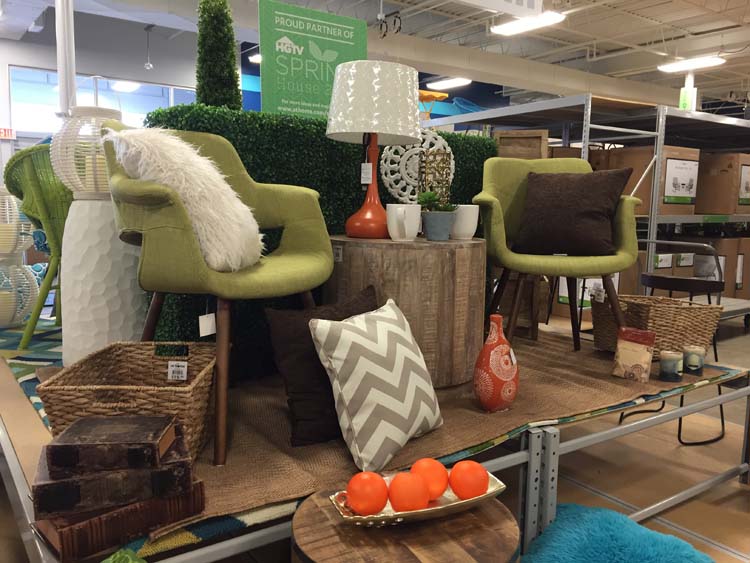 And they're that size for a reason! This is the kind of store that has everything you could possibly need all in one place. I love stores like that for two simple reasons 1) You can find all you need without having to go all over creation looking for it. You're in and done! and 2) Because of this I find that I spend less than I do when I'm having to put a look together from several stores over a span of several days or even weeks. It's like all that time in between shopping magically makes you forget how much you've already spent.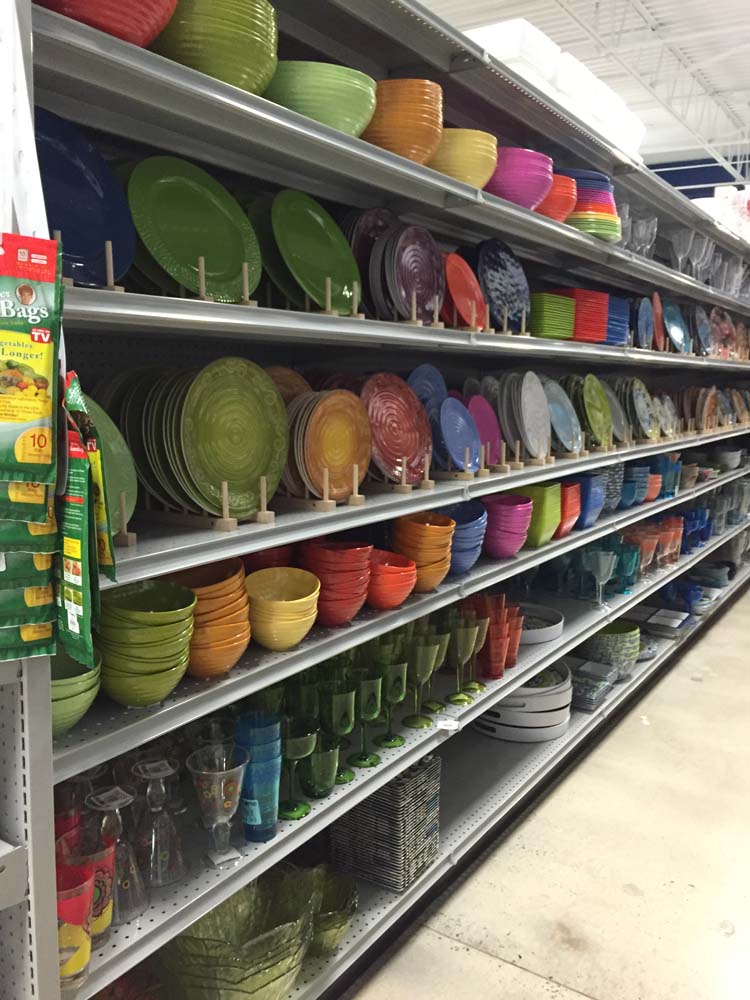 I was looking for Outdoor Entertaining pieces that wouldn't shatter if dropped on the patio. Then I spied this isle which is like the Mecca of Melamine, every flavor, color or style you could imagine.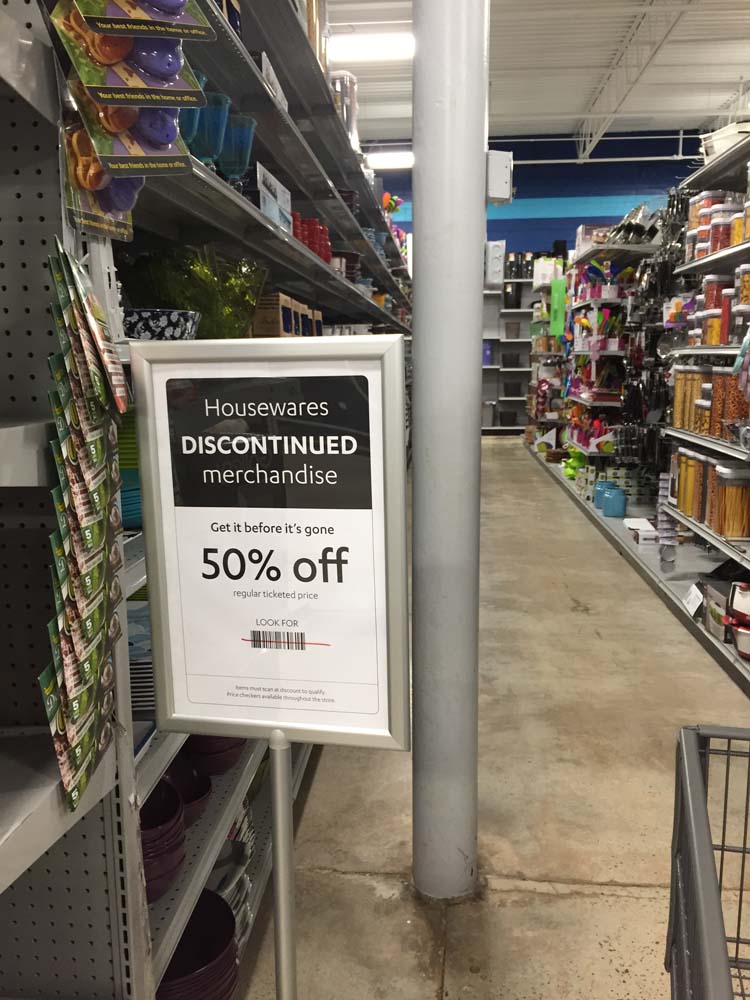 Now, if you're the kind of shopper I am and you immediately head to the back of a store or where ever that sacred place known as the clearance section is located, here's something to note about an At Home store. All of their sale items are located in their respective places, i.e. Housewares in the housewares section, etc. What you look for is a crossed out barcode to indicate that it's on sale.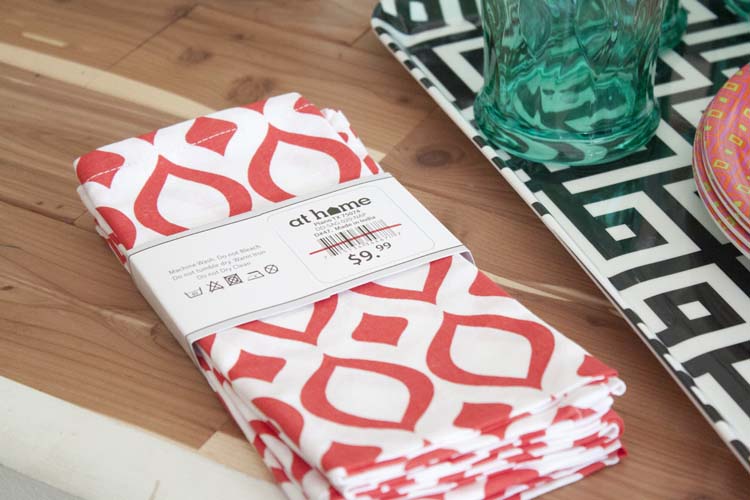 For example, a purple line through the barcode indicates the item is 10% off and a red line indicates 50% off, like this set of 4 cloth napkins I got for about $5 bucks. There are signs throughout the store as reminders.
For my recent spring-themed fete, I chose a serving platter, acrylic pitcher and glasses, melamine plates, coasters and cloth napkins in varying colors and patterns for a playfully chic look and still managed to pull off this party, including food, for around $100 bucks! Here are a few more tips on Spring Entertaining and how many save a lot more money than I spend doing it.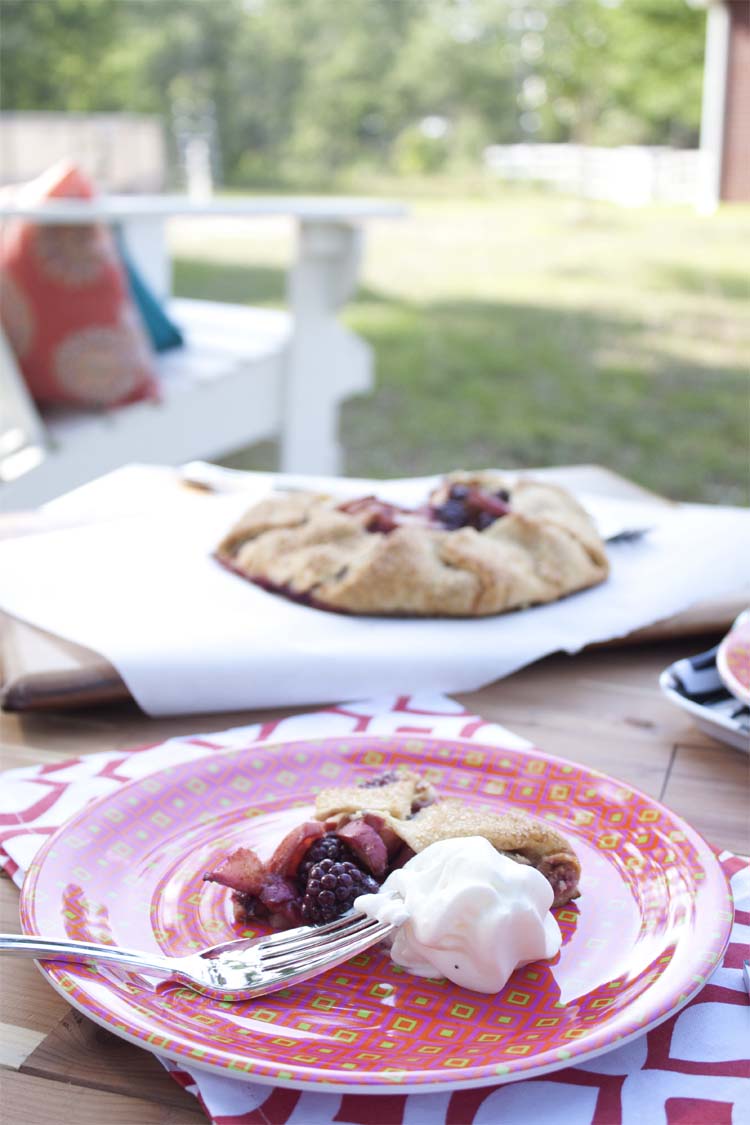 Money Saving Entertaining Tips:
Know your store – where are the sales located? Also, visit the store's website beforehand to see if they offer coupons.
Buy reusable pieces – most people generally don't entertain exceedingly large crowds more often than once a year or so. Ask yourself, on average, how many people you're likely to have over at a time and purchase enough reusable outdoor entertaining pieces to meet those needs. No need to worry about any extra waste, simply toss them in the dishwasher at the end of your party. Plus it will save you a ton of money in the long run not having to purchase supplies for every party. AND, while it doesn't save you any money, melamine comes in some really great patterns and colors making them so much fun to shop for!
Use what you've got – remember that Pallet Coffee Table that gave an outdoor makeover to last year? And those Adirondack Chairs I recently finished? They all have their respective places around my home but on days like today when I'm entertaining, I shop my home first. I pull what I already have together to create additional entertain spaces without having to spend any extra money.
Keep it simple – Contrary to popular belief, simple and unimpressive do not go hand in hand. If entertaining stresses you out it probably starts with food. It is possible to put on an impressive spread without spending every waking hour prior to your party in the kitchen. Choose simple and easy to put together dishes that can be made ahead. It's the presentation, not the time spent prepping, that makes your spread impressive.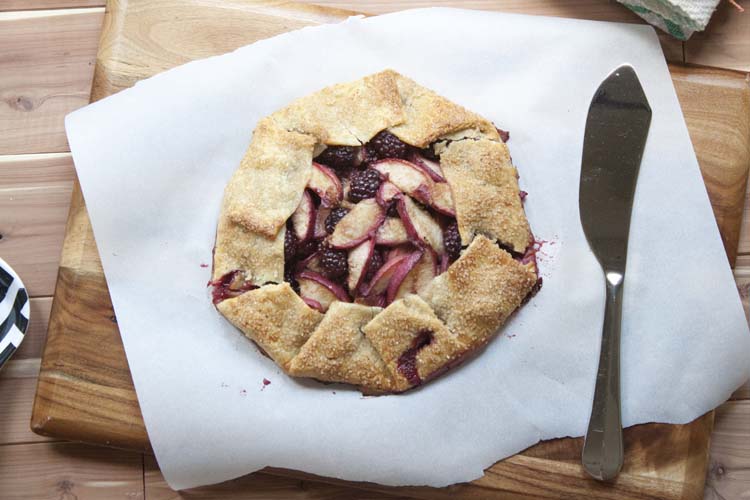 Take this rustic pie, called a Crostata (recipe here: Easy Blackberry Peach Crostata), for example. It is unbelievably easy to put together but offers such an impressive presentation your guests will never know!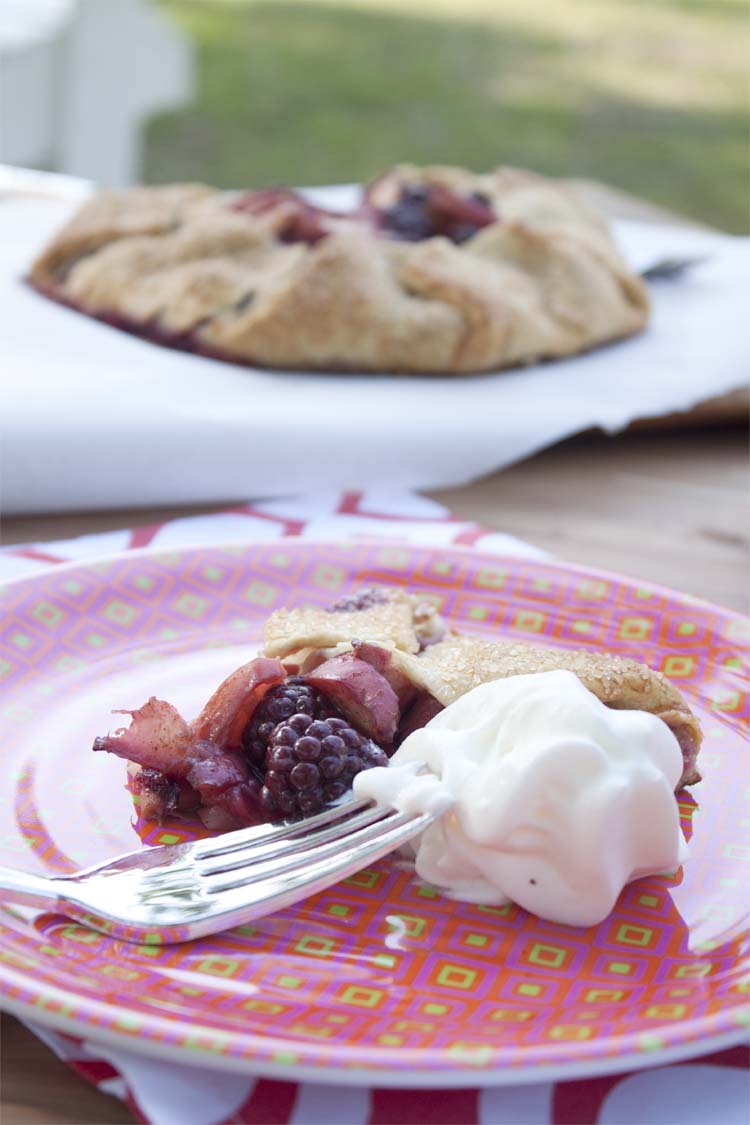 Their outdoor decor collections give you the opportunity to play up several patterns and colors at once and also act as decoration in addition to functional pieces.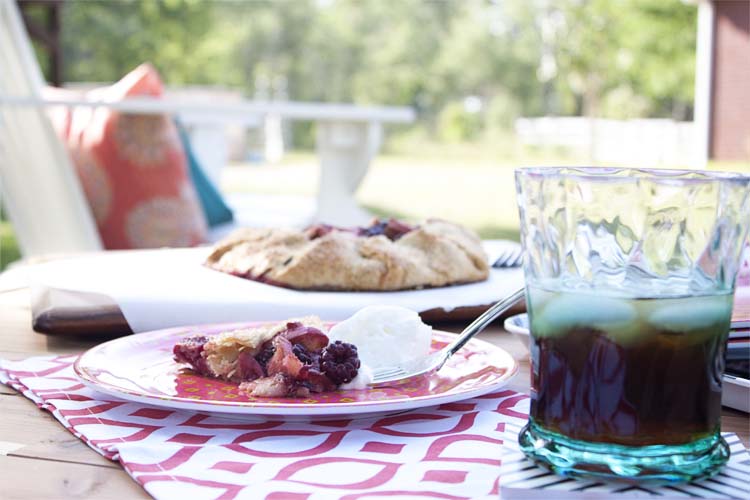 Serve up some fruit infused tea (or choose a grown-up Tipsy Peach Tea) and offer some whipped cream or ice cream alongside your crostata. It can be that simple.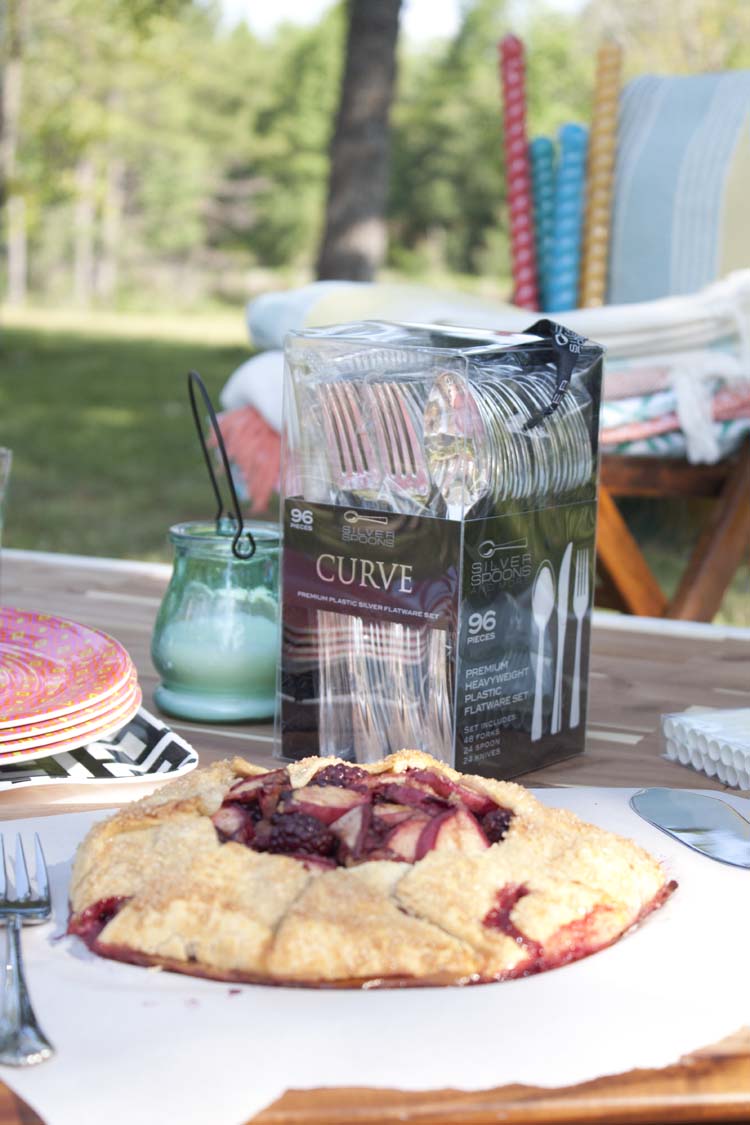 And yet still be quite impressive. For a recent get together I chose realistic plastic silverware for an added touch of sophistication and because you can eat outdoors on plastic and still feel fancy.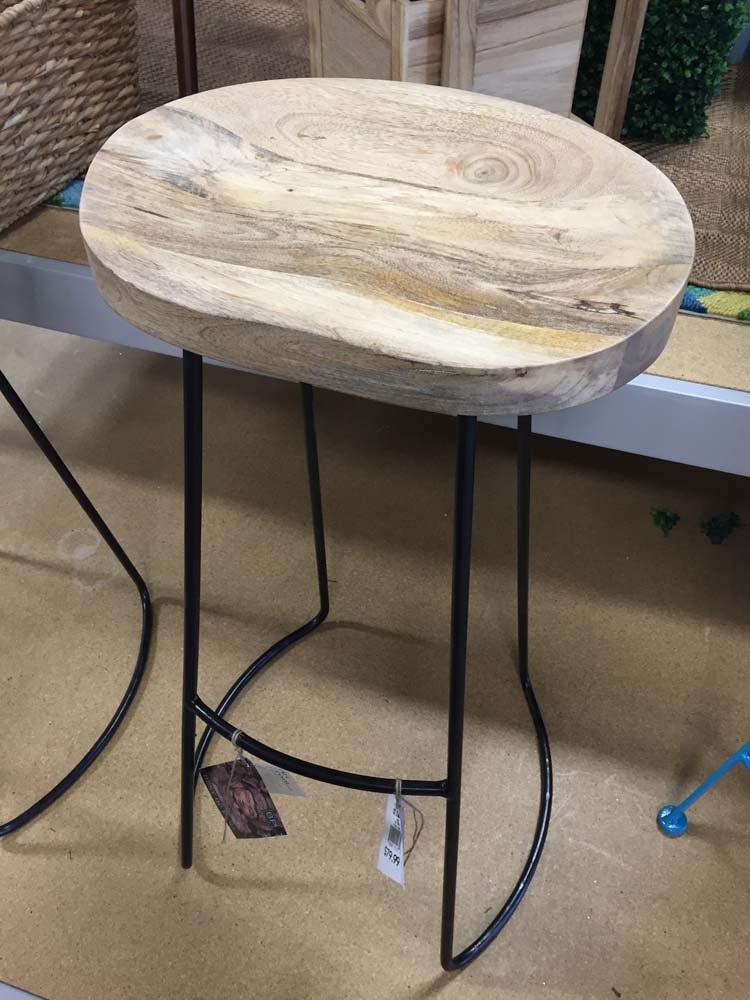 I think I'll have to make a return trip for these barstools at some point. I've been seeing these around and they call to me every single time.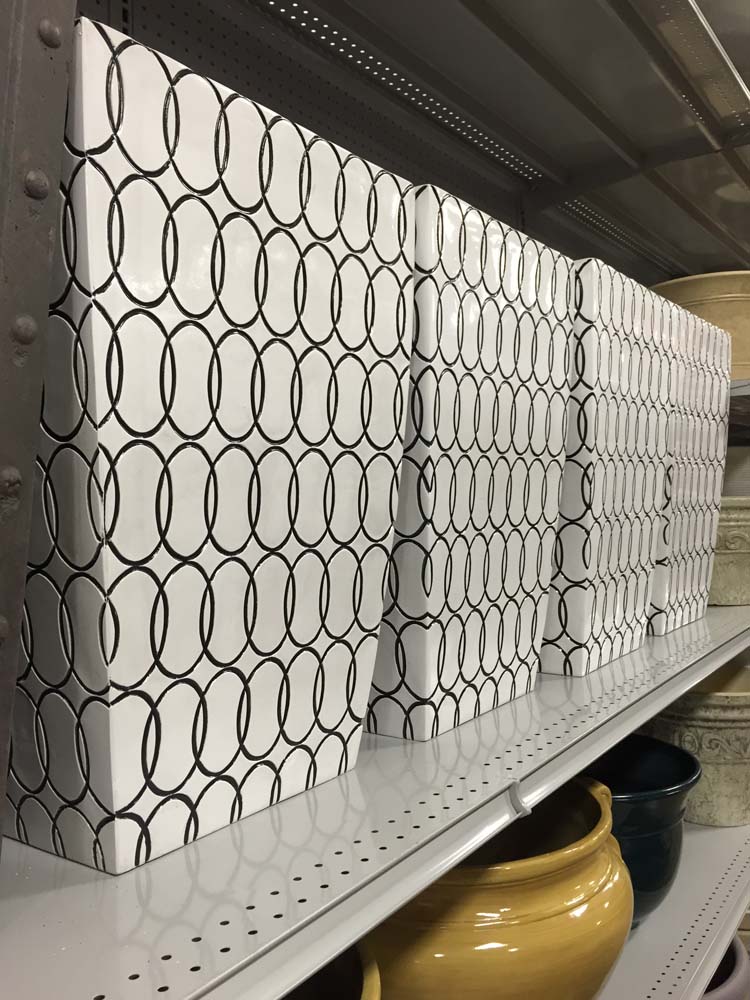 And I'm wishing I'd gone ahead and taken these black and white geometric planters home with me, too. I can't come in front door now without visualizing them on either side of it…. Ah well. Gives me an excuse to go back once all the backyard work is finally done and I can do some more sprucing up.