*Disclaimer: For your convenience this post contains my Amazon affiliate links which provides me a small commission at no additional cost to you. Please see my full Disclosure Policy for more information.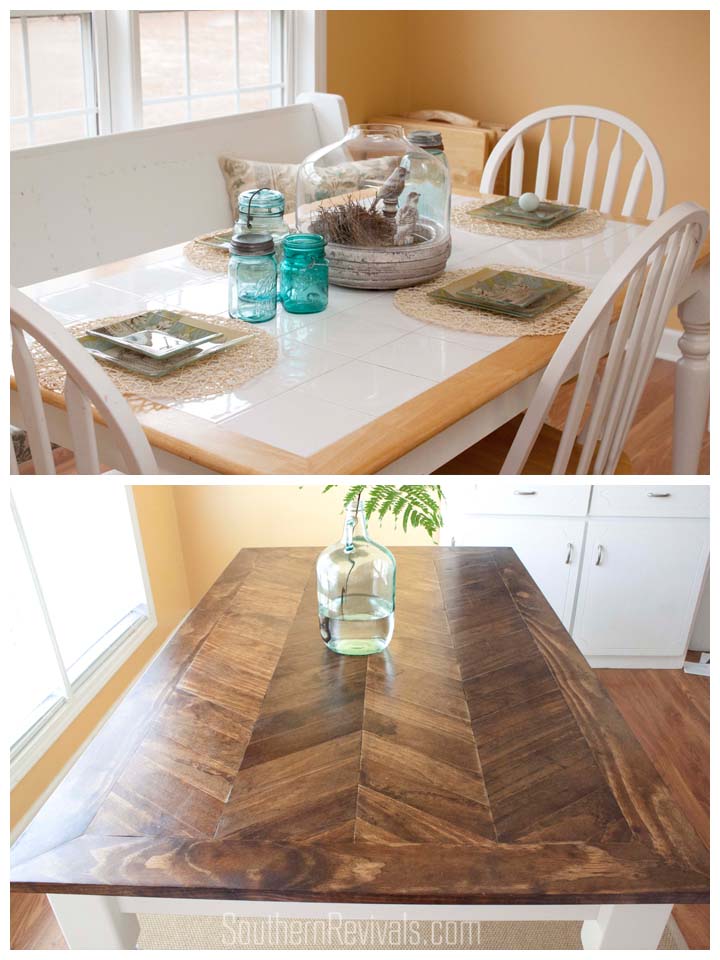 Supplies:
Cost:
Approx $75 – we used premium boards so that they would be extra smooth and to cut down on the need to sand. You could go with a cheaper board to save money.
Time:
This is an intermediate project mostly because of the need to cut these angles. As a result, I would consider this a weekend project. A day to make the cuts, layout the design and make any changes. Another day to glue and allow 24 hours to dry and the third day for staining and sealing, all depending on your skill level. You could also save time (and a little money) by opting not to do the pattern. You could just lay the boards out straight and do a farmhouse style table instead and it would be just a stunning.
Helpful Hints:
We started by framing the table with the 1 x 4s first. This helped us determine the angels we'd need to cut to form our pattern. We then cut the boards for the center of the table
Make sure you layout your pattern after making the cuts prior to gluing to make sure you don't need to make any changes. It may be too late to do so once you've added the glue. We did find that we had to pull up a few pieces here and there to fit all the pieces in, it should be a tight fit! But we went in knowing that the glue would set fast so we were working quickly and it had not dried yet.
If you are joining to different surface types together like we did here, be sure to thoroughly read the instructions before hand. Your life will be so much easier! (i.e. You should sand the tile lightly to give the glue some grip)
How many boards you use is relative to the size of your table. The angle is also somewhat relative to the size of your table as well as the depth you choose for your angle. We just eyeballed how deep we wanted the v-shapped pattern and determined the degree of our angle from there.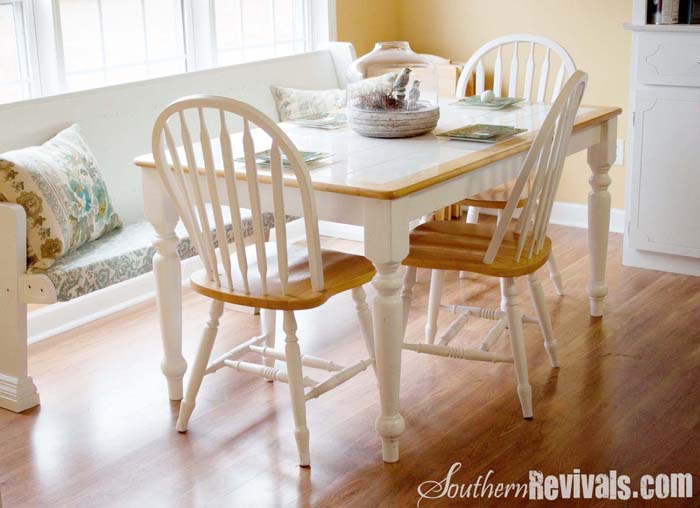 Sometimes I feel like certain things were made just for me. You know what I mean? That perfect pair of jeans. Those amazing shoes. Stuff like that.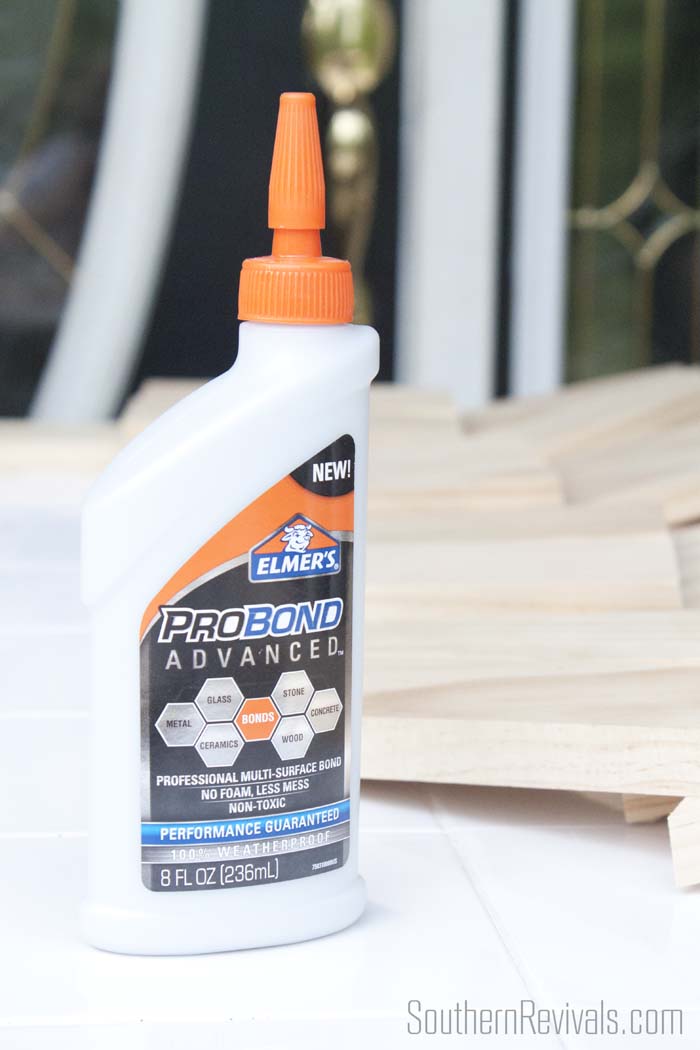 But because I'm the kind of girl who walks into a home improvement store and says things like, I want to do this with that and have it turn into this, often getting the response – That's not possible! I feel like this glue was made for me.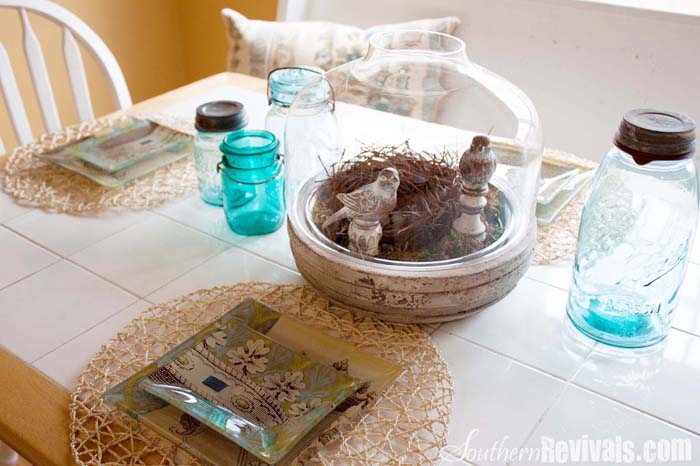 I also feel like a girl, just like myself, who was tired of being told – You can't do that! – must have invented it. But I don't want to step on any toes. So I'll just say this instead.
I am stubborn. Stubborn enough that instead of just getting a new table I have hung on to this outdated tile top table for years trying to decide what to do with it. You might think I would've just  been better off starting over, getting a brand new table. Or at least one that already had a wood top. But then you don't how much this table means to me, do you?
In 2007, I lost 3 members of my mother's side of the family, including my mom. In one year, all of the people responsible for making sure I had a place to go for Thanksgiving, Christmas and everything in between, were gone.
But not this table. An overflow table I grabbed from my great aunt's house just after she and my great uncle passed away, too. A table I'd sat at before I had my own family. A table my oldest had his first Thanksgiving at. A table that we now spend many holidays at, just my little family and I.
So it cannot go. It must stay. Because it's the only thing that can stay.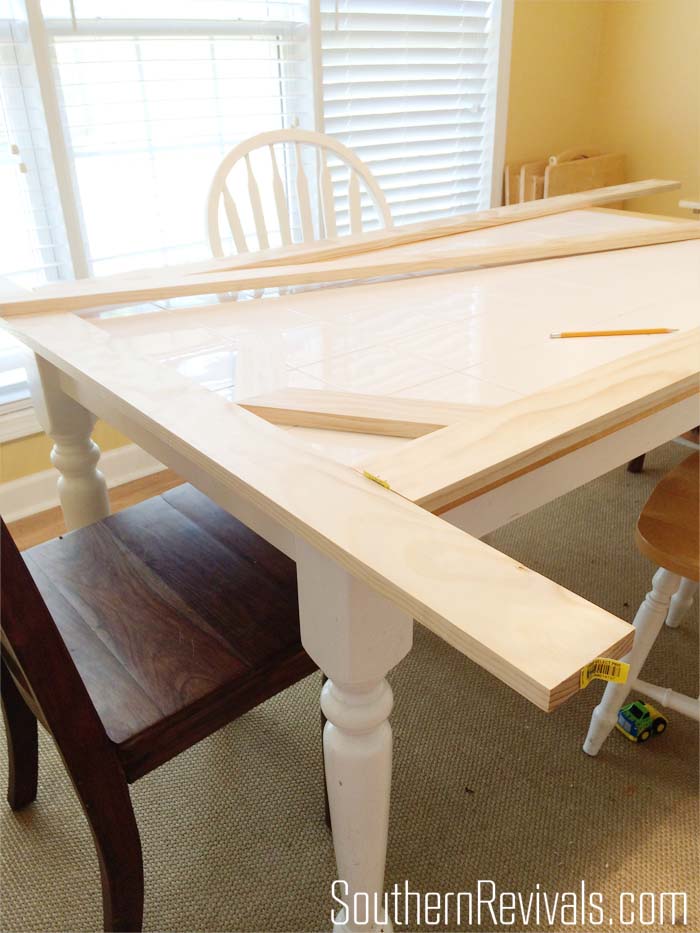 But that doesn't mean it can't change.
I've thought of a million different ways to do this. Replace the top entirely, just use the legs, create a whole new table from parts? But in the end, I love the idea of keeping the existing top, just knowing it's still under there gives me comfort.
Elmer's ProBond Advanced is perfect for mixed materials like adding wood to this tile top table. It's the kind of glue that makes it possible to walk into a home improvement store and say, I'd like to do this with that and turn it into this and have them say – Ok, let me show you what you need. I like that.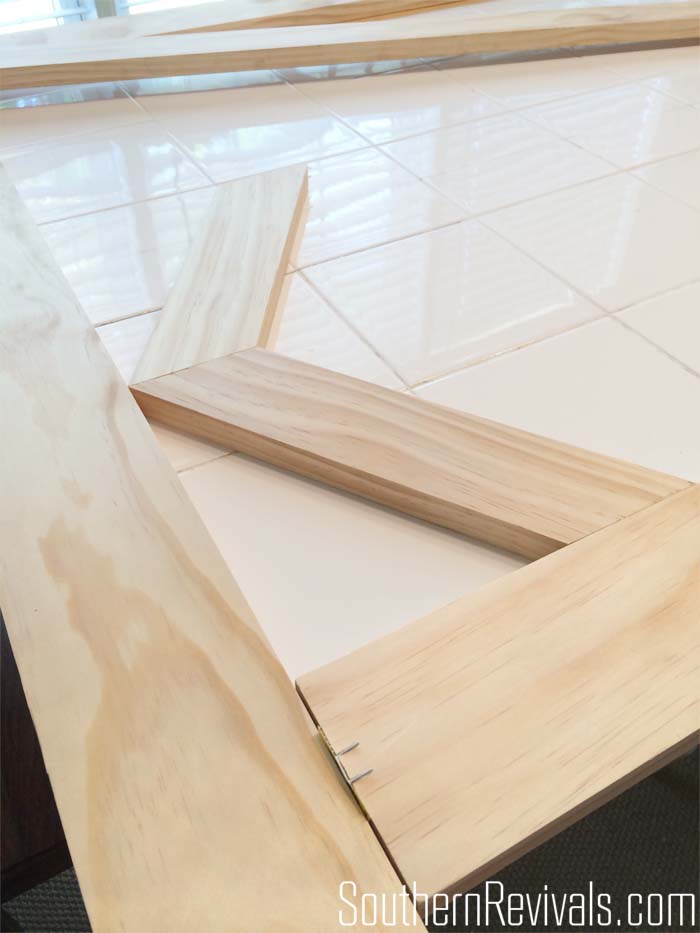 I made a final decision on design. I decided I wanted to place a wooden herringbone pattern over the top of the tile.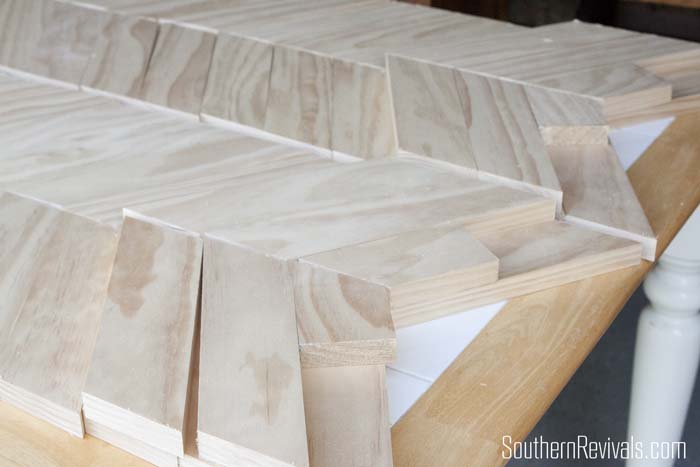 After the design was planned we cut out all of our pieces and laid them out to double check our cuts and design.
We started by adding a new frame around the table top.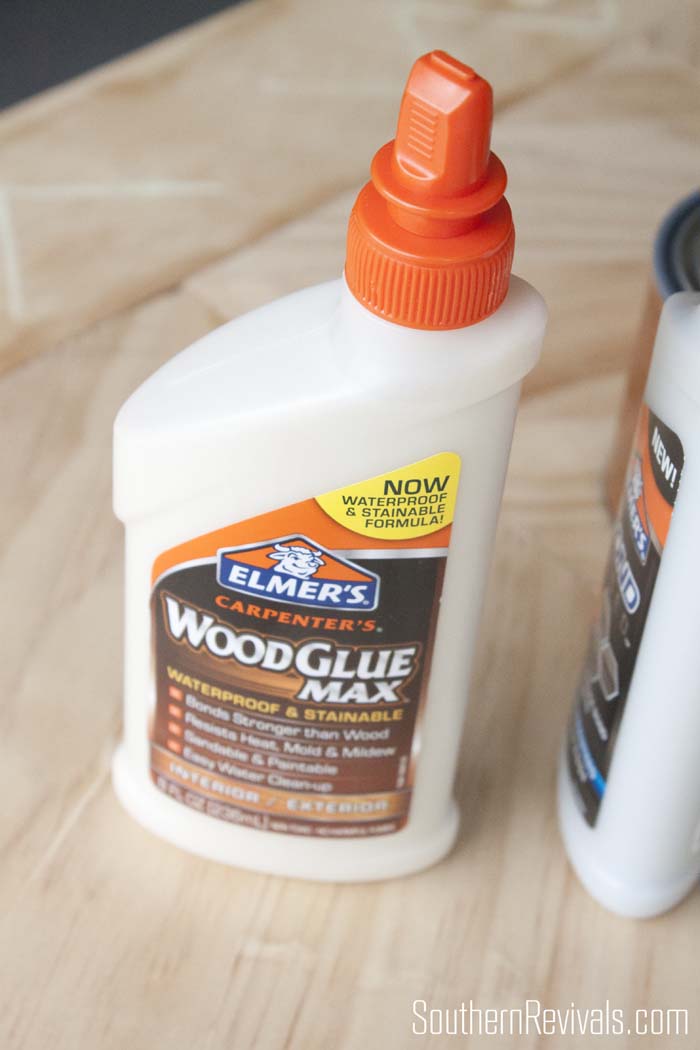 Since this was a wood to wood application we used screws and Elmer's Wood Glue Max. It's waterproof and stainable. Perfect for this project.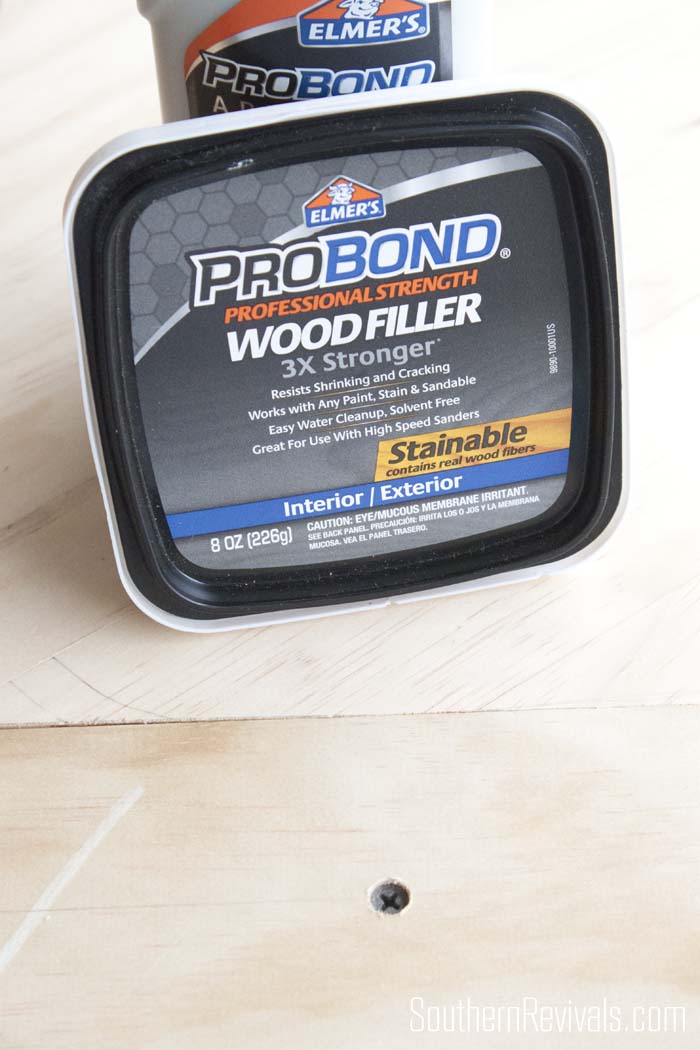 Then we filled all of the screw holes with Elmer's ProBond Professional Strength Wood Filler. It is also stainable and made for indoor and outdoor use. Great for the stained finish I wanted and perfect for a high traffic area like a table top.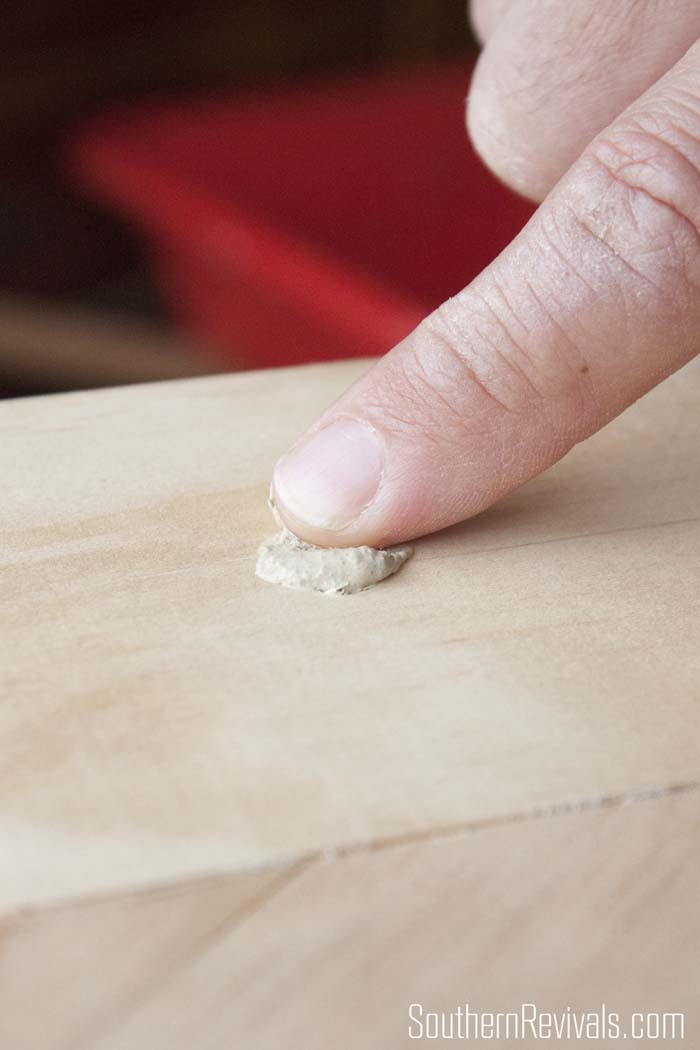 We filled the holes, allowed to dry and refilled any that needed additional filler.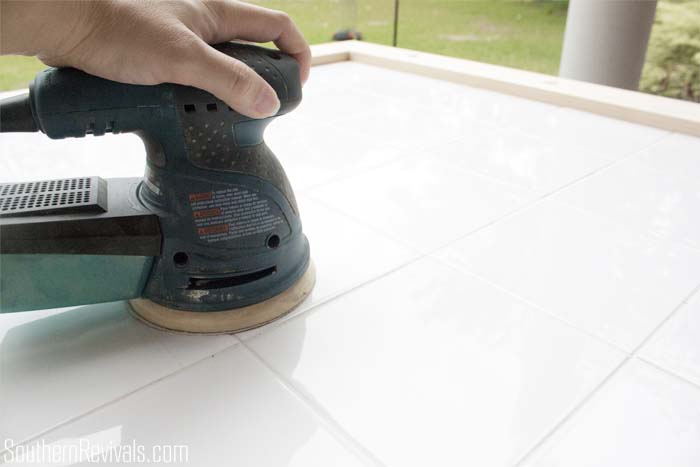 Then it was time for the fun to begin! We sanded the tiles in preparation for the glue.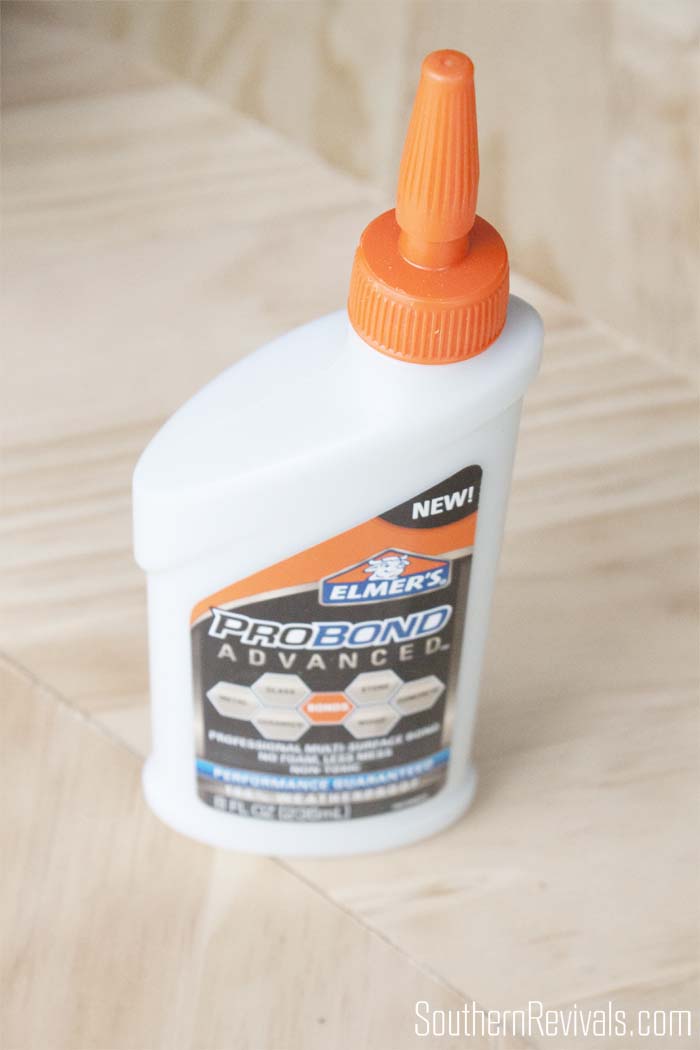 Then it was go time! My heart is pounding at this point because we've laid down the wood pieces so often to check the fit I already know it's going to look fantastic!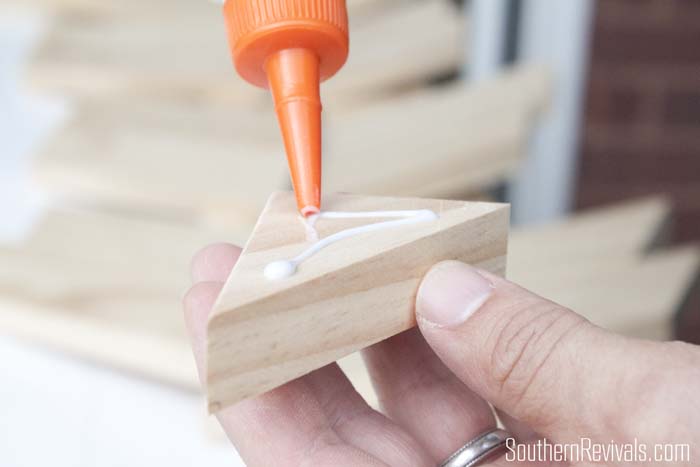 We add the glue to the back of each piece individually and apply it to the table.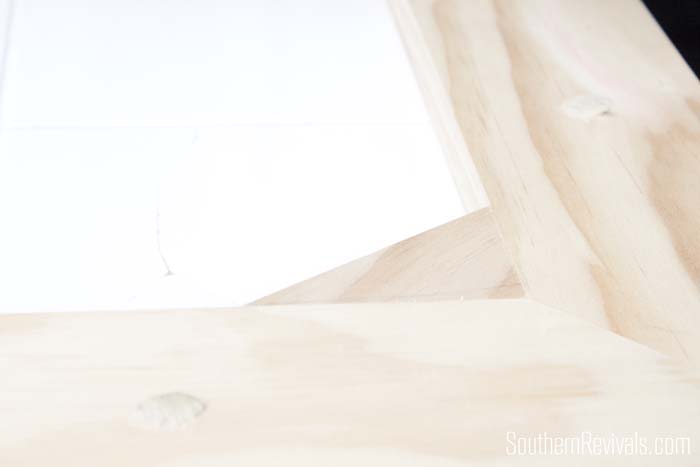 We fit each pre-labeled piece into place.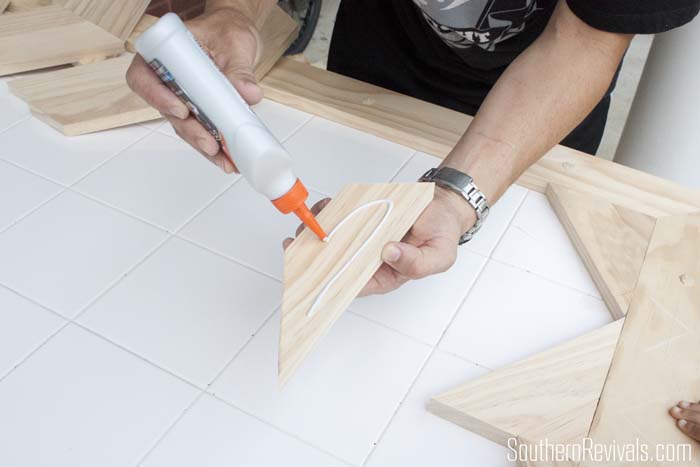 We work quickly getting each of the pieces glued and fitted into place. This stuff sets pretty fast.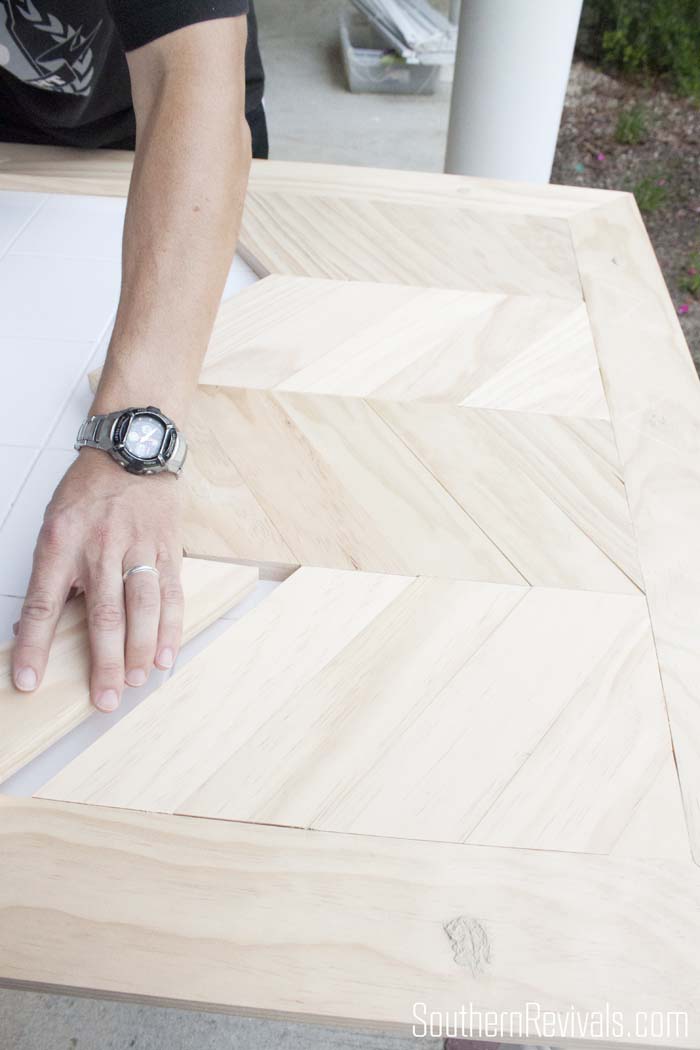 We make quick work of it and before we know it half of the table it already done!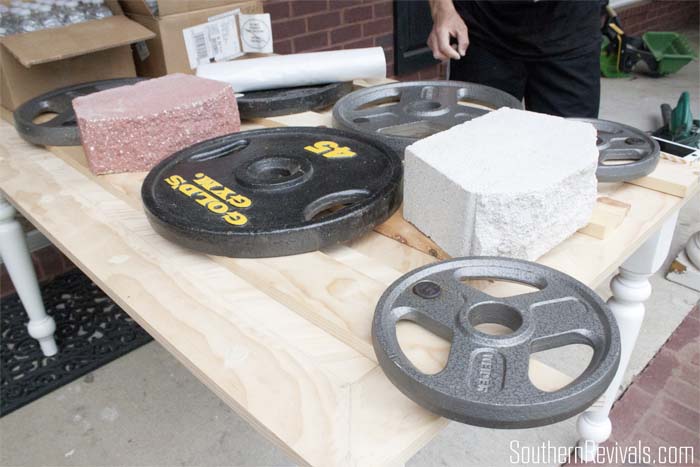 Once all of the pieces were in place we put boards across the table top and used weights (and random bits, too apparently!) to weigh the pieces down while they dried.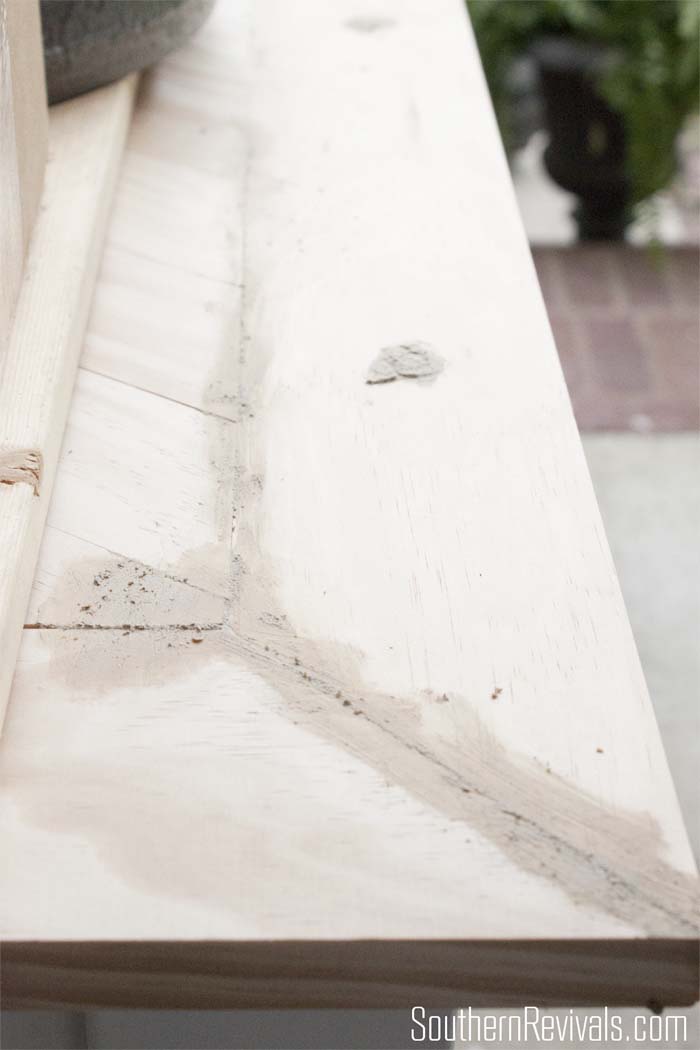 After letting it set and dry thoroughly, we went back and filled in any gaps with the ProBond Wood Filler. Once that was dry we sanded the entire table top to even it out and get it ready to stain.
For me this was the ultimate test. I have to admit. I wondered whether it would hold up to all of that sanding and to my delight it absolutely did! I can't wait to show you how the whole thing turned out, including what I decided to with the chairs.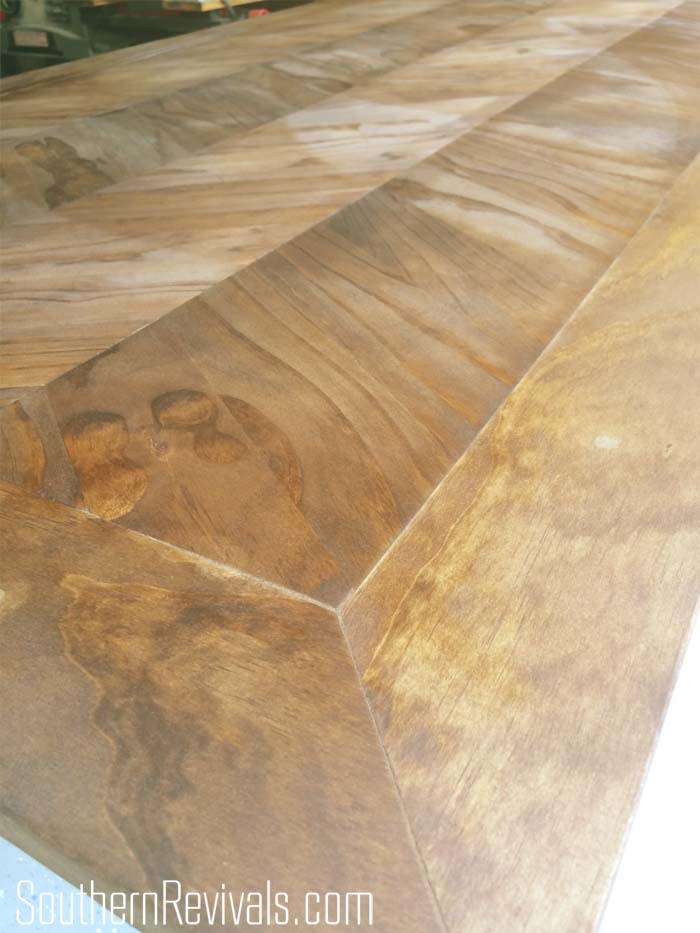 For now you'll have to enjoy this picture of the not quite finished but still so gorgeous top! No messy residue that won't stain left behind on this project! And I cannot get over the strength of a glue that allows me to attach to wood almost anything I want. So what project will you tackle now that Elmer's ProBond Advance has made it possible?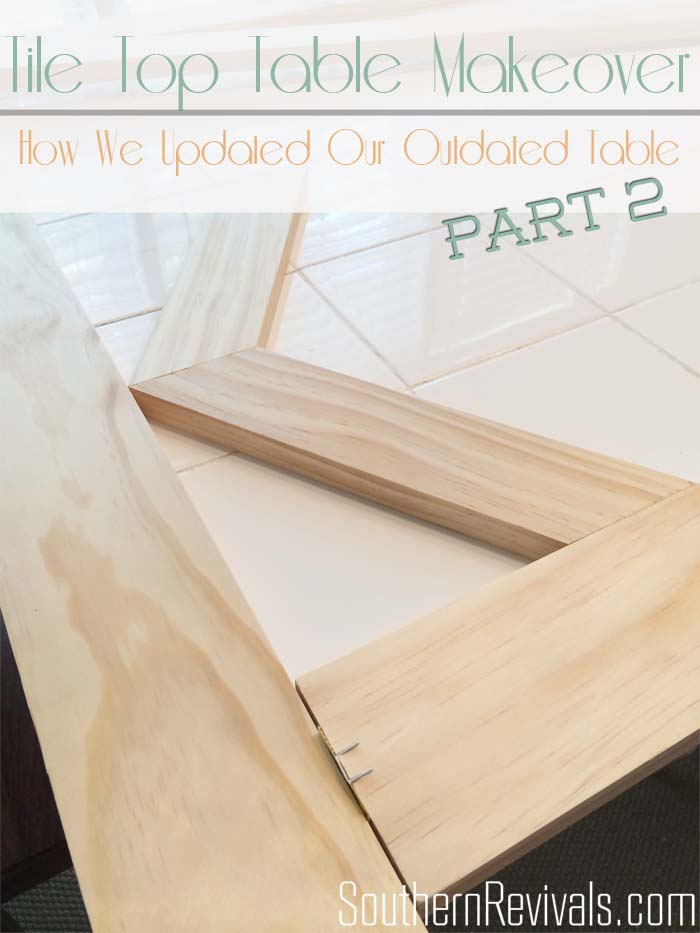 I'm pleased to report that it's been over a month and our table, that we used daily for more than just eating on,  has taken the abuse without a mark or a wobble. Take a look at Part 2 of our Tile Top Table Makeover and see how it looks in my kitchen now. In the meantime, if you have any questions feel free to leave them in the comments below or check out this video on Elmer's ProBond Advanced and get excited about that project everyone told you was impossible!