If you're a purist, consider yourself warned regarding this dresser makeover.
I put paint on a 100+ year old dresser.
Now. I feel like I should preface this by saying that I do not feel the need to put paint on everything but I also don't feel the need to keep something as is just because it's old. That isn't to say I'd turn a pristine 17th century bench into a garden planter but I don't see the point in allowing a piece to sit in your attic or garage and not putting it to good use, especially if it's a family heirloom.
This is Uncle Joe's dresser. It sat in a garage until the veneer started to peel.
Of course, giving it away wasn't an option. It was Uncle Joe's. So it sat.
In the bedroom on the back left corner of the house with the yellow roof on Zetterower Avenue is where this dresser once lived. Uncle Joe's room. This property, including the property where my client now lives, was part of a land grant to my client's great, great grandfather from the king of England. So this dresser has a story and I love a good story.
First the bubbling, cracking veneer had to be removed from the drawer fronts and bottom front of dresser.
Luckily most of the missing pieces from the claw feet were stored in one of the drawers so I was able to build them back up with only a few missing pieces.
The bottoms of the drawers were bowed from moisture and age but I wanted to keep the dresser as original as possible. Fortunately I was able to clean them up, tighten up the bottom boards and straighten them out.
Then I added the paint and some new brass knobs and suddenly Uncle Joe's dresser was transformed.
Add a little distressing for character and to hint at the great story it has to tell.
The dresser came with a mirror and this gorgeous frame. Instead of using the mirror I turned the frame into into a wire picture holder with some pretty fabric and brass wire.
So she can hang her treasured memories, perhaps a picture of Uncle Joe.
And while the feet, with their original wooden casters, aren't perfect, they're perfectly imperfect.
I don't know about you but I kind of feel like Uncle Joe might be proud of his dresser these days. And my motto is, and always has been, if you don't like it the way it is – revive it. Even if it's old. Because, in the end, heirlooms belong in your home not in your attic or garage.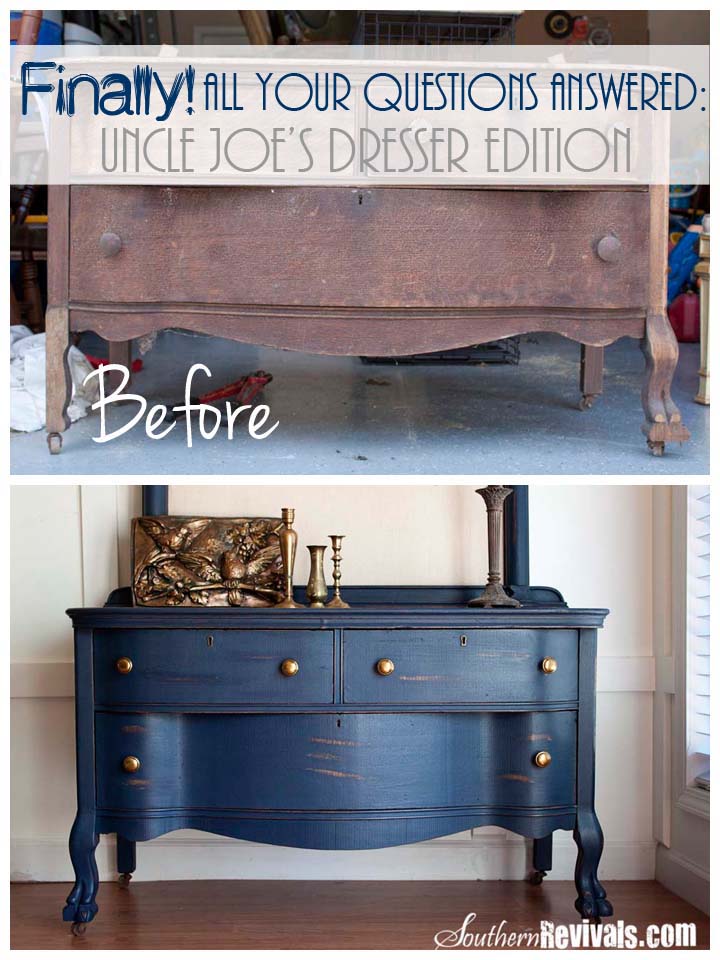 I have done an updated post on this piece. If you're interested in find out how I did what, check out the Uncle Joe's Dresser – The Answers to ALL Your Questions post.