This shop has been compensated by Collective Bias, Inc. and its advertiser. All opinions are mine alone. #BIGDeal #CollectiveBias.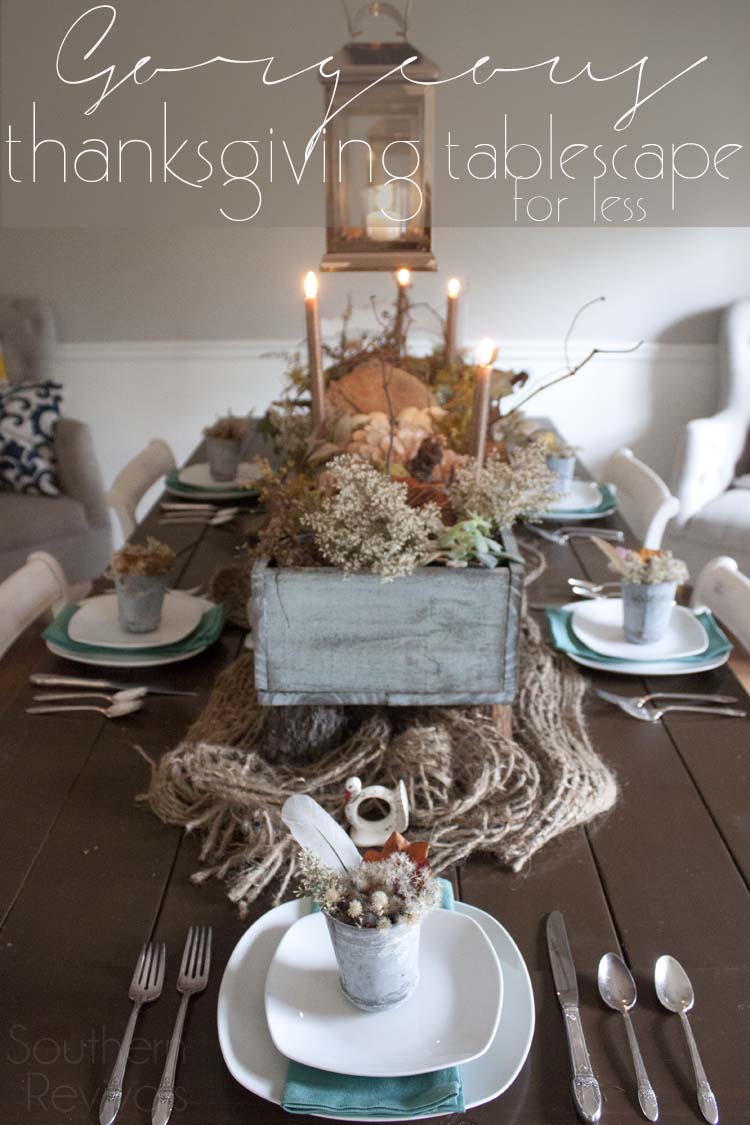 Creating an amazing Thanksgiving, Fall or Autumn tablescape can not only be easy but completely affordable. See how I used a few staples from
Big Lots
, added in a few flea market finds and combined all of that with found goodies from my yard to create this gorgeous Thanksgiving tablescape.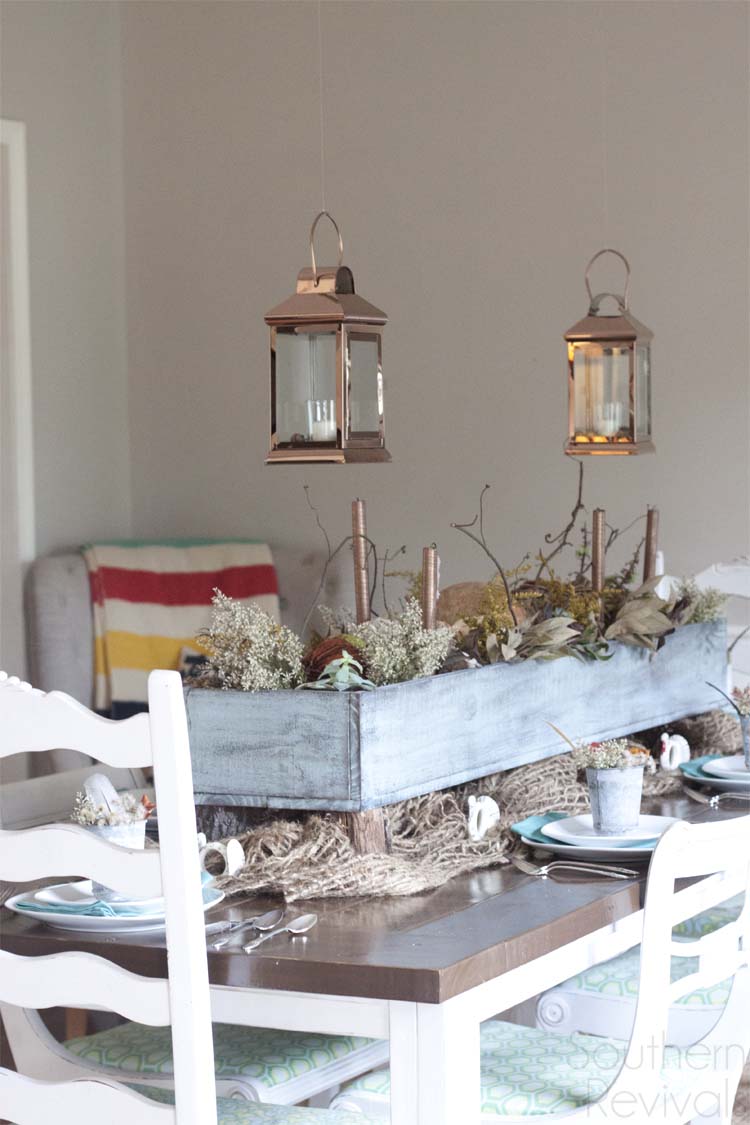 When I got engaged, over 16 years ago now, I couldn't believe people were going to buy me things because of it. Registering for gifts was even more awkward for my soon to be husband. He couldn't even wield the bar code scanner without having a fit of guilt. I didn't suffer that same.
But when it came to picking out fine china I was stopped dead in my tracks. What did I love enough to have someone spend $75, 100 or more per place setting? Did I love anything that much? And if I did, how long would I love it for?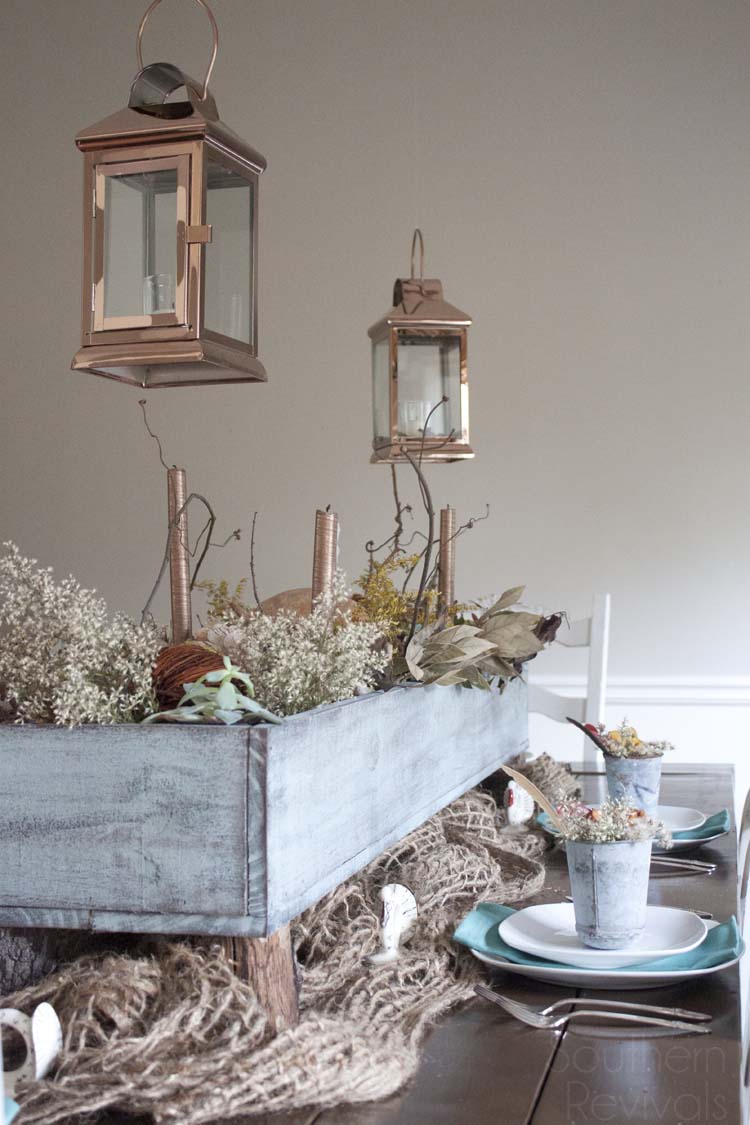 Did I have to?
It didn't take me long to realize that I'm just not a fine china kind of girl. For a lot of reasons. Not the least of which, I change my mind way too often to spend that kind of money.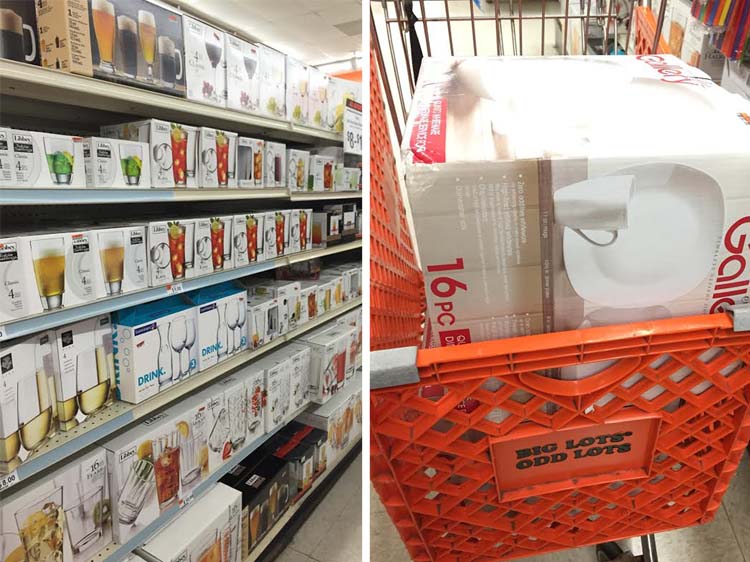 I had been eyeing these white dishes for a couple of weeks before I decided I had to have them.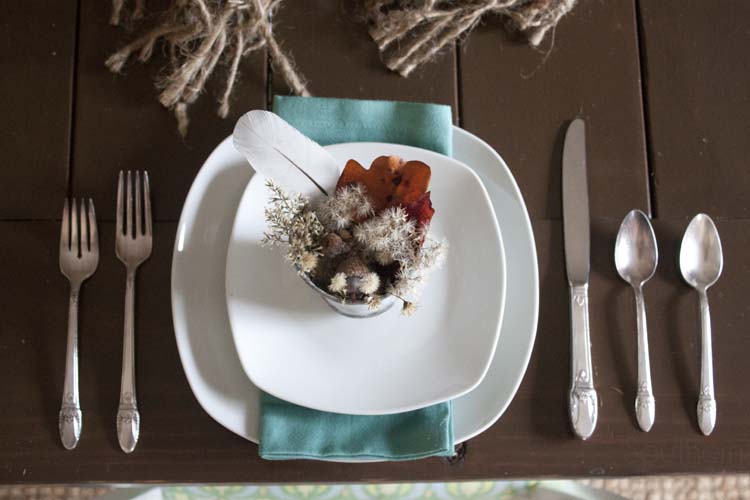 I love a beautiful colorful dish, don't get me wrong. But sometimes I just like to have a nice, blank canvas to work with, you know?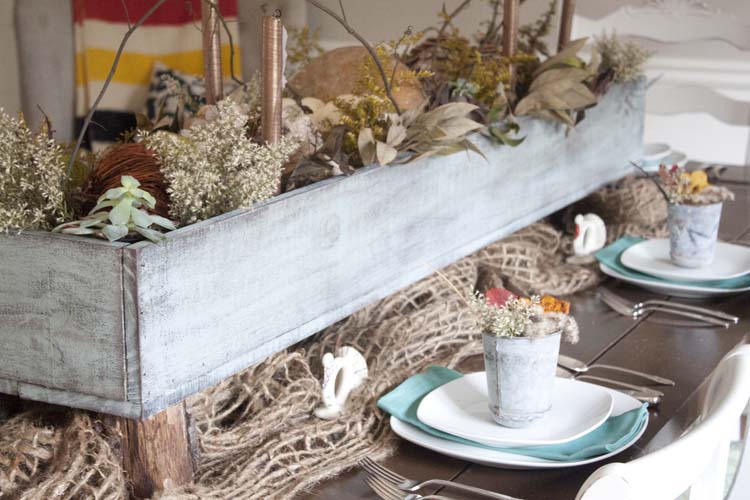 I made this rustic box centerpiece months ago (building tutorial soon) when I completely misunderstood the instructions for this post: Rustic Pumpkin Stand. Aside from feeling like a complete dork I really think it was one of my best mistakes yet.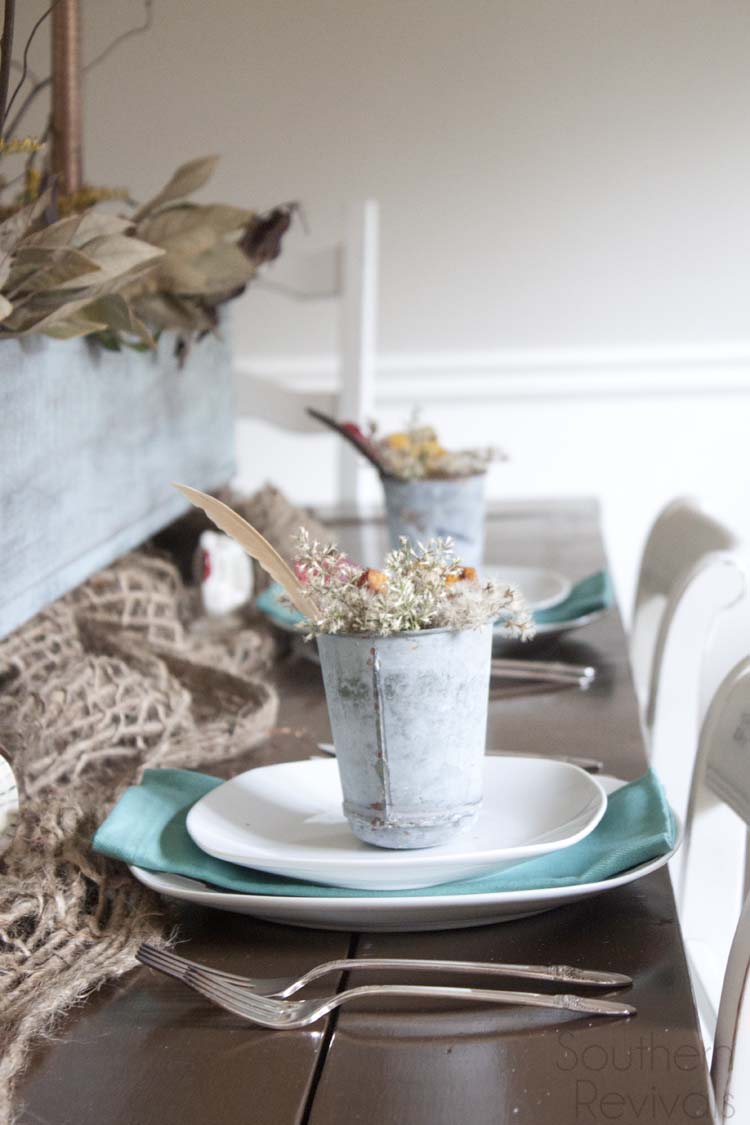 If you've been following me on Instagram you  know that I just got back from the Country Living Fair (recap post, soon!) where I picked up a few odds and ends to add to my table.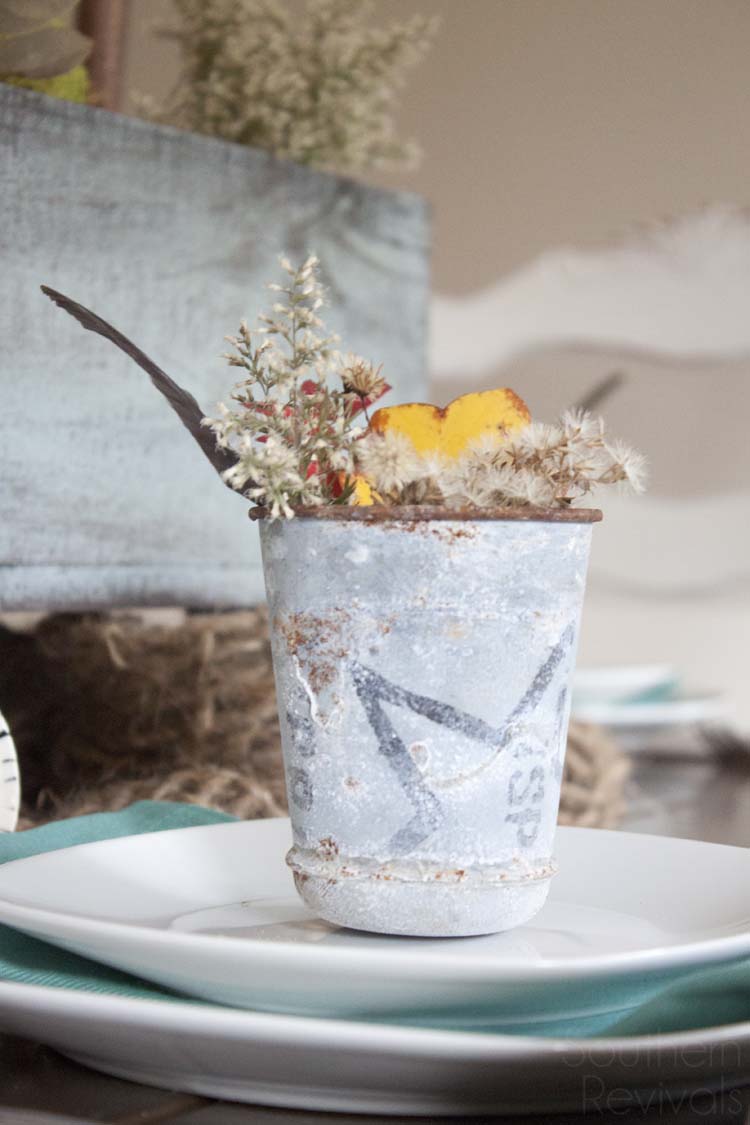 Of all my great finds this past weekend I do believe this one is my favorite. I haven't even bothered to take the time to find out what they were originally. I just knew I loved them.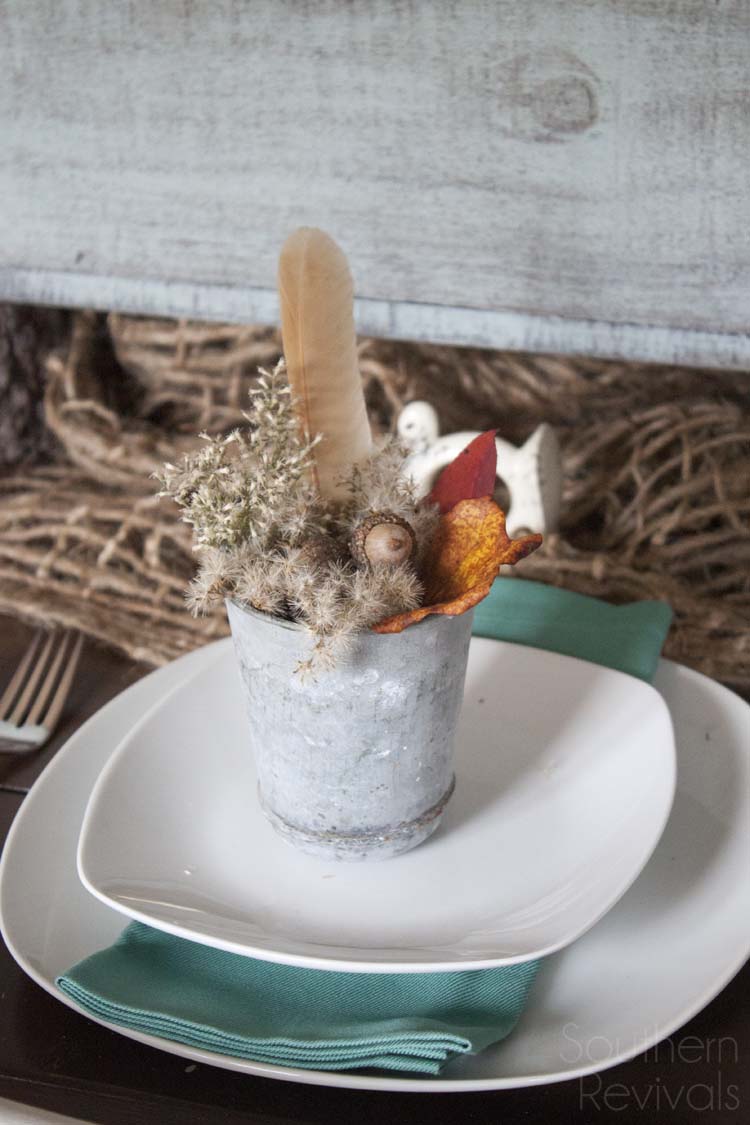 Like my centerpiece box I tucked a few things from the yard inside each one. Some clippings from those same flowers I used make that Fabulous FREE Fall Bouquet a couple years ago, some fallen leaves, acorns, and since my chickens are molting, I have plenty of feathers so I decided to use those, too.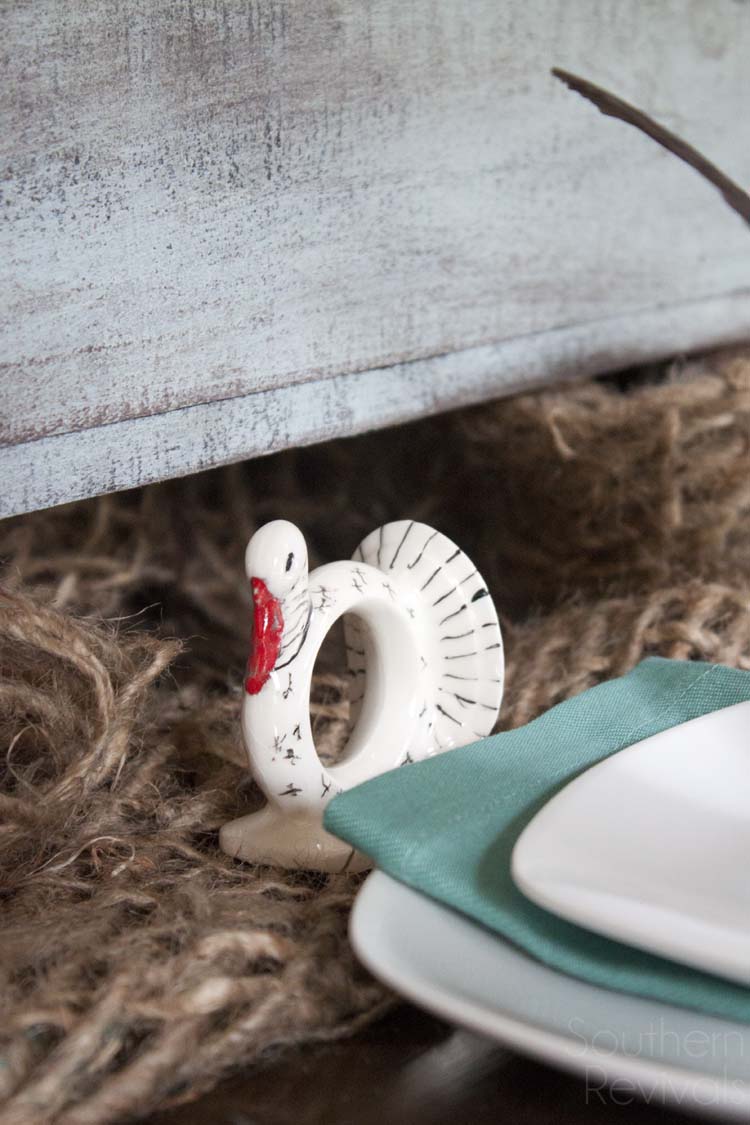 I got these vintage turkey napkin rings years ago at a local flea market. Maybe one of these days I'll actually use them as napkin rings. At least they actually made it to the table this year. I just adore them.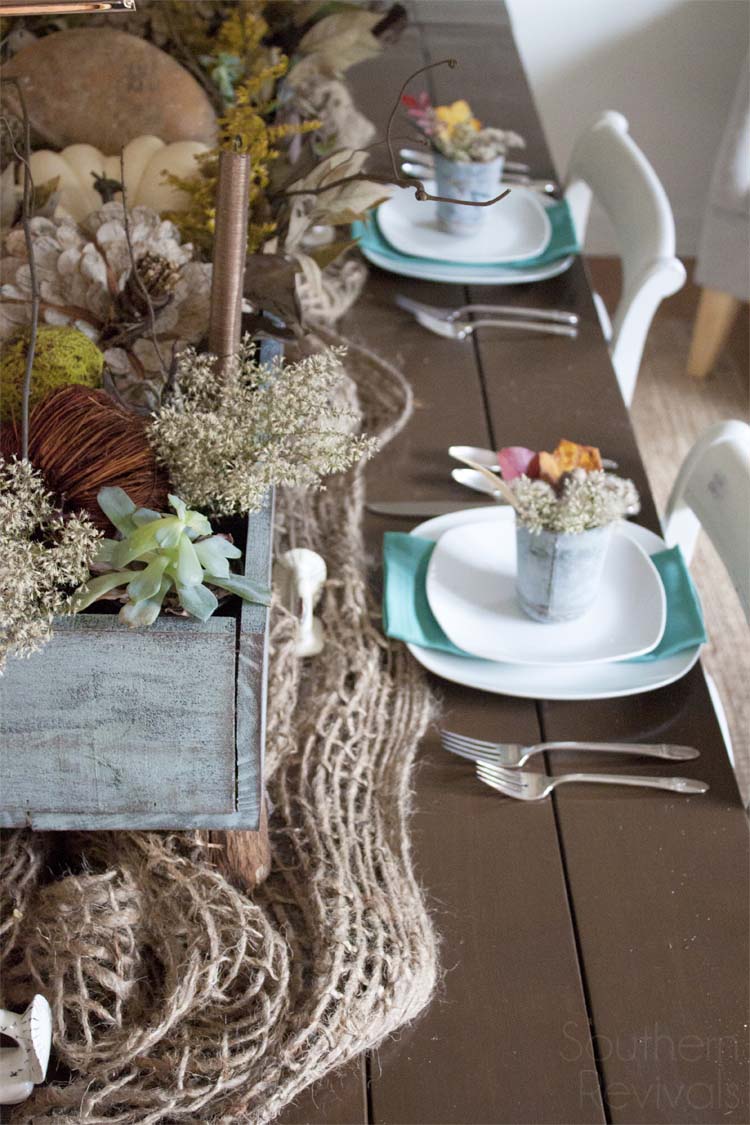 I also got this great woven jute at the fair as well. Before that my centerpiece box "needed something". This was just the thing!
With all that rustic you've gotta have a little shimmer to balance things out.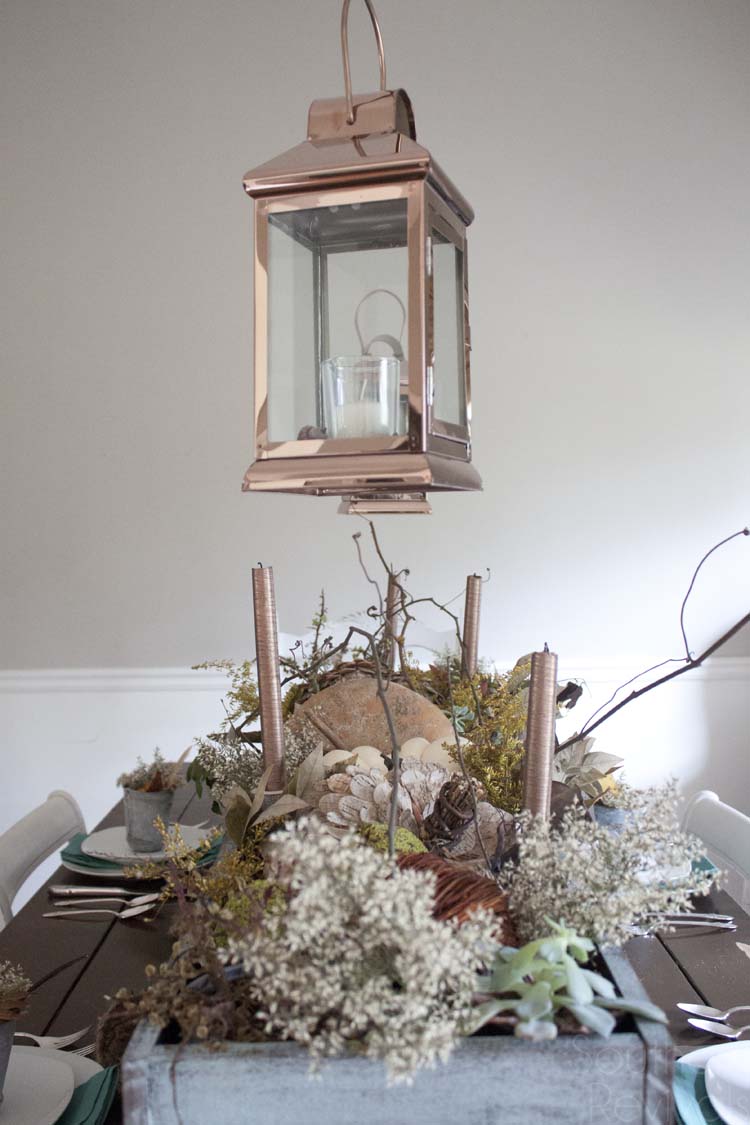 When I got these little copper lanterns from Big Lots I didn't know what I was going to do with them. I just knew they'd be perfect for adding a warm and cozy touch to this time of year.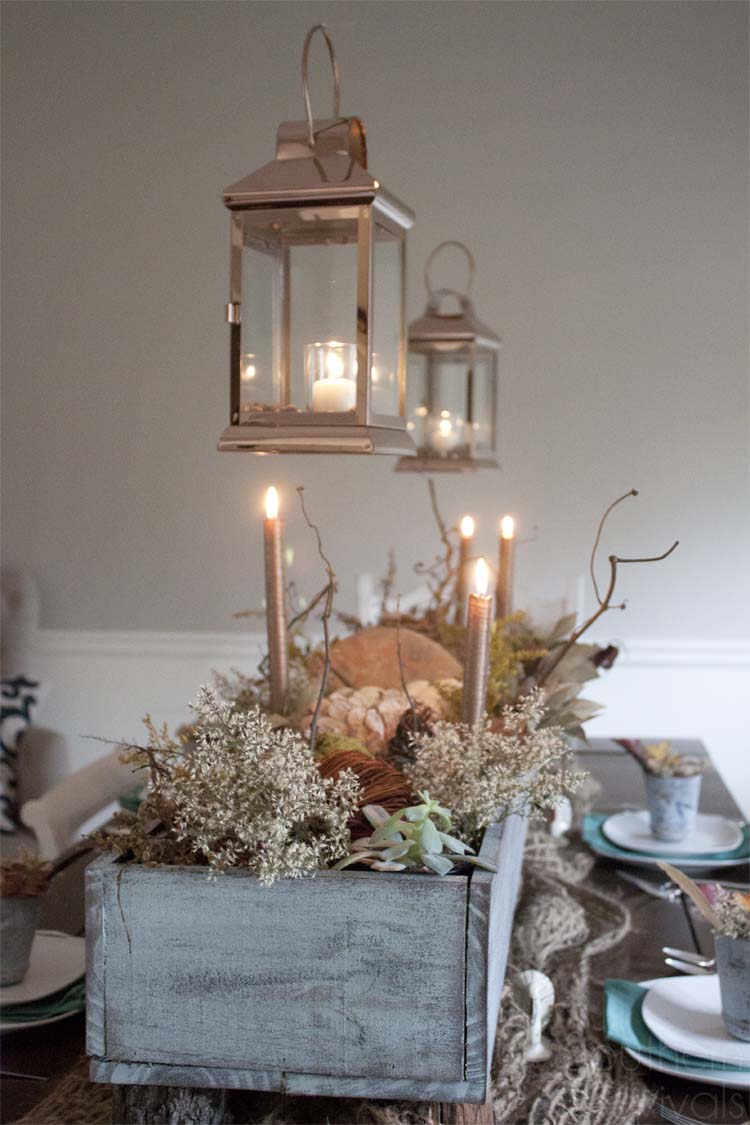 I'd say they do just that!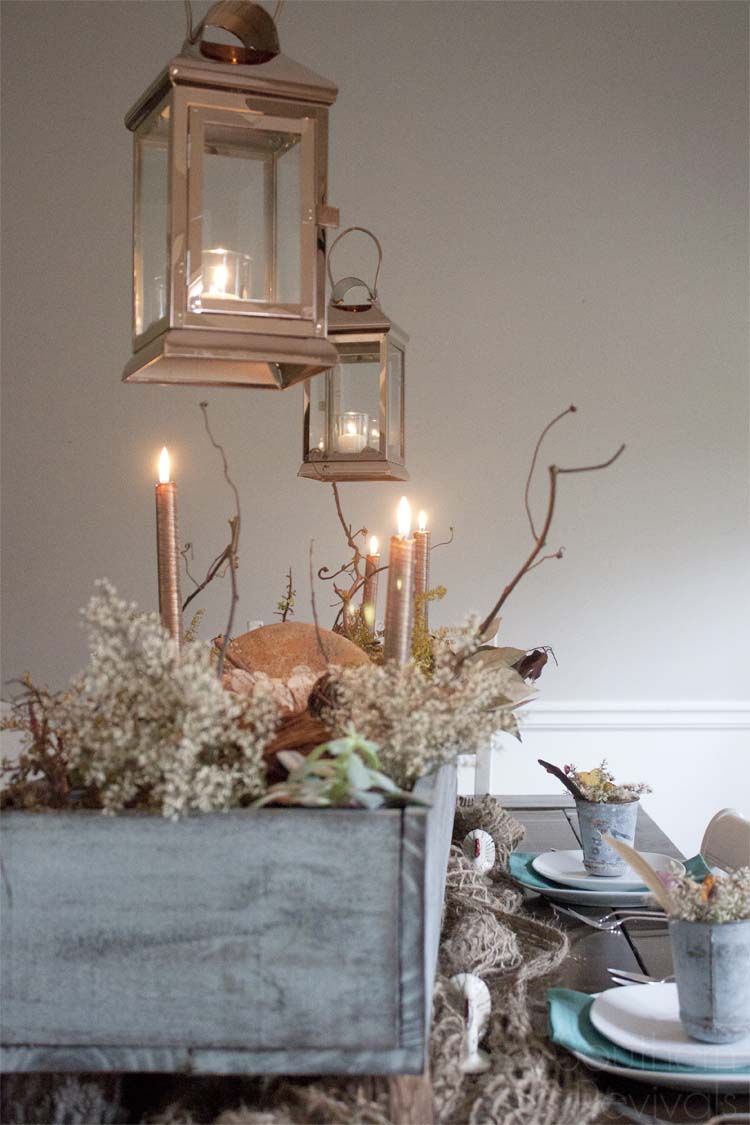 You know how I said those little galvanized buckets are my favorite part. I might've changed my mind.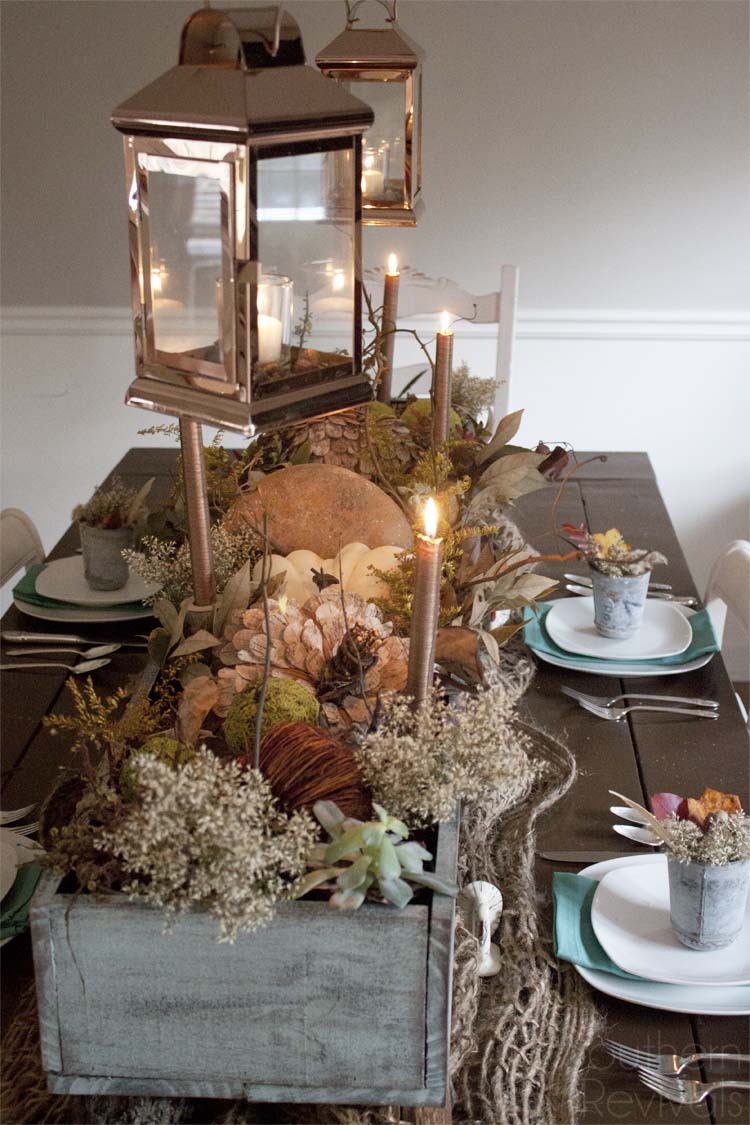 Like seriously, does it get any better than copper and candlelight?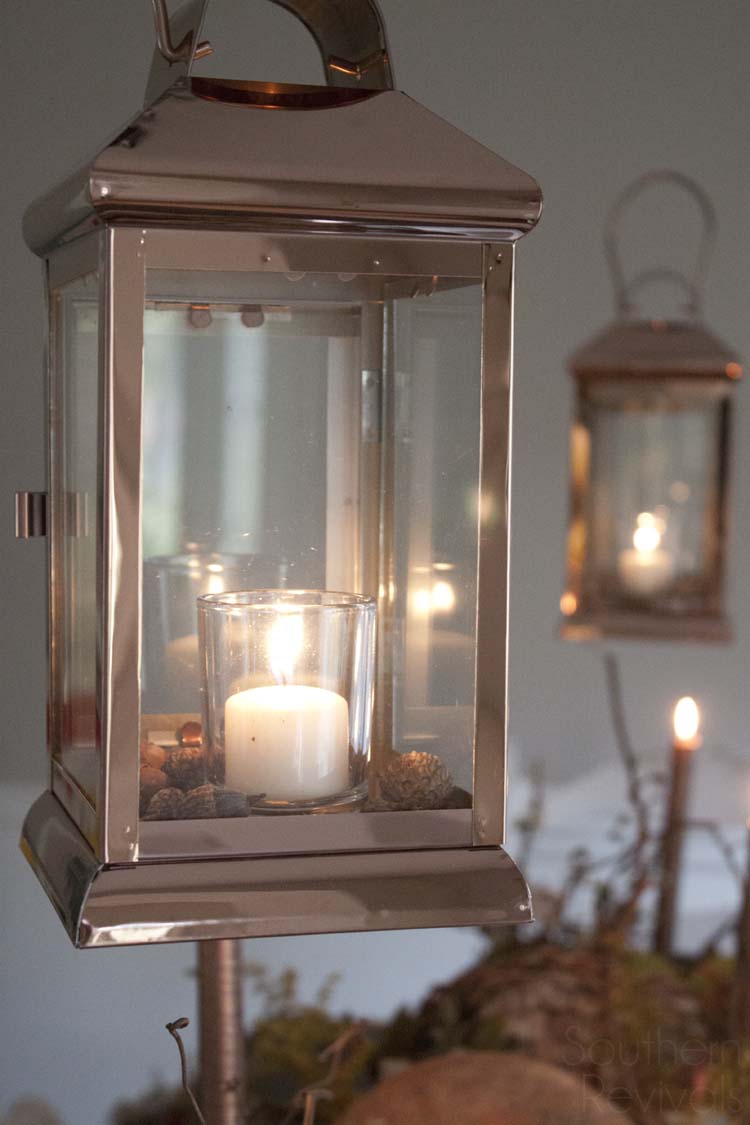 Nope.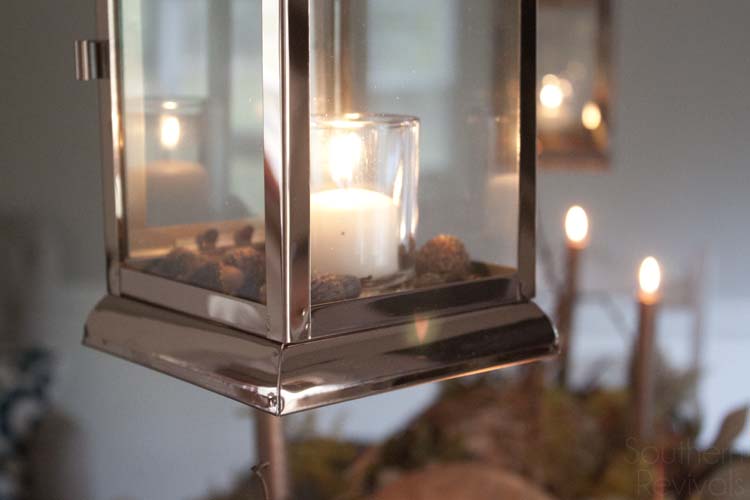 I don't think so.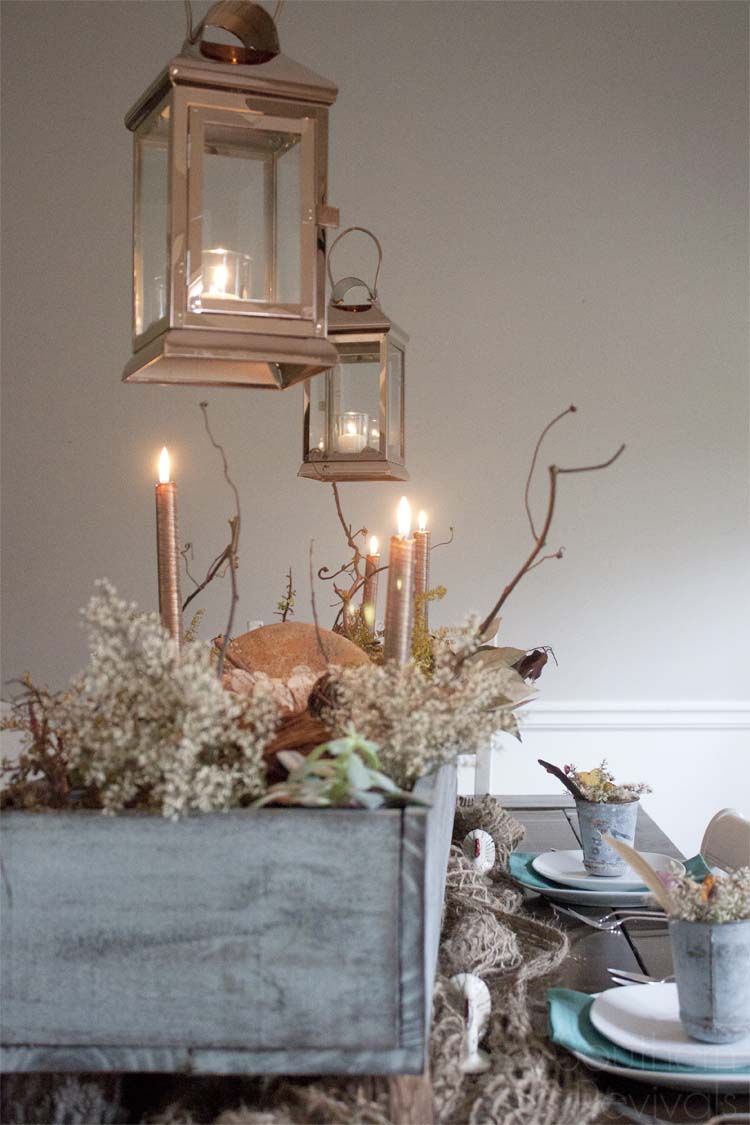 Just to be sure, let's look at them all one more time.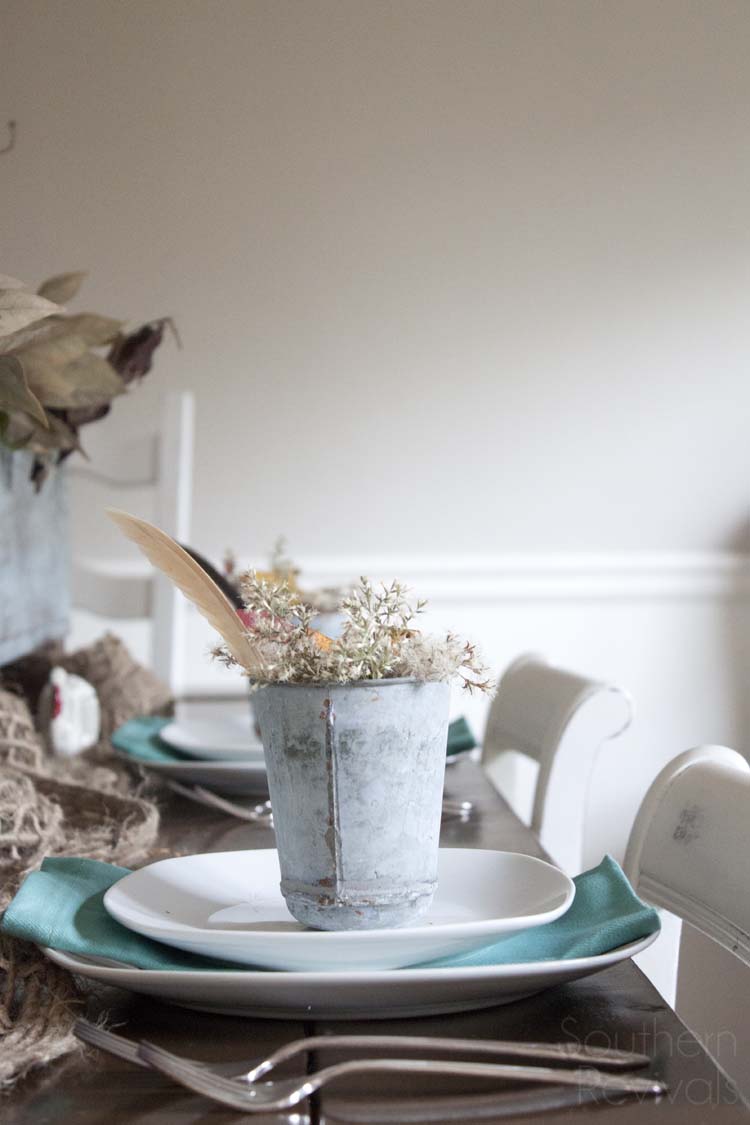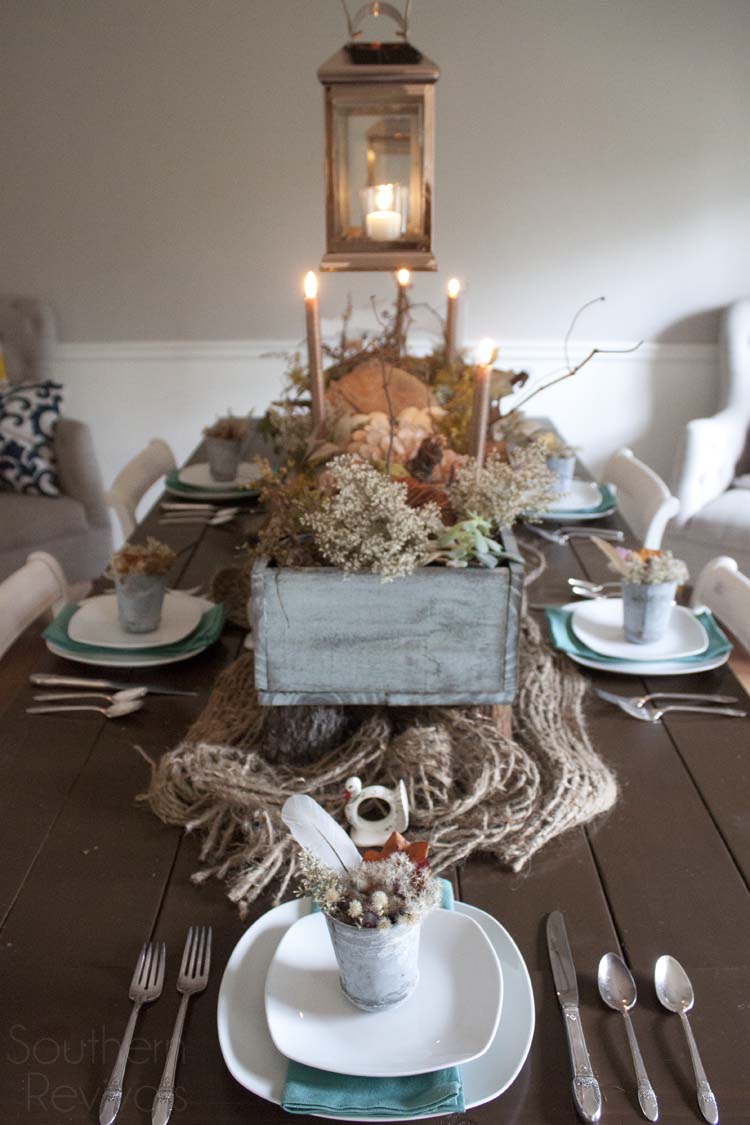 You  know, on second thought (or wait, is it third thought?)…you know what my favorite part really is? The fact that I created this entire tablescape for just a tad over $100. Two sets of dishes with service for eight. And not those super thin dishes, really great ones! No whitening agents added, dish washer, microwave and oven safe. Everything you'd expect from a good quality dish set. That and the copper lanterns all for around $70. Add to that my fair finds and the centerpiece box, all of that, for a little over $100!
Paired with a few things I already had on hand and those great clippings and found things from my yard.
Yep. That's definitely my favorite part.