This post may contain affiliate links. Please see my disclosure for more info.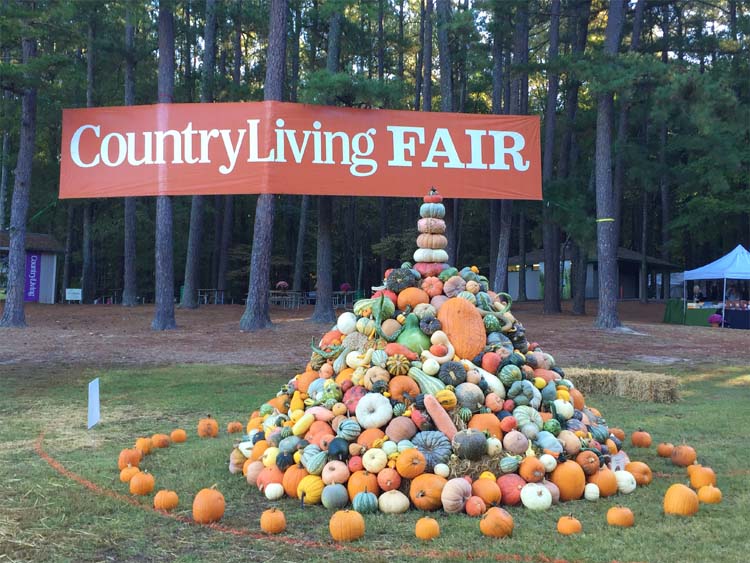 True to form I am at least a week late in sharing this post but there were just so. many. pictures. Here's a recap of my first visit to the Country Living Fair in Atlanta and some shopping tips to help you have the best experience possible.
Shopping Tips
Get the Early Bird Tickets – Trust me on this one. They are SO worth it. Not only do you get in an hour and a half early (try not to be smug as you walk by the long line of people waiting to enter at 10 am) but you'll get first dibs on all the good stuff. First dibs! And as if that wasn't great enough the best reason to get the Early Bird tickets are the Early Bird Discounts! Not every booth will offer these but when they do, they're good.
Bring a cart – I failed at that this year but if you follow me on Instagram you know I made up for it with my ridiculously cute cart (with cart liner) from Modern June that I got at the fair. It was my first purchase and worth every penny (and I got my Early Bird Discount!). It will free up your hands and make navigating the trails easier. Plus, you'll just enjoy your experience more. Will you buy more? Maybe. But that's what you're here for, right?!
Go All 3 Days – It won't take you all 3 (or even 2) days to get around to everything but there's just so much to see that it's a good idea to let in sink in on the first day. You are guaranteed to see things on your 2nd and 3rd days that you didn't see on your first. That's due in part to getting your bearings but also because sellers will move things around each day to keep their booths fresh. So what you missed yesterday might call out to you tomorrow. Plus, why not just make a weekend out of it. You won't regret it!
If you really, really love it, get it! Because it won't be there later. Trust me on this one. I saw this huge pizza oven paddle that was the perfect color and was perfect for hanging on my living room wall. But I decided to wait and see. And you know how that story ends. Will all the things you like be gone? Probably not but if you are in love with it you don't want to take the risk and miss out. Especially if it is something unique.
Some Booths Sell the Same Things – This isn't true fair-wide but there are a few things that can be found in abundance (those little, galvanized cups and jute table runner I bought, for example. And they aren't all priced equally. If you're seeing some things that you're interested in from more than one seller be sure to check the prices. I saved $2 ea on one item that I bought several of and a whopping $22 on another item.
Be Respectful to Sellers – Listen. I was once a store owner. I know what it's like to be approached with a low-ball offer that really says you don't care (or think about) how much work I put into it. Even if "all I did" was hunt for it. Sellers are willing to make you a deal if you ask nicely but be respectful. My best advice is to simply ask, how much would you take for this? That tells the seller that you respect that this is their job and in return, they'll make you an offer.
Don't Expect Everything to be Half Off, or more, on Sunday – This goes along with the point above. Most of the sellers at this fair do this professionally. More often than not when these sellers pack up they are headed off to another show. They don't need to unload all of their stuff just because it's the last day. Will they offer you a deal? Yes! But see the point above. Having said that, some booths will have specials on the final day that's why sticking around all weekend definitely has its advantages!
The CL Fair is NOT a Flea Market – The thing you need to understand is the CL Fair is NOT a flea market full of junk. These are carefully curated, collected and handmade items. Don't go expecting to get a $10 dresser that you can makeover. This isn't that kind of place. Sure there are plenty of things that you can find to make things out of but there are also beautifully finished items ready for you to take home and decorate with. And don't go with the mindset that, I can just make that without asking yourself, but will I?
Bag Check – so get this. Even though you really are going to want a cart…there are these handy dandy locations throughout the fair called 'Bag Checks'. Every one of them has its own bodyguard so your stuff is safe while you keep on shopping. Good stuff, am I right?
Porter Services – Ok. This one kind of blows my mind. If you find a large item that you want to take home a porter of the CL Fair will come and get it for you. They take it to the large time tents that they have a special place set up for and you can pick it up there. Need help getting it to your car? They do that, too! And. AND if you need it shipped instead, guess what? Shipping and delivery services are ON SITE. Shut up.
Celebrities – Listen. I love Ree Drummond as much as the next girl. Reading her funny words were a big part of what made me start this blog. BUT if there's a big "headlining" celebrity like she was in Atlanta, and you want to meet her, be prepared to spend half of one of the days you're there waiting in line to do so. Hey! I'm not saying it isn't worth it. Just be forewarned. They only do book signing sessions for ever so long and if you are far enough in the back of the line you might be waiting there for nothing. Also, just because they are going to be there doesn't mean they will be there all 3 days. Pay attention to when your favorite is going to be there so you won't be disappointed!
**While I experienced the Country Living Fair in Atlanta ONLY, it is my firm belief that you'll find the above tips helpful at any of the CL Fairs: Nashville, TN, Rhinebeck, NY, Columbus, OH and Atlanta, GA. Although, a helpful tip shared by one of the vendors in Atlanta is that every show is different. And therefore worth attending even if you have been to another!
Recap
The Main Stage
So…without further ado, here's my recap on the Country Living Fair.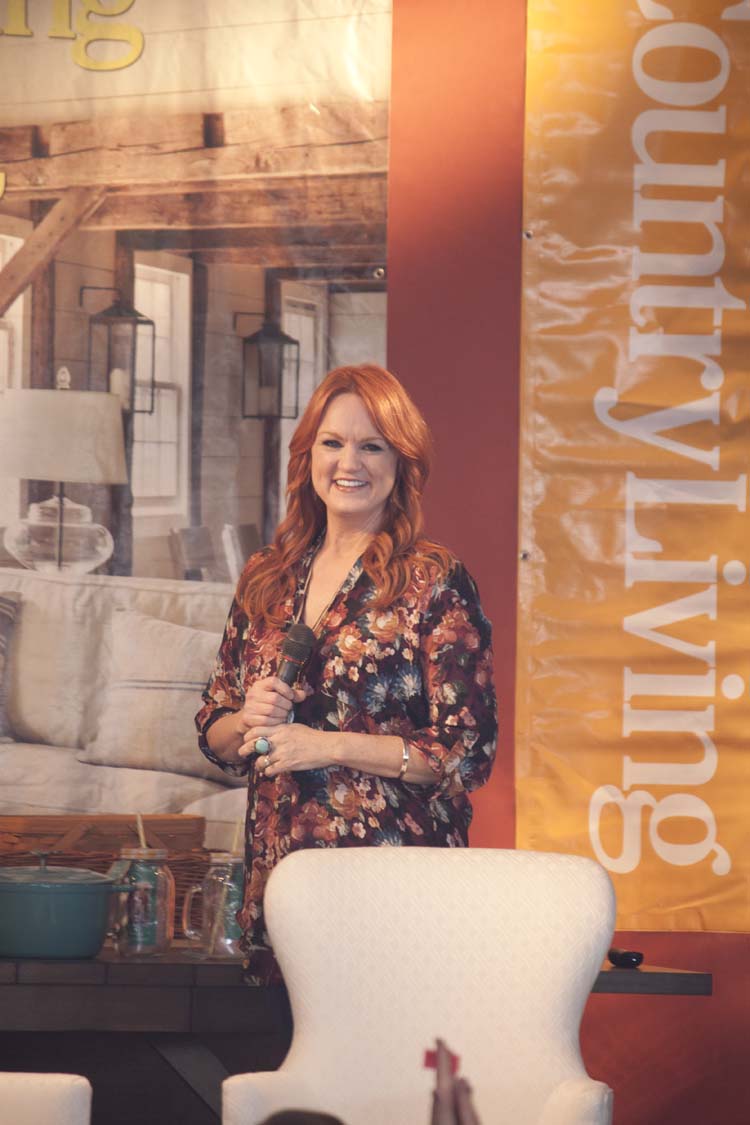 And while we're on the subject of celebrity I figure The Pioneer woman is as good a place to start as any. This is her speaking on the Main Stage.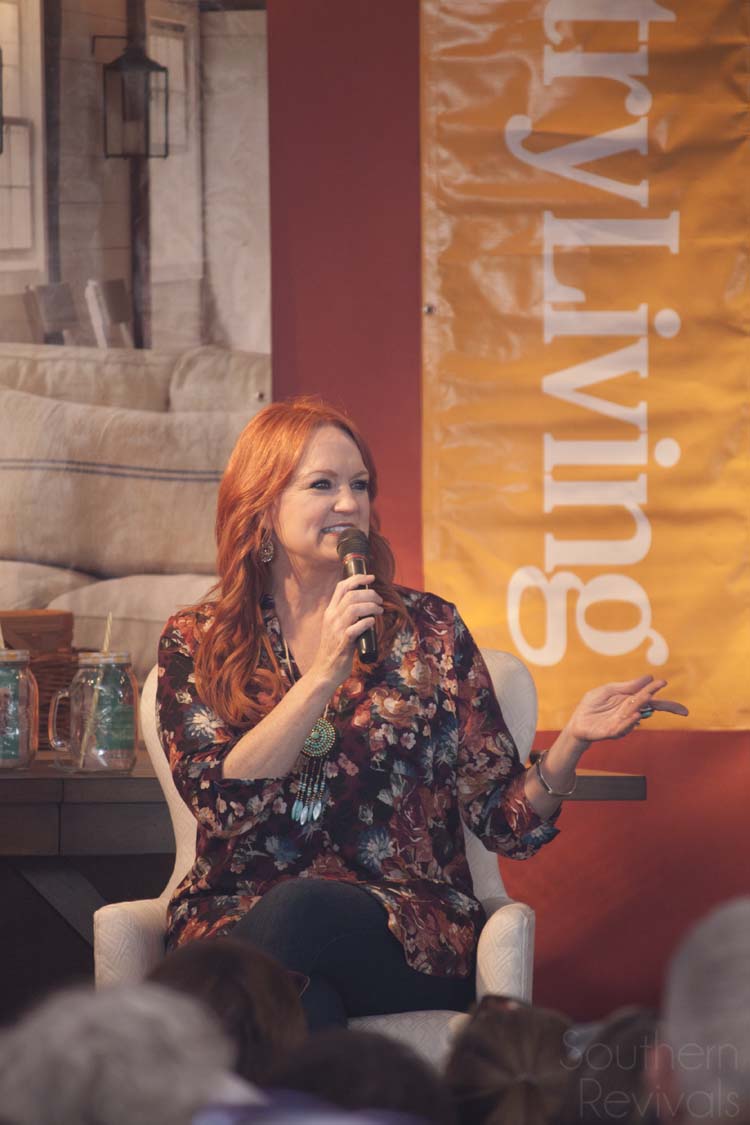 Her Best Chocolate Sheet Cake. Ever. is a staple in my house and has been for years. I think the title is more than fitting. Plus, she's just really super funny and down to earth.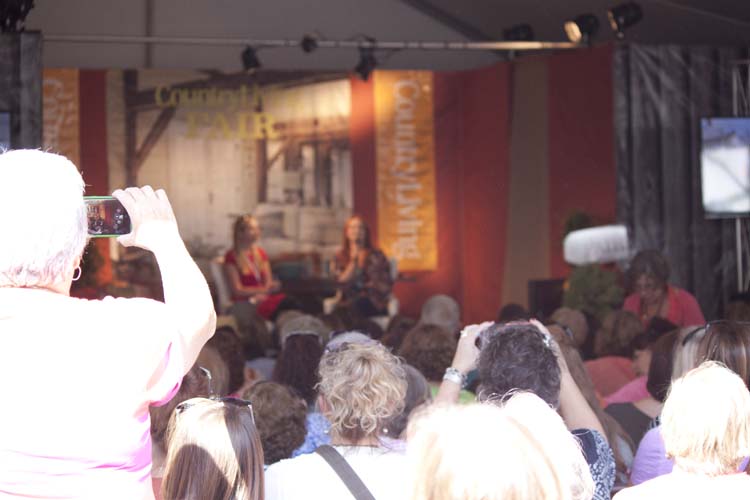 Also, before you get super jealous of just how close I was, here's a dose of reality for you. Thank goodness for long camera lenses. This is as close as I got. She was only there on Friday. By the time I got in line for her to sign my books a helpful CL Fair guy told me that I was welcome to stay oi line but that I was likely too far back to get one before she was done. And by too far back I mean approximately 2.4 million people were ahead of me. The good news is if you're content to miss a big celeb this is a good time to shop instead!
The Vendors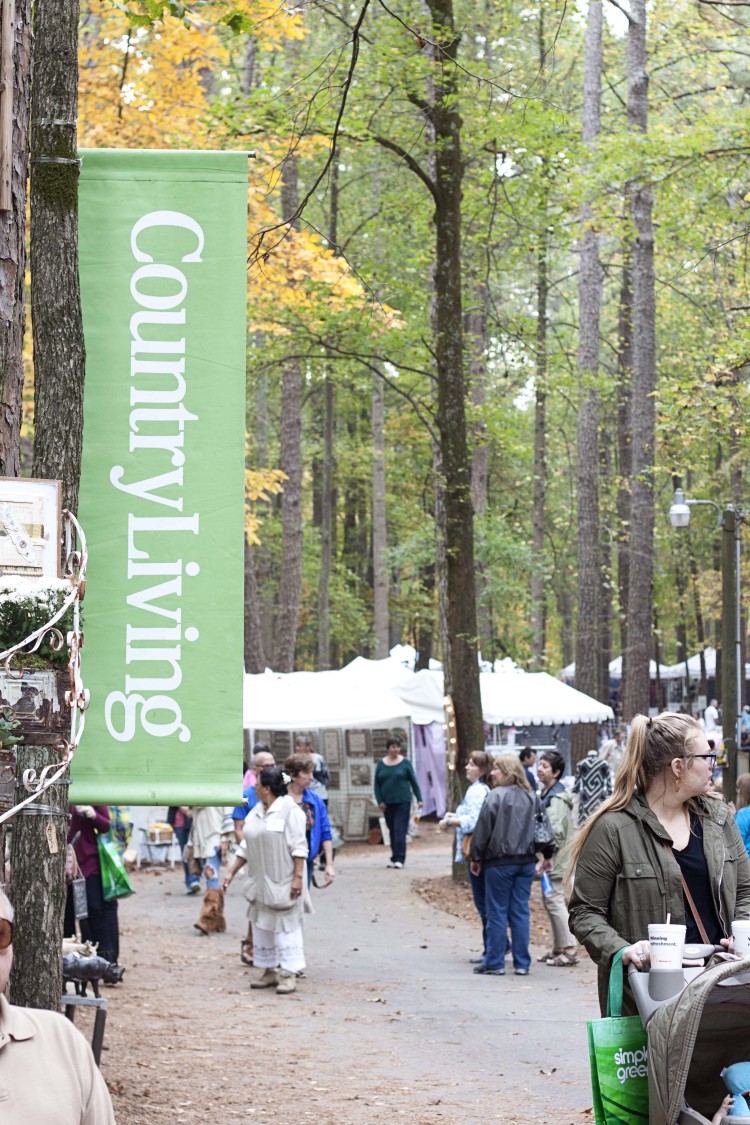 The Country Living Fair Atlanta is held in the beautiful Stone Mountain Park which means you get to walk through trails lined and covered by trees. Which, in Georgia, means that this will keep you cool on the very good chance that it's unseasonably warm.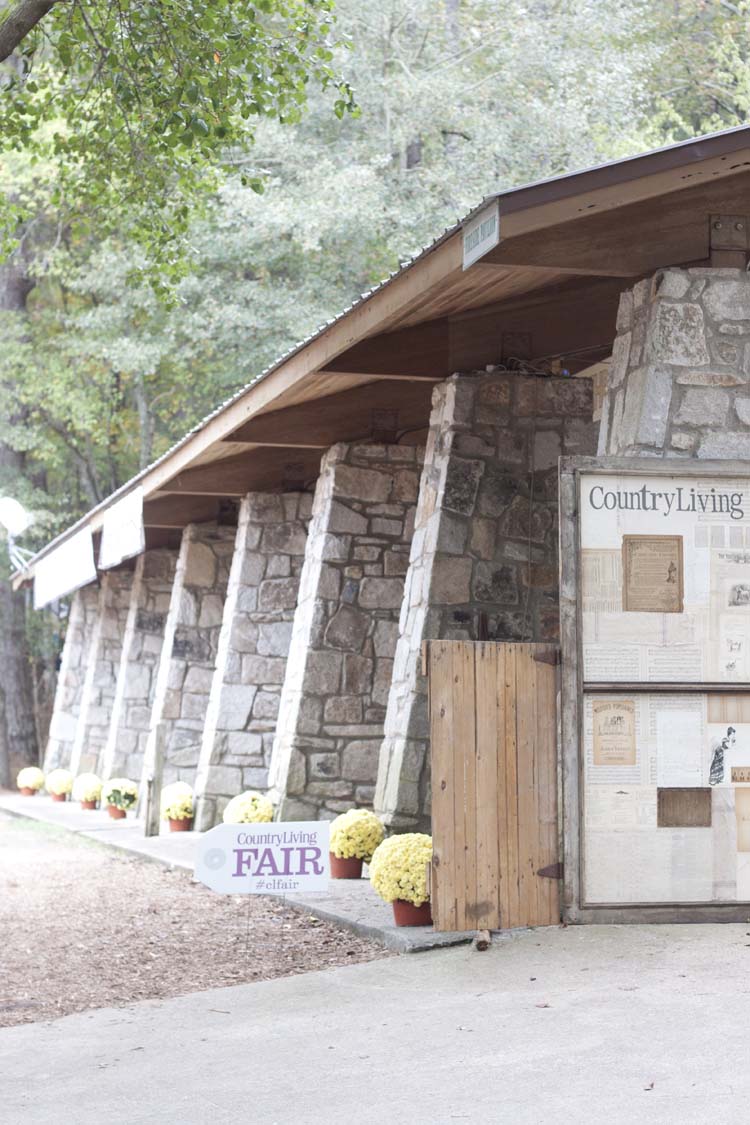 The Pavilion is where all of the book signings are done, Country Living merch can be purchased and extra shade can be had it you need to cool off.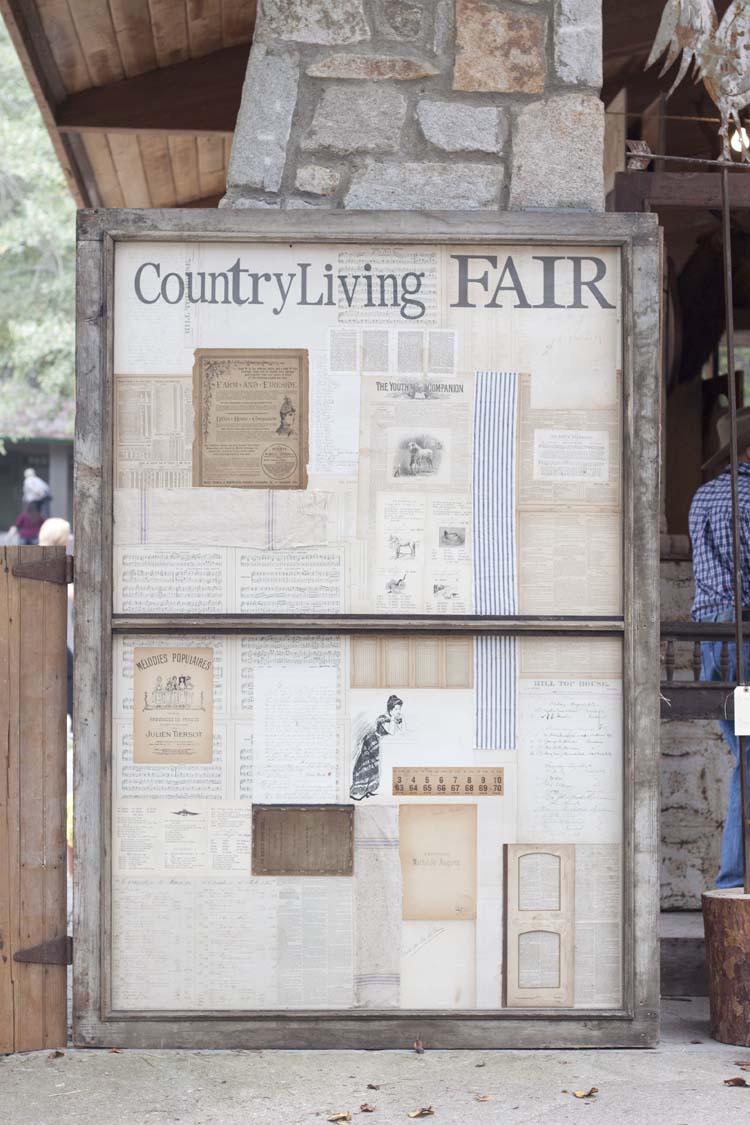 Plus, it's not a bad place for a little shopping.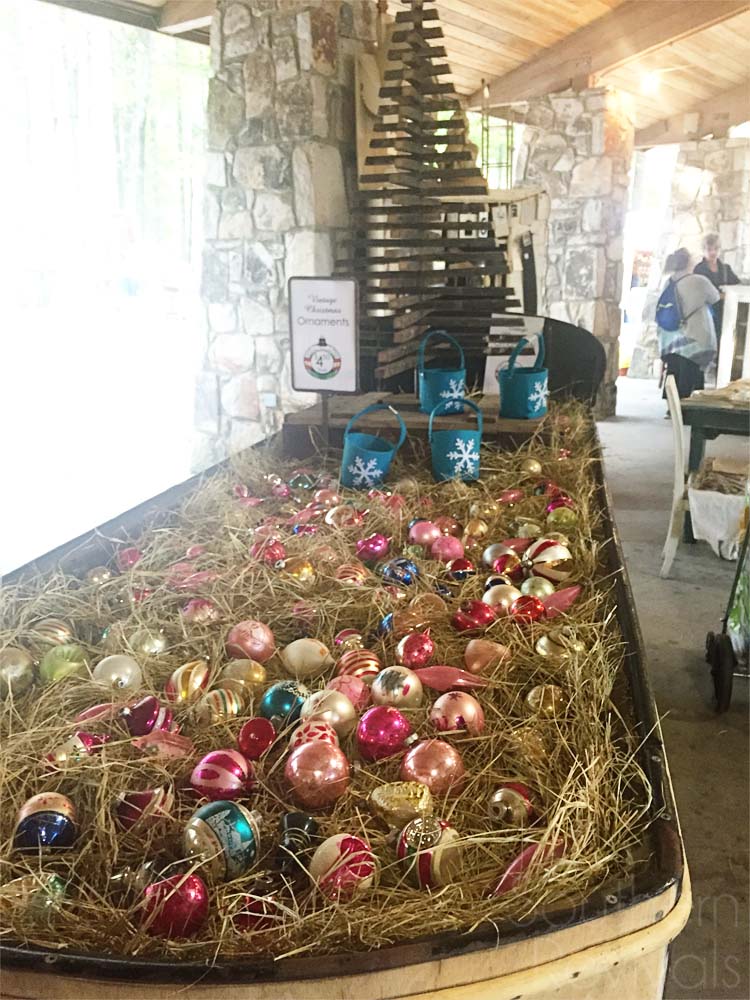 I never get tired of vintage ornaments. I wish I had all of the ones from my family over the years but I don't know where they got off to.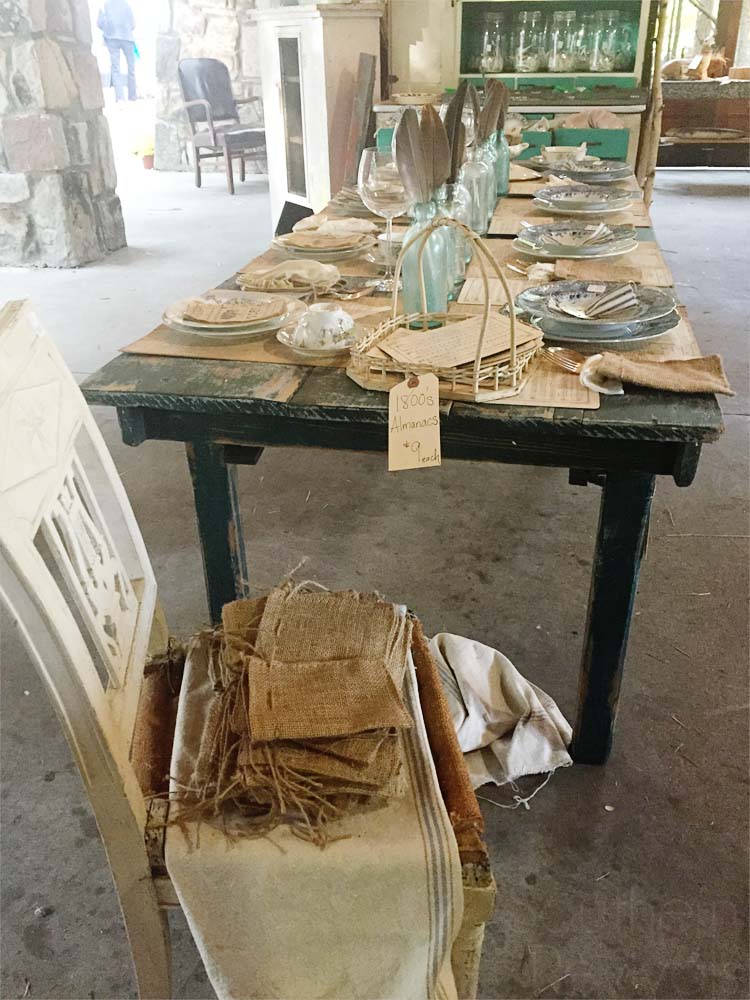 I loved all of the different tables settings and kept hoping to find a large set of vintage dishes that suited me but I either just found pieces or blue. And while I love blue, it's just not what I'm looking for.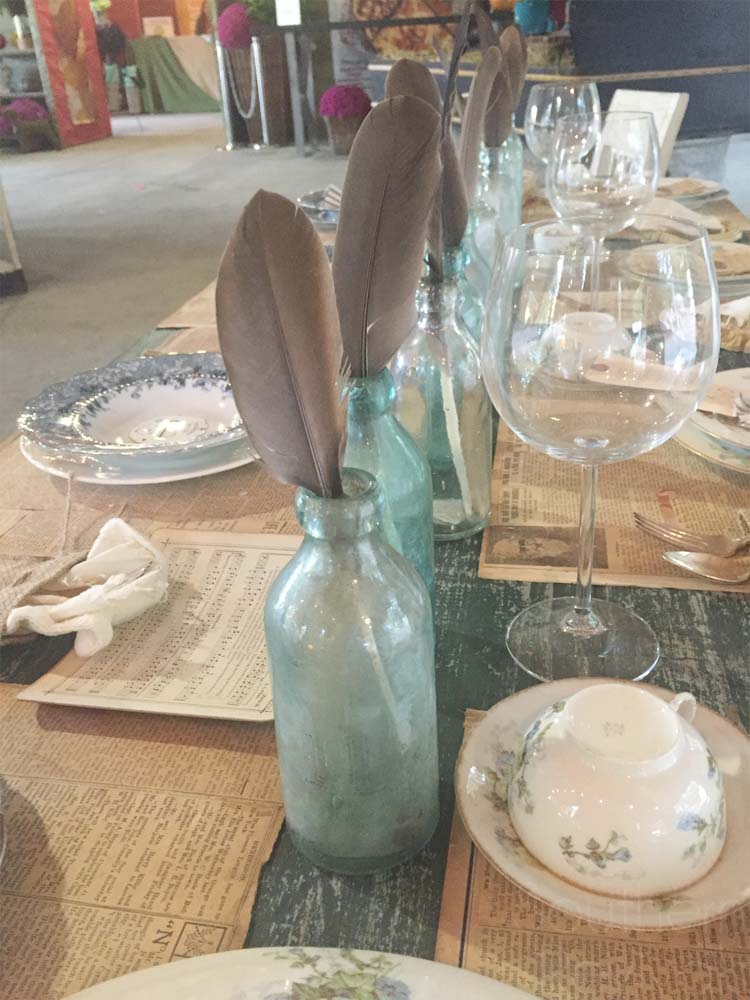 The simple but striking centerpieces were one of my favorites.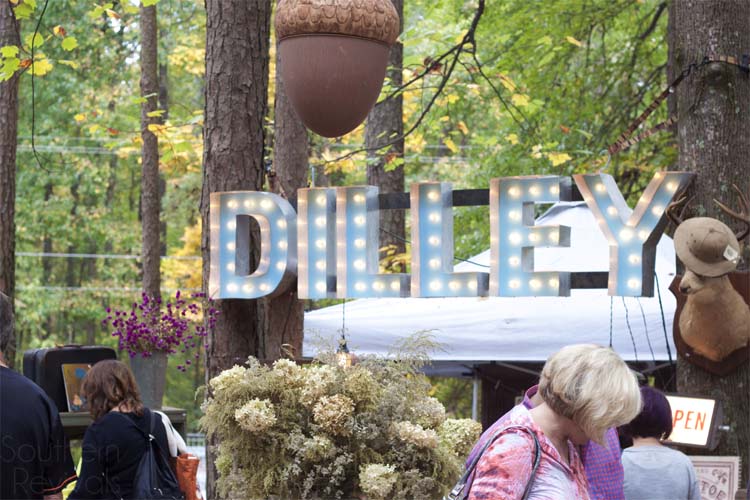 While I was there I got to talk with a few of the vendors on the final day like Dilley Brand from Monroe, GA. If you're from around this area, consider yourself lucky. There are lots of great talents there and Cherry Hill at The Mill that I discovered a couple of years ago now. It's a must!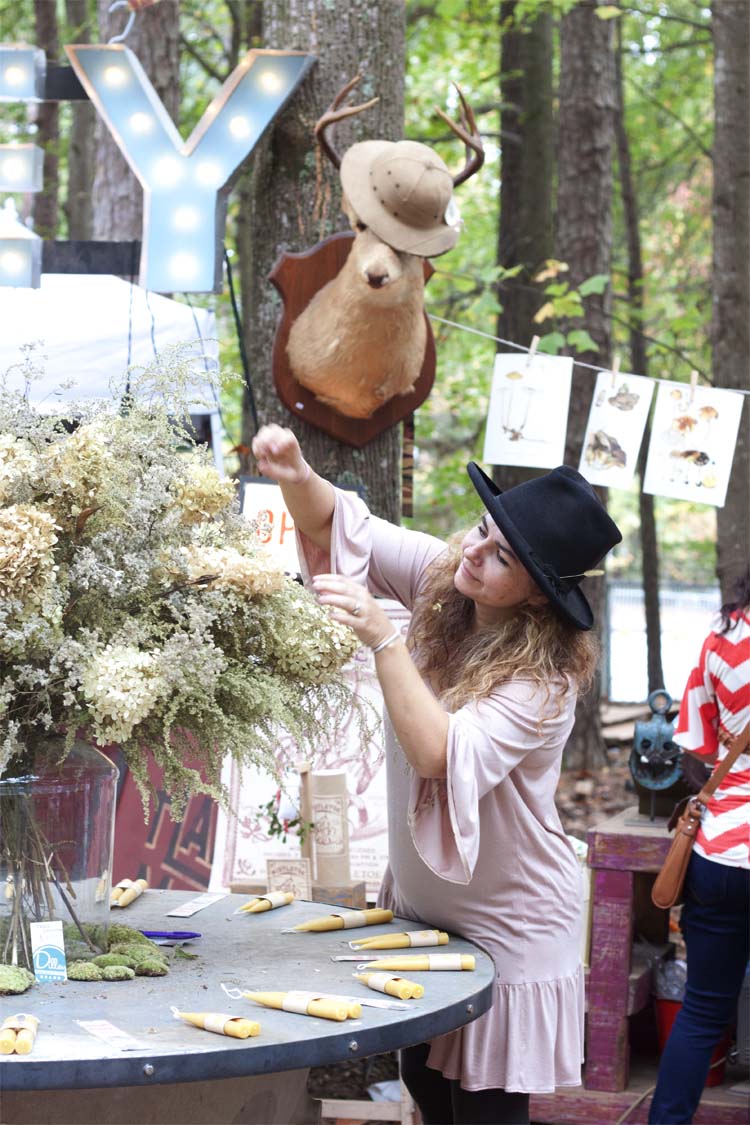 I couldn't get enough of the styling from this booth so I asked her if I could take pics. She was gracious enough not only to let me but to let me take one of her as well. Which I later learned British people do not usually do willingly. So I felt extra grateful. How adorable is she?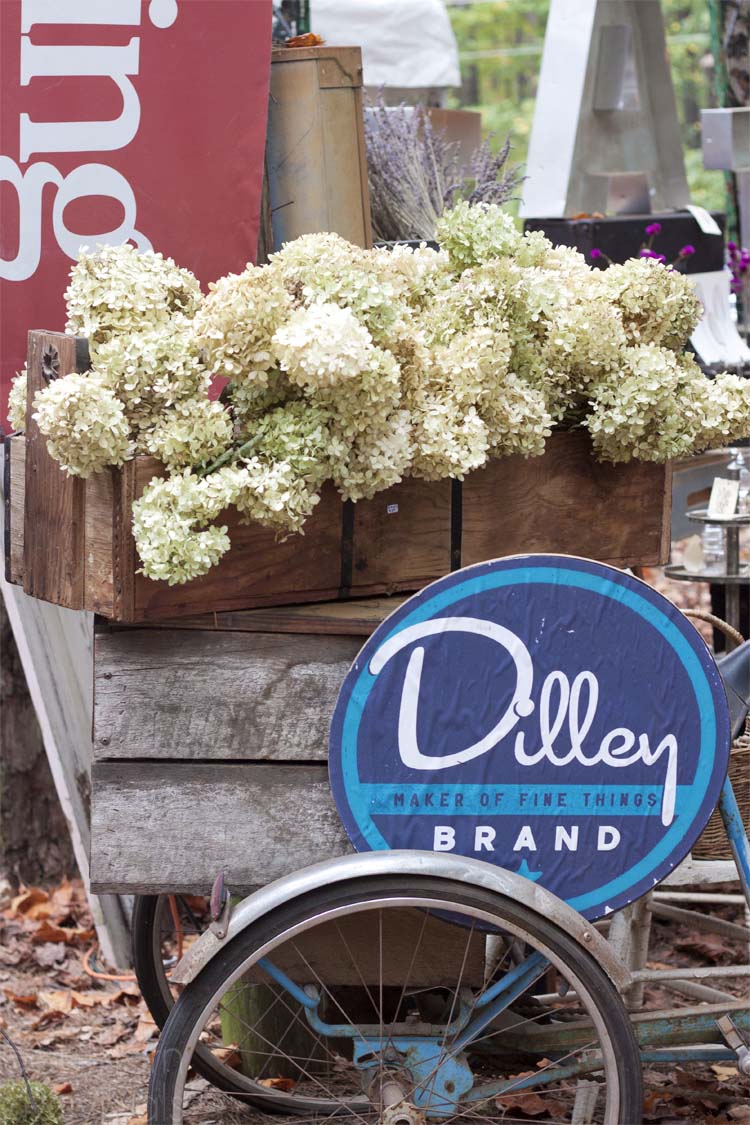 Something I noticed lots of was dried hydrangea, lavender, and other florals. Which is great for someone like me who can't seem to keep hydrangeas alive long enough to get to the preservation part. I hate my sandy soil.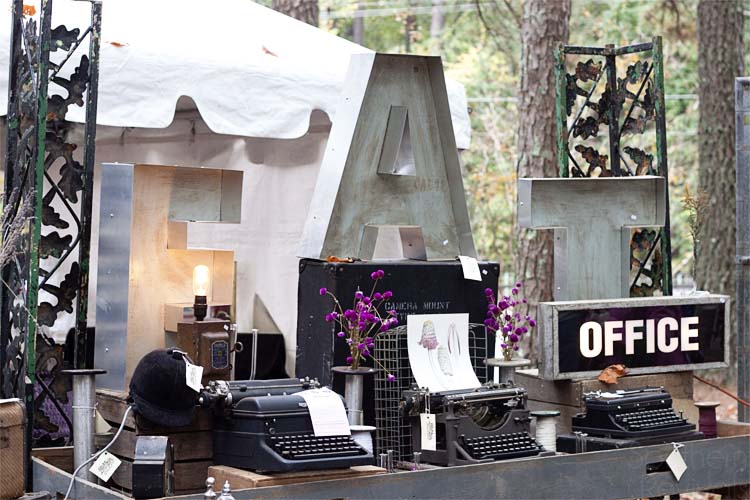 Lots of vintage items and letters. I loved this whole vignette.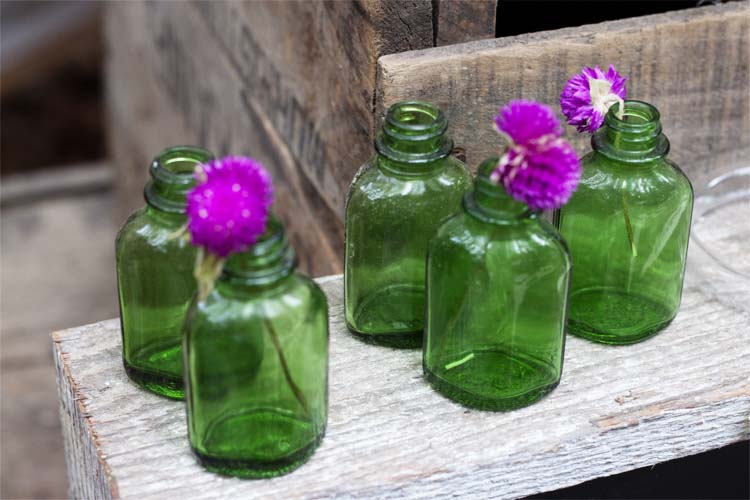 And like I said, it was the simple things that struck me the most.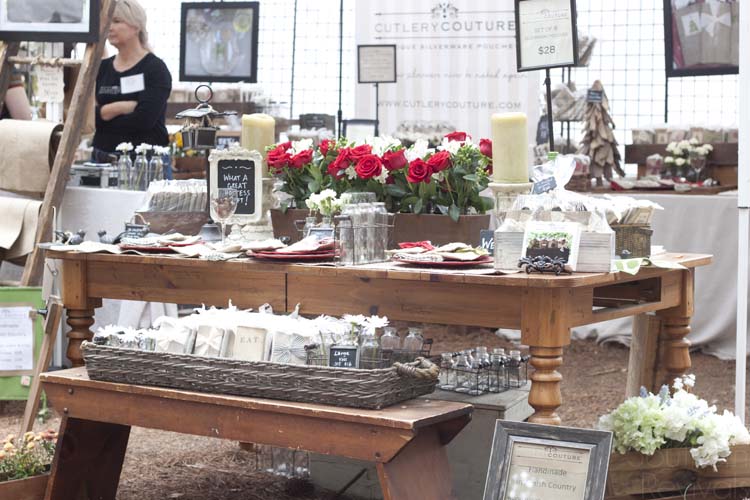 Cutlery Couture did things to my heart that only kitchen stores can. I mean, as if that table and bench weren't enough…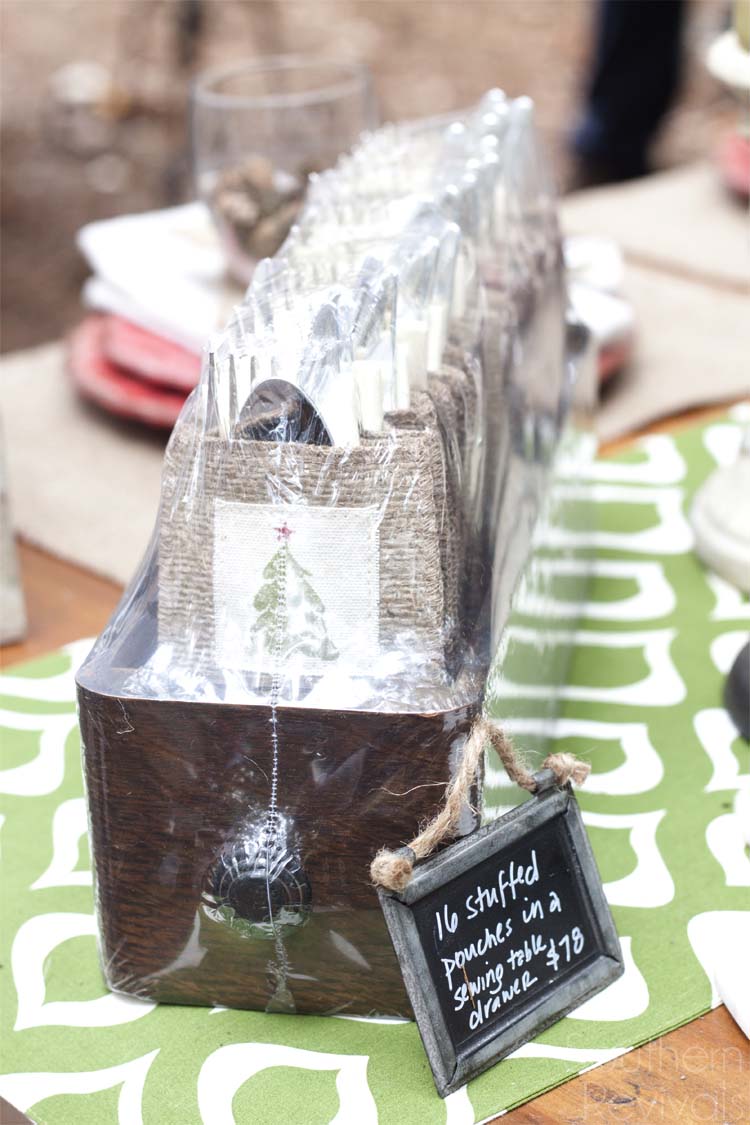 You could also get yourself some silverware stuffed pouches all dressed up for the holidays AND it comes with this beautiful old sewing drawer which would be a great addition to your holiday buffet, no? And these little pouches were so well made with lots of designs to choose from.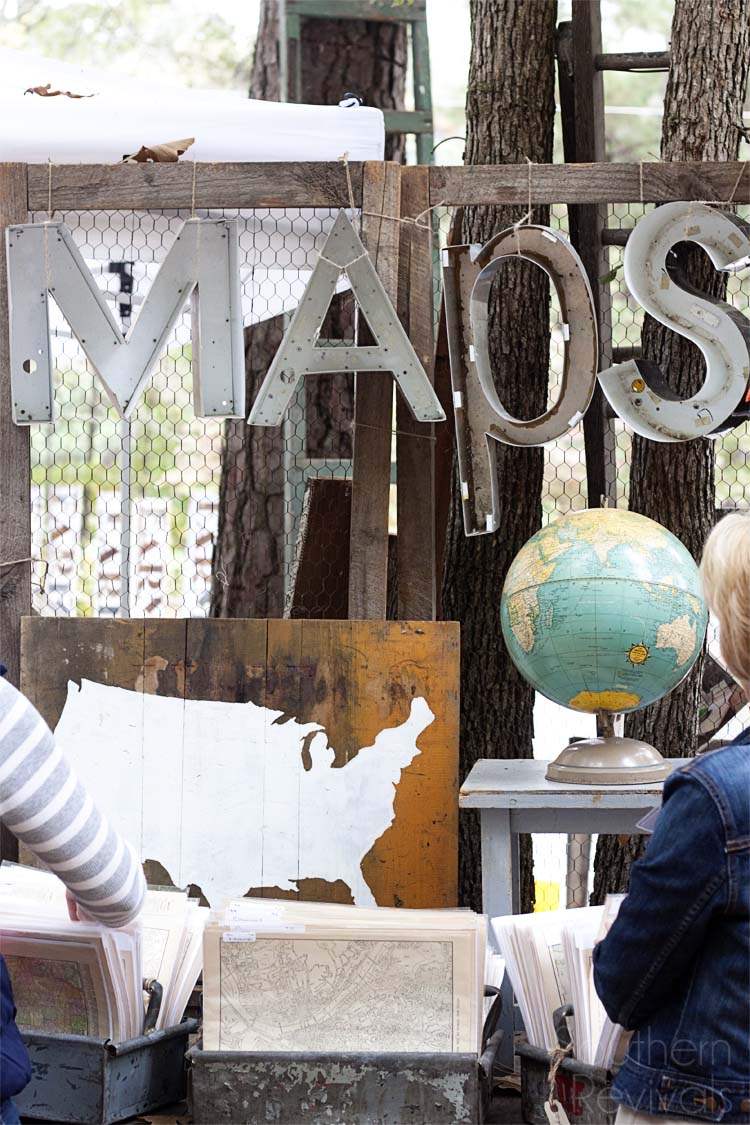 More letters because I think it's safe to say, we all love them. And maps. We really, really love maps, don't we!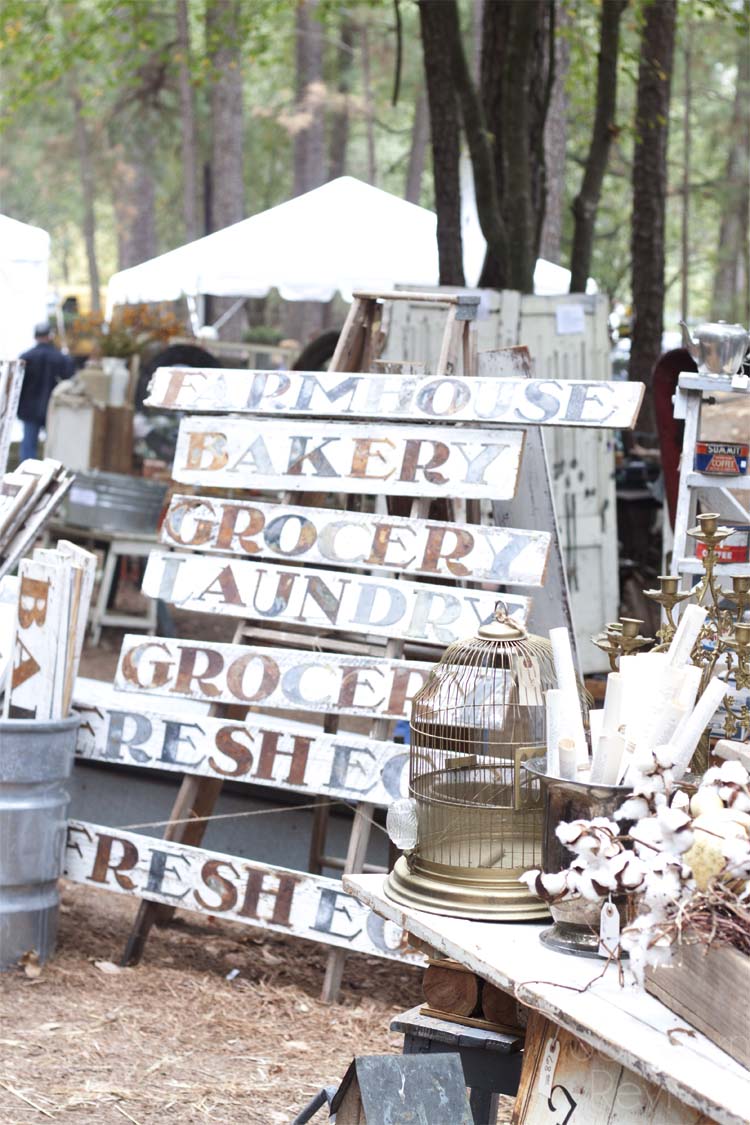 You could also find yourself some signs ala' Fixer Upper style. Including Joanna Gaines' popular BAKERY sign that I did not manage to get a picture of.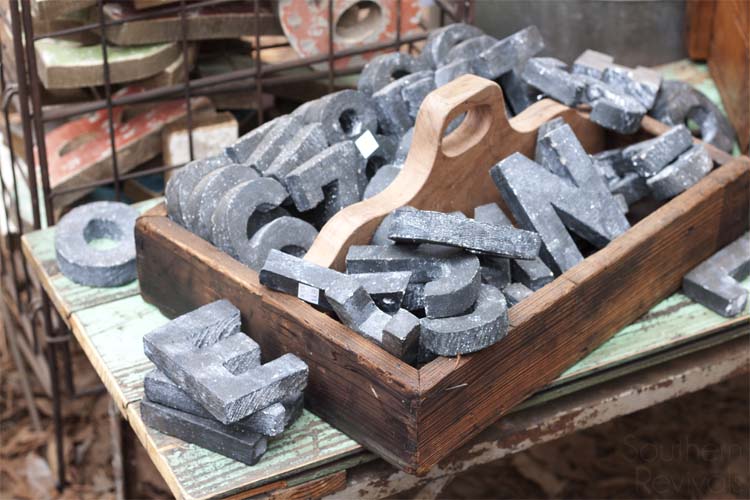 And more letters. Stone, galvanized…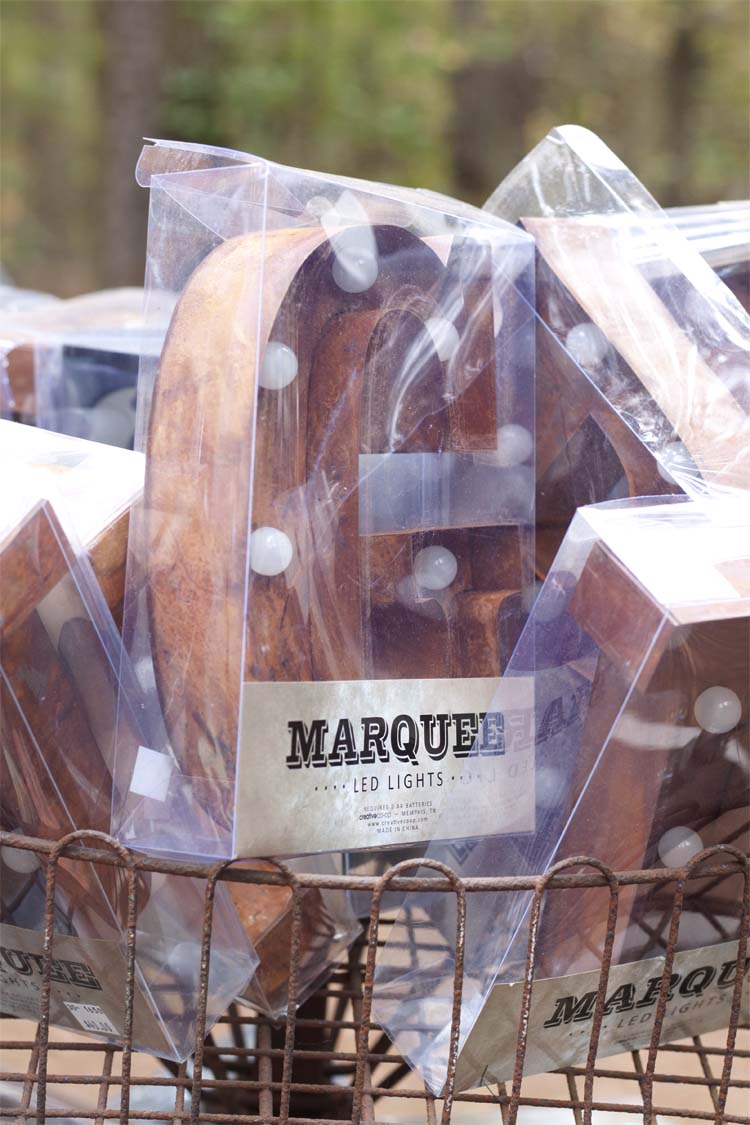 Or rusty and lighted!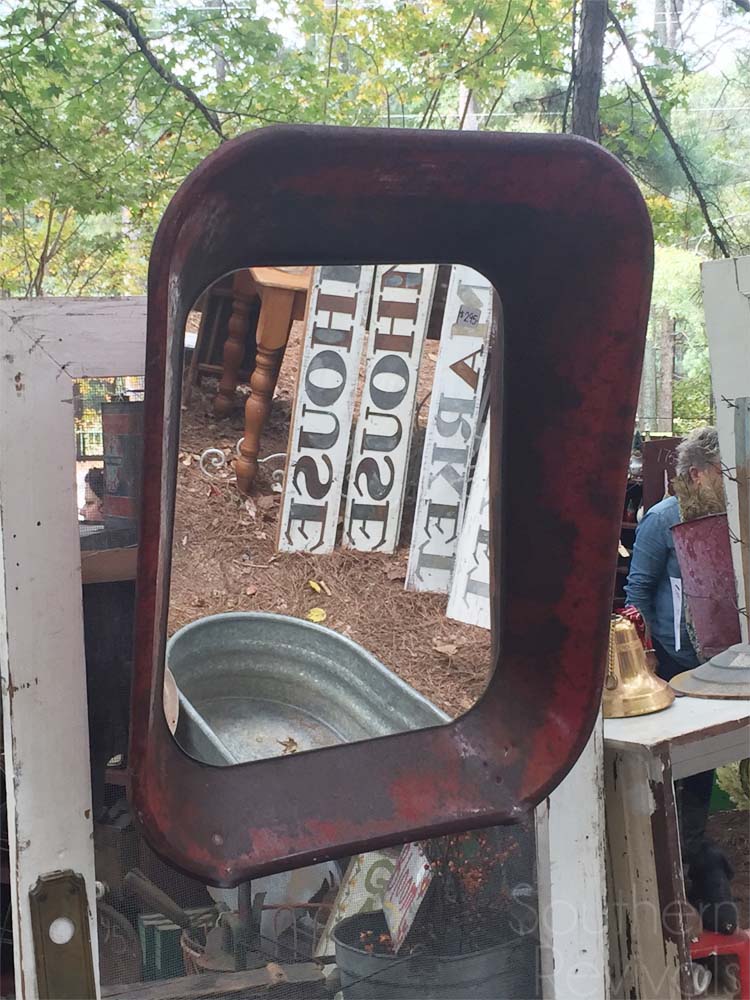 This one made me run home and immediately ask my husband, Hey! We didn't throw away the metal part to that old wheelbarrow, did we??
Um. Yes. Yes, we did. See! You never need something you've hoarded for 6 months until you throw it away!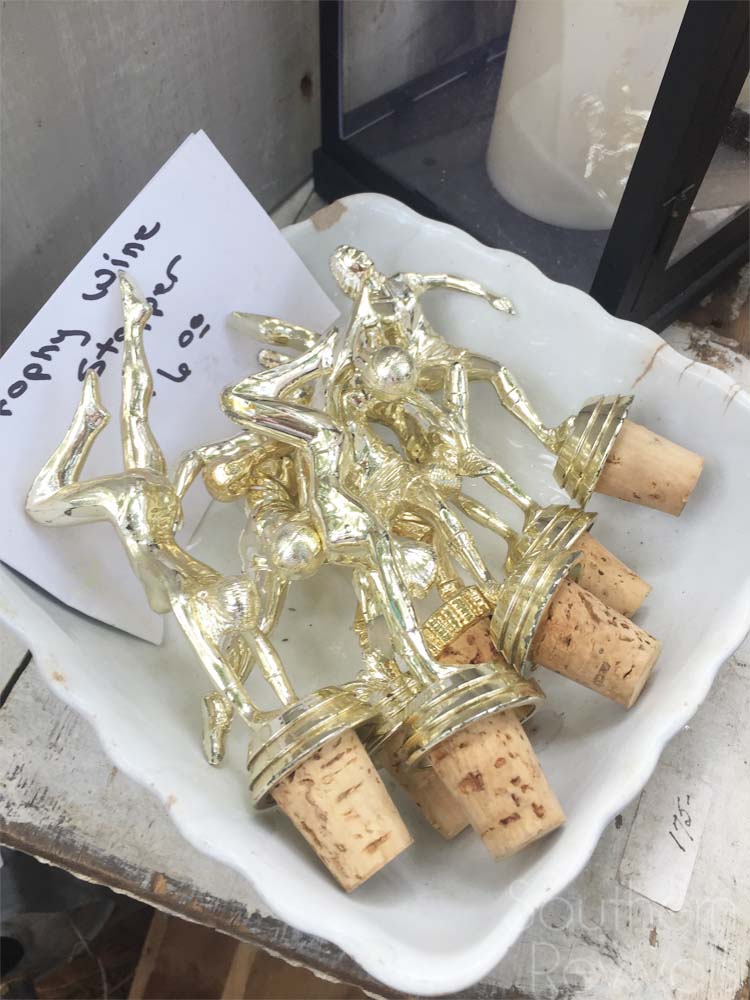 These were cute. They'd be even better if they were old country fair trophies, right? With cows! Because Y'all know I LOVE cows!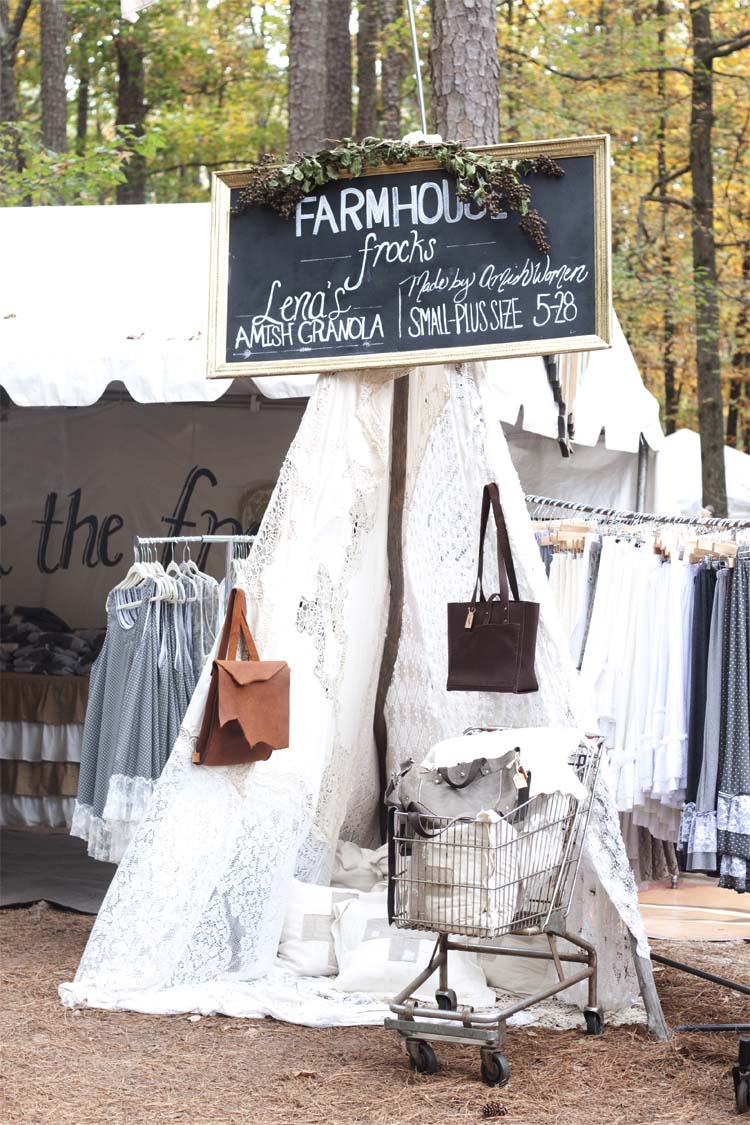 So if you don't have farmhouse everything, you totally can! Even Farmhouse Frocks! I don't feel like I could pull off a lot of lace and ruffles with all these dreadlocks but I loved their leather purses and cuffs and their cross pillows and sweatshirts. And even though I don't see it in their online shop at the moment they have this AMAZING candle that I got and I have burned it every day since I brought it home.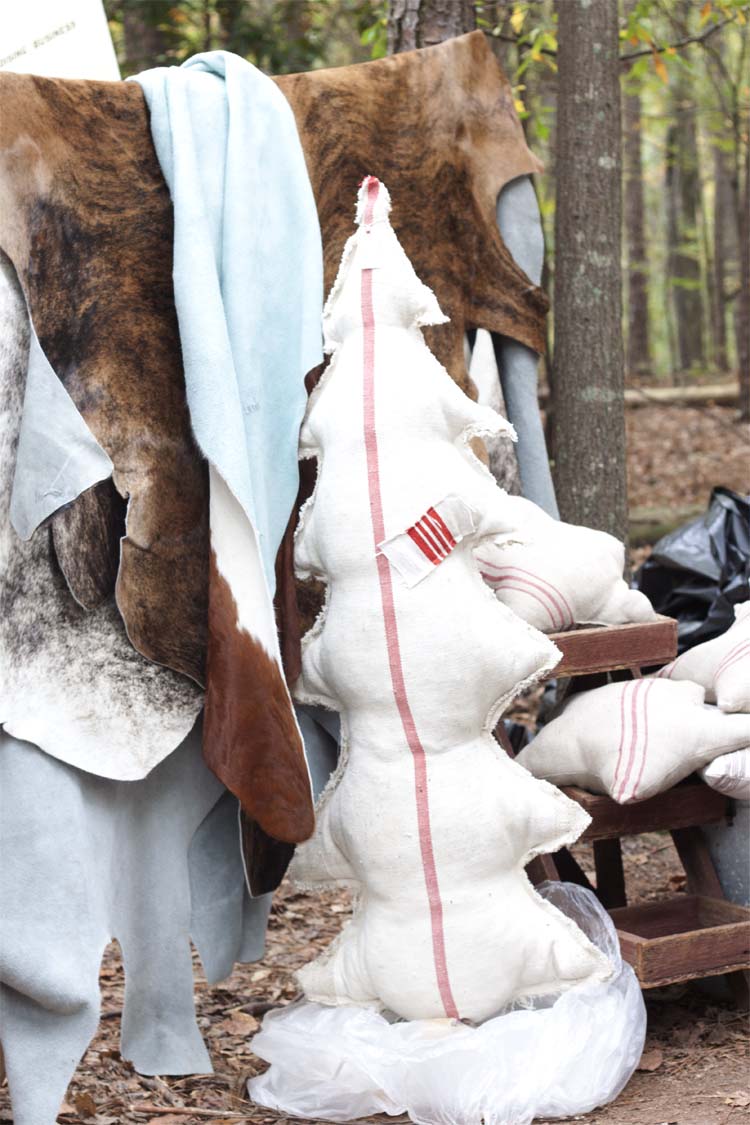 And what about a life-sized grain sack fabric stuffed Christmas tree! This might have been one of the most unique things I saw there.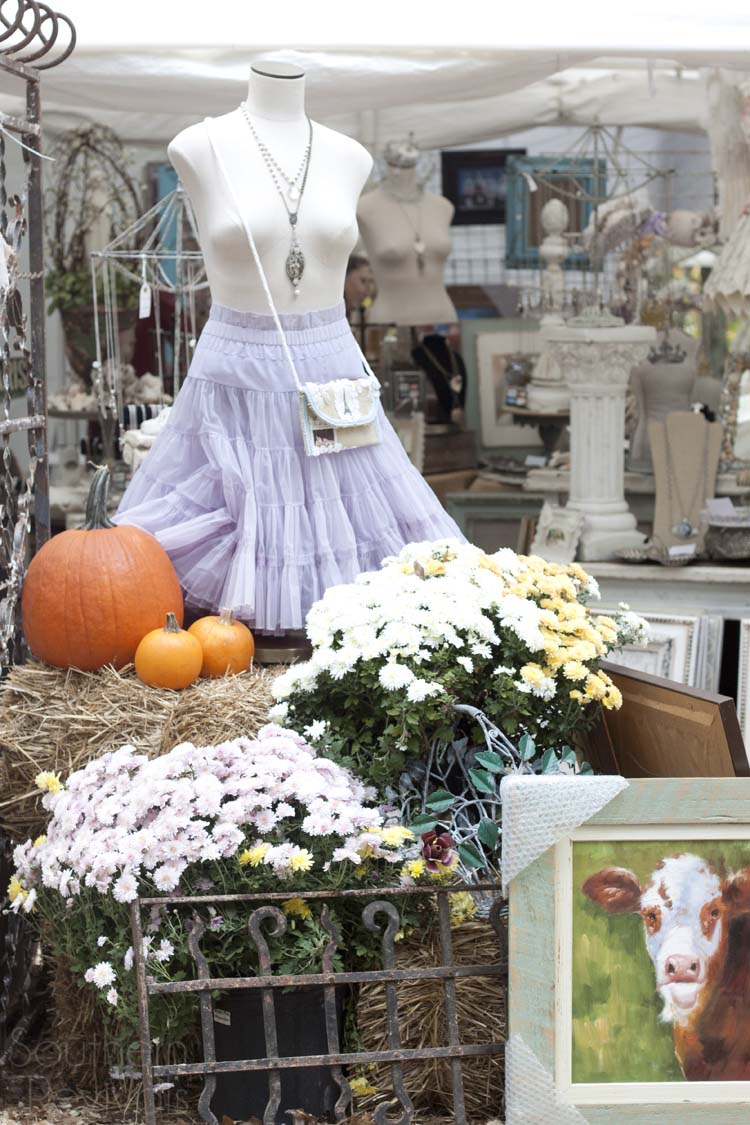 I wish I had a better shot of this booth. They had ALL of these amazing cow paintings and I wanted every one of them. The problem was everybody else wanted one too and just when I thought I had a clear shot of all of them someone would walk right into the shot. And not in a cool way because I'm just not that great a photographer.
Something that surprised me was the number of plants and topiaries. Aren't these gorgeous? I wish I had been bold enough to try taking one home and keeping it alive.
Everything about this booth was dreamy.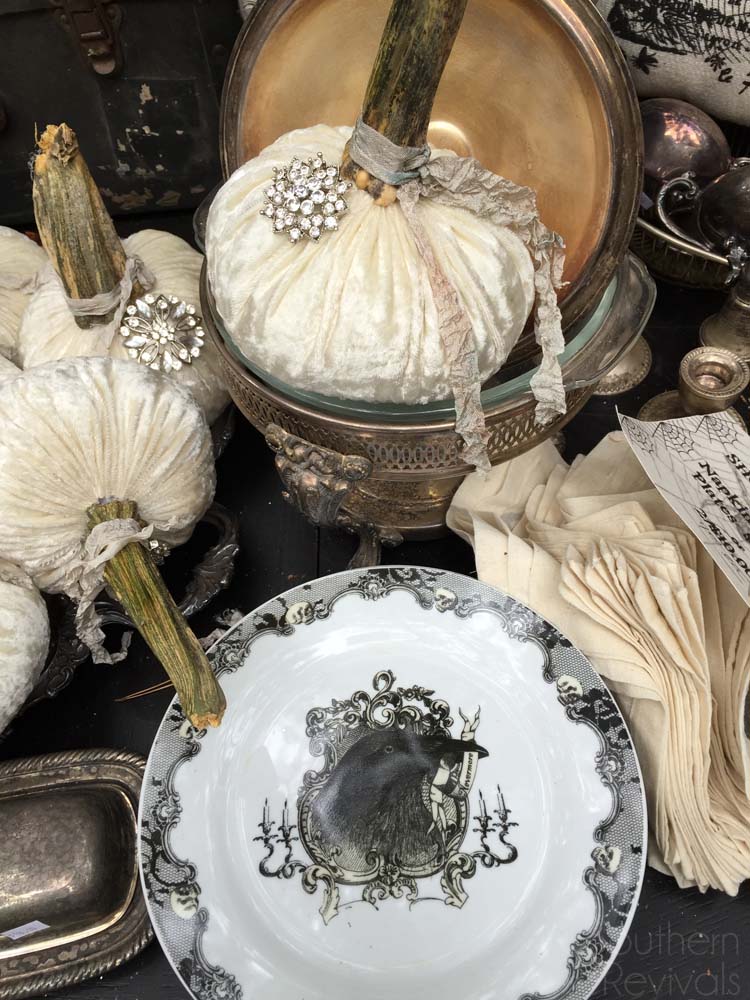 I especially loved their Halloween set up. I mean, velvet pumpkins with broaches and raven plates. What's not to love!
Trends:
Letters – I read recently that this trend was on the way out…as with animal heads. Hmm I'm not sure I'd agree
Metal – Galvanized, rusty, it doesn't really matter.
Animal Bones – Bull skulls, antlers and turtle shells. Sounds crazy but they can all be used in beautiful and sophisticated ways to add a little rustic charm. Especially if they're mixed with lace and ruffles!
Animal Hides – cowhide rugs
Reclaimed wood – Duh.
Preserved Florals – Hydrangeas, Lavender, Sweet Annie, and Cotton.
Salvaged items with interesting and unconventional uses.
Another fun couple of gals that I got to talk to about what I designated as my photographing and vendor meeting day on Sunday. They had a great booth and are Georgia locals – Coco & KJ.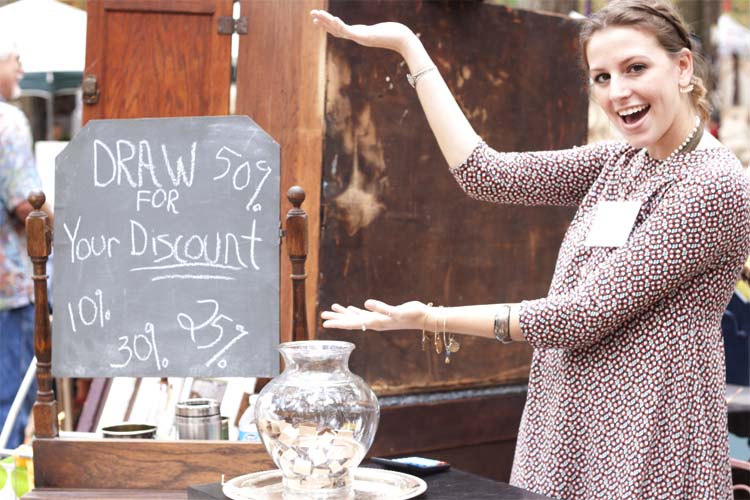 And on Sunday they did a fun drawing for a discount. I got one of their reclaimed wood and croquet mallet arrows for my little one's Big Boy Modern Arrow-themed room.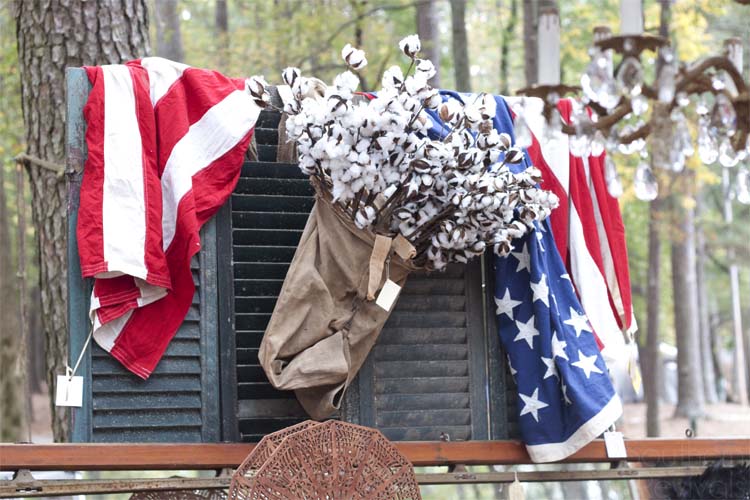 KJ insisted this set up warranted a photo. Who am I to disagree? (Anybody else hear Annie Lennox?)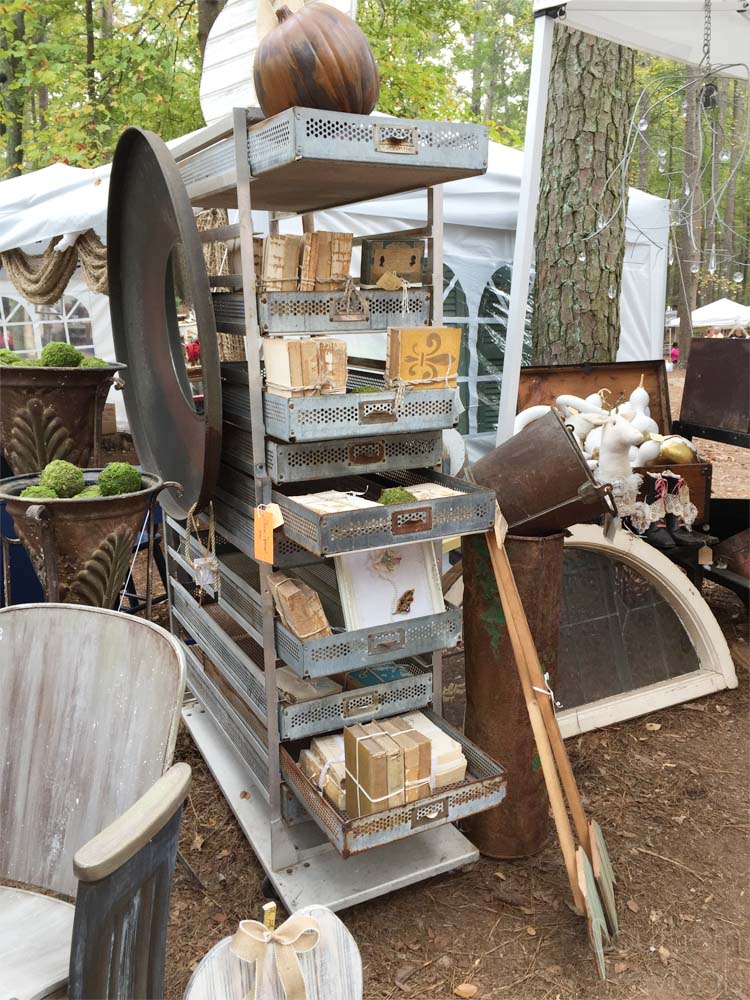 This metal cart, though! Where, Oh where could I have put it… If my studio space had been finished I would have had to find a way to justify this. After all, I did take the big truck when I came here!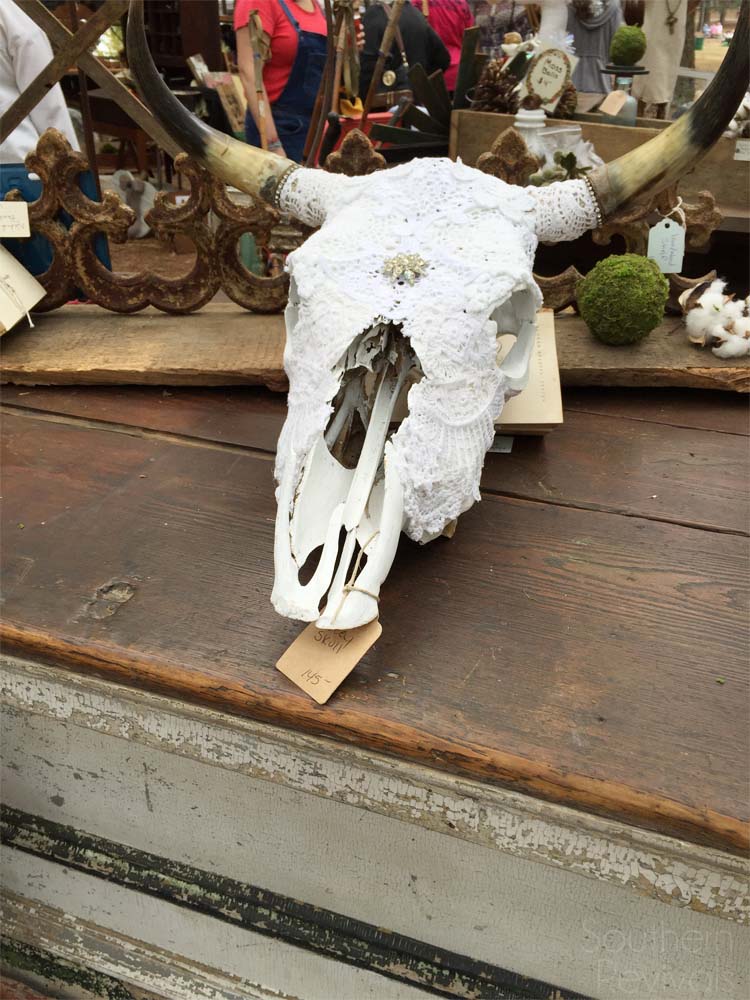 Skull. Lace. Bling, bling. BAM!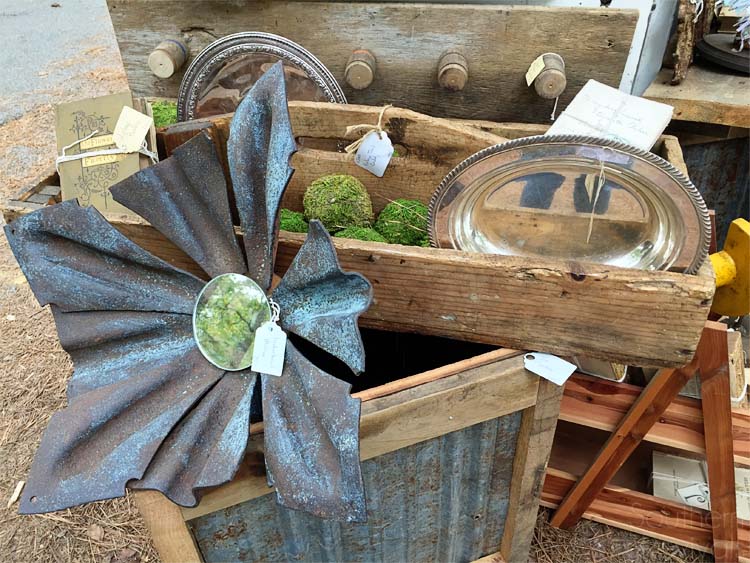 I have no idea what this here metal thing is but I am going to out on a limb and say I'd bet you could find it on a farm somewhere. Regardless, seeing here it with all of its glorious rusty patina turned into a mirror…genius!
What I Bought: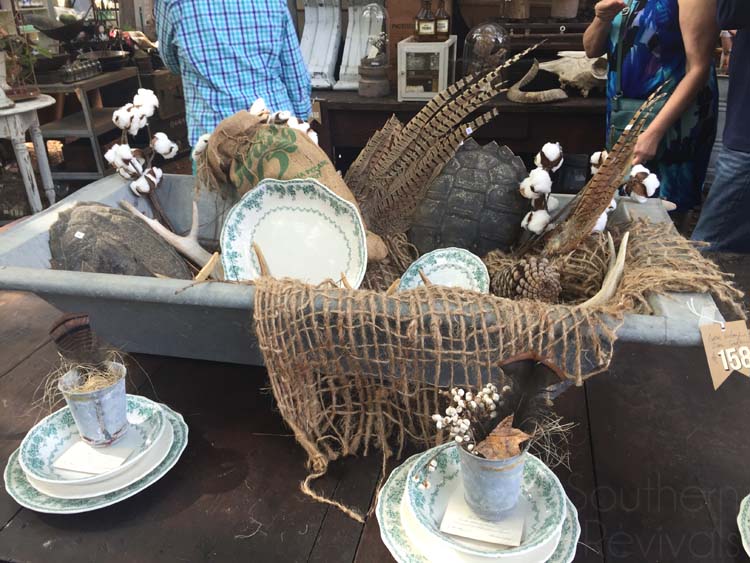 Y'all, this is one of those times that I totally broke my own rule about getting something you love right when you see it. I didn't even know what this metal tub was. All I knew for sure was once upon a time I had Pinned this image (ironically) from Country Living.com…
And I never thought, in my wildest dreams, I'd ever actually find one. But then I did and I didn't immediately snatch it up. Luckily no one else did either so I was able to grab it, for a deal, on the final day. The conversation I had with this vendor, Jenni from JBS Mercantile, is what made me decide to include my shopping tips. Rather than go to her with an insulting offer (since it had been there all weekend) I asked her what she'd consider taking. In this way, I wound up getting the Dutch Hay-collecting Bin (because I know what it is now!) AND the jute table runner (that was already less than half what other sellers were asking) for what the bin had cost in the first place.
She was very appreciative that I didn't just assume I'd get it for half because it was the final day. Turns out, she does shows like this all over the country.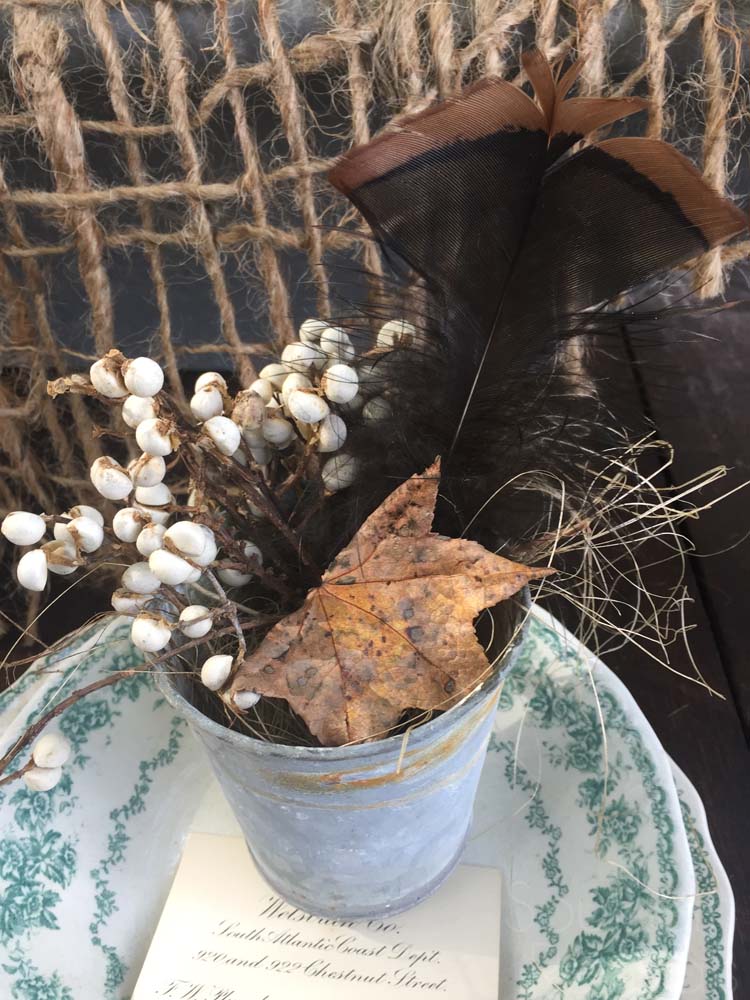 It was at the same booth that I fell in love with these little galvanized buckets. Unfortunately, I still don't know what they are. I just knew I loved the idea of using them in a table setting so that's just what I did with my Thanksgiving Tablescape this year.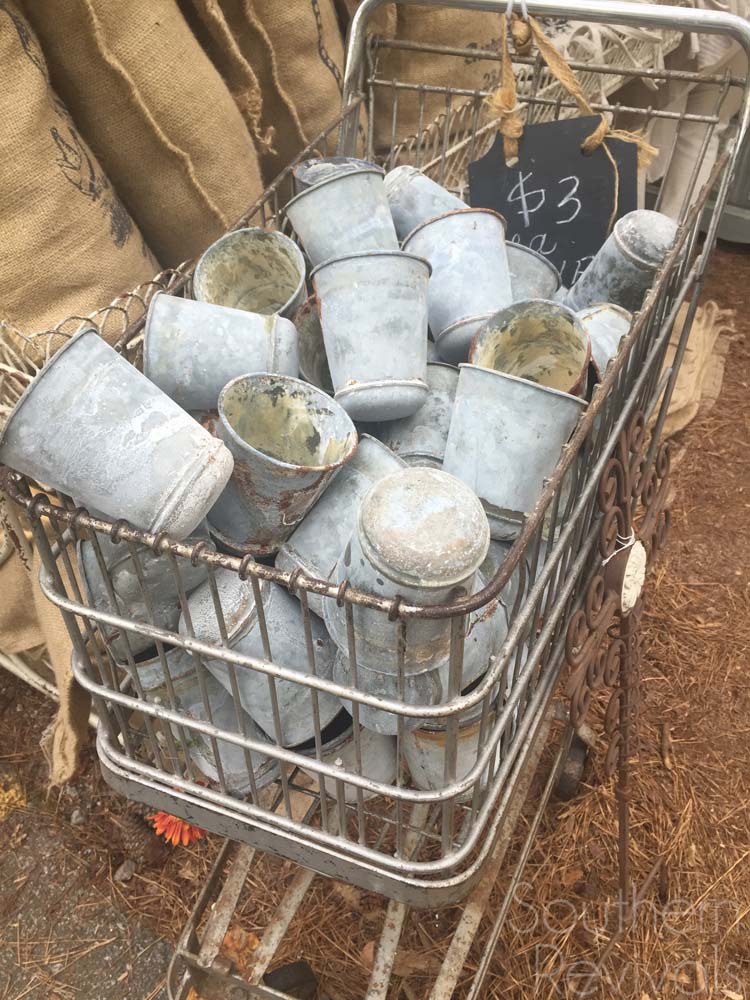 This was one of those times though that several sellers offered these and I found them a couple dollars cheaper at another booth. Which might not seem like a lot unless you're getting enough for your whole table. I kind of wanted the whole buggy full.
I also got an extra long and thin old dough bowl but what I got really excited about was discovering 'Hedge Apples' (see them on my Instagram). Again, (this is a recurring theme) I had no idea what they were I just loved them. Their chartreuse paired with the bowl's rich brown! Luckily my new friend Oma, and Executive Editor at Better Homes & Gardens, was kind enough to impart her wisdom and tell me what they were. Someone else was able to tell me where to get myself a tree to grow my own and lots of people led me to believe that folks up North, who apparently have lots of them, aren't really big fans. Regardless, I currently have TWO Osage (Hedge Apple) Trees on order and I'm pretty psyched about it!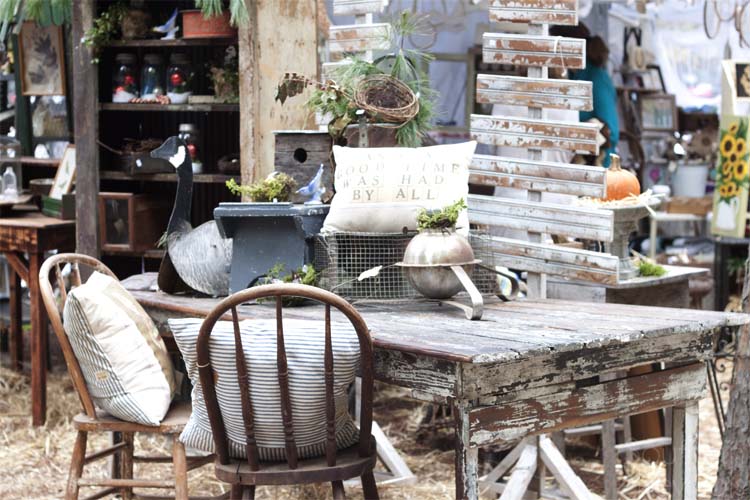 Do you see it?? Prime example of, there is something at this fair that you will love and you've walked past it for 3 days without seeing it. This vendor confirmed my suspicions. The vendors fluff their booths each day so that they look nice and fresh for you. AND so that if you've walked by something on the day(s) before you're more likely to see it this time.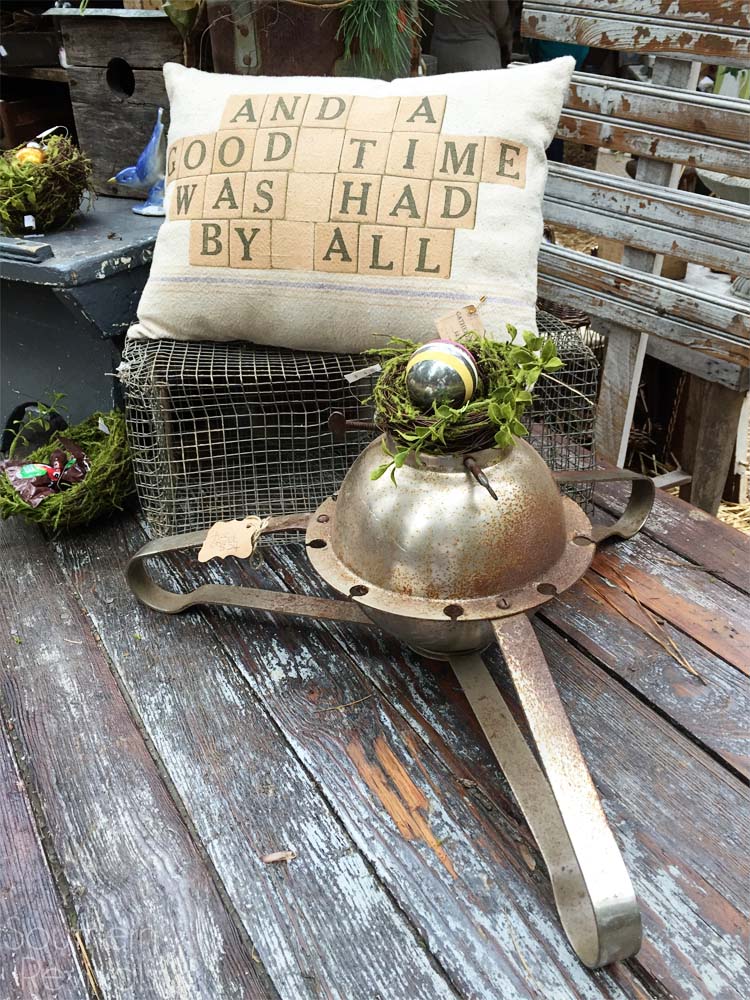 I admit there's a lot of going on in this photo but it was this vintage metal tree stand that almost made me cry tears of joy. Meet our new office Christmas tree stand!
And that reminds me, I still haven't revealed our office. I am an awful blogger.
Books I Got: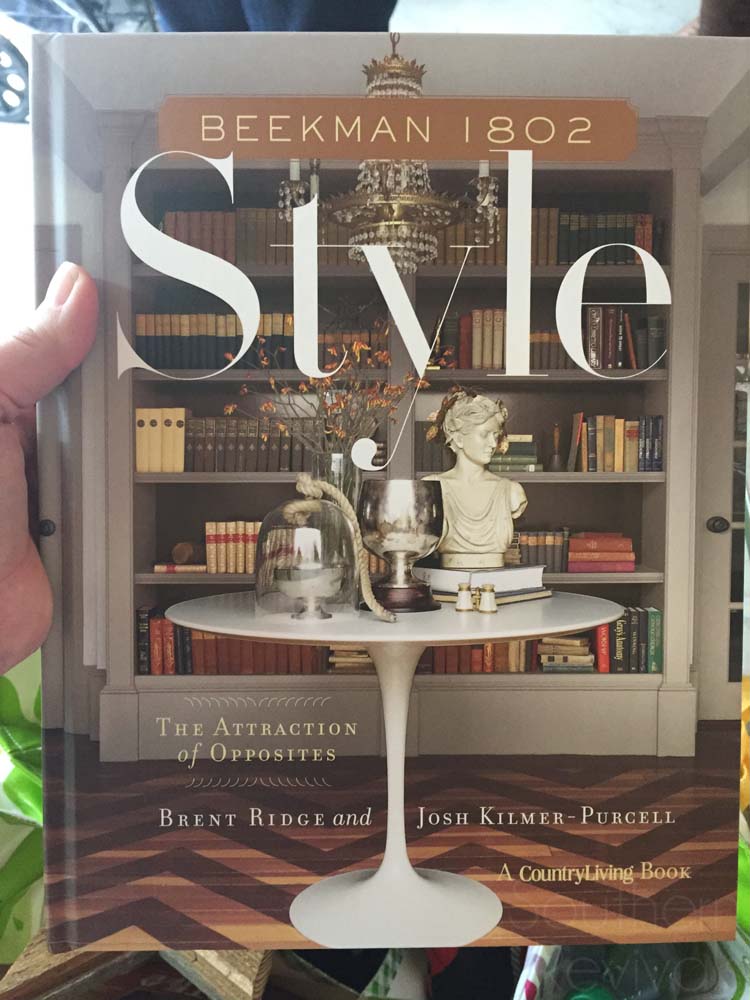 Possibly the highlight of the Fair for me was getting to meet Josh and Brent of Beekman 1802 Boys and getting a signed copy of their new book, Style.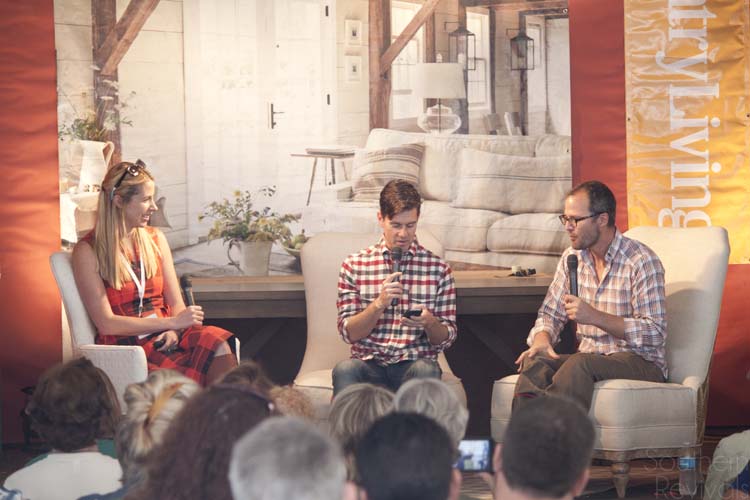 I just love everything that they do at the Beekman farm.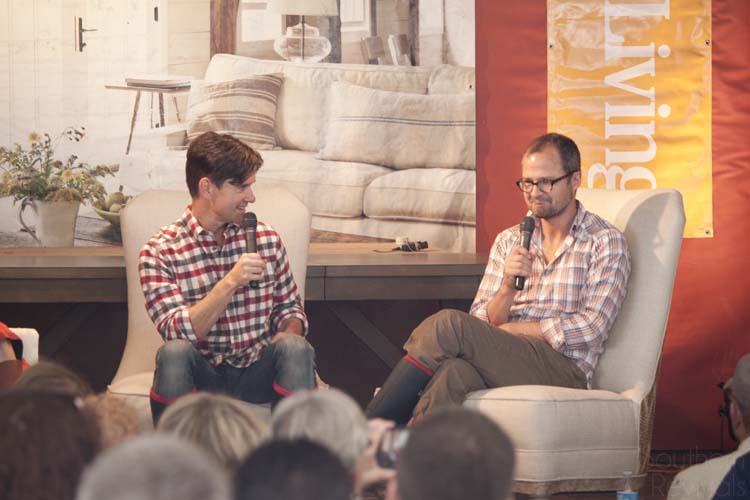 And the fact that they call everyone their neighbors, no matter how far and wide they're spread.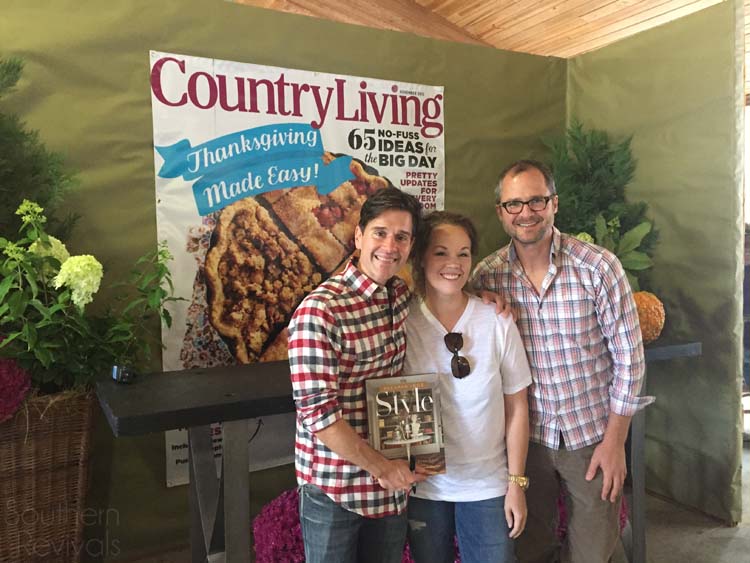 I keep dreaming they'll invite me for a real visit one of these days. It didn't happen on this day but upon meeting me Josh did say, We've met before! Nope! But day made. Thanks anyway!
If you haven't seen their stately white home in beautiful upstate NY with its to-die-for red barn then you're missing out!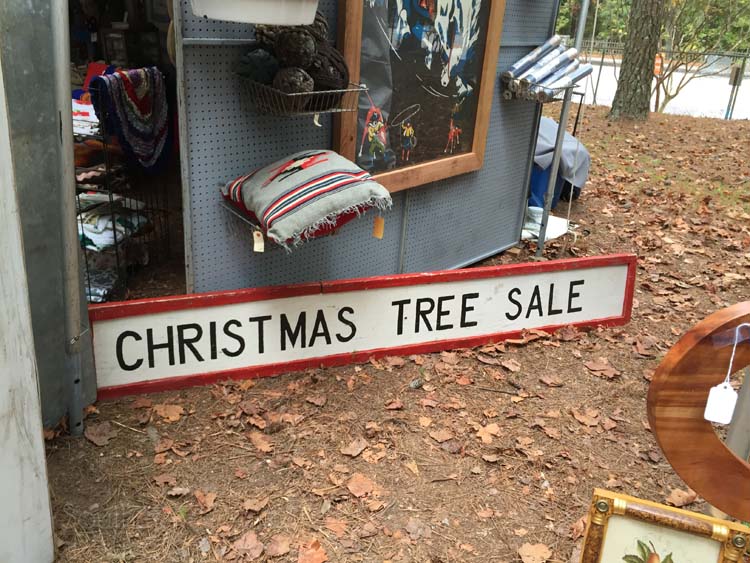 If you've hung in there all the way to here, I'm honored and quite frankly amazed. This has been a book of a post! But finally, I bring you this. The thing that I did not buy but will probably think about forever.
Here's the thing, it was the real deal. As in, it once hung somewhere in real life and declared, 'Christmas Tree Sale'. It's made of real (heavy) wood and I adore the simplicity and the colors. But it was $245. It's days like these I wish I were the celebrity at the Country Living Fair. But since I'm not, I guess I'll just be DIYing a knock-off version.
I hope you enjoyed the recap!