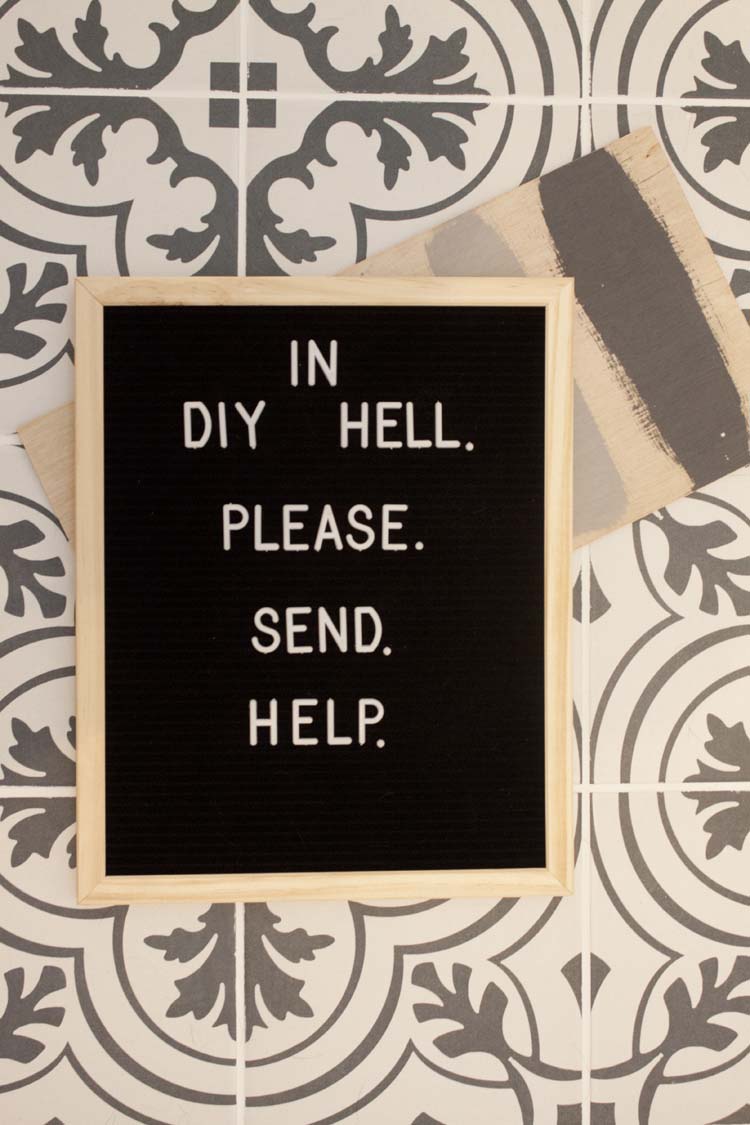 The phrases: 'A day late and a dollar short' and 'Late to their own funeral' were invented because of people like me. I'm week #2 into the One Room Challenge and I'm already late, already frustrated and already behind. And it's all because of the tile! I repeat, it's all the tile's fault. But since I promised you the good, the bad and the down-right ugly, this is what not do when laying tile.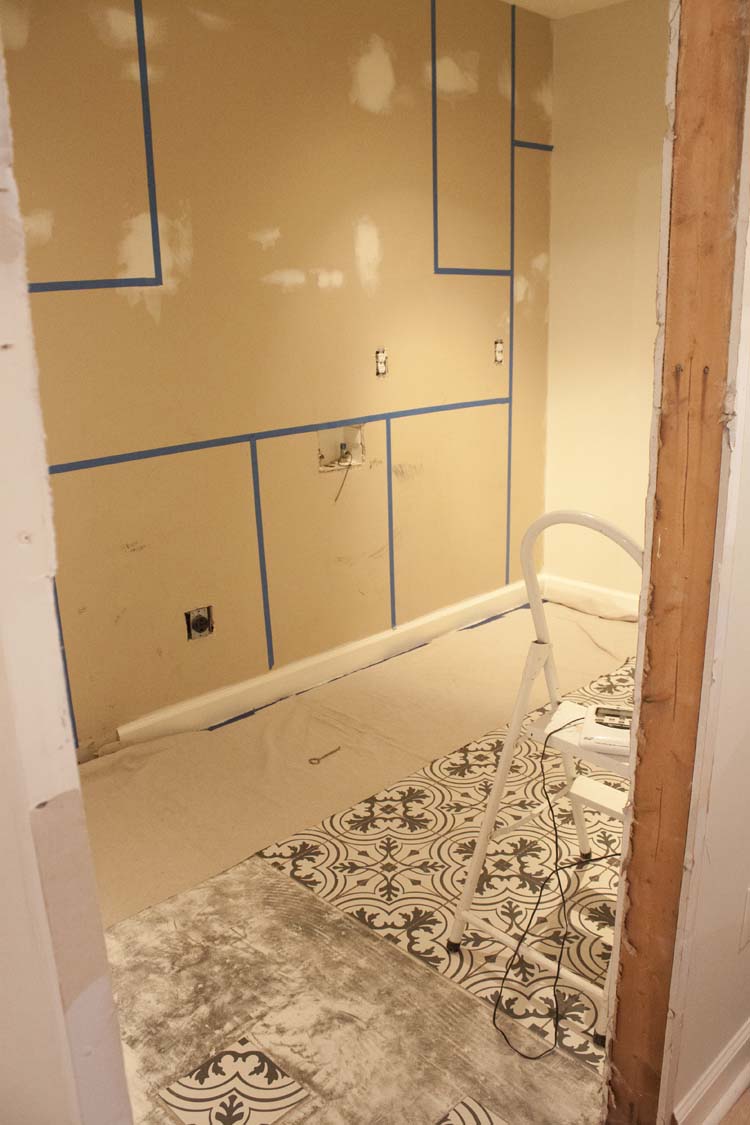 Surprise!
This is one of the tile choices I was considering when I shared my plan for my modern farmhouse laundry room with you last week. Most of you guessed it correctly. The reason I went with this one over the other is because these tiles are smaller. These 8×8 tiles (technically 7 3/4 x 7 3/4, extreme foreshadowing) seemed like they'd probably be easier to work with in such a small (60 sq ft.) space than the other 17″ tiles. Oh, the irony. I have decided to use the other tiles in our master bath makeover if I am ever brave enough to tile again.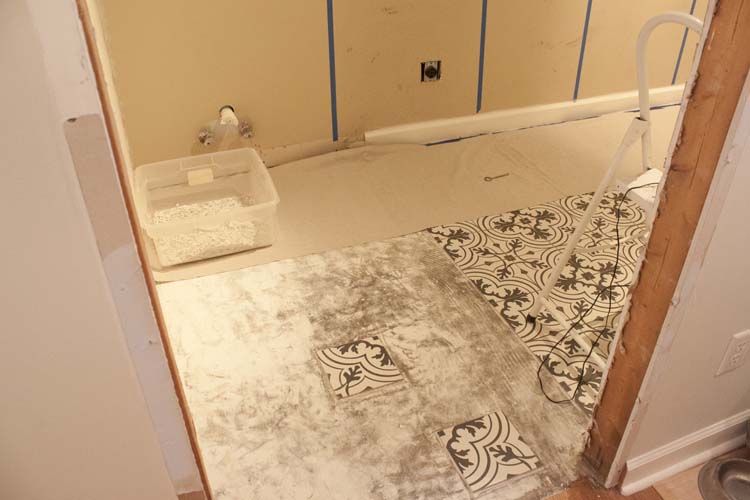 What Not To Do When Laying Tile
Problem #1 – Not Ordering Enough
The sad part is, this is not our first tile rodeo. We've done this before. We've done it in much bigger rooms, with much bigger tiles, and with much smaller tiles but I guess we've never done it under pressure.
Prior to ordering the tile we measured our square footage. Generally when ordering tile you'll be ordering it by the box which will provide the actual square footage that each box covers. That's helpful. This tile, however, is ordered by the 7 3/4 x 7 3/4 piece so you literally have figure out the square footage per piece. Not helpful. Or, at least, not as easy.
So I get a general idea of how many pieces I need, using my own brand of special math, and then I call the store. What I want from the guy at the store is the kind of technical math that I get from my husband, who isn't home. What he gives me is: Well, the tiles are 7 3/4″ so that's almost 8″ square which is just 4″ shy of 12″ square and if you were getting 12″ tiles you need this many. Subtract 4″ about 60 times and you'll need 145 of these tiles.
Listen, this is my kind of math. And because it's my kind of math I know when it's useful and when it's not. It's useful for estimating how much something is going to cost. It is not useful, however, for knowing exactly how much you'll need. But the store guy was close to my estimation and then he added the extra 10% you're meant to order over the amount you need in case of breakage or mistakes so I thought, maybe it's right.
I put in an emergency phone call the resident mathematician, who is apparently only capable of proficient technical math when he's present in the situation, and he tells me: Yeah, sounds right.
So I order 145 tiles, tiles I've already waited 2 weeks for the store to even have back in stock, and I hope for the best.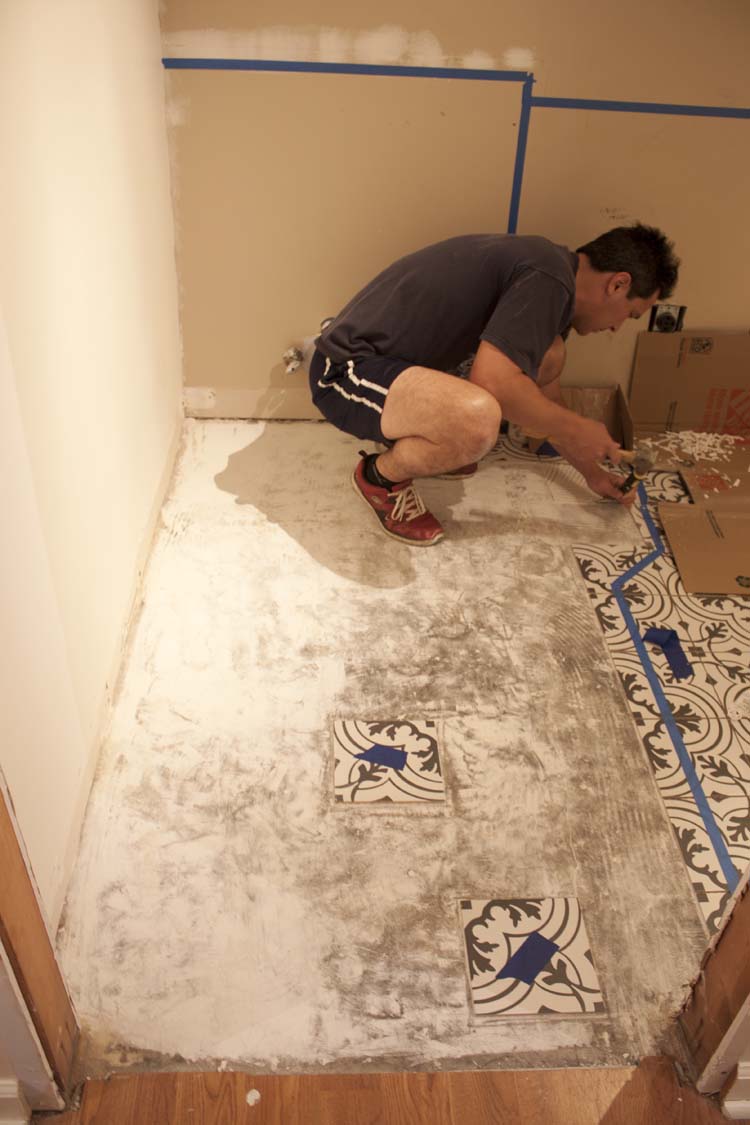 Problem #2 – Remixing Mortar
Week #1
When the tile came in, a week ahead of schedule, it was boxed so well in its little cases marked – Made in Portugal – and it made me feel so sophisticated and well traveled. I inspected every box for breakage during shipping. There was none.
That Friday my husband got home before I did and was going to go ahead and get started.  This never happens. So I tell him, I say: I checked all the boxes for breakage but I think we need to layout a whole section before we start just to make sure we have enough. Okay, he says.
Listen, guys almost never mean it when they say this. You've been warned.
By the time I get home, it's time to start dinner and since I'm the only person in the house who can cook, I start dinner. I keep walking back to the laundry room.
Can I do anything to help?

Nah, I got it.

You laid out a section before you started, right? We have enough don't we?

Yeah, we have enough. (Notice the qualifying statement. He does not say, yeah I laid it out beforehand.)
Long story short, I walk back to tell him dinner's almost ready. The room is mostly done but I notice these large grout lines that have gotten progressively larger as the room goes on. Like, heart-breakingly large. Like, Grand Canyon large. I have to tell him. I mean, I know he knows. He knows ME. It can't stay like that.
So, as gently as possible I mention the grout lines. He tells me it's okay, he'll finish putting down the last few tiles and then fix them.
Fast forward: Dinner's ready, grout lines still crazy off. He tells me there's nothing to be done. Nothing. To. Be. Done.
Then he realizes he'll be taking this last 1/3 of the room up and doing it over. At this point he's realizing (as am I) why he usually never offers to get started without me. He's likely also questioning this 17 year marriage.
So he takes up the tile before they have time to harden and scrapes up the mortar. The remaining mortar has started to get a little stiff and isn't as easy to scoop out of the bucket so he adds a little more water – not more water than the bag recommends overall but enough to get it back to the right consistency – and then we reinstall the tile. At this point we realize it's probably a combination of the fact that there's a baseboard in 2/3's of the room and not in the final 1/3rd and that might've gotten us off. We've also used 2 different types/brands of tile spacers and even though they're both 1/8″ tile spacers I'm convinced it's a big part of the problem. The second time the grout lines, while likely not perfect, are just as they should be.
This is also when I realize we do not, indeed, have enough tile. The lesson here is don't think of this tile as 8×8. It is 7 3/4 x 7 3/4 and a 1/4″ square from each tile adds up quickly. In our case, it adds up to 9 more tiles. Hoping against hope that the tile isn't out of stock again I hop online and order 15 more.
I am without a washer and dryer for a week.
Week #2
After he goes back to work, naturally, I realize that even after 24 hours the last 3rd of the tiles have not adhered to the mortar even though the mortar has dried and adhered to the concrete substrate. I pulled all of the loose tiles up and we had to scrape up the (hardened this time) mortar off the concrete and clean it thoroughly to re-lay the tile. We've only been able to work on the room during the weekends so the following weekend I buy more mortar and we lay remaining tile. Again.
I am without a washer and dryer for a second week.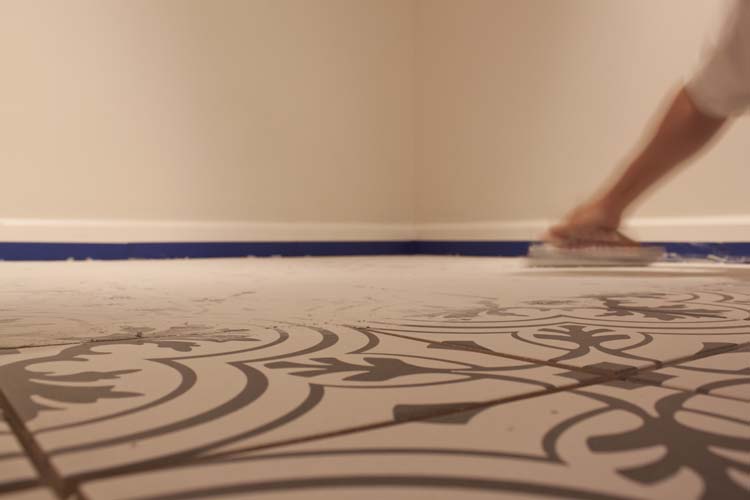 Week #3
We grout. Evidently there is a difference between sanded and unsanded grout aside from the obvious. I prefer unsanded because I feel like it goes on more quickly and smoothly. My husband prefers sanded because he feels like it sticks to the tiles less and is easier to clean up. For the best of both world's, wipe your tiles down with a damp sponge prior to grouting and use an epoxy rubber float to apply grout and let it do most of the cleanup work for you. After that you'll have less grout to remove from your tiles.
I am without a washer and dryer for 3 weeks now. I use a laundromat for the first time in like 20 years. I feel like a boss washing and drying 5 loads of clothes all at once. Consider the cost of adding an extra washer and dryer to my design plans. Realize I am not a person with that much disposable income. Pout a little on the inside.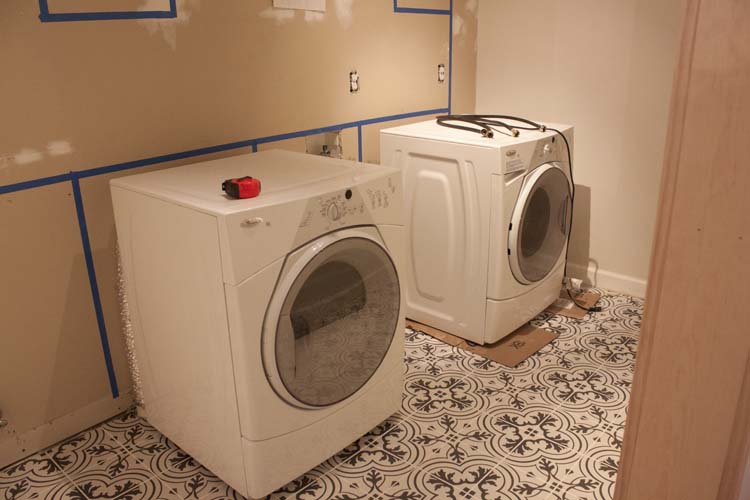 And that brings us to this week. I'm finally able to get my washer and dryer back in working order and I have never been so excited about washing clothes. I'm a little bummed out at how much smaller my laundry room got afterward.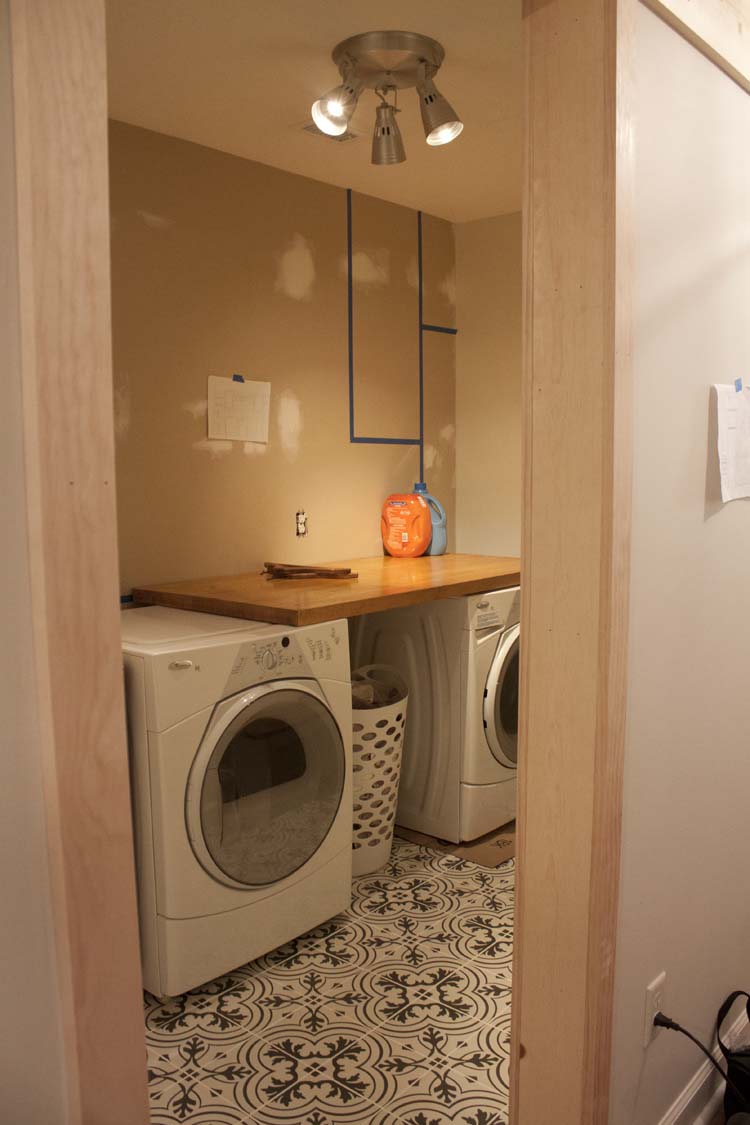 My husband found these old desktops in a warehouse that my FIL has. They're not quite long enough to be the top of my folding table so we're going to have to try to piece them together. The challenge will be masking where they're pieced together. But they're heavy, solid-wood. Plus, they're free so figure it out we will!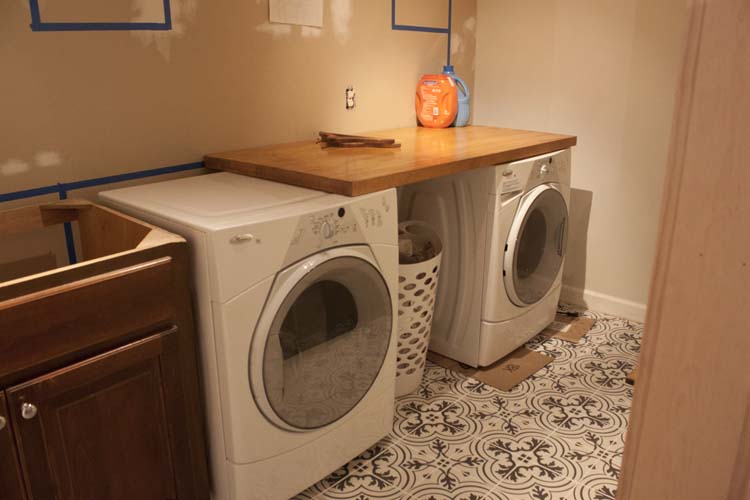 At this point it's a little hard to imagine the end result. That back wall is so much darker than the freshly painted ones, but there was no sense in wasting paint on it, so it's throwing off my light and fresh vibe. The desktops are a warm honey color which is also throwing me off.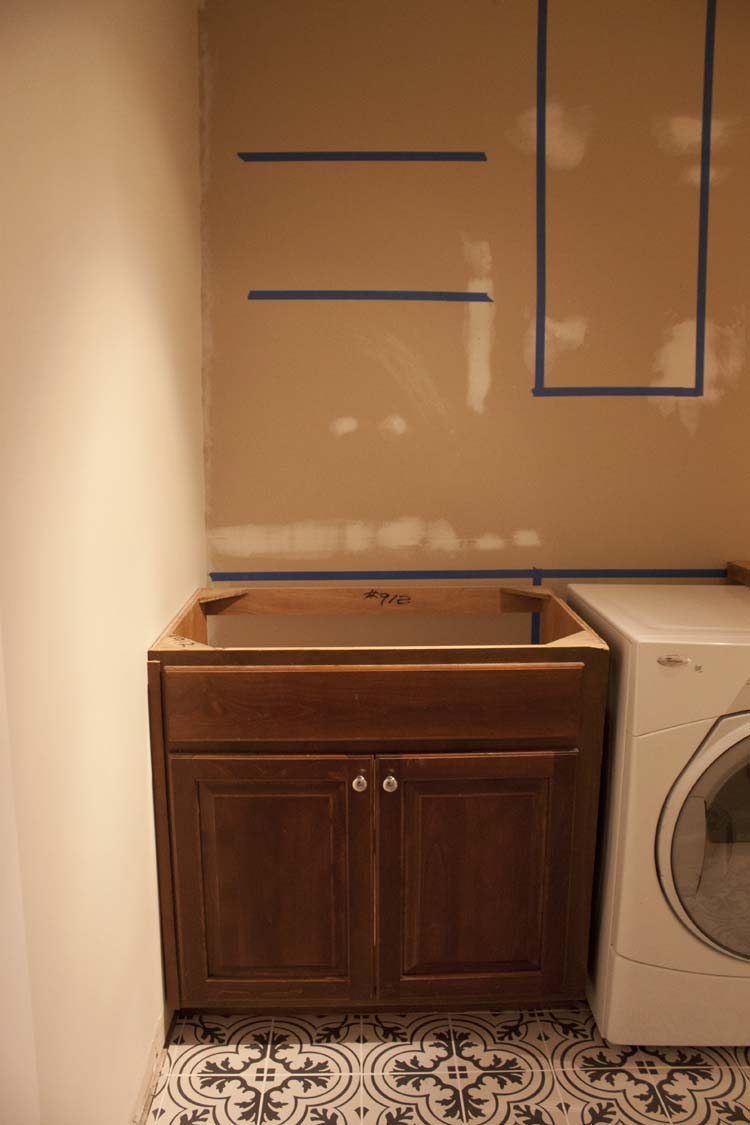 Add to that this honking cabinet which I hope to paint and reconfigure for an apron sink and the whole space has a much heavier feel than I hope it will once it's complete. But hey, they say things get worse before they get better, right? Here's hoping my laundry room makeover is just going through its awkward pre-teen stage. See you next week!
Let's recap…
Know your exact square footage. Order enough tile to cover it plus an extra 10%, just to be on the safe side.
Be sure to take into account the actual square footage of each of your tile pieces, especially if you are ordering your tile by the piece.
Enlist someone who is willing to do hard math to get it exactly right. Still order an extra 10%. This is not the time to live on the wild side. You're nobody's hero.
Mix your mortar a little at a time. Or at least in an amount that you have ample time to work with.
Once the mortar has started to harden it's already started a chemical process that if you try to interrupt, you'll end up on the losing end of a chemical reaction argument.
Remove each piece of tile from its box and mix the pieces from the boxes when tiling. This way if there is any variation in color from box to box it won't be noticeable.
Use the same exact tile spacers. If you run out, go out and buy the same exact ones. You hear me? SAME. EXACT. KIND.
Fix widening grout lines as you go. There is no fixing them later. No matter what your husband tells you.
Prior to grouting, especially if using unsanded grout, wipe your tiles down to keep the grout from sticking as much.
If you wouldn't leave it like that for a client or accept it from a professional, don't leave it like that for yourself. You deserve as close to perfect as you can get it.