My first attempt at the One Room Challenge was our laundry room last year and, while it started off strong, life just got the better of me and I did not finish it on time. To redeem myself, mostly to myself, this year I managed a teen boy bedroom makeover while simultaneously building the fancy farmhouse chicken coop.
Phew! That was close. But I've still got it! And now I feel a little less inadequate even if that laundry room reveal won't post until August.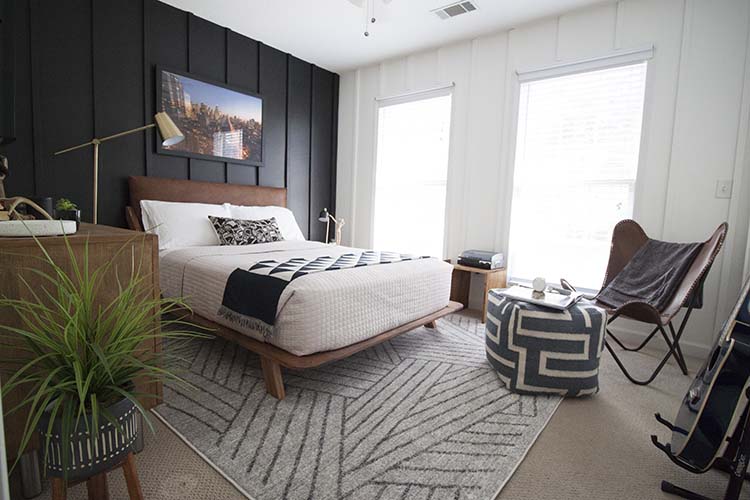 It blows my mind how much bigger this room looks now. As a reminder, here's the before.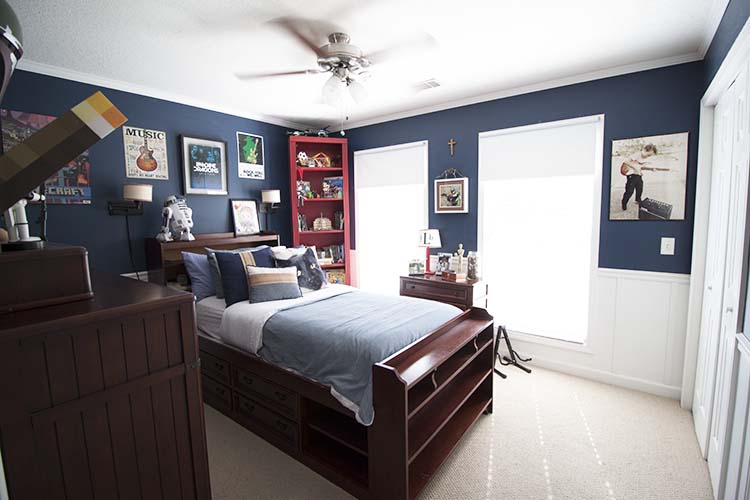 This room was well loved, and definitely well collected, but that bed just kept getting smaller and smaller by the day. Plus, all this heavy furniture completely weighed down the whole room.
Teen Boy Bedroom Makeover
The Bed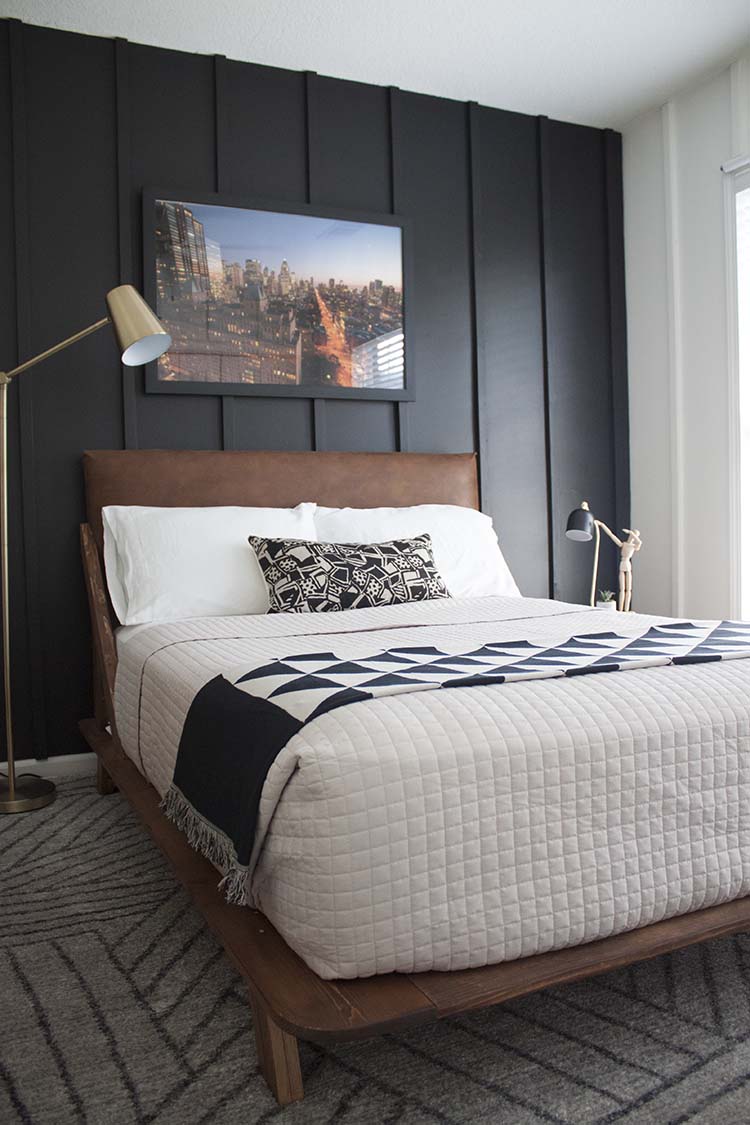 We started by building this mid-century modern DIY platform bed to accommodate his new world's most comfortable mattress and because he doesn't realize a twin bed is just as long as a full, he's convinced his feet no longer hang off even though they never did. And we just let him live in ignorant bliss.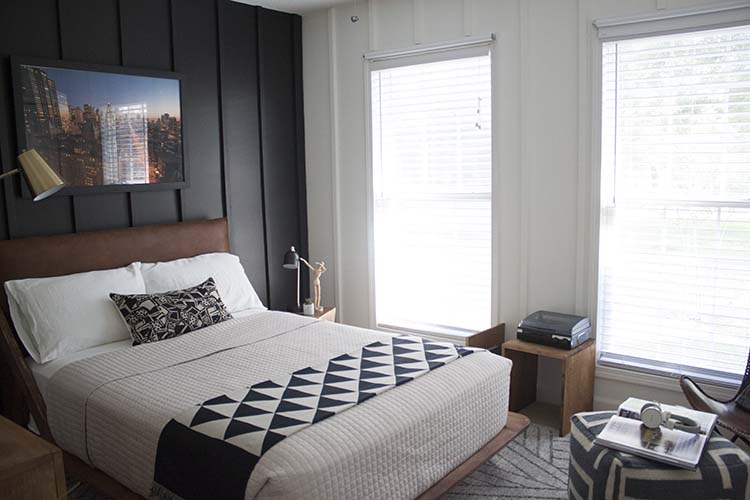 The Dresser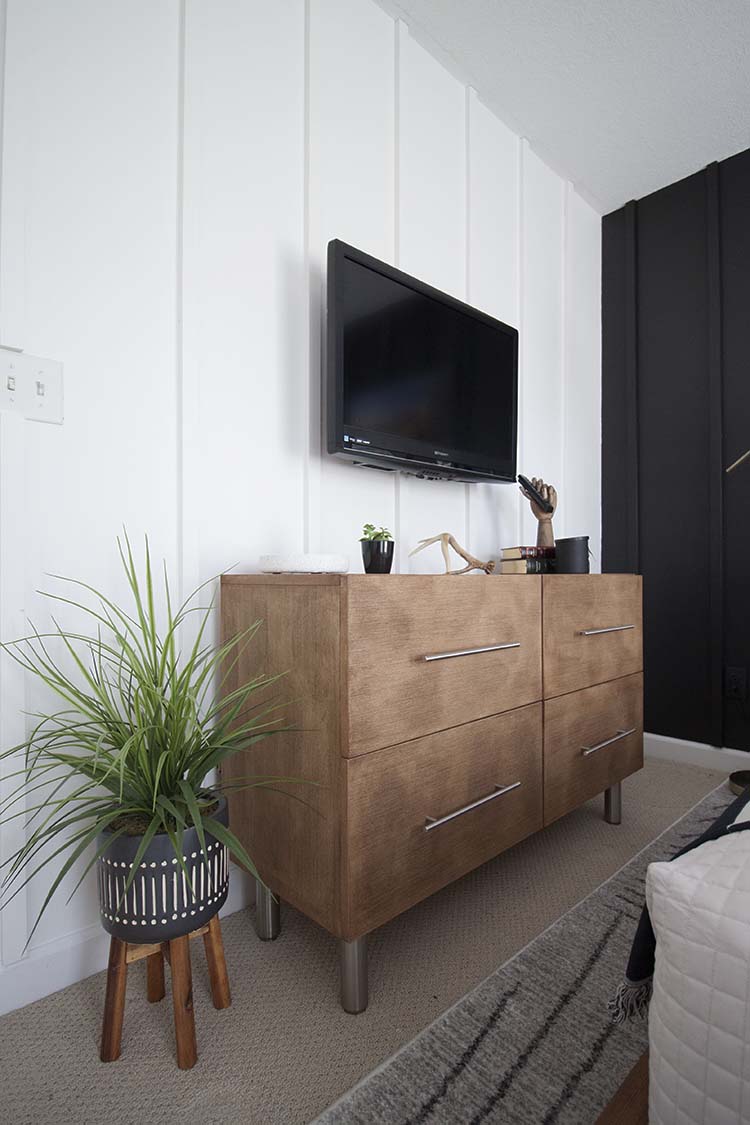 When we built this dresser (for under $150!!) I couldn't decide what color I would go with. Should I stick to my inspiration color and something similar to the bed? OR should I go with a black stain to mimic the statement wall?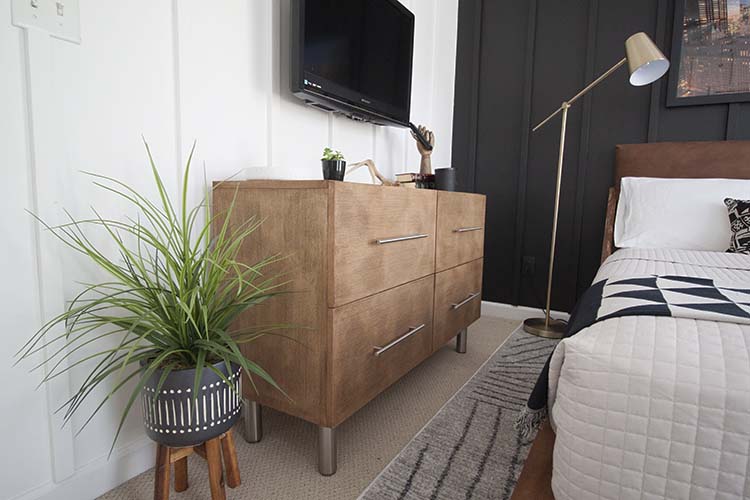 In the end, I decided to add black accents instead of another black statement piece. That's why the wall is called a statement wall – because it doesn't have competition! Amiright?!
Anyway, I am so glad that I followed my gut on this and I can't wait to share with you how I finished this piece. I think the process might surprise you. It took me about 10 minutes to put this finish (and sealer!) on.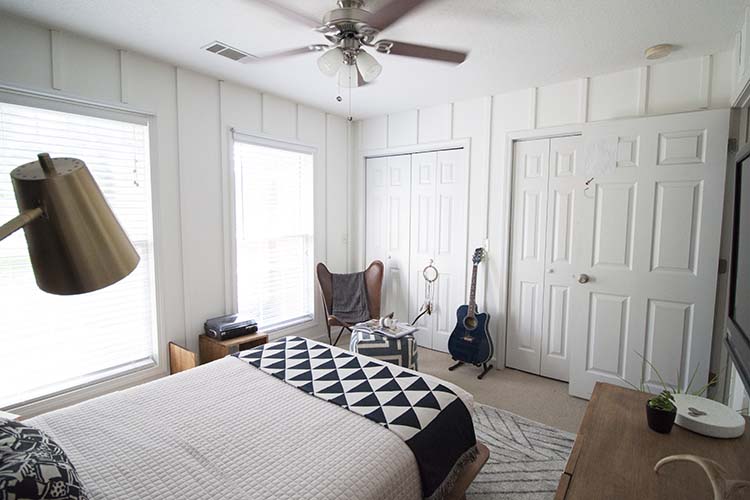 This room is home to the under $100 IKEA hack closet system and now it finally has an amazing room to go along with it.
The Walls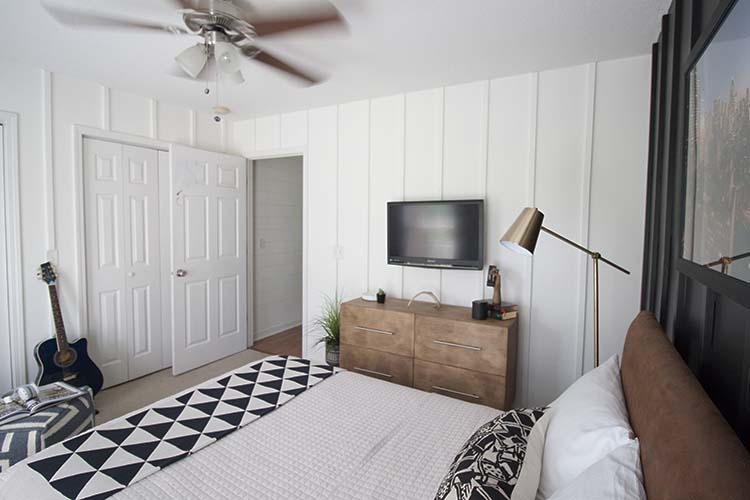 Since his previous room was heavy, not only on the furniture but also on the knick-knacks, we wanted this room to be less burdened with stuff. It took me awhile to realize that I am somewhat of a minimalist. Having lots of stuff makes me feel crowded and overwhelmed. Less stuff = less anxiety. So it was no surprise when my mini-me decided he wanted his new room to feel less crowded, too.
But we still wanted the room to have lots of texture and interest so we chose this DIY board and batten technique to give the walls some added dimension.
Textiles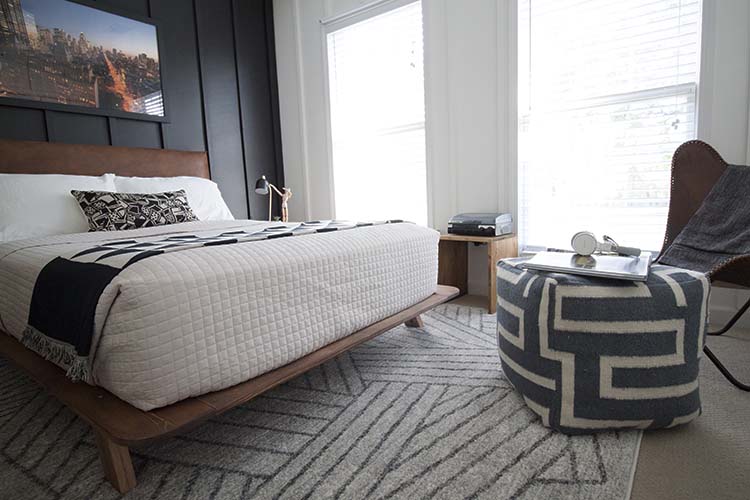 I gave him free reign on design choices and let him be as involved as he wanted to be. When he couldn't decide, he'd defer to me. When the rug he picked out came in I wasn't immediately a fan. In fairness, I hadn't completely unrolled it but, from what I could tell, it seemed a little shiny, almost like silver. He insisted on keeping it and I am so glad he did. It looks amazing!
Another thing he insisted on was just this one decorative pillow. I think that probably has more to do with how much he hates to make his bed, but it was a good call. It's just enough and, coupled with a few throws and that awesome pouf, it's all the room needed.
Extras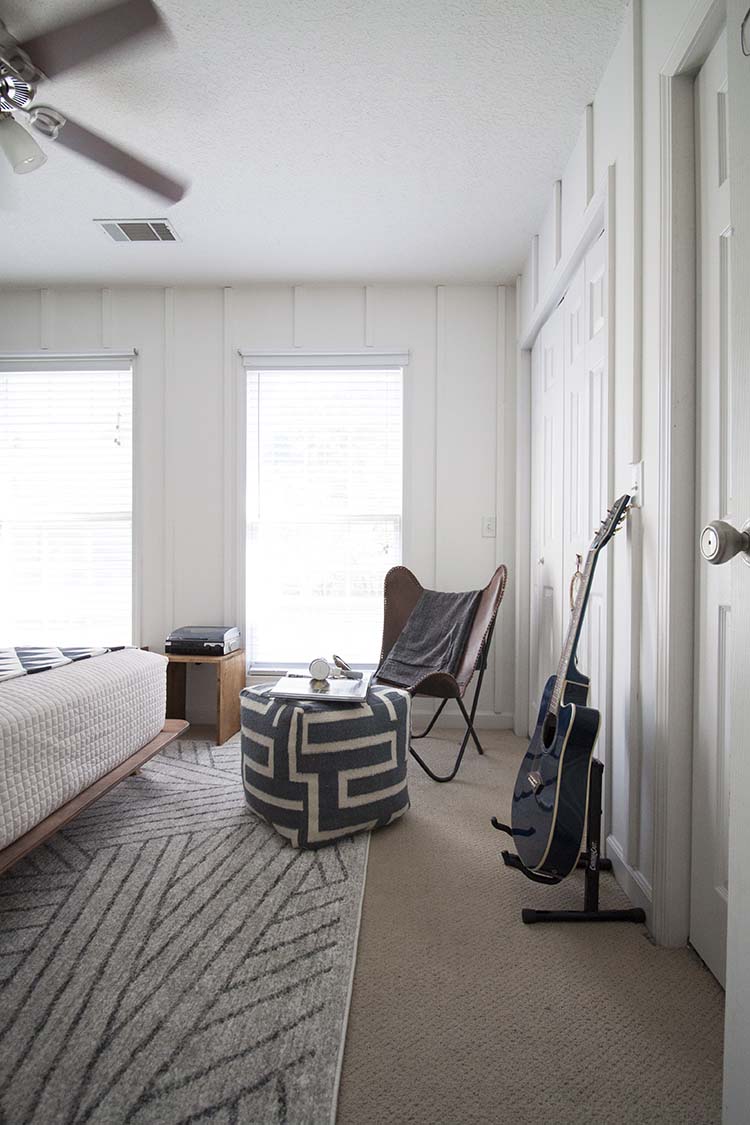 He picked out the furniture designs and at the top of his wish list was a leather butterfly sling chair.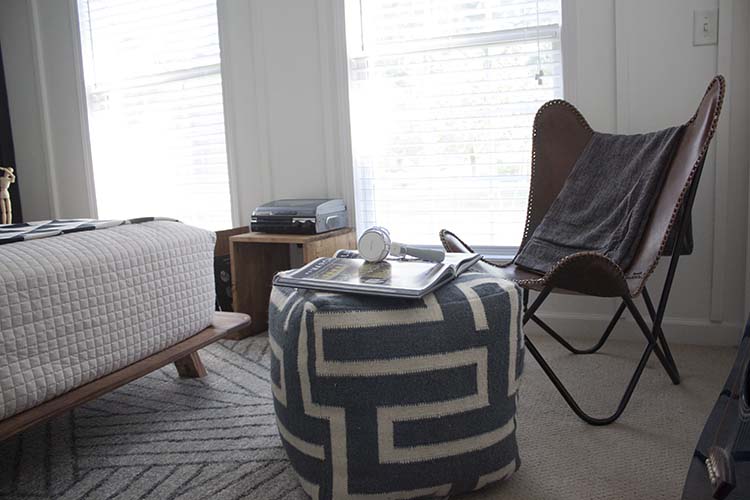 I had no idea how comfortable one of these would be, but it's the perfect chill spot. We also built him a turntable stand and vinyl record holder that was so last minute the room still smelled like stain this morning! It's a little bigger than I planned so I think I might scale it down a bit.
I might also hang his acoustic guitar above it or the framed tour book from his first concert. I couldn't decide so I left it for now.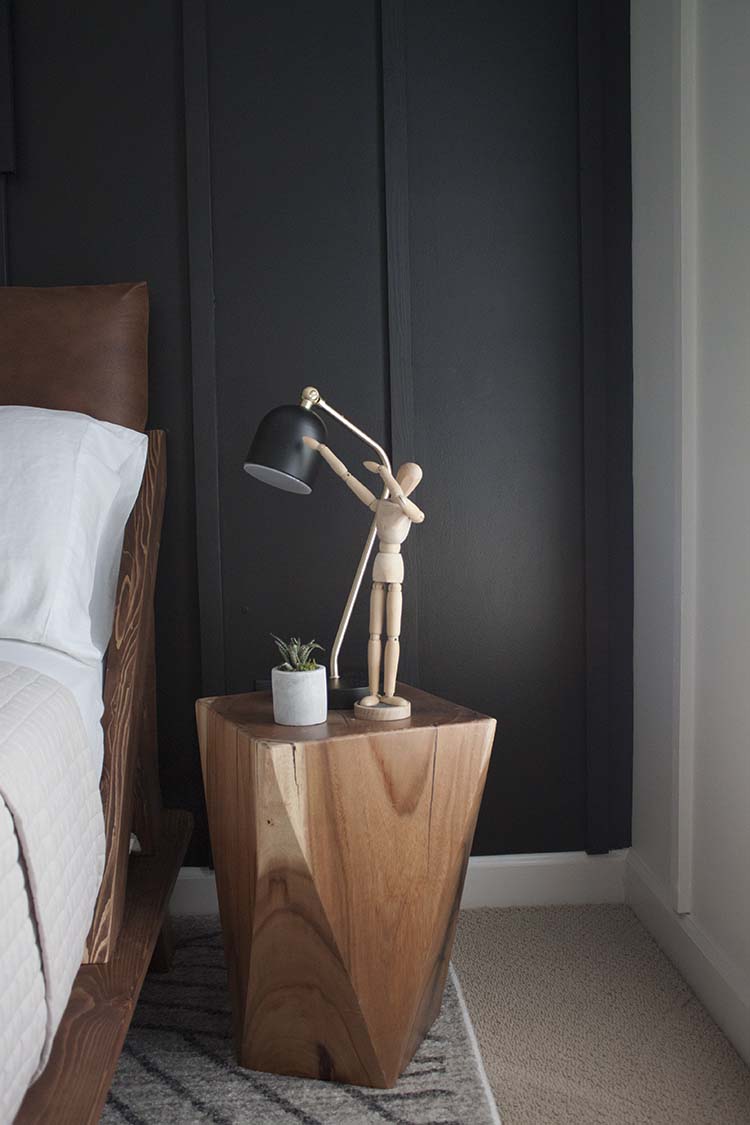 Before this room makeover, he had never even heard the phrase mid-century modern before. He just knew what he liked when he saw it. The important part about accessorizing in this room was scale. Mid-century modern is inherently short. This was perfect for a room that had been weighed down by heavy furniture in the past.
This tree stump table, with its modern lines, was the perfect height for his bed. It was also plenty of room for a side table without taking up valuable floor space.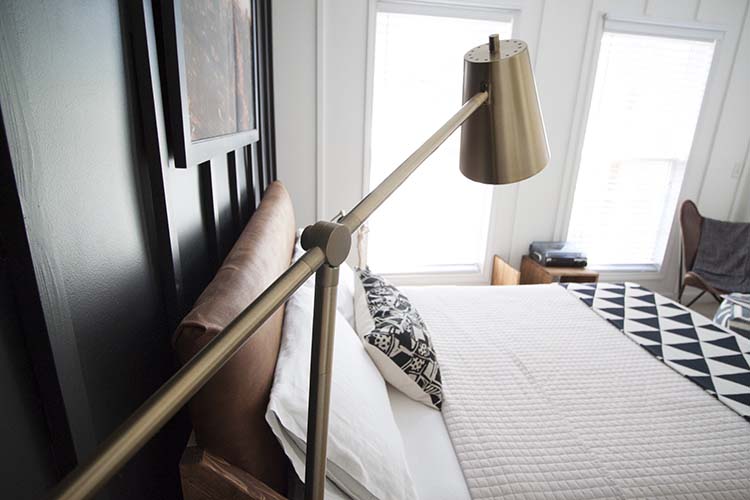 We went with a small task lamp for the side table and a floor lamp on the opposite side.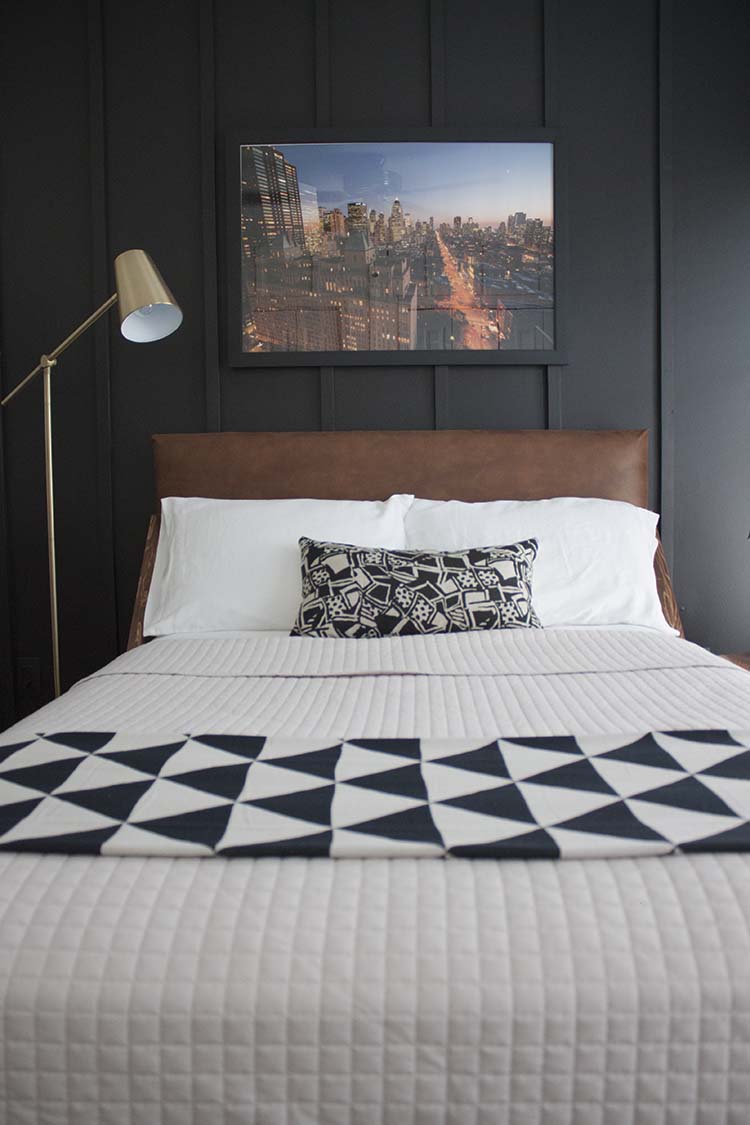 One of the last decisions we had to make was artwork. I never want to add decoration to a room just for the sake of having decorations. So we were looking through photos trying to find something meaningful. We were both delighted to find this photo of NYC. It's taken from the penthouse terrace of the first time I stayed in NYC (at the Hudson Hotel) and in the photograph is the first hotel he stayed in a few years later, the Roosevelt.
We knew it was the perfect choice and the money we saved having a 24 x 36 poster printed up at Staples was the cherry on top.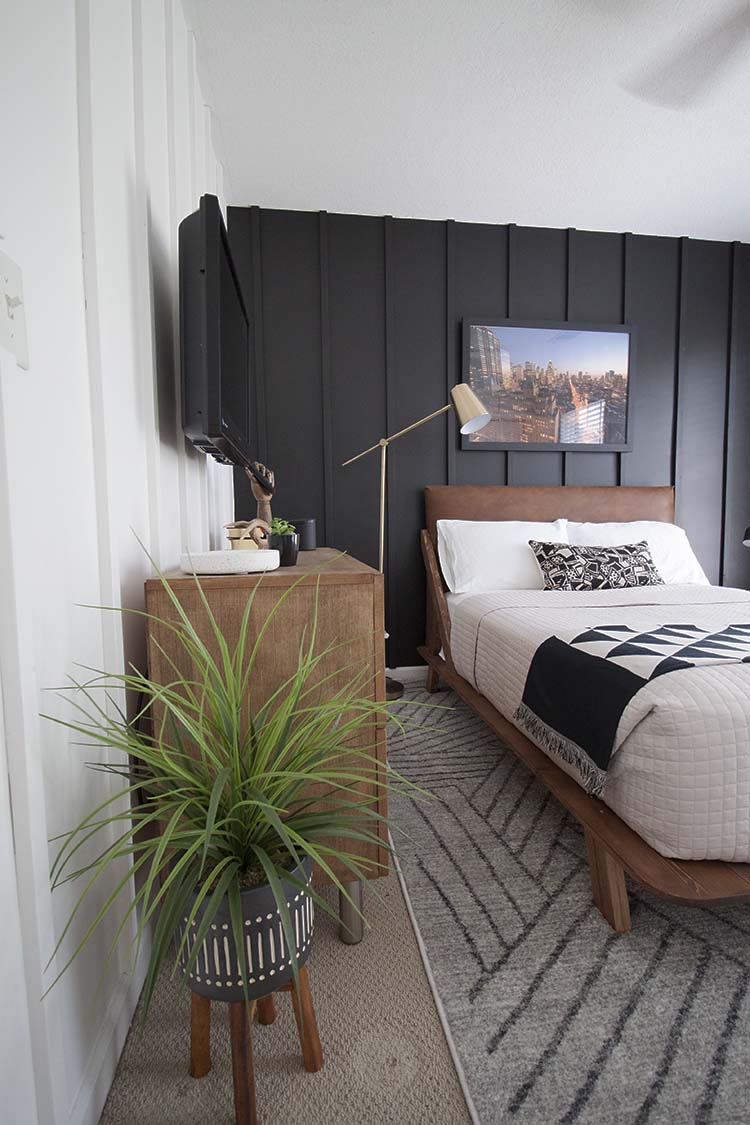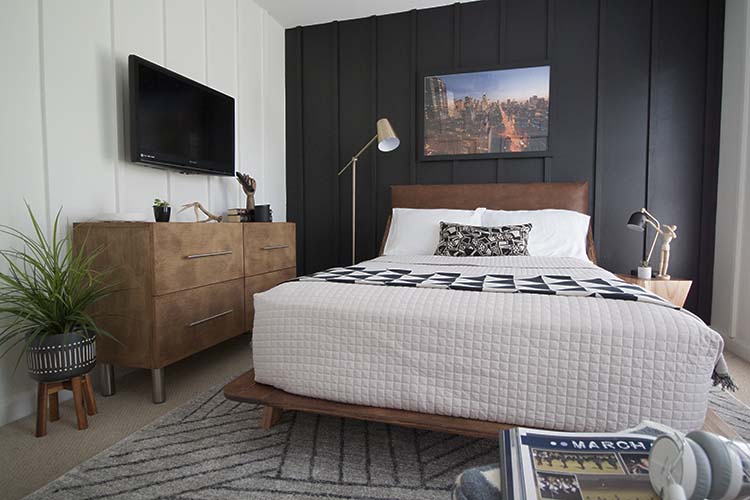 So that's it! Our no frills, but still a little fancy, modern teen boy bedroom makeover. It's the coolest room in the house! Which is fitting, I guess.
We didn't get to the removal of the carpet and new flooring but that was something completely out of my control. I am so excited to say that we will be revisiting this room (and the rest of the house!) with new flooring soon. I don't know about you, but I'd have killed for a bedroom this cool at 14, you?