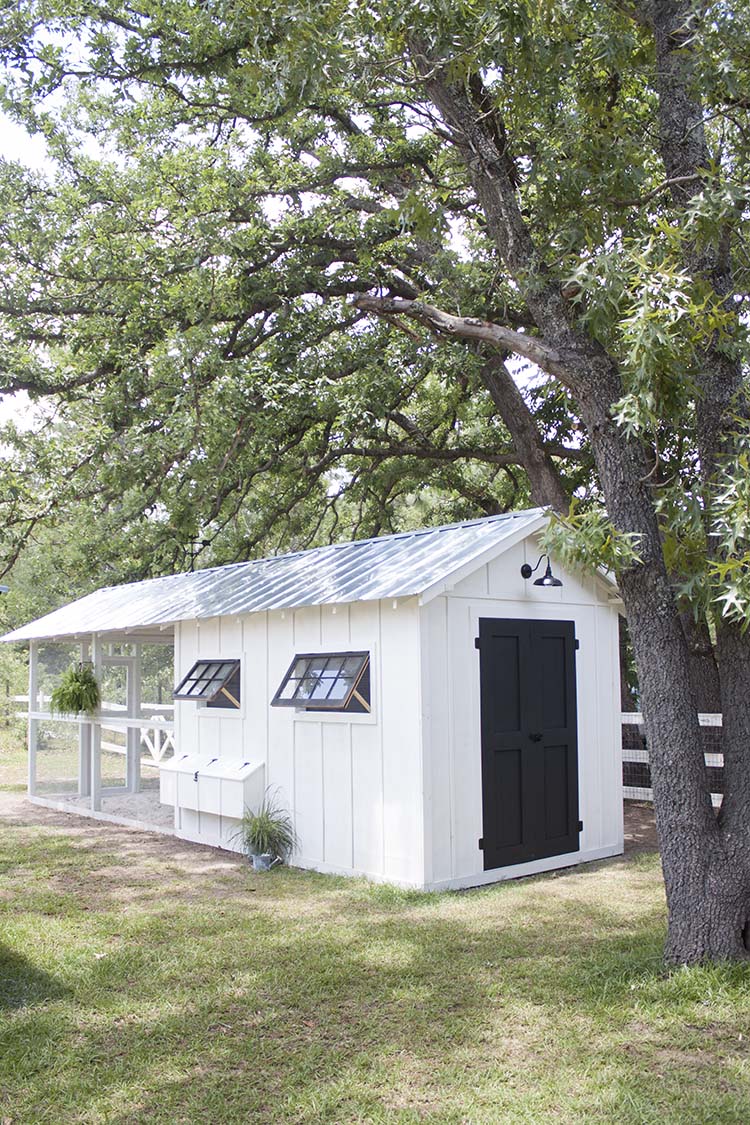 If you had told me back in March that in six short weekends we'd have completed the fancy farmhouse DIY chicken coop, I'd have called you crazy.
Plans Now Available At Bottom of Post…
In that time, we've finished up the school year, unexpectedly buried two pets, suffered a death in the family, worked for weeks in the rain and then through sub-tropical storm Alberto. But here we are all finished up and my baby chicks, who aren't babies at all anymore, have a gorgeous new home.
This post contains affiliate links. Please see my disclosure policy for more information.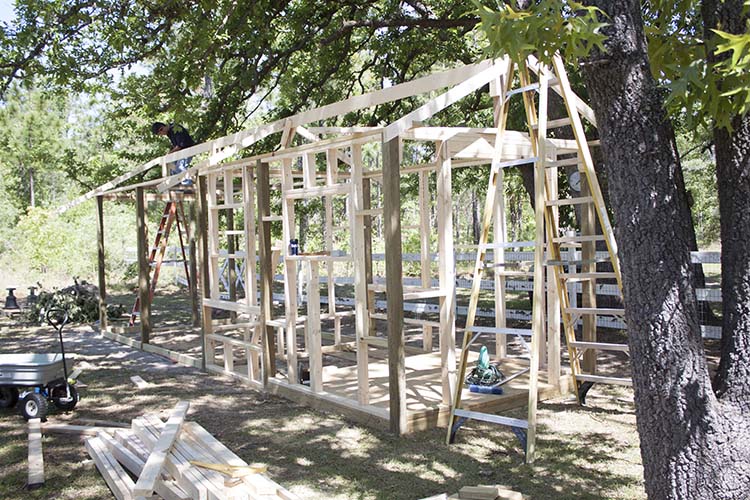 In case you missed any of the details, here's Part 1: The Plan, Part 2: Framing It Out, and Part 3: Finishing Touches.
You guys, I'm telling you, this was a ton of hard work. A TON! But I am so proud of how it turned out.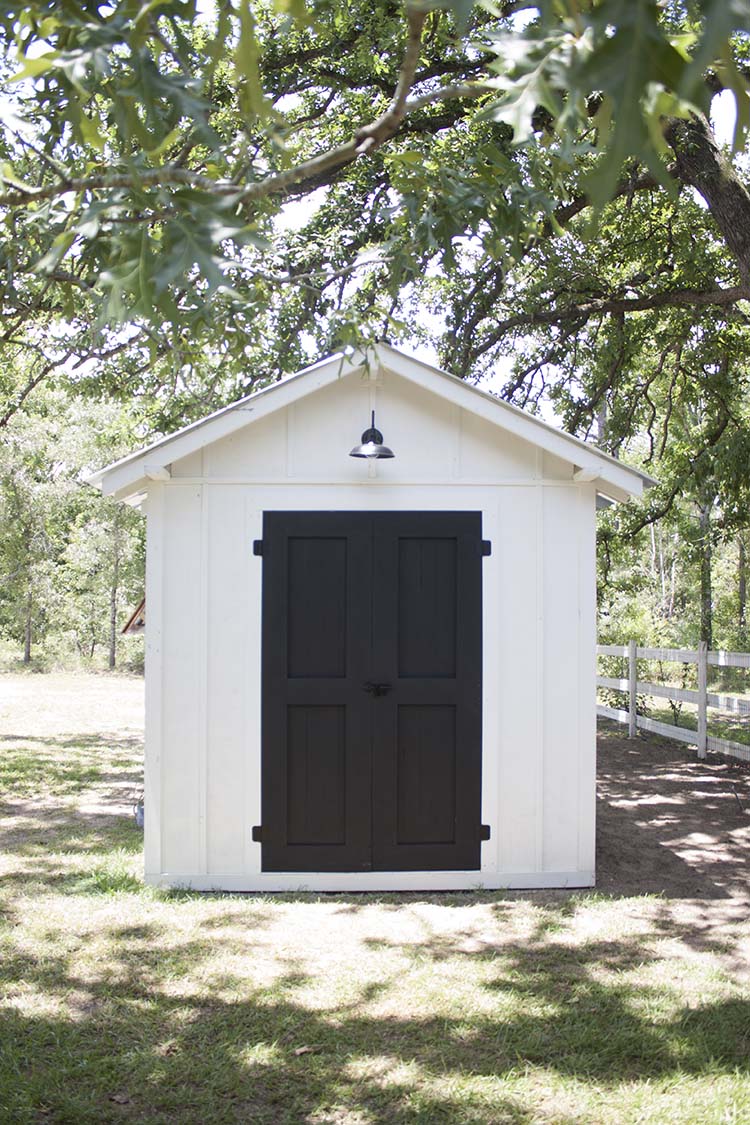 Let's take a tour, shall we?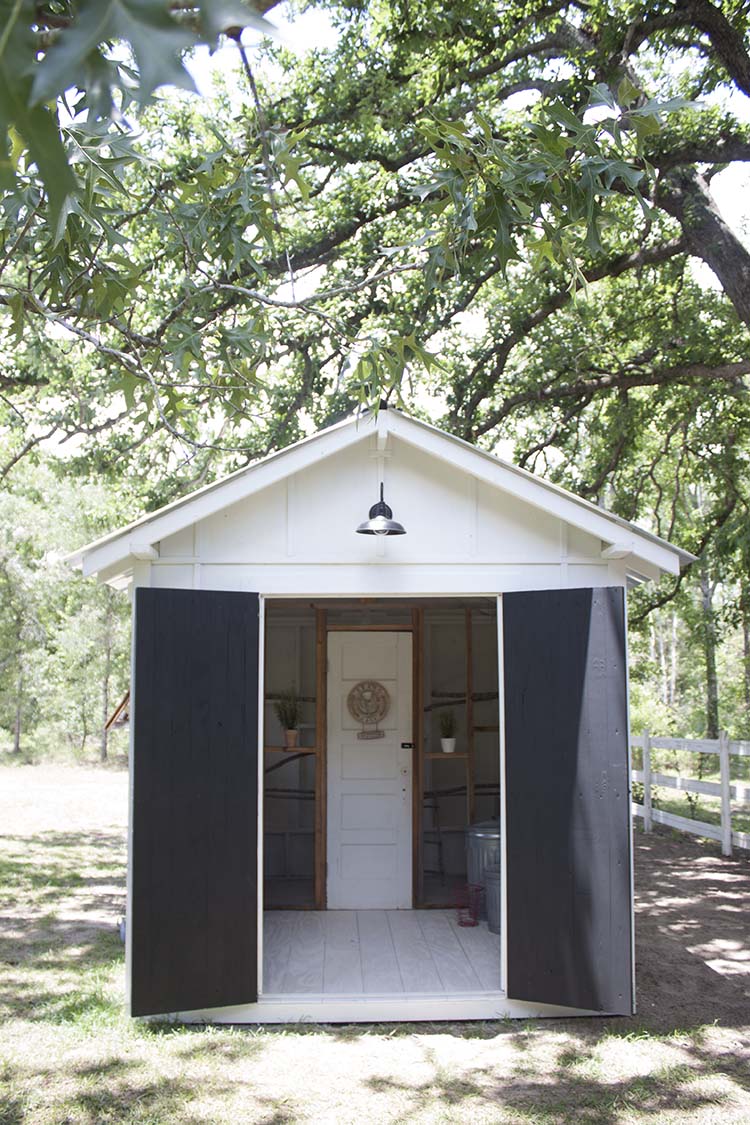 In addition to the coop and run, I also wanted a storage section so that I could keep my chicken keeping supplies with my chickens instead of in the garage.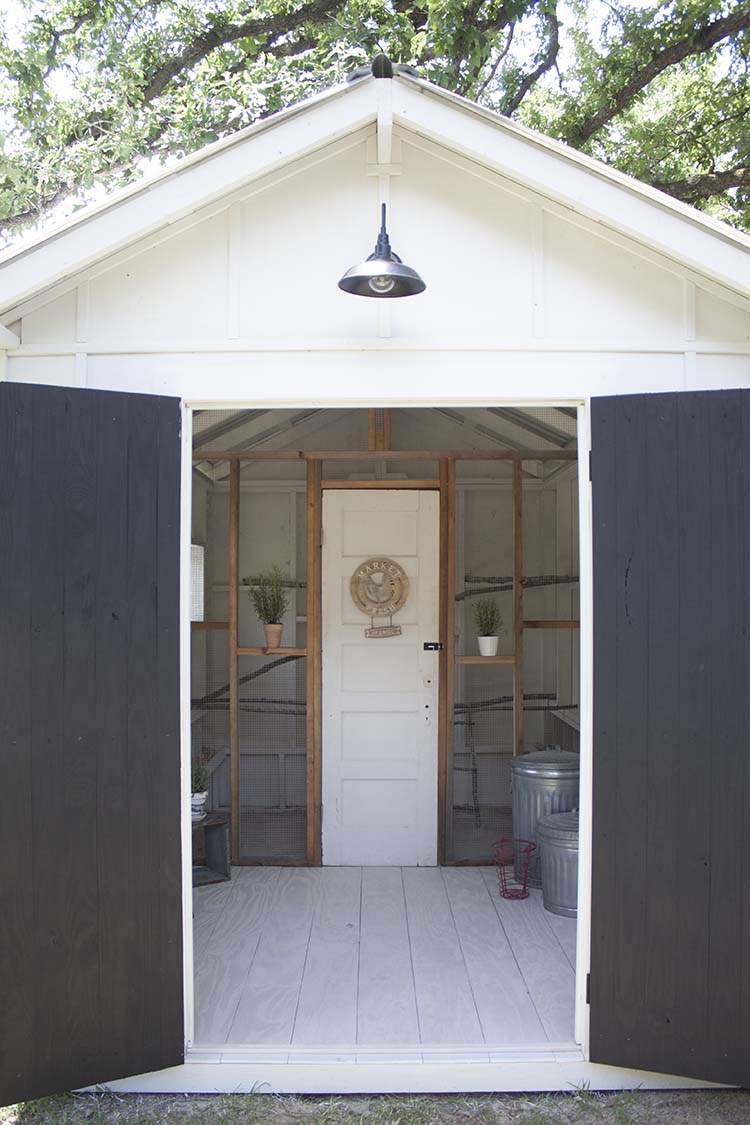 I wanted it to be easy to clean. My last coop required me to crawl underneath it to clean. Or to use a pressure washer through one of the nesting box windows. It was virtually impossible.
If it's not easy to keep clean you won't keep it as clean as you need to.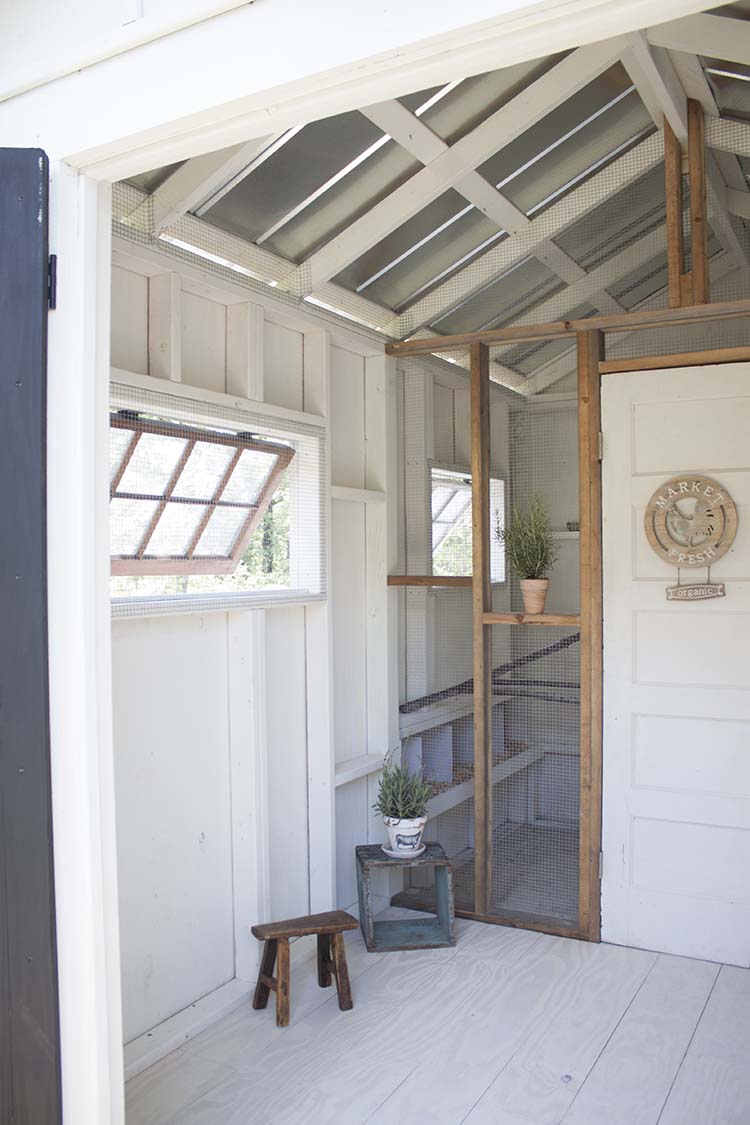 And this one is pretty. I've always thought that the prettier something is, to begin with, the more motivated you are to clean it.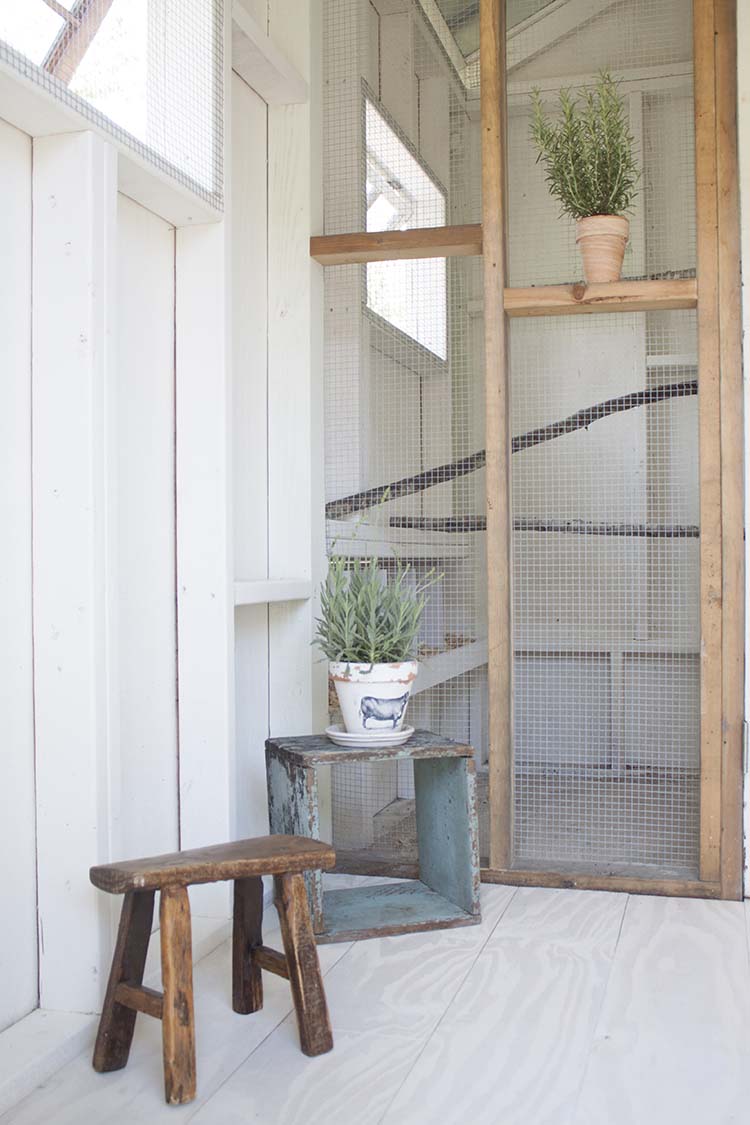 The storage side is really for me. It's a practical space where I can store food and also where I can brood future chicks without having to keep them in our garage. But it's also a space where I can come just to visit.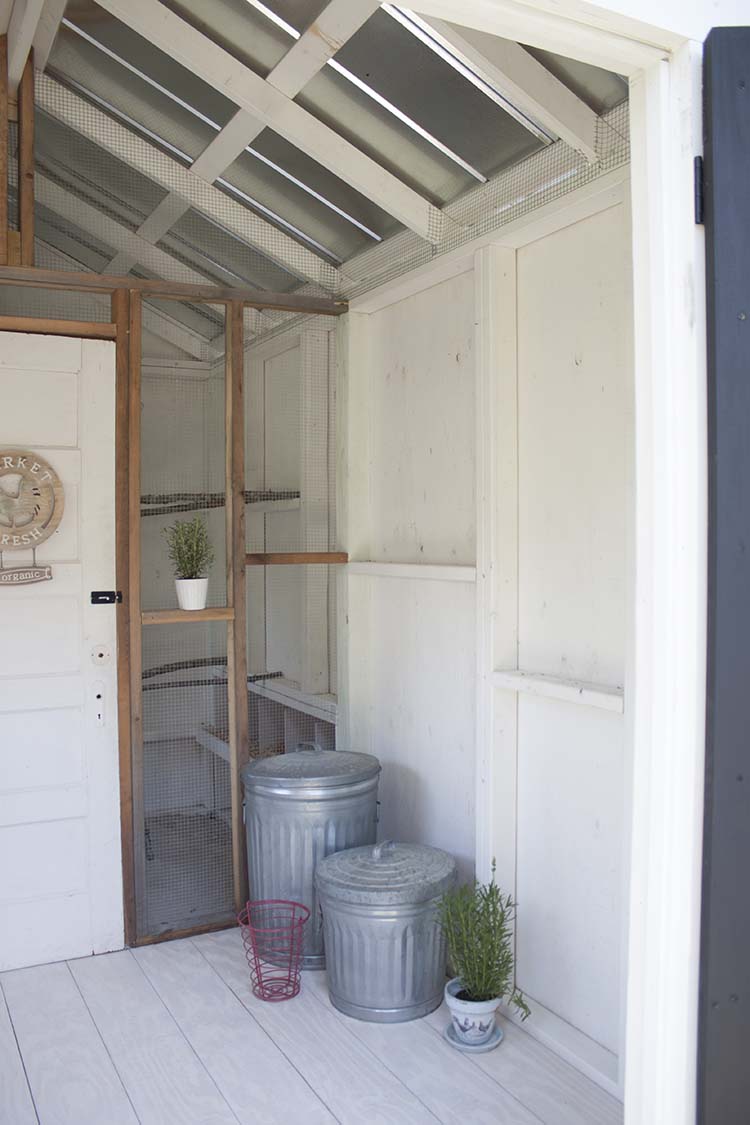 It's so much easier having the food right here and easy at hand. I use these galvanized storage containers to store their food and keep out pests.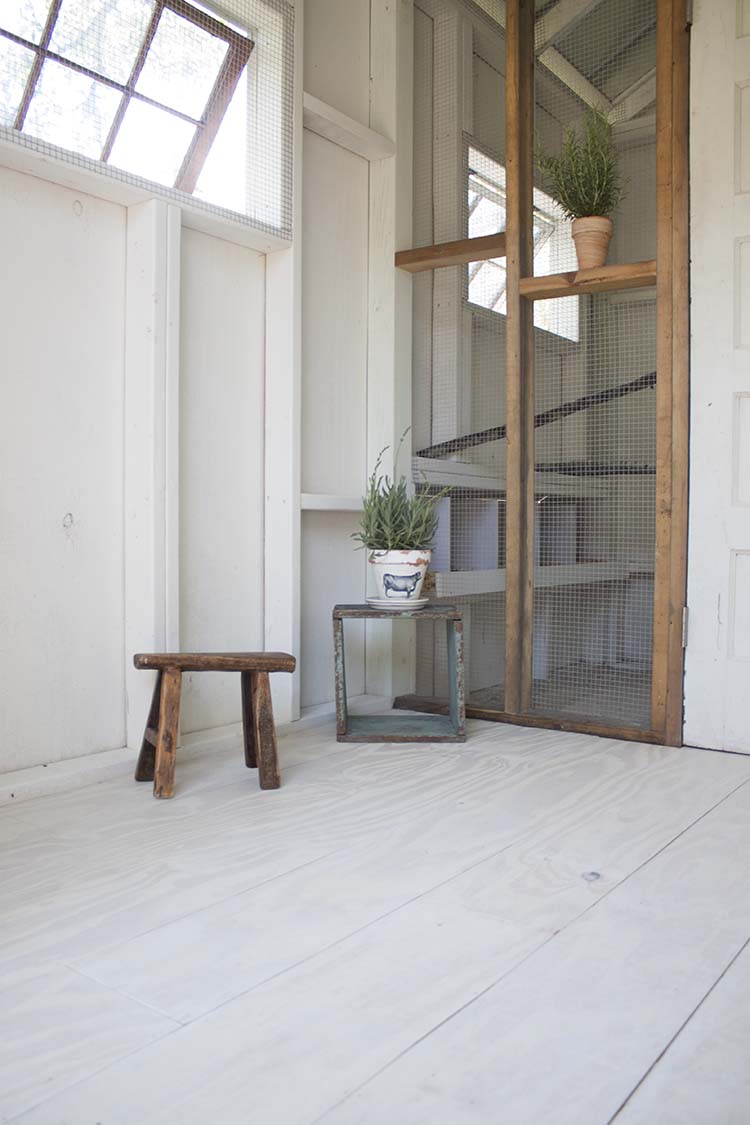 We created a DIY wood plank floor. It's just plywood on top of subflooring with a homemade white stain. I used a sealer on top to help make it easier to clean. I just love it!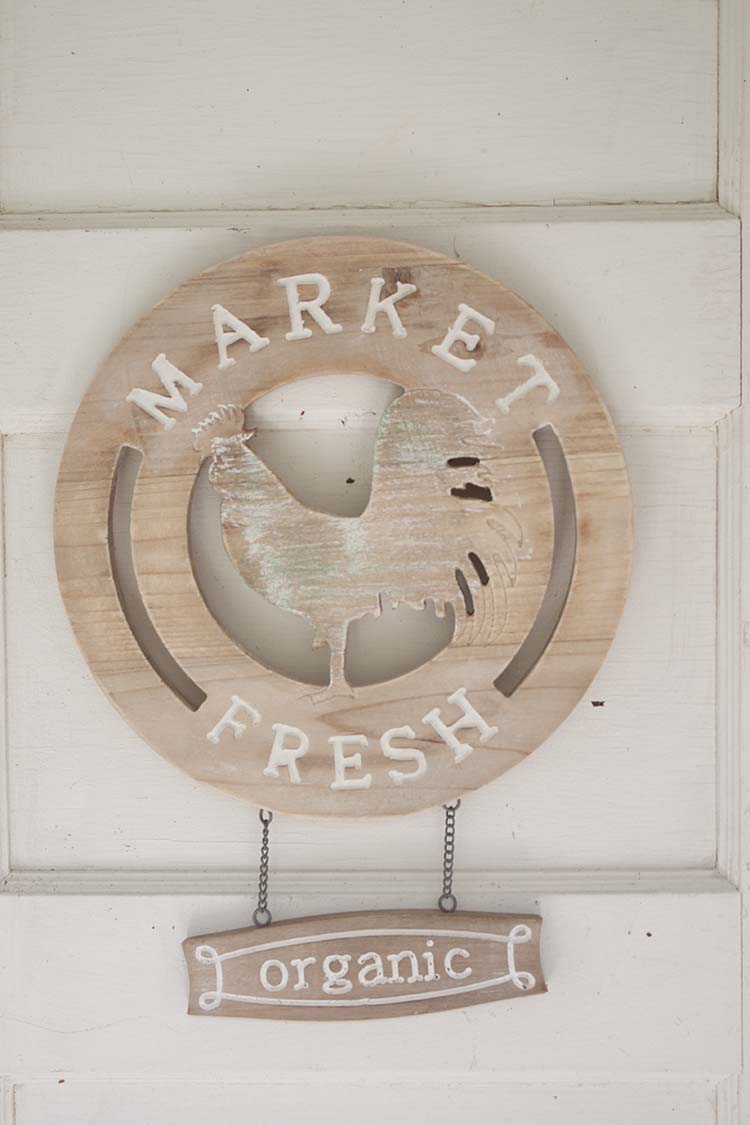 You can access the coop from the storage side. This old door came from my childhood home. I've had it for over a decade waiting for the perfect way to make use of it. I definitely think I've found it.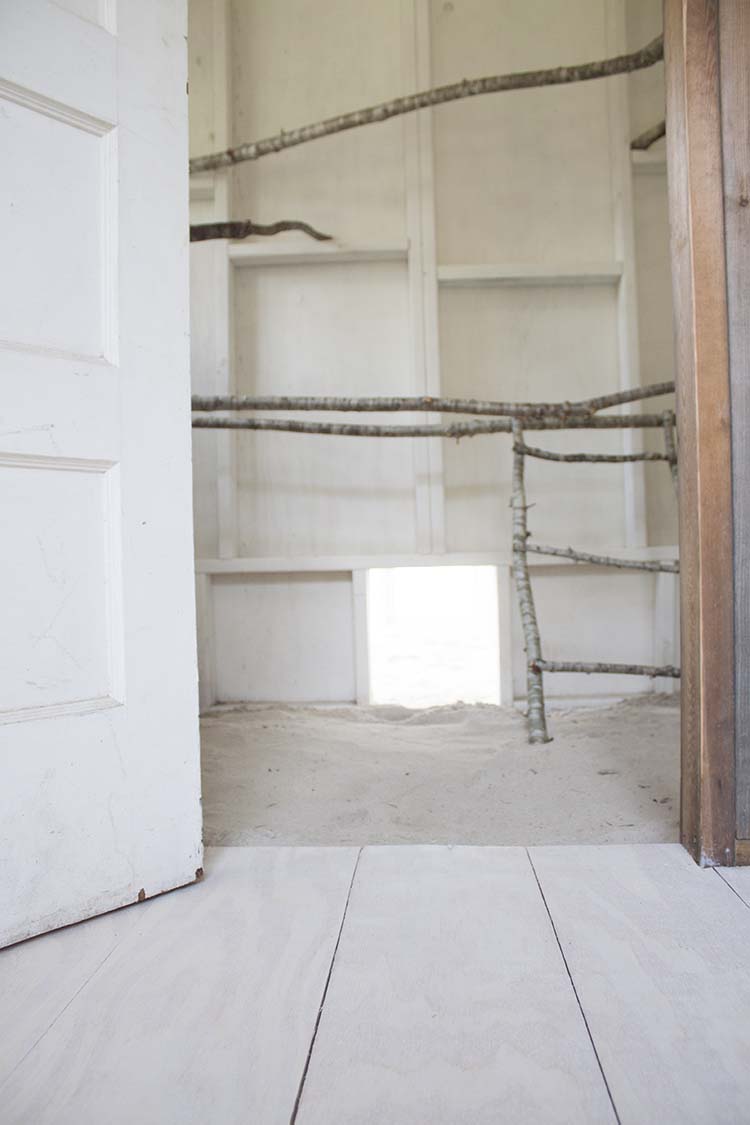 We used real branches to create roosts and a ladder. Roosts are most comfortable for mature chickens if they're about 2″ in diameter. These will be easy (and cheap!) to change out should we need to.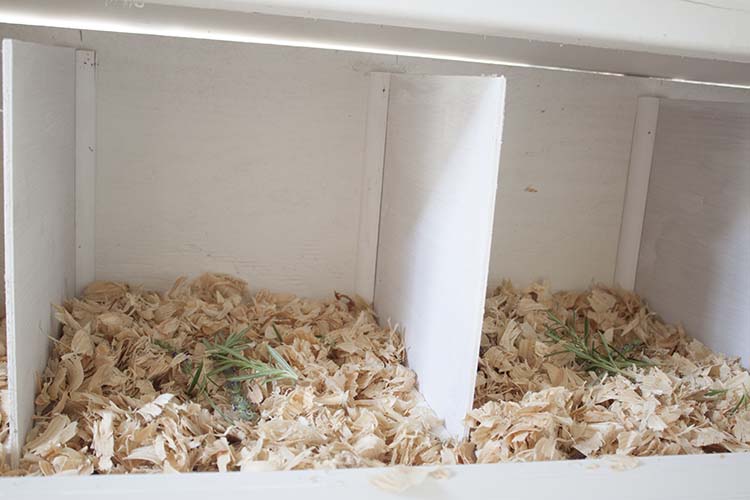 The partitions in the nesting boxes are removable to make them easier to clean and to also accommodate a community laying box should our hens prefer one.
I've talked about why I use herbs in my laying boxes before. You can find more on that in my Barbie Dream House Chicken Coop post.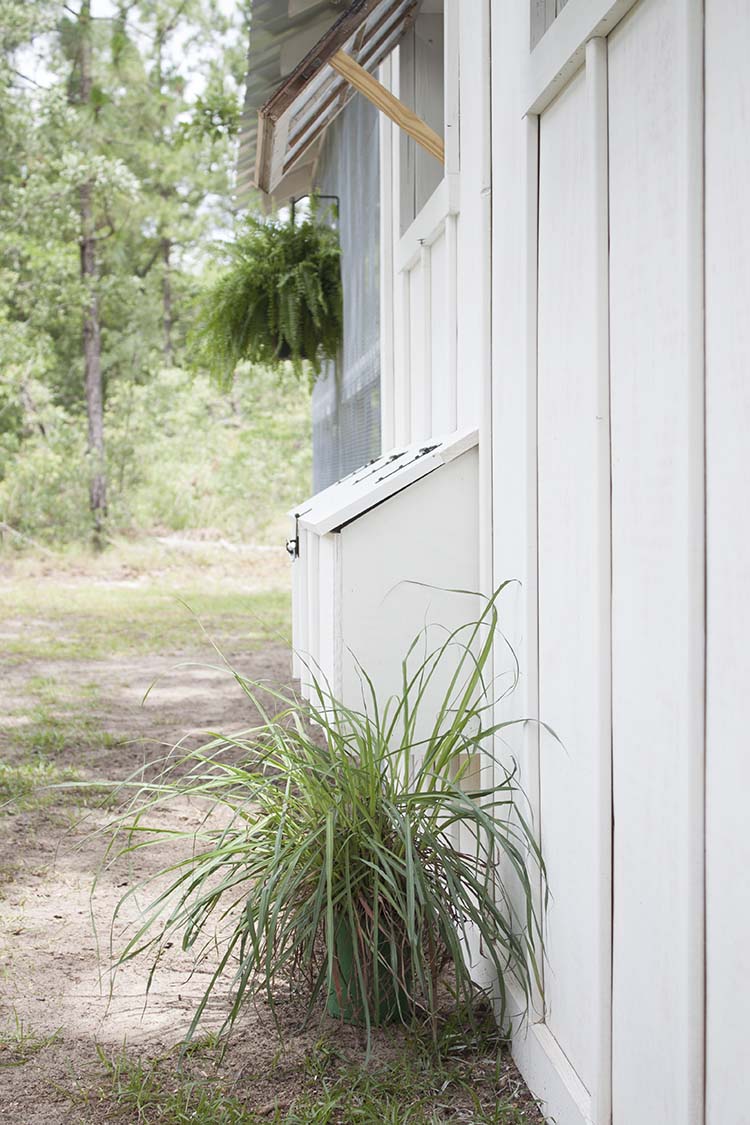 I will eventually do more landscaping around the coop but for now, I've added herbs in the coop (rosemary and lavender) and lemongrass on the outside. These have pest control properties.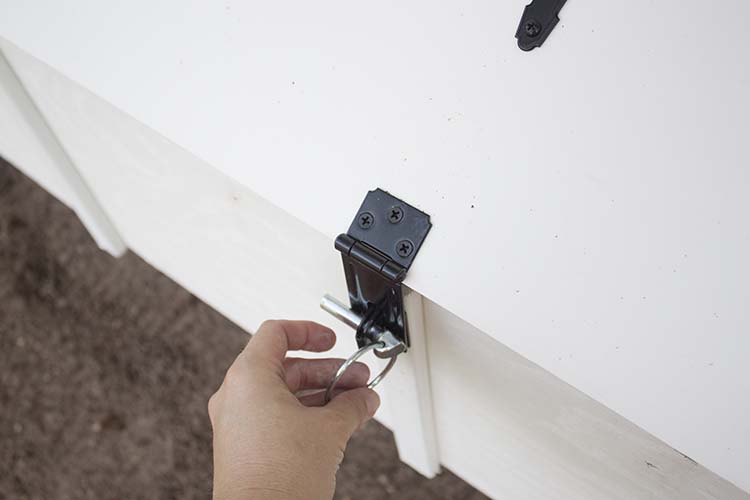 We have two nesting boxes on either side of the coop with five nesting boxes each. Both of them have these latches and pins for added security. I also added these black T-hinges to the nesting box tops for a little added decorative flair.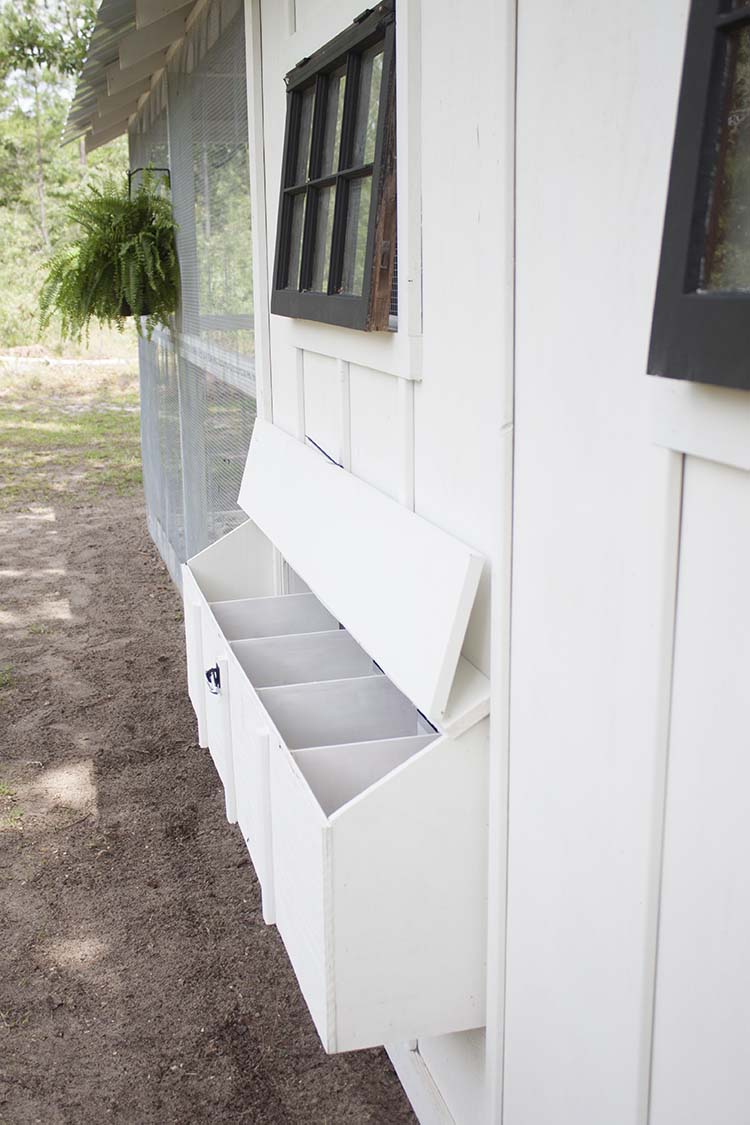 The box tops lift for easy access for both cleaning and egg collecting.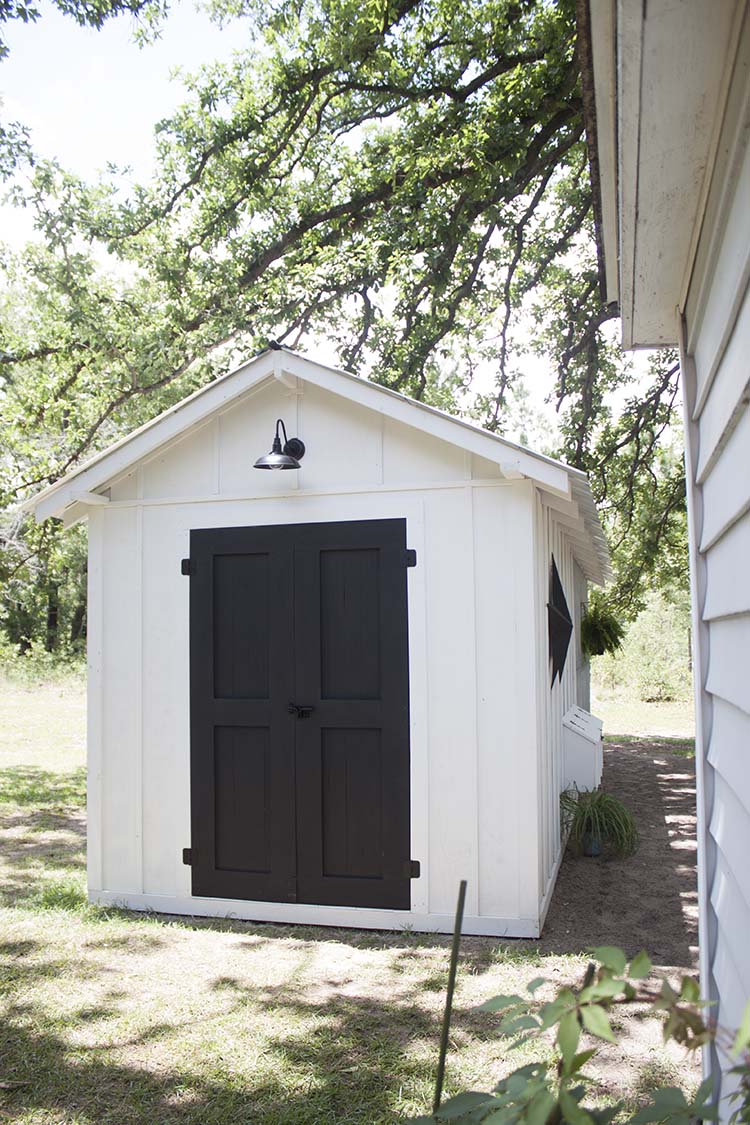 I am completely obsessed with these black doors. We built these in the same way as we built the barn door for our laundry room.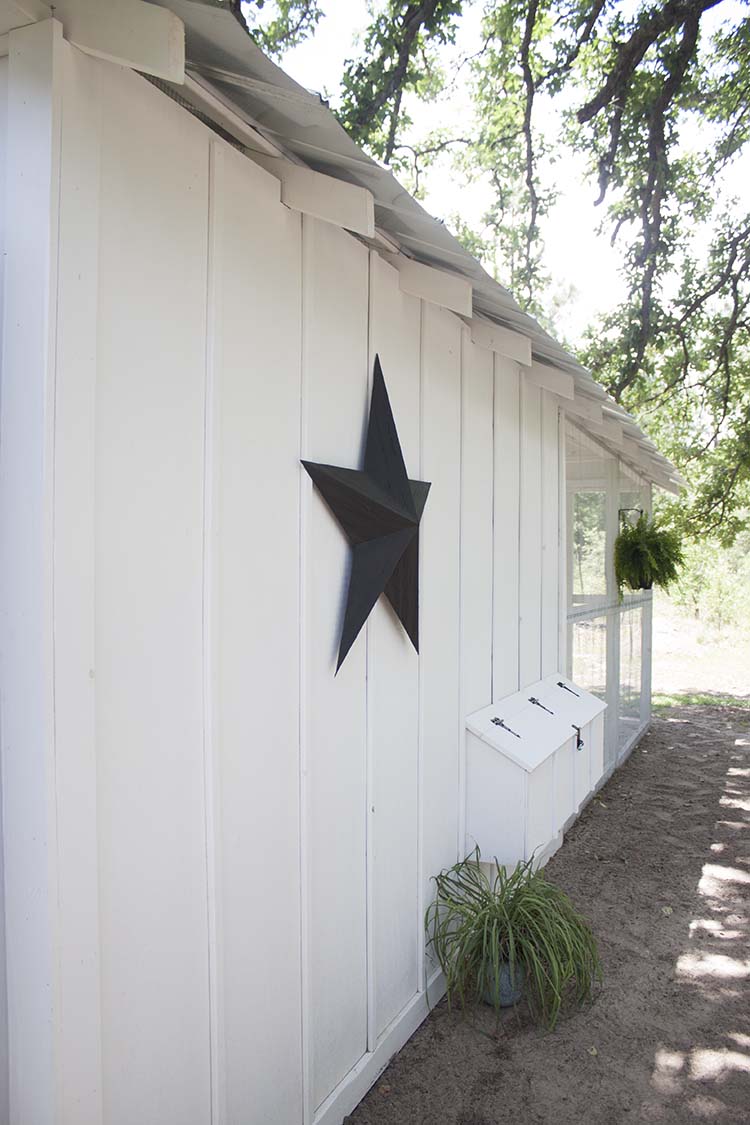 I painted this barnstar to match the other black accents. It probably comes as no surprise that I love black and white and, also, that I'm a big fan of board and batten.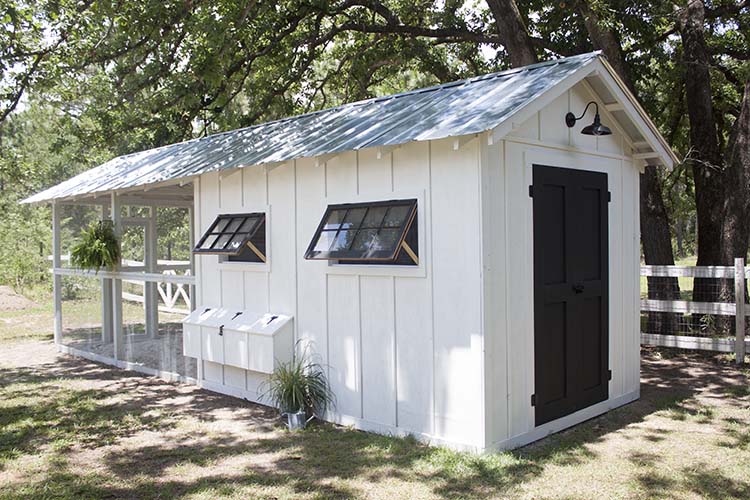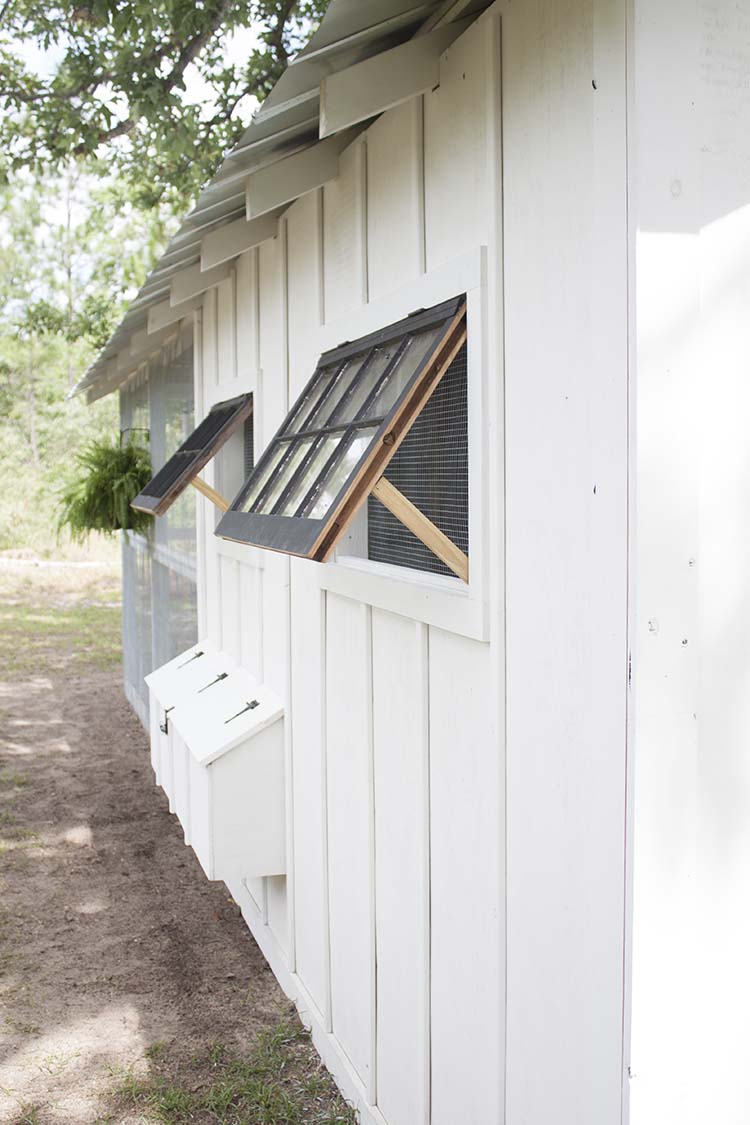 I used these old windows I had on hand for the coop. As with every opening, we used this hardware cloth to cover them. I can lift them for better air circulation in the summer and keep them closed for extra warmth during the winter. But no matter what, nothing can get in.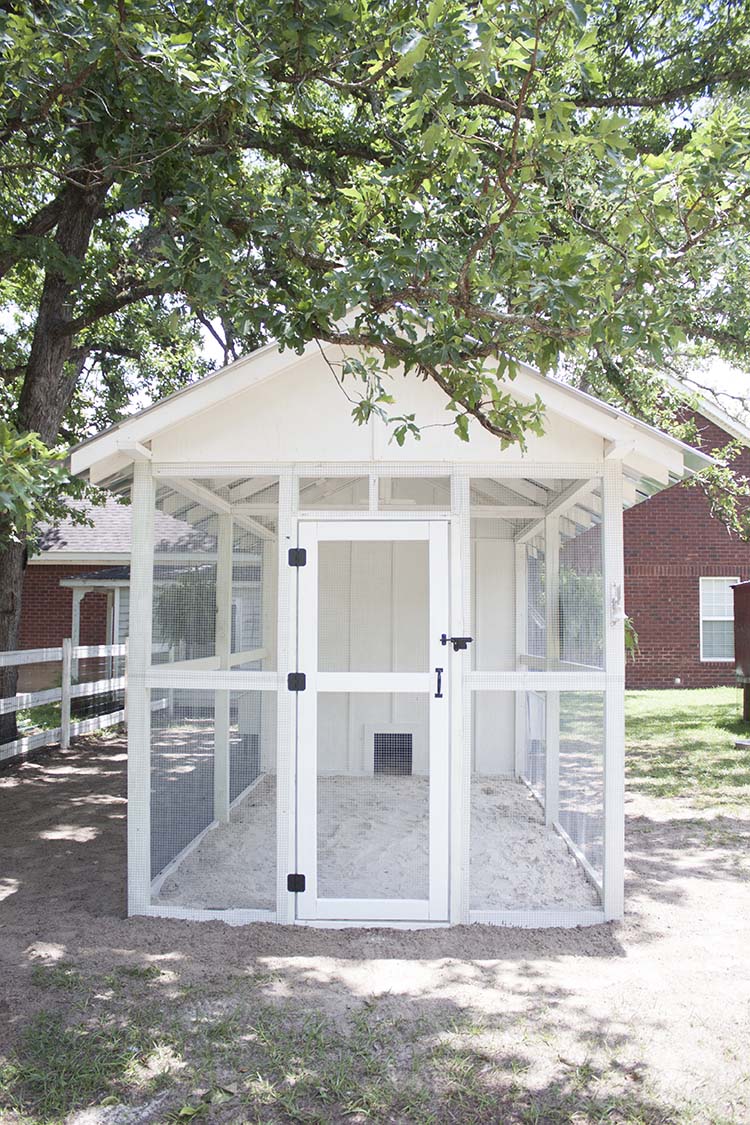 The coop has a spacious run attached.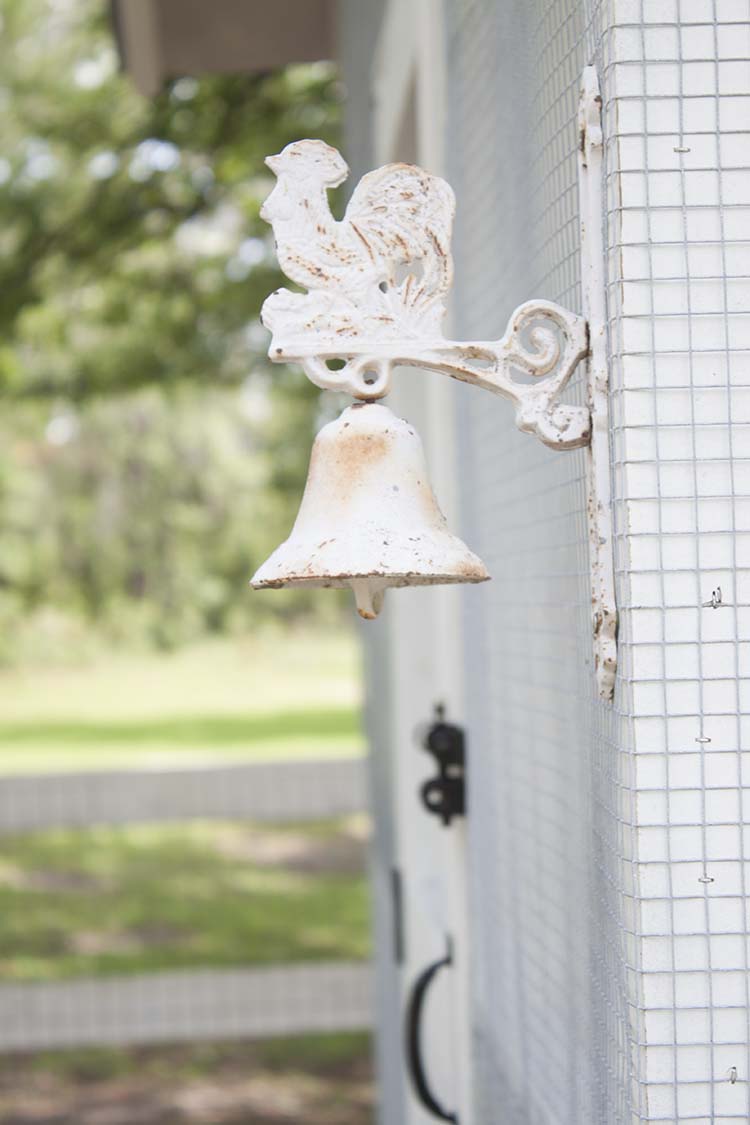 This cast iron bell came off of our old coop.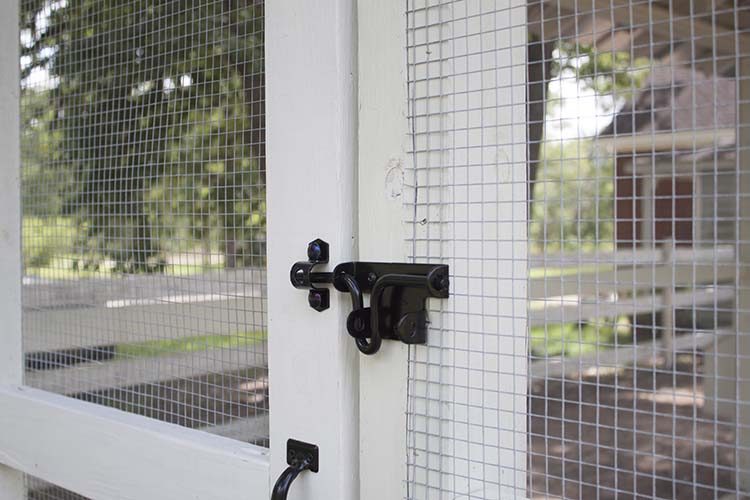 We put these latches on all of the doors for security. All of our outside door latches also have pins, like the nesting box latches, for added security. On our last night of work, a snake snuck up alongside the coop. After I got over the initial fright, I enjoyed watching him try to find a way in and failing.
You can find the rest of our door hardware here: black door pull and black door hinges.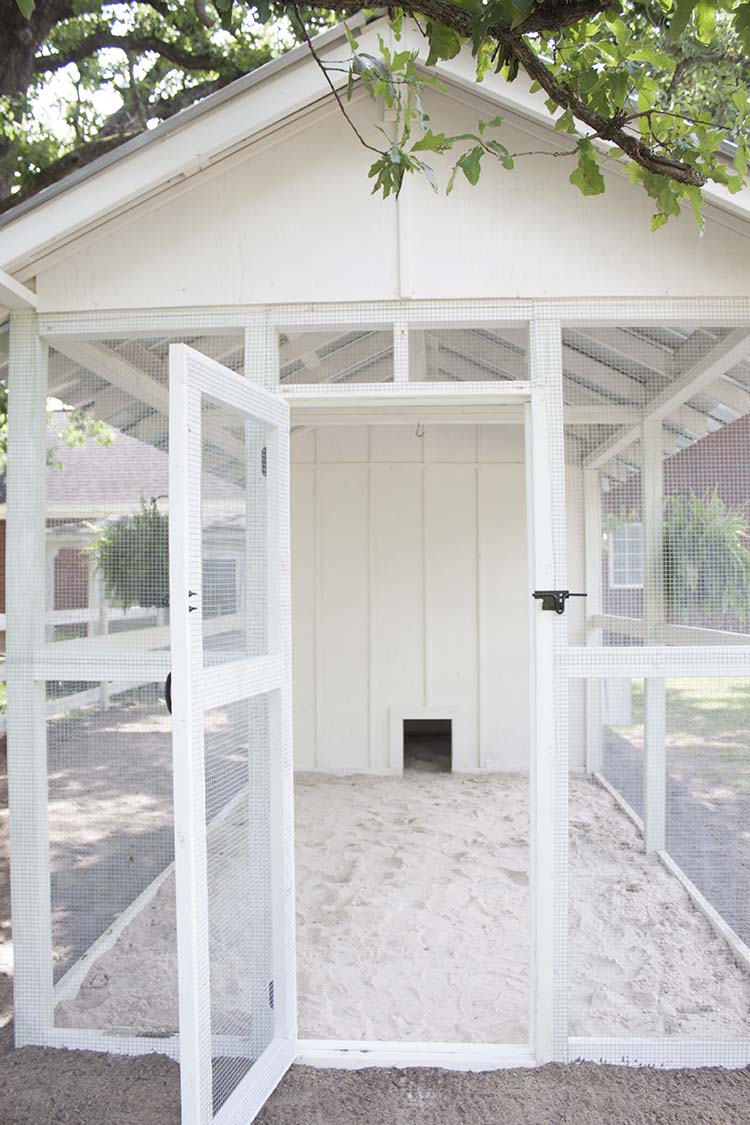 We used sand as coop litter as I find it easier to keep clean. It's kind of like a giant cat litter box which probably doesn't sound like much fun but, I'm telling you, it beats the alternative. It's also easy to keep dry which is key to keeping chickens clean and healthy. It's also unlikely to attract pests like flies.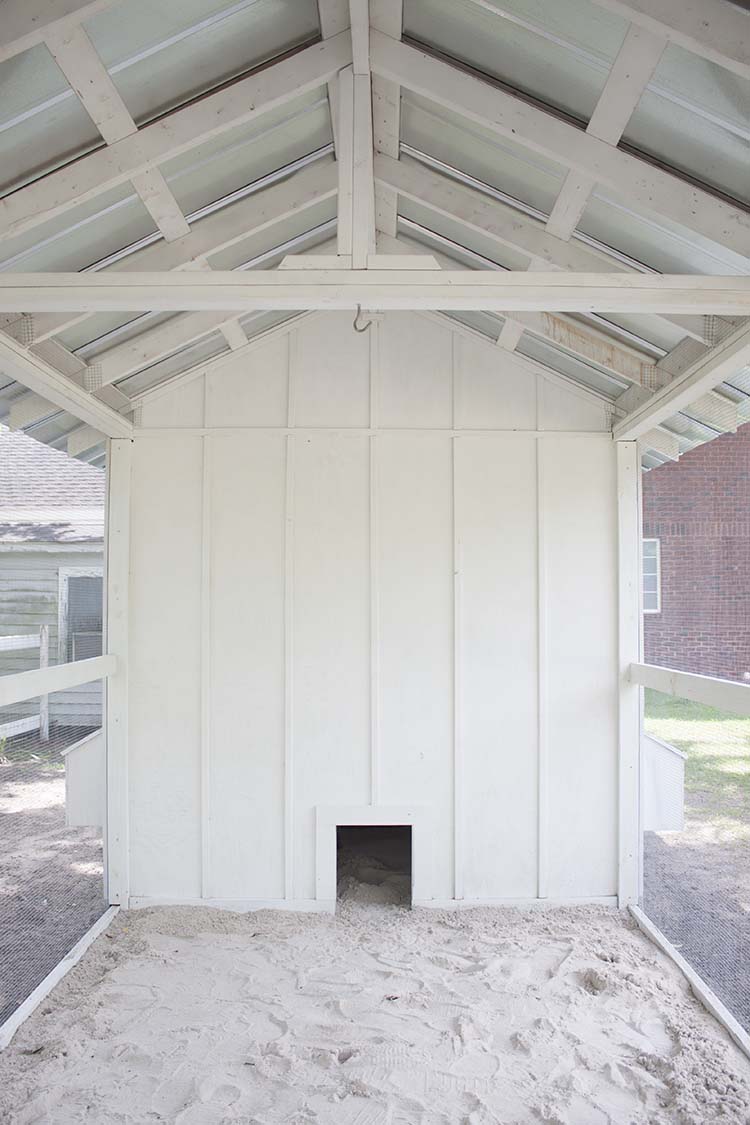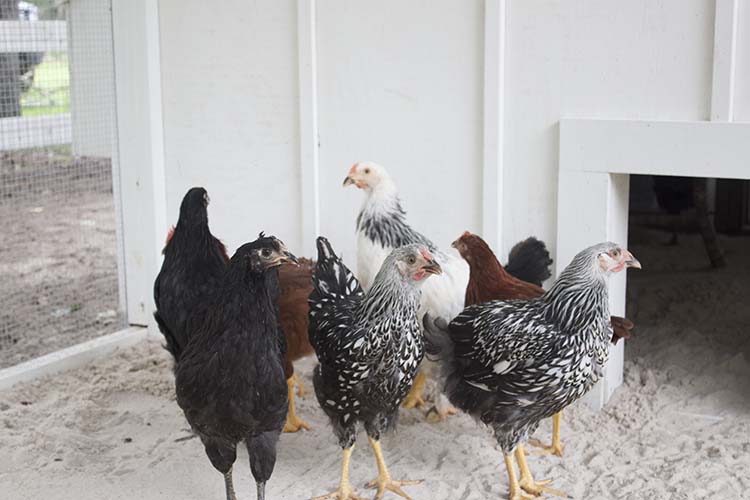 We put one set of little chickens into the coop and allowed them to explore for a day before putting in the other group. The mature hens won't get to share the coop with them for awhile, as a precaution, which kind of breaks my heart. They really enjoyed checking out the coop as we were building it.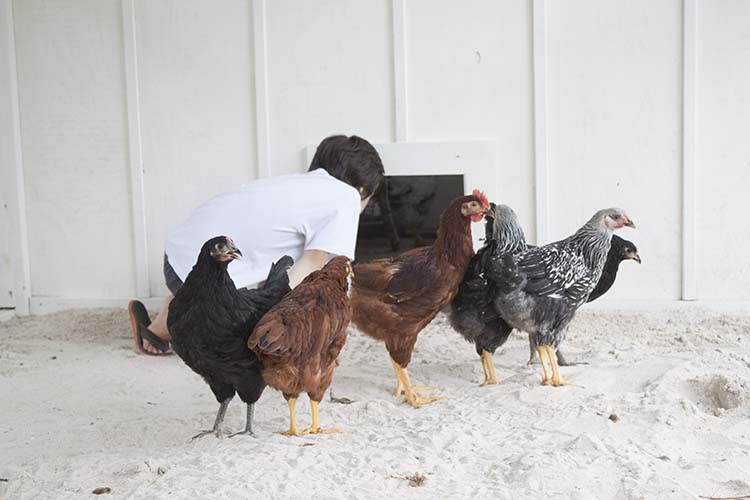 It only took a moment, and a very helpful, seven-year-old, for them to figure out how everything worked.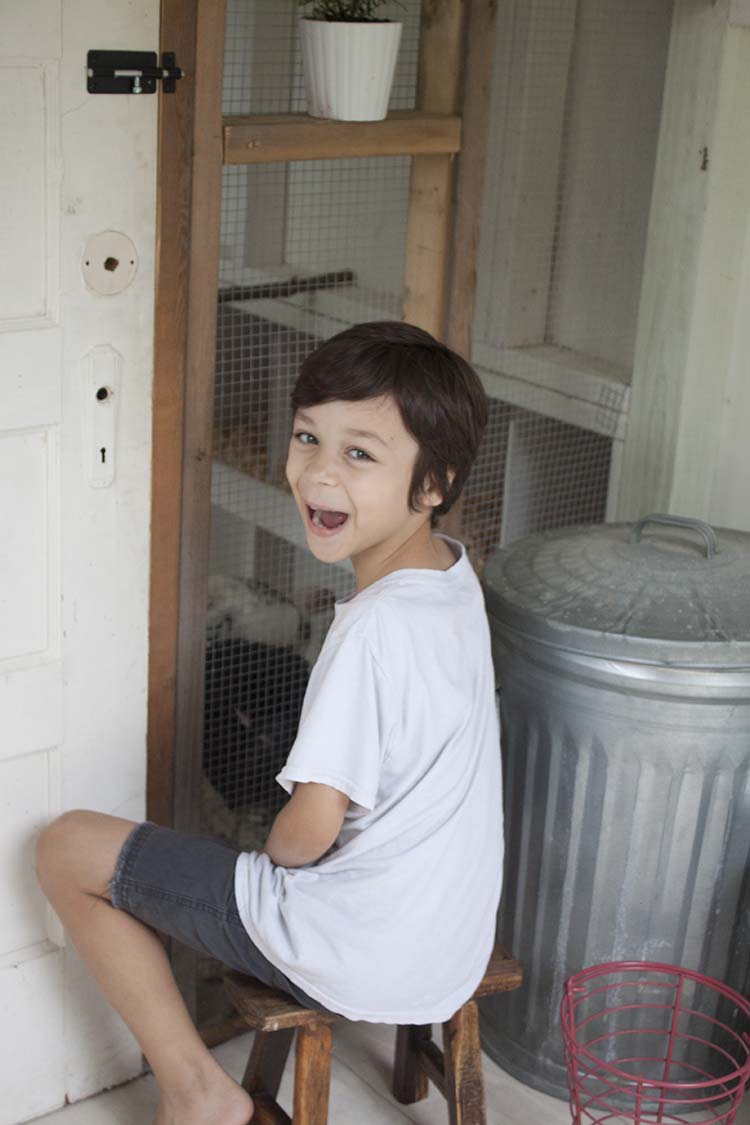 And we have thoroughly enjoyed watching them explore their new home!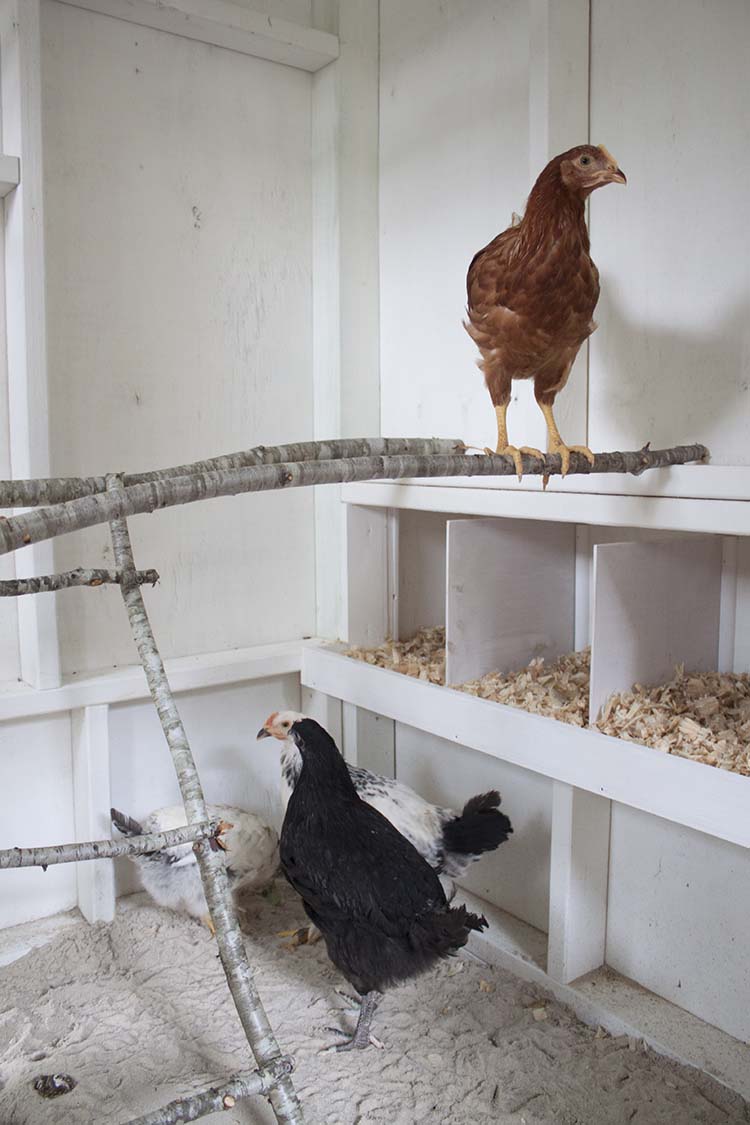 Watching them explore and seeing their natural instincts take over was kind of amazing.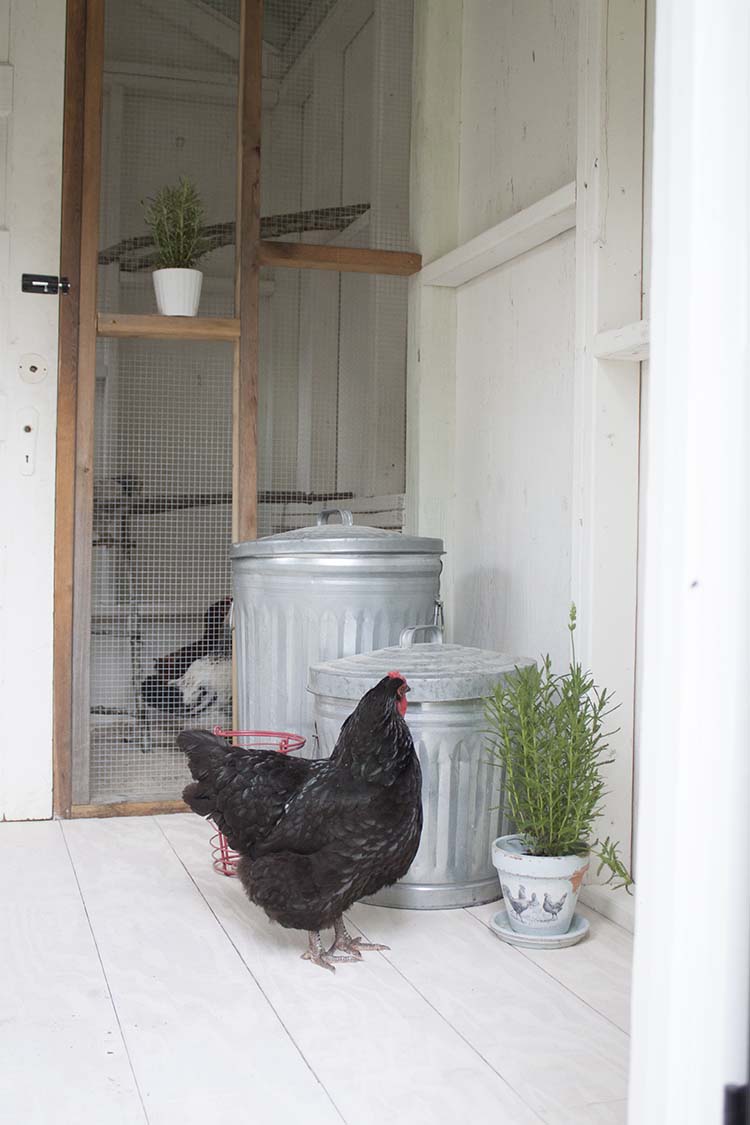 The only thing I could ask now is to be able to share the fancy farmhouse DIY chicken coop with my big girls. Soon, sweet girl. Soon!
To purchase these plans, click here: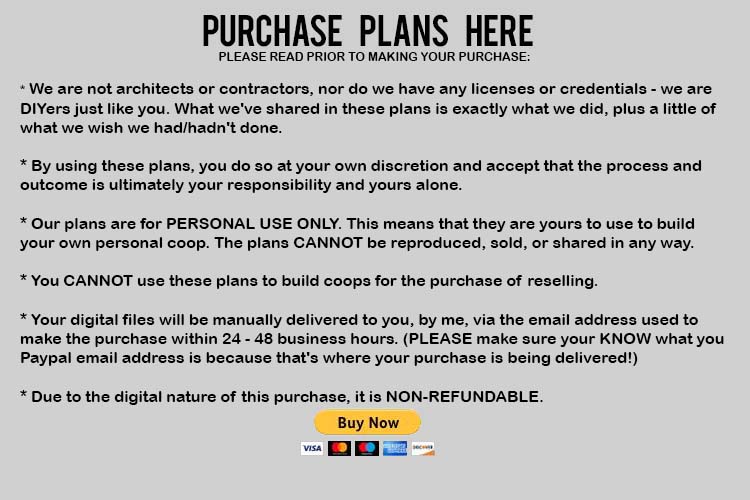 If you're looking to get chickens of your own, you don't have to wait until spring. You can get live birds year-round from Tractor Supply. And if you're not down to DIY your coop, these are my fav pre-fab coops.
This is a sponsored post written in collaboration with Tractor Supply. Thank you for supporting the brands that make Southern Revivals possible.
Click here for a series of posts all about our new coop build as well as basic chicken care that lead up to the reveal of the DIY fancy farmhouse chicken coop! Here's what you've missed so far: