This post may contain affiliate links. Please see my disclosure for more information.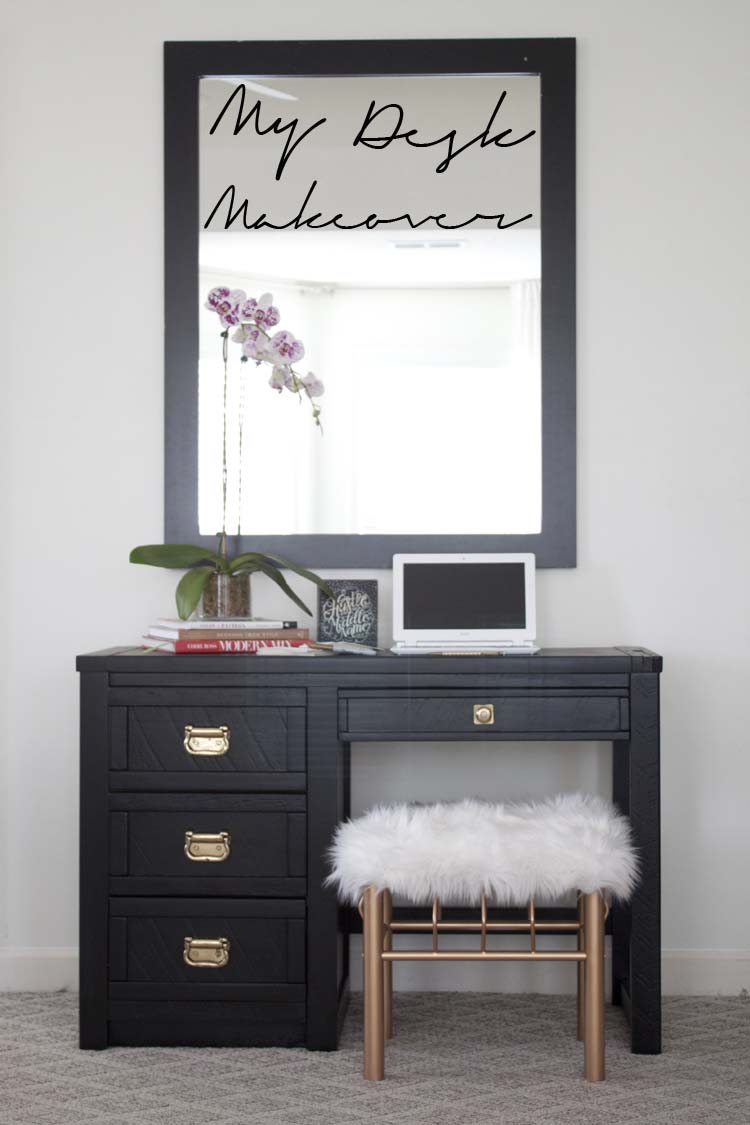 I tell my husband all the time how important a pretty place to be creative is. Now that doesn't mean it's never chaotic and a flat-out mess. It just means, for me, that a pretty space makes it easier to be creative. I don't know how to explain it except it just…feels good, you know? So this is me putting that theory to the test with a vintage desk makeover that, according to Instagram, I've had sticking around in all its vintage glory for a whole 94 weeks!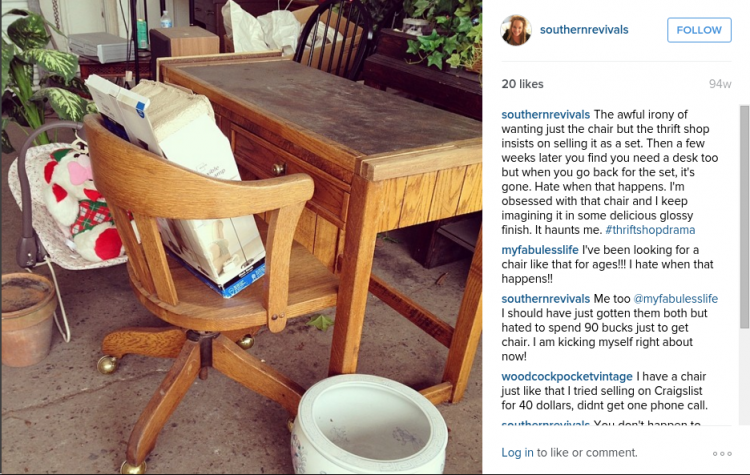 94 weeks! That's craziness. I guess I was just happy to actually have a space dedicated to blogging that it didn't matter. I was just glad not to be sitting at the dining room table anymore. Especially since that IKEA Billy Hack Office Makeover (reveal posting on Sun, Feb 7th) wasn't destined to be my space.
It was actually this chair that caught my attention in the first place. It lives in the office now and you'll get to see it (and what I did or didn't do to it on Sunday!). I didn't buy it the first time I saw it since they insisted on selling it as a set but I didn't need a desk.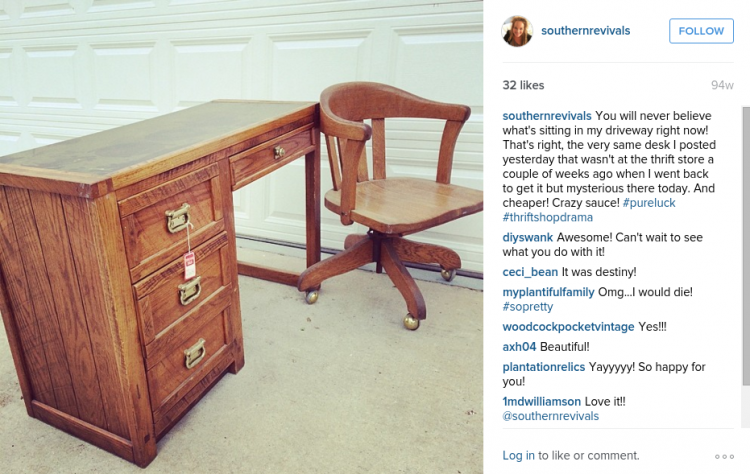 But I thought and thought of that chair every day since. And then I started thinking about the desk, too. I didn't "need" one because one of these days I'll get around to making over that spare room (the one without flooring!) into my studio space and that would make having another desk somewhere else redundant, wouldn't it?
If you've been waiting on my office reveal, that has taken me a year to post, you know just how slow I am. So, it was what I could do with that in the meantime that intrigued me.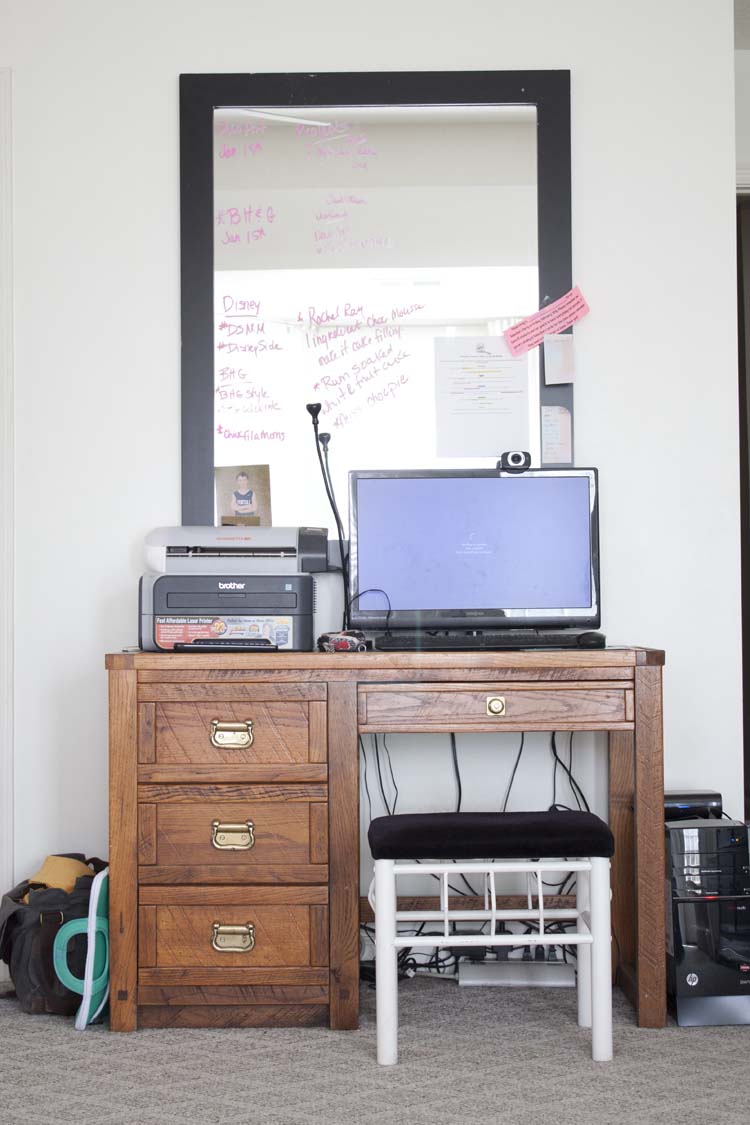 This is embarrassing, Y'all.
I will admit. It was nice having a dedicated space for blogging. Those cords, the way too big electronics for the space and the glorious menagerie of vintage that this hob-cobbled mess was, not so much.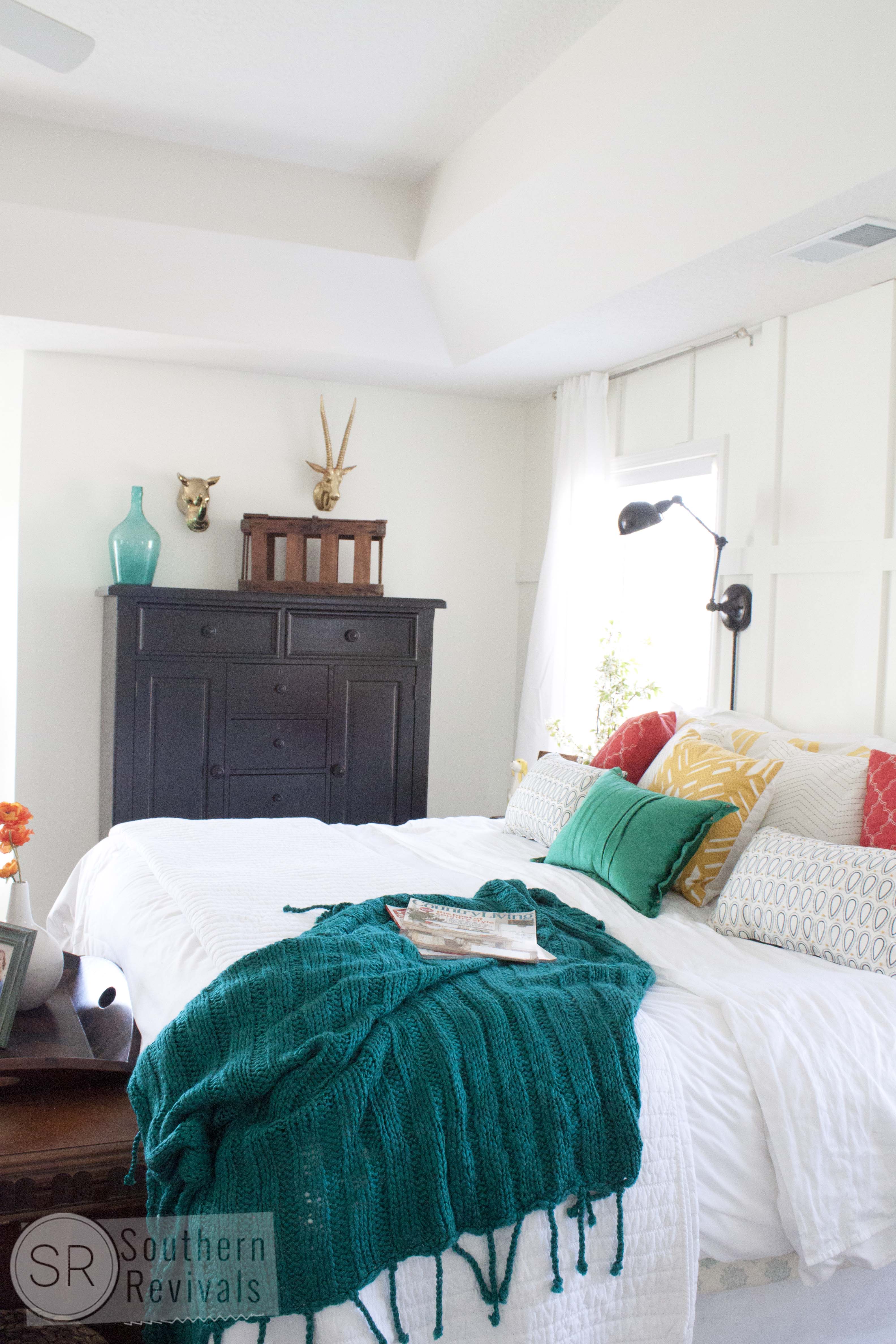 Especially since this hob-cobbled mess was to be found in a room I'd already made-over, Our Under $500 Master Bedroom Makeover.
I'll be honest I got tired of looking at the mess and I got tired having to work in my bedroom. Ya know?!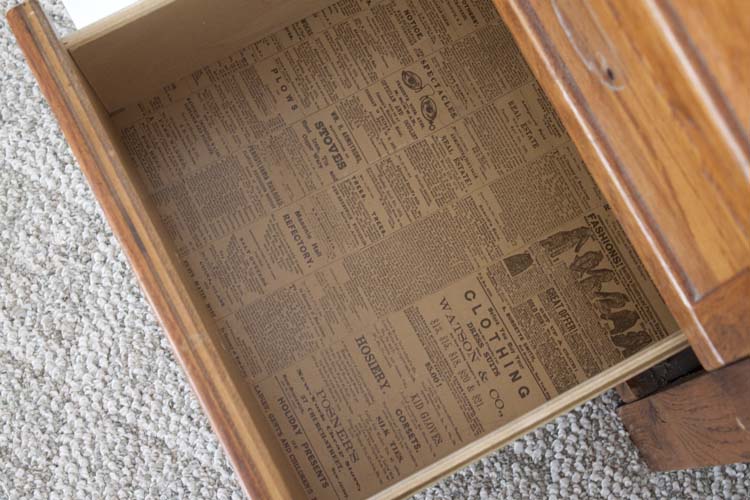 So I decided to do something kind of drastic. I decided to leave the lined drawers alone and I decided to keep the vintage brass hardware and all its vintage patina. And I decided to paint everything else.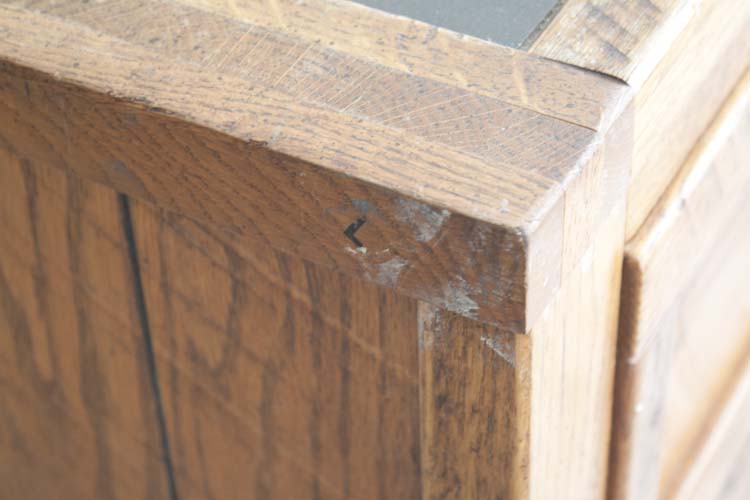 After I cleaned the piece and removed this "L" clothing stick that has been there for God knows how long. It was camouflaged until I started sanding and then, BAM! There it was.
Sanding isn't always necessary but I generally do a light sanding just to look for things like this. Old sticker glue, pieces of clear tape that have disappeared into the finish. Until you paint, of course, and then find that your paint isn't sticking in a mysteriously-shaped-like-tape-or-a-unicorn-sticker area. So this is how I bring that stealthy stuff out of hiding. Because little girls like to put stickers on furniture, Y'all. A LOT of stickers.
Then, as always, I clean the entire piece with a vinegar/water solution.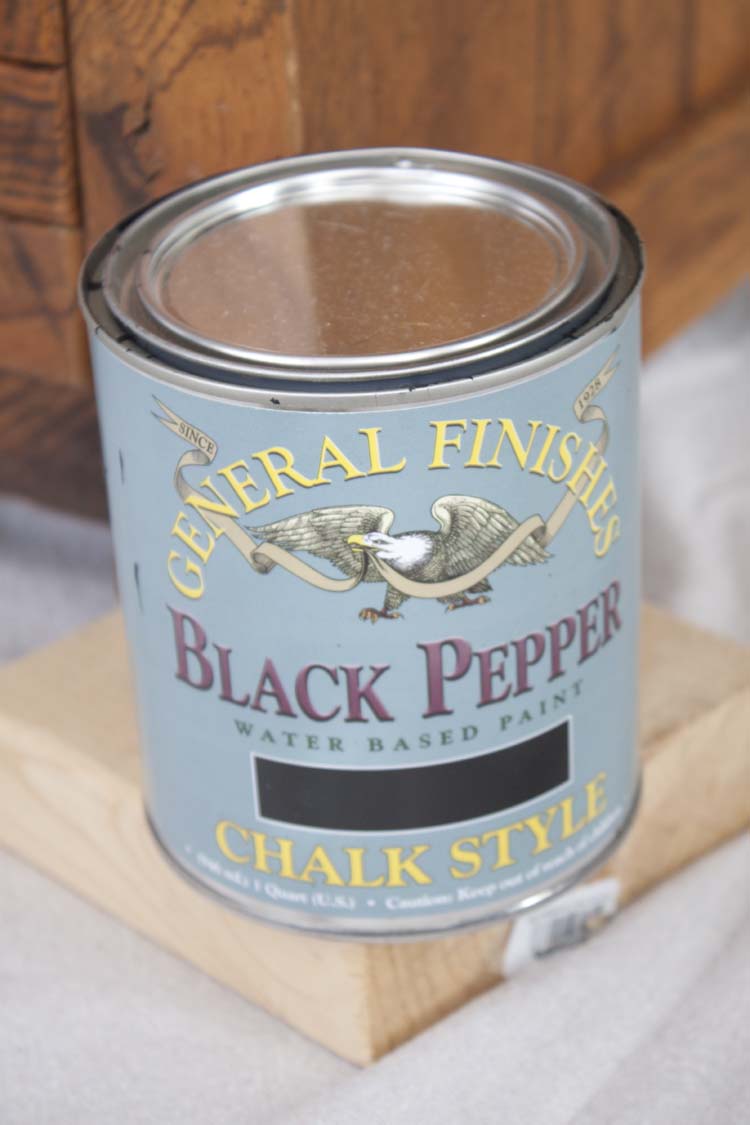 For this project, I am using General Finishes Chalk Style Paint in Black Pepper, generously provided to me by General Finishes for this project. It's described as a casual interior paint where you want a relaxed, textured finish.
It's a nice thick, chalk-like paint. The coverage is great. You almost get full coverage with one coat. 2 – 3 coats are recommended. For my second coat, I thinned with water to keep the brush from dragging and also because I didn't need or want the second coat to be that thick.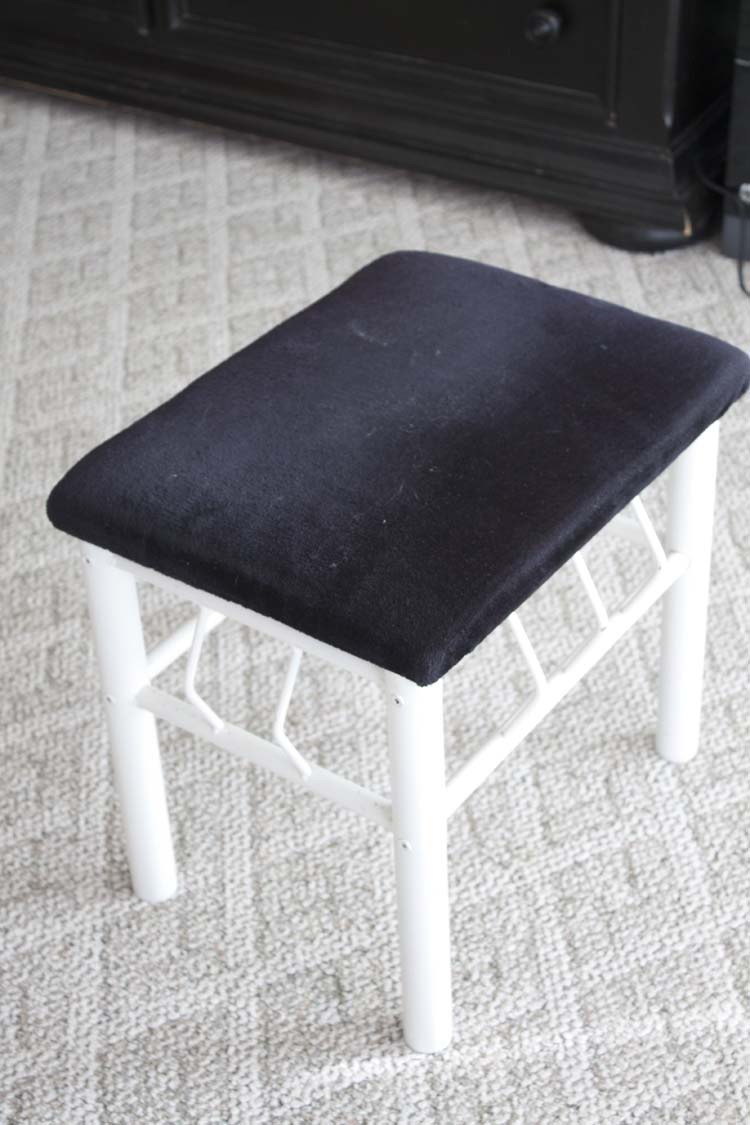 While I waited for the paint to dry I started to work on this stool.
Can we talk for a minute about how long I've had this? It's circa 1989 and it started off black. The stool went with a metal vanity that had a glass top. I thought it was so cool. This was just before I went through my black lacquer and gold furniture phase.
Naturally, I got tired of it and one of my Mom's friends said, Well why don't we paint it? So he sprayed painted everything white and my eyes were open to all the new possibilities this world had to offer. I was then the proud new owner of a white vanity and armed with the knowledge that you can make pretty much anything into something you want with just a little paint.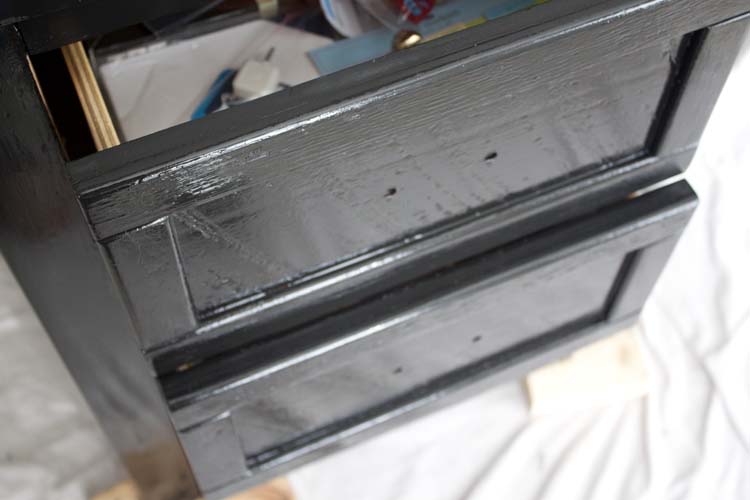 And I've been living by that principle ever since. Just a little paint to turn something you no longer love into something you do.
I top coated with hemp oil and buffed to a sharp, clean finish.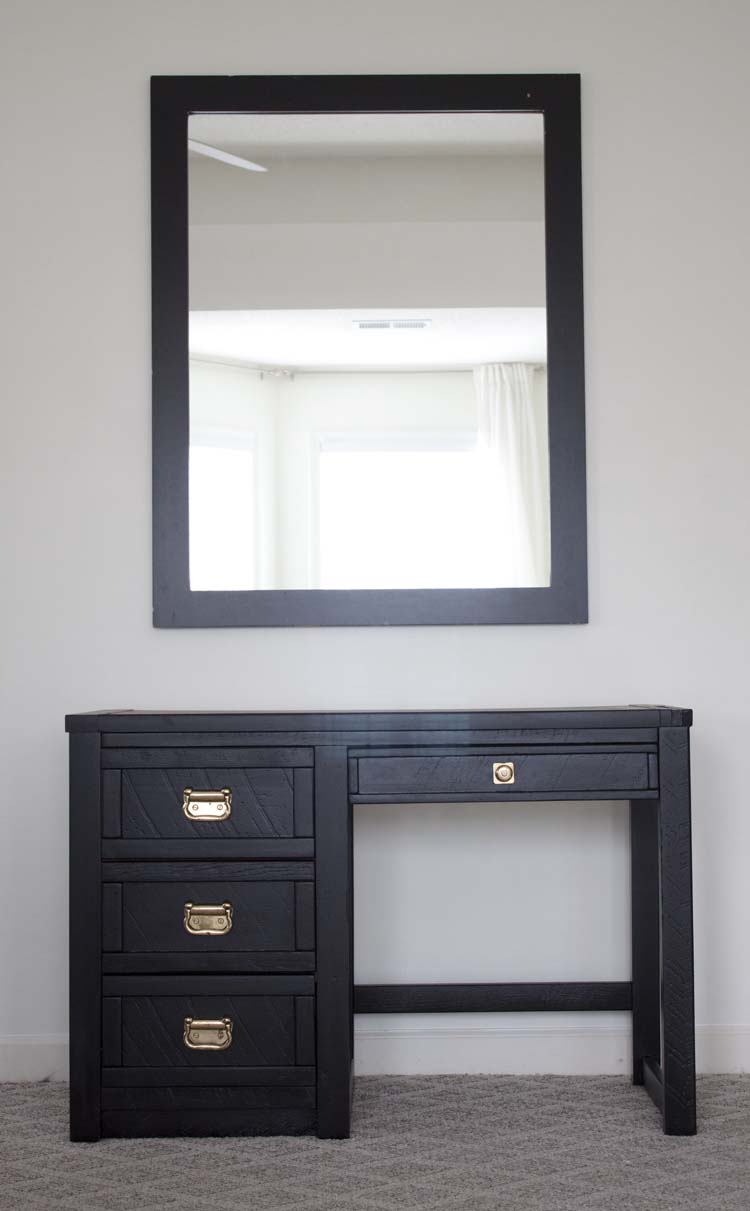 Ahh…that's better already, right?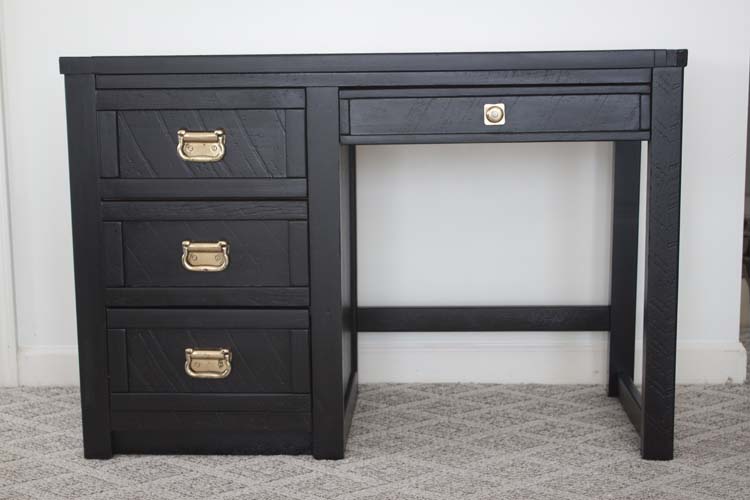 It's impractically minimalist and I know I've got to add stuff back to it.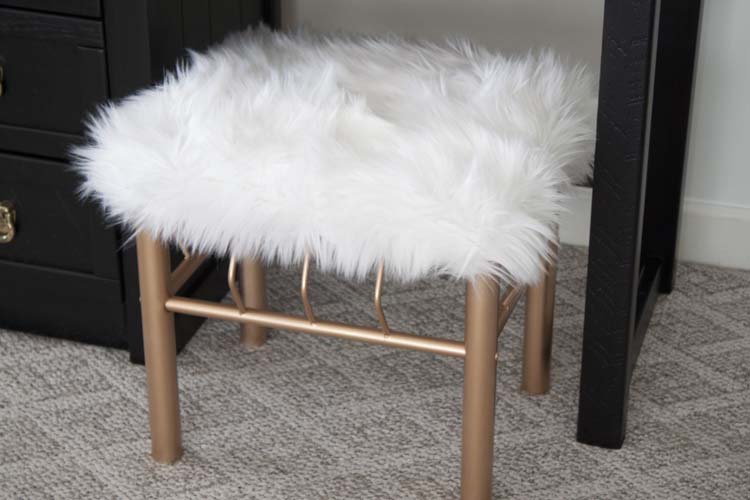 So I start with my freshly spray painted (now gold) metal stool. I've hacked up a perfectly good rug from the TJ Maxx to make a new faux fur top for it and I am in love with this stool all over again.
Then I bought myself an orchid which I will promptly kill. In the meantime, I will enjoy it and forever reflect on this day when it was gorgeous in its first, and likely only, photograph.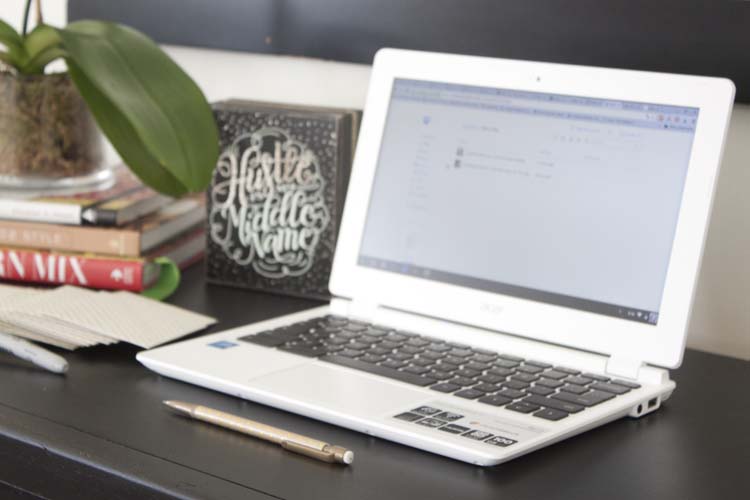 And possibly the best thing I have ever gotten myself is this Chromebook from Amazon. It's not a desktop replacement, mind you, but it allows me to take that hulking thing upstairs to the studio where it belongs but finish up a blog post (like right now!) anywhere I please (like the bed!).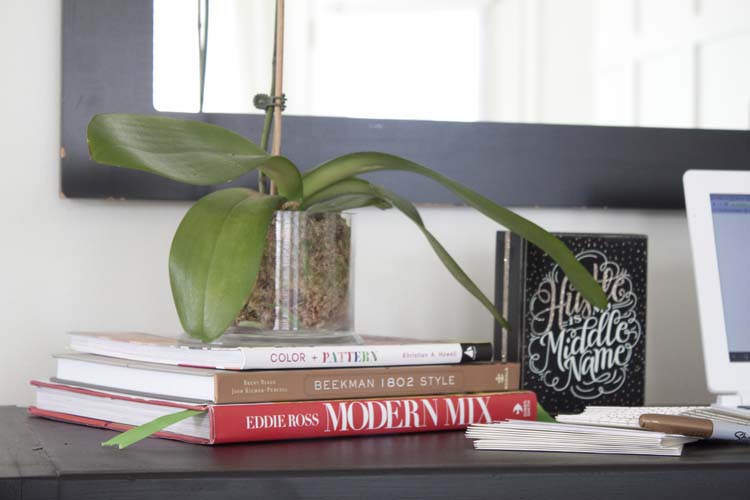 And that leaves me with room for pretty things that inspire me. Like my style books, Modern Mix from Eddie Ross, Beekman 1082 Style from The Beekman Boys and Color + Pattern from Khristian Howell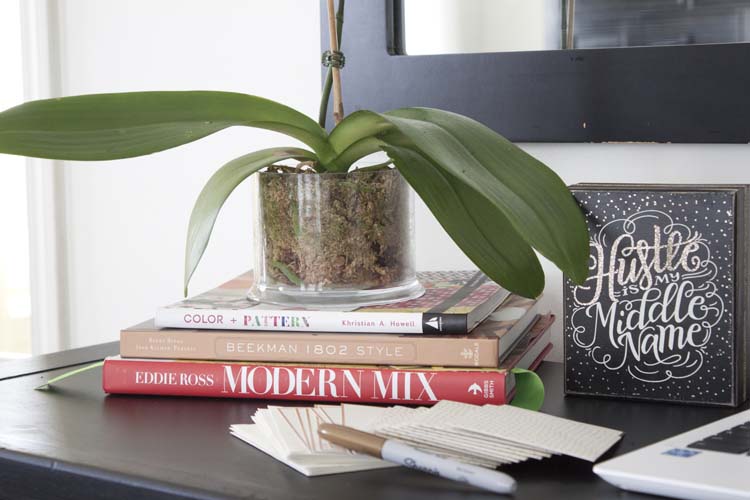 Now I'm not tied to work in what's supposed to be my restful, peaceful space.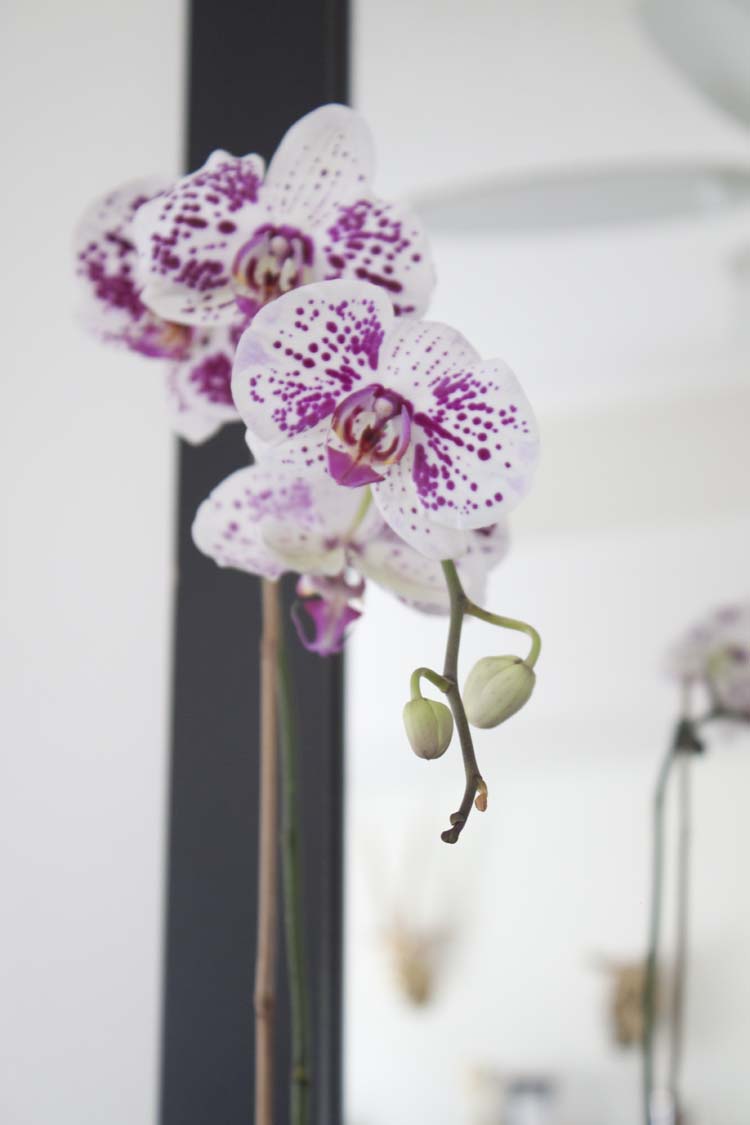 And my orchid looks so great here! Dare I hope that it lives??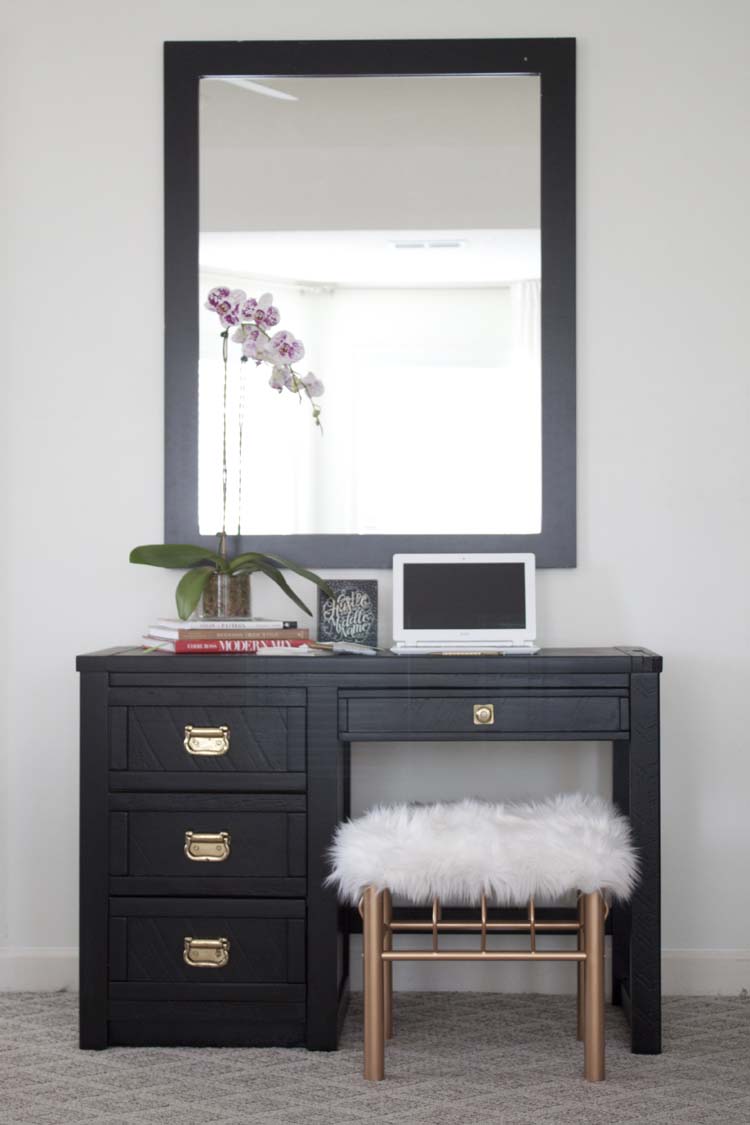 And there it is! A vintage desk makeover 2 years in the making. I feel much better! Now it's on to the studio space and that hulking desktop and all the electronic accouterments that go along with it. Not to mention my craft/paint supplies. Wish me luck, Y'all!