This post is brought to you by DecoArt as part of their Core Blogger Program. A great big thank you for their wonderfully reliable paint lines and for sharing them with me for projects like this one.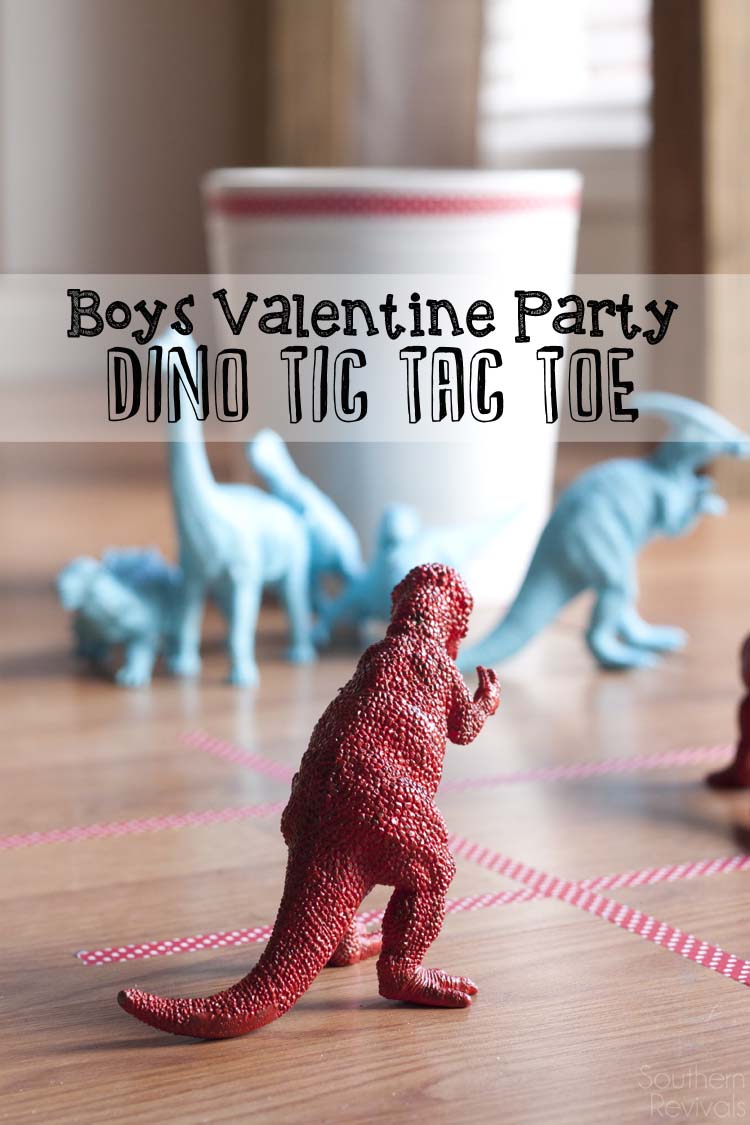 DIY Dinosaur Tic Tac Toe Game
I spend a lot of my time trying to figure out how to make paint stick to things, especially unusual things. I also spend a lot of time trying to figure out special things for little boys because I don't have girls. And things like Valentine's Day are abundant with girly things. Boy things, not so much.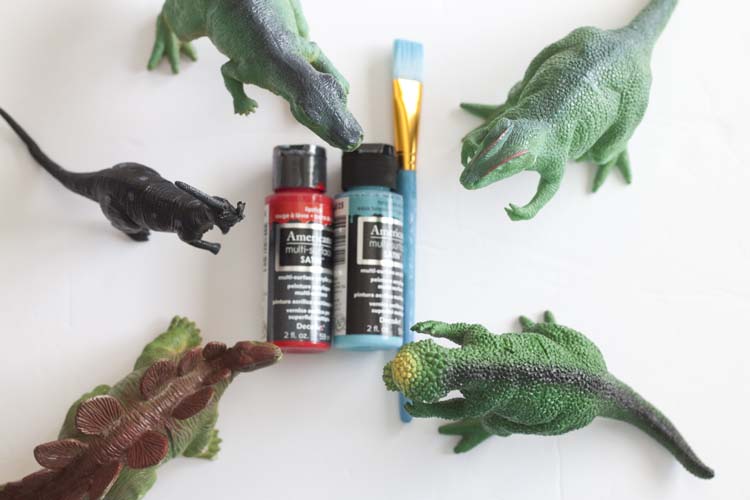 I am the mother of boys, the sister of a brother and the aunt to numerous nephews. Sure, I have a few nieces sprinkled here and there but boys are what I know. And trucks. And toy guns. And dinosaurs.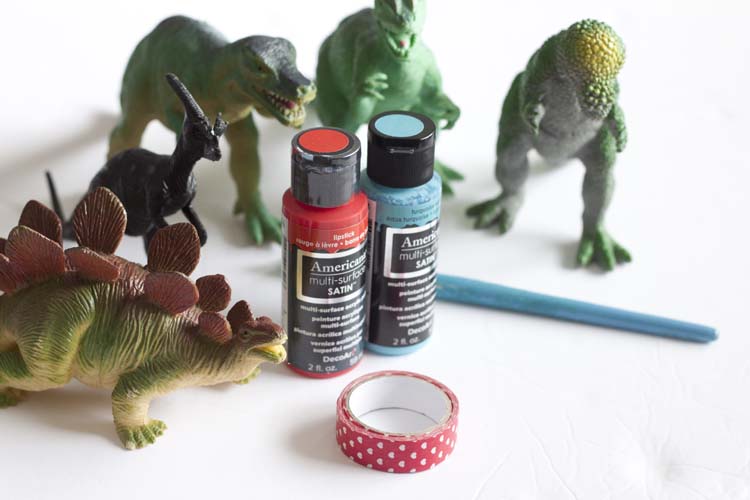 So when I hear things like, create a Valentine's Day party game for kids, especially for a preschool class that's 85% boys, I immediately wonder how I can incorporate trucks or plastic dinosaurs. And then it hits me…Dinosaur Tic Tac Toe with a Valentine's Day twist.
Supplies:
Cheap plastic dinosaurs, 10 (5 for each player)
Americana Multi-Surface paint (Lipstick and Turquoise Waters)
Paint brush
Washi tape
Wax paper
Metal bucket for storage, optional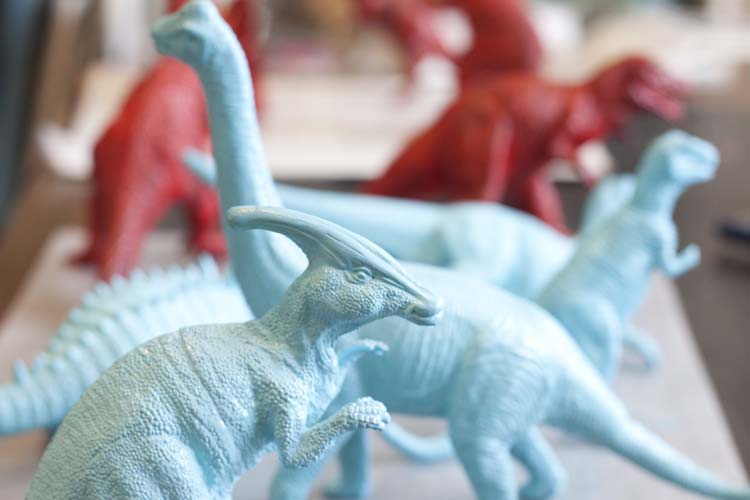 This project would only be easier if the dinosaurs could paint themselves. They can't though so you'll have to do it. No worries about getting that paint to stuck. That's the thing about the multi-surface part of the Multi-Surface paint. They really mean it.
I brushed on just one coat of paint on each dino, five in red and five in turquoise. I left them to dry overnight on a sheet of wax paper.
Tip: Paint the bottoms of the dinos first, then move on to the tops. Leave a small space at the top for you to be able to hold it while you paint. Then set them down on the wax paper and paint that small section on the top.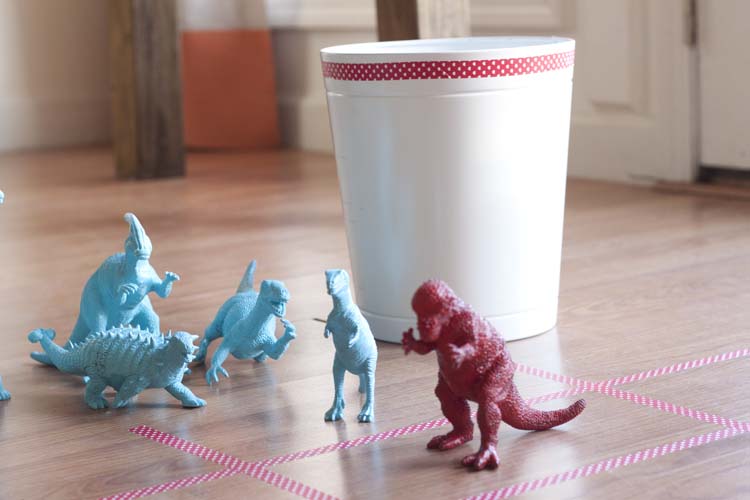 By the next day they're all dry and ready to go. I wrapped a small metal bucket in a Valentine themed washi tape to dress it up. It's the perfect and most adorable way to store or transport your dinosaur tic tac toe game.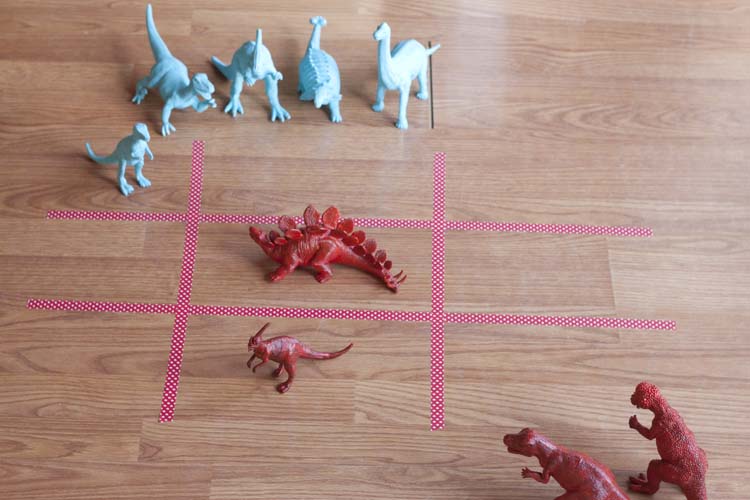 Then you can use the same washi tape to lay out a tic tac toe board on the floor or table or anywhere else you like.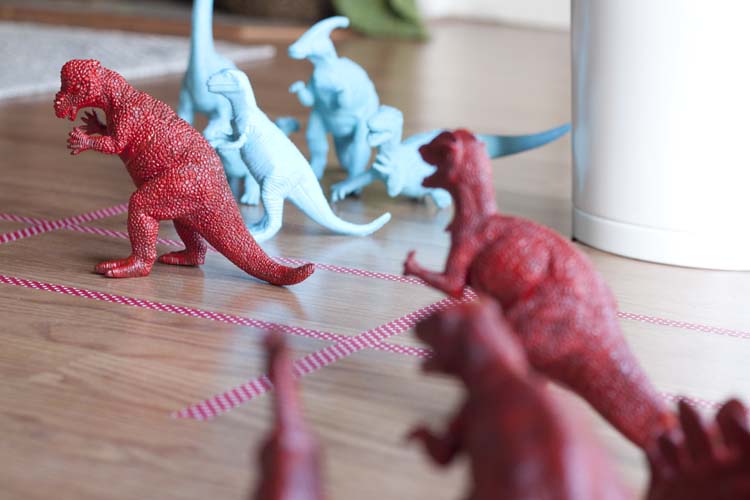 And just like that I had this cute Valentine's Day dinosaur tic tac toe party game that wasn't all-girl. But it doesn't have to be all-boy either.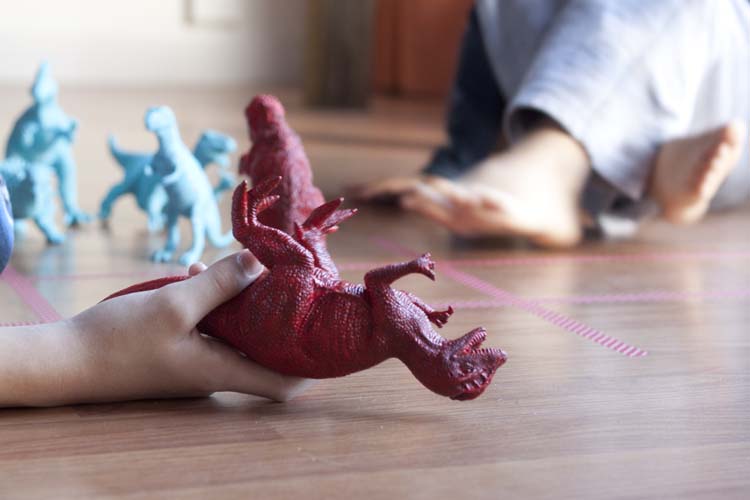 When I was little Barbie didn't marry Ken, she married G.I. Joe.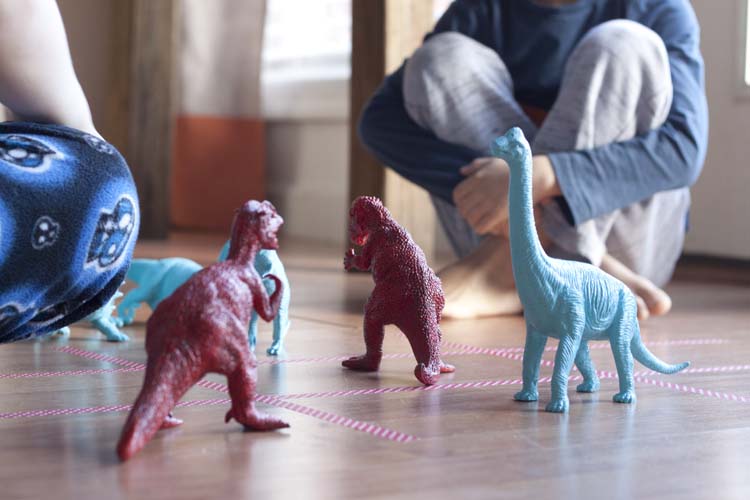 And from where I'm sitting that makes dinosaurs are just as Valentine-y as hearts and pink. Plus, they're pretty cute in red and turquoise. Kind of like G.I. Joe was next to his Amazonian bride.
How do you celebrate Valentine's Day with your little ones?