This post contains my Amazon affiliate links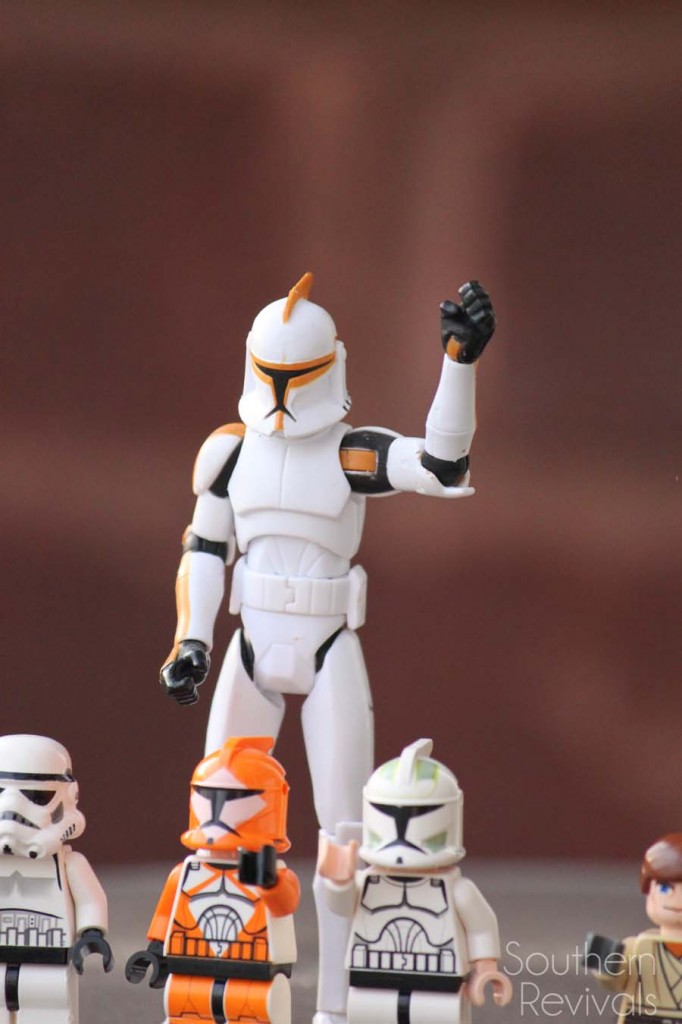 I think it goes without saying, life with boys is different. From a Star Wars party to an impromptu Star Wars toy figure photo shoot. My sister-in-law, who knows life with girls, and I have talked about how different it is almost every time we get them together. So, enjoy our photo shoot – styled entirely by my then 7 yr old and see our Star Wars party below for some fun party ideas, printables, party favors and t-shirt transfers.  #StarWarsDay #Maythe4thBeWithYou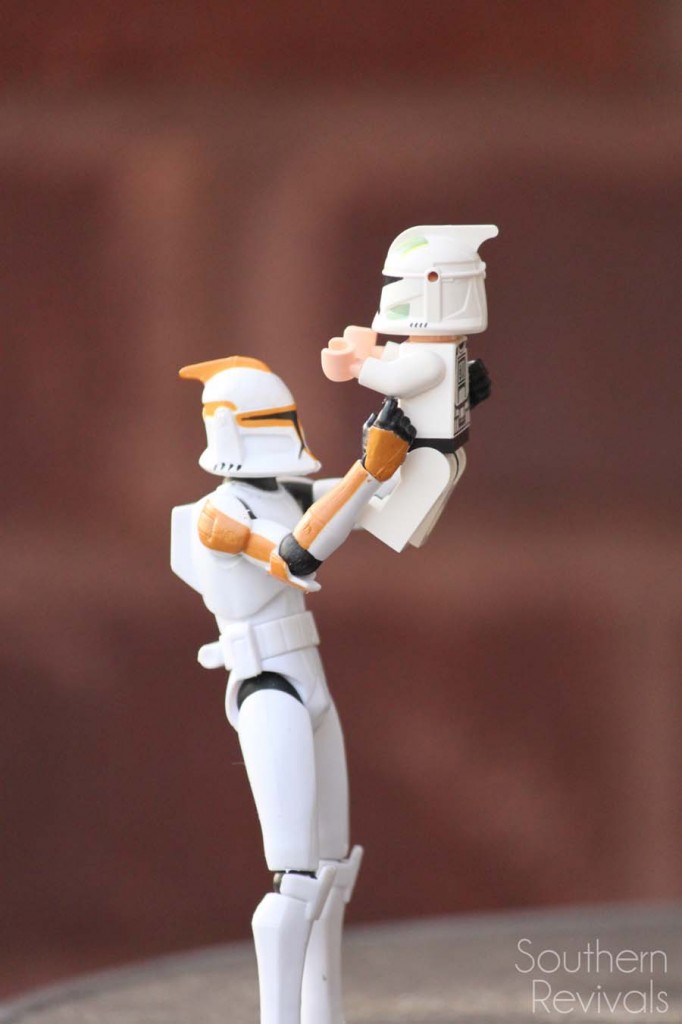 Having boys has taught me that even the bad guys are good sometimes. This must have been before the troopers turned. Can't blame them though, really, can you? They were just clones after all.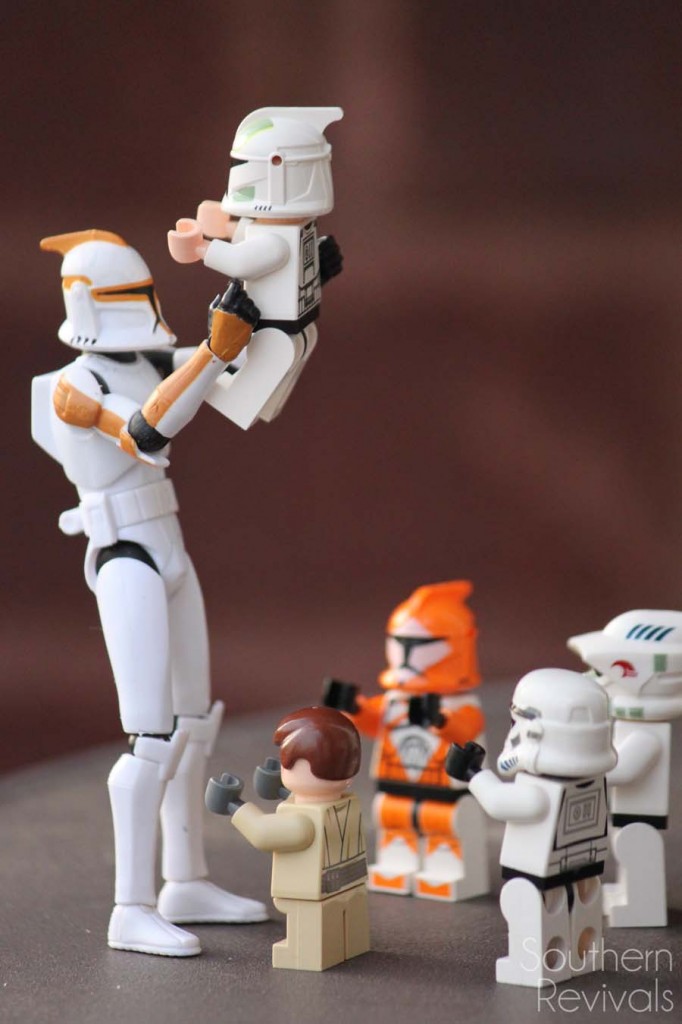 But apparently even clones (and little Jedi) need love, too.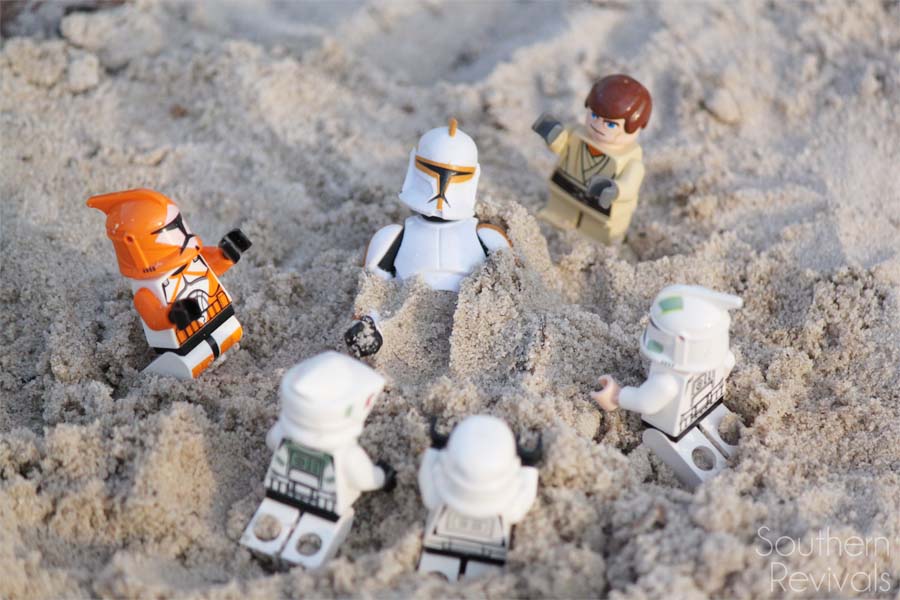 With boys, your life is a little messier. A lot dirtier. Sometimes you feel like you're in up to your neck.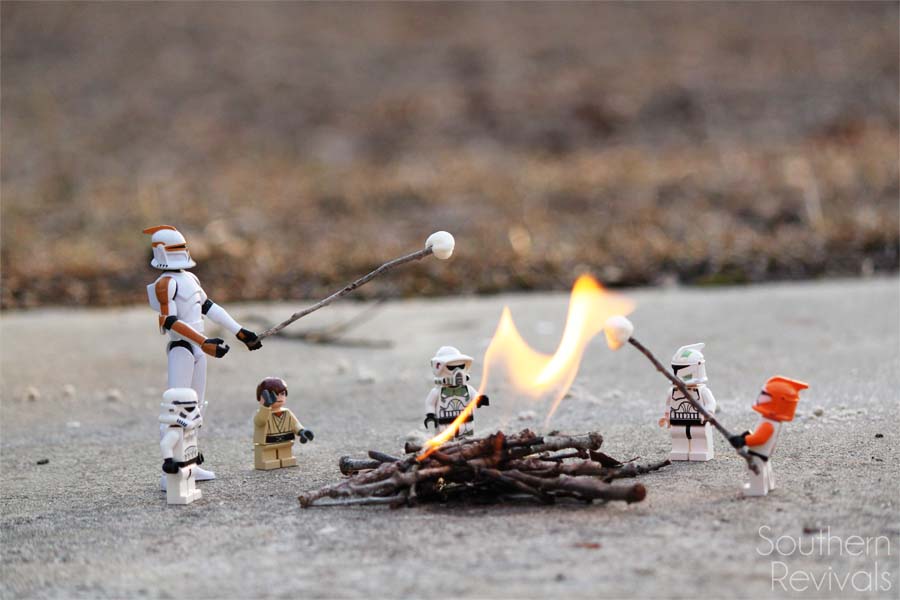 But even so, there's something special about their grittiness.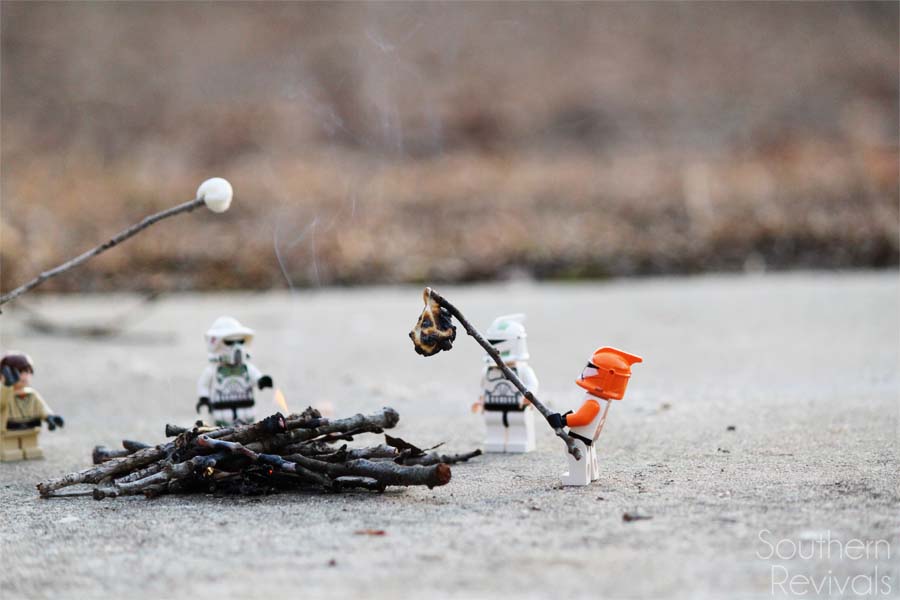 Luckily I like my marshmallows really, really toasty.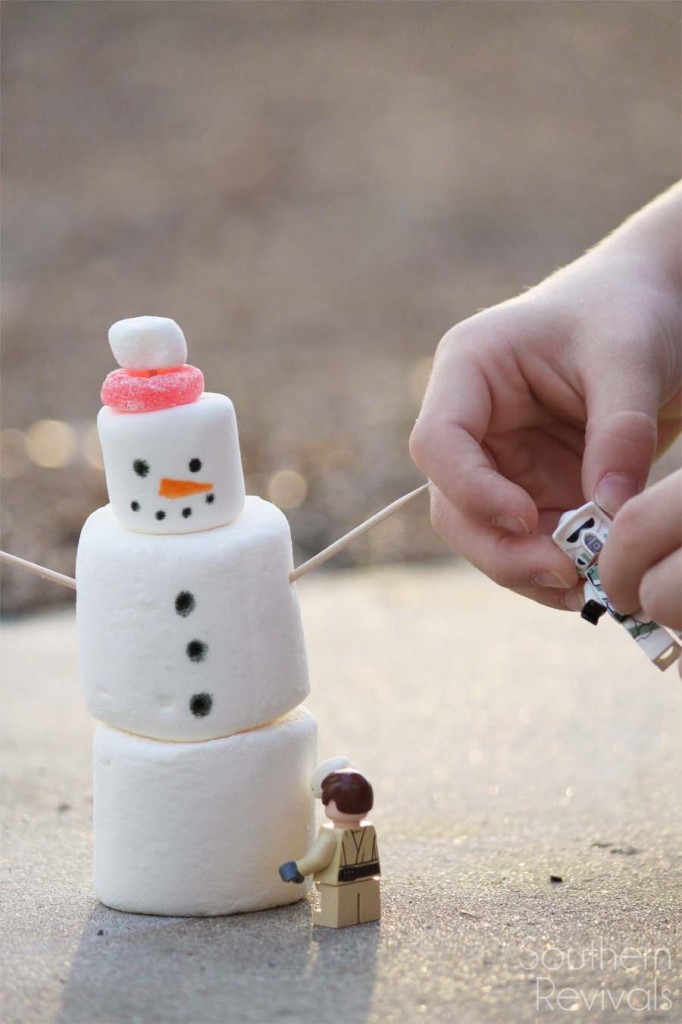 Do you wanna build a clone army?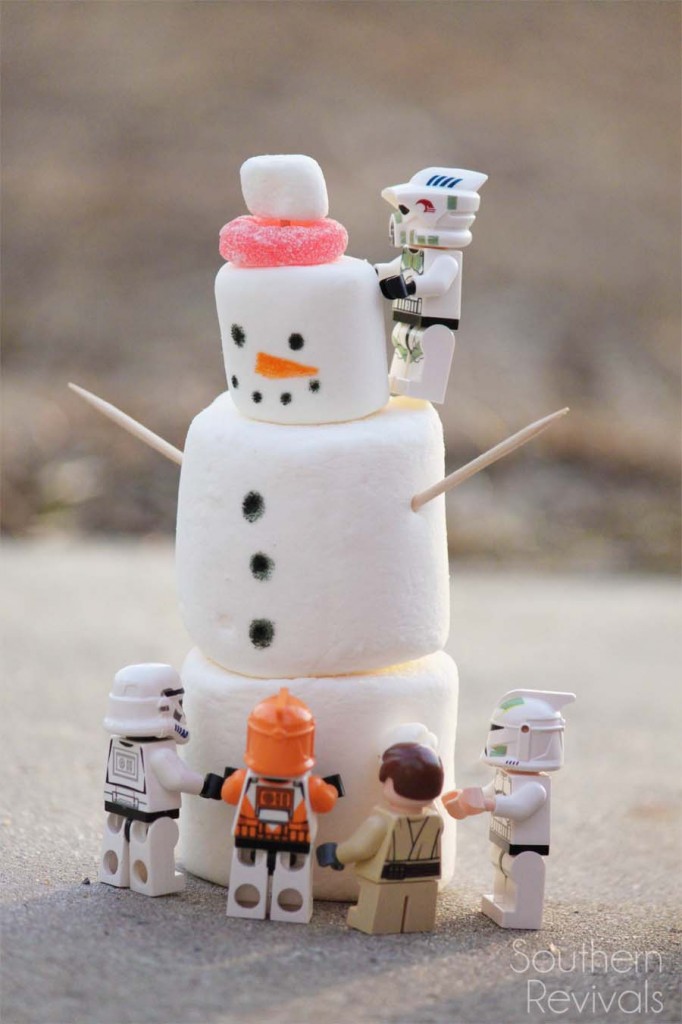 Or, a snowman? And we were doing this 4 years before Anna and Elsa made it cool.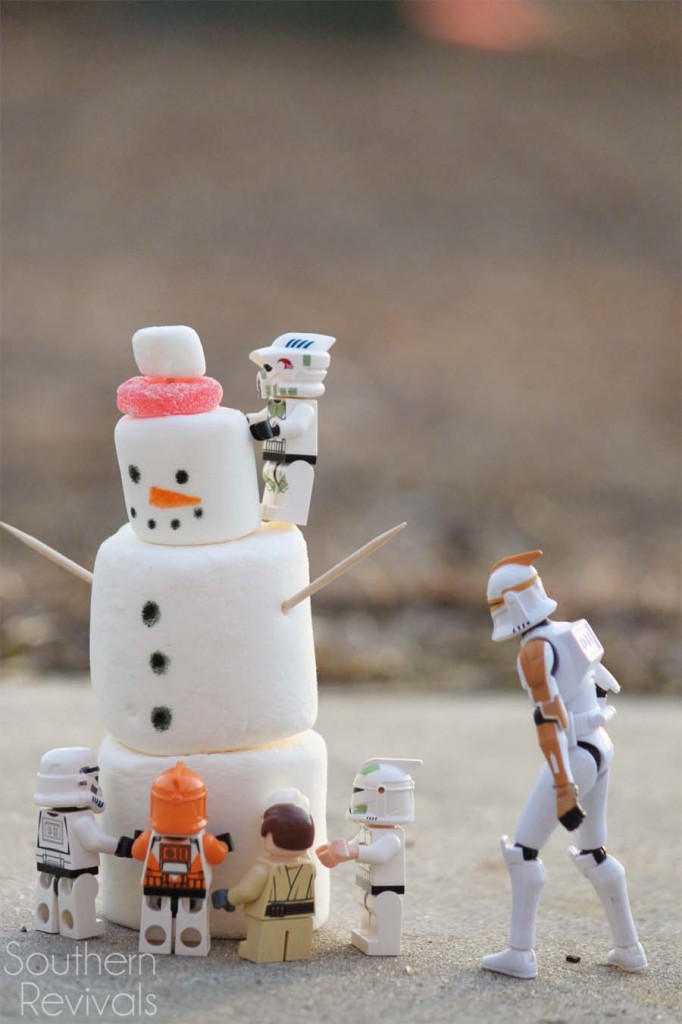 Want to know something else about boys? They love Frozen, too. Even if they won't admit it.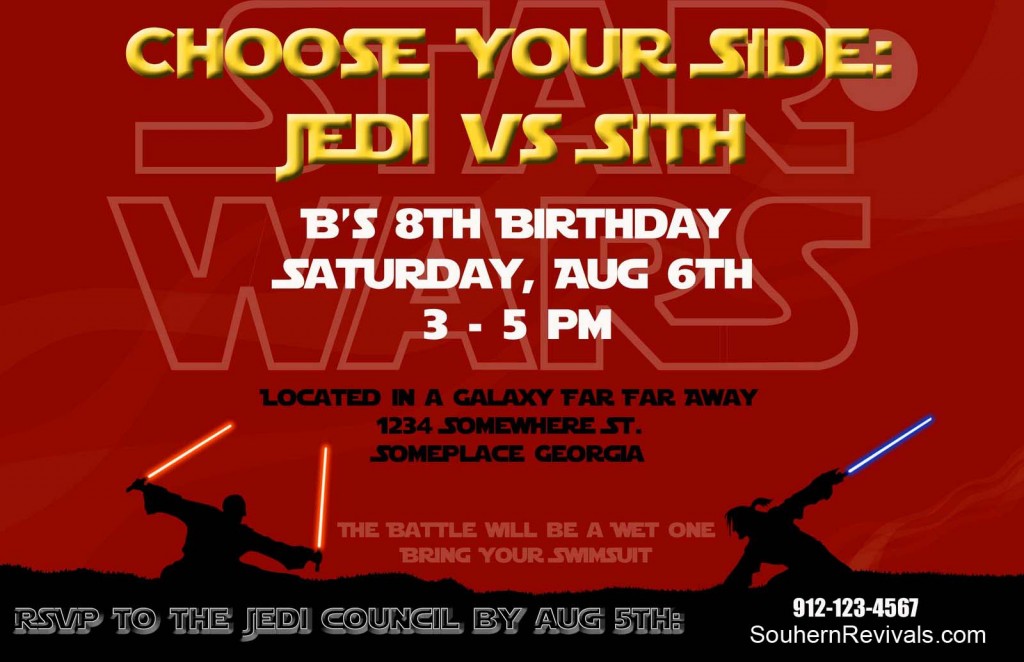 I have been a Star Wars nerd for as long as I can remember. When I was little I had this 3ft tall Darth Vader figure that I can sadly no longer find. I was surprised when I recently saw they sold them in stores again. I was so, so tempted to buy myself one. Luckily, since I have boys, I can live vicariously through them without having to decorate my own room with 3ft tall Darth Vaders. Not that I'm completely above that, mind you.
For the party invite, I downloaded a high resolution wallpaper, sized it to a 5×7 and added the text.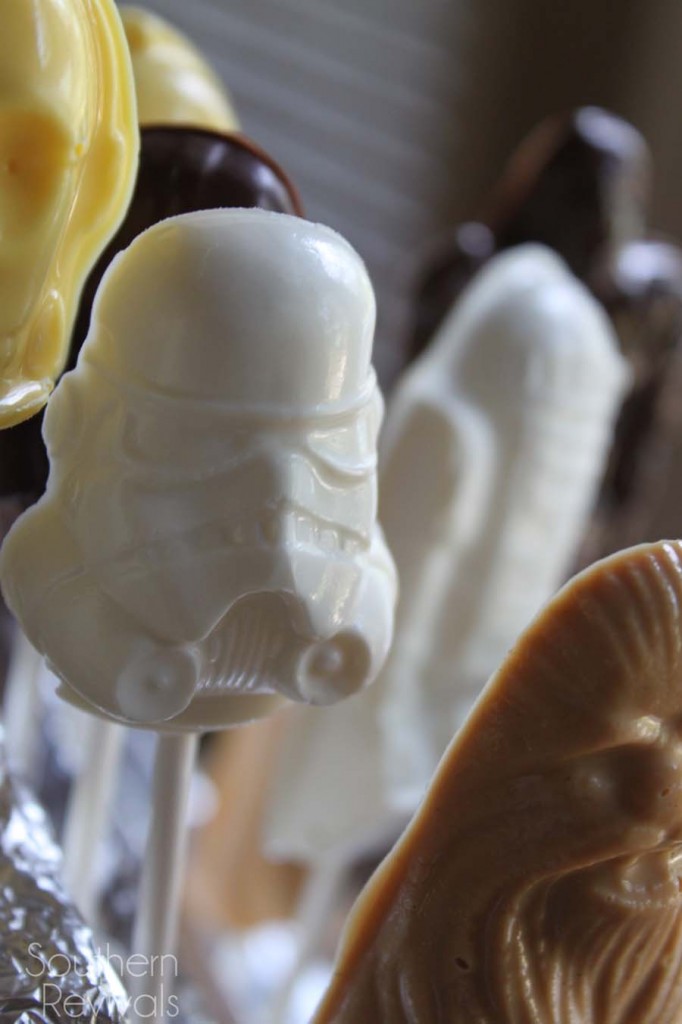 I got these Star Wars Candy Molds
 from Amazon. Troopers, Chewie, C3PO, R2D2 and Darth Vader and used Candy Melts
 to make these candy suckers. Super easy and super awesome.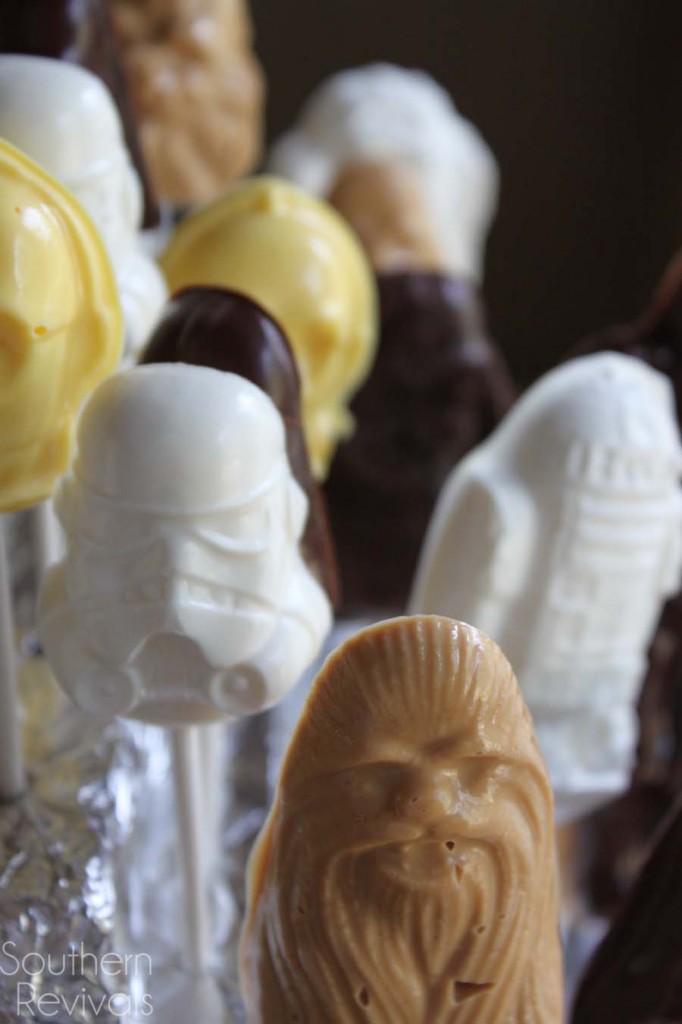 White chocolate, peanut butter and dark chocolate never looked so cool.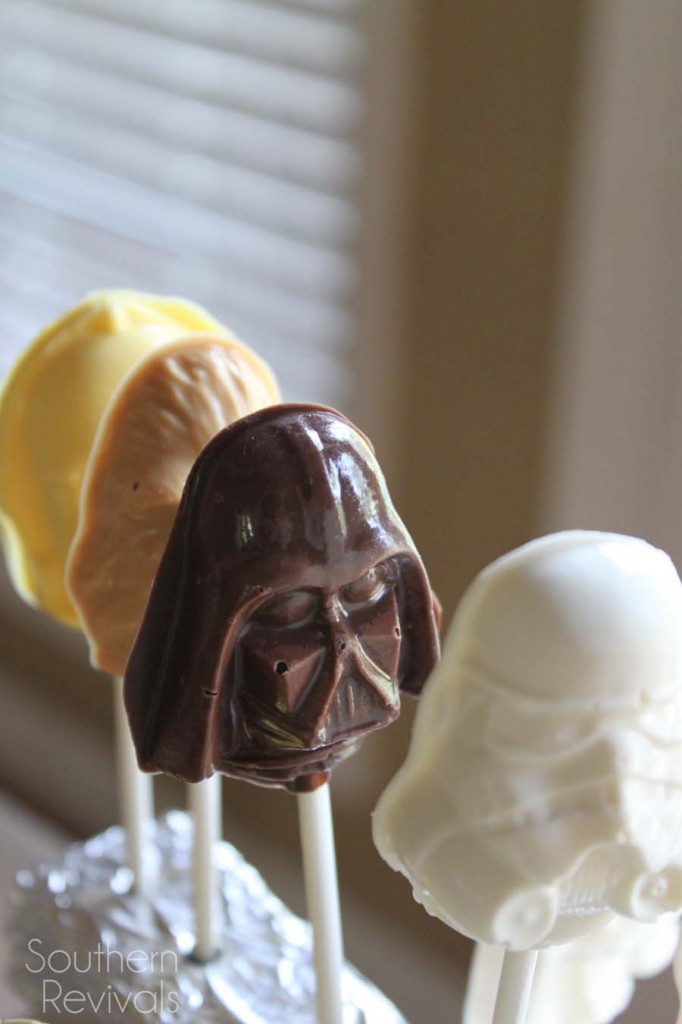 Then I simply placed the Sucker Sticks
 in Styrofoam wrapped in tinfoil. Because, you know, tin foil already looks futuristic and other-worldly. Right?!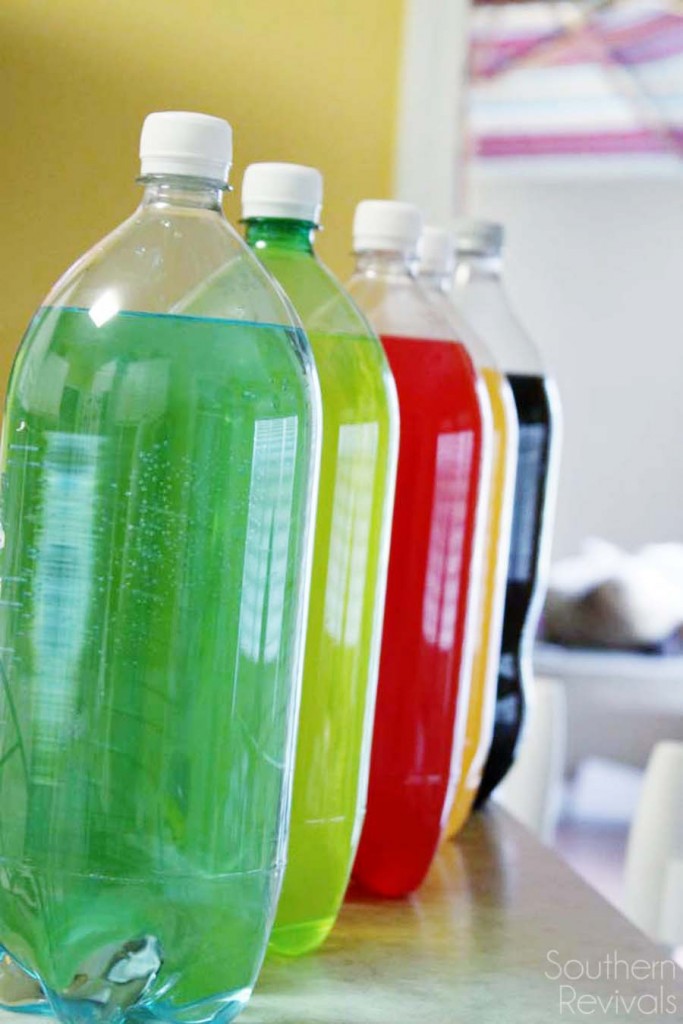 But maybe the most fun thing we did was strip the labels off of sodas and water bottles and come up with our own Star Wars names for them.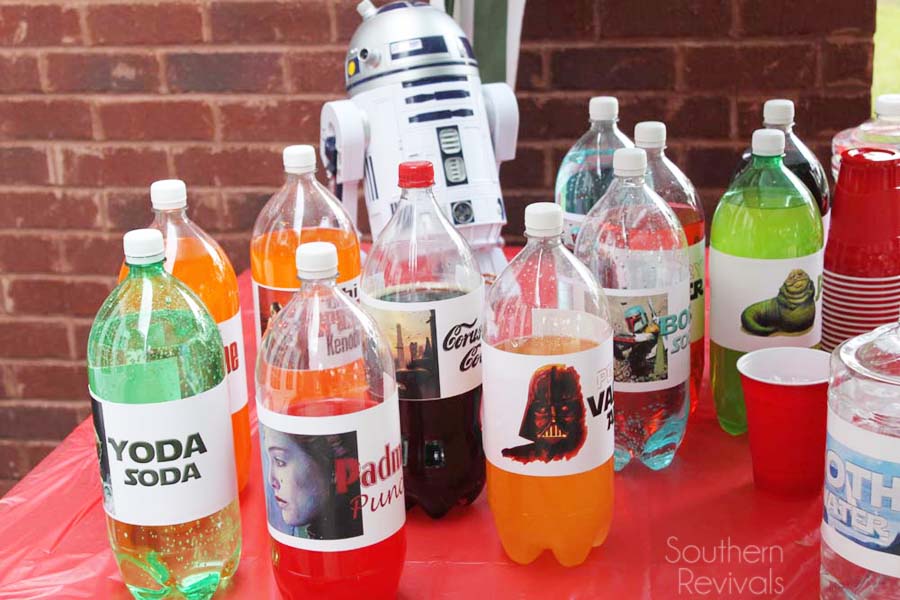 Hoth Water, Yoda Soda, Padma Punch, Jaba Juice, Obi Orange Kenobi…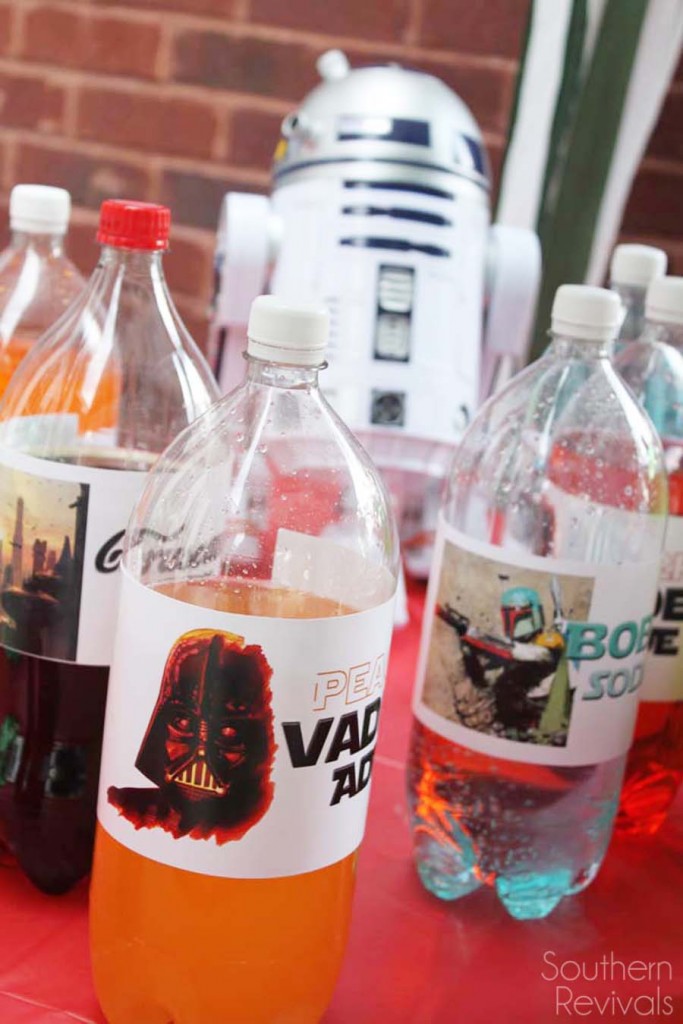 Peach & Strawberry Vader Ade, Boba Soda and Coruscant Cola. I pulled images from Google, downloaded some applicable fonts (using Photoshop, of course) and had them printed up at our local Office Max. I used spray adhesive to attach them and they did not budge. It was kind of hard to even recycle these bottles we loved them so much.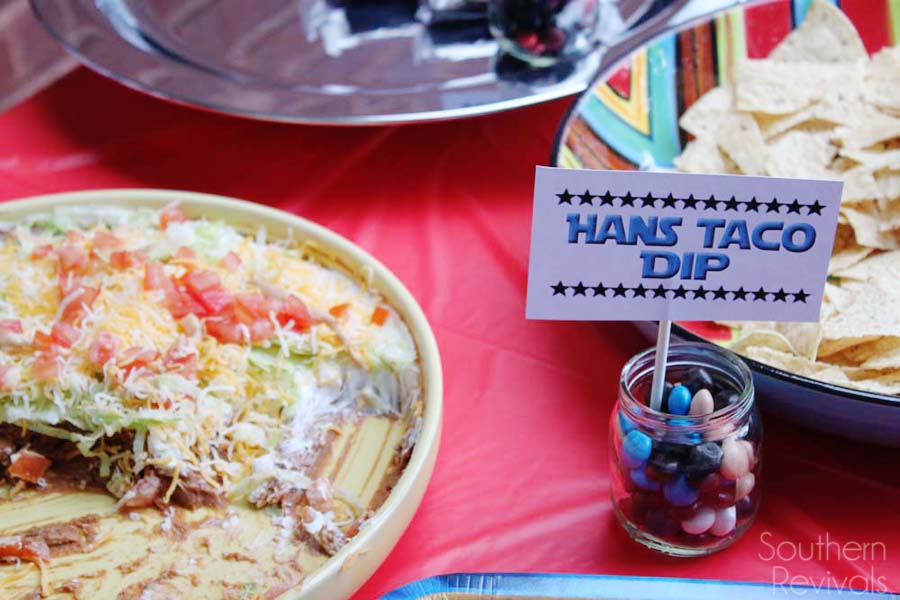 Then of course we just picked out some of our fav foods and made up cute names for them. You can download your FREE Star Wars food labels that I made and use them, too, if you like. Just right click, save and print.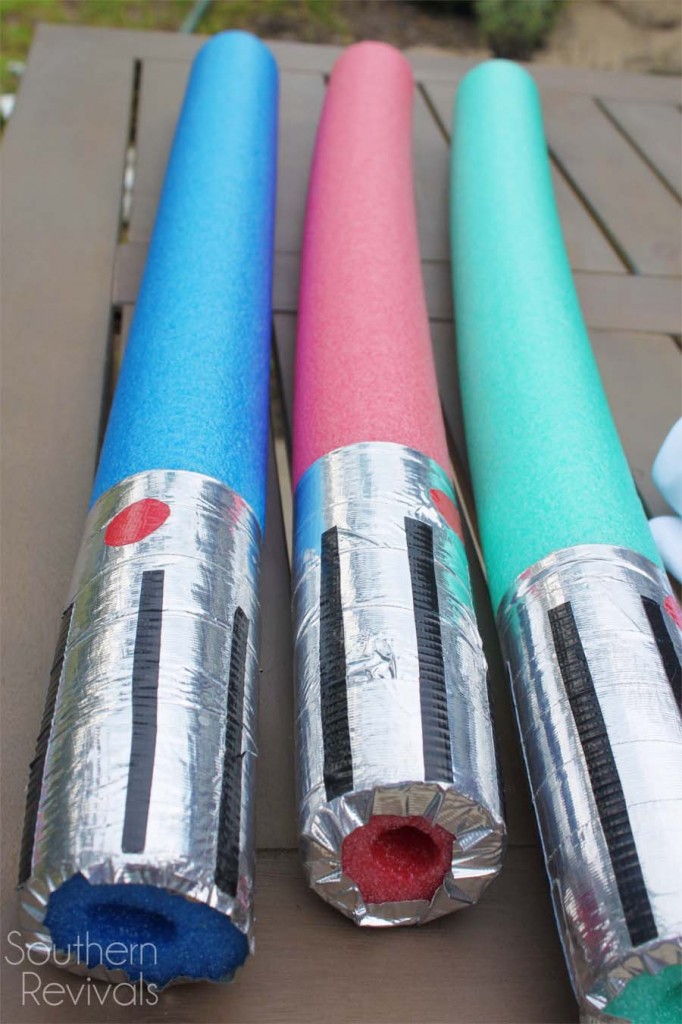 For party favors (and the fun activity of whacking our friends in the head – safely) we wrapped some pool noodles in duct tape. Silver, black and red. To make cutting the dots and strips easier, apply to wax paper first, then cut.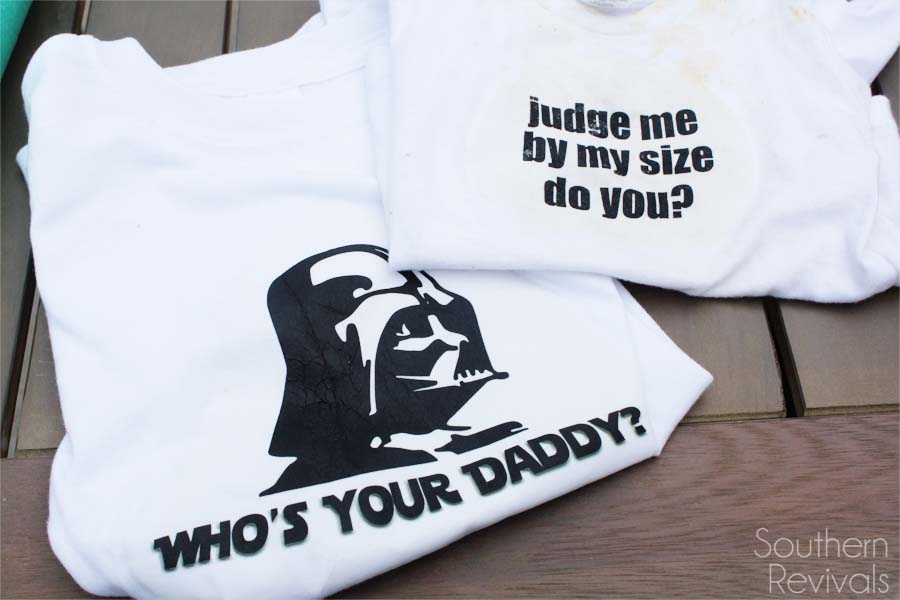 Birthday boy and baby brother got their own special shirts for the day. Here are the images for the t-shirt transfers if you want to make your own: Darth Vader: Who's Your Daddy? and Yoda: judge me by my size do you? Simply right click to download and save. Then size appropriately and print (in mirror image) onto t-shirt transfer material. Iron on and you're done!
Now, I have two questions for you: 1) What's your life like with all boys, all girls or a combo of the two? And 2) Do you wanna have a Star Wars party? (And if the answer is yes, can we come?)