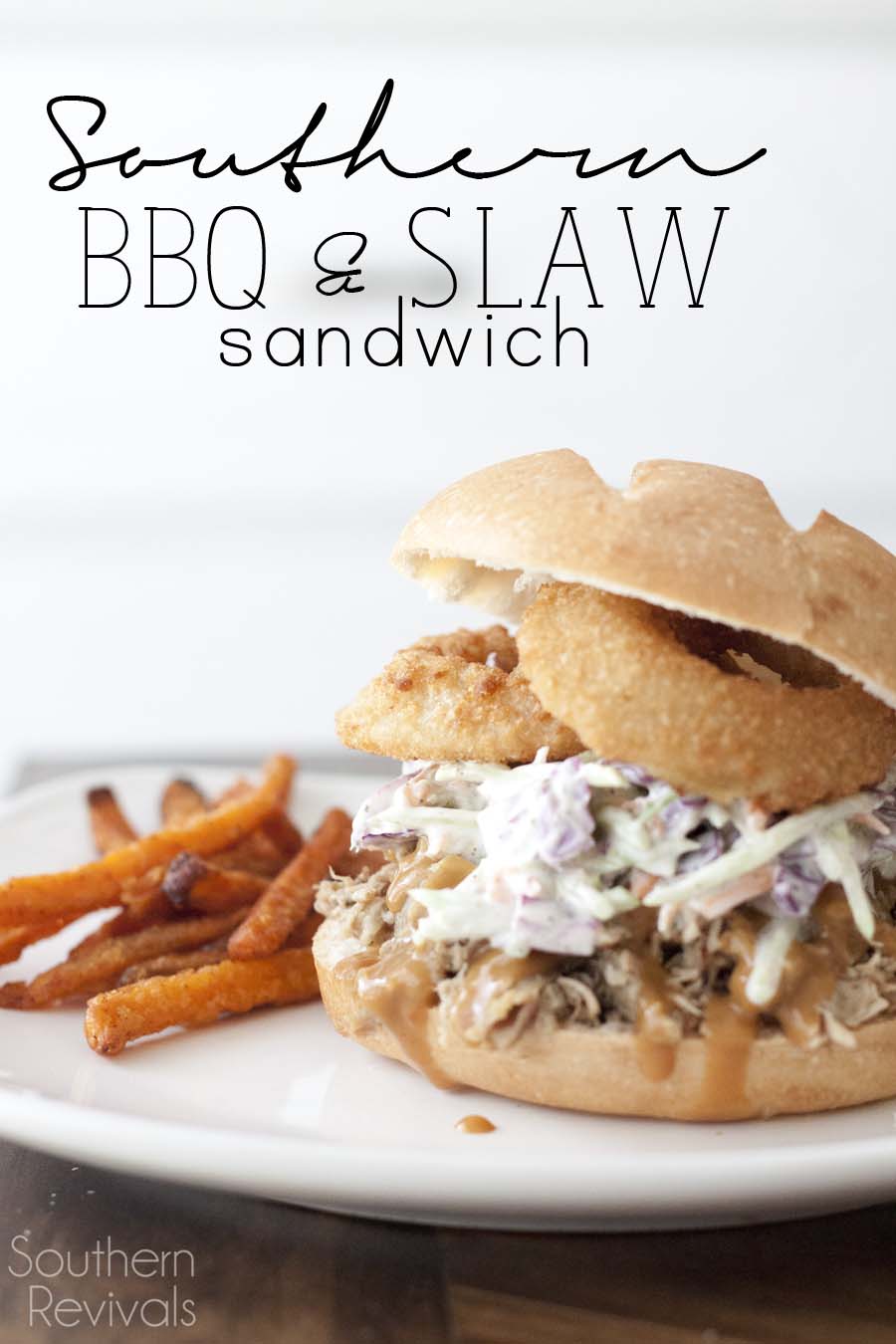 This Southern BBQ Slaw Sandwich is a Carolina-style BBQ sandwich stuffed with pulled pork, drizzled with classic Carolina-style BBQ sauce and topped with a crunchy broccoli slaw. All served on a warm artisanal bun. A true staple of southern cuisine that you can make in minutes but spend the rest of the day getting compliments for.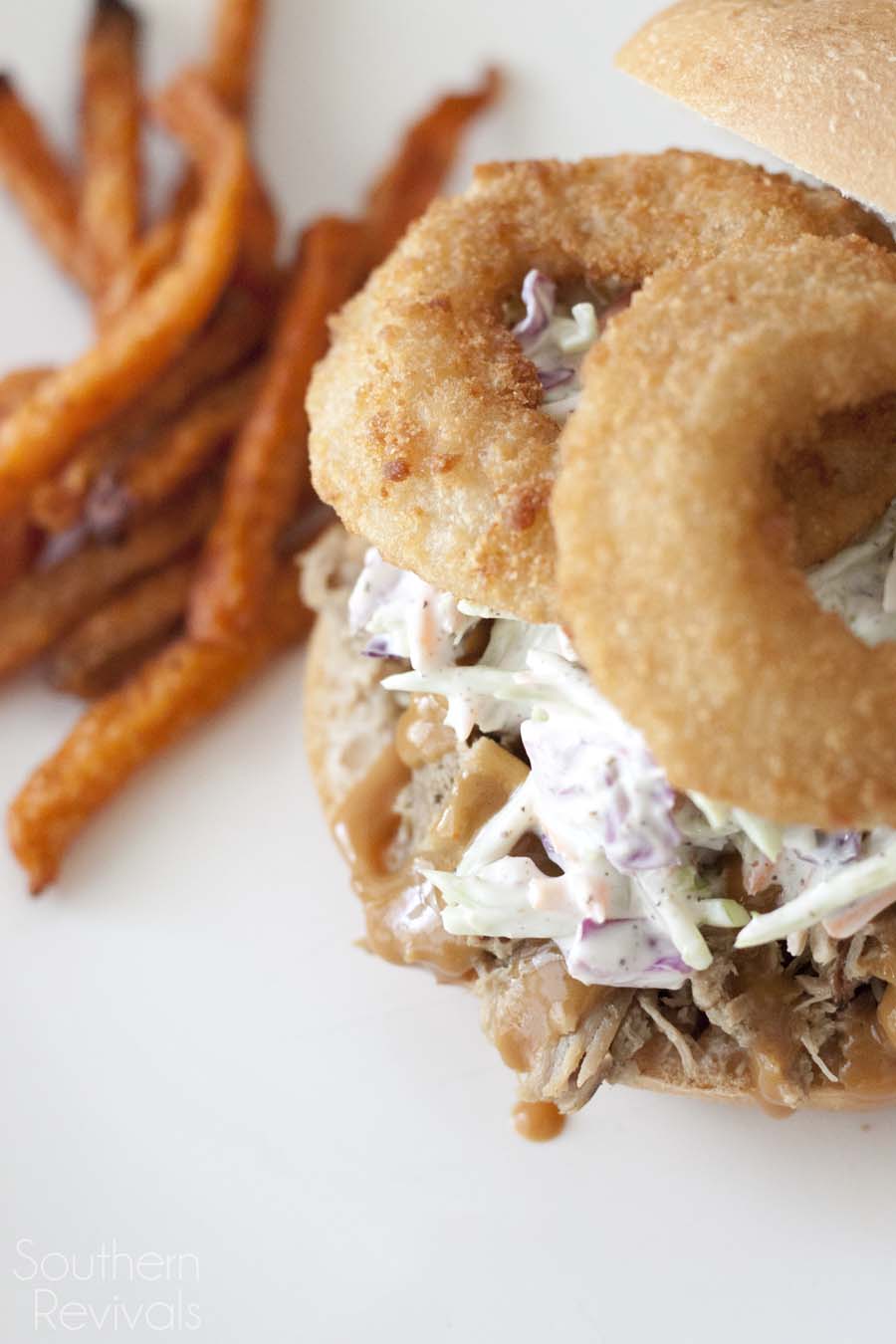 As much as I moved around as a kid, my parents spent most of their young lives in South Carolina. The Carolinas is a region known for it's tangy mustard and vinegar based BBQ sauce. Normally, I'm more a of sweet style sauce gal but for this sandwich only the classic Carolina-style will do. It just brings all of the flavors together in a way a sweet version just couldn't.
Southern BBQ Slaw Sandwich - Broccoli Slaw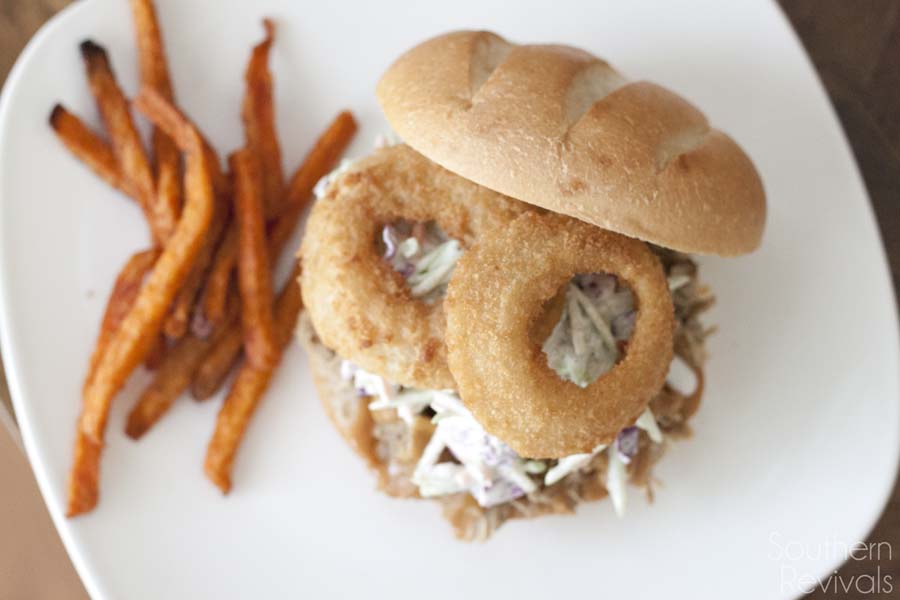 Ingredients
1 package broccoli slaw mix
1 cup mayo
2 TB sugar
2 TB apple cider vinegar
2 t black pepper
1/2 t salt
1/4 t dry mustard
1/8 celery seed
Instructions
Combine all ingredients and toss with broccoli slaw mix. Use to top your favorite BBQ sandwich. I used pulled pork. Before adding slaw I drizzle my pulled pork with a Carolina-style BBQ sauce - I prefer Sticky Fingers Carolina Classic. Top with an onion ring or two, if you like, and serve on a warm artisanal bun. Enjoy!
Makes to top 6 - 8 sandwiches
https://www.southernrevivals.com/southern-bbq-slaw-sandwich/
©Southern Revivals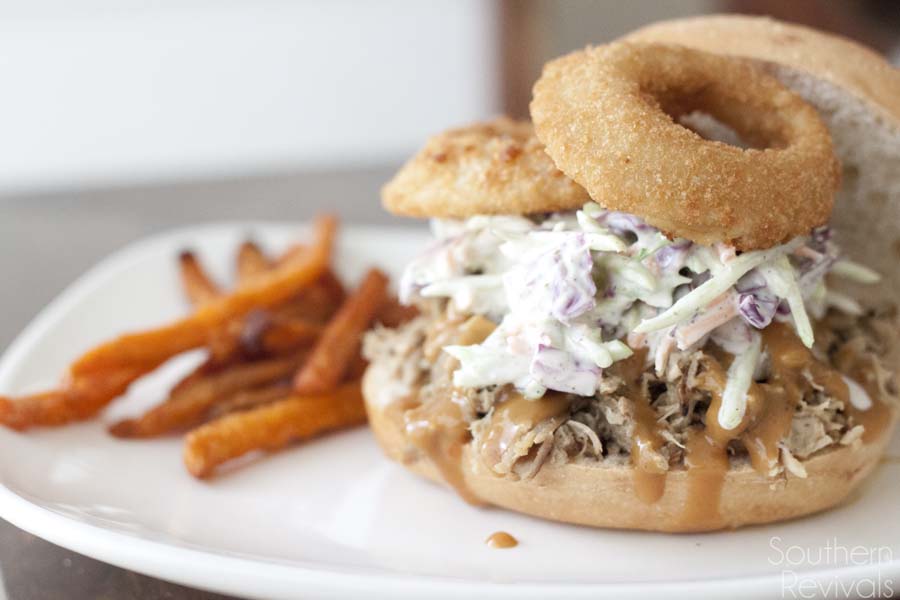 All you need is a good quality pulled pork. We got ours from a local smokehouse but you could always smoke your own. Top that with your favorite BBQ sauce and paired with the unexpected crunch of a creamy broccoli slaw and it is just like Heaven in your mouth.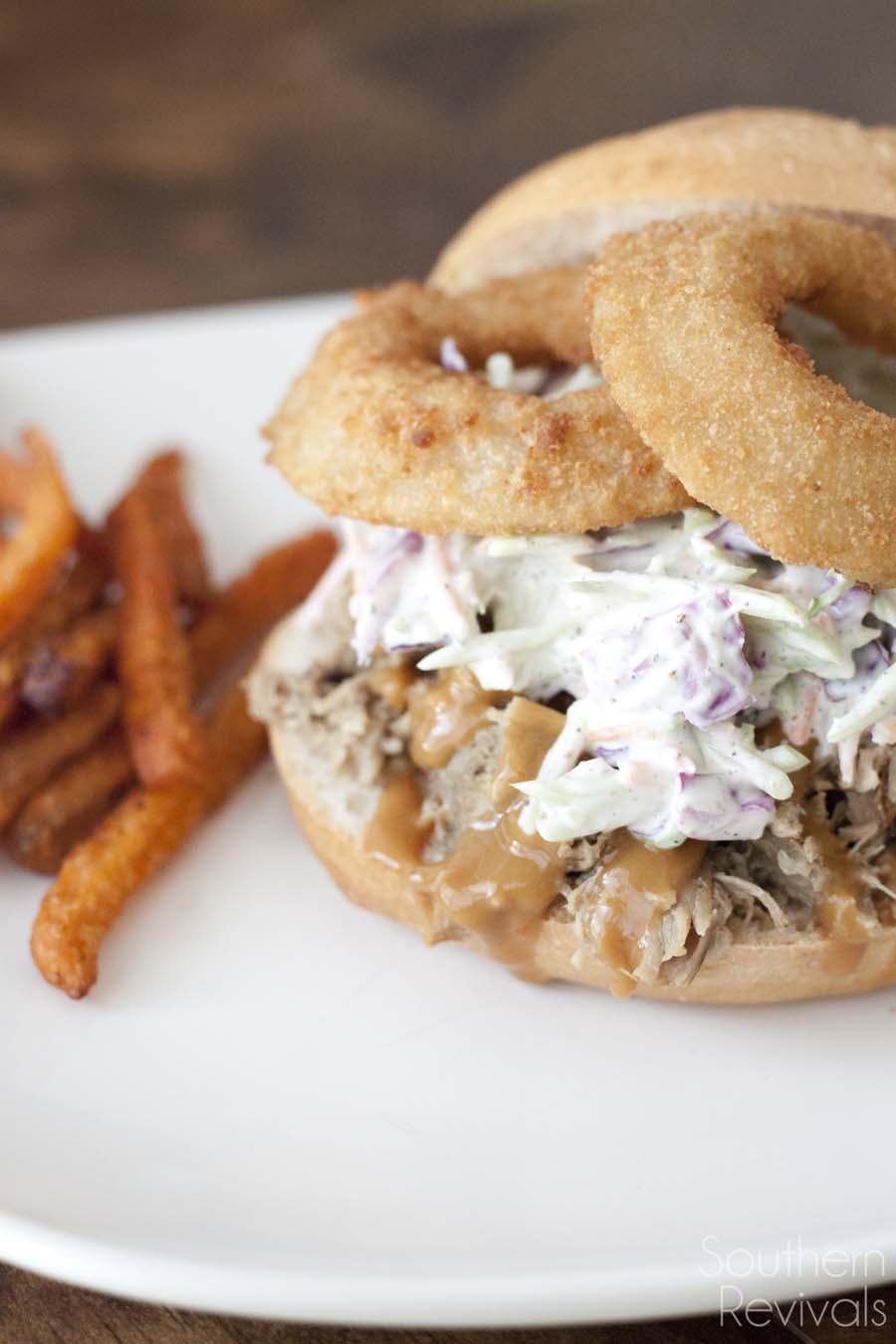 If you aren't from the South you might consider slaw as a side. We put it on everything from BBQ, to burgers, to hotdogs. Typically it's cabbage based but I just love the little extra crunch that the broccoli slaw adds.
Recently while back home visiting with my Dad for his birthday I brought him some broccoli slaw. He had some leftover pulled pork from the weekend and I told him he ought to try it on his BBQ sandwich. Later that evening about 10 o'clock, after I'd returned home, I get this excited phone call from him telling me I'd just taken him back about 55 years and that it just might have been the best BBQ sandwich he'd ever had.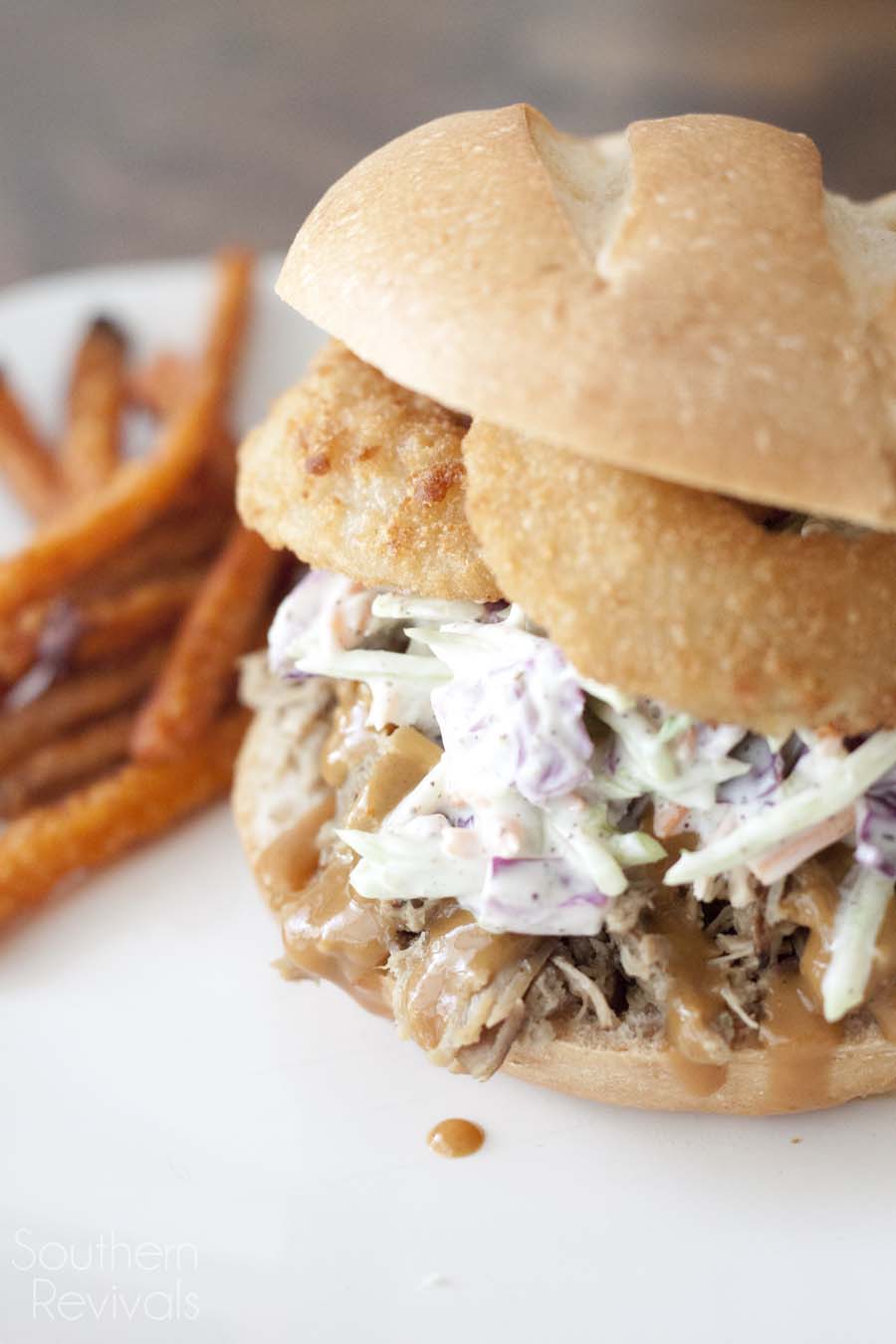 There had been a little BBQ joint where he grew up that served sandwiches like these and he had loved them. It had been a long while since he'd last thought about them because his attempts at getting anything that came close had failed in all the years since. So he had just given up. Then he tried one topped with this slaw and he said, not only was it as good…it just might be better! Coming from a man who has always been a little Clint Eastwood among dads, it is not a compliment I take lightly. It really is just that good! So, what's your favorite way with BBQ? Do you top yours with slaw?