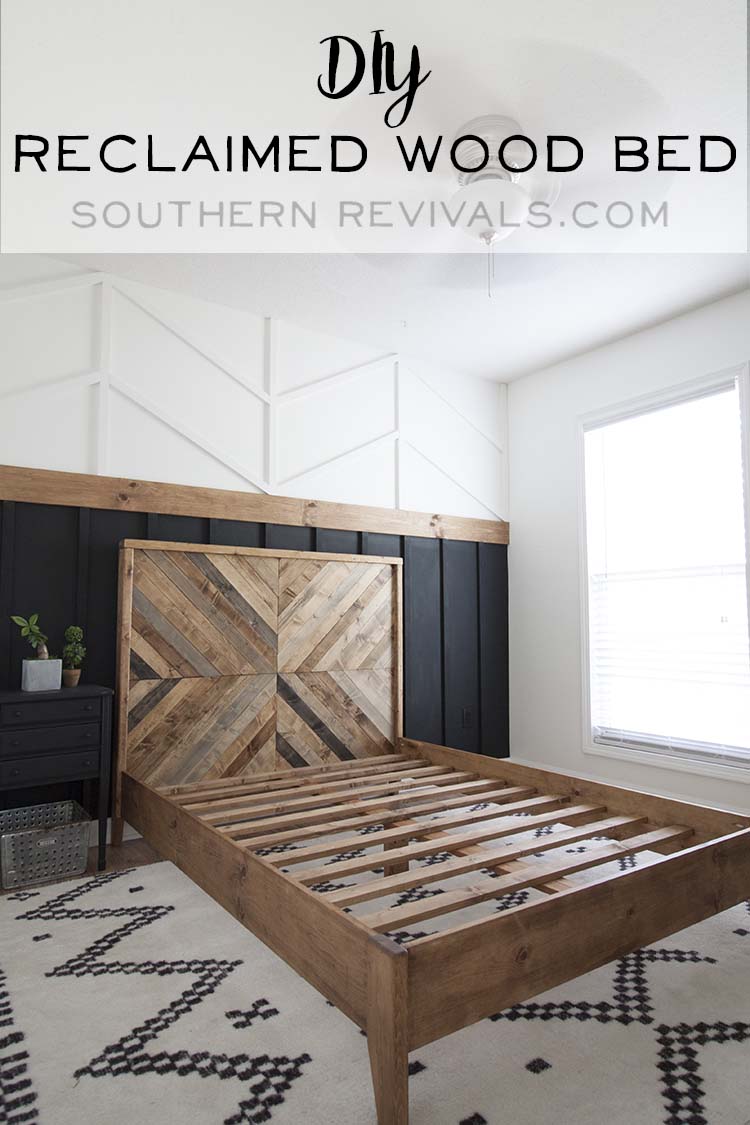 It's week 3 of the One Room Challenge and our project for this week is our West Elm-inspired DIY reclaimed wood bed and even though it doesn't have a single stick of reclaimed wood, it's still a stunner. Plus, it's a stunner for not a lot of money! And also, this challenge is halfway over and I. Am. On. Track.
Sing it with me…
Woah, we're half way there
Woah, livin' on a prayer
Take my hand, we'll make it I swear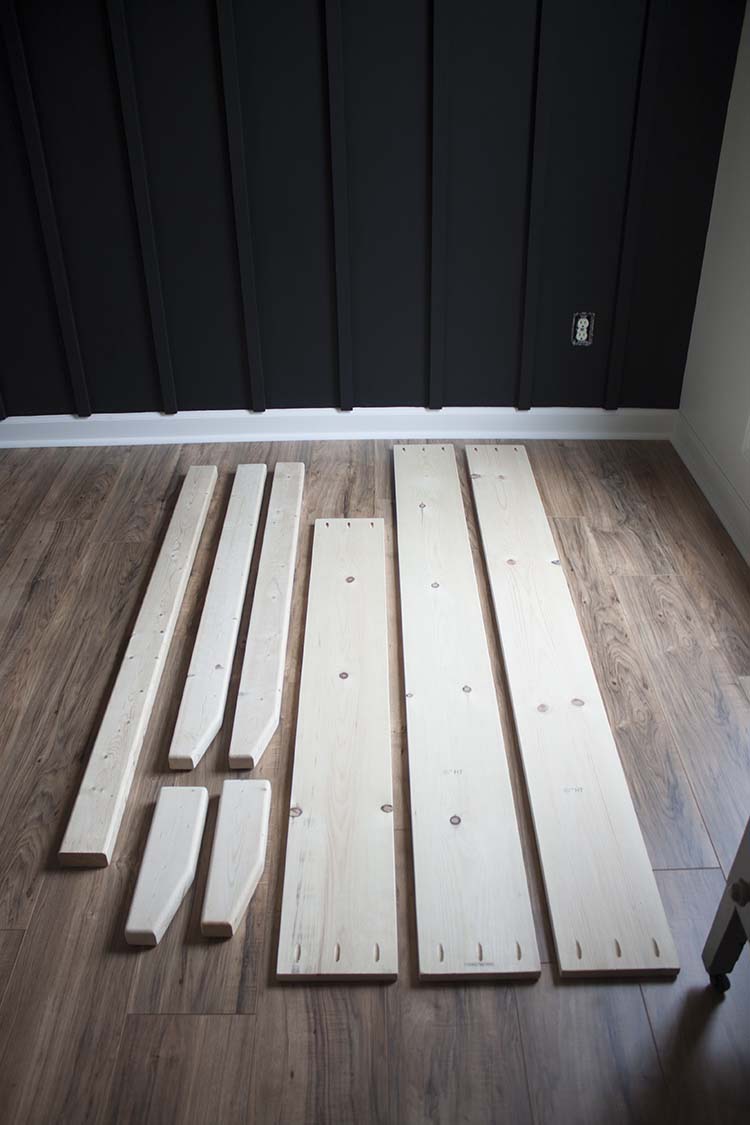 It's easy to be on track when you've got an extra designer helping you with all of the decision making. In my case, it's a cute little 8-year-old who knows what he likes.
He wanted a bed just like big brother's DIY midcentury modern platform bed but I assured him we'd come up with some just as awesome and all his own. It took about 2.3 seconds on Pinterest searching for wood beds before he knew exactly what he wanted.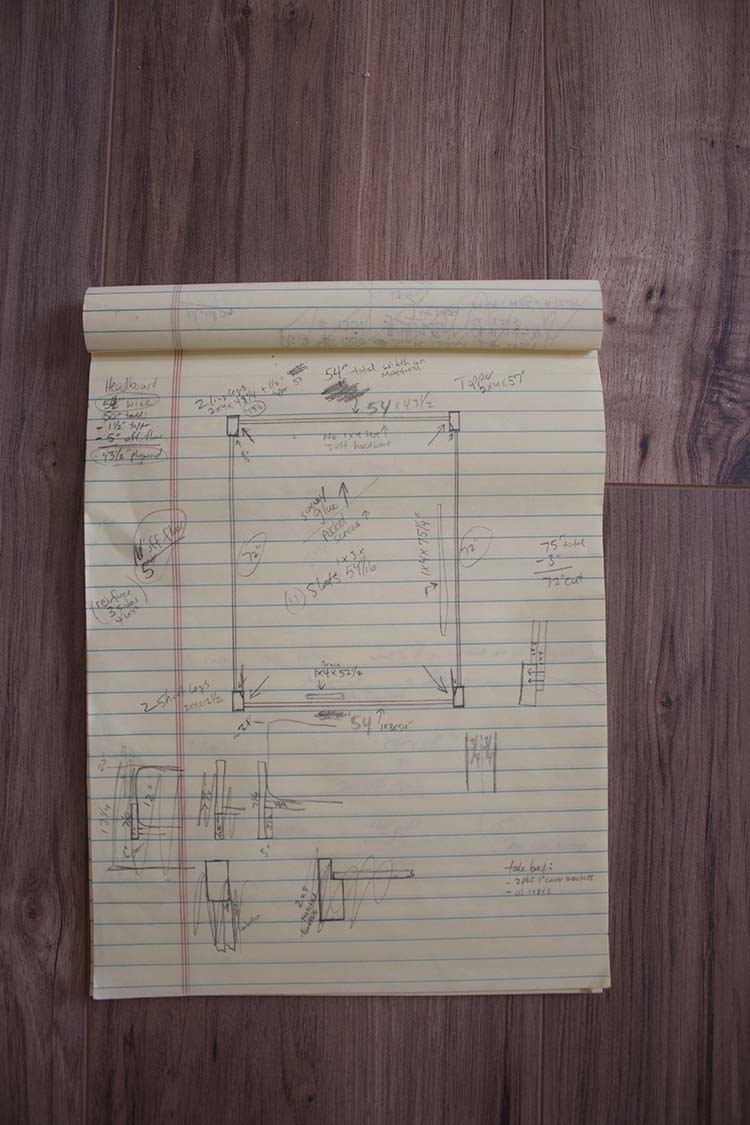 It's hard to believe just eight regular pine boards can become an awesome bed frame.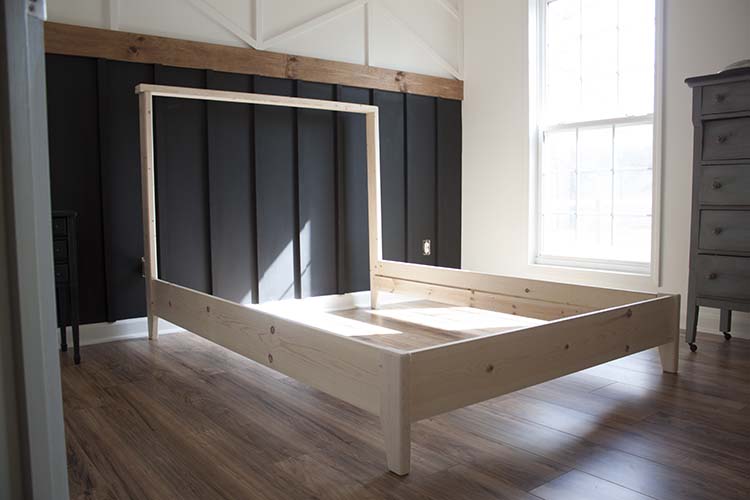 Of course, we've still got to add the headboard but the bulk of our work was done pretty quickly.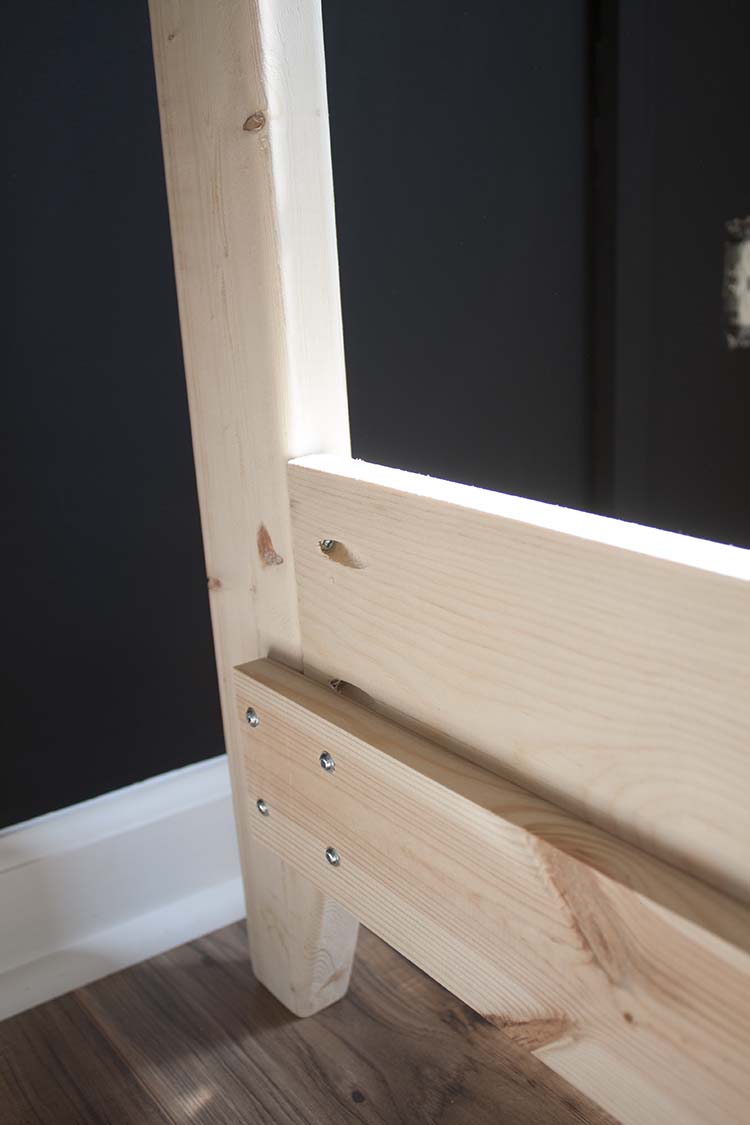 As usual, pocket holes save the day and make our job so much easier. This is at the head of our bed where the headboard will attach.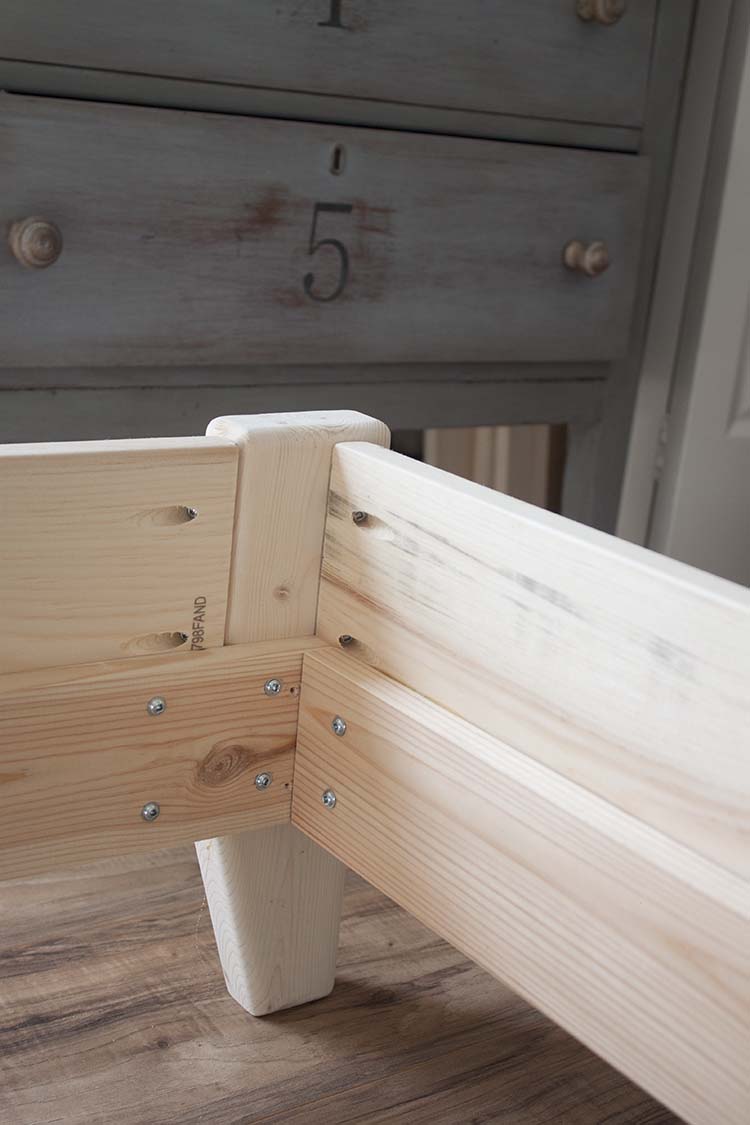 And this is at the foot of our bed. The board on the inside of the frame is where the bed slats will sit.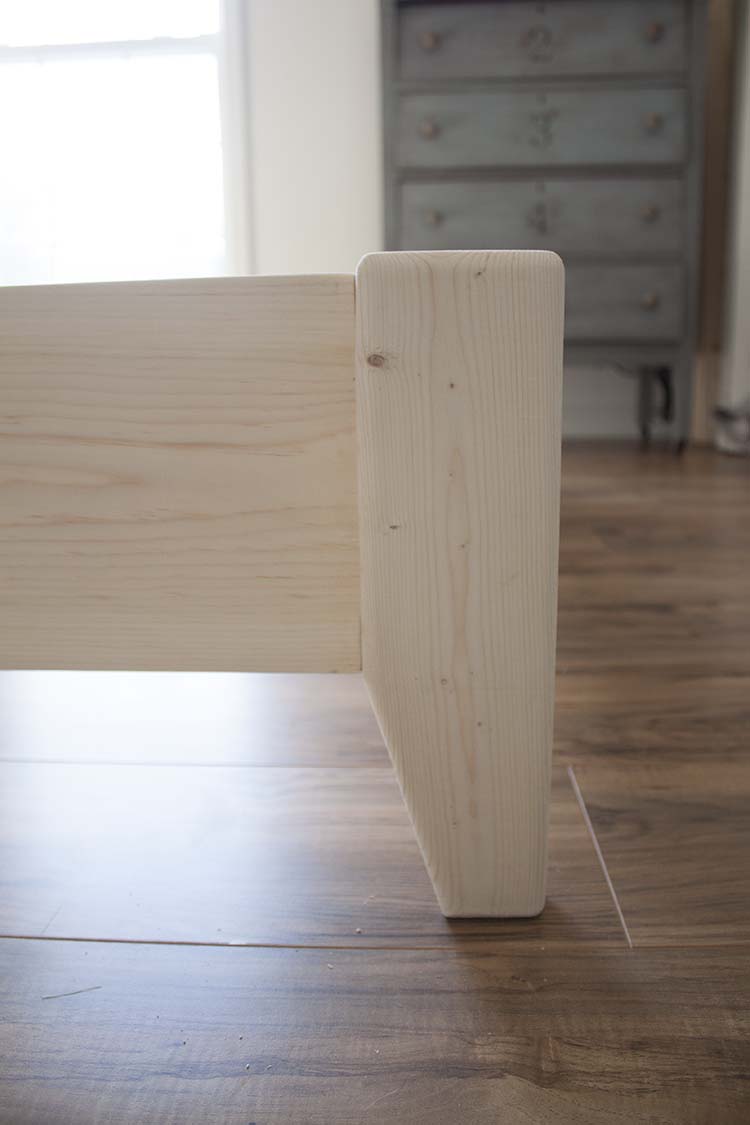 We chose to add a little clip to our bed legs to give it some extra style.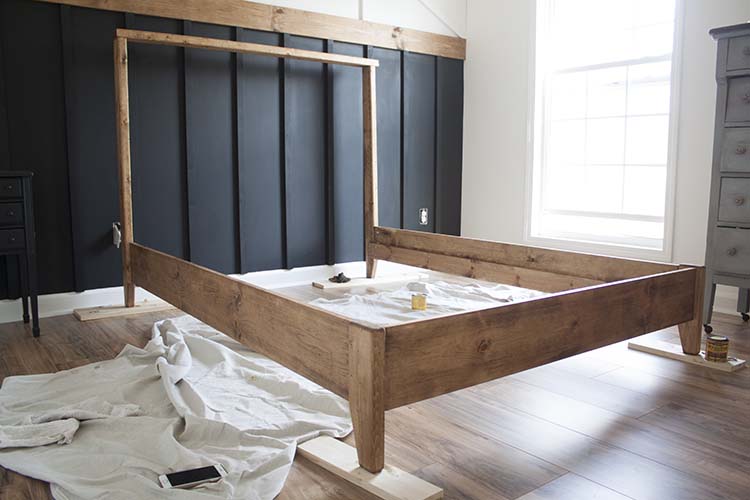 Once the glue dried on the frame I applied just one coat of stain. I wanted it to have a bit of a washed out, or bleached, look to give it the appearance of reclaimed wood.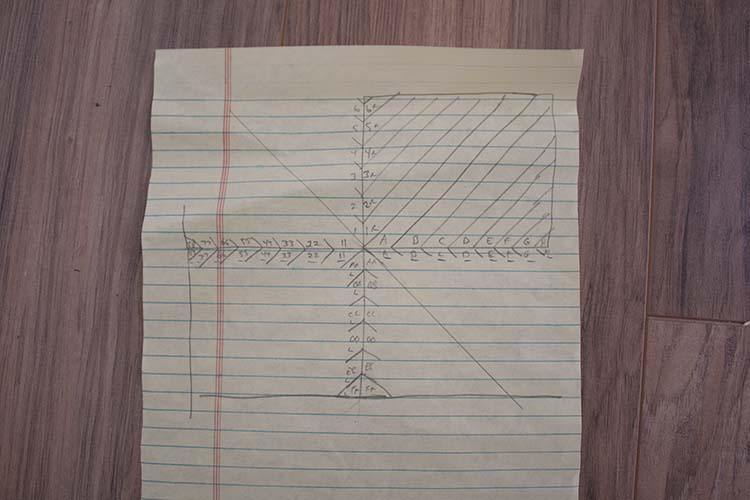 We cut a piece of plywood to fit into the headboard section of our bed frame and then drew out the angles for each of the wood pieces making up the herringbone pattern.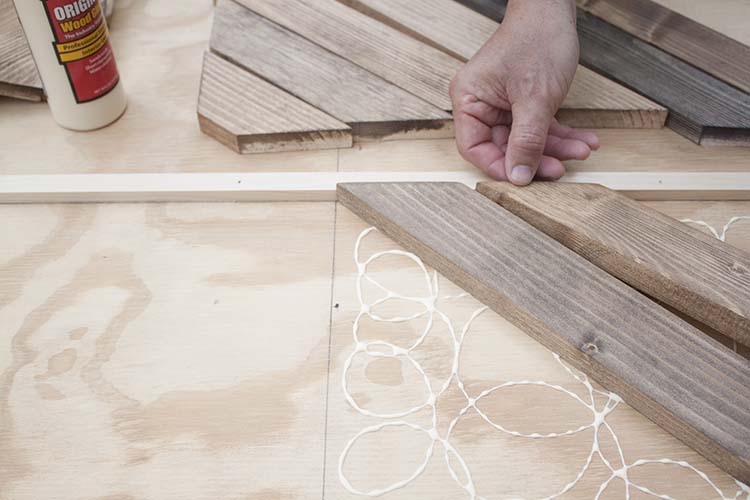 We cut each piece to length, leaving some excess on the longer pieces to cut off later. I stained all of the pieces using various stain colors, some straight from the can – some mixed, to mimic that aged patina old wood gets.
As soon as the stain dried we glued each piece in place.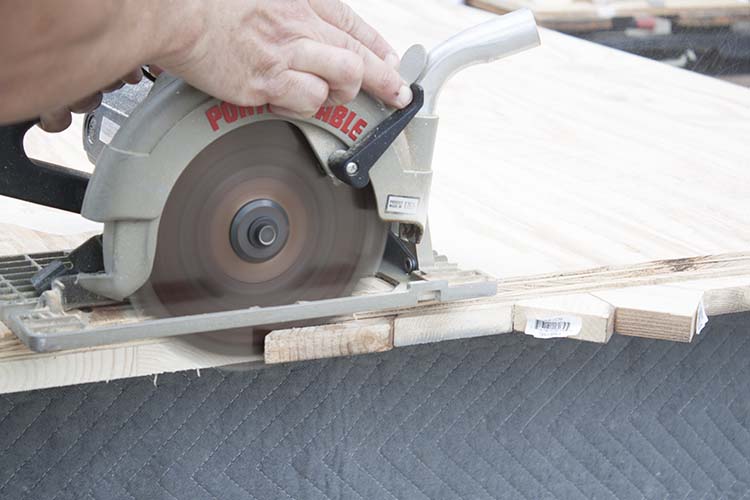 After the glue dried thoroughly, we trimmed off the excess. The raw edges will be hidden by the headboard frame.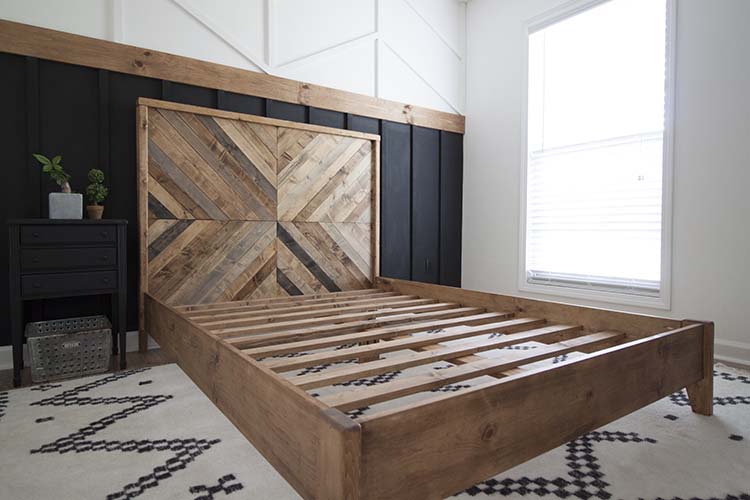 We attached the headboard to the frame, added slat supports, a center leg, and the slats. And we were done!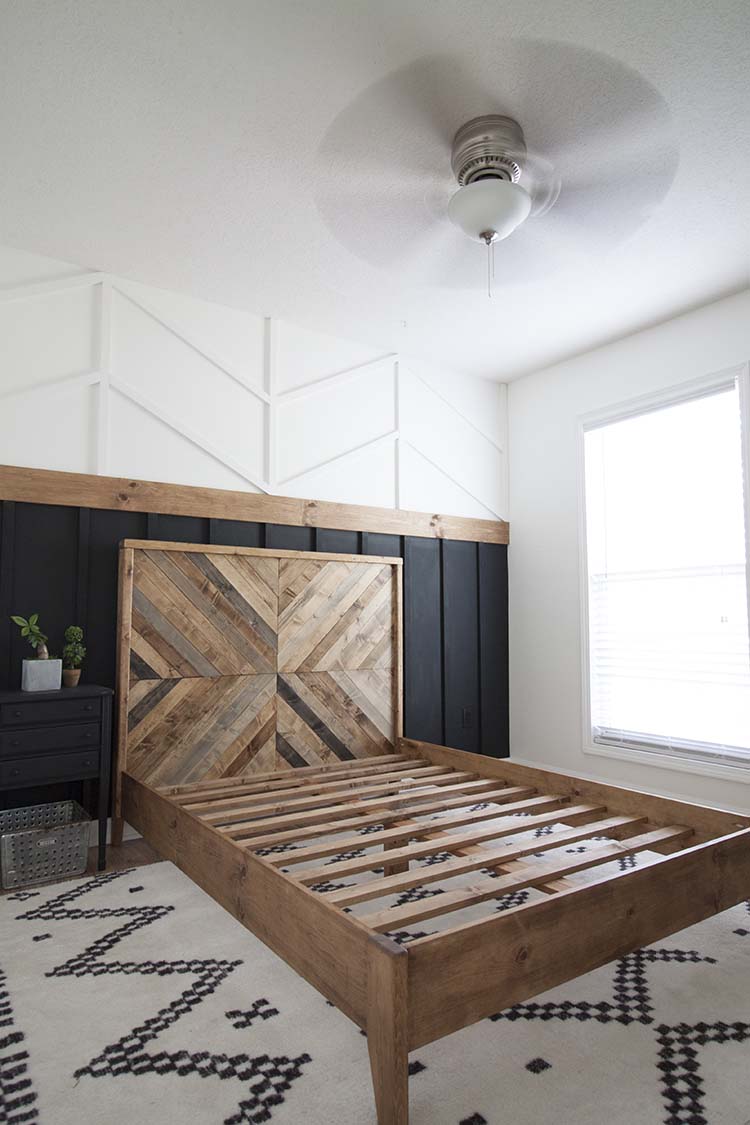 And we have one happy little boy! He has completely forgotten that he ever wanted an exact copy of big brother's bed. Next week I'll be sharing our DIY dresser for his room so I hope you'll join me for that. And if you've come here looking for the plans for this bed, those will be available soon!
MAKEOVER TIMELINE
Week 3 – The DIY Bed (April 18th)
Week 4 – The DIY Dresser (April 25th)
Week 5 – The Decor (May 2nd)
Week 6 – The Reveal (May 9th)
Join me each Thursday from now until May 9th for each new installment to this makeover challenge! Next week, the wall treatment.