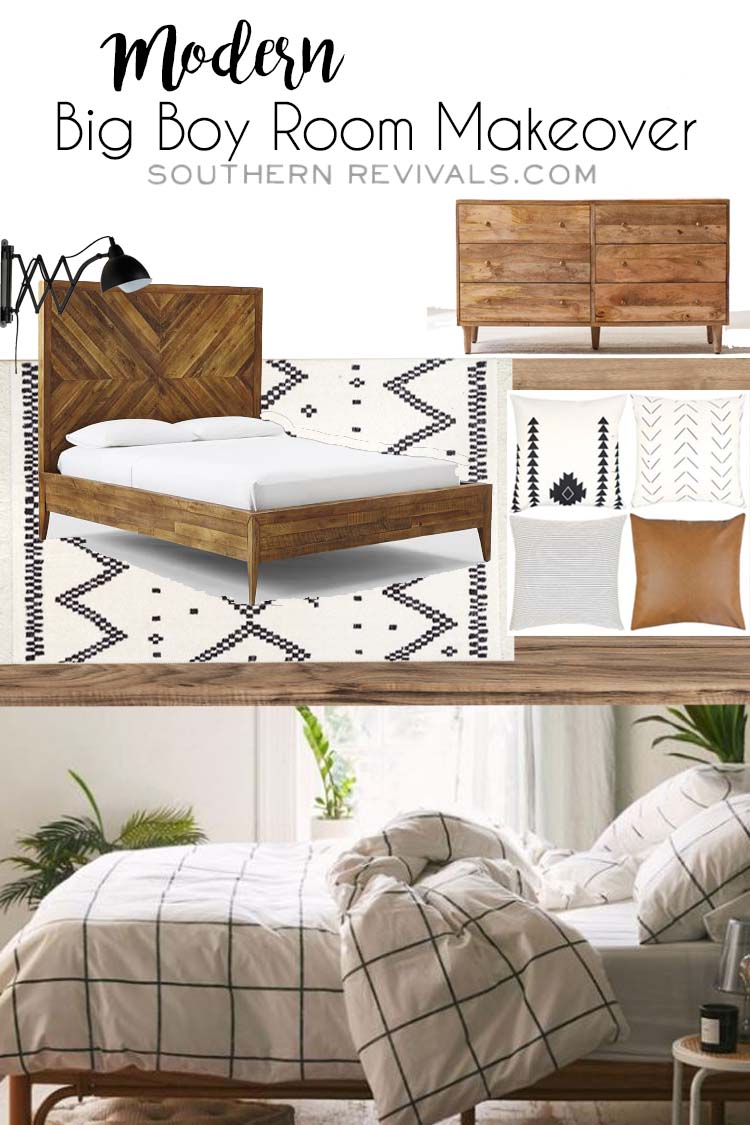 The Modern Big Boy Room Makeover is my fourth go at the One Room Challenge. My first was our laundry room makeover – which I did not complete on time. The third time, we only got this far on our master bedroom makeover before hurricane Michael, paired with some family issues, forced me out of the challenge.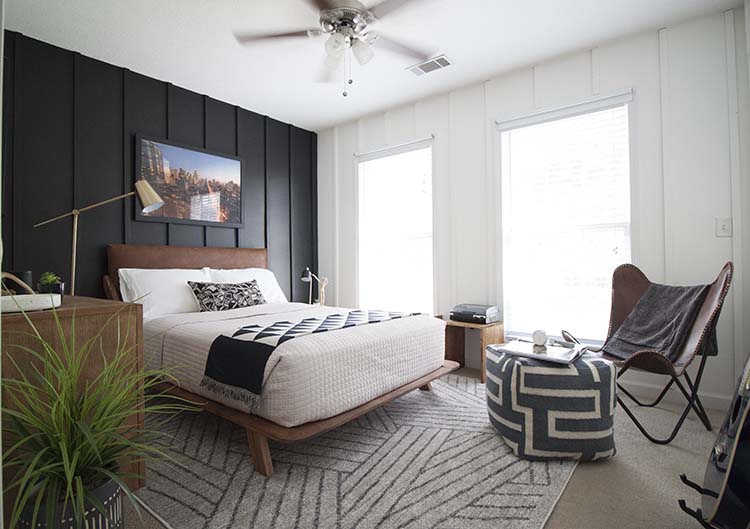 BUT, my redemption came with my second ORC – our teen room makeover – which continues to be one of my best makeovers to date. My point is, if my pattern- failure, success, failure – holds true, my modern big boy room makeover is almost a guaranteed success!
Big Boy Room Makeover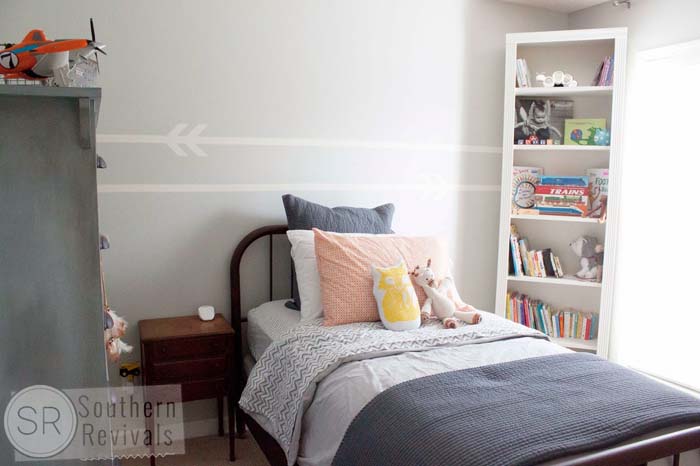 I was going to call this section of my post, current state of affairs, but now I'm embarrassed to because a) I realize it isn't exactly accurate since no photos of this room have been taken since 2014 apparently and, while not much has changed design-wise, and b) I am now more keenly aware of just how poor my photography skills were back then. (there's still room for improvement -ahem)
All in all, this is what we were working with. We've already installed the new flooring in this room and in big brother's. Which reminds me, I need to do an update! But we're only keeping this Anthropologie-inspired chest of drawers so we're starting from scratch with everything else.
What We Need To Do:
As soon as the DIY Mid-century Modern Platform Bed from big brother's room had its magazine debut in This Old House, little brother threw down the gauntlet with a huffy, well I want my bedroom in a magazine, too! I'm not sure it works that way, Little Dude, but if it does I'm letting you handle all my PR from now on.
He basically just wanted a copy of Big Brother's room. The wood, the leather. Everything. Never mind that he's only 8 years old. But of course, we weren't just going to replicate the same room. We did take some of the best cues from B's room – like the cozy, woodsy, and decidedly modern vibe. And just like with big brother's room we've got a fun wall treatment planned for P's room, too.
But the Ace in our pocket is most definitely another DIY bed. We're using the Alexa bed from West Elm as our inspo piece. The dimensions for this bed are too tall for our space so we'll have to modify the final result to make it work.
Also like brother's room, we'll be building another DIY dresser except less midcentury modern and more modern farmhouse. Our rooms, aside from the master are so small. And P's room, in particular, also has an awkward layout. So while I love saving money by building our own furniture, sometimes we find it necessary to build our own in order to accommodate our space.
While B's room has simple, modern faux board and batten, we're going for something a little more fun and detailed in P's room. I cannot wait to share how we're treating this wall with you!
This might be my favorite part! Do you love shopping for blankets, pillows, and rug as much as I do? Since I like to decorate seasonally I always keep this in mind when choosing bedding so that I can get something that will go with everything. That way I can swap out pillows and other seasonal decor without having to spend a fortune every time I want to change something. So to start, I'm going with a simple and neutral black and white. It's a classic combo for a reason!
And I think I have found the best place on the whole internet to buy beautiful pillow covers at a decent price. Our new pillow covers next week so I'll report back with my findings!
Lamps. On the wall or on the dresser….or both? The devil actually is in the details because when the final week of this six-week-challenge gets here this is exactly the kind of question that will be driving me to drink. I went ahead and ordered two lamps and I am already second guessing myself.
I am a big fan of symmetry, so I like the idea of two lamps on the wall on either side of the headboard. But I'm also a fan of mixing things up, which is what I did in big brother's room with one floor lamp and one table lamp. I have a tendency to get too symmetrical so I'm always a little self-conscious about that which means this lamp situation is likely the thing that will likely drive me crazy.
Makeover Timeline
Week 1 – The Plan (April 4th)
Week 2 – The Wall Treatment (April 11th)
Week 3 – The DIY Bed (April 18th)
Week 4 – The DIY Dresser (April 25th)
Week 5 – The Decor (May 2nd)
Week 6 – The Reveal (May 9th)
Join me each Thursday from now until May 9th for each new installment to this makeover challenge! Next week, the wall treatment.