This post, Front Porch Makeover | How to Install a Smart Lock, is brought to you in part by Kwikset. All ideas and opinions are mine. Thank you for supporting the brands that make Southern Revivals possible.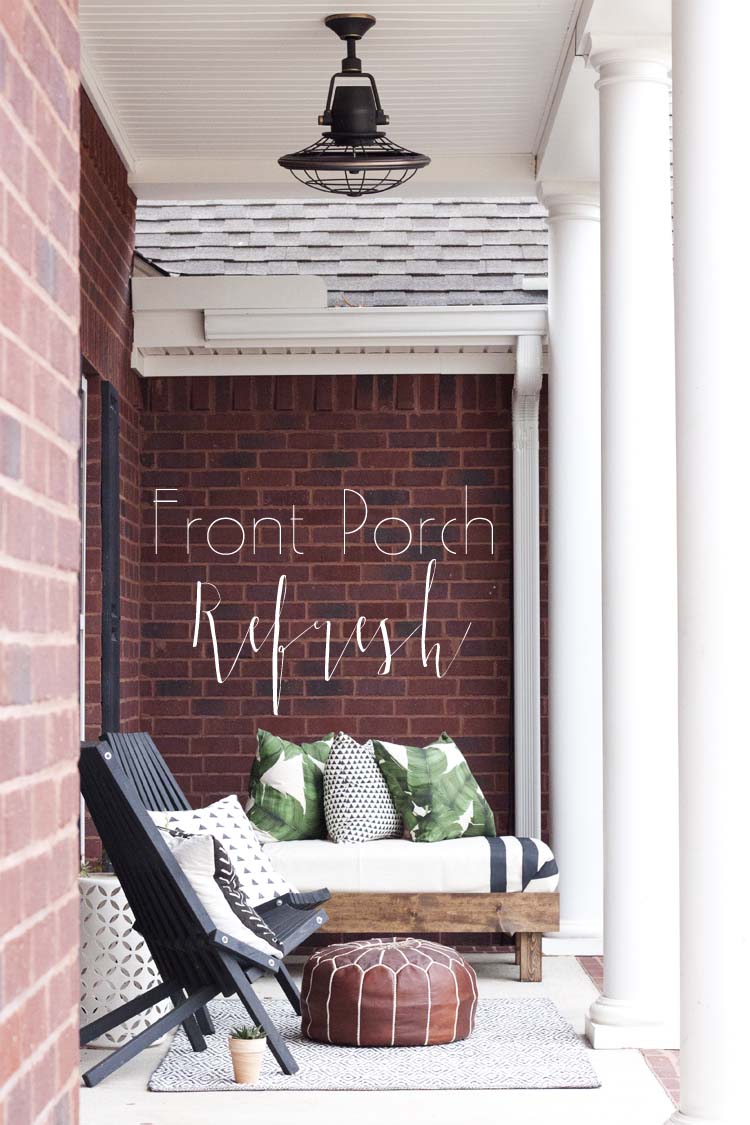 I've been stumped for years about how to handle my awkward rectangle of a front porch. But this was the year that I finally tackled our front porch makeover with some easy updates and, as always, a little DIY. And while I still haven't gotten the new front door of my dreams, I did get an awesome new keyless entry smart lock.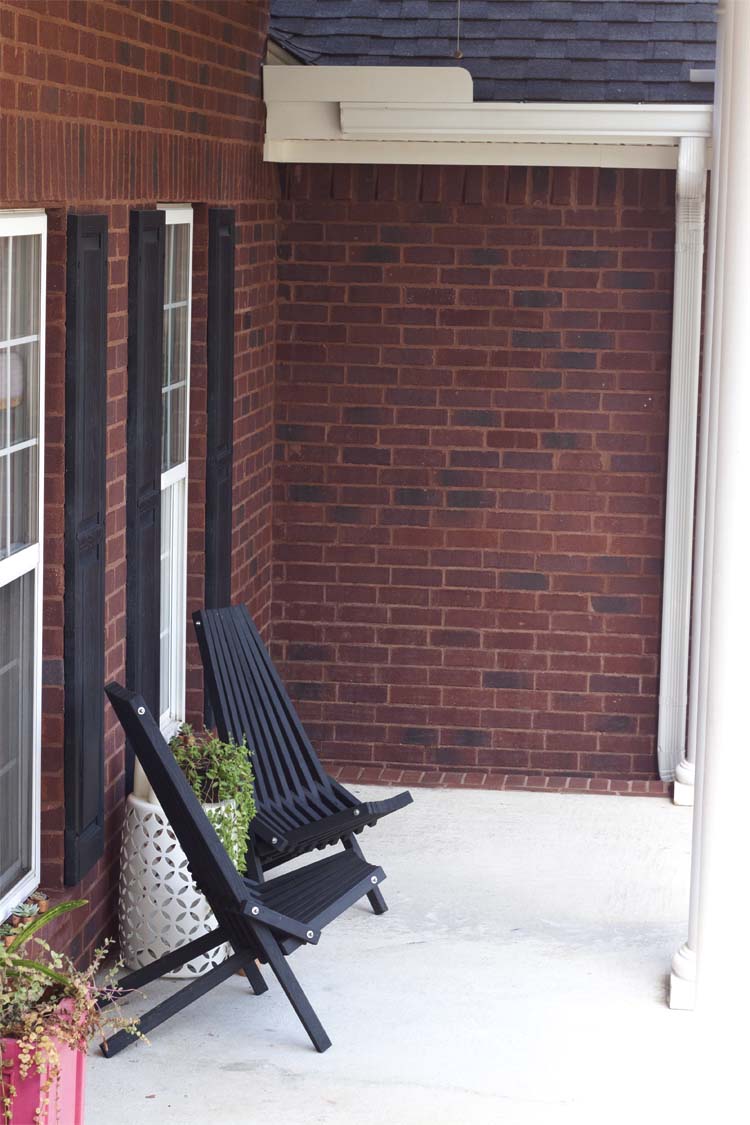 To be honest, back in July when I made these DIY Stick Chairs, this was the best my front porch had ever looked. It wasn't much to speak of but it was more than there had ever been before.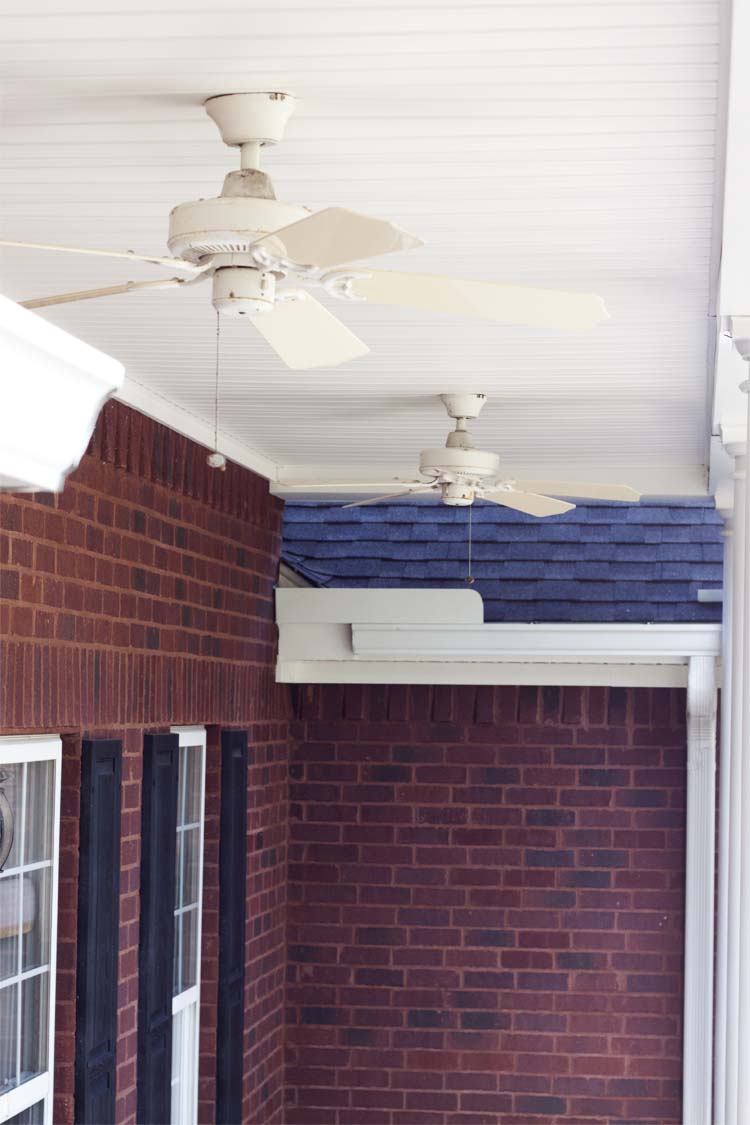 Part of the issue was trying to find replacements for these old fans. I don't know what it is about light, heat and white things that always results in yellow but whatever it is it's a great way to make anything look old.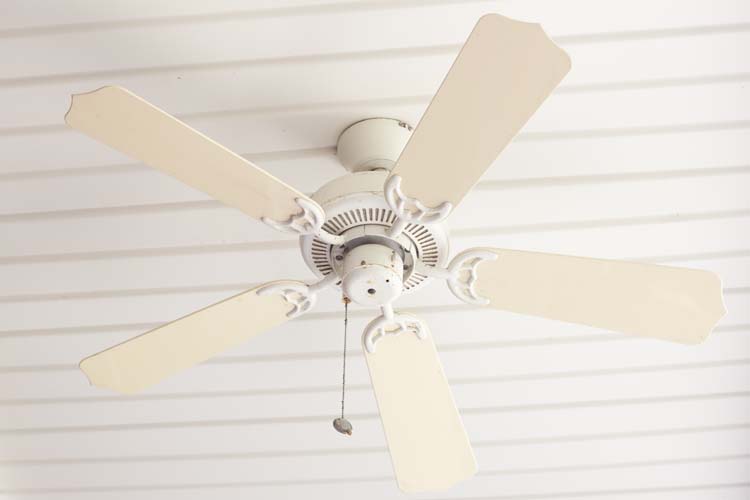 The problem was finding a small enough fan to fit the space. All of the outdoor fans I found were either way too big or an astronomical amount of money.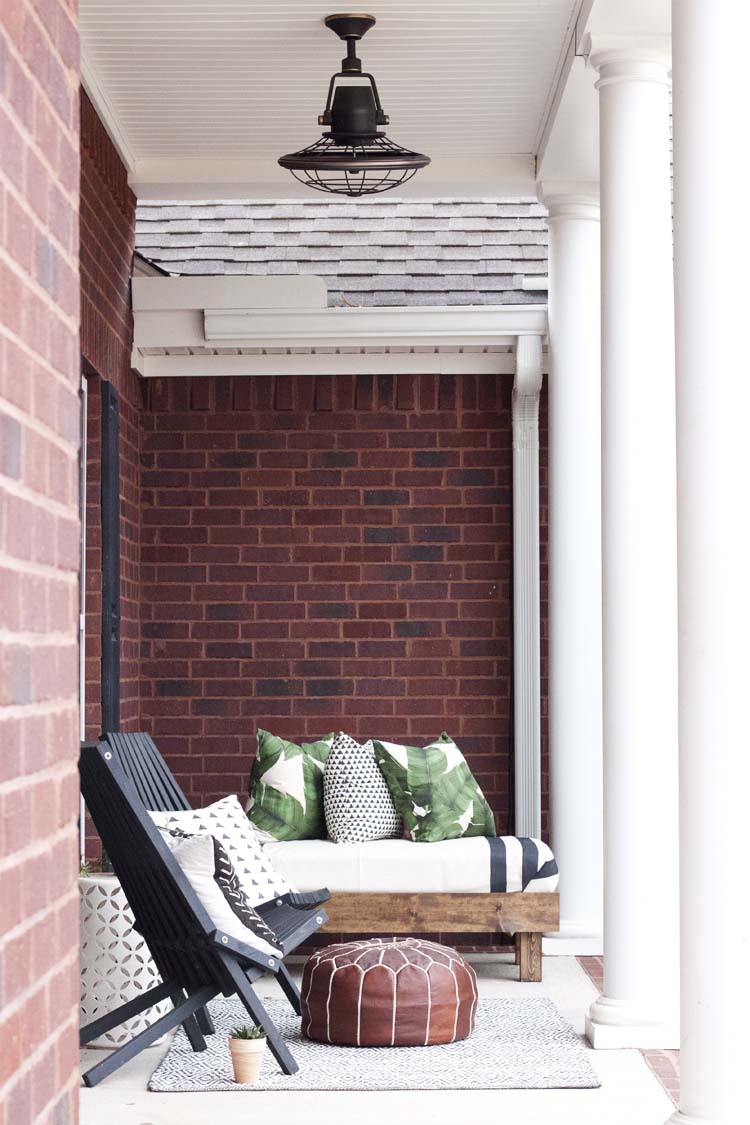 Then I found these, (affiliate link) Bentley Outdoor Fans from Home Depot and I realized I had been searching for the wrong kinds of fans all along. I never knew I had dream fans but these were just that. And the price was unbeatable.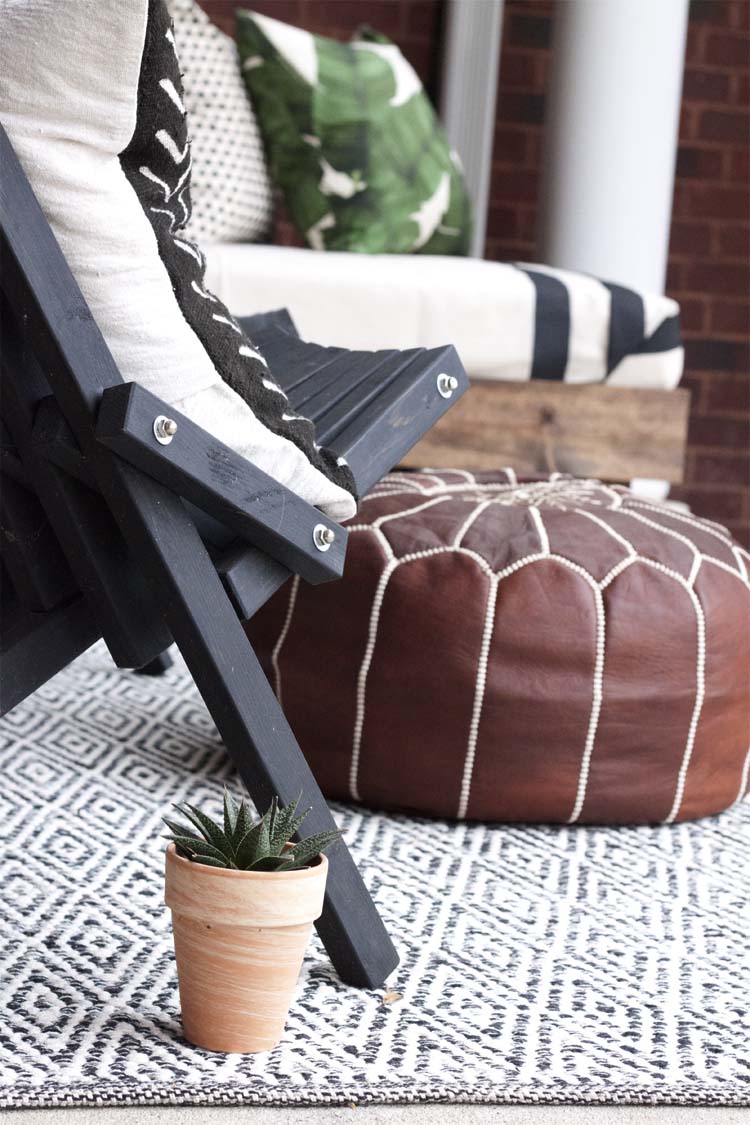 And then there's my Moroccan pouf that is more well traveled than I am.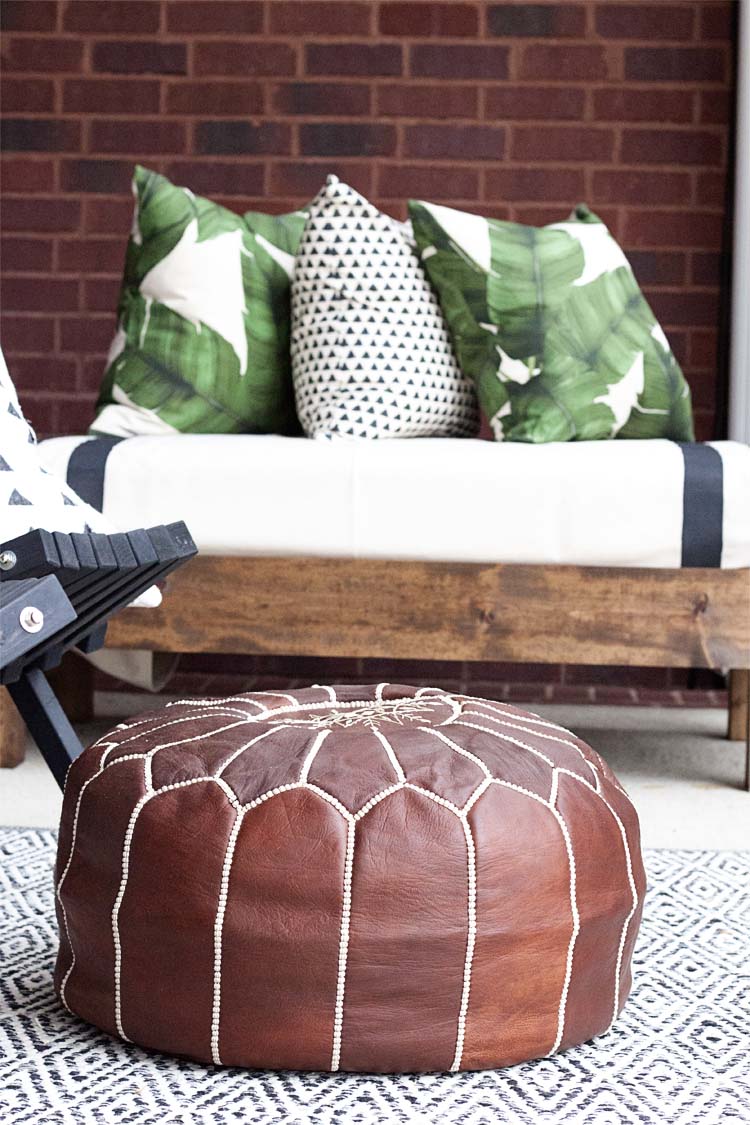 Paired with my stick chairs and this crib mattress turned day bed, it completely transformed this space from the lonely concrete rectangle that it once was into a space that my kids now beg to do their homework in.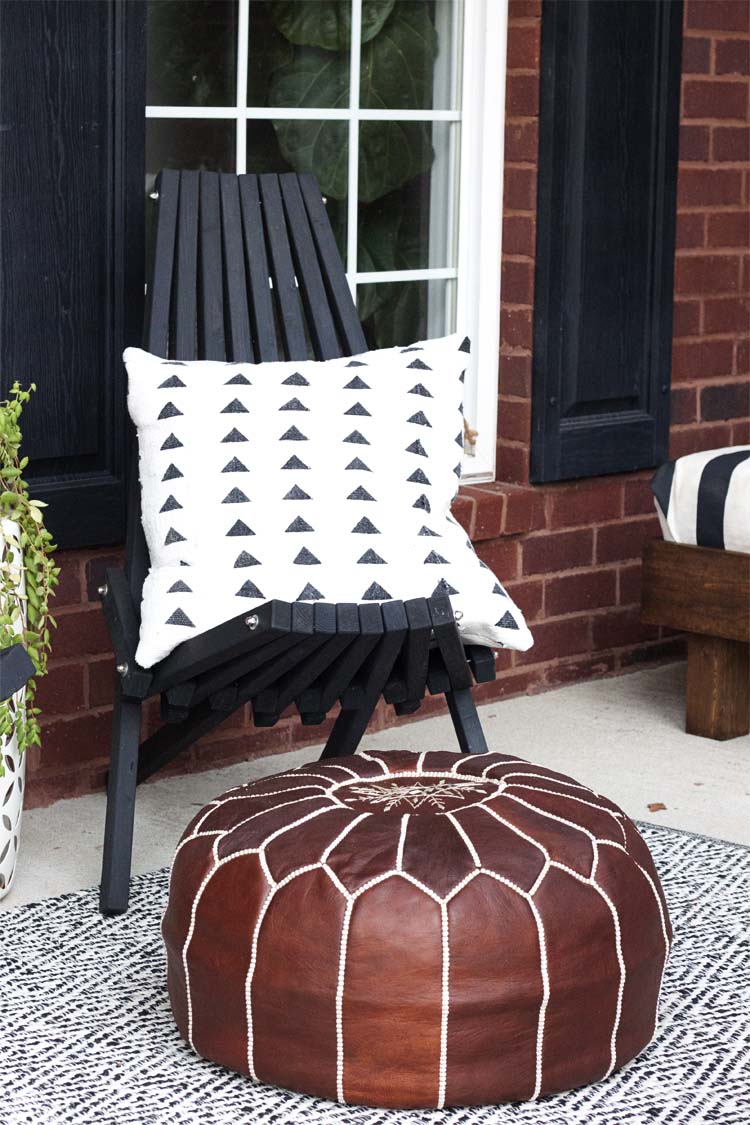 In addition to being comfy and cozy it's also pretty gorgeous. And while it did involve a little elbow grease all of these updates were quick changes or easy adds.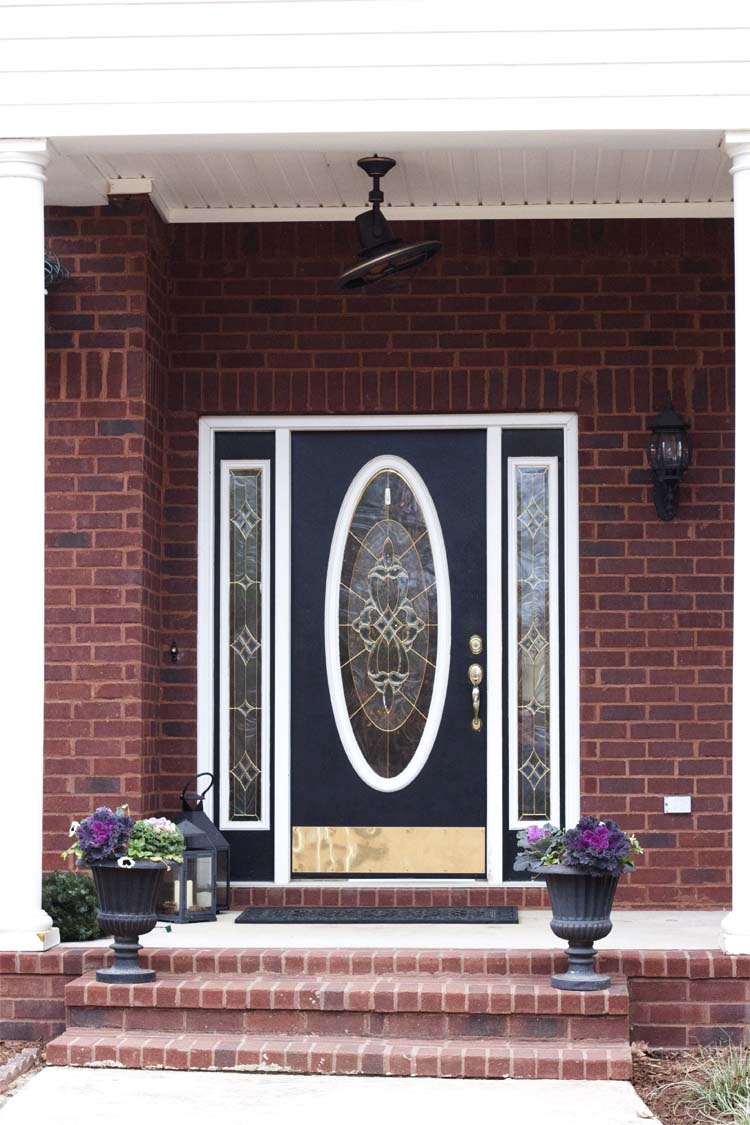 But then there is still the matter of the front door I've never really been able to love. And while I've tried living with it and updating it I've never managed to really deal with the part of it that bugs me most, the brass. I recently changed all of my inside hardware from brass to satin nickel and the update totally brought my home out of the 90's. The only problem with this door is that the brass is inlaid with the glass.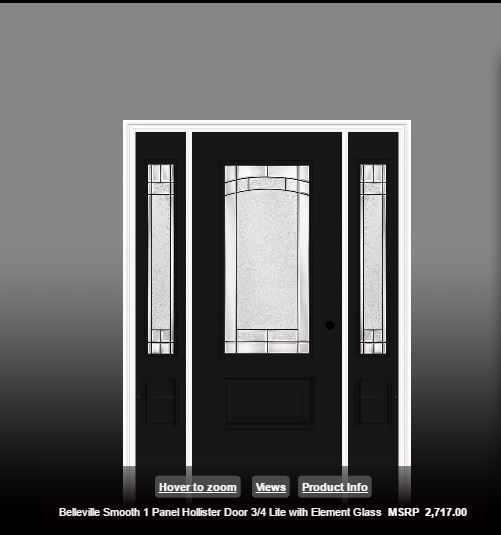 So I've been dreaming about front doors again and I think I've found the perfect one. But until this gorgeous beauty arrives (hopefully in Santa's sleigh) to save the last of my home from 90's brass, I'll just have to get my contemporary fix with my brand new smart lock.
How to Install a Smart Lock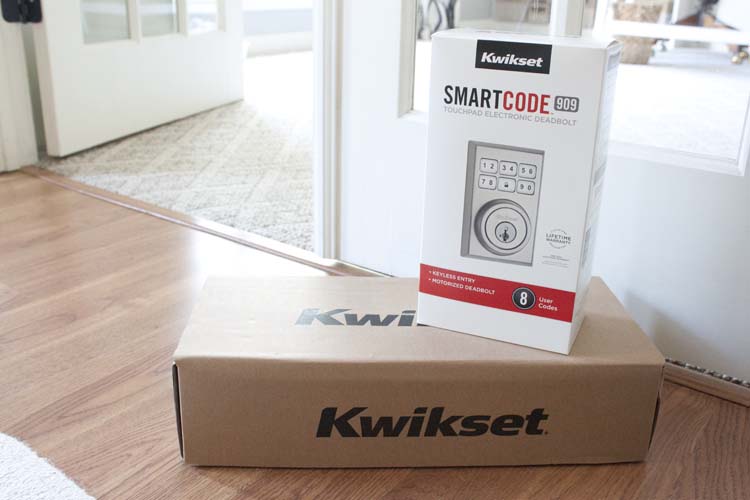 And if you're wondering why a smart lock, I'll give you three of my best reasons:
No more fumbling with your keys in the dark, rain or strange noise behind you in the dark.
Grandma has her own entry code (which even if she forgets you can give that to her over the phone way more easily than a key!)
And my favorite reason of all, when you forget something inside the house (and you will) you don't have to turn the car off to go back into the house! (I just used this one today. And yesterday. And probably tomorrow, too.)
Changing out your existing deadbolt with a new smart lock deadbolt is super quick and easy. The only special tools you need are: a screwdriver and 4 AA batteries! Here's the installation in action.
I have the 
Contemporary SmartCode Electronic Deadbolt
with the 
Ashfield Handleset
.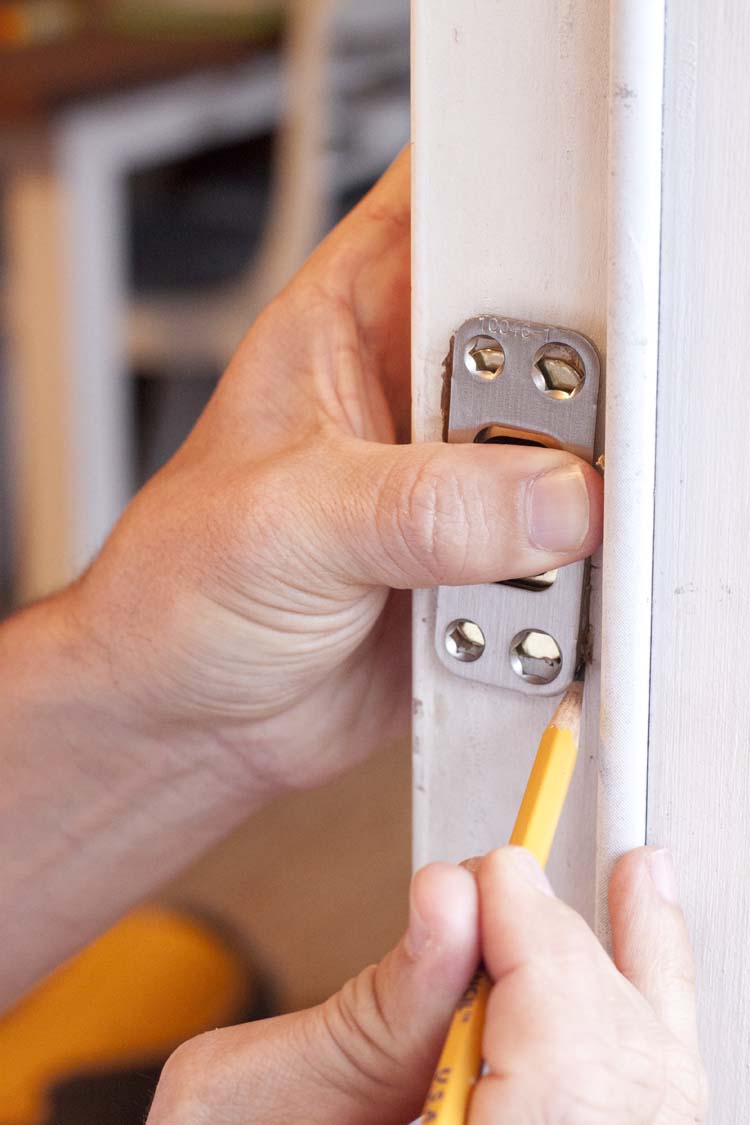 If you find that the new strike plate for your smart lock is larger than your existing one you can fix that in 3 easy steps!
Step#1
Align the center hole of your existing strike plate with the new one and then trace. This ensures that placement will line up the latch.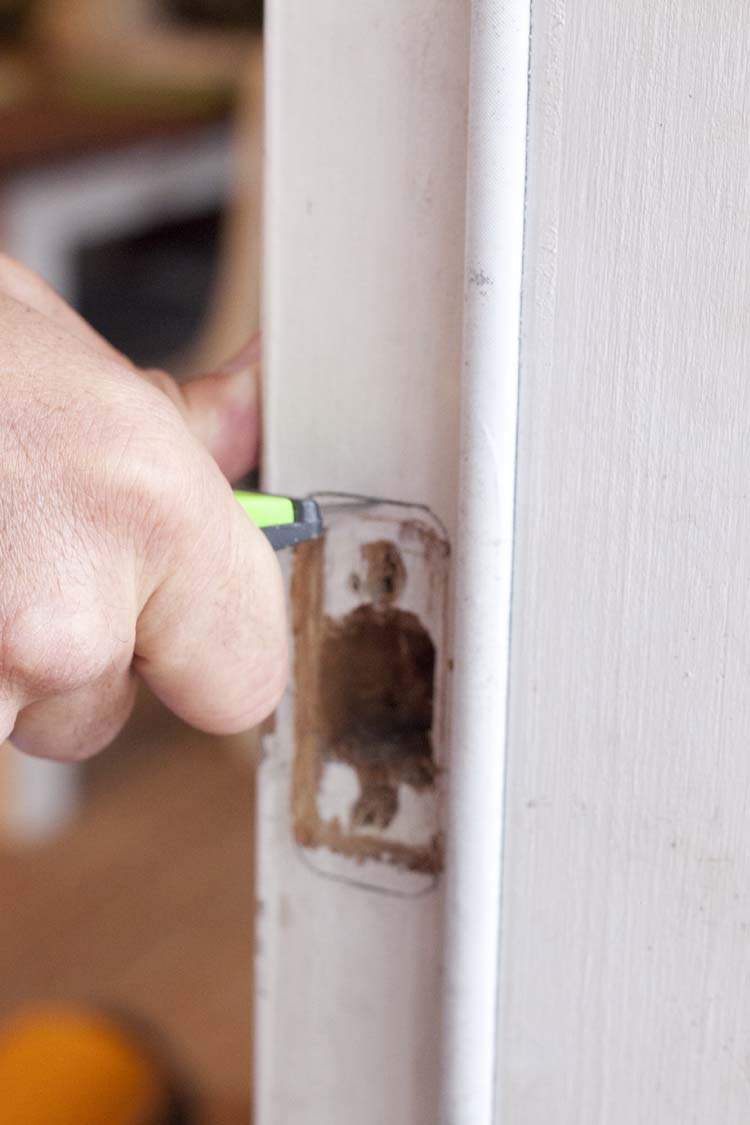 Step #2
Score the outline you've drawn with a box cutter or carpet knife. This will make it easier to chisel away without breaking up your frame. (in this pic: see the way the people before us did it as an example of what not to do)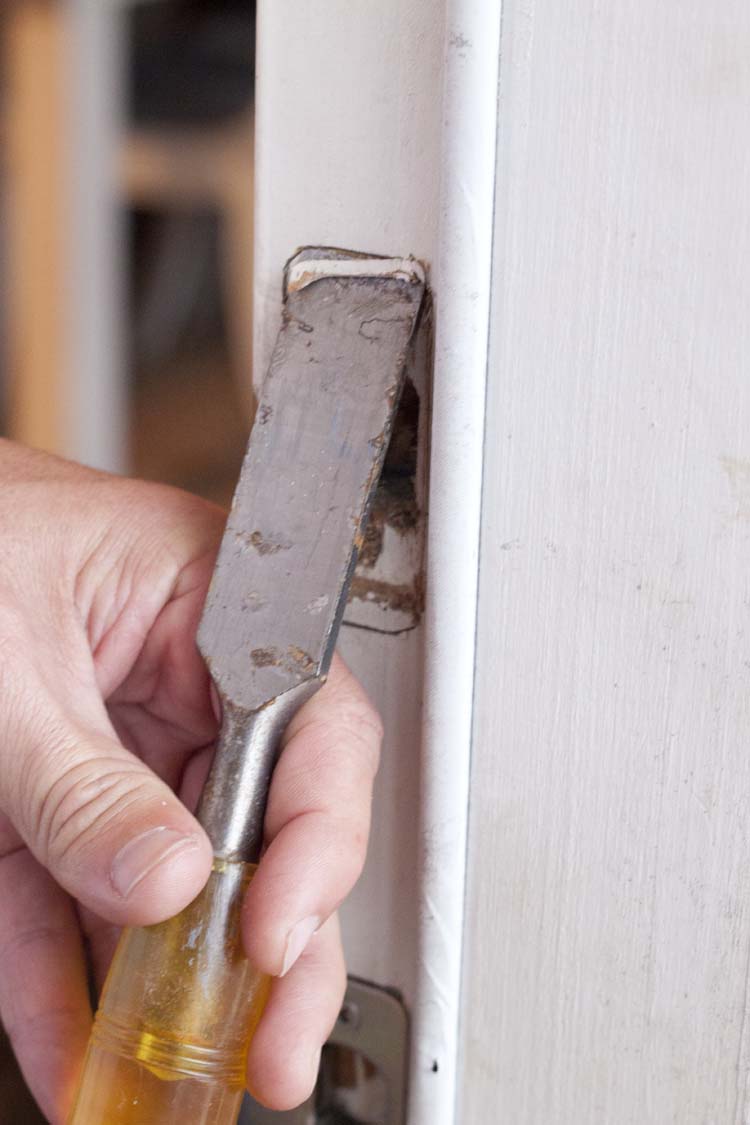 Step #3
Bump a chisel from the bottom gently with a hammer to remove. The should easily release from the score marks you made earlier. And you're ready to install the new larger strike plate.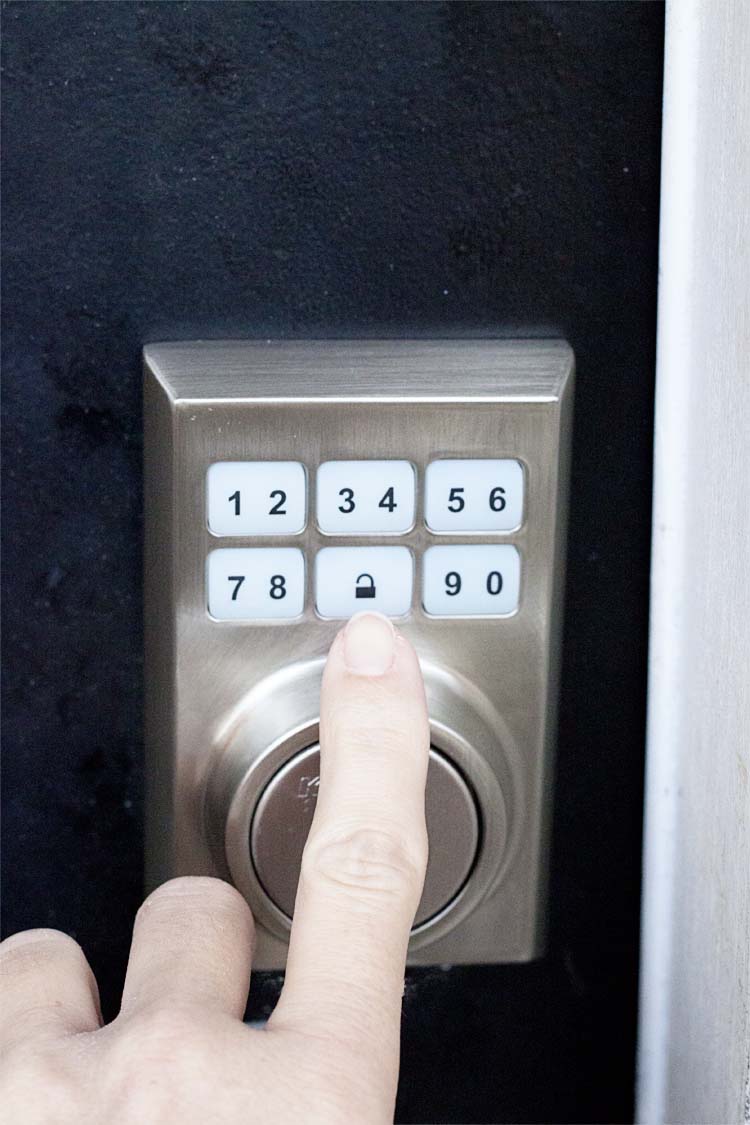 And did I mention once you have your new keyless entry smart lock installed this is all you have to do to lock the door when you're running late in the morning! It won't make your kids get out of bed the first time you ask them (or the 5th) but it will lock your door with one push of a button.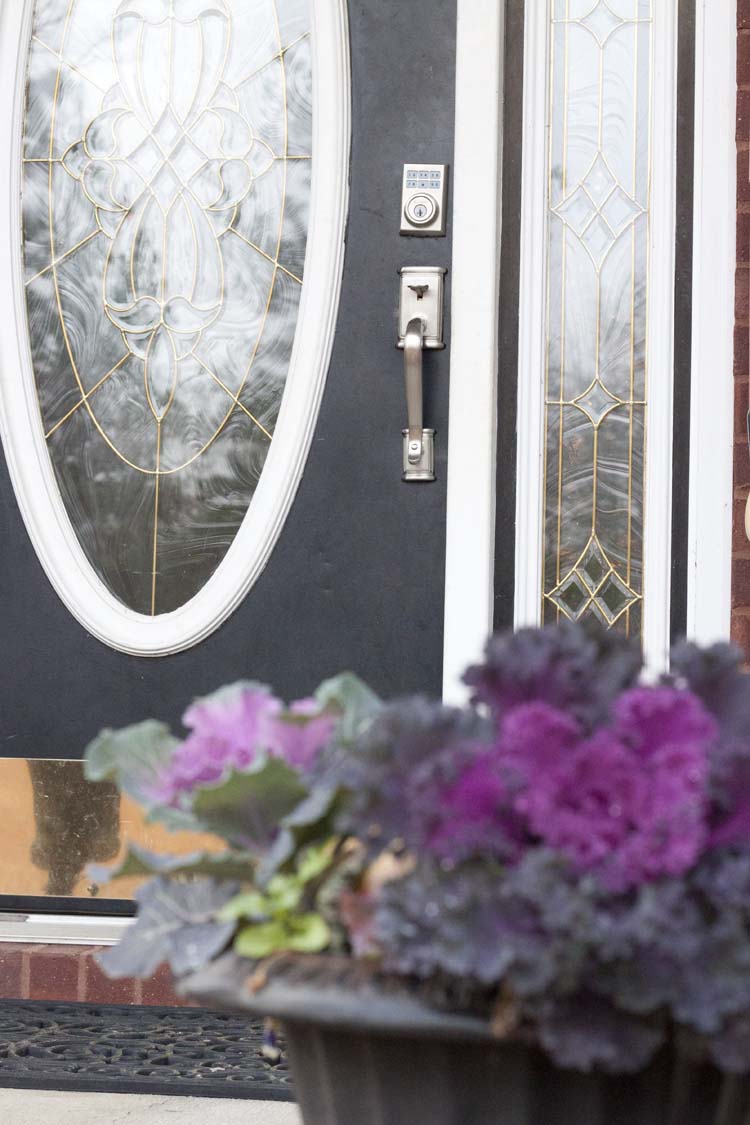 And that's kind of the same thing!
Could you use a porch makeover or a smart lock? What about a new front door? Installing a new smart lock is easy. I hope to be back soon showing you how to install a new front door. I'm guess that'll be much harder.