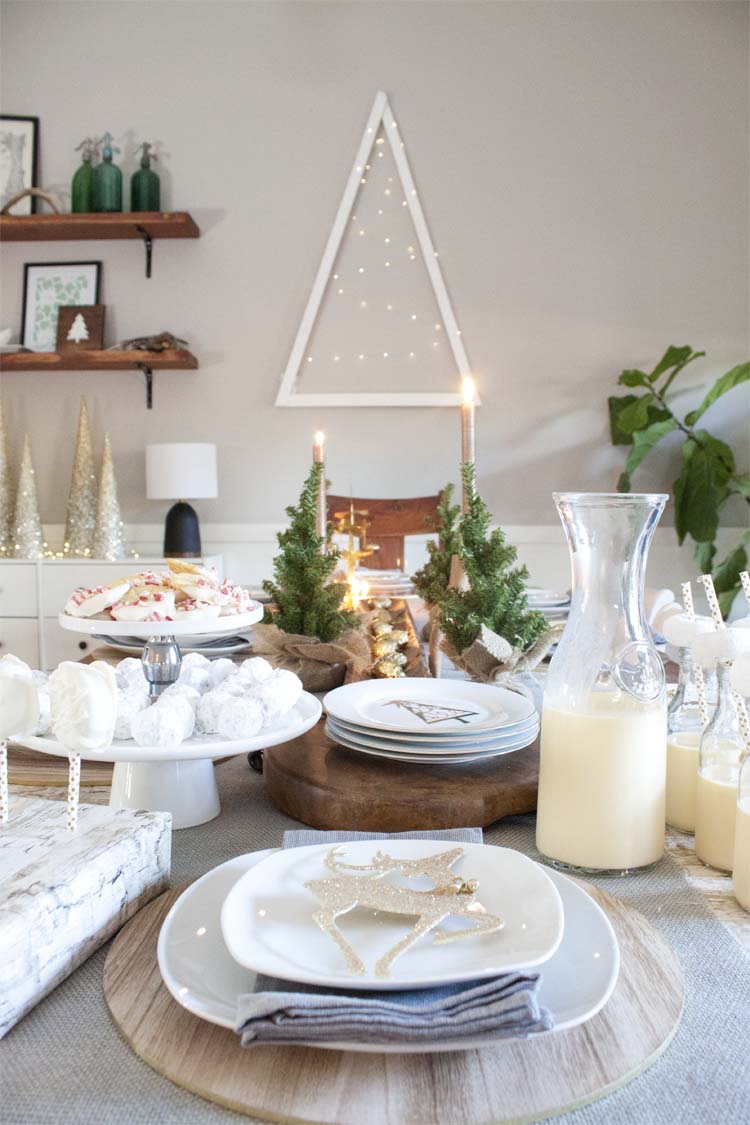 In the last year or so I've come to really embrace a more minimalistic, simple and neutral design sense. My tendency to gravitate to Scandinavian style makes sense considering these are a few of its hallmarks. And then, this year, I discovered to the concept of Hygge, which, depending on its origin, is a word that can describe both a physical and mental coziness, balance and well being. And during the sometimes stressful holiday season, couldn't we all use a little more of that? So, these are my tips on how to host an inspired Scandinavian Winter Wonderland Party with a stylish, simple and stress-free coziness with all the winter wonderland you could want no matter where you live.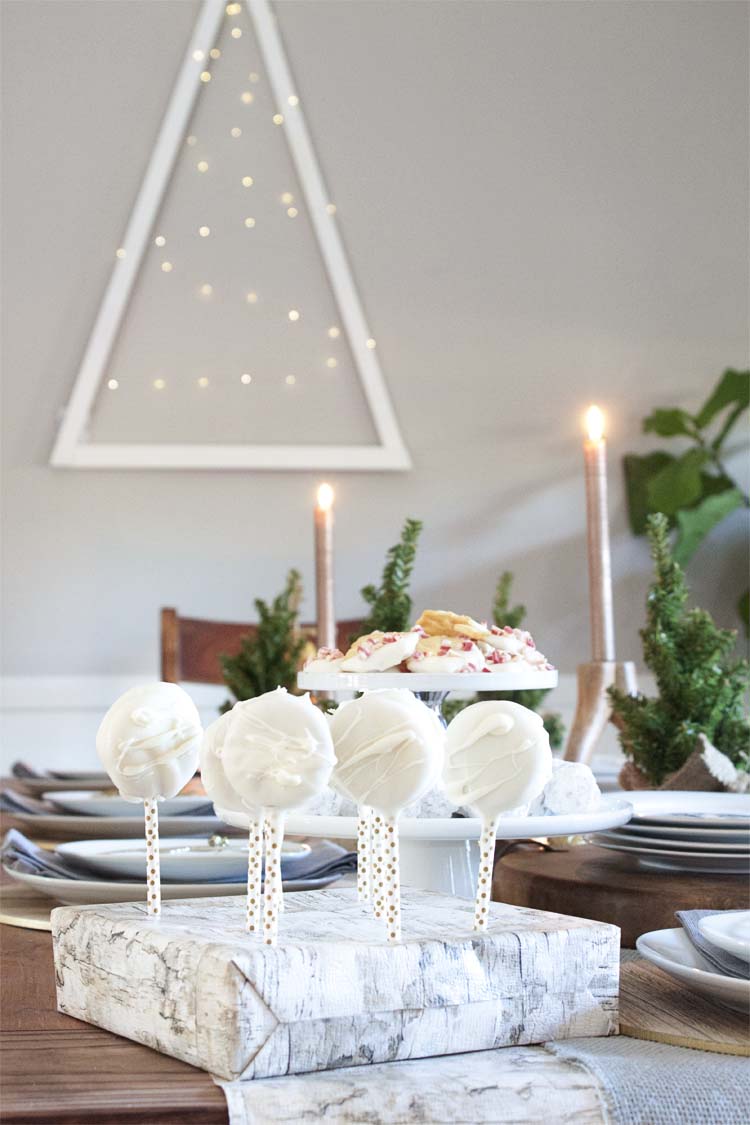 The first step to de-stressing the holiday season starts with the food. You want something beautiful and delicious and you think the only way to get it is by spending a ton of time and money on lots of fancy food. And I am here to tell you that it just isn't necessary! You can still offer delicious and impressive without the cost of time and money.
Take these White Chocolate Salted Caramel Pops for example. There's a reason salted caramel is a phenomenon, it's incredible. These pops are as delicious as they are easy to make. They're also perfect for a party treat or for gift giving.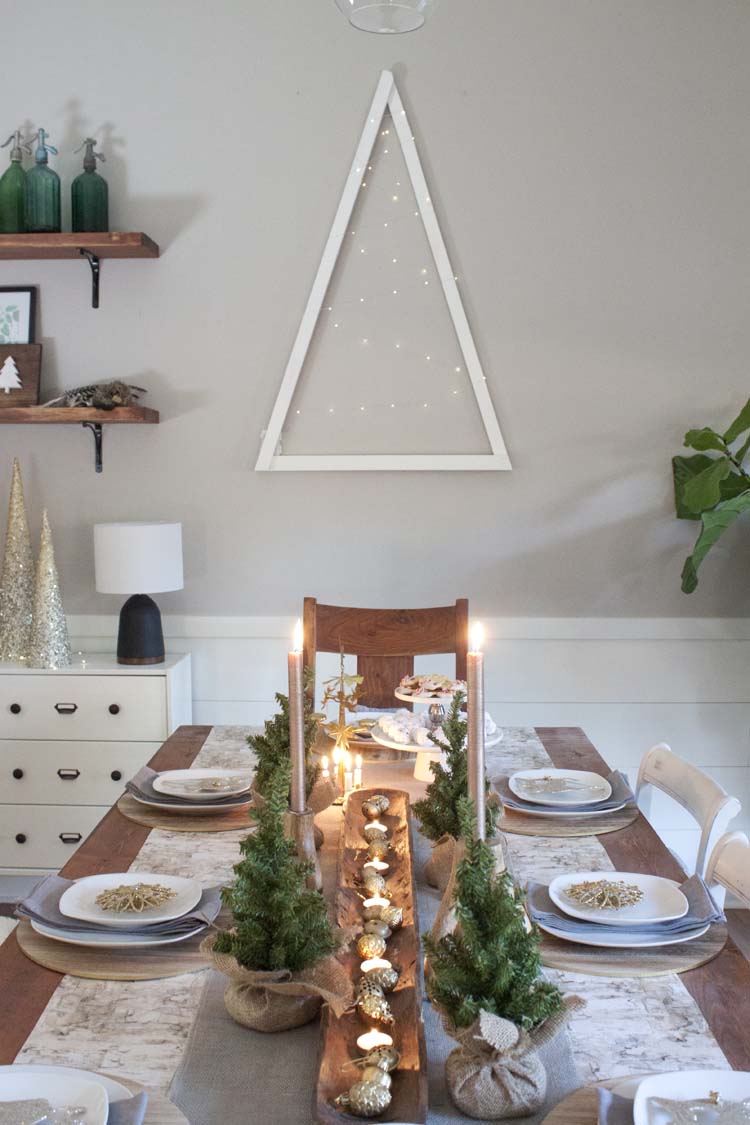 In addition to making the pops, I also put together a couple of other easy snacks in monochromatic shades in keeping with my overall design. Once you've got your stressless menu planned it's time to focus on the decorating. Make it fun, less stressful and less costly by using things you already have on hand.
I used the table runner I made for my Thanksgiving tablescape. I layered that with the same birch wood wrapping paper that used to wrap my DIY pop stand.
And my pretty minimalist tree on the wall is my DIY Advent Calendar from 3 years ago! I have to be honest, I think this is my favorite place I've ever used it.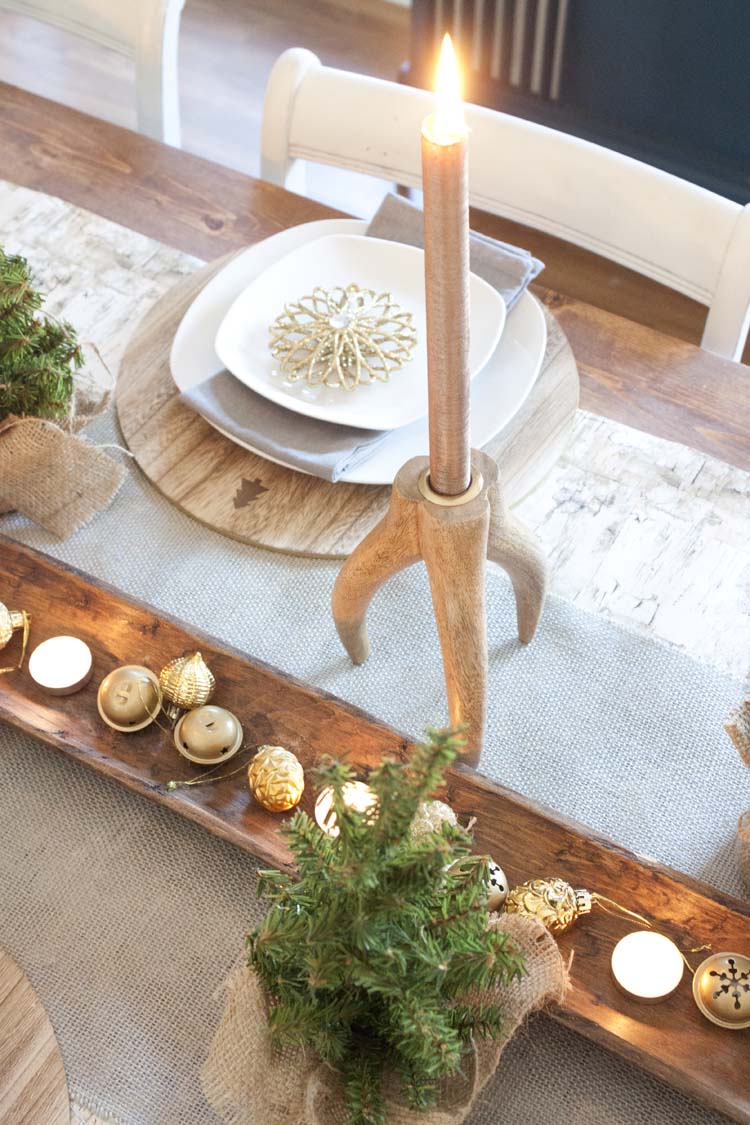 For the other table decorations, I shopped my home (and my attic where my props go to live when not in use) and generally used what I already had on hand. Some things I got from the Country Living fair last year.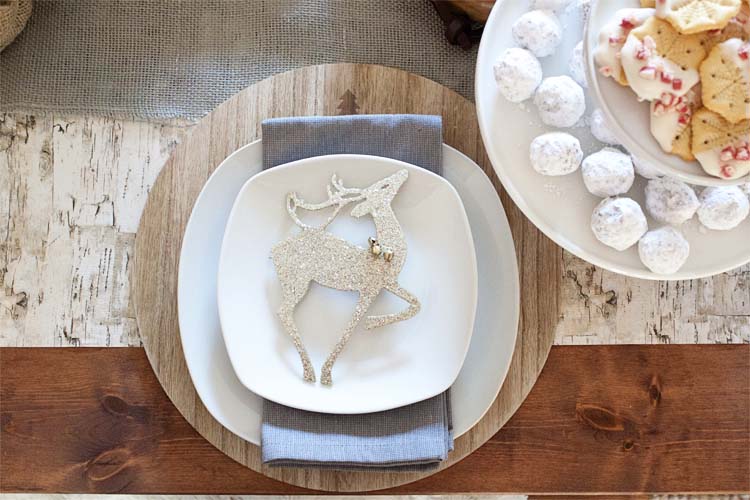 The dishes are my everyday dishes, the same ones I used on my Thanksgiving table last year. And my new napkins from this year's Harvest table. Then I finally found a use for these blingy ornaments that I got years ago. The only new things I purchased are my woodsy Christmas charger plates. I am so in love with how this simple, yet stunning tablescape came together.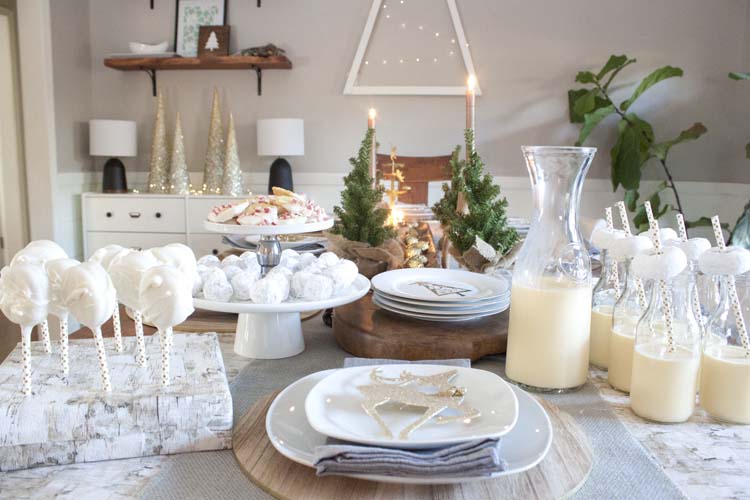 It was fun because I wasn't stressing over spending too much or buying more things that I would only use for a small fraction of the year.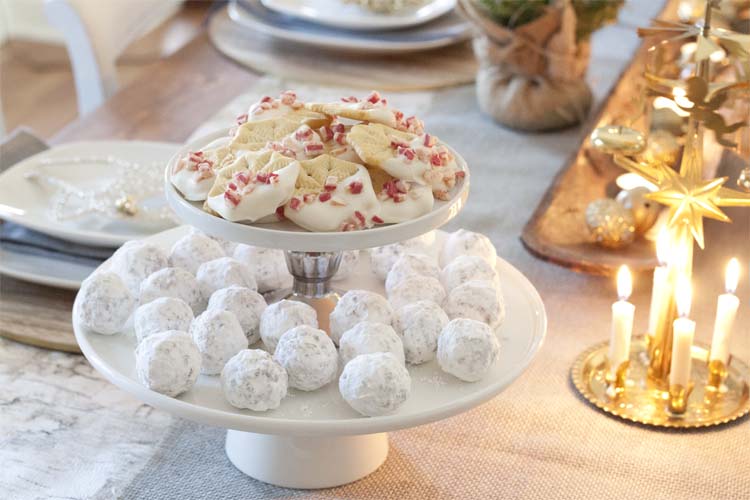 And the monochromatic color scheme keeps everything simple, cozy and inviting.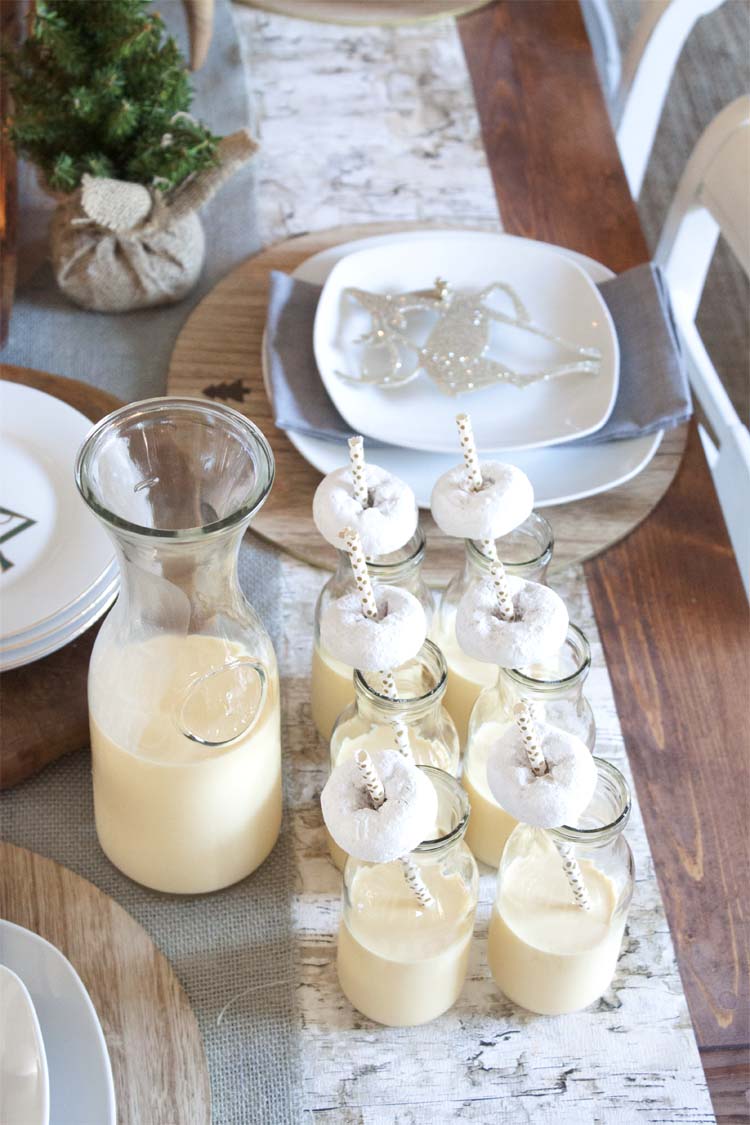 If you're serving a drink this holiday season consider popping a powdered doughnut on the straw. It's pretty, there's a certain wow-factor to it and it's guaranteed to please anyone. After all, Christmas brings out the kid in us all.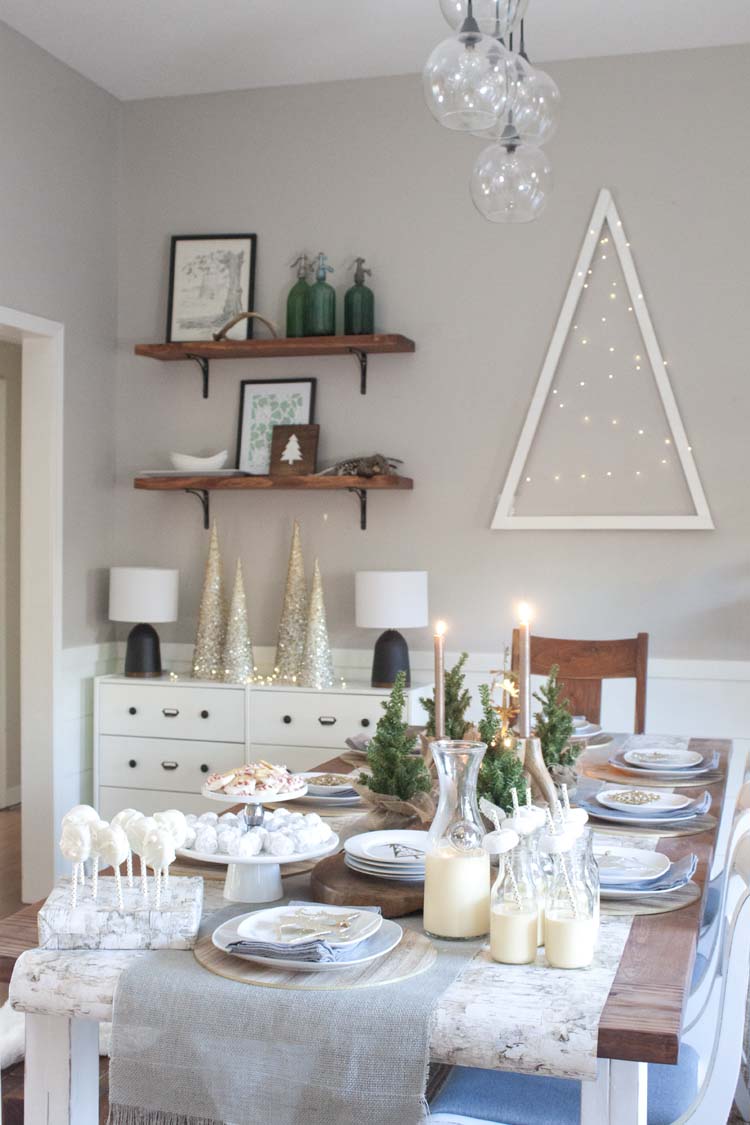 What are your favorite tips for hosting the holidays and staying stress-free? Do you love the simple stylings of Scandinavian design as much as I do? Let me know in the comments below!