Ok. Maybe this is the part where I apologize that there are way too many pictures. Or maybe this is the part where I don't say too much because there are just the right amount of pictures and this thing only gets too long if I talk too much.
All I know is, turning this old entertainment center into a play kitchen was simultaneously the most fun and hardest thing I have ever done and I took pictures of everything – and these are only  half of them.
Shutting up now.
Enjoy!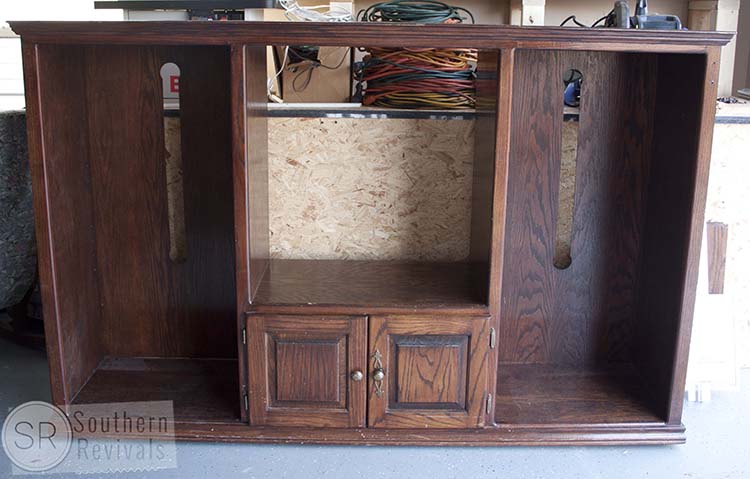 This is the whopping giant my SIL picked out and commissioned me to turn into a play kitchen for my niece's 3rd birthday. See the Custom Highchair I did for 1st Birthday, here. 
Inspiration: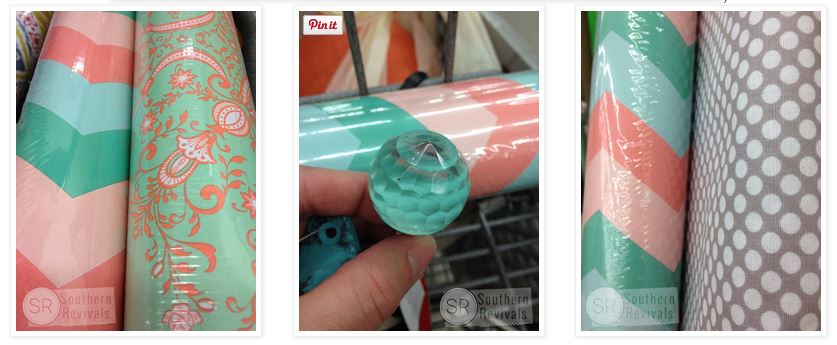 ;
 Naturally, we talked all about how she wanted it to look, what kinds of things she hoped it would have. I had almost everything I need to start this custom kitchen project, except what colors we were going to use.
My SIL had sent me some color palettes for inspiration but I always need a starting point. So when I found these wrapping papers at TJ Maxx and fabric and knobs from Hobby Lobby, a dream kitchen started to form in my head.
DecoArt sent me a box of one of my new favorite paints, Americana Décor Chalky Finish Paint in colors: Everlasting, Smitten, Refreshing, Carbon & Relic. They also included their DecoPage and Chalkboad Paint. I used all of these products for this kitchen.
The Process:
 The whole thing needed a new back. I used the chevron wrapping paper as wallpaper for the sink and oven section.
 The inside of the oven got a couple of coats of Relic for a realistic look.
 I painted the burners in Carbon, routered between the stove and faucet counter section to create some division between those two sections.
 I used a cheap wooden frame to frame out the window – painted in Smitten. The walls are done in Refreshing while the remainder of the kitchen is done in Everlasting.
 And this is how it all turned out!
This section we turned into the microwave and pantry section.
The pantry door doubles as a chalkboard.
 And I got these fun copper cake pans for 2.99 ea at a local thrift store.
Her mom ordered her this amazingly realistic microwave and had it shipped to me to fit into the kitchen design.
 I found some other supplies like the IKEA tins at a local thrift store, the baskets at dollar stores and the wooden lazy susan in my attic. What? You don't go shopping in your attic?
The middle section was turned into an oven and dishwasher.
There was no divider there previously so we had to create one as well as change the hinges on the door so they would open down instead of out to the side.
 I used some little round wooden plaques for the stove tops and some turquoise glass knobs to turn on and off the stove. Her mom requested some bling, bling after all and quite frankly, I think all kitchens should have some. Real or not.
 A place to bake some adorable treats because everyone knows it tastes better when it's pretty.
 That's an Easter towel I got and cut the Happy Easter off of. It shortened it just enough that it was the perfect size to hang on her little oven handle.
A realistic oven compliments of some cookie cooling trays – 2 for $1!
Oh yeah. And it lights up. Because I am going for Aunt of the Year. LED push button fixture so it won't get hot and she can turn it off and on easily.
A place to hang her whisks and other utensils because she has promised me coffee and brownies when I come back to visit.
 But seriously, watching her and all of the other kids pile into the kitchen to play was just as sweet. Still, I'll take the brownies.
Is that a dog bowl you ask? Why, yes. Yes it is. Makes for the perfect play kitchen sink. The faucet is new because try as I might there wasn't a used one to be found. This one was perfect though and only $25.
 Because we'd all be happier to put the dishes in with our monograms on the handle, right?
I just picked up a metal dish drainer for inside.
 Such a cute place for a party, don't you think?
 Every kitchen has to have a refrigerator and this is how that side of the cabinet started out.
Initially I painted these doors with about 6 coats of magnetic paint so that it would work like a real one where she could hang her artwork with magnets. That was a miserable fail!
It was so disappointing until I decided I really liked the look of actual metal doors more anyway. I like when things work out that way.
 Freezer on top.
Fridge on bottom and it's lighted too, just like the oven.
Wish my fridge was this clean.
 These are my fun thrifted finds and they were just this perfect when I bought them.
And these are from my attic shopping trip. The little demi lune table was from our first home and the mail slot hung in my first child's nursery over 10 years ago.
I repainted it and added some fun quatrefoil wrapping paper to dress up the backing.
Surprises:
Who wants to cook in the dark?
The light is an under cabinet puck light.
And as far as I'm concerned it's the piece de resistance!
Delivery:
 I have delivered some custom cakes in my day and I thought it would be the end of me. Nothing compares to the nervous wreck driving this bad boy 3.5 hours south.
The day before there was a downpour. And it poured on us the next day the whole way home. However, on this day, there was nothing but gorgeous sunshine. It's like Mother Nature knew one more thing might send me over the edge.
Even the chalk art birthday card made it intact.
Debut:
 Judging by the look on her face, I'd say Momma and Daddy knew just what she wanted for her birthday!
 She was all about this "real" microwave.
She wasted no time.
She got cooking right away.
And my boys had waited as long as they could before they joined her.
 Even my oldest.
 I will use these photos as blackmail one of these days if necessary.
Set Up:
 Her new kitchen is all set up in its new home in her playroom now.
And as much work as it was…
 I was kind of sad to see it go.
But then, she looks so much cuter playing with it than I did.
If you have any questions for me please let me know. I know this post was photo heavy but honestly I can't imagine not using any one of them. Did you have any trouble getting the post to load?
If you have any tips on how you'd like a post like this one, with a tons of pics, presented, please feel free to let me know. Also, if you have any questions you'd like answered, please leave them in the comments. I have considered doing a follow up posts with more info on how I did what, where I got my supplies and total cost if it looks like you might be interested.
Happy Cooking!