This post, Holiday Cheese Board How-to, is brought to you by Santa Margherita Wines. The content and opinions expressed below are that of Southern Revivals.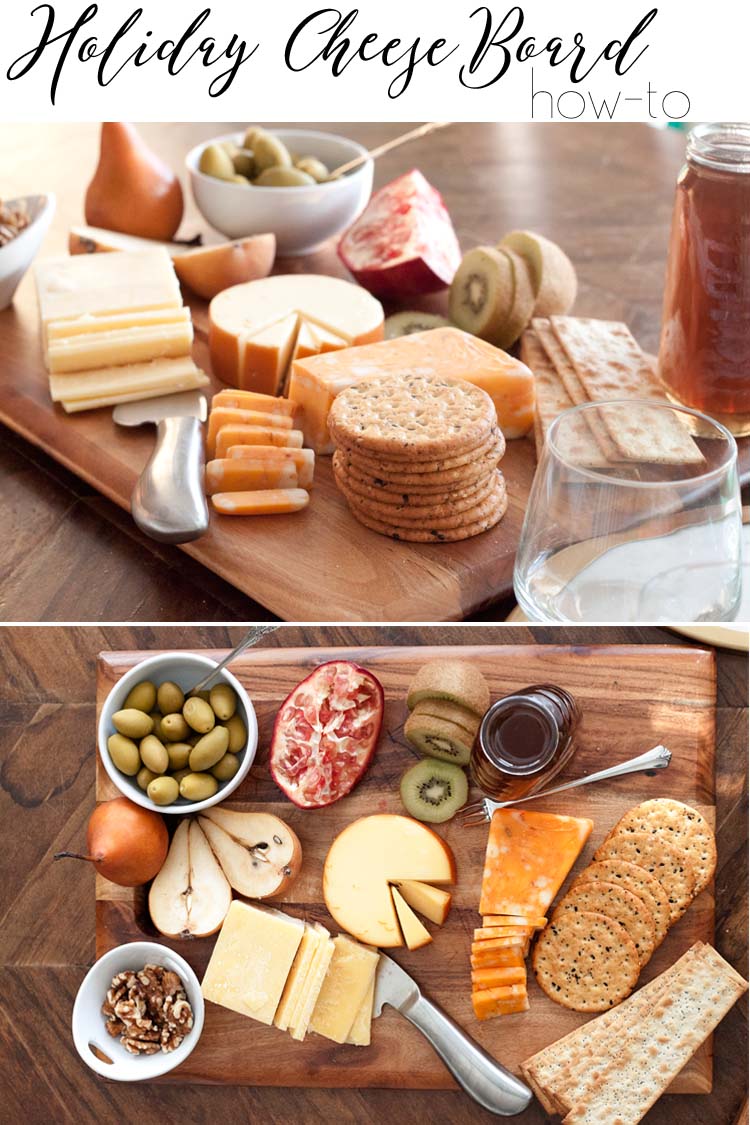 Why a holiday cheese board? Because it's fun. It's easy. And it has something everyone will like! Enjoy these tips on putting together a stunning, crowd-pleasing holiday cheese board that's guaranteed to make you the hostess (or host!) with the mostest.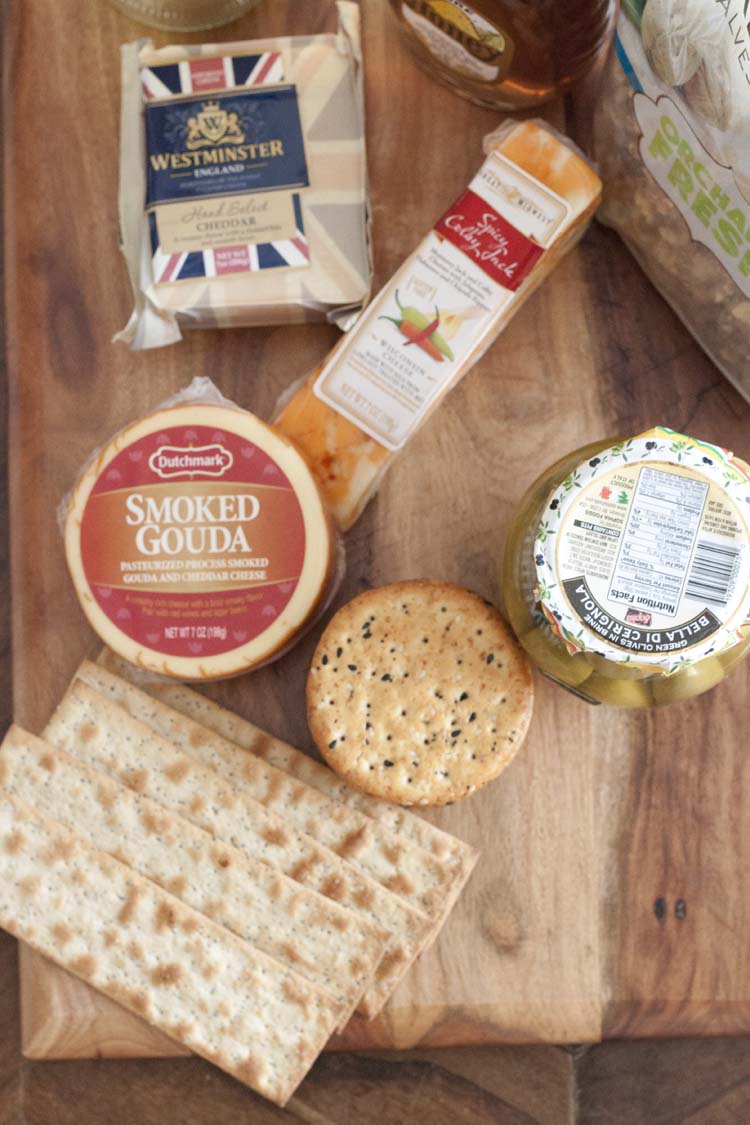 A Selection of Cheeses and Crackers
Start off with a selection of your favorite variety of cheeses. Make sure they serve up easily. Consider a wide variety of cheeses a traditional cheddar but also a brie. This way you'll be able to treat your guests with entree and dessert selections all on one cheese board. I used a white cheddar, smoked Gouda, and a spicy Colby Jack. Have fun when choosing crackers. Grab something unexpected or out of the ordinary. I opted for multi-grain crackers and also a rectangular cracked pepper cracker.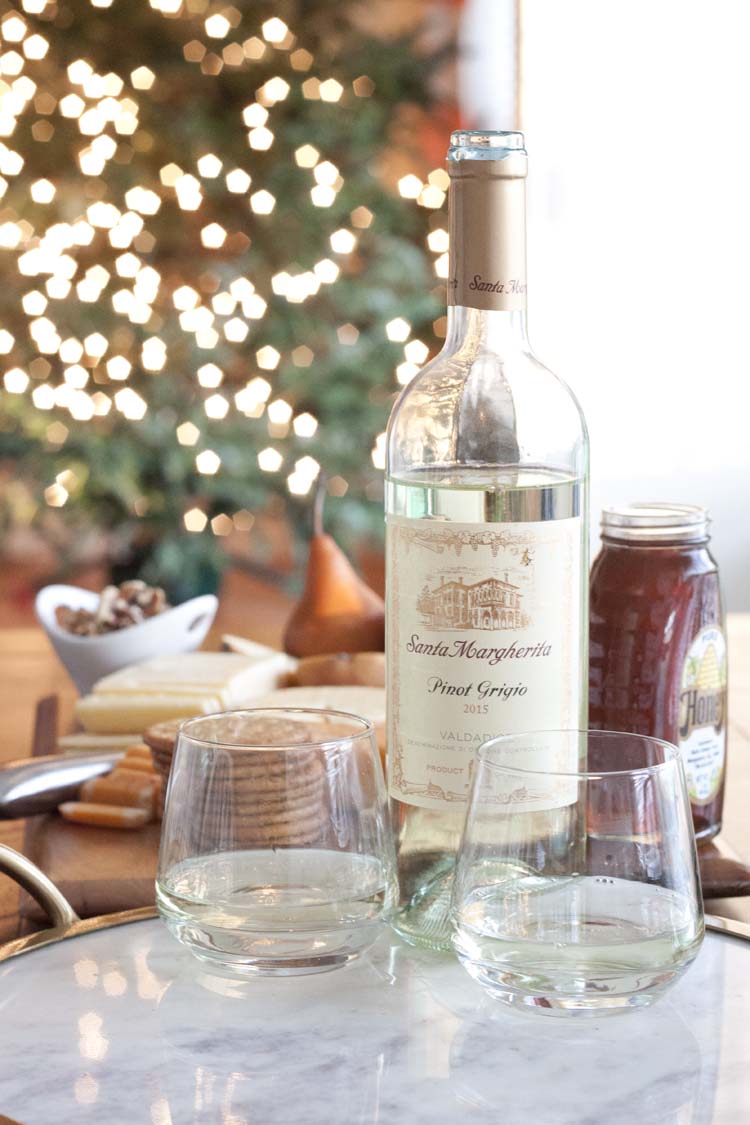 A Good Wine Pairing
Have you ever heard the saying; Life is short, the wine should be good? It is never truer than during the holidays and especially when served with cheese. Santa Margherita Pinot Grigio is a premium, high-quality wine that's still kind to your wallet. Santa Margherita Wines are sustainable, eco-friendly, vegan-friendly and energy efficient choice. And because this Italian classic is a light-bodied wine you'll find it refreshing and easy to pair with just about everything. It won't over-power your choice of cheeses and its citrus undertones work well with fruit. Speaking of…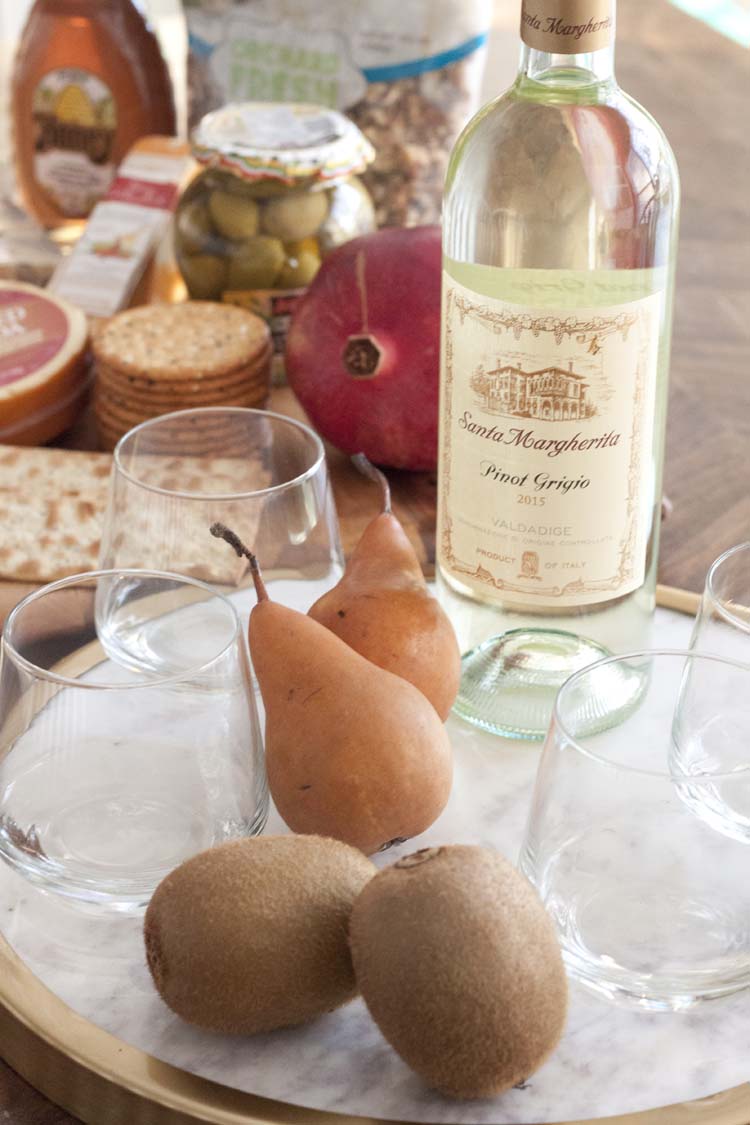 Add Fruits, Nuts & Honey
In addition to a beautiful selection of cheeses, a great wine, and adult-friendly crackers, also include some seasonal fruit, olives, nuts and honey. I served pomegranate, kiwi and Bosc pears (because they're so pretty!) and Italian green olives. I also offered Sourwood honey as a condiment. Sourwood honey has a slightly smoky undertone making it perfect to pair with cheese.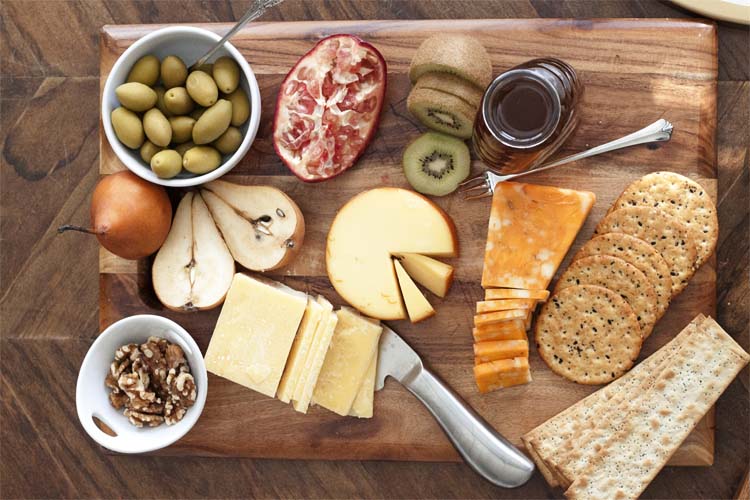 Presentation & Serving Tips
If you have a wooden cutting board, that's the perfect place to start. The warm wood undertones are the perfect backdrop for these natural and down-to-earth victuals. Of course, dedicated cheese boards are easily available in a variety of sizes. Also, consider making your own. My DIY Leather Handle Tray would make an amazing cheese board. Pair it with a bottle of Santa Margherita Pinot Grigio and you've got an amazing Christmas, house-warming or hostess gift!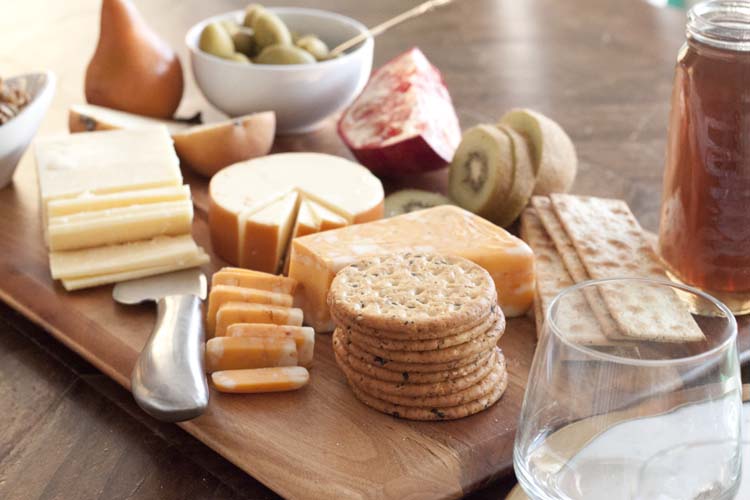 A cheese board is, by definition, a finger food. But make sure to offer easily identifiable utensils like a cheese knife for cutting additional slices and a fork for picking up cheese and other condiments that you don't want to be handled by each guest.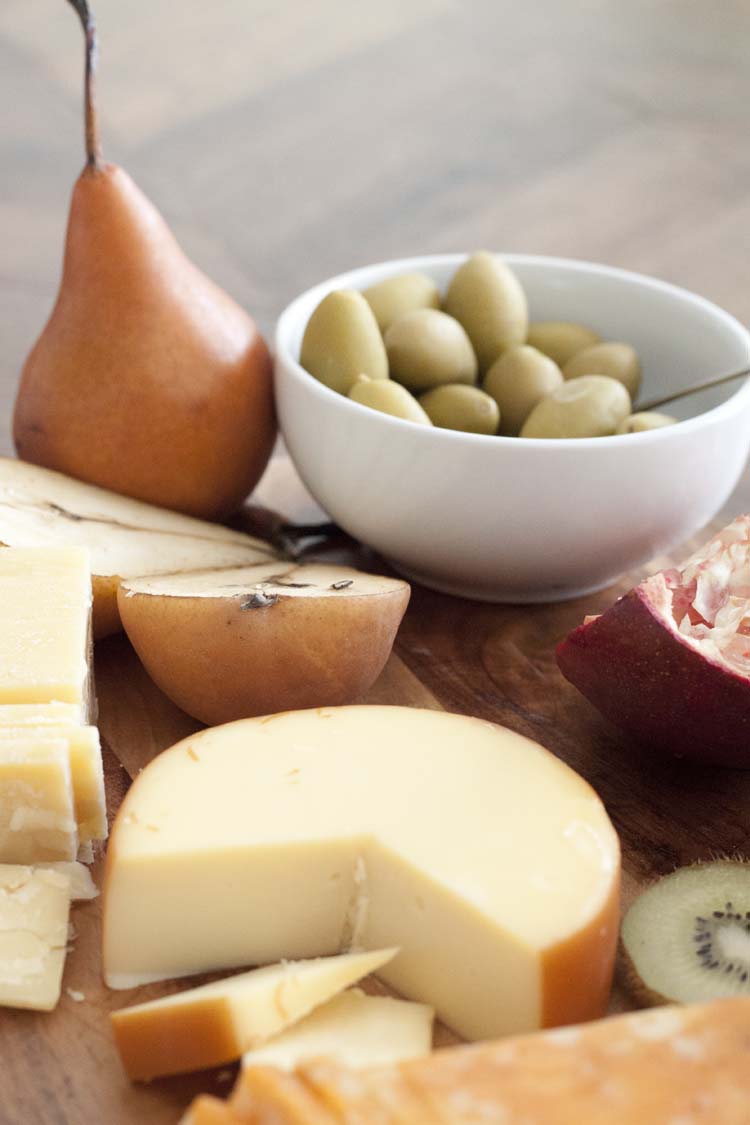 I went ahead and sliced my fruit and cheeses to get servings started but left larger pieces for additional cutting later. This keeps both the fruit and cheese from drying out and, in the case of the fruit, from turning brown. Plus, the non-uniformity of the cuts paired with the large chunks makes the presentation more interesting to the eye and, by extension, to the palate.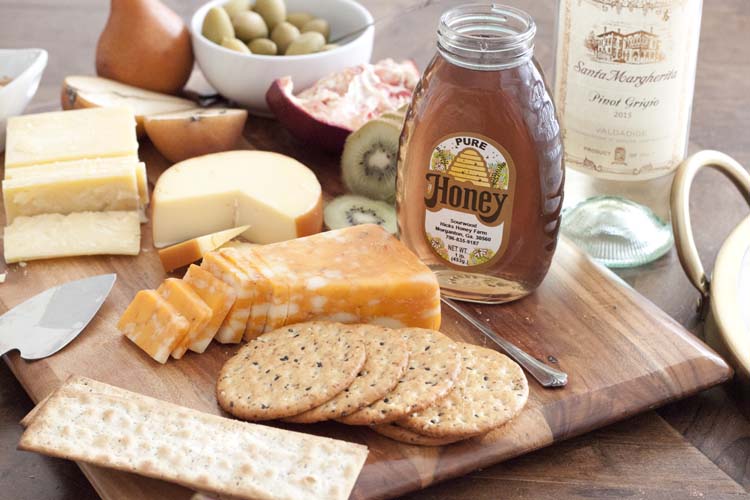 Encourage your guests to try a variety of taste combinations. Consider printing out suggestions or plating up a couple in advance to offer ideas.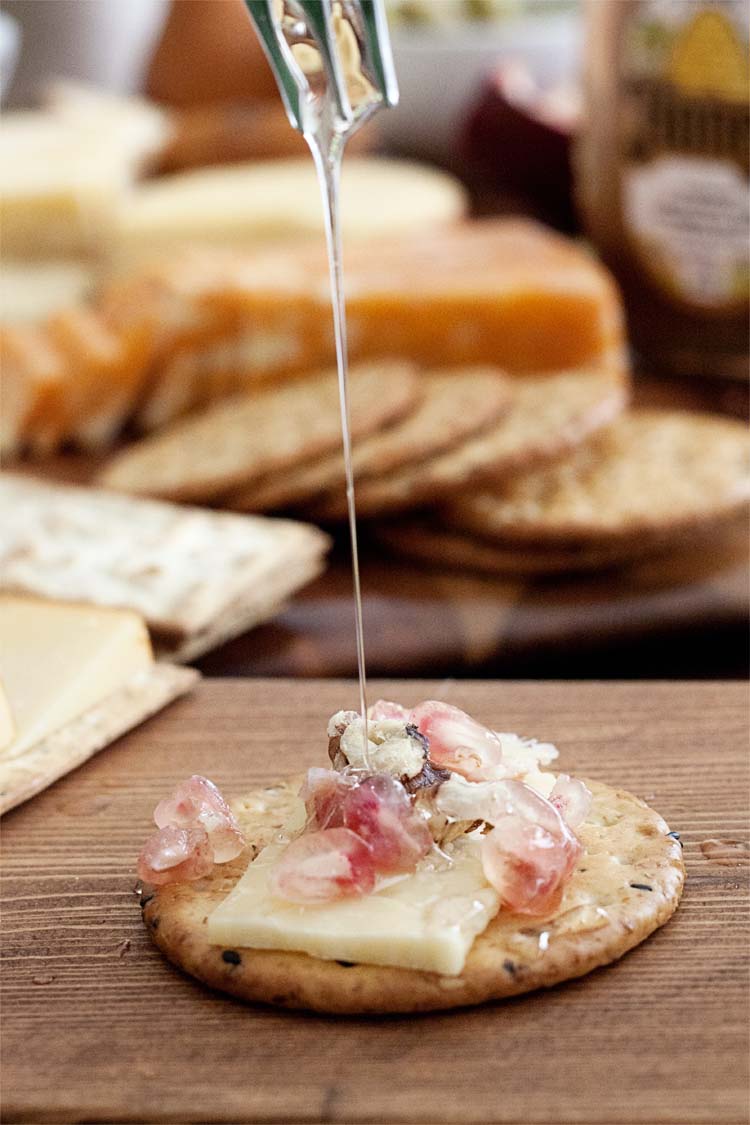 My favorite extraordinary combo? A multi-grain cracker with aged white cheddar, pomegranate seeds, walnuts and a drizzle of Sourwood honey! It's a taste explosion that somehow has all of the just-right elements. What are your favorite holiday cheese board or wine pairing ideas? Let us know in the comments below so we can all enjoy.