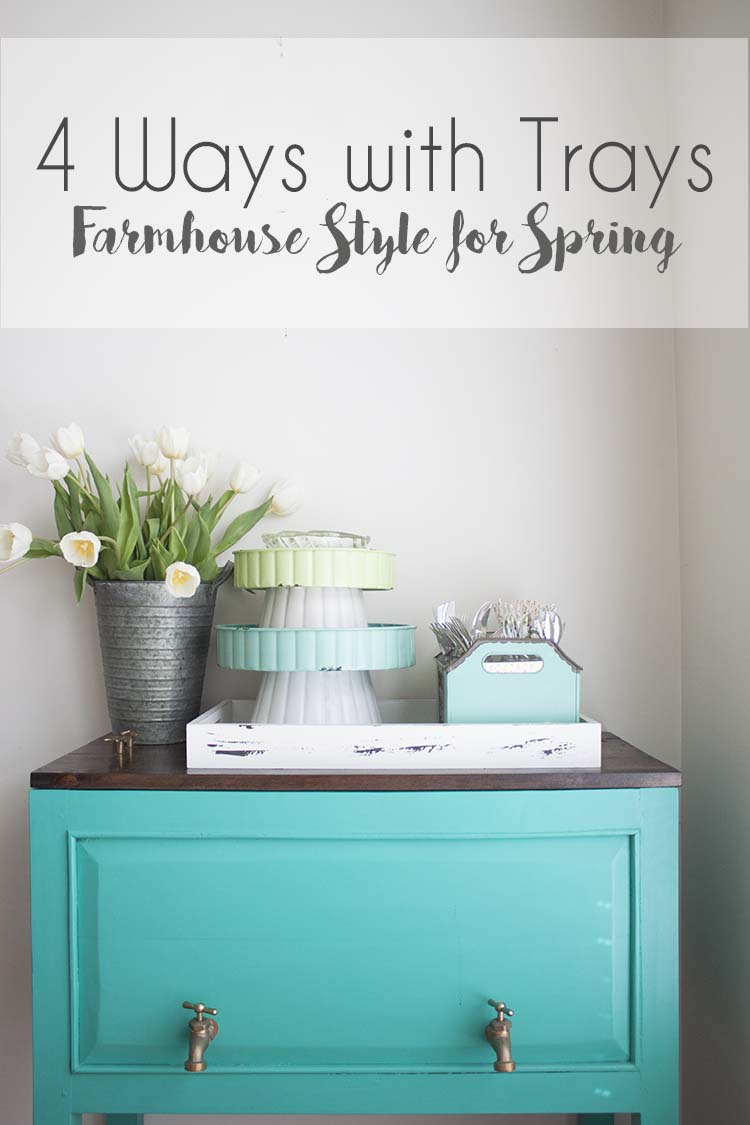 I realize that some of you may feel like it's January 79th but it is, in fact, spring. And even though I live in south Georgia I'm a little behind on that fact, too. It's not because I'm buried under a foot or two of snow though. It's just because I'm pretty much always late. For everything. But I've finally gotten around to getting my spring on and I'm sharing 4 ways to style with trays for spring with ideas that are both beautiful and functional.
4 Ways to Style With Trays
If you caught my Facebook Live the other day not only did I give you a sneak peek of my laundry room from last year but I also shared some of our upcoming projects for spring. My favorite part of this video was getting to unbox some fun farmhouse style goodies from the Trisha Yearwood line exclusively available at Tractor Supply. Yes, Tractor Supply! There are so many great products to choose from. I chose a few of my favorites and am styling them in functional ways for spring.
1. Corralling Clutter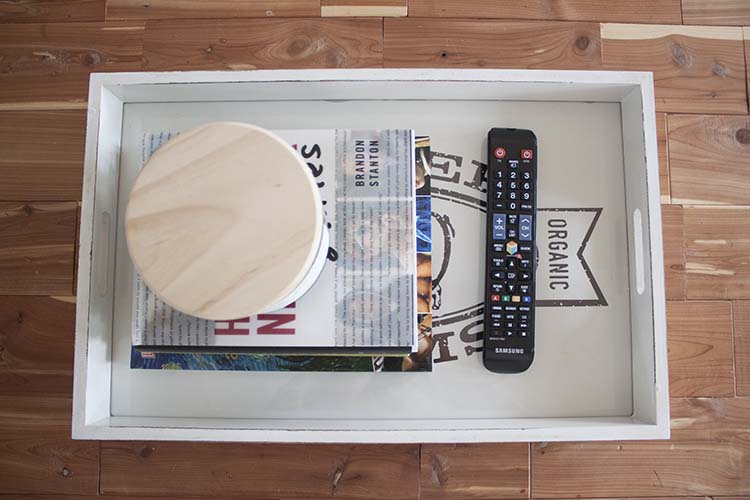 The most important part of decorating for me is function. That's why one of my very favorite ways to use a tray is to corral clutter. I had really hoped to use this Jasper Farms one in distressed white to house my coffee maker, frother and the other things that collect around it. But, alas, my coffee maker was too big.
The next best place was to use it on the coffee table as a place to store magazines, books, and the remote control that otherwise end up taking up all of the tabletop space instead of the small area that it should.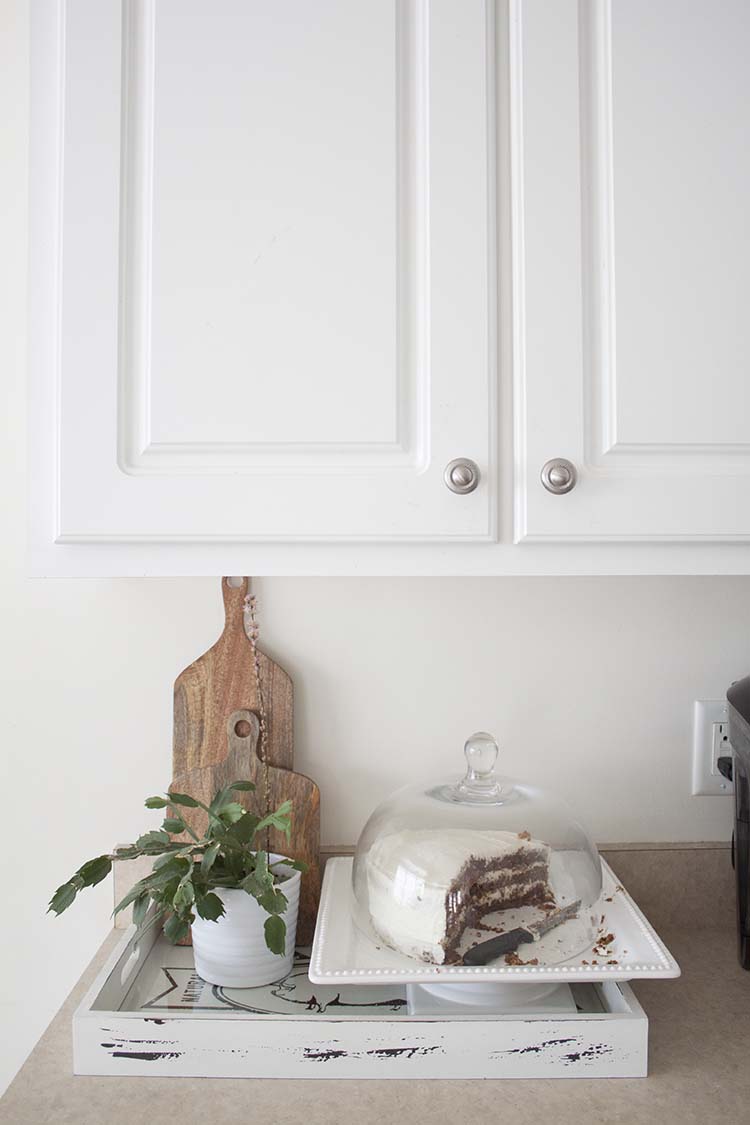 But I also really like the idea of using it on the kitchen counter. It can sometimes seem counterintuitive to add yet another thing to already crowded countertops but I have found that placing several things already taking up valuable countertop space into a single tray can create the illusion of less. By grouping them together, four things placed onto one tray become one thing instead of four. Try it! It really does work!
And this tray has a glass-like surface making it super easy to clean.
2. Dressing Up Outdoors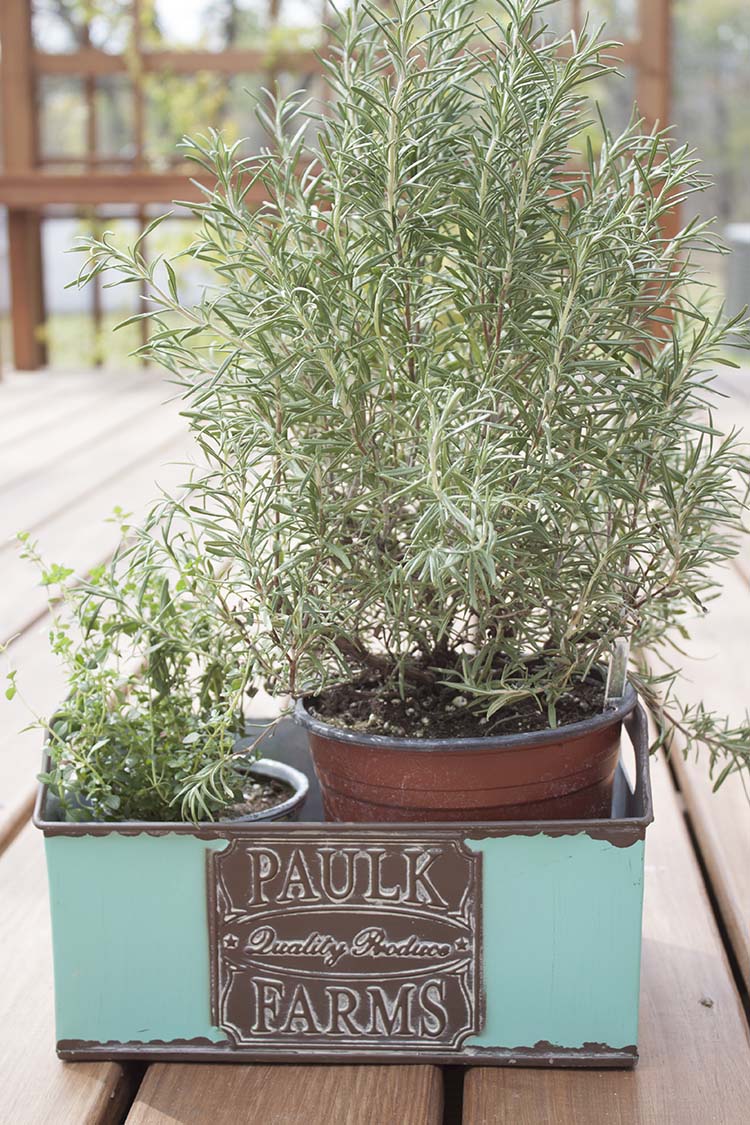 With some herbs, I never have luck transplanting them so I always leave them in the pots they come in. They continue to grow there and I just use them straight from the pot. Of course, the pots they come in aren't very attractive so it helps to have something cute to put them in.
This Paulk Farms planter is galvanized with a weathered teal finish and you could use it inside or out. I would also love to see this as a caddy with those milk bottles I upcycled to use for entertaining.
3. Entertaining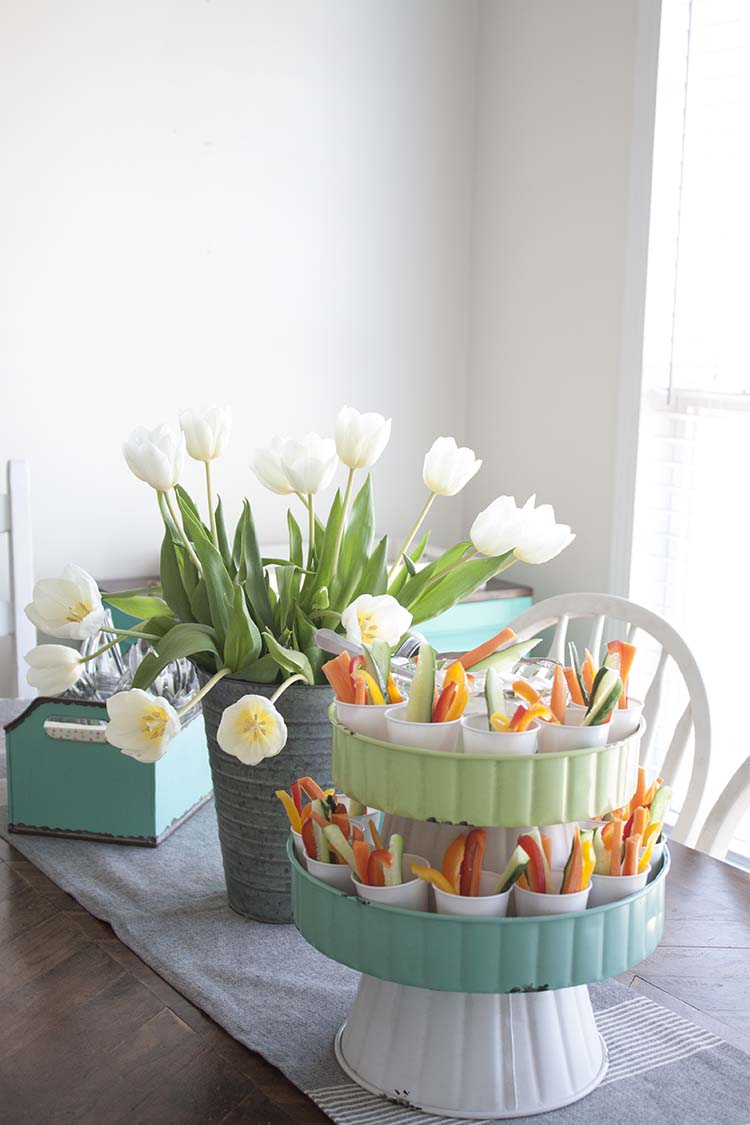 Speaking of entertaining, this is probably my most favorite use of trays ever! But since you're not entertaining every day it's a nice to have ways of using them in your everyday life so it doesn't feel too frivolous.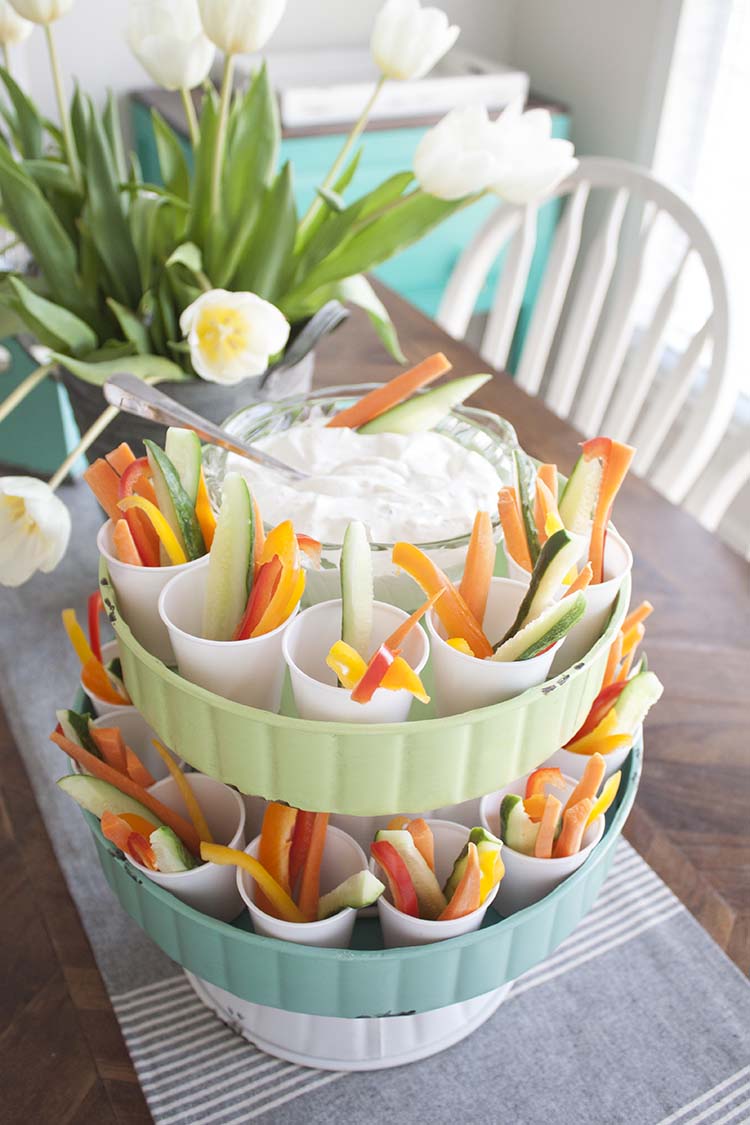 These two super cute fluted pedestal servers come in a small green and a large teal version and they both have glass-like surfaces making them easy to clean and also food safe. And since they're varying heights and sizes you can use them in a variety of ways.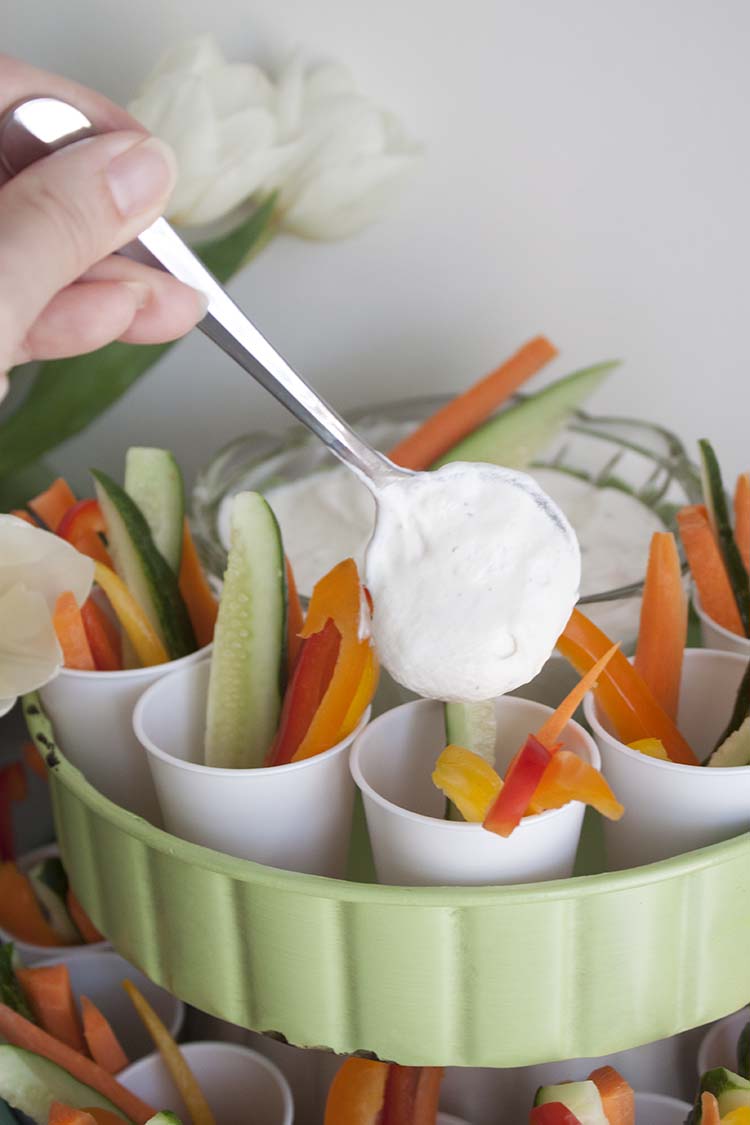 I decided to stack mine and place julienned vegetables in small cups around each platter for individual servings that are easy to grab. The dip is in a bowl on the top so it can be dolloped right into the cups for easy dipping.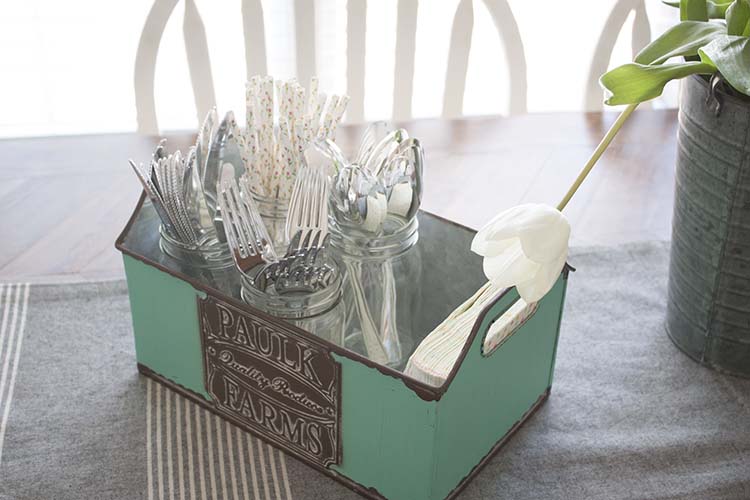 And with a few mason jars, my planter doubles as a utensil caddy with a space for cutlery (it's plastic!), straws and napkins. You can place these pieces as part of a tablescape or you could group them.
4. Grouping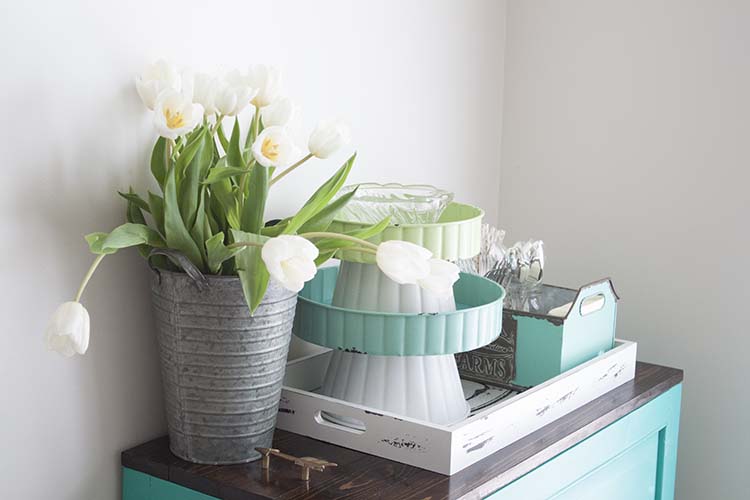 If you're tight on space or you just want to designate a certain space for say, desserts, appetizers or as a place for picking up plates and utensils for a buffet, you can easily and beautifully do that by grouping together serving pieces.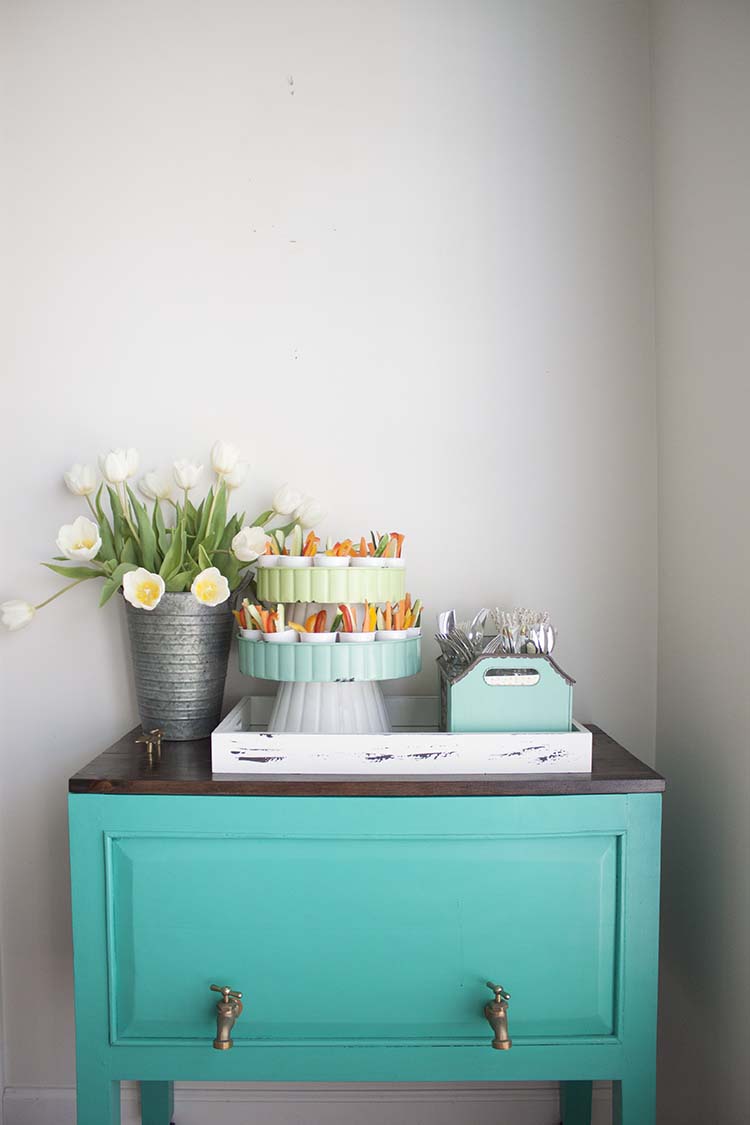 Remember that wooden planter turned cooler I made? When it's not in use outside I keep it in the kitchen and it makes the perfect rolling cart or overflow tablespace.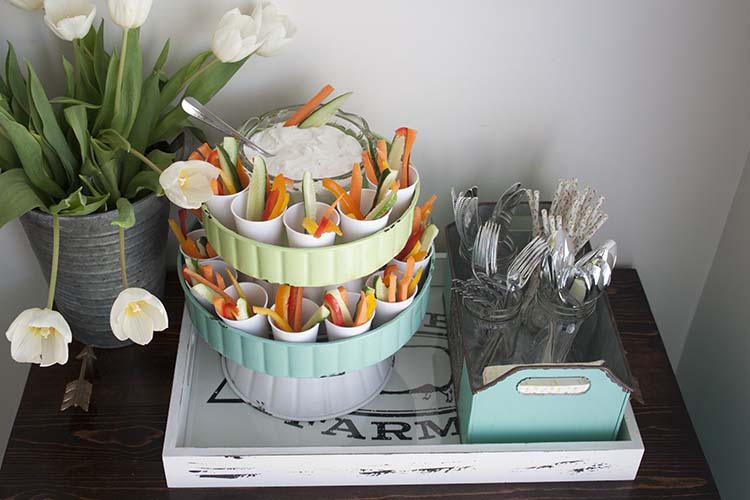 It's a great place to start a party with an appetizer and utensils without using up prep or eating space. Plus the grouping of the pieces together not only saves space but also creates interest.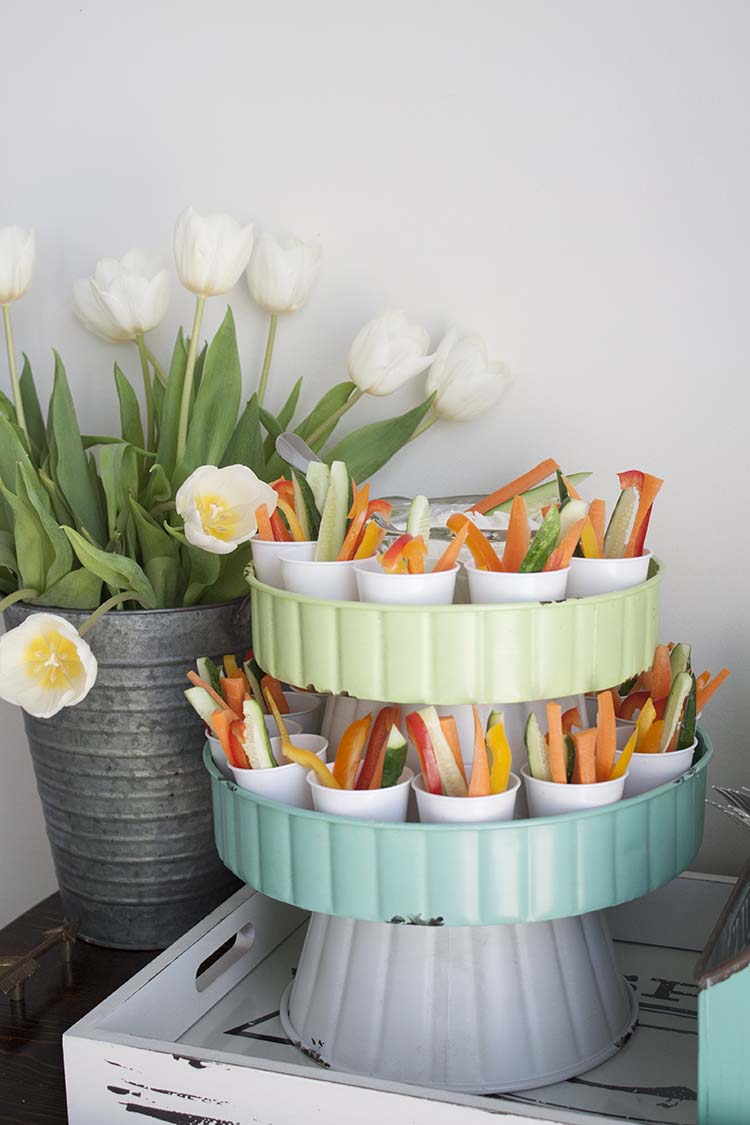 What are your favorites from the Trisha Yearwood line? Let me know in the comments and be sure to head over to my giveaway on Instagram for your chance to win a $50 e-gift card to Tractor Supply.
This post is sponsored by Tractor Supply. All ideas and opinions are 100% my own.