Some or all of the hosts of The Fab Furniture Flippin' Contest receive monetary and/or product compensation from the sponsoring brand, The Old Fashioned Milk Paint Co., in order to complete their themed projects. The Old Fashioned Milk Paint Co. will also provide the prize package for the contest winner.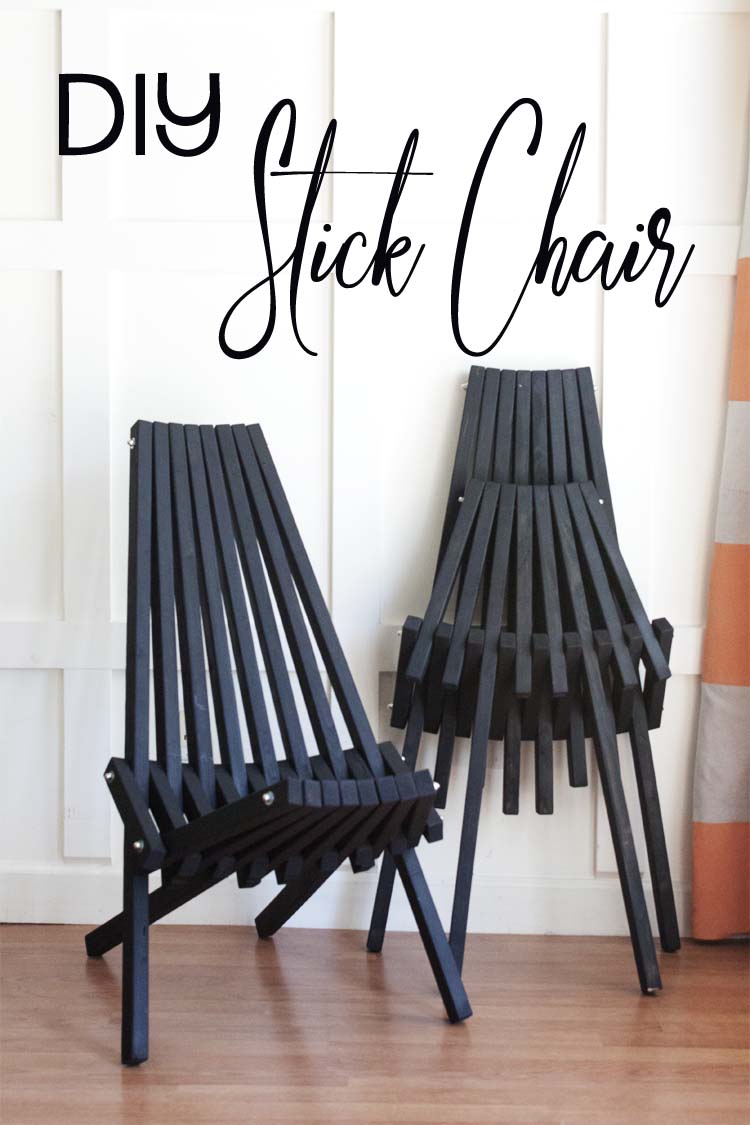 Have you ever laid eyes on something and known in that instant that you had to have one (or two) no matter what? That's how I felt about these chairs the first time I saw one on Instagram. I knew two things in that moment: 1) I have to have them and 2) it's doubtful I can afford to buy them. And these two thoughts always culminate in me figuring out how to DIY whatever those things I have to have but cannot afford. So, this is how I made my own DIY Stick Chair (er chairs) for around $40 each. And they fold. What?!
When I saw this post by Corinna (@adesignerathome) on Instagram I was immediately in love and since I've recently begun to (finally!) give my front porch a makeover I knew these chairs were perfect. Not too big, they fold (that still blows my mind) and they're sort of old fashioned and super modern all at the same time.
Here's what you'll need to make some of your own.
DIY Stick Chair
You will need:
2 – 2x4x10 select pine (or cedar)
table saw (for ripping 2x4s)
miter saw (for cuts)
sander
drill
5/16″ drill bit
router
1/4 roundover router bit
2 – 6ft sections of 1/4″ All Threaded Rod (cut to 32″ lengths)
bolt cutters
metal file or grinder
8 – 1/4″ washers
8 – 1/4″ acorn nuts
Optional:
Old Fashioned Milk Paint (1 cup of paint = 1/2 cup powder + 1/2 cup water)
Natural bristle paint brush
Tung oil (sealer)
Cut List:
6 – 15″ pieces (seat) A
2 – 35″ pieces (seat/back legs) B
4 – 31 1/2″ pieces (back – longer) C
2 – 29 3/4 pieces ( back – shorter) D
2 – 42″ pieces (back/front legs) E
9 – 9 1/8″ pieces (connectors) F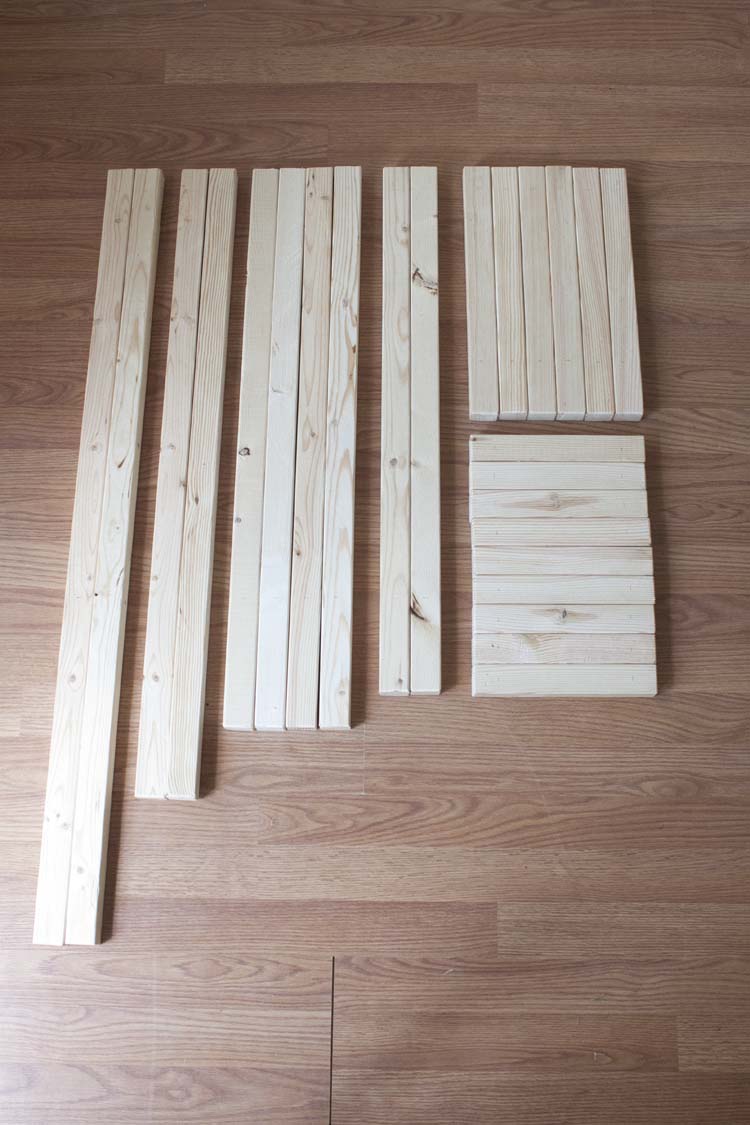 Here's a visual of what the cuts look like for your DIY stick chair. We basically ripped two 2x4x10s of select pine into thirds and then cut the necessary pieces in varying lengths. We used a router and 1/4″ roundover router bit to round off the corners and then sanded each piece until smooth.
Where to drill holes: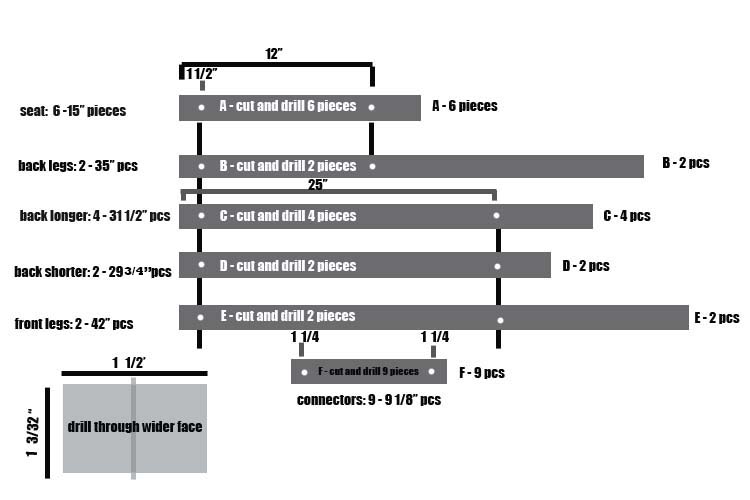 Once all of the pieces were cut to the correct lengths, we drilled holes for the threaded rod. This graphic serves as a visual to help you know where to drill and also which side of the board (the wider face) you should drill through.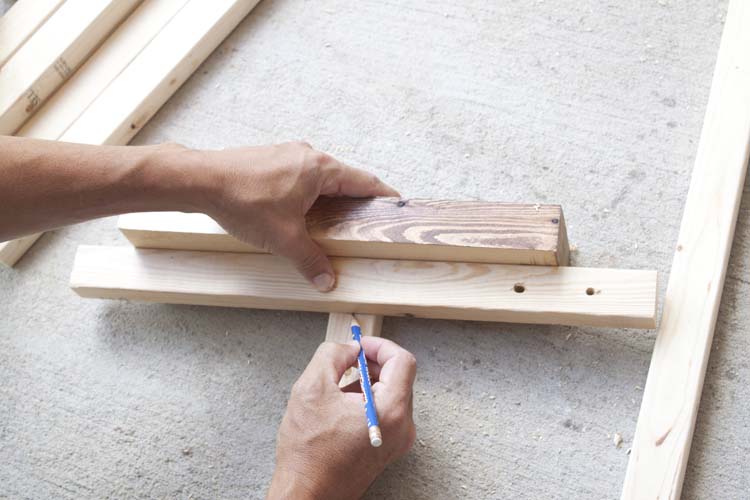 Because we don't have a fancy drill press we made up this stop block to make it easy to drill holes and not have to measure every board, every time.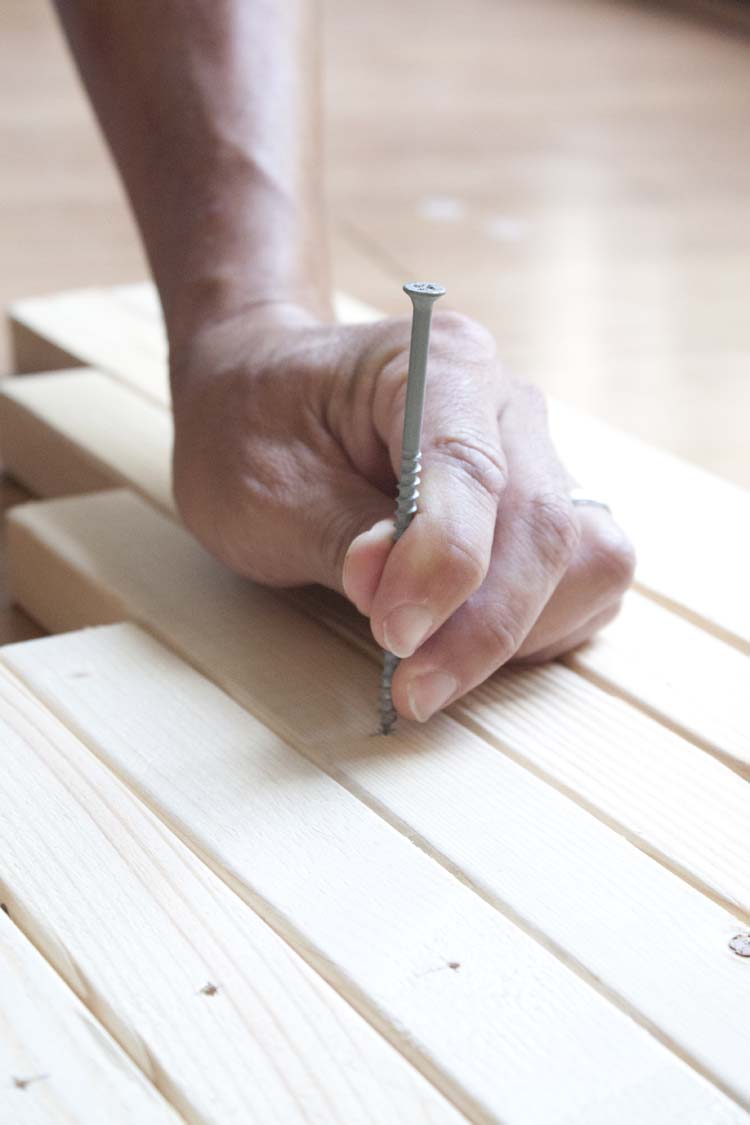 We also tapped a screw with a hammer over each marking prior to drilling, just to give the bit something grab into. If you've ever started to drill a hole and had your drill skip across the wood on you, you'll appreciate this extra little step.
How to put chair together: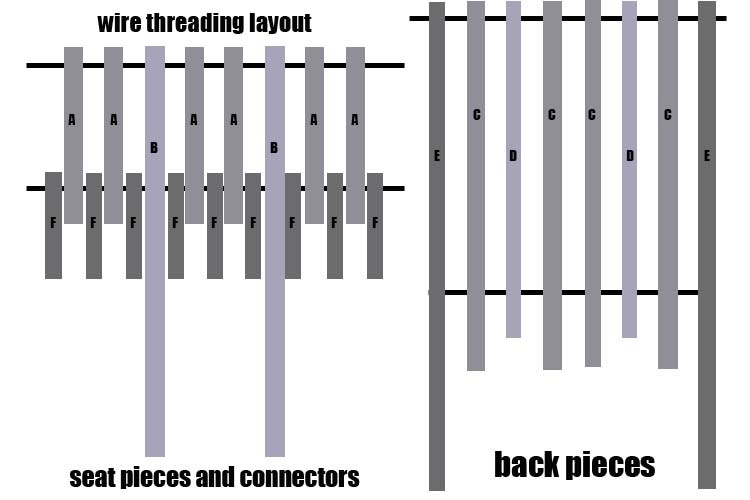 At this point putting the chair together is kind of self explanatory but I really benefited from watching this guy put one together in this Youtube video. It is also worth noting that we learned to leave some give in the seat section while cinching the top and end of seat and then tightening up the middle sections.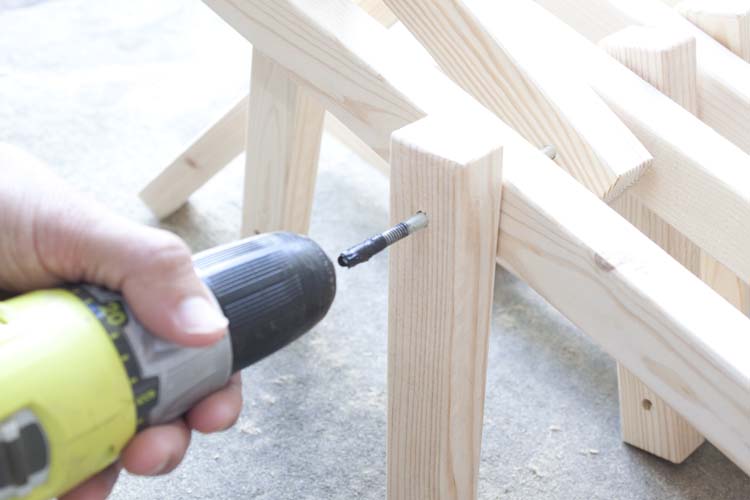 We also used electrical tape on the ends of the rods (to keep from damaging the threads) and used our drill to thread them through. It's impossible to get them through otherwise. Once the boards are cinched up as they should be we clipped off the excess threaded rod with bolt cutters, filed off the rough edges so that the nuts would fit on and finished off with a washer and acorn nut.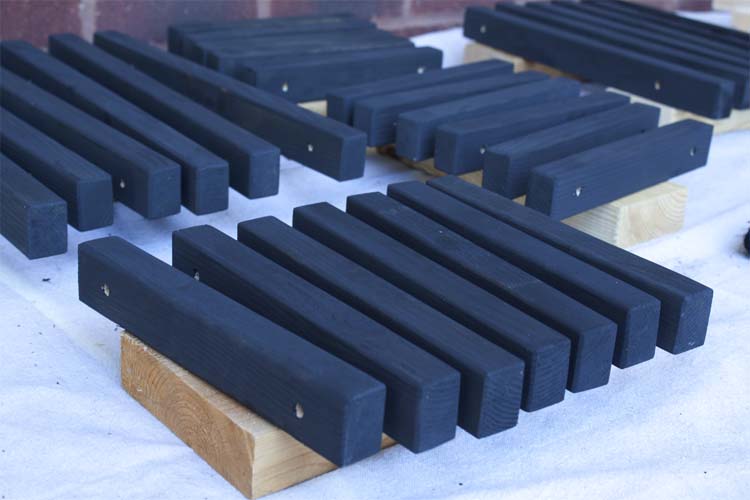 If you decide to paint your chair you might find it easier to paint each piece individually.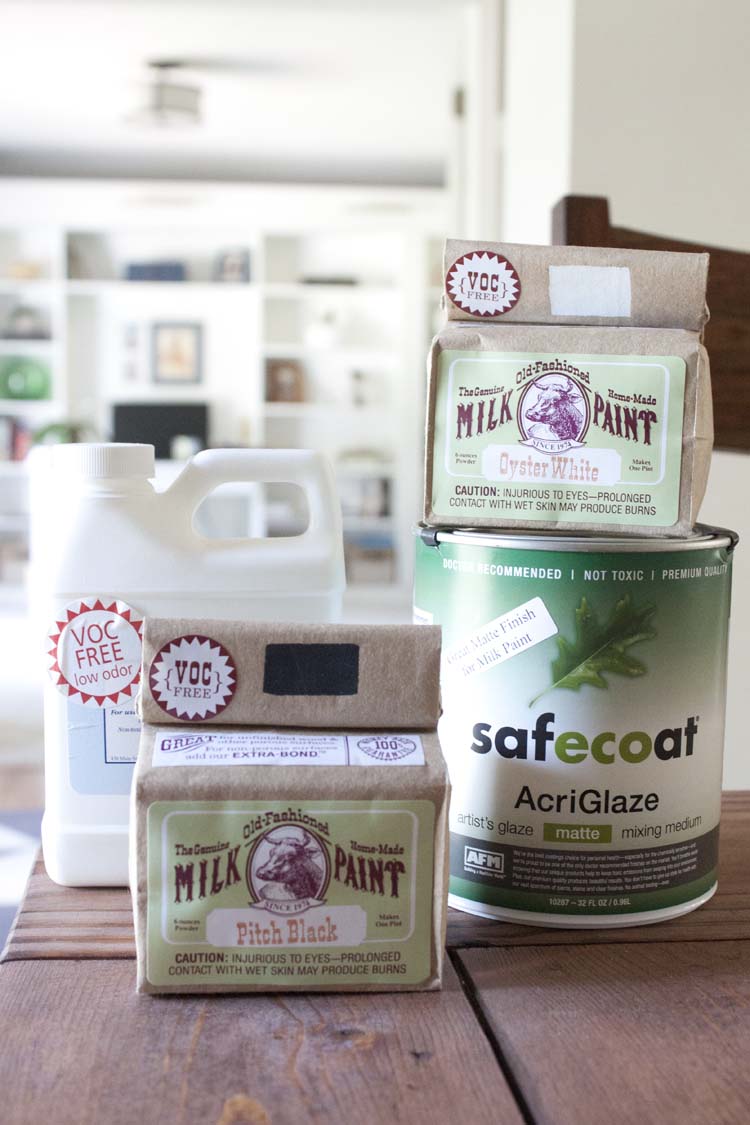 I used Old Fashioned Milk Paint in Pitch Black to paint mine. Milk paint is the perfect protection for raw wood since it actually bonds with the wood fibers.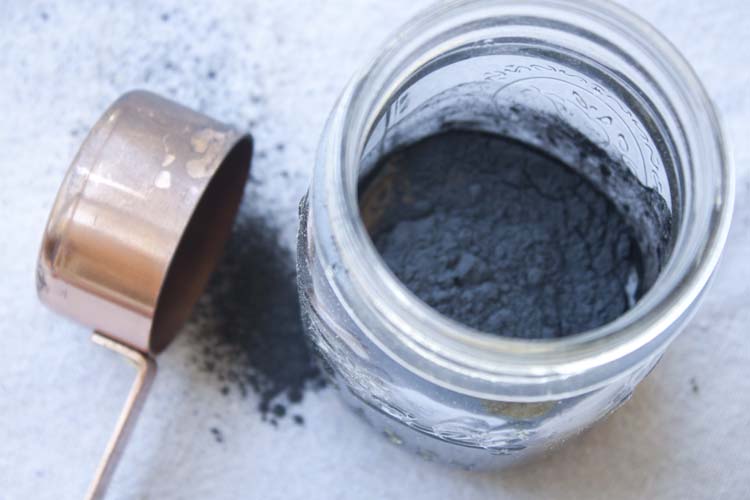 I mixed equal parts paint powder (1/2 cup) with equal parts water (1/2 cup) for a total of 1 cup of paint which was more than enough for one coat on both chairs.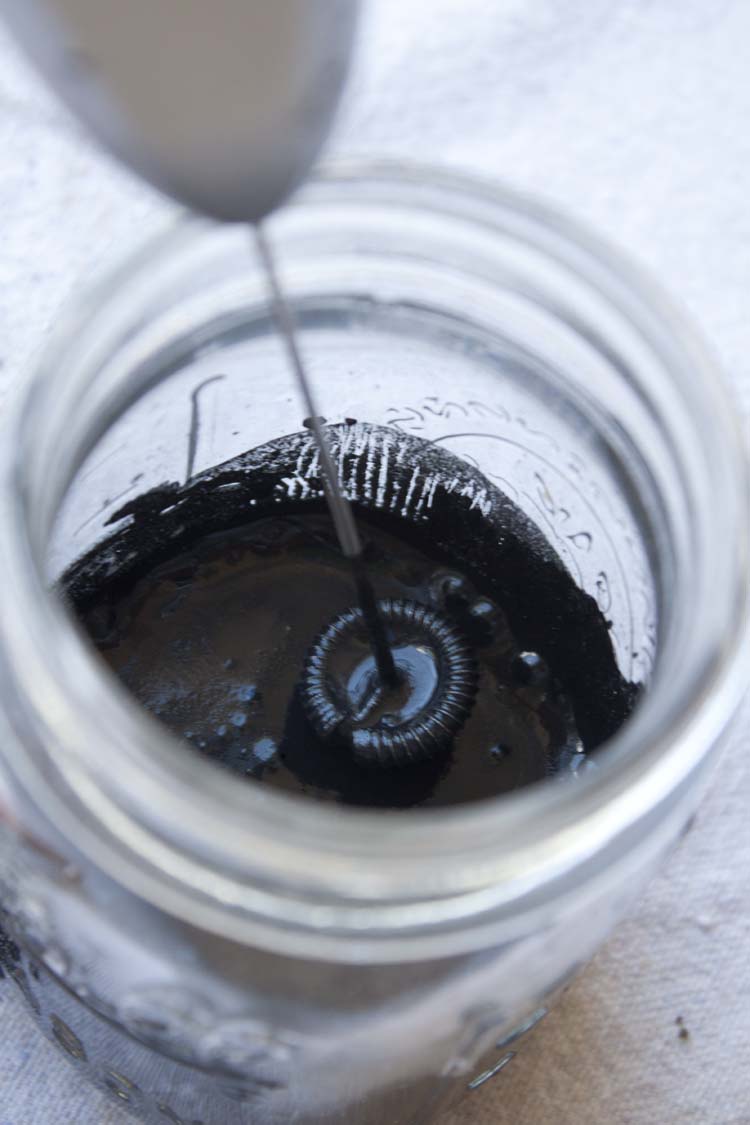 I always use a milk frother to mix my milk paint. Lukewarm or warm water also helps to get it super smooth.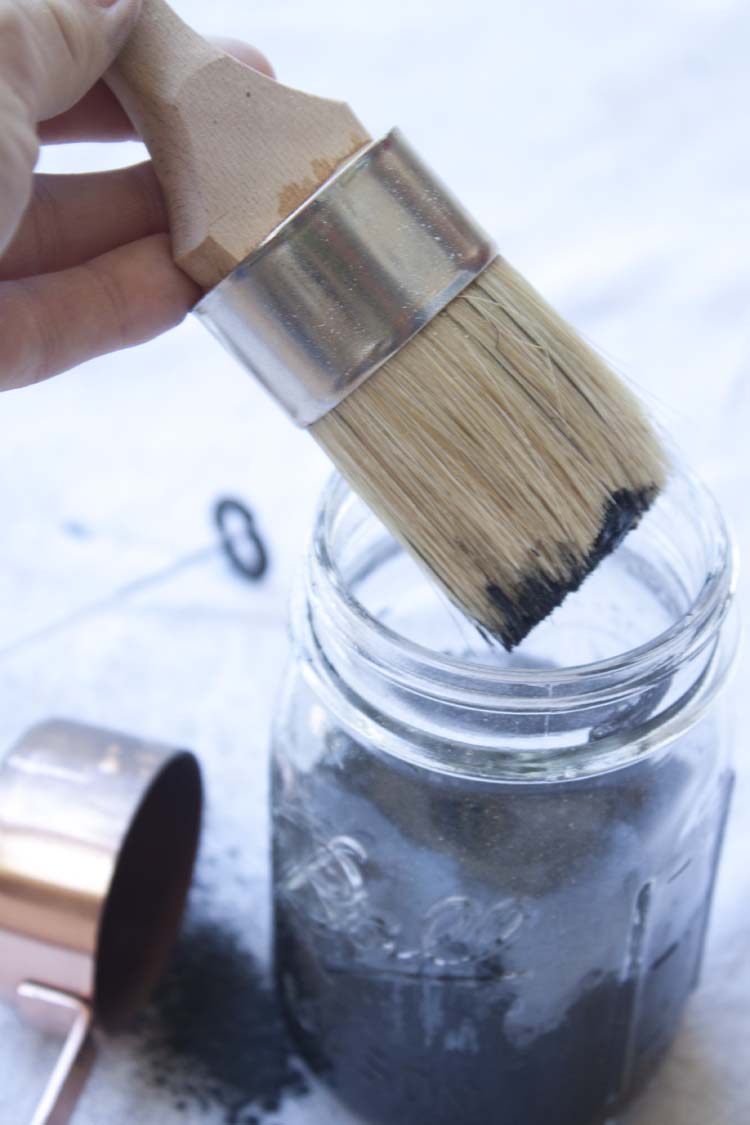 It takes about 60 seconds to mix and get your paint ready to use. Milk paint is best applied with a natural bristle brush.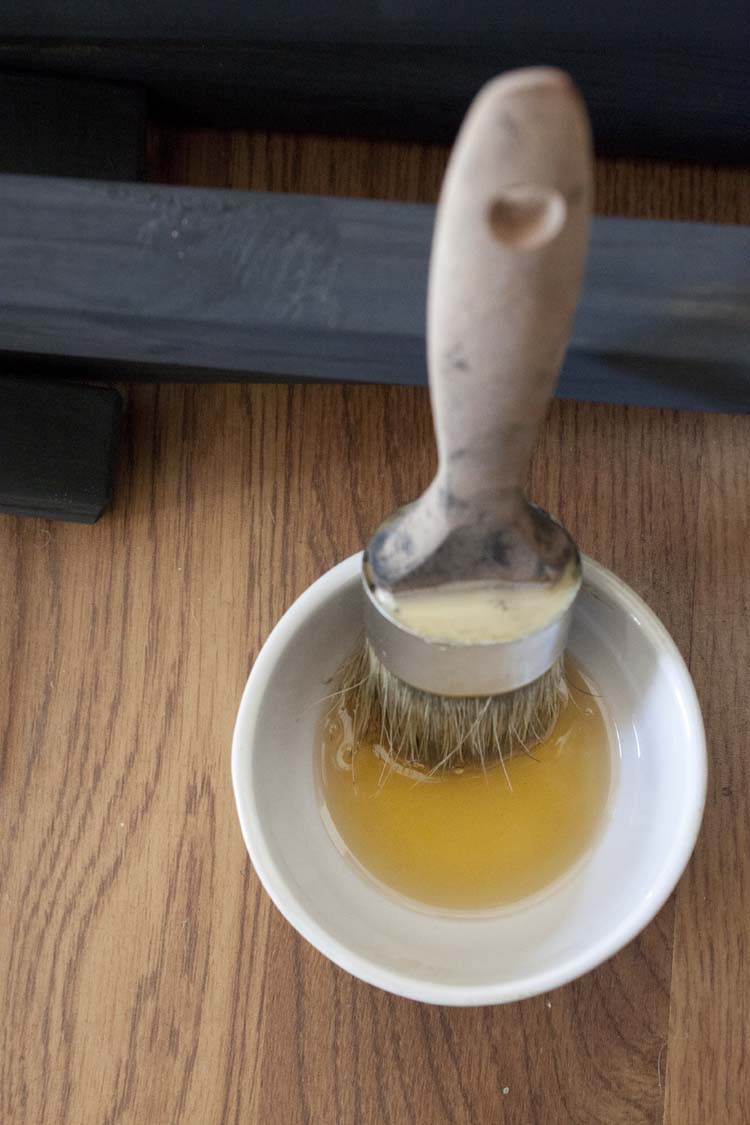 For added protection, since I'll be using these on my covered porch outside, I sealed with Tung oil. It dries to a hard finish and is great for outdoor use. I applied in full strength with a brush, waited 15 mins and wiped with a cotton cloth. Always follow manufacturer's instructions.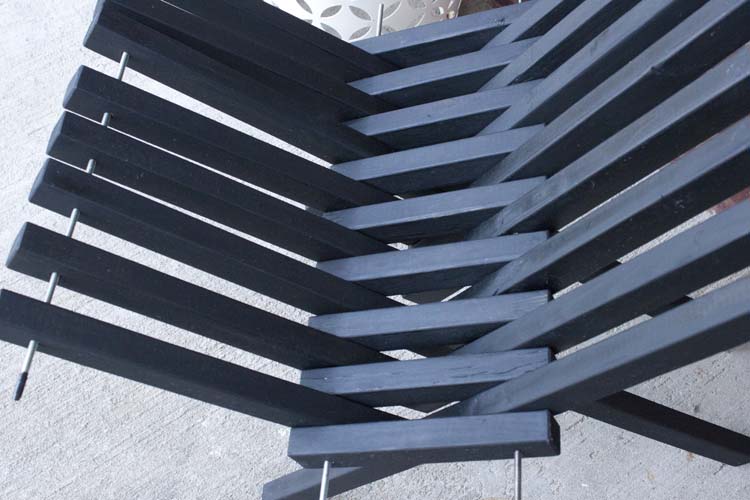 And while I painted my chair pieces prior to assembly, I applied the Tung oil once I had the chair put together but before tightening up the pieces.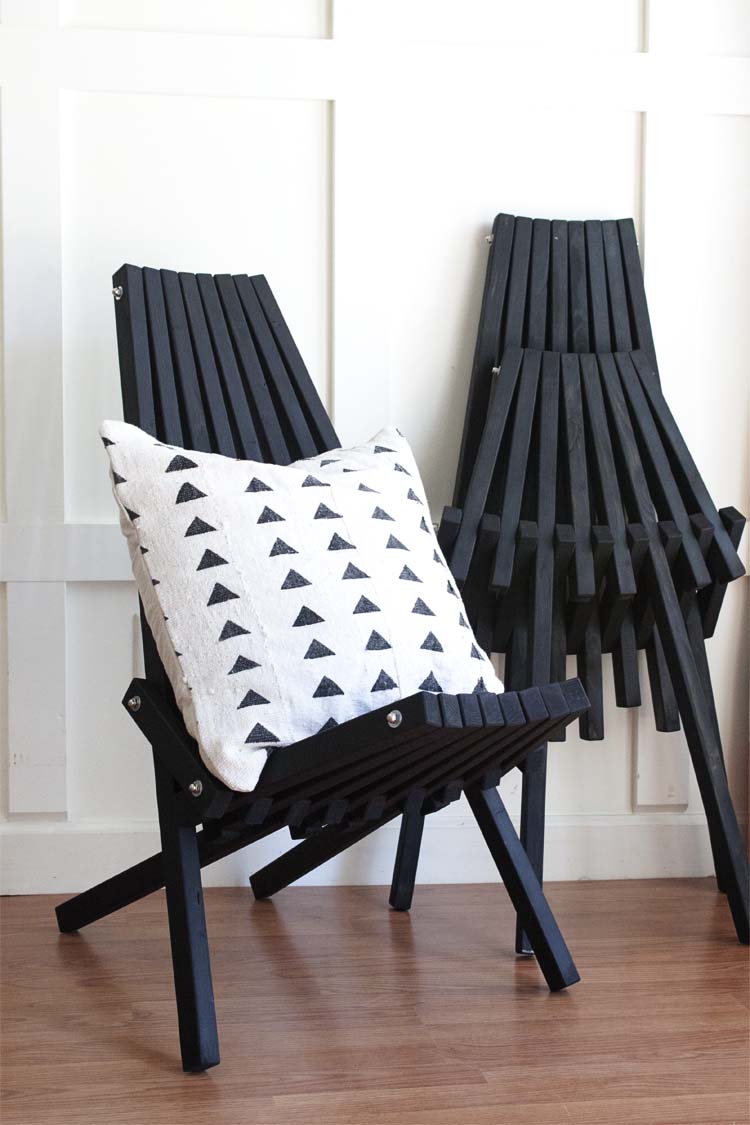 I. Am. So. In. LOVE.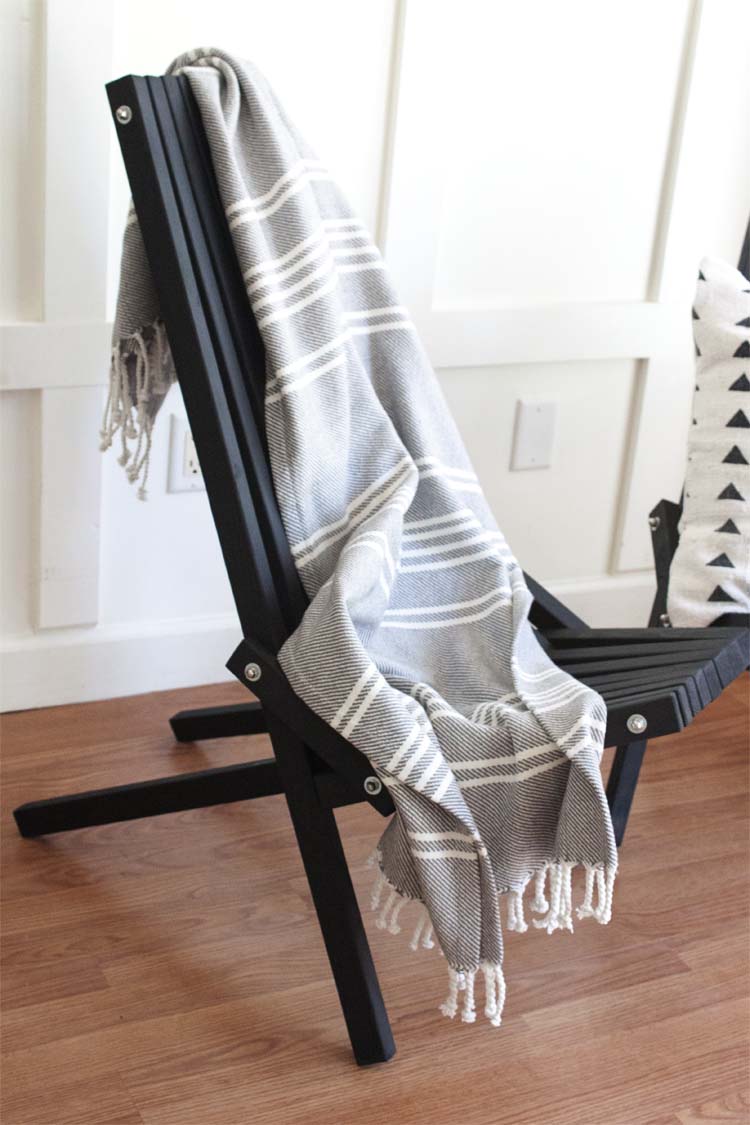 And as great as they look inside they make me so much more excited about finishing up my front porch makeover.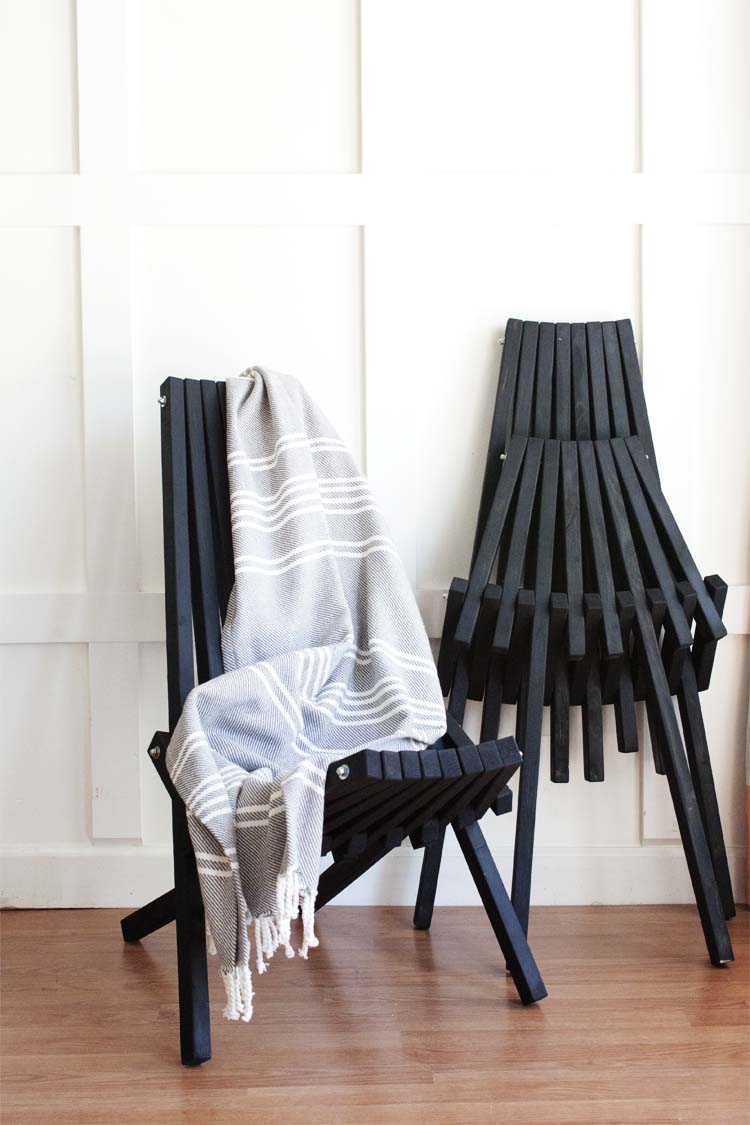 The black paint adds to their modern vibe and will go great with out brick facade.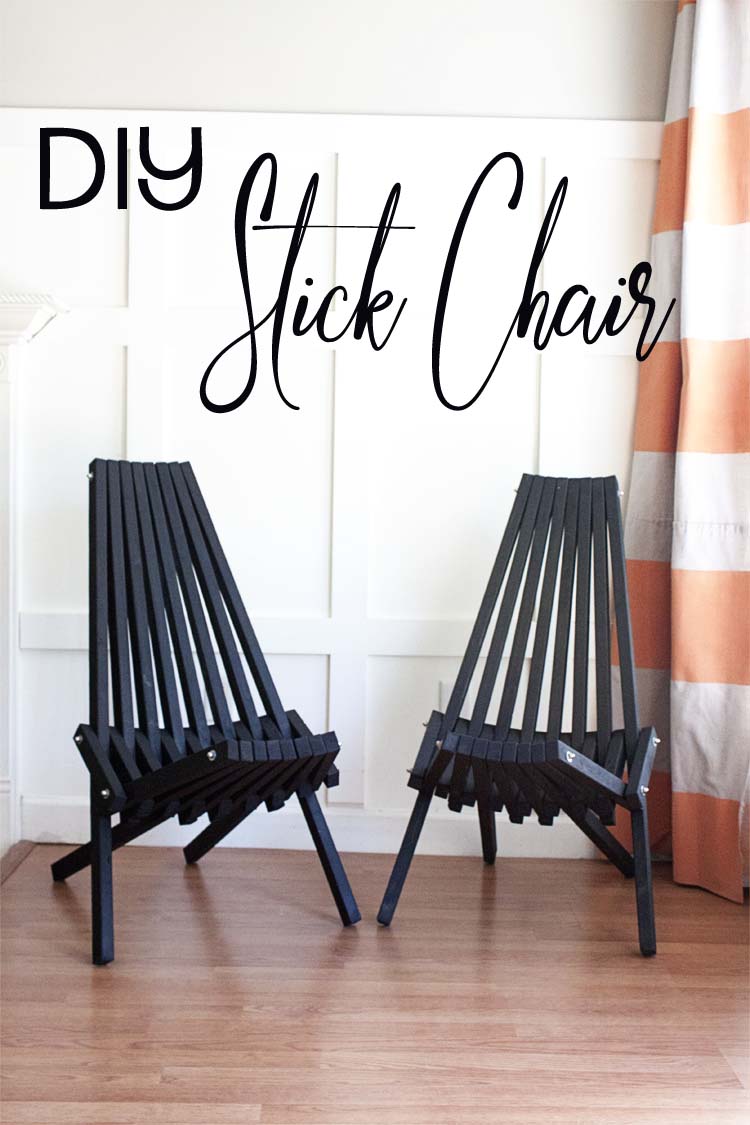 What do you think? Want to make a DIY stick chair (or two) of your own?
This post is done in collaboration with The Fab Furniture Flippin' Contest, The Old Fashioned Milk Paint and this  month's theme Farmhouse Fun. Please be sure to visit this month's hosts: Evey's Creations  and Anastasia Vintage. If you're interested in participating in future contests, please contact [email protected] for more information.