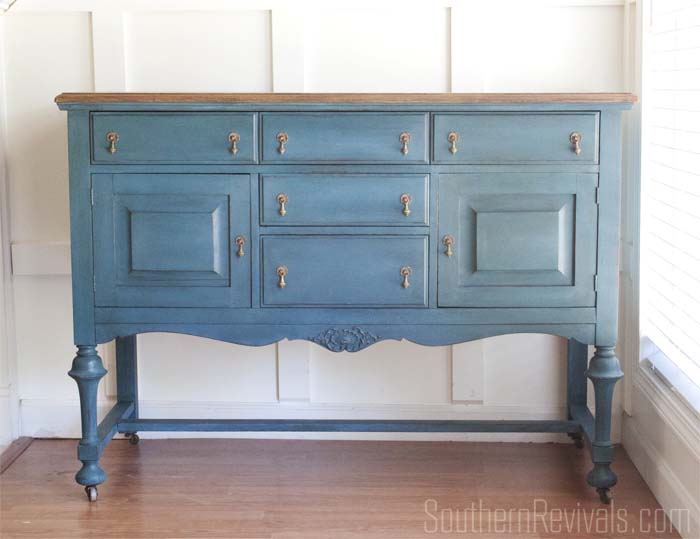 If it seems like every post is a client file these days, you're sort of right. I've had a lot of commission pieces over the last couple of months and this family heirloom is the last in a long line of furniture that I am lucky enough to have gotten my hands on here lately.
An antique sideboard, or buffet if you prefer. You would not believe the gorgeous glass house where it lives. I have negotiated terms for moving in with them. I have convinced myself they were serious when the said I could have the guest room and even an occasional dip in their master bath garden tub….that actually makes you feel like you're taking a bath in a garden!! What I wouldn't give to be in that house during a drowsy rainstorm. But this post isn't about the house…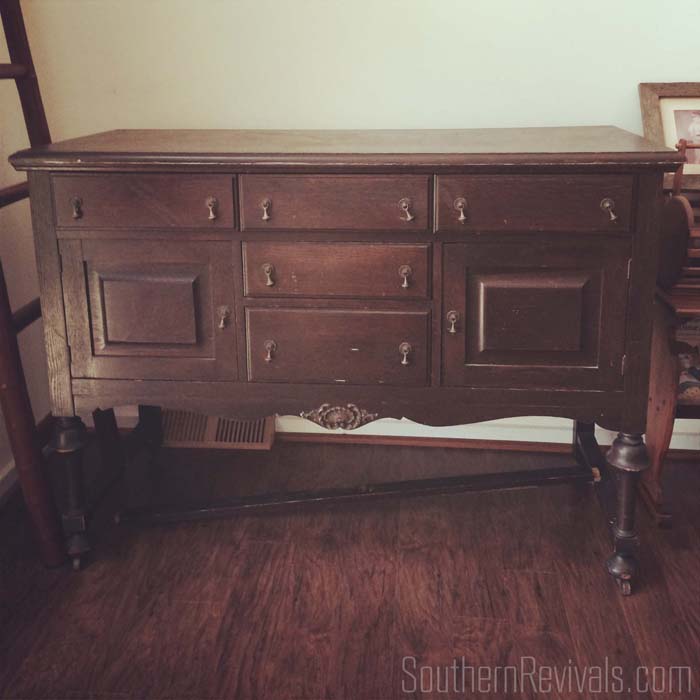 This post is about her. About how she's been around for a really long time.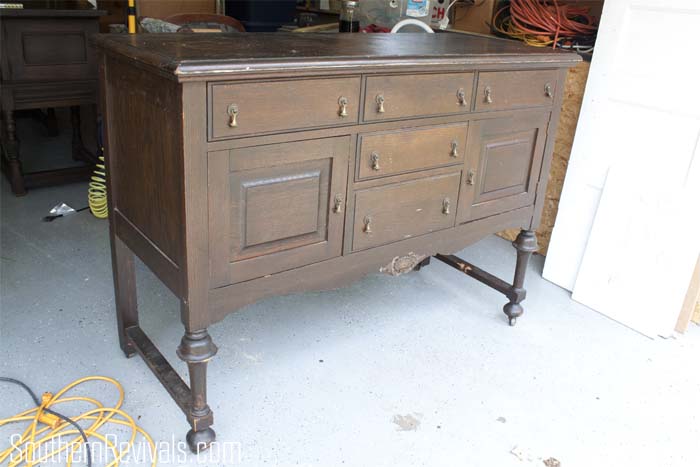 About how she's always been gorgeous and about how she always will be.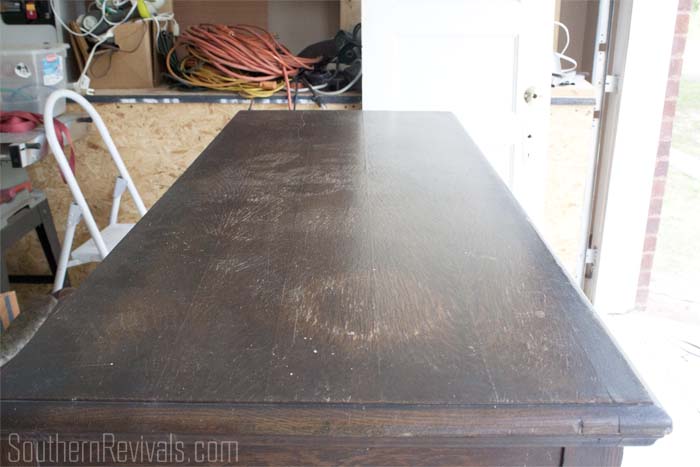 About how I never get tired of sanding down old quarter sewn veneer and seeing that trademark tiger stripe pattern.
By the way, we had a really fun discussion about quarter sewn or tiger stripe veneer on my Facebook page the other day. If you're interested in more details, you should check it out, here.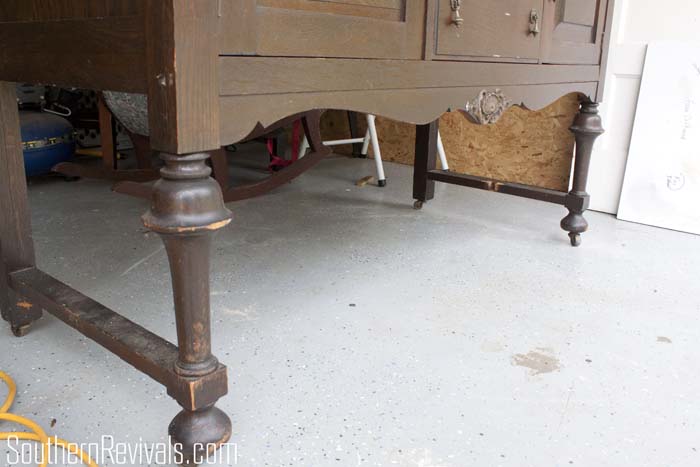 Like most older pieces she required some repair.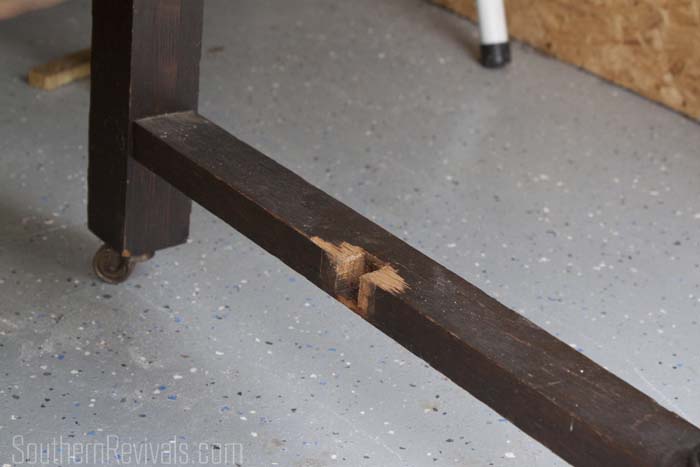 In addition to her water damaged top, her bottom brace also needed repair.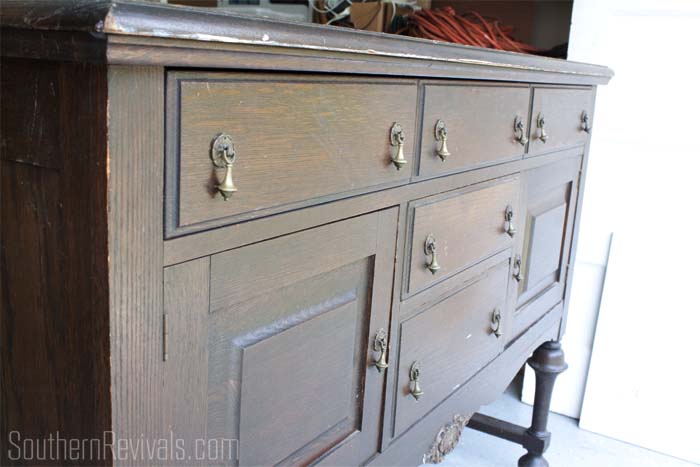 But many of those blemishes are so easily overlooked when you look like this.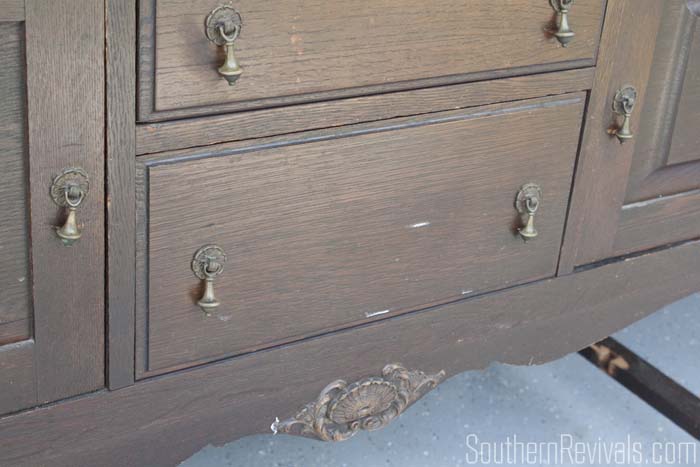 Original brass knobs still intact and an ornate design right at the center bottom. It's as if the designer said, 'Let's give her all these clean cut lines on the top and then let's make her curvy on the bottom'. That's how I know "she's" a girl.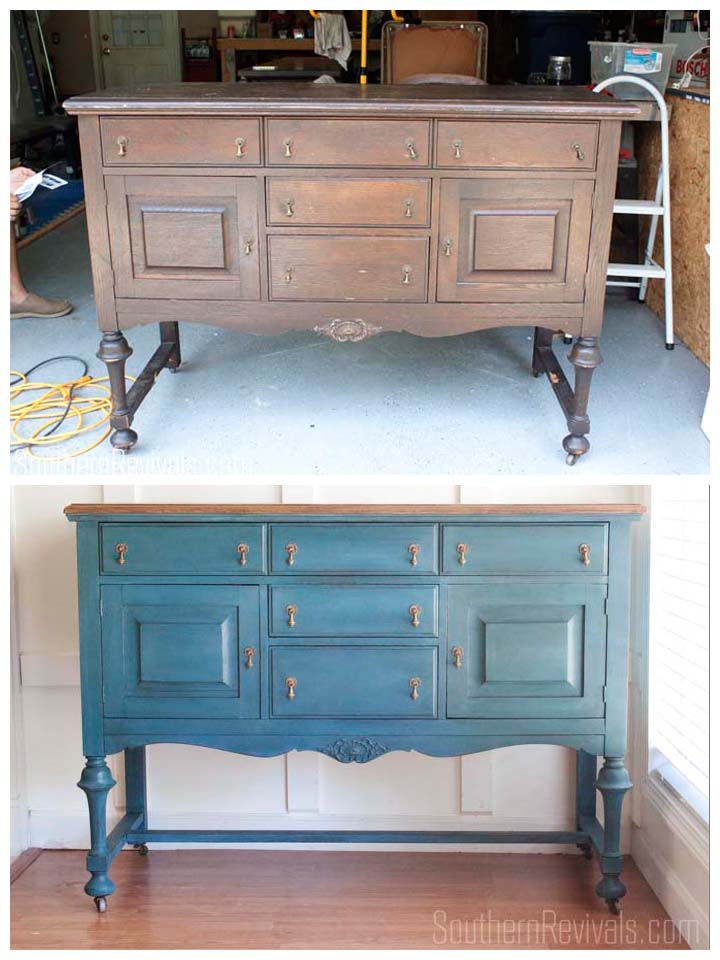 And this is how I know, if she were a real girl, she'd look amazing in a blue dress!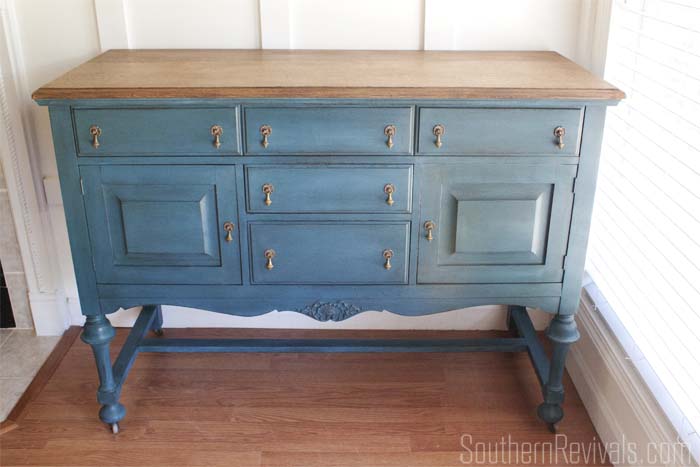 My client chose a lighter top, a blue bottom and to keep the original hardware. A knock out combination!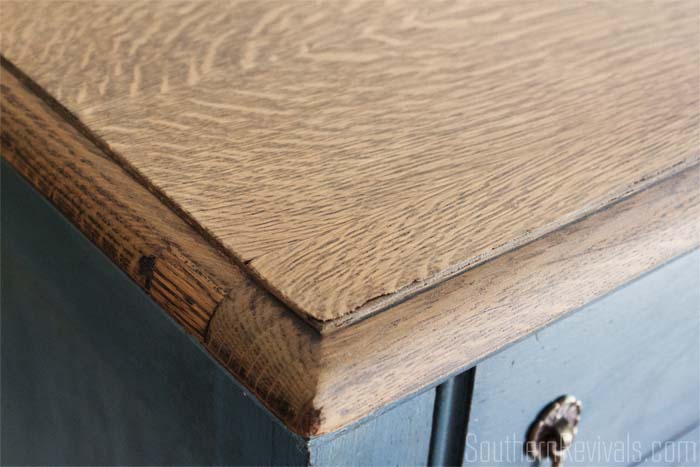 There's that quarter sewn (tiger stripe) white oak veneer. Here's it's lightened up in Driftwood by Minwax.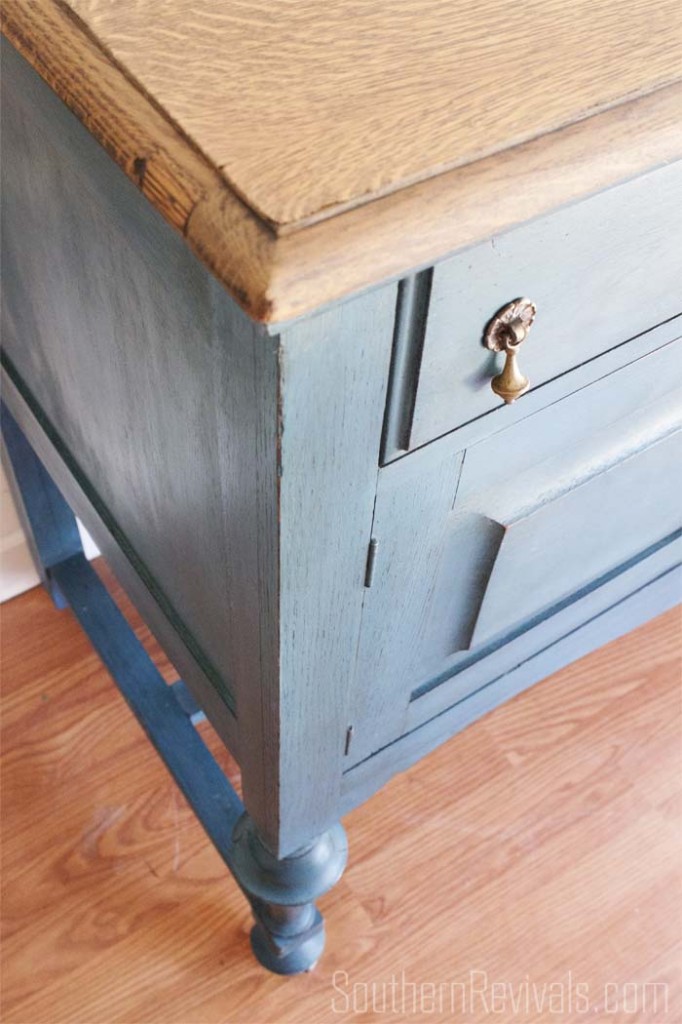 Ah! And those curvy legs!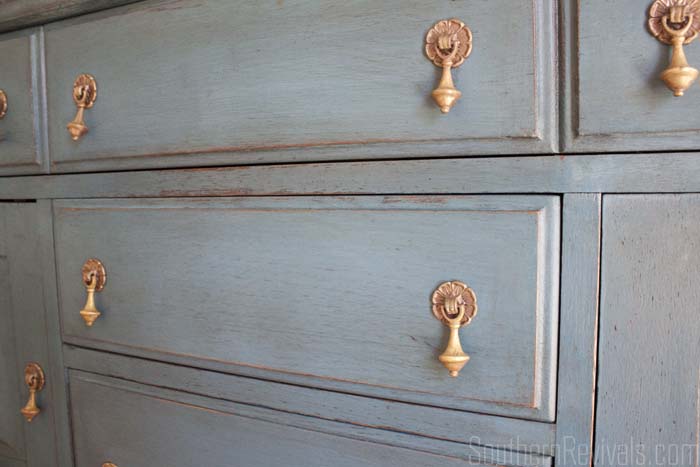 The decision to keep those original knobs make her a true stunner. Just soaking lightly in a degreaser takes away years of dirt and grime but none of the beauty.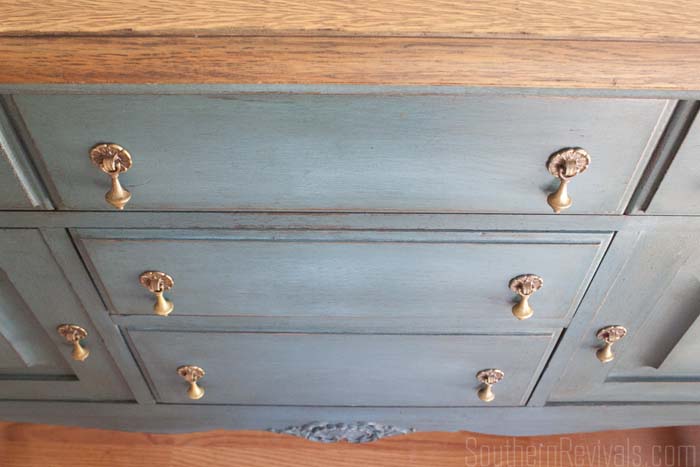 From this angle they remind me of a double breasted blazer, tailored to perfection.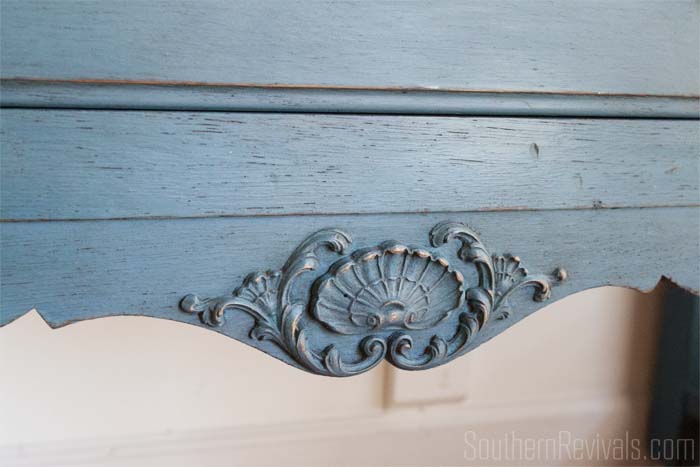 Her gorgeous details are all still there and played up by the Flow Blue Miss Mustard Seed's Milk Paint that she's now wearing on bottom.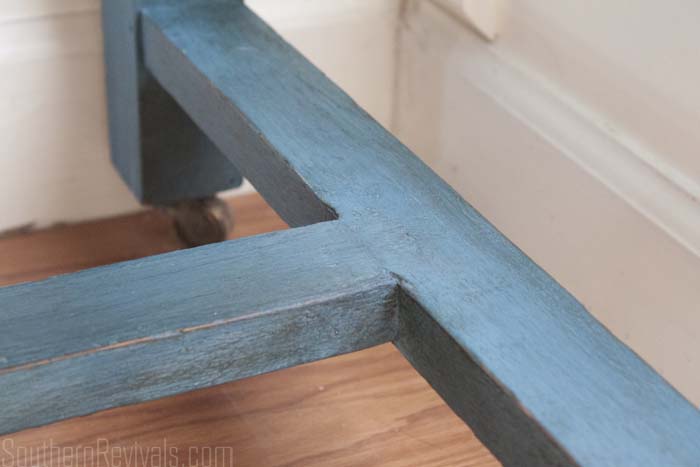 Damages seamlessly repaired.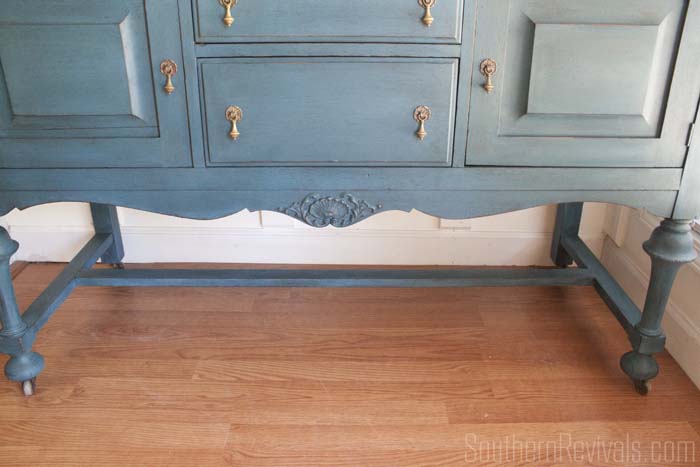 She's no worse for the wear.
And now she's one gorgeous gal all dolled up to take center stage in her glass castle.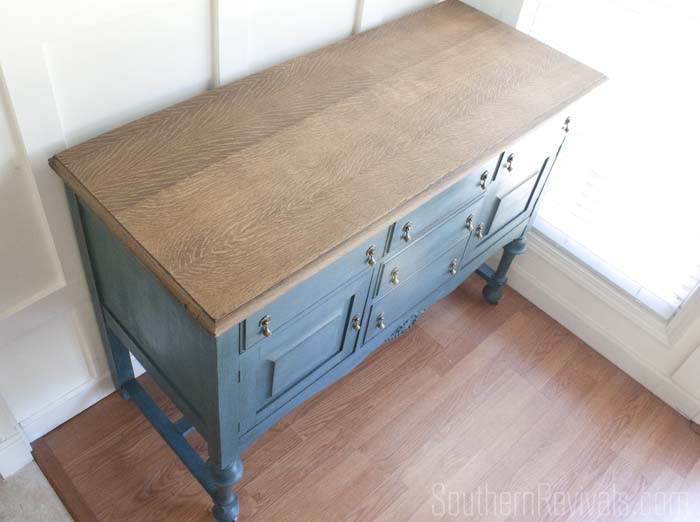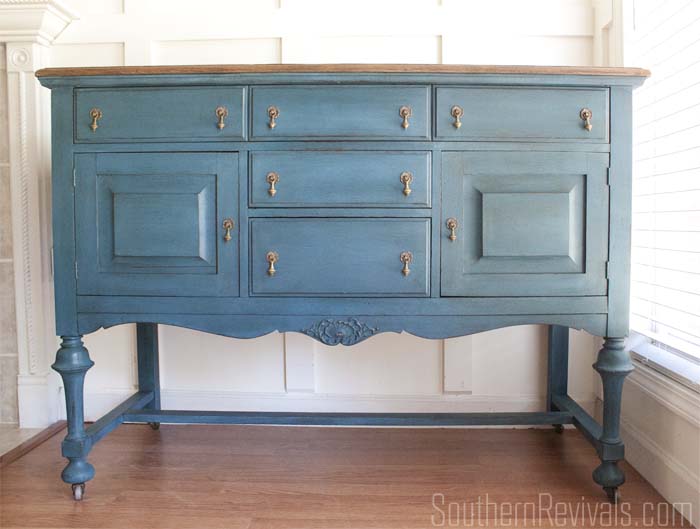 I would absolutely invite her to live in my castle, how about you?
Want More Buffet / Sideboard Makeovers?