Southern Revivals is proud to partner with GLIDDEN® paints and their new GLIDDEN DIAMOND™ paint to bring you this Modern Farmhouse Dining Room Makeover. Thank you for supporting the brands that make Southern Revivals possible.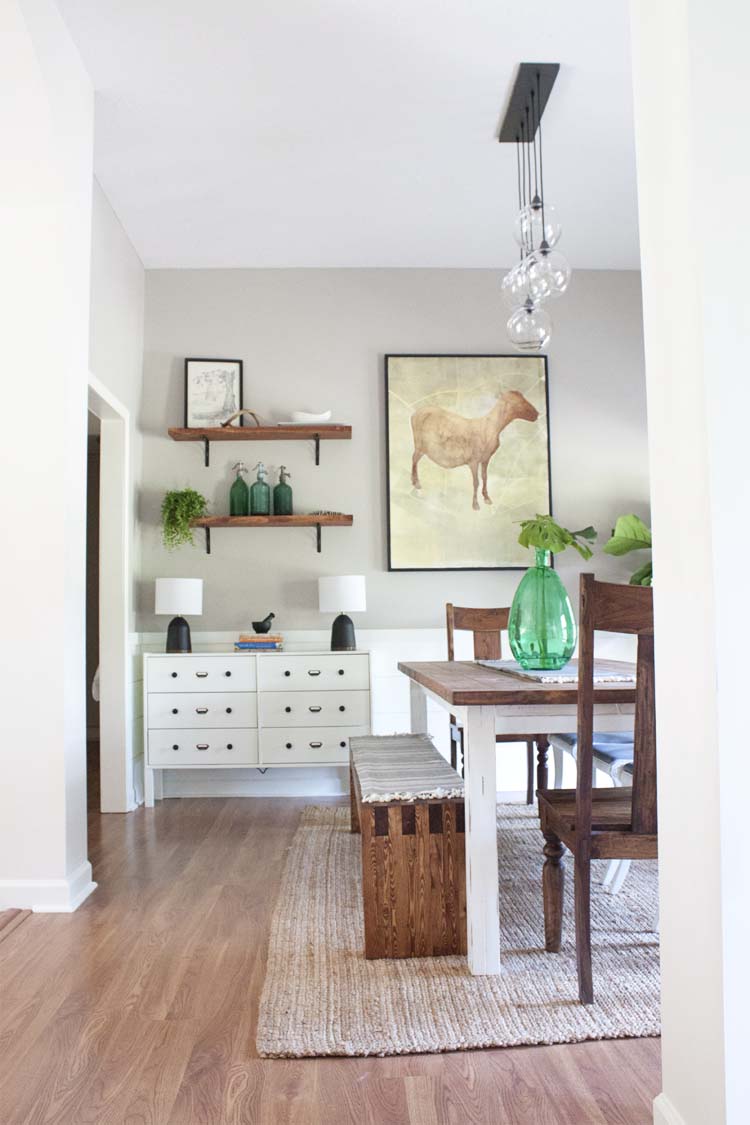 This isn't just the story of a dining room makeover. It's the story of finding myself and finally checking one more room off the to-do list in this former foreclosure home. And, of doing it on a $300 budget.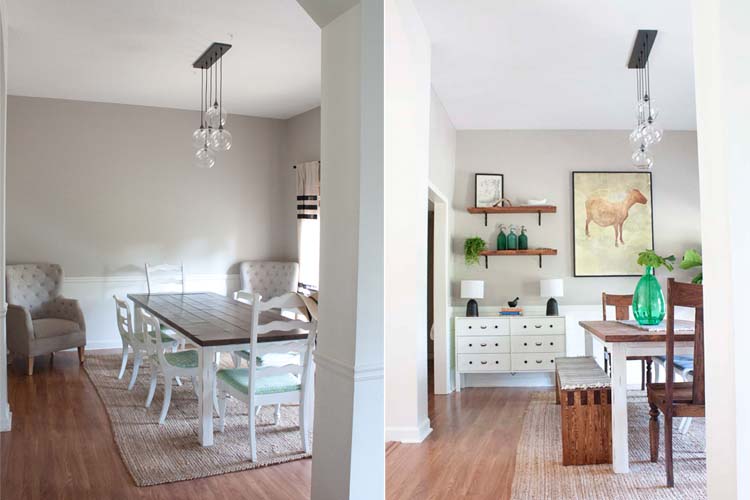 The dining room has seen at least 3 evolutions in its lifetime. This one, its 4th, being the finally finished one. When we moved into this home without closet rods, without mirrors, without appliances and without care for many months, there was so much to be done that decorating took a backseat for awhile.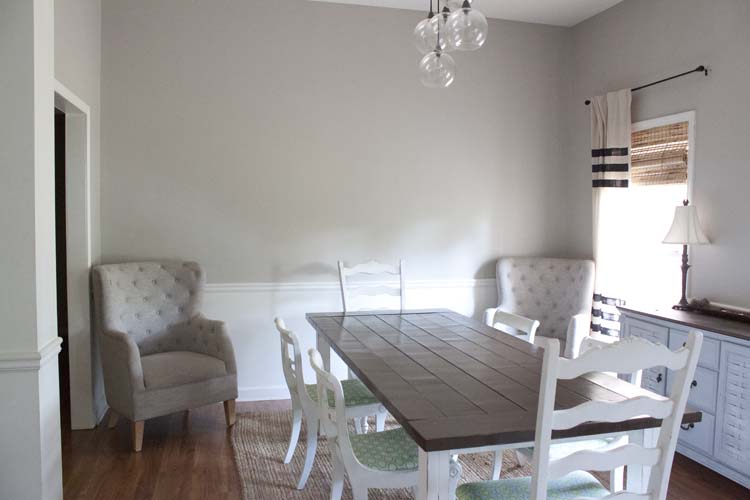 All I managed to do at first was get rid of the garish color combo. The lavender bathroom, the burgundy kitchen and the Granny Smith Apple Green everything else. I finally managed to find my color palette but after that I was kind of stuck for awhile. And this was the result.
A buffet that came from our previous home and was really too big for the new space. Two giant, but beautiful, chairs that I'd gotten for a different room. I wound up not using them in that room and naturally they migrated to this space as things have a tendency to do in unfinished rooms.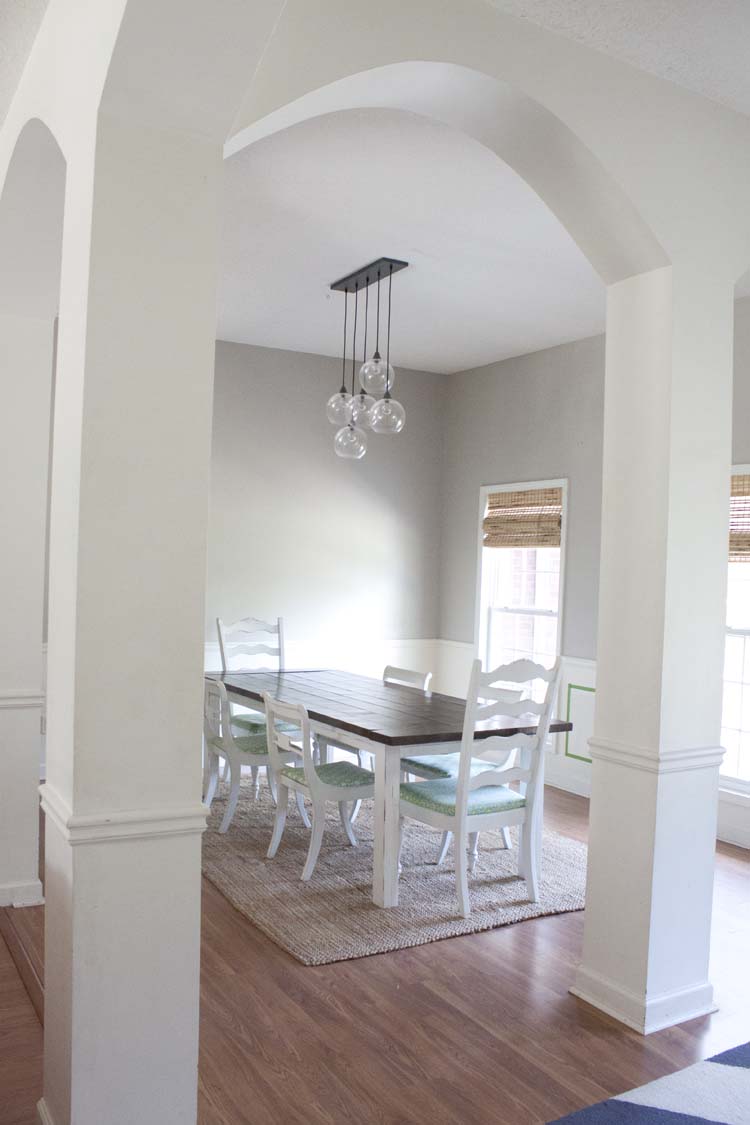 The chair railing on the walls and columns that never jived with me. And a farm table that we built that I was never really satisfied with because the stain I used for the top wound up looking more like brown paint.
The dining room is just off the foyer and just across from our newly madeover home office. It is one of the first things people see when they enter our home. It was way past time to finish this room. I started by deconstructing the space.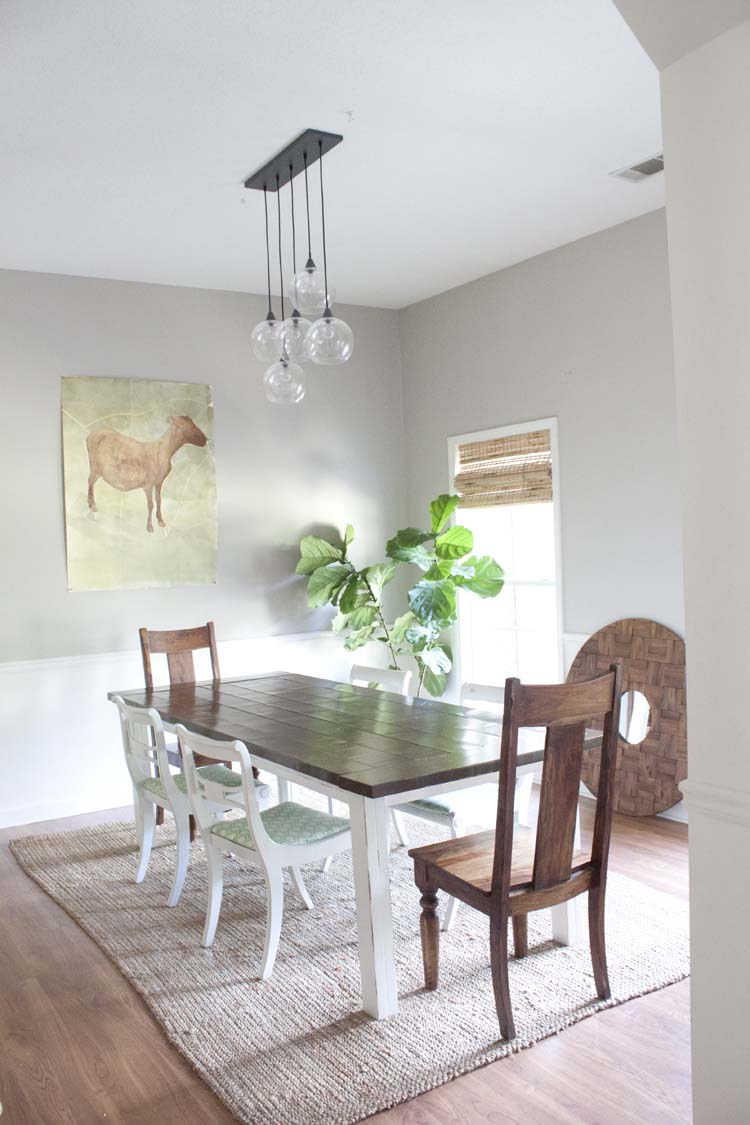 I swapped the end chairs for the ones at the kitchen table. I took the mirror from the foyer, the fiddle leaf fig from the office…and just like that, I had a plan!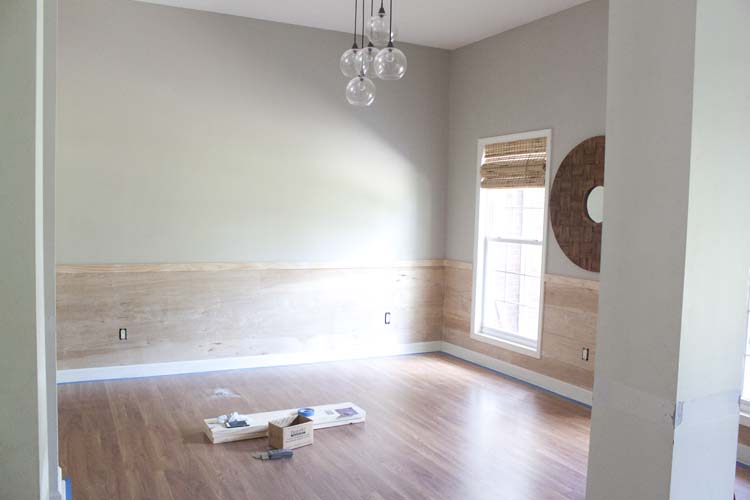 I removed all that chair railing from the walls and columns and installed faux shiplap on the walls. I had our trim color-matched at Home Depot and painted the shiplap, our freshly repaired columns and all of our baseboards in Glidden Diamond paint.
While I had my color custom matched to match our existing trim, it is most close to Muslin White which I noted when I was at Home Depot.
Can we just talk about how much of a difference just painting your baseboards can make?!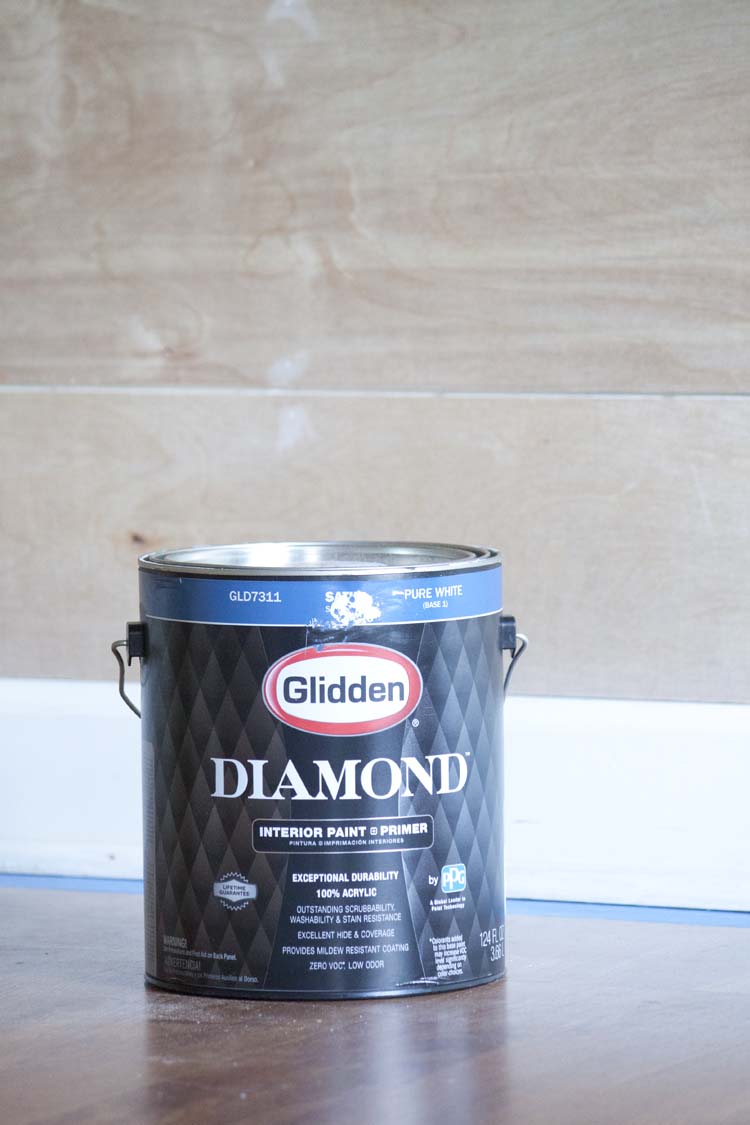 I went with the Glidden Diamond paint because our home's open floor plan means lots of wild kids traffic in our foyer (which also got a makeover, I'll share that soon!), dining room and living room. Its 100% acrylic formula has zero VOCs, resists stains and stands up to repeated washing which will keep all that light, bright white looking great for a long time. And, it starts at just $23.98 a gallon!
I probably don't have to tell you that you could pay a lot more for the same thing with other brands. Plus, it re-coats in 2 hours and impatient DIYer I-just-can't-wait-for-it-to-be-done kind of girl that I am, really appreciates that.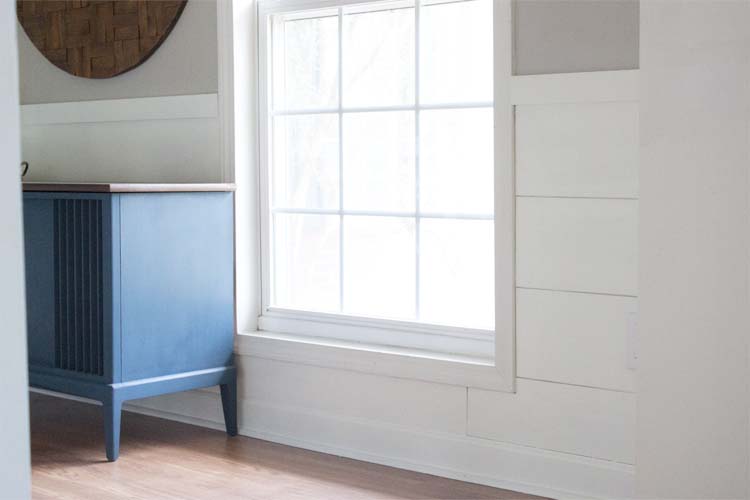 This turned out to be the perfect solution for the never-was-in-love-with-it chair railing and the bare bottom wall that always bothered me. It adds texture without being boring or too busy.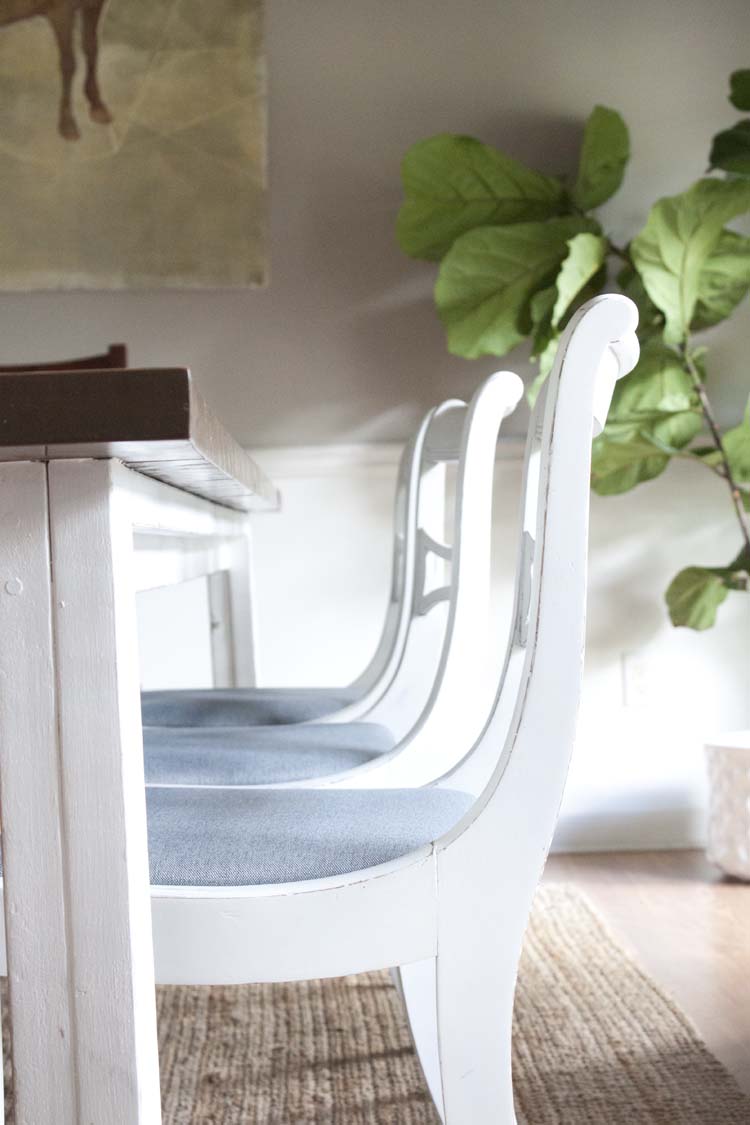 I re-covered the side chairs and placed them all on one side.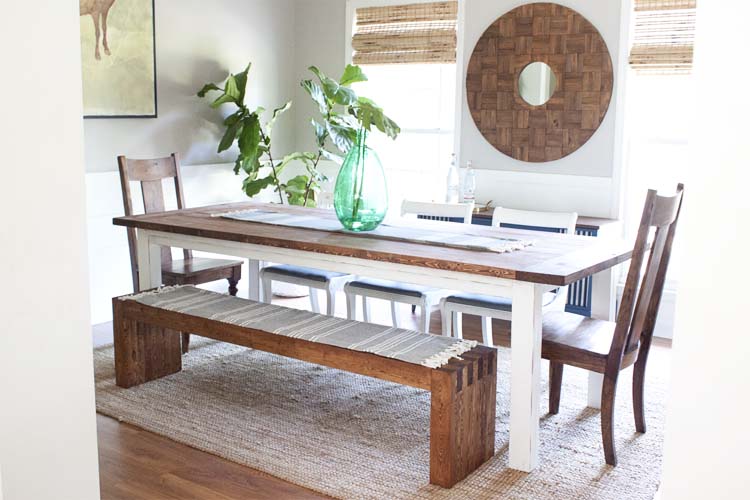 And then built this amazing modern farmhouse bench for the other side. I also, finally, got around to re-staining the top of our farmhouse table.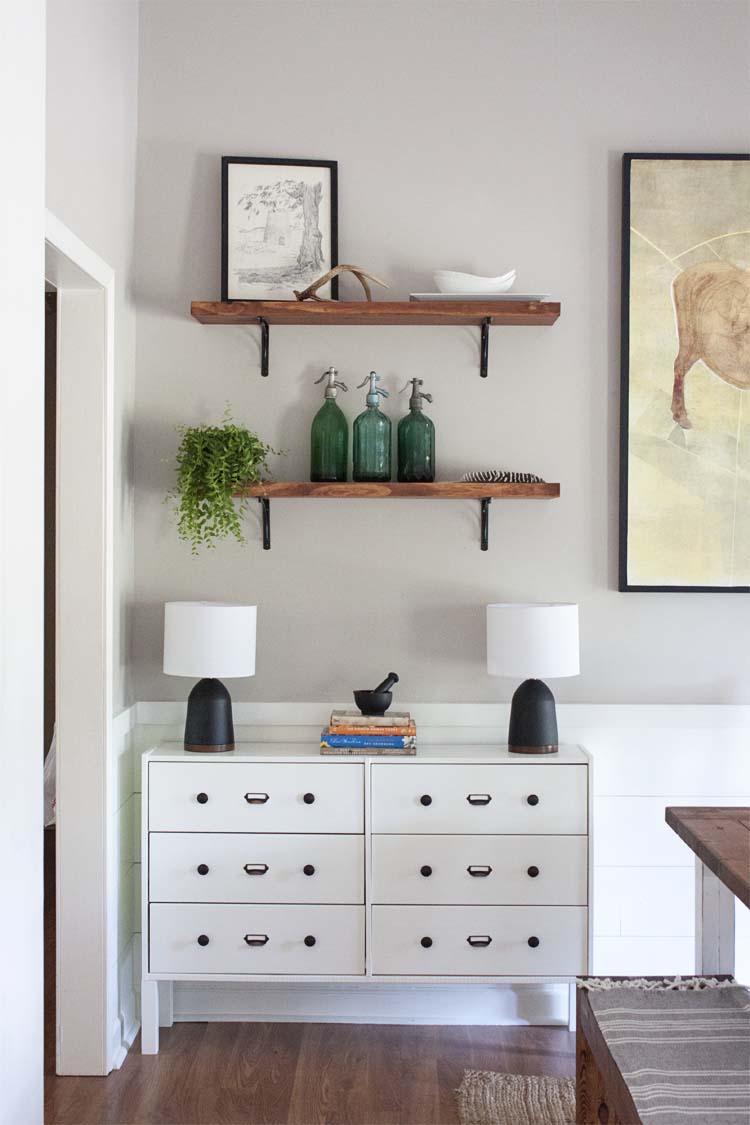 Since our dining room has an awkward setup, only one full wall, one half-wall with windows and two "walls" of columns (and a whole lot of table), there isn't much room for traditional dining room furniture. So, since I just happened to have two IKEA Rast dressers lying around (no lie. don't judge.) I turned them into a buffet. Their shallow depth made them perfect for this limited space.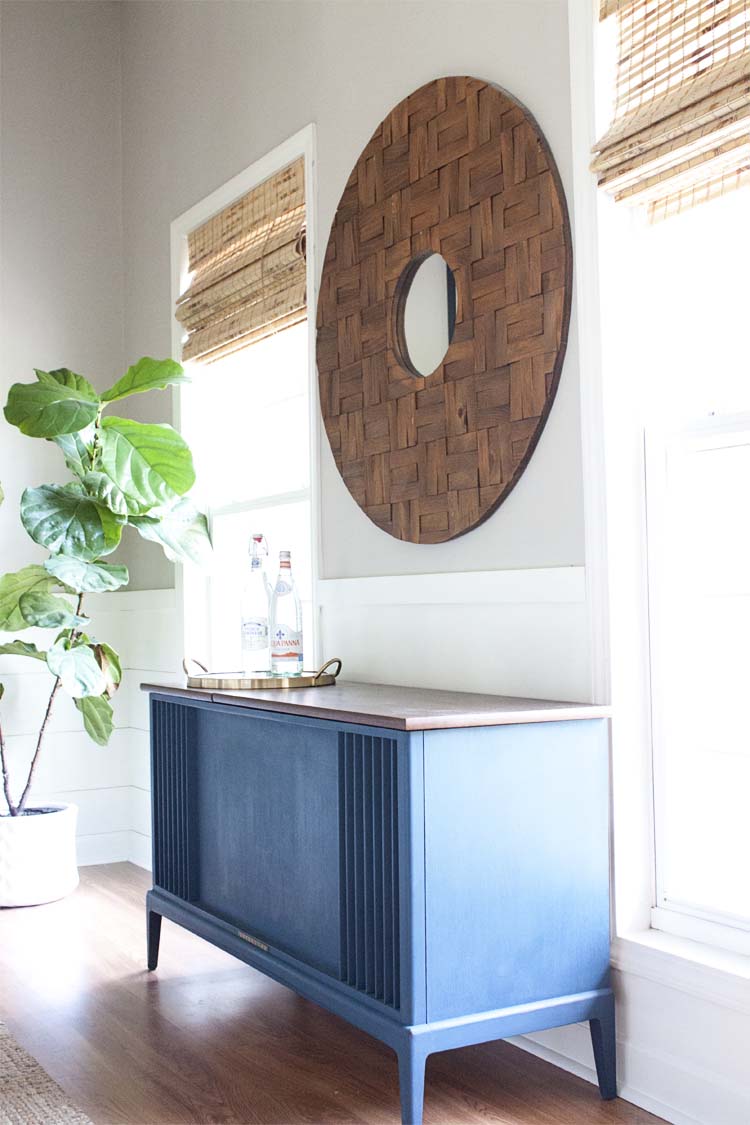 Remember this? My vintage stereo cabinet turned wet bar and bluetooth stereo finally found a home! When I redid this sad old cabinet I had no intention of keeping it. But then it wound up in our office for a little while and I found myself so fond of using it I was ecstatic when I realized it would work in the dining room.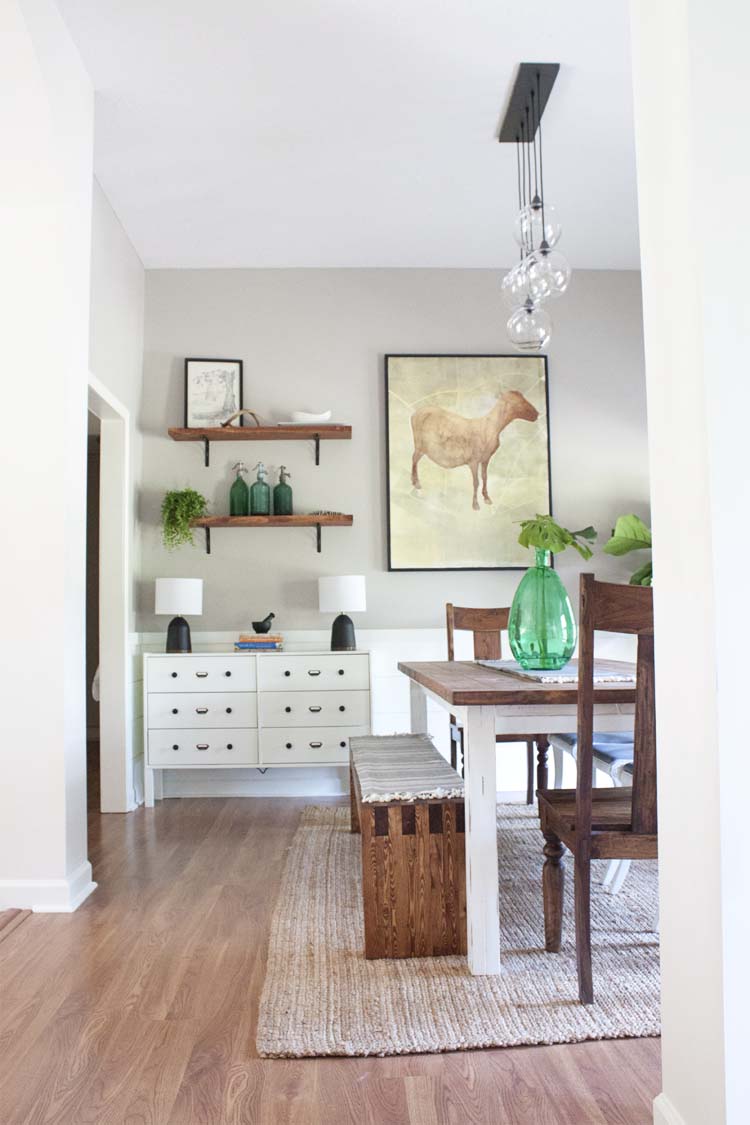 In addition to building the bench and the buffet, we also added shelves to mimic a kind of hutch above it. I got new lamps for the buffet…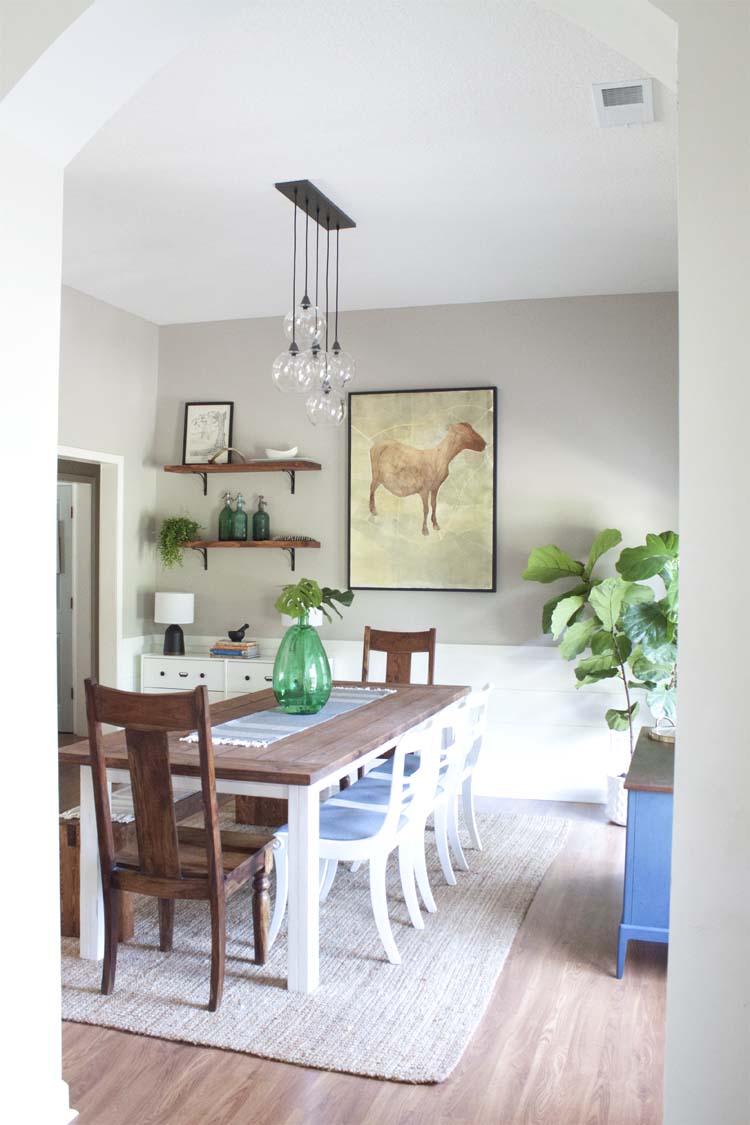 and a new runner for the table. The rest was shopped from around the house.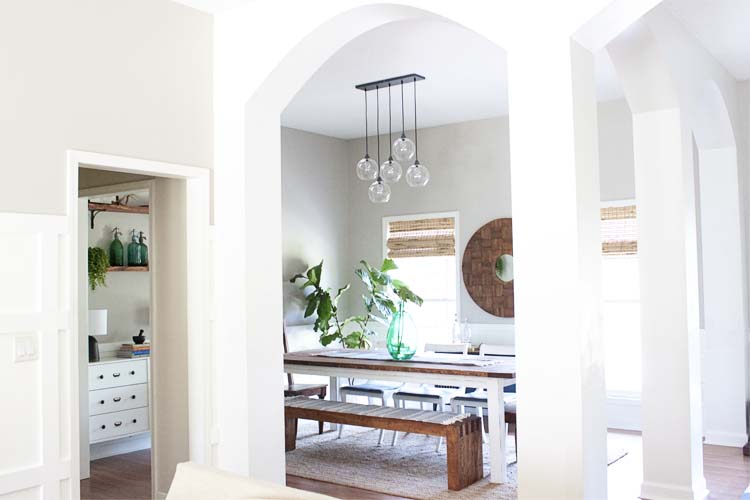 It's amazing how good the shopping can be in your own home when you really take the time to look (and when your budget forces you to).
It's also amazing how something as simple as removing chair rail from columns makes them much less intrusive. I suppose that's because your eyes can travel easily along them without being stopped by the molding in the middle. I'm not sure but I do know that I'm glad I made the decision to remove them. And my husband is too especially since I moped around the house and agonized over it for days. I'm a dork.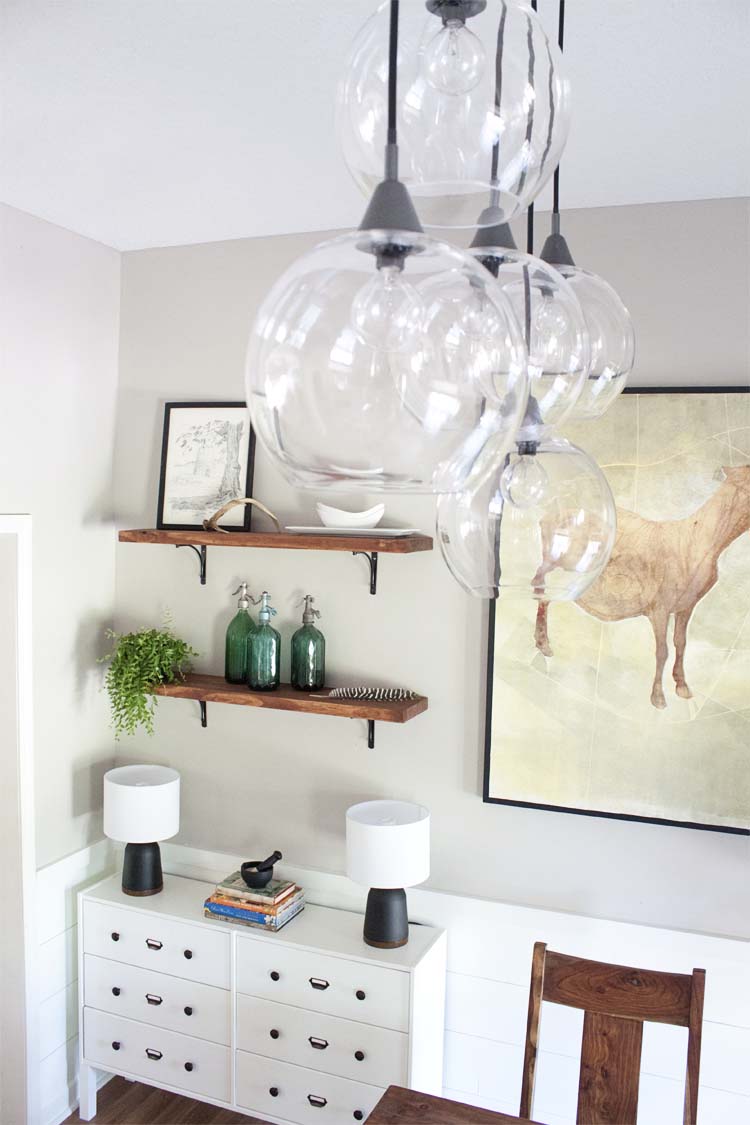 The old seltzer bottles I collected, some dishes I normally keep stored in the attic in my photo prop space and a hawk feather I just found along our drive around our ponds turned decor.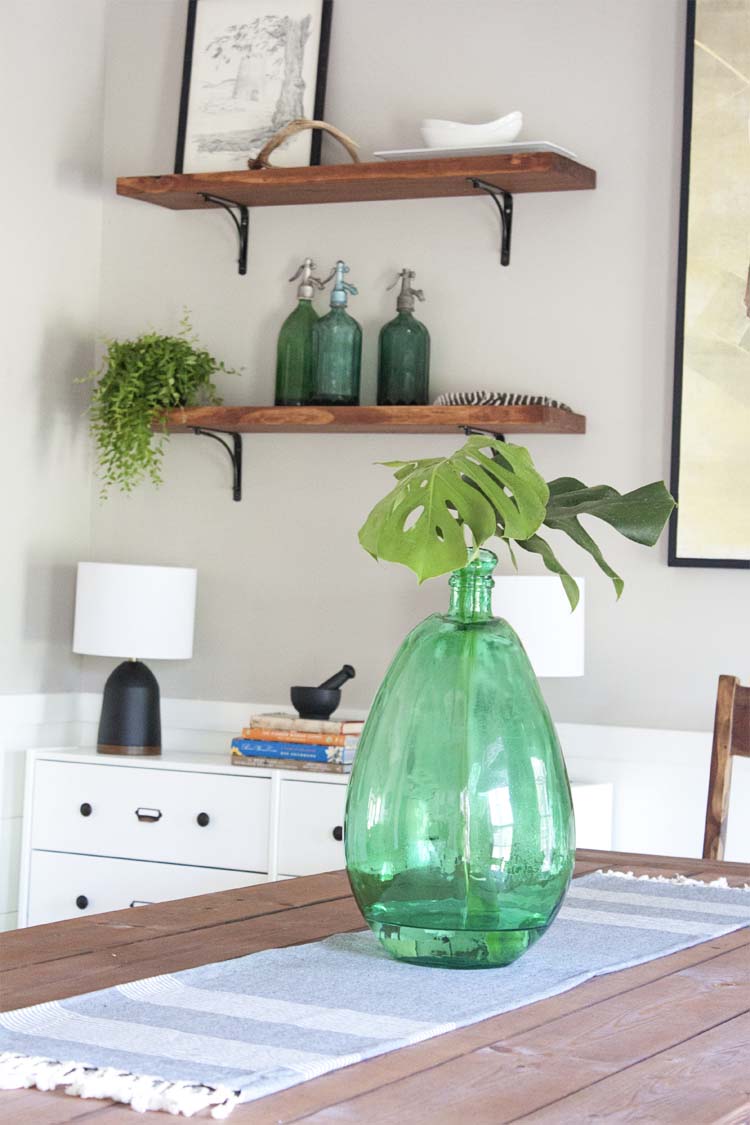 Plant leaves clipped in a vase that used to sit on my kitchen cabinets but looks much better as a simple tablescape.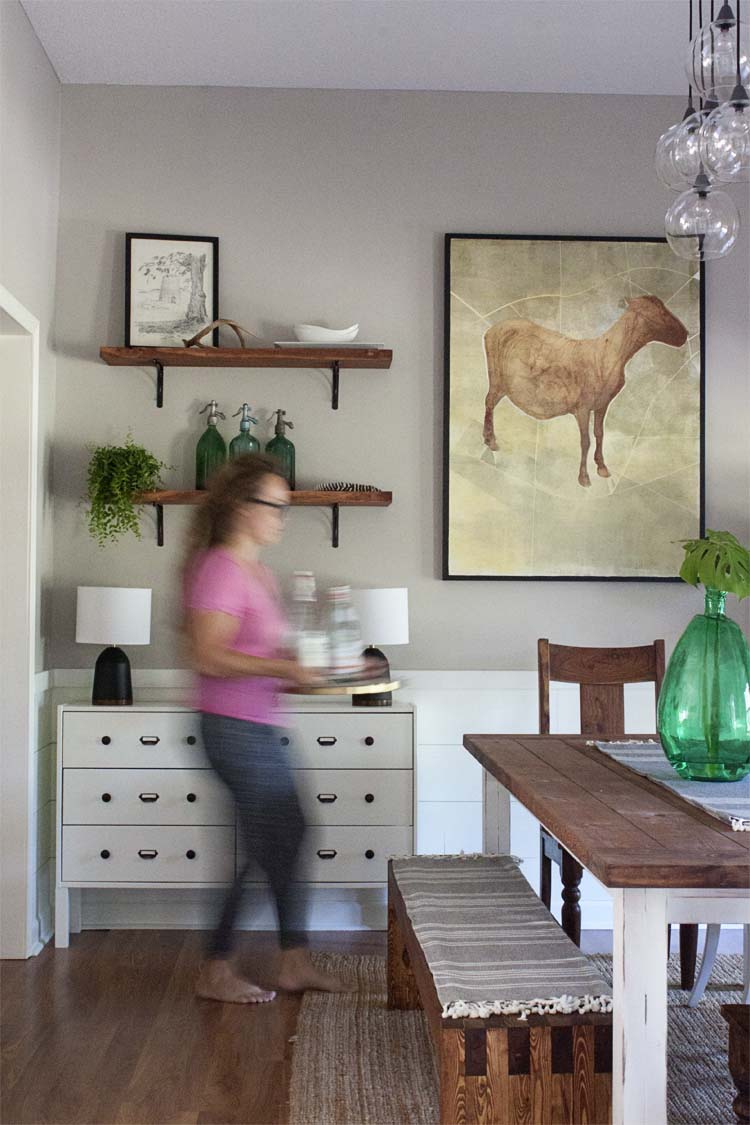 I cannot begin to tell you how good it feels to finally have this room checked off as done, to finally be able to put it to good use but, most of all, to do it without spending a ton of money.
What room could Glidden Diamond paint help you to improve without putting a dent in your makeover budget? My hallways are next!
More post from this makeover:
DIY Modern Farmhouse Bench – West Elm inspired
DIY Farmhouse Table – West Elm inspired