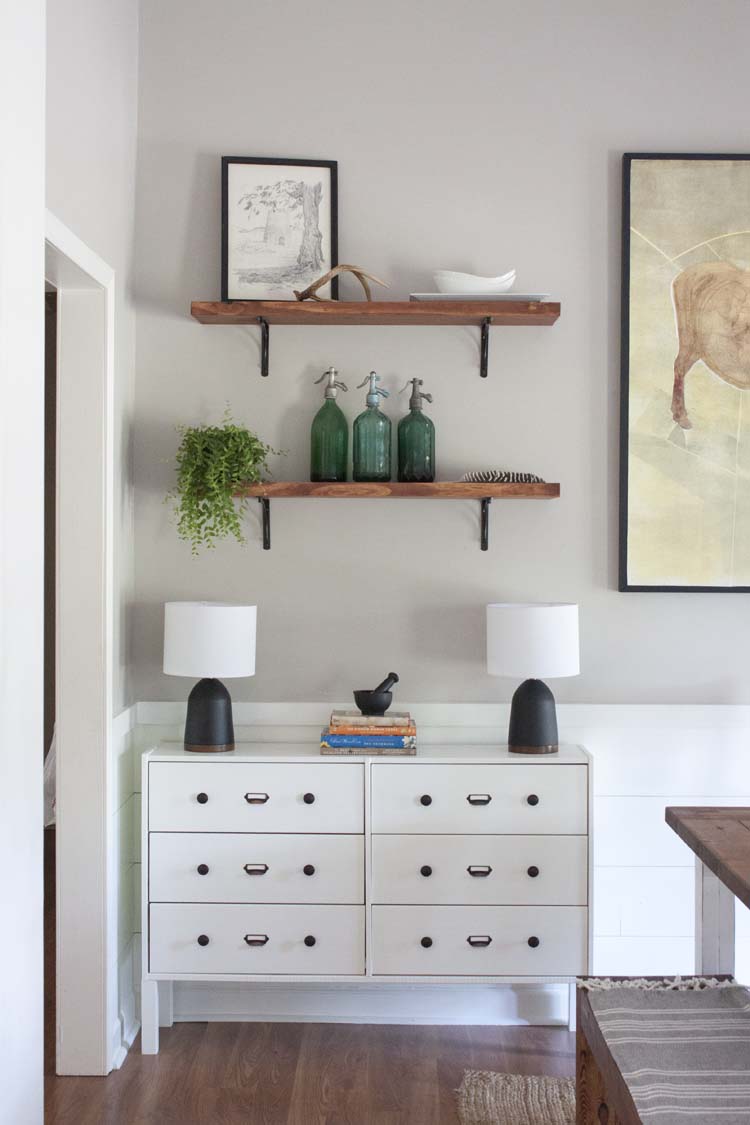 It goes without saying that I love a good IKEA Rast hack, don't you? But when I was planning our Modern Farmhouse Dining Room Makeover I knew I'd need a custom furniture solution for this awkward space. I was determined to make a large farmtable work in here and still have room for other furniture. The solution was a DIY dining buffet. It didn't hurt that I saved a ton of money making one on my own.
Want to make one for yourself? Here's how!
This post may contain affiliate links. Please see my disclosure for more info.
You will need:
2 – IKEA Rast nightstands (3 sides, 2 tops, 2 inside braces, all 6 drawers and both back pieces)
1x4x8 (cut in half for bottom base pieces)
3 – small L-brackets
12 – 1/4″ wood screws
wood glue
drill (drill bits for screws, drilling additional peg holes and pilot holes for legs)
circular saw
sander
After removing all of the contents from your two Rast boxes skip to the assembly of your drawers and put aside 3 of the sides, both tops, both back pieces, 2 inside braces and all 6 drawers. Keep all of the hardware but discard additional wood pieces.
Shave down each of the two outside pieces (to 24 /14″ long pieces) leaving only extra width enough to accommodate the thickness of your 1×4 braces, they'll be attached to on the bottom. Also, be sure to keep in mind that a 1×4 is not actually 1″ thick! Make sure to lay your pieces out and measure first to be sure your measurements will be the same!
Shave down the center section (to 23 1/2″) keeping in mind, unlike the side pieces, it will be sitting on top of the 1×4 braces and that you'll want it flush with the top pieces for a smooth top once it's completely assembled.
On the center section, drill the peg holes all the way through so that you can attach pieces from both sides.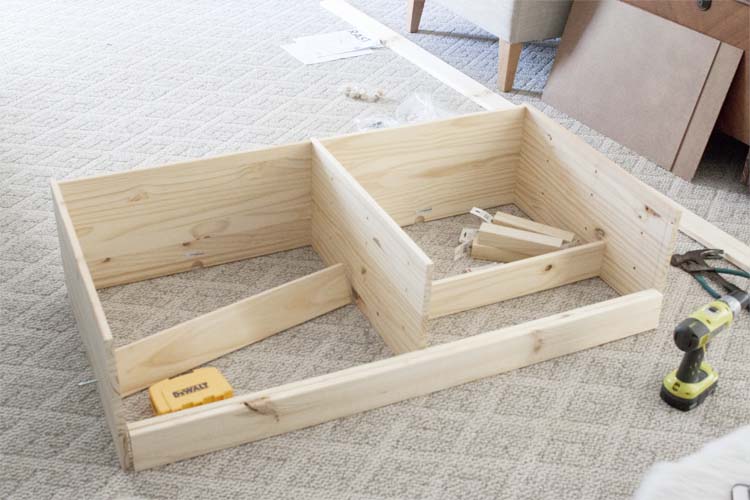 Now assemble on its back starting with one side piece followed by one top piece, the center section, the second top and the second end piece.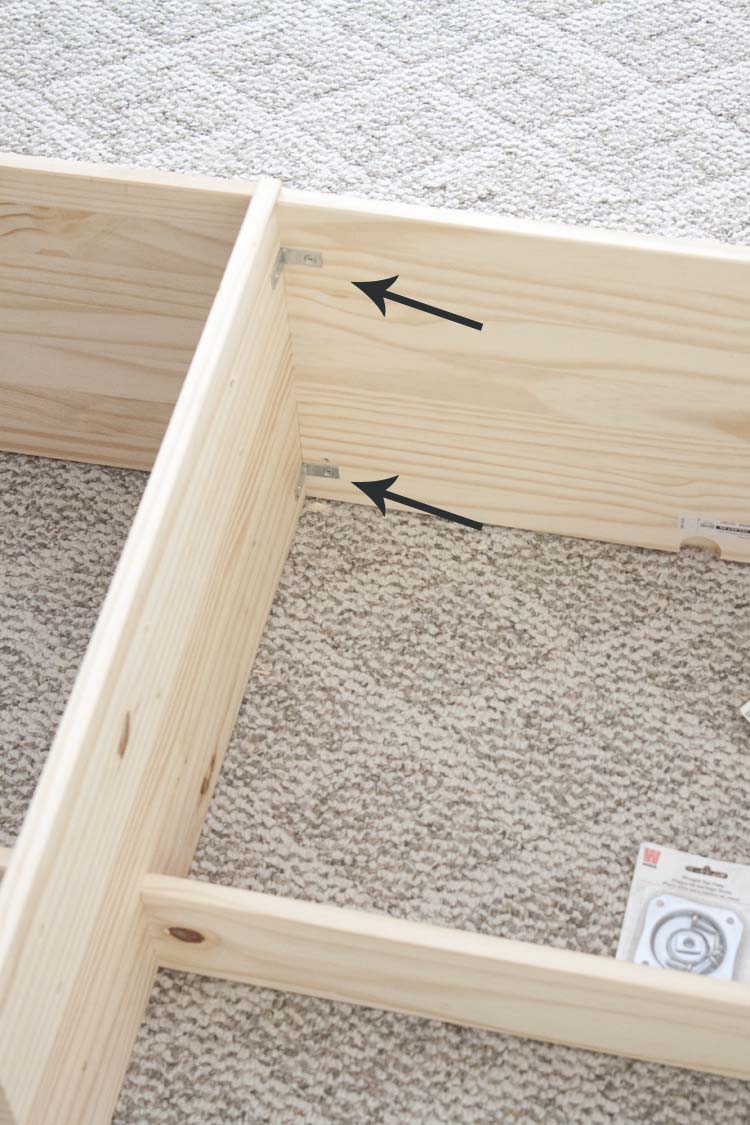 To add the second top (right side) you'll need to add two small L-brackets since you can't put the provided anchors through both sides.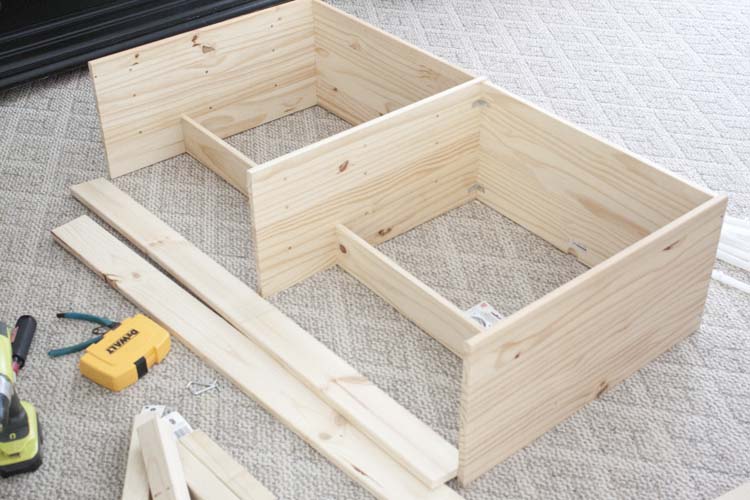 Add the provided braces toward to back (as pictured). Add a small L-bracket to the underside of the brace on the left-hand side since you can put the provided pegs through on both sides.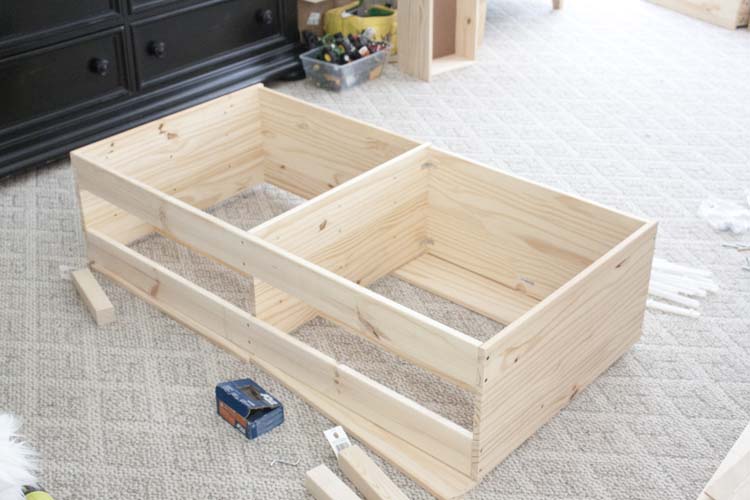 At this point, you'll add your 1×4 braces to the bottom. Cut your 1x4x8 into two 47 1/16″ pieces. Again, be sure to lay out all of your pieces and double check that these measurements work prior to cutting. The middle piece will sit on top of the braces and will be screwed in from the underside. The side pieces will be on the outside of the braces and will screw in from the sides. (see photo)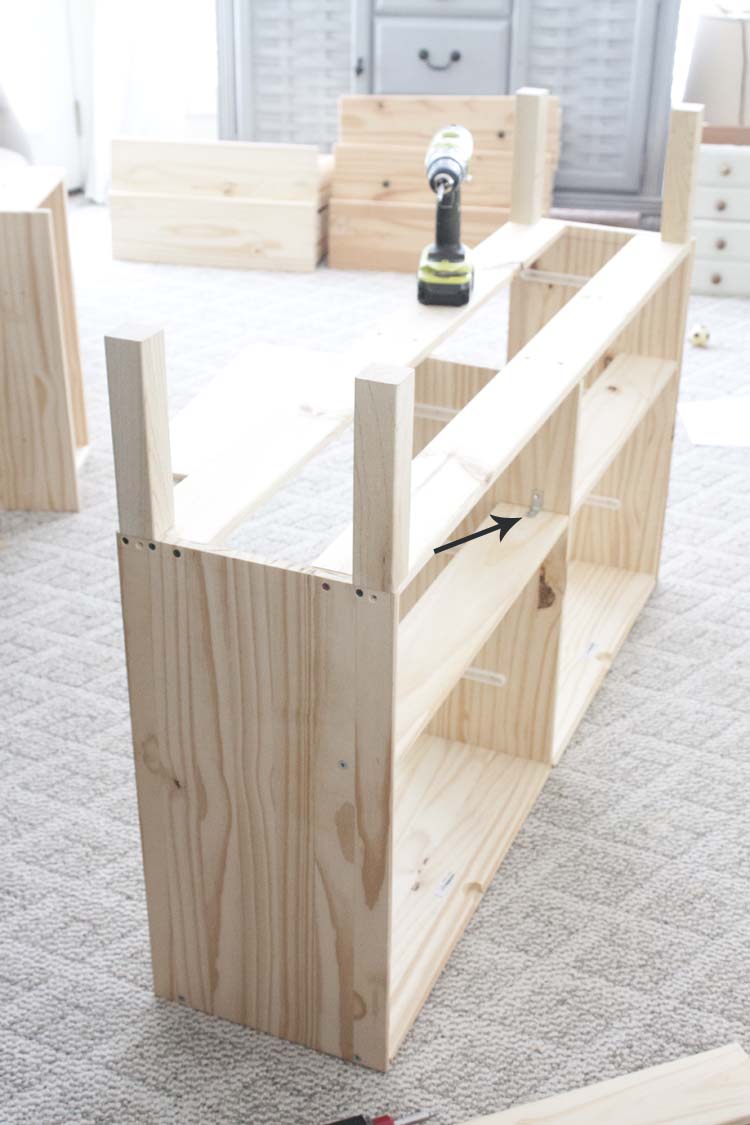 Here you can see two things: that L-bracket on the back brace on the left-hand side mentioned above and the fact that we weren't thinking about the legs when we screwed in the bottom braces and didn't leave room for the shaft of the leg screw. So we had to move our brace screws over.
To add the legs, pre-drill a slightly smaller hole, screw in the legs. Be sure to add wood glue between the legs and the braces for stability.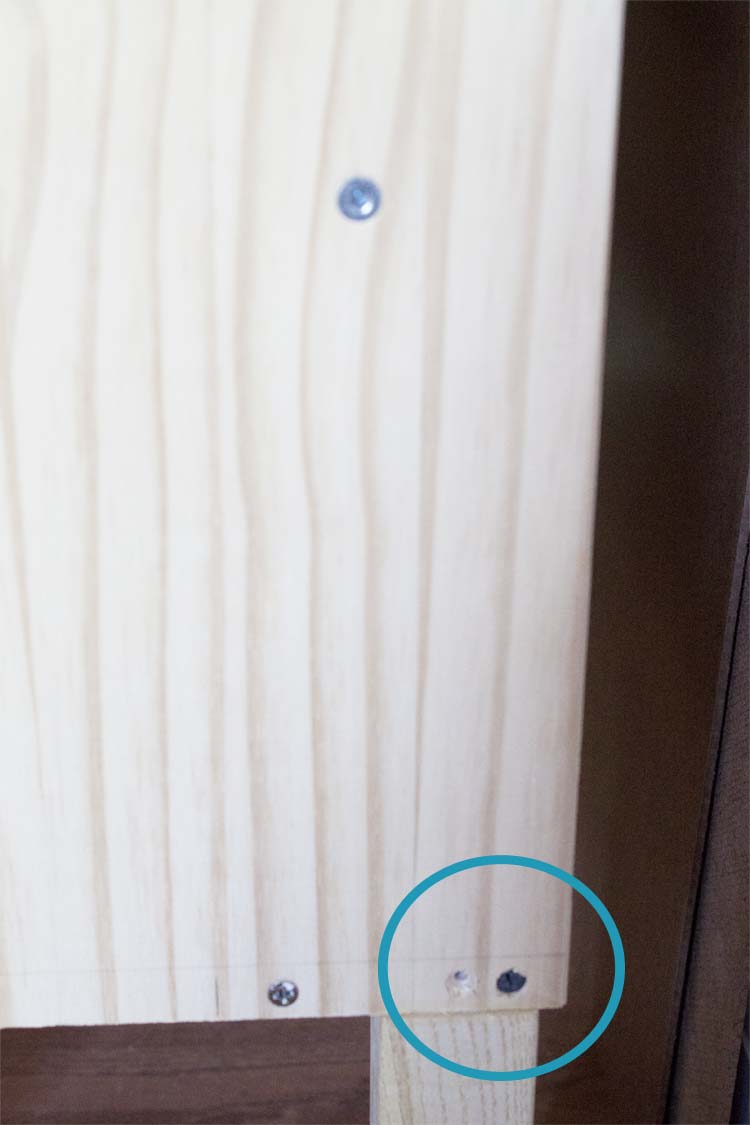 Here you can see what I mean about having to move the screws. As we started to pre-drill for the legs our drill bit hit the screw in the brace. Don't be us.
I used filler to cover this and all of the screw heads up and it was no worse for wear. Sand your piece as needed for a smooth finish.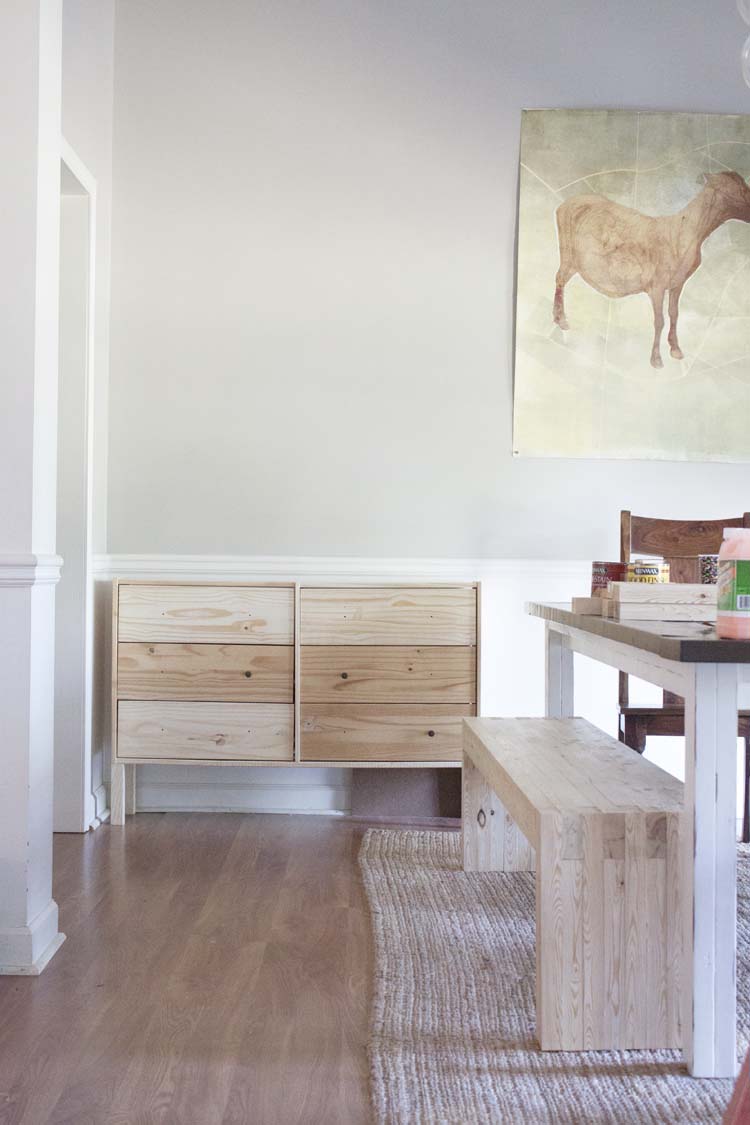 Finished size: 48 1×4 " l, 32 1/4″ h and 11 3/4 d.
The hardest part was deciding: 1) to paint or stain and 2) what handles or knobs to add.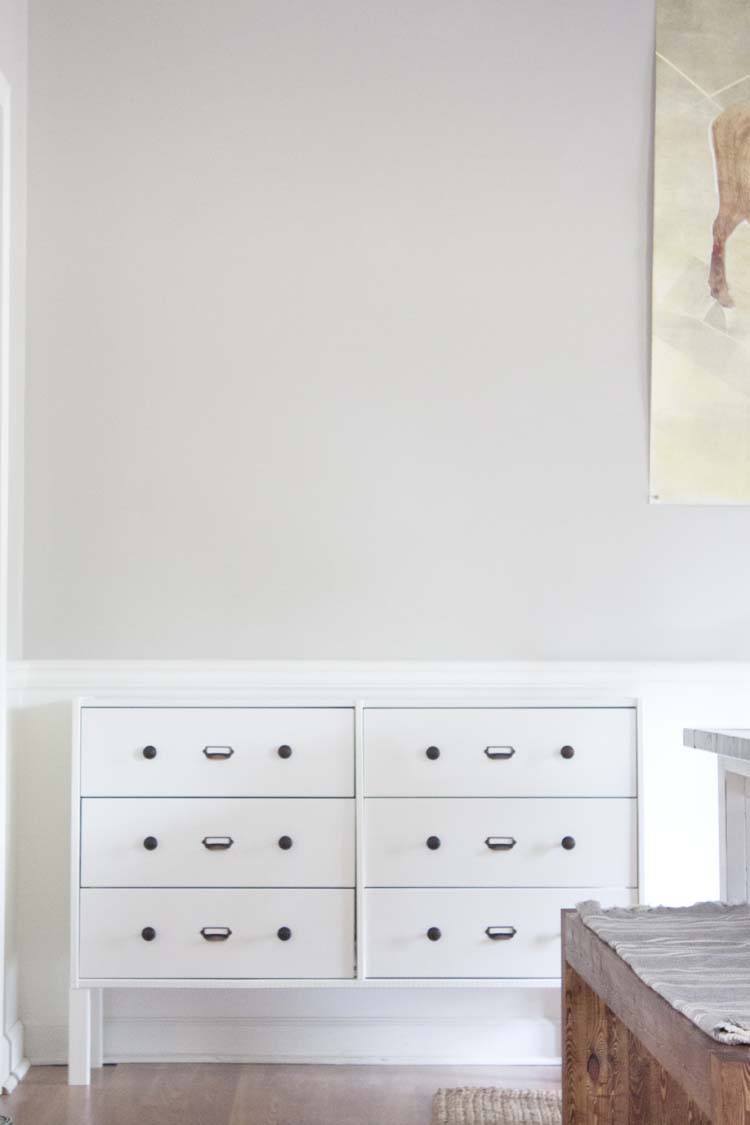 In the end, I decided this would look best painted since I decided to stain our DIY farmhouse bench. I used Muslin White from Glidden in semi-gloss. And I went with knobs (that fit in the existing knob holes) and added label holder pulls, too. Both in oil rubbed bronze.
I painted the piece prior to nailing on the back pieces. That made it easier to paint. Once the paint was dry I added on the back pieces.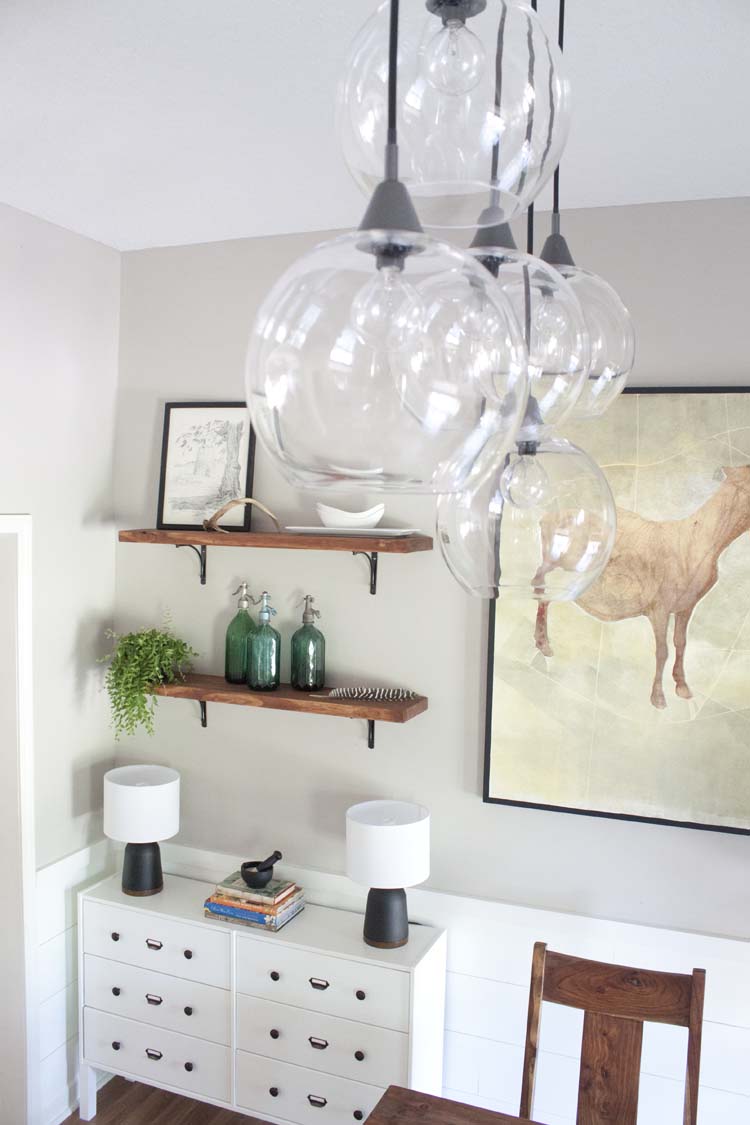 It is the perfect solution for the small awkward space that wouldn't have otherwise accommodated a buffet, certainly not a traditional one.
The best part is, I spent less than $100 to complete it!
OTHER POSTS IN THE MODERN FARMHOUSE DINING ROOM MAKEOVER SERIES: