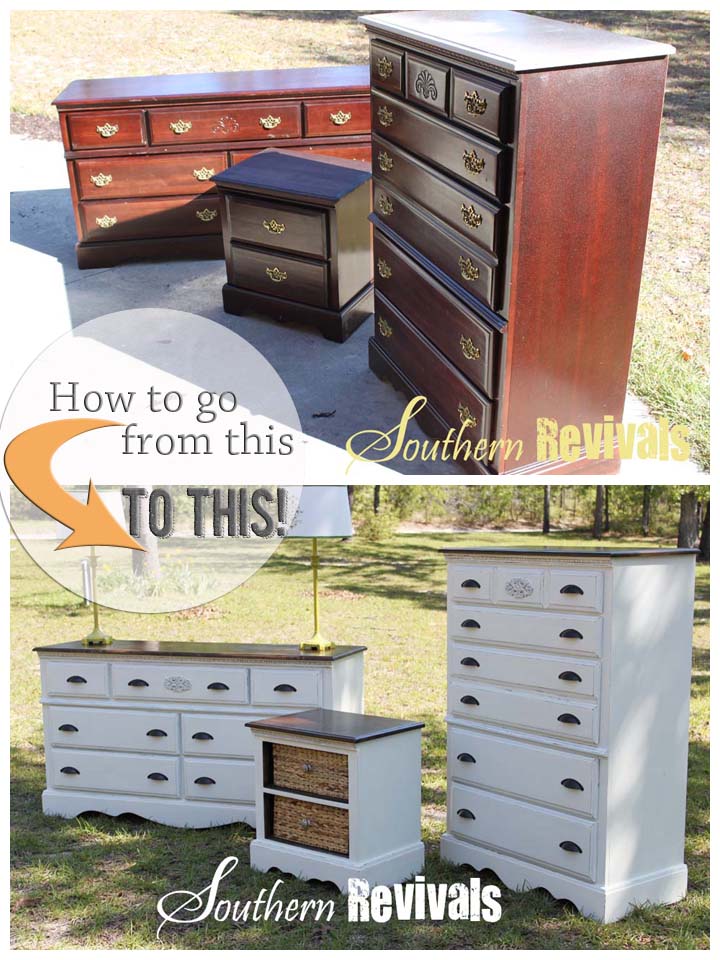 Happy 2nd Birthday, Southern Revivals! It was two years ago this month that I shared my very first furniture makeover with you on this, my blog, that I never intended to start. I talk about how it all got started in this post, The Truth About Southern Revivals. Little did I know where all of this would go from there.
The original Full Room Revival post is to date one of the most popular posts here on my blog. I've received many, many comments and emails wondering just how I did it. A couple of weeks ago I did a recap for another of my most popular posts, Uncle Joe's Dresser. Today I'm revisiting the full room revival and answering all of your questions.

To Sand or Not to Sand?
One of the most common questions is, did I sand it first. The answer is – yes, lightly. Anytime a piece has particularly glossy I always sand it lightly using a 220 grit sandpaper just to be on the safe side. It gives the paint something to stick to. It isn't always necessary but it's better to be safe than sorry.
Primer?
No. I very rarely use primer, only when I am afraid the piece's previous finish might bleed through the paint. This can sometimes happen with certain pieces.
What Color is It?
I chose a mistinted quart from Walmart. It was a flat finish in the Better Homes and Gardens brand. I wound up having to back and get another quart. The color match identified this color as: Bavarian Cream.
How Much Paint Did It Take?
I used just under 2 quarts for all three pieces.

Distressing:
Again, I used a 220 grit sandpaper to lightly distress the edges. I like to distress in areas that would get worn over time to give my pieces and authentically aged look.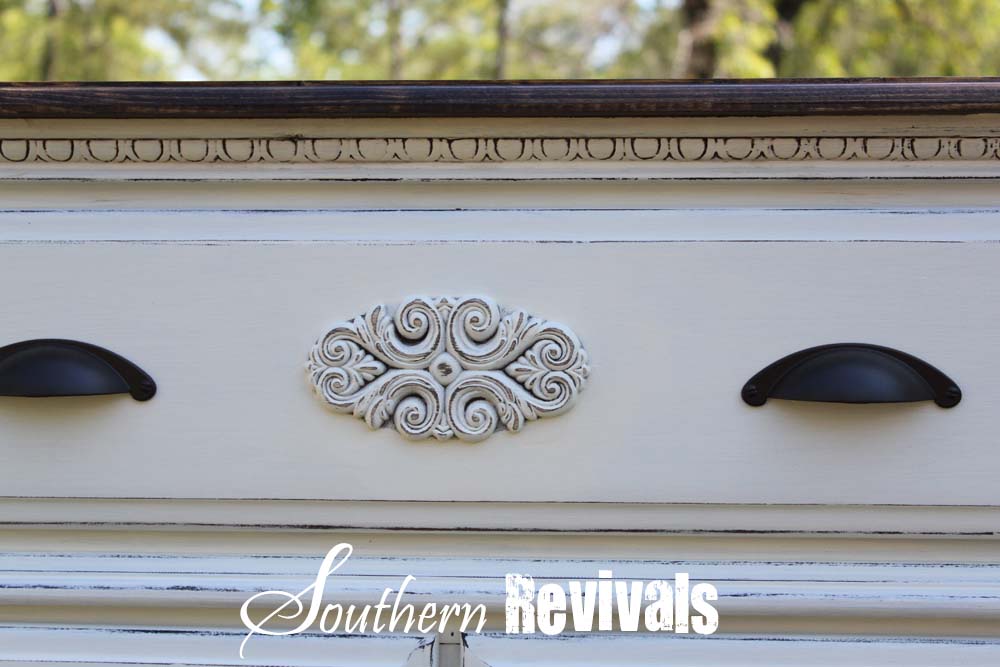 How to Camouflage the Dated Design:
The biggest issue my Sister-in-Law had with this furniture was that it had a dated look. Sometimes paint just isn't enough. To address her concerns, I filled in the carved shell designs with wood filler and then covered them with wood appliques.

How I Added the Shelves for the Baskets:
This is a tricky question. Since every piece of furniture is different I have had to do it differently every time I've wanted to replace drawers with baskets. It always starts with removing the drawer tracks. On some pieces, once the tracking is removed, you are left with a thin shelf fine for placing a basket on so long as the basket doesn't hold anything too heavy. Other times, like in this case, I had to add braces inside the cabinet and cut thin pieces of plywood for the shelves.
Where I Got the Pulls & the Baskets:
The baskets are made from water hyacinth. They are from Hobby Lobby.
The pulls are called cup pulls. I got them from Cool Knobs and Pulls.com

How I Sealed the Pieces:
I used Minwax Finishing Paste in Special Dark.

Restaining the Tops:
Yes. I definitely changed the stain color on top. Part of getting rid of the dated look included getting rid of the red oak colored stain. I was lucky enough to be able to sand down through the very thin veneer on the tops of the chest of drawers and nightstand. I wasn't so lucky with the dresser and I sanded down too far and got past the veneer to the pressed board underneath. There is no staining that! So the top had to be completely replaced. That can be very costly so it's obviously best to avoid it. This can be tricky since in order to restain you must remove all of the previous finish completely.
Here's a tip: Sometimes,  if you look carefully at the side of the tops on a piece of furniture you can see that telltale line where the veneer sits on top of the pressed board and how thin or thick it is. If the piece is solid or if it is wrapped with veneer tape, you won't see this. Veneer tape is used to wrap around flat surfaces so if the edges are beveled (like these pieces were) you can be sure veneer tape wasn't used.
Stain color: I used one of my favorite stain colors – Dark Walnut
What I Would Do Differently:
If I had it to do over again I would most likely use a chalk based paint or my favorite latex brand that I mention here. I would use a soft wax as opposed to the finishing paste as a sealer. The Minwax Finishing Paste is a great sealer and stand up to wear and tear for sure but being a hard wax, it will kill your hands. You could always use a buffer though.
These days, because I do this so often it would be reckless of me not to, I pay very close attention to things like VOCs. I choose paints and sealers with this in mind. Soft waxes are not only easier on your hands but they often times contain less, if any, VOCs.
I hope you've enjoyed today's flashback! If I've missed something or if you still have questions, please feel free to leave them in the comments.