This post, Farmhouse Christmas Entryway Styling Ideas, is brought to you in collaboration with Hobby Lobby. Thank you for supporting the brands that make Southern Revivals possible.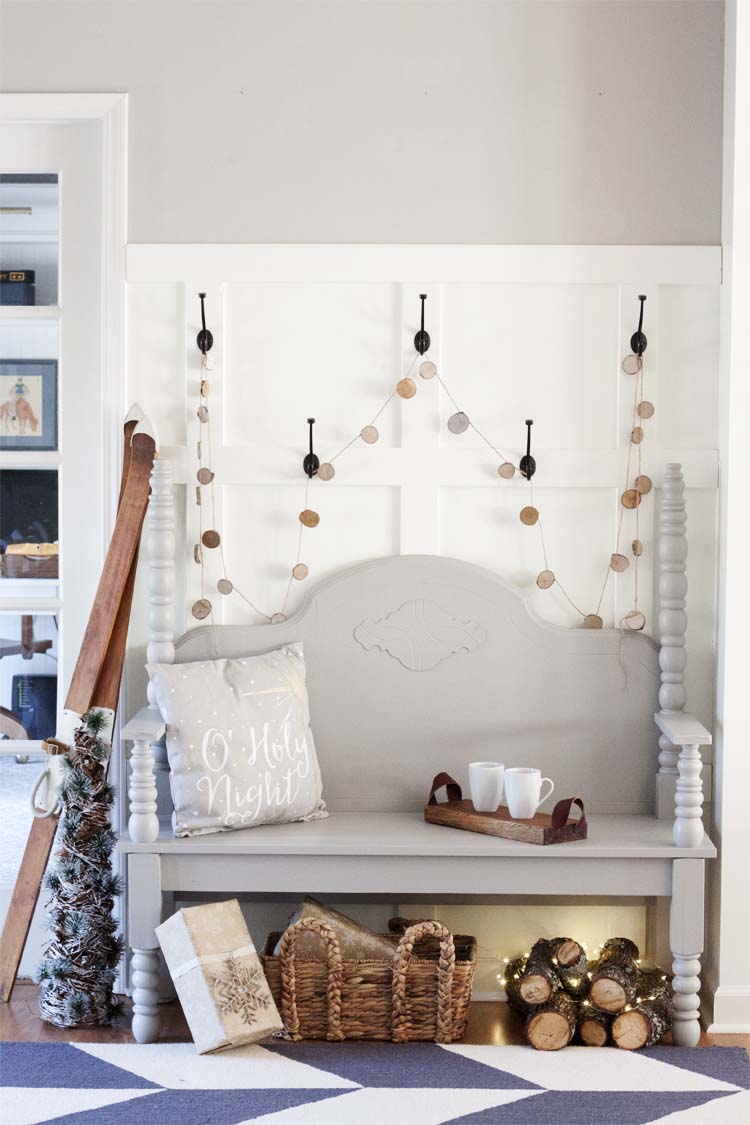 This week at a meeting with the elementary school principal the topic of decomposing fractions came up.
If you think this is the part where I manage to help you with your second grader's math homework, you are sadly mistaken. I mean, I've been thinking decimated fractions in my head this entire time. Which is essentially what happens to my brain when I attempt math.
But what I realized is that I apply the same process in a room that a second grader, apparently, applies to their math homework. I decompose and then I reconstruct. And no, it doesn't involve burying anything in the backyard.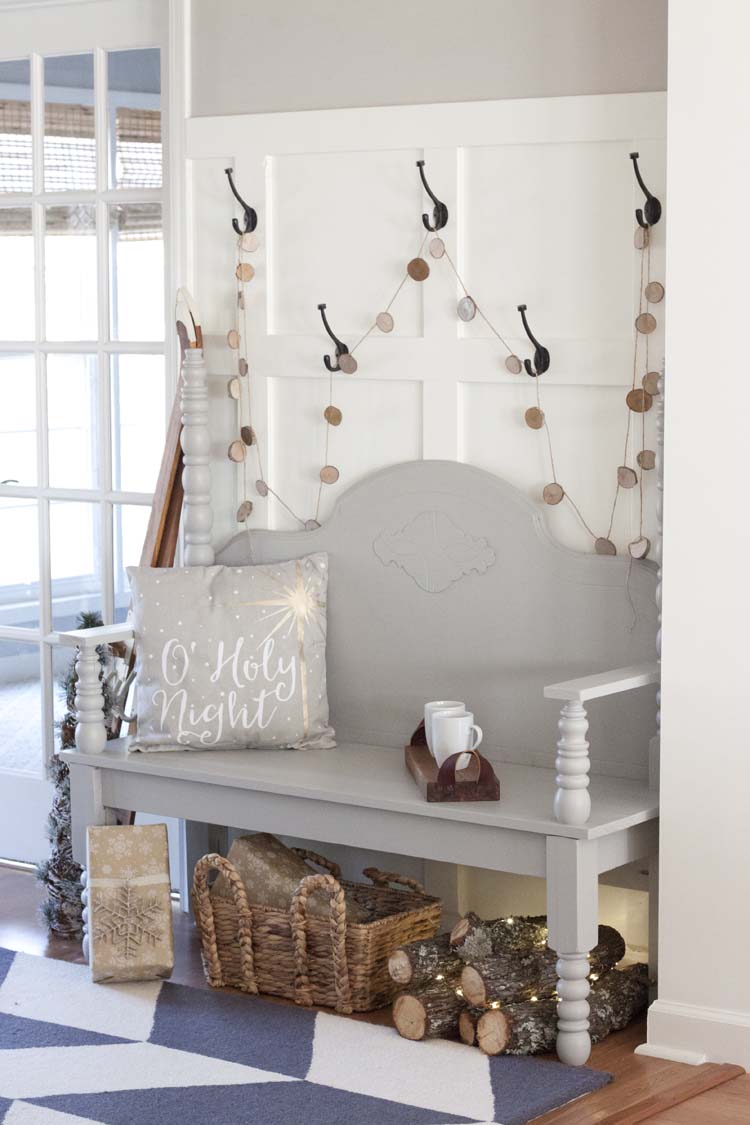 When I did the entryway makeover this summer I wasn't sure what it would mean for the entryway during the holidays. But I did know the new entryway style meant that the space would be easy to transition no matter the season. I can do anything in there now. And that really excites me!
So when I was planning this space for the holidays, I did what I do in any room when I'm working on a makeover. I took as much out of the space as I could (decomposed) and I re-imagined the space in as many ways as I could before I decided what I wanted to do.
When I spied that old headboard and footboard in my workshop I knew I wanted to turn them into a bench (tutorial coming on Friday). Once I was done, I knew I wanted to decorate the new space, as always, on a budget.
Hobby Lobby's Christmas decor was 50% off so I picked up the pillow, frosted tree, my favorite wrapping paper ever and a snowflake ornament that I wanted to use as package decoration. AND…the piece de resistance, the part all our mouths are watering over, THESE SKIS! All for about $90 bucks!
The skis were $49 each but I was able to get two for that price with the sale. And the pillow was only $12 and the tree $15.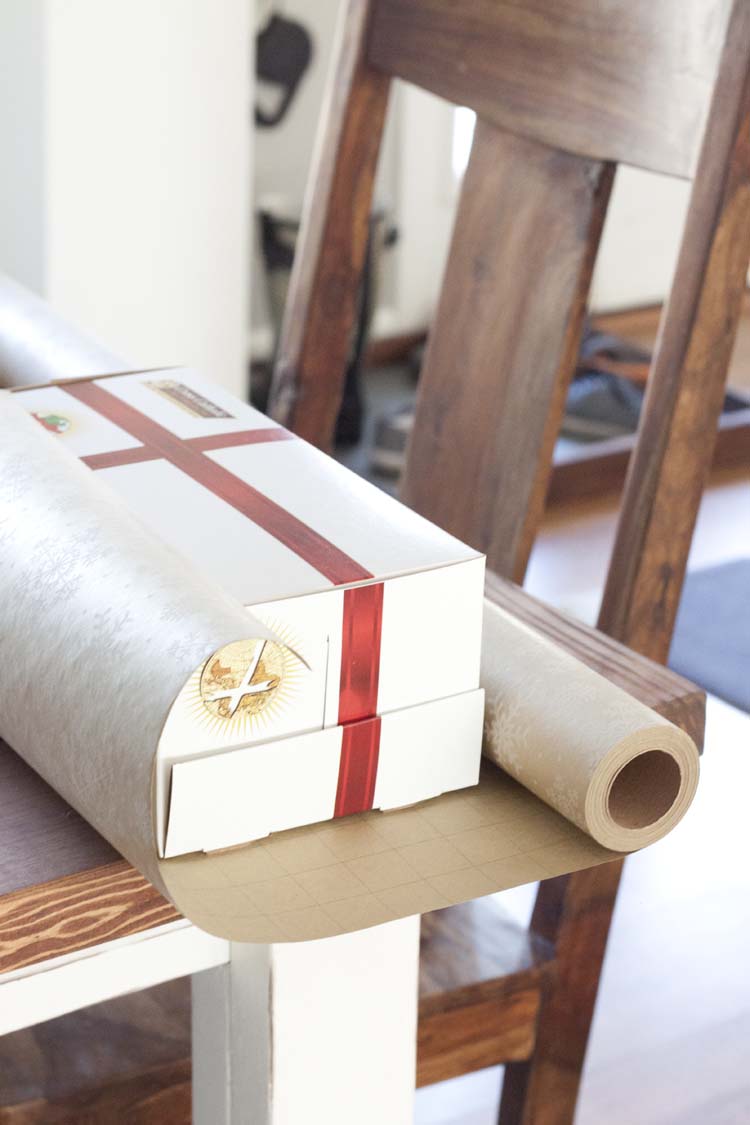 If you're looking for wrapping paper that won't tear while you're trying to use it, your kids can't see through and that contains enough paper to wrap more than two gifts, you will love this stuff!
Plus, one of my favorite budget-friendly decorating ideas is to wrap little boxes and display them around the house. This is also a great way to keep your kids from discovering exactly where that "big gift" they're hoping for is actually hiding.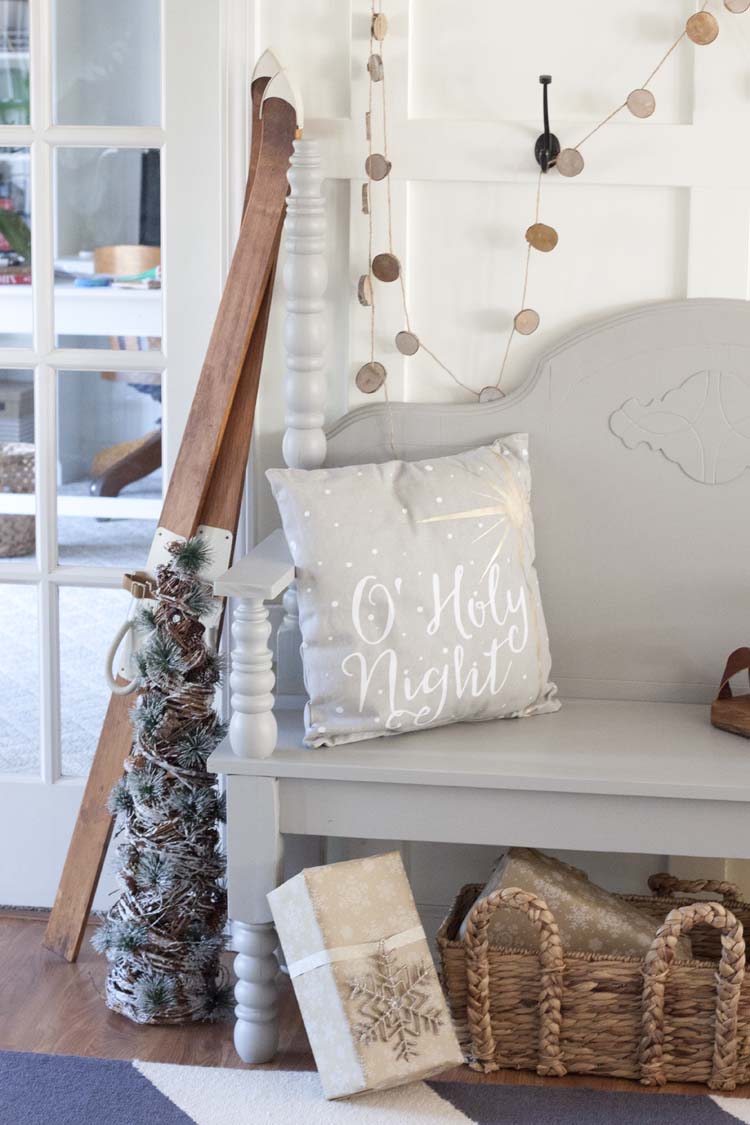 And then, like all the other rooms I do, I shop my home for everything else to fill in the space. Find my DIY wood slice garland how-to, here and my DIY leather handle serving tray, here. They both pair wonderfully with the wooden skis. And then I added several logs from that giant oak tree that hurricane Matthew managed to fell…and that, was that!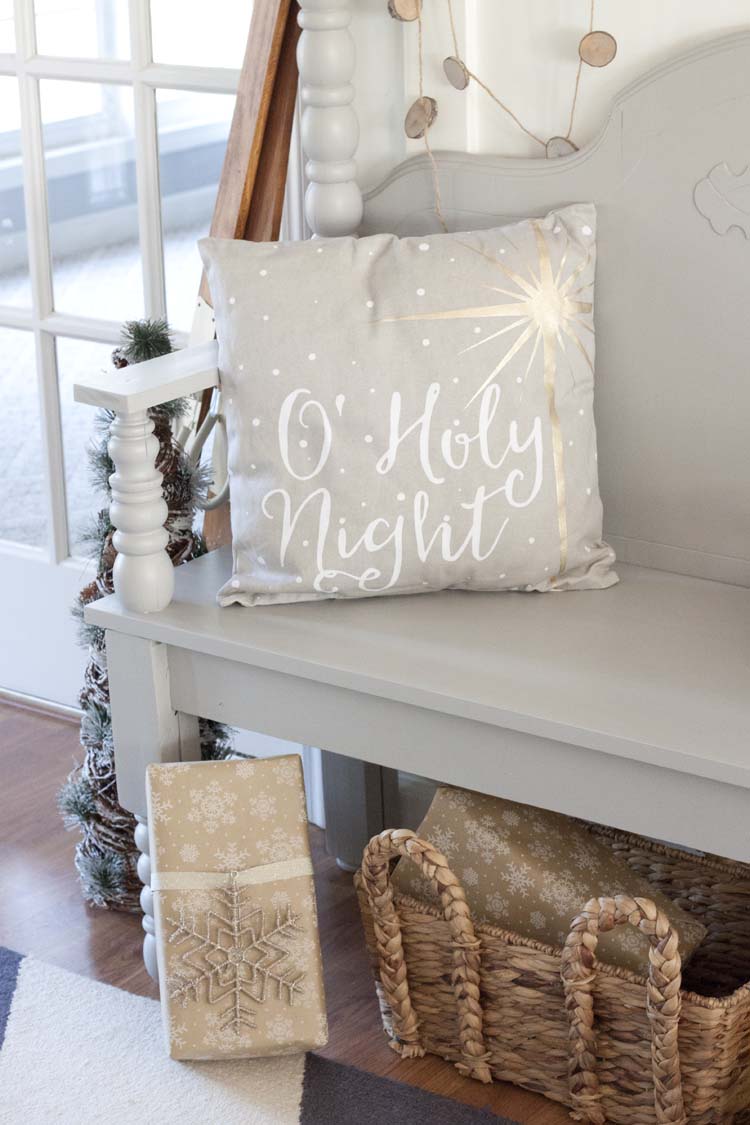 The space is so warm and cozy now. The best part is it didn't cost me a fortune and it's perfect, not only for Christmas, but the entire winter season.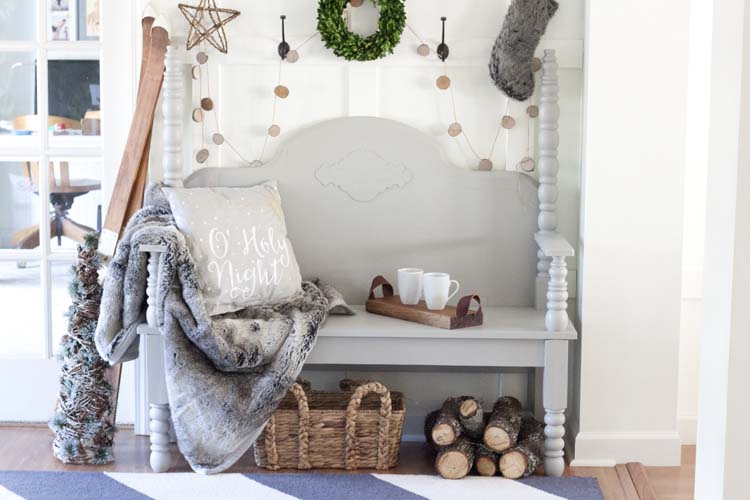 So when you're decorating a new space remember: It's easier when you deconstruct, or remove what you can, first. You don't have to take out everything or anything that's impractical. Just take away any distractions and you'll have a blank canvas to work with.
The easiest way to stay on budget is to shop your home for things that will work in the space and pair well with any new things you'll want to bring in. Also, use wrapping paper paired with ribbons or ornaments to create inexpensive decorations.
Any finally, shopping Hobby Lobby's Christmas section is a great place to find anything you could want no matter what your style is. What's your favorite idea from this space? You want my skis, don't you!
This is a sponsored conversation written by me on behalf of Hobby Lobby. The opinions and text are all mine. Comments submitted may be displayed on other websites owned by the sponsoring brand.