This post, 5 Ways With Faux Fur, is brought to you in partnership with Pottery Barn. Thank you for supporting the brands that make Southern Revivals possible.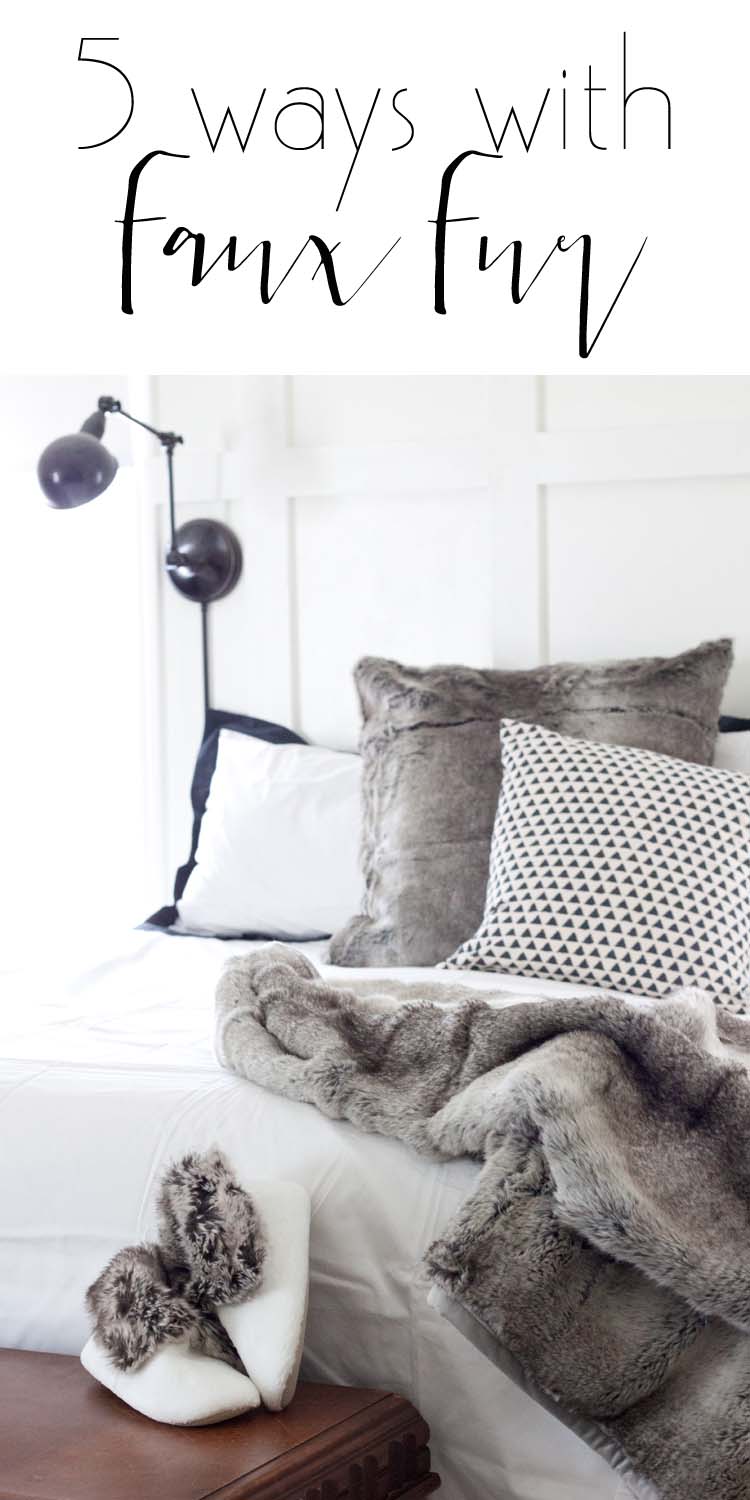 I would totally describe myself as a late bloomer. I'm usually just late in general and I resist adulting like it's the flu. But I feel like it took me forever to discover my own style and that's a party I'd rather not have been late to. I'd borrow someone else's for a little while just to test it out, try it on. Inevitably I'd realize it wasn't completely me and I'd move on to the next thing. The good thing about this process is that it allowed me to collect and keep the things that did work from one style and incorporate them with things that worked from another.
These days I guess I'd describe my style as modern farmhouse but that's just because it's easier than saying modern rustic simplistic eclectic with a little boho twist thrown in here and there. At the end of the day, I just like what I like when I like it. And these days, I love faux fur.
I don't care that it's a million degrees here in general, even in winter. The sight of it makes me cozy and tricks my brain into thinking it is actually winter even if I could still fry an egg on the sidewalk. And it's just plain gorgeous and that's always a plus.
Today I'm sharing 5 ways (that aren't just a tossed throw!) to incorporate faux fur for any room and any budget. And also some home updates I'm looking forward to in the new year.
1 – A Seat Cover

A few months back I finally tackled our dining room makeover and built this bench to go with our farm table. I love using a throw as a bench cover. As the temps get a little cooler and the fall holidays transition into winter, a faux fur throw makes for the perfect bench cover. Not only does it warm up the space but it also warms the seat for any guests. No one wants to have a cold tush!
Since my style is a little more simple it's important to add cozy touches to prevent a space feeling sterile. A faux fur throw used as a seat cover does just that and the best part is, it isn't permanent. So when the seasons change, my bench cover can change, too.
2 – Pillows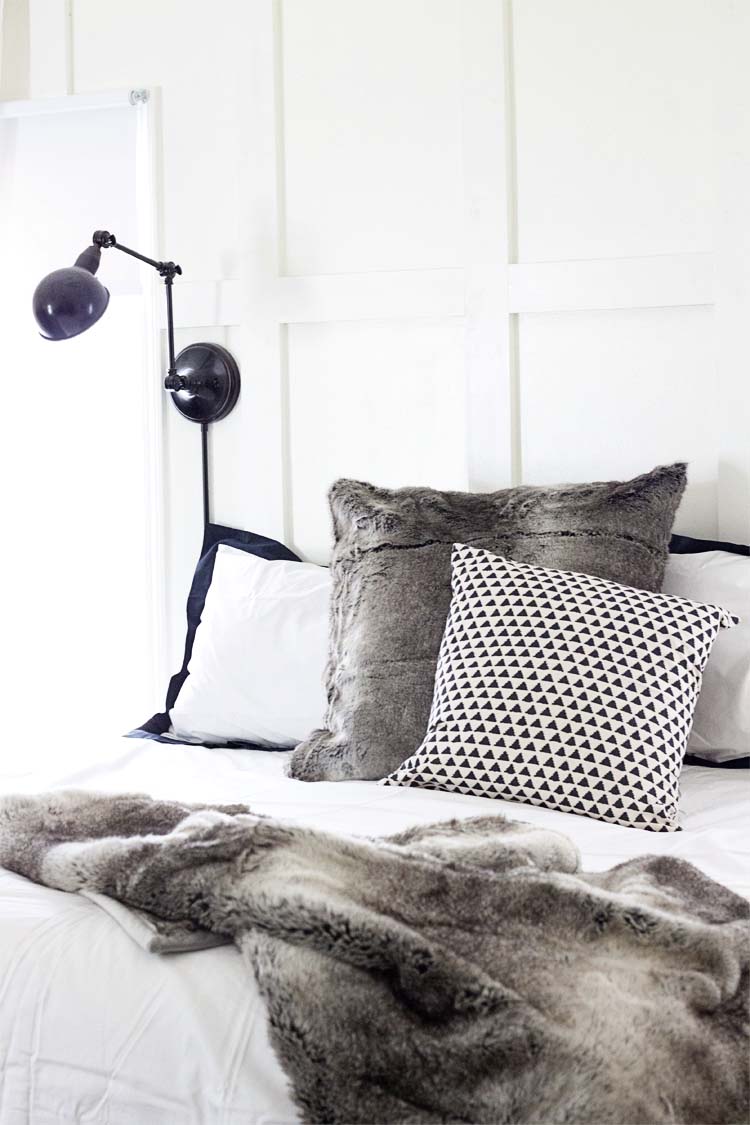 Honestly if I could afford to change everything in every room of the house, every season, I probably would. Since the boys rooms (and beds) are small, I do change out their bedding just for Christmas. But completely changing out the decor for every room isn't practical.
Incorporating a faux fur throw pillow transitions my space into winter and the Christmas holidays without having to change anything.
A few years ago I made over this whole room on a $500 budget. My style has evolved since then and soon this space is getting a much needed update. This will be the year that I will attempt to build my own bed. Fail or succeed, I'll be sharing it here with you. Hopefully from my bed and not from the crumpled ruins on the floor!
3 – Holiday Decor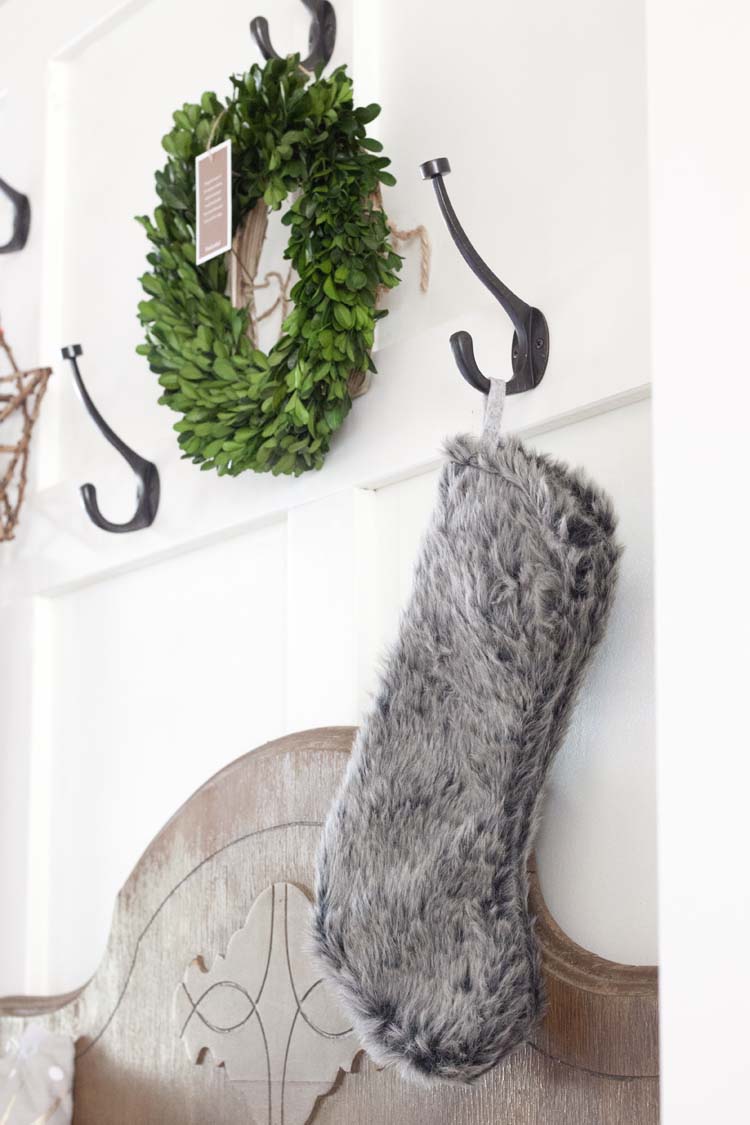 Stockings evoke warmth and coziness all on their own. Faux fur takes it a step further and adds sophistication, too. My next goal is to add to a huge faux fur tree skirt to our living room Christmas tree. My cats already love a good tree skirt. A faux fur one will probably have them all, I'm home again, Momma! I can see them kneading away it now. Either way I've learned my lesson, never hang your cat's Christmas present filled with catnip from the Christmas tree. Unless you want to see how fast they can climb it. I'm fine with them kneading away that the bottom of it, thank you very much.
The picture above is a space I'm currently working on that I am so thrilled to be able to share with you soon. It's one of those projects that starts out with a bunch of junk and you aren't really sure how it will turn out but then it turns out even better than you imagined and you feel like a genius for a minute. Until your 8th grader needs help with his math homework and then you're all humbled again and questioning the validity of your college degree.
I'll be sharing this space (and a tutorial) next week!
4 – Accessories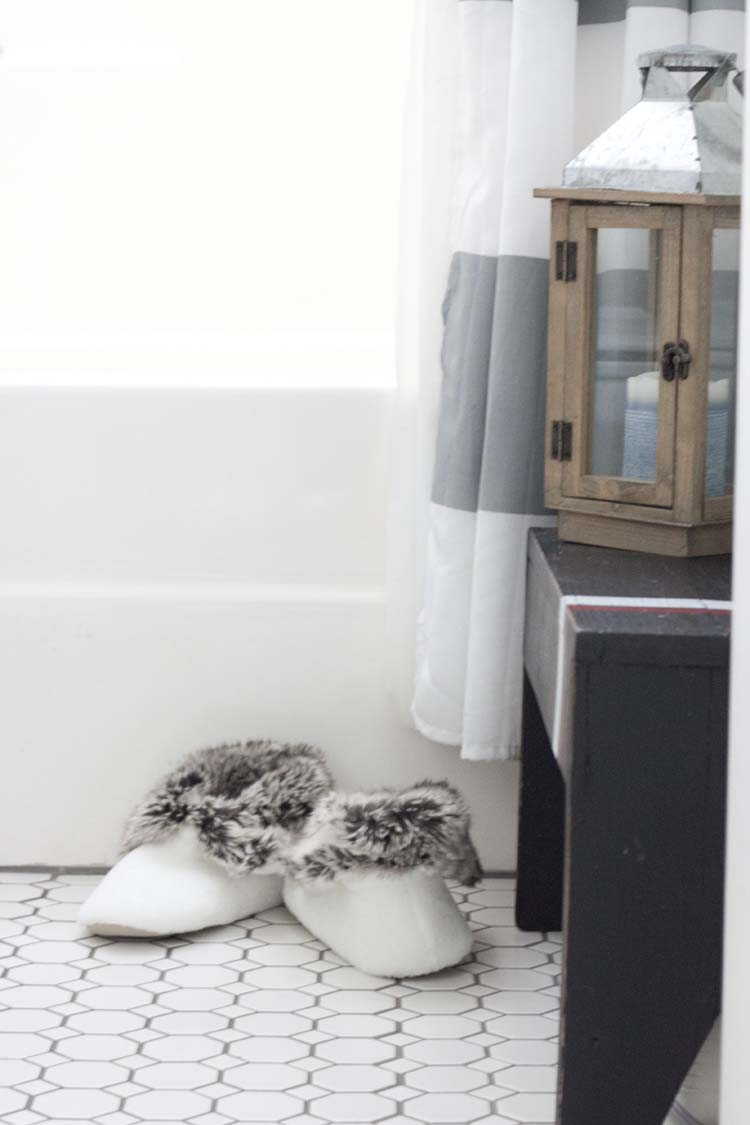 Last year I spent two desperate weeks searching for a toddler sized robe (things are abundant until you're looking for them) because the baby of our family didn't have one and "eweybody else haf one, Mommy". Big brother was getting a new one for Christmas and I knew the breakdowns-of-all-breakdowns would happen if I didn't come through. Who knew a newly minted 4 year old could appreciate something as simple as a robe!
You know who else appreciates a nice robe? Or some slippers? Me. Know who, until recently, didn't have either? Me.
Listen, I'm a fan of dressing up just about anything and making it pretty. If I can ever figure out how to make the litter box in our bathroom look like a miniature farmhouse dwelling that….belongs in a bathroom, I am so totally doing it. If you have to have slippers, or a robe, (and ewerybody else does, so why not you!) then they may as well double as decor. Am I right?
Speaking of master bathrooms…I have talked with God on lots of important matters lately and also about bathroom makeovers (this will seem less obnoxious and superficial when I finally have the lack of pride guts to show you the before) and I think He appreciates the fact that my sanity might really benefit from improvements in there. The point is, the next time you see these slippers I hope I am showing them to you resting comfortably on cement tile next to a claw footed tub instead of in my kids/guest bathroom (beautiful though it is) because I have boys I can guarantee you there's hidden pee in here somewhere. My faux fur slippers deserve better than that. For now, God and I are still working on the finer details like budget and income and the discrepancies therein. Did I mention I'm no good at math?
5 – Throws (you know, just a throw but not just any throw)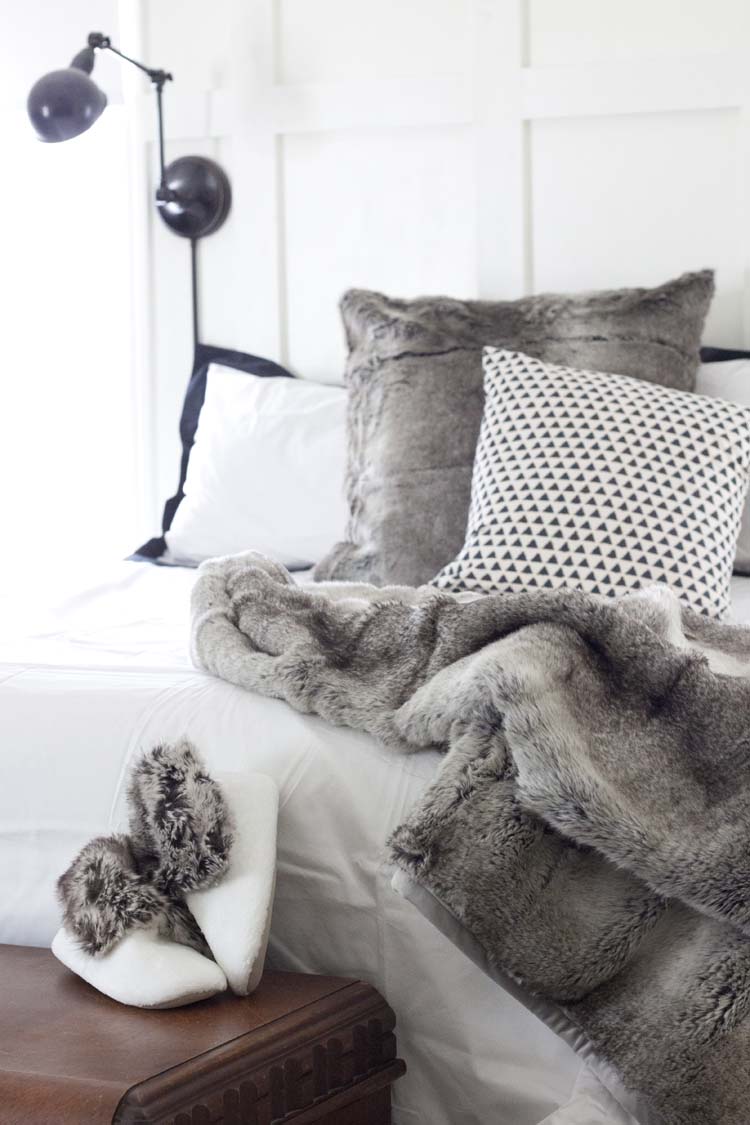 Sometimes there's no need to over complicate things. Sometimes a throw can just be a throw, you know? And a throw works anywhere. Pair it with a pillow faux fur pillow in the bedroom room or toss it over the arm of a chair or the back of your sofa. And since it's faux fur it adds instant style and sophistication without a complete makeover. Just be prepared for people (and cats) to actually use it because it's as comfy and cozy as it is luxurious.
What's your favorite way to incorporate faux fur? Or have you got any makeover plans for the new year? Share them with us in the comments below!