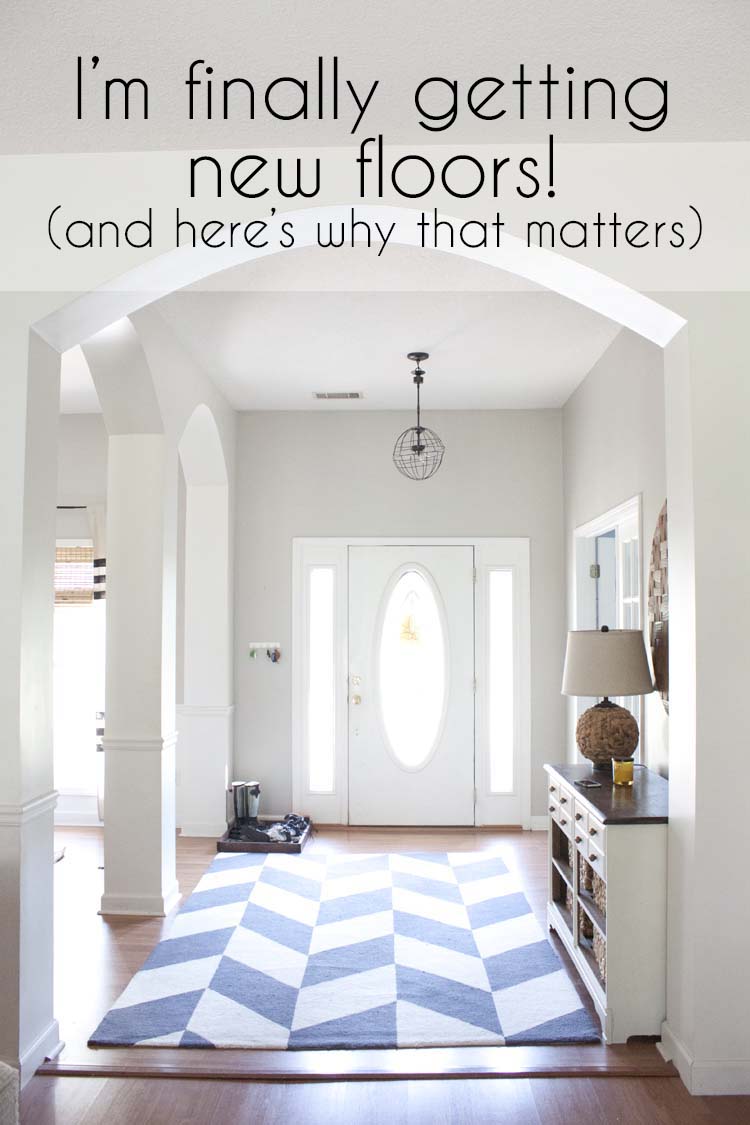 I am finally getting new floors. And before you scroll right on by, let me tell you why that matters.
When we bought this house 11ish years ago, I remember being so excited about the deal we were getting that I hardly paid attention when our realtor said, these floors are probably going to drive you crazy.
That ignorant bliss literally lasted me years, way longer than those green walls! Since this house was a foreclosure it was twice the size of our first house, but we could still afford it! It was absolutely the nicest house I'd ever lived in. Before long though, the dreams of discovering new rooms in the house were gone. And ignorant bliss started to fade away into the harsh reality that, in fact, these floors were driving me crazy.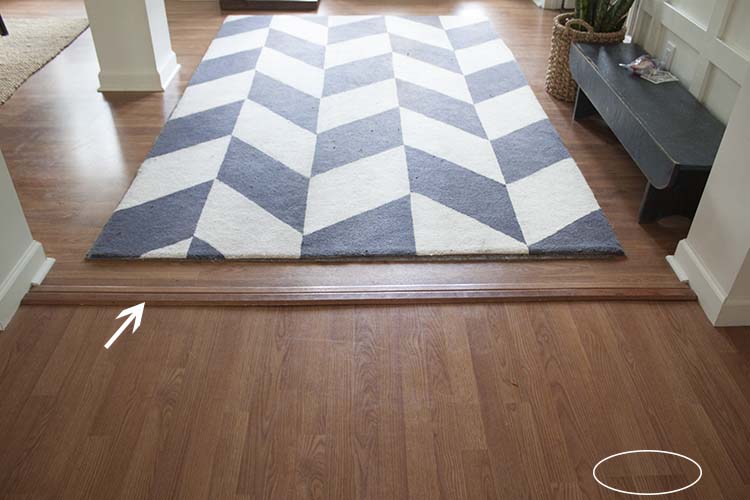 It was more than just flooring vanity though. Even though our house had this great open concept, there were thresholds spread across every opening, even the really large ones. And if that wasn't bad enough, there were two thresholds side by side.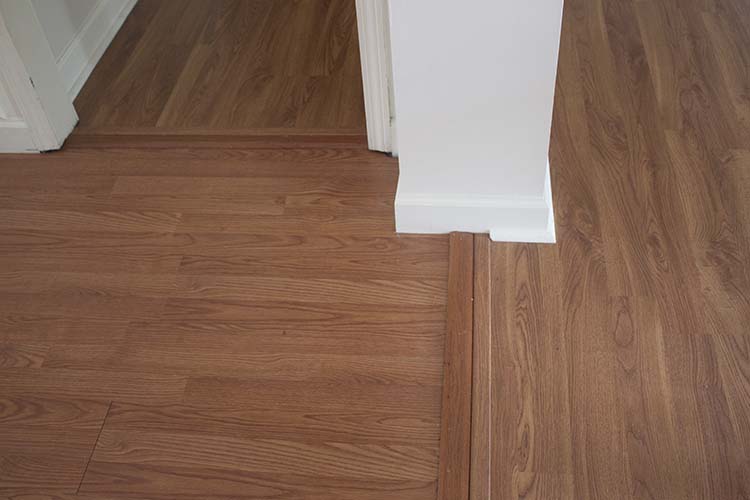 The floors don't even run in the same directions.
That's right, floors. Plural. As in more than one kind of flooring. It's true that it's difficult to tell at first glance but different they are and they're turned this way and that. The foyer floor runs one way. The living room floor runs another and back again in the hallway.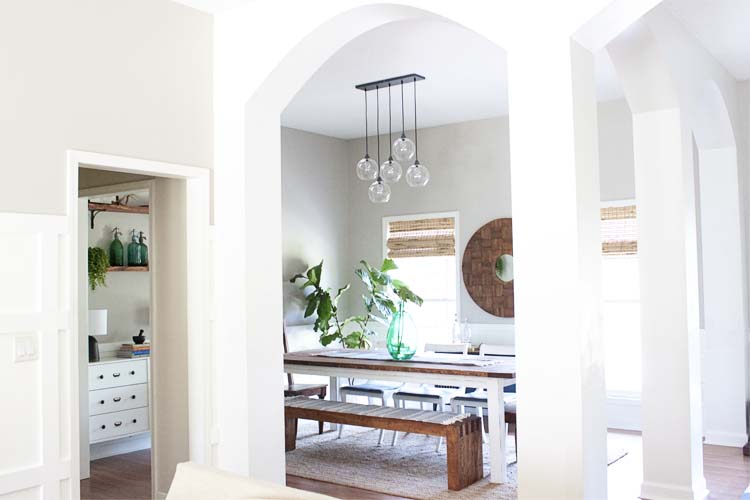 And when I've shared reveals like our dining room makeover, I've always been self-conscious of showing the floors.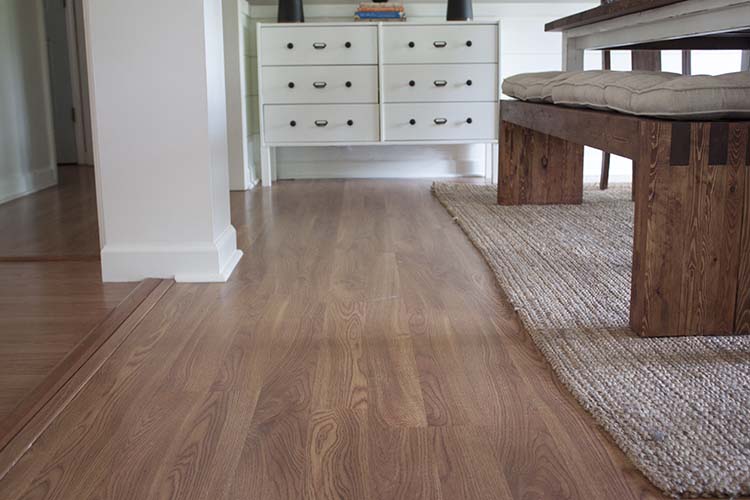 Another issue is that our concrete slab needs to be leveled and you can feel the floor move underfoot in certain places when you walk across it.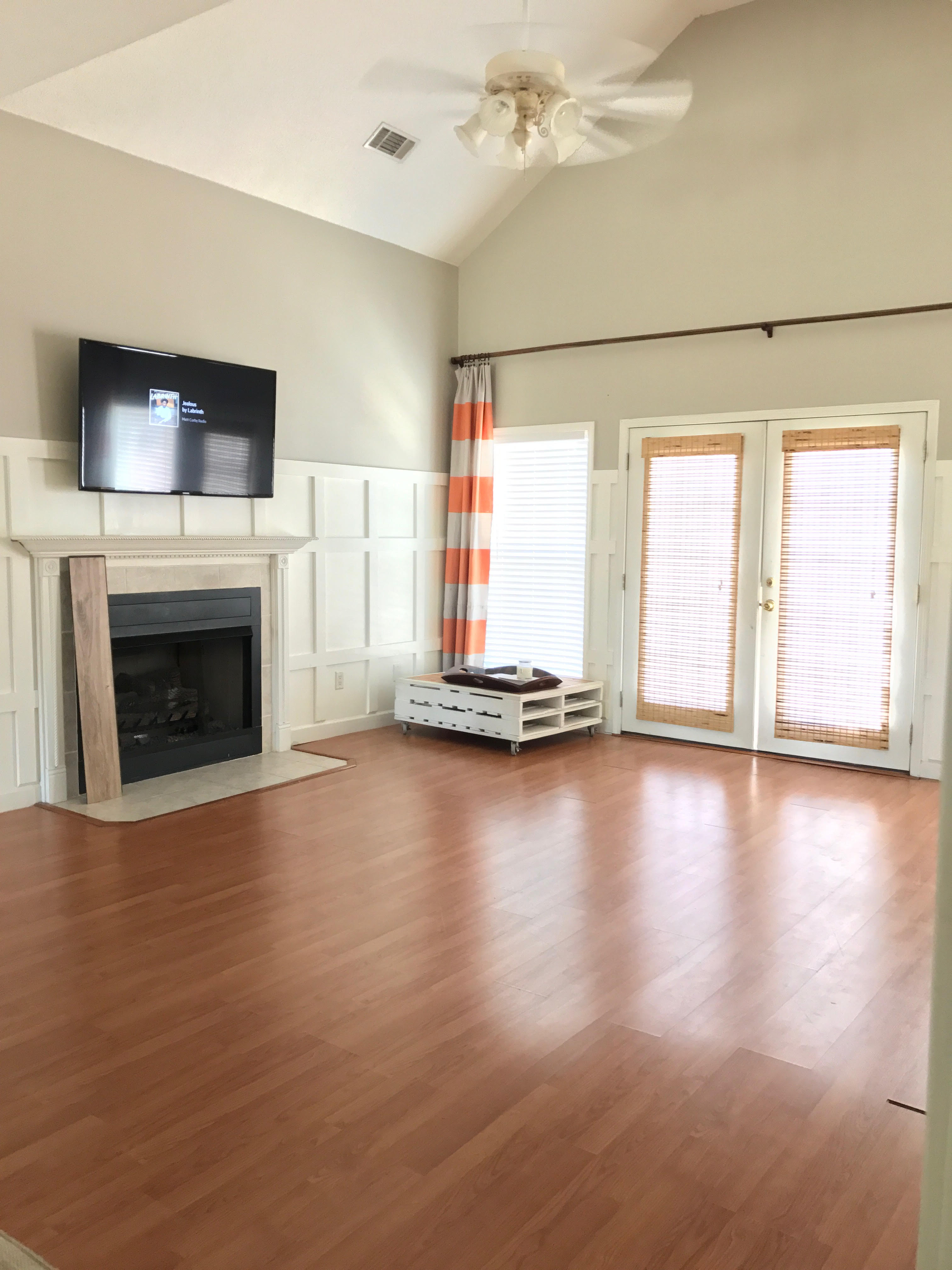 One of the biggest rooms in the house is one that I almost never share. Even though the board and batten on the walls was one of the first projects we did in the house, I just never felt inspired to finish the space. There was so much about it I wanted to change and a large part of that was the vast expanse of orangey red floors.
Over the years I've tried a wide variety of rugs to cover them up.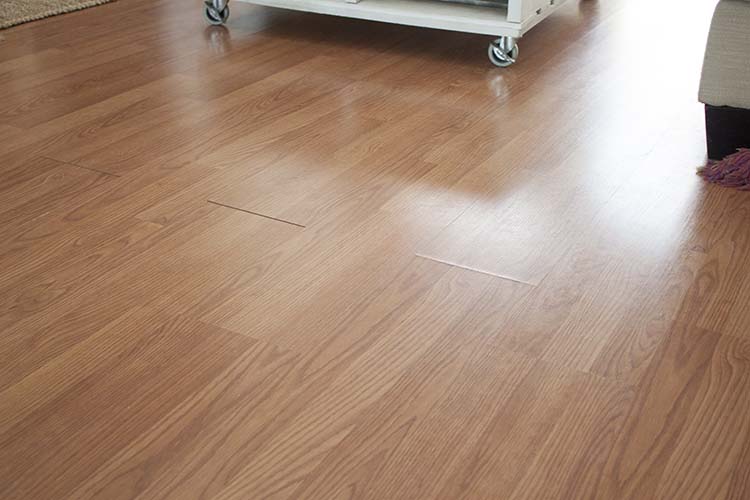 But the rugs would never be big enough to cover all the problems. Even when they did cover things like the obvious moisture damage causing the raised ends of the planks, I never forgot they were there. And we knew it would only get worse since it appears there's no moisture barrier underneath.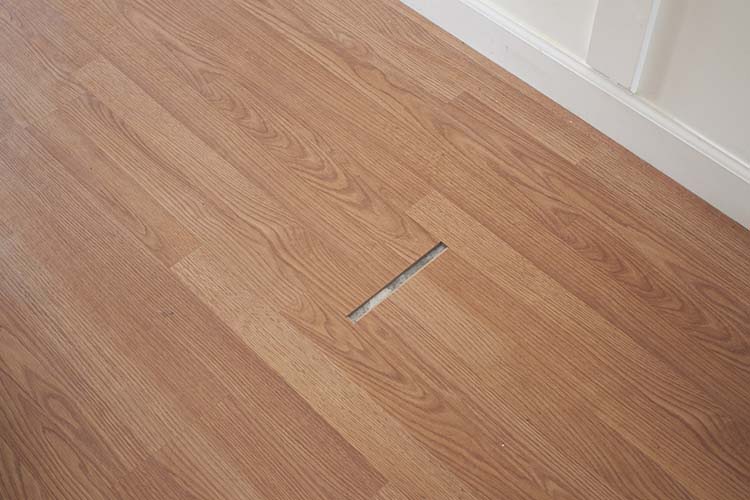 The way we know there's likely no moisture barrier is that in these little gaps that are constantly opening up (and we're constantly closing) where we get a glimpse of the concrete slab below.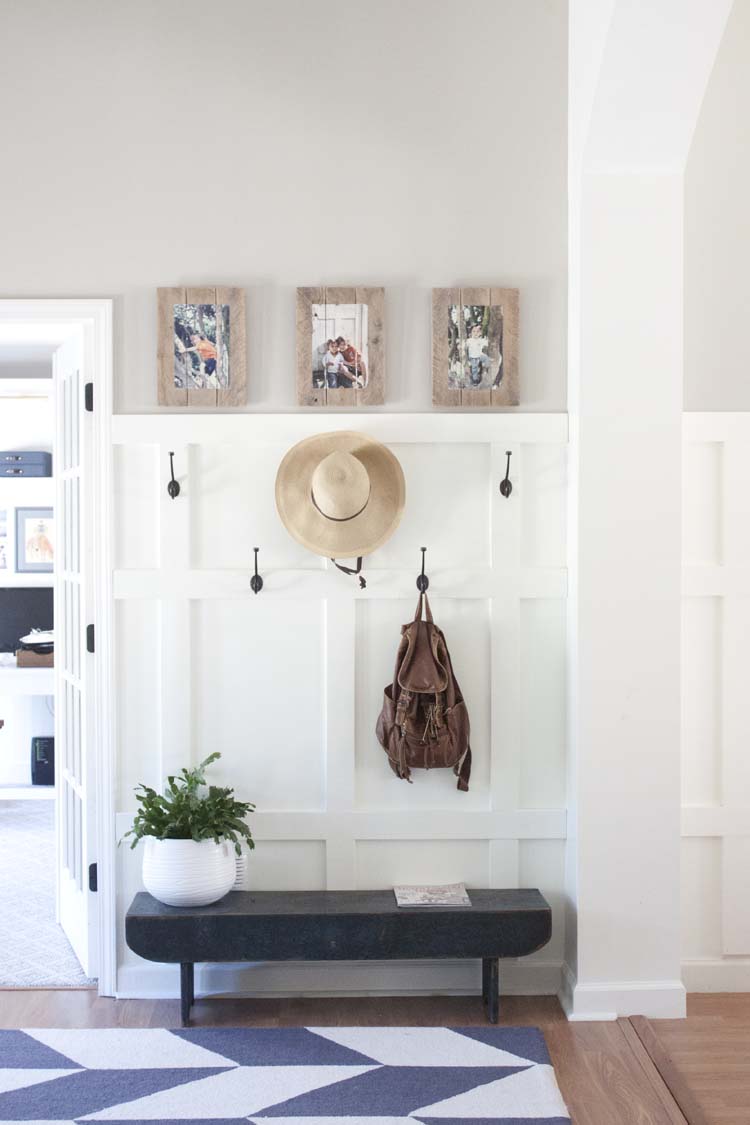 While I will always love a good rug, new floors or not, I would still love to love my floors. And when I reveal a new space like our modern farmhouse style entryway, I'd love to not have to worry about what the flooring takes away from the fresh, new space.
The biggest hurdle to those new floors? Cost.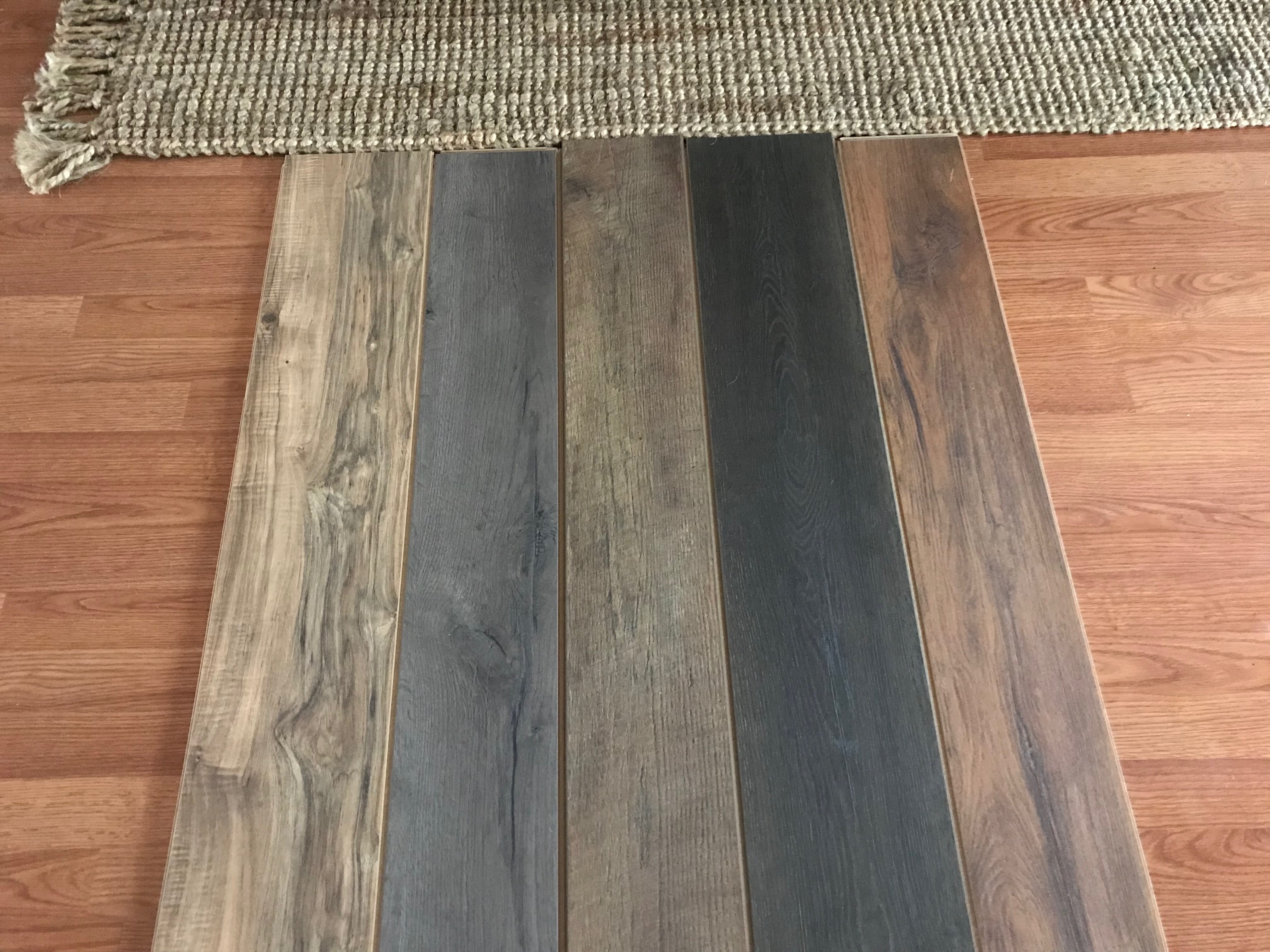 Over the years I've had estimates that ranged from $6,000 – 10,000 for just a portion of the house. A small majority of the house, but still.
I've considered all the other options, too – pulling up all the flooring and just painting the concrete or even DIY plywood plank floors. This one I considered so seriously that I actually went out and got a sheet of plywood, cut it into planks, and began staining the planks in different stains to decide which I liked best.
All that plywood ripping, staining and installing loomed in from of me like the daunting task it was, we had a lot of it to do. And what if I didn't like it in the end? Plus, this was one of those times that I just really wanted to do it right the first time and be done with it.
So what if I told you that I finally found the perfect flooring for our home, and more of it for spaces I hadn't even originally intended to put it, for just over $3,000? And I don't have to sacrifice style or durability and it's perfect for DIYers like me!
The hardest part of this decision? Which beautiful color to choose! Follow along as we finally get to transform our home with these long awaited new floors. I'll share the whole process with tips and tricks for installation, before and after photos as well as what we chose and why. Follow the journey and let me know which color you'd choose!