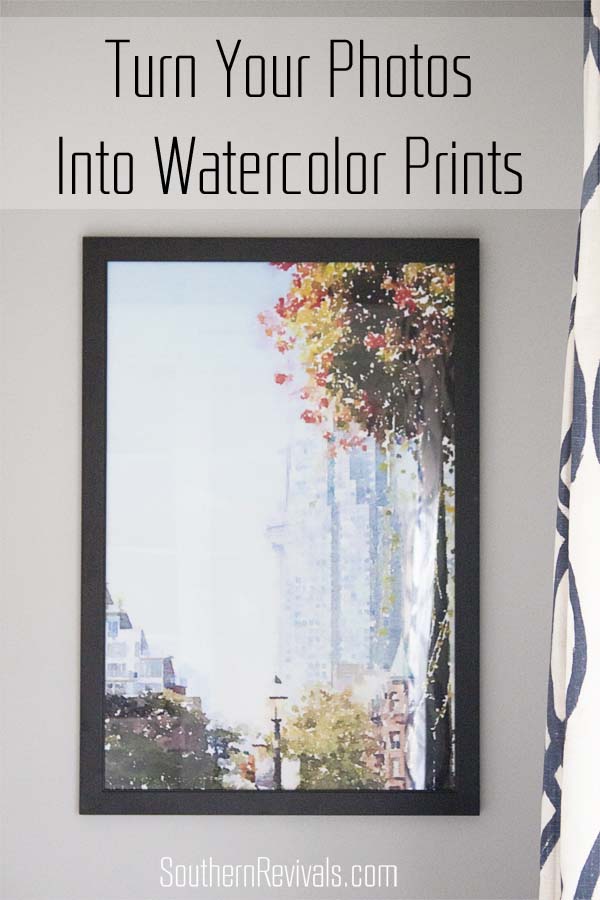 If you've been around here since September then you probably remember how in love I was with my trip to Toronto. I just keep waiting for an excuse to go back. And to live there. Such an opportunity hasn't yet arisen. Anyway, I wanted to memorialize my trip by adding one of the photos I snapped there to our newly made over office. But not just a photo, I wanted it to be a true work of art. Here's how I turned a photo into a giant 24 x 36 watercolor!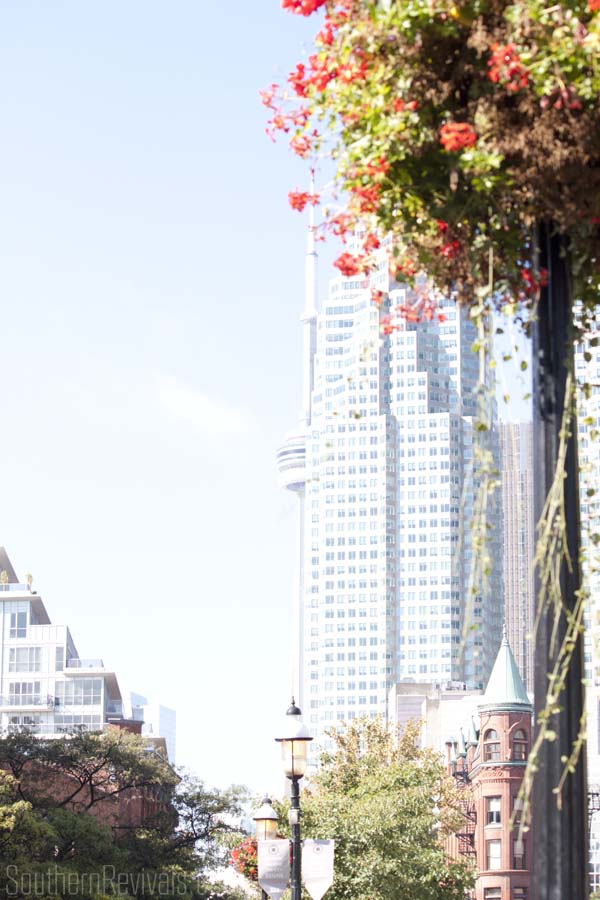 So, it was Sunday and I was standing in front of St Lawrence's Antique Market on Front St. Actually, I was standing in the median of two lanes of traffic. Luckily Canadians are really nice people and no one seemed to notice…or care. I was completely giddy with excitement. Not only had I just walked through this amazing city (following the sounds of the church bells from St. James' Cathedral) but I was walking across the street to an Antique market in Toronto. To say that I was like a kid in a candy store would hardly do it justice.
Then, as I walked across the street and turned my head left to check for traffic, this is the view that greeted me. It stopped me in my tracks. There, in the background, you see a glimpse of the CN tower right up next to that high rise building. On the left hand side you see what appears to be a modern apartment building while on the right, in the foreground, you see a gorgeous old brick building complete with turrets. Add to that the street lamps and the beauty of these hanging baskets above my head….the juxtaposition of the sleek and modern along with the quaint, literally made my heart skip a beat. It is one of my favorite pictures from my trip there and I knew I wanted to look at it everyday.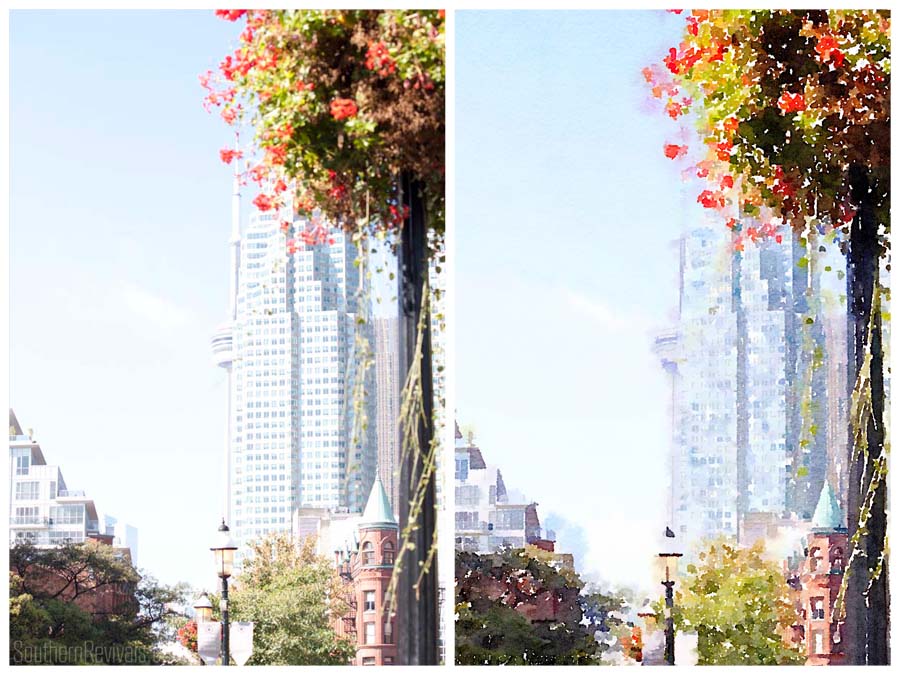 But since I had no real hope of moving to Toronto, I did the next best thing. I turned my photo into a watercolor print with a fun little app called Waterlogue – available for 2.99 (it's the first and one of the only apps I've ever paid for!) from the App Store for use on iPhone, iPod and iPad and then I hung it on our brand new office so I can gaze down Front St. every single day. And it's like I've been saying lately – it's fun to play around with your digital photos but you really should print them!
Step 1 – Open Waterlogue app. Choose the Camera icon and select the photo you want to use from your Camera Roll. The photo will populate and automatically be transformed into a watercolor.
Step 2-  play around with it until you get the look that you like. There are  12 presets to choose from, plus you can lighten or darken your photo as needed. For this photo I chose Vibrant and adjusted my photo to Dark which brought out more detail.
Step 3 – Choose your file size. I wanted to print a 24 x 36 print so I chose 10 or Giant.
Step 4 – Once you're done and ready to save, click the heart in the bottom right hand corner. From there you can either share to social media, send via email or, for our purposes, choose Save To Photos. See the process below:
[NOTE: I took this photo with my DSLR – which is NOT necessary – and saved the image from my blog to my phone to be able to work with it within the phone app.]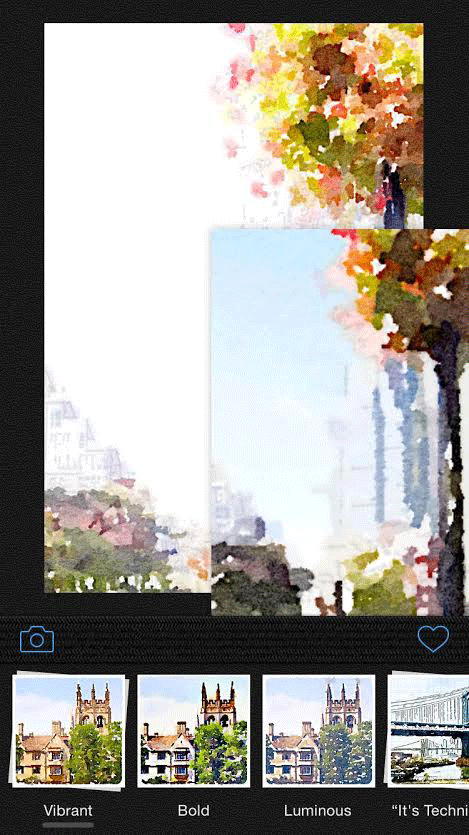 Once you've saved your photo you're ready to upload to a computer for printing. Simply connect your iPhone, iPod or iPad using the USB cable to your computer and upload the photo to your file destination. You can either choose to save it on your hard drive if you plan to submit it digitally for printing or you can save it to a portable drive and have it printed at your local printers. Because I've had some photos printed professionally in the past I use a program called Artsy Couture. I uploaded the photo to ROES, selected the 24 x 36 size option. I had it printed on a linen luster paper to give it the realistic look of a watercolor. Including shipping, it just was just over $47.00.
Feel free to use any online photo printing service or local printer of your choice. I mention this one because I was hoping for a quality print that didn't look like it just came out of printer and that's exactly what I got. Also, you could use the timeshel app I mentioned in an earlier post for printing these in a smaller format. A collection of these watercolor prints would make for an amazing gallery wall.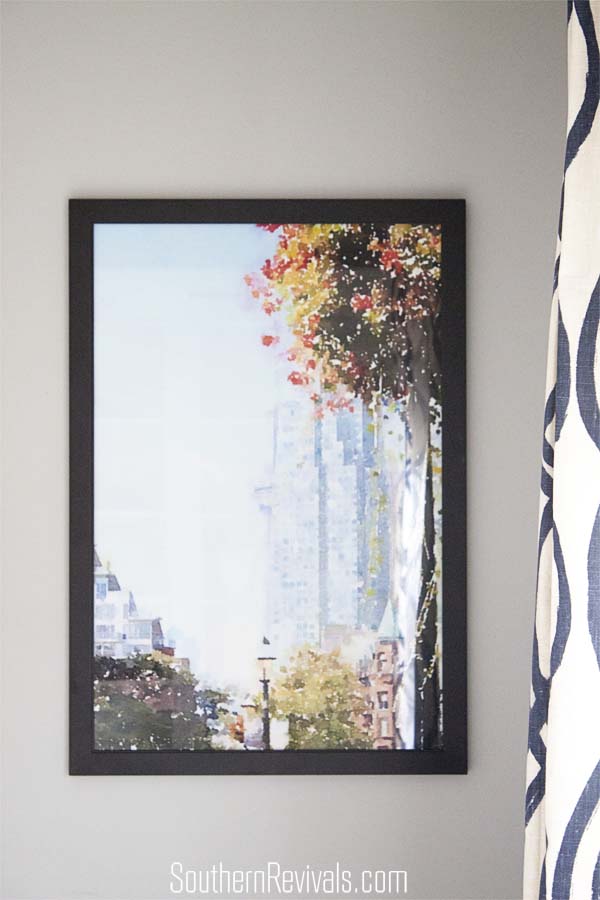 I found it difficult to capture just how amazing this looks in person. I love the idea that the photos, prints or artwork that we have on our walls aren't just some random print or abstract artwork.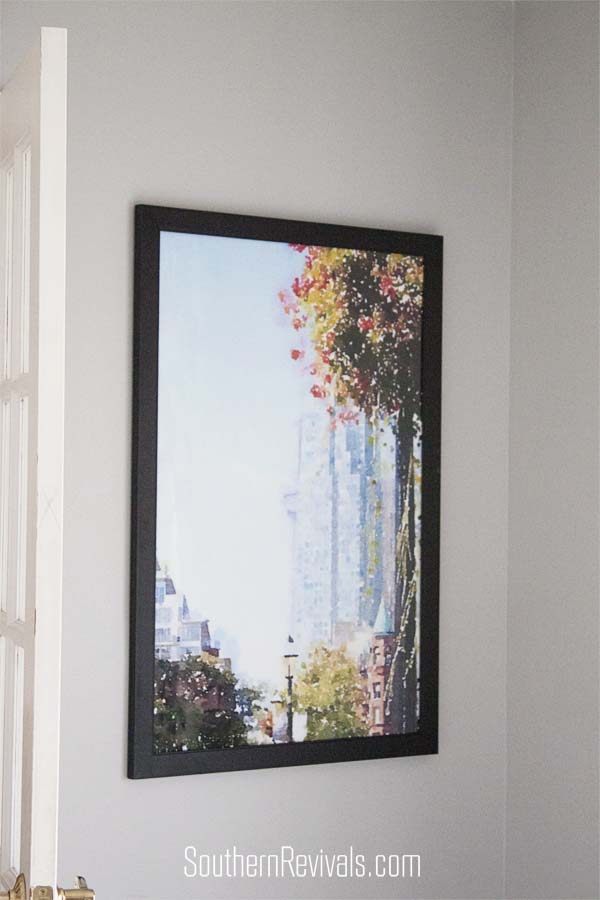 It makes me happy every time I look at it!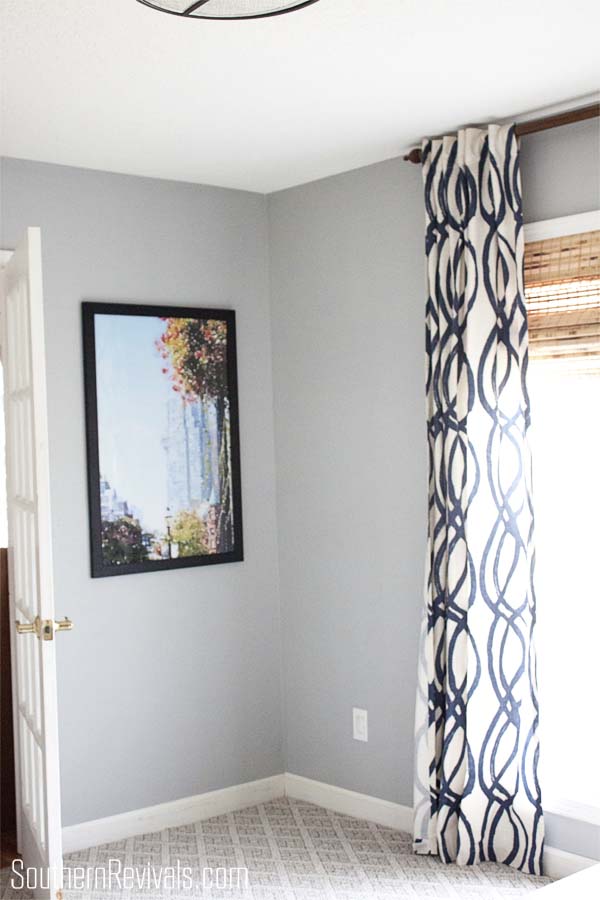 It also makes me anxious to get the office reveal post up soon AND to finish this little corner so that this gorgeous print doesn't look all by its lonesome.
I hope you enjoyed this post and are inspired to print more of your photos especially when you can turn them into works or art!
Other Posts in this Series:
Part 4 Shop the Look – COMING SOON

Giant Framed Postcard – COMING SOON