This post is sponsored by Select Surfaces highlighting the Elite Laminate Collection with Speedloc installation system and our new modern farmhouse style laminate floors.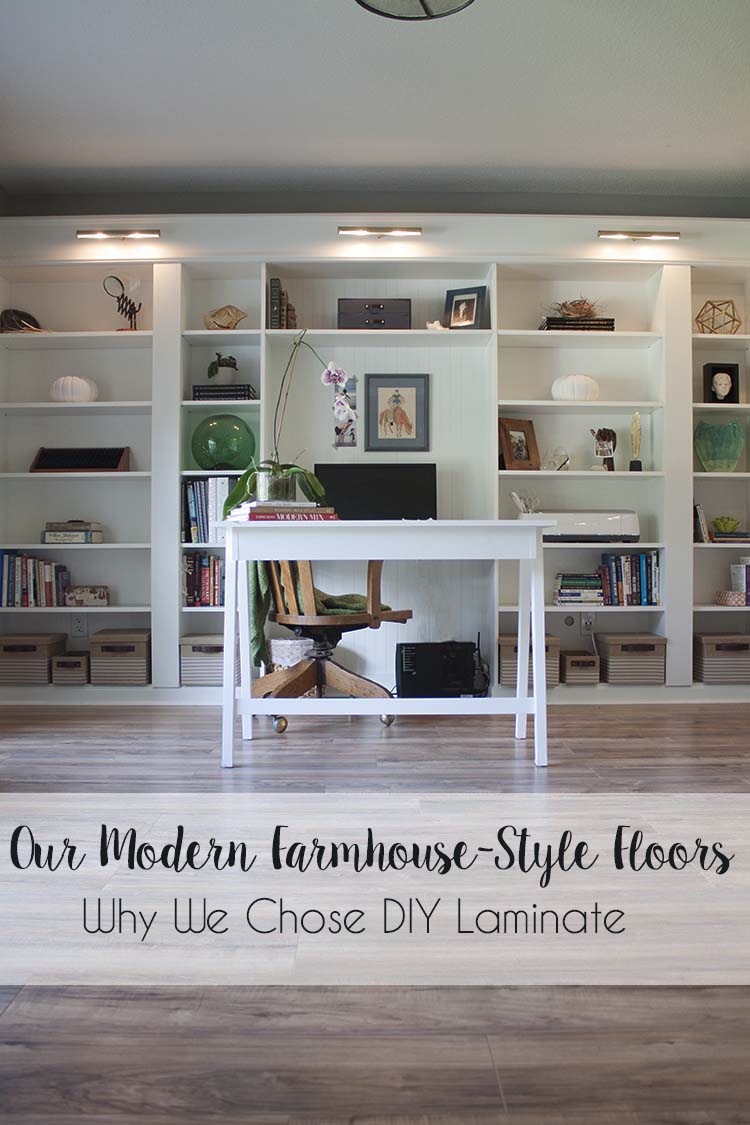 After living with our current flooring situation for over a decade I am more excited that I could possibly convey about our new modern farmhouse style laminate floors!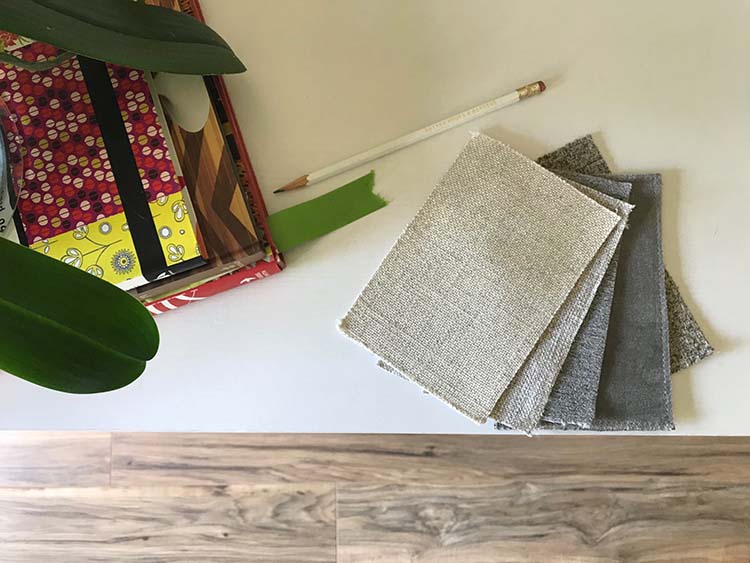 Something I learned in that very long decade of waiting was that replacing this much flooring was going to be expensive. If the flooring costs you $3k you can expect to pay that or a little more for installation. So for even the cheapest flooring, the cost would be at least $6k!
Even though choosing the perfect color and the right look seem like the hardest decisions, the really tough part is finding all of that in an option you can afford. Here's what we chose and why it was the best choice for us.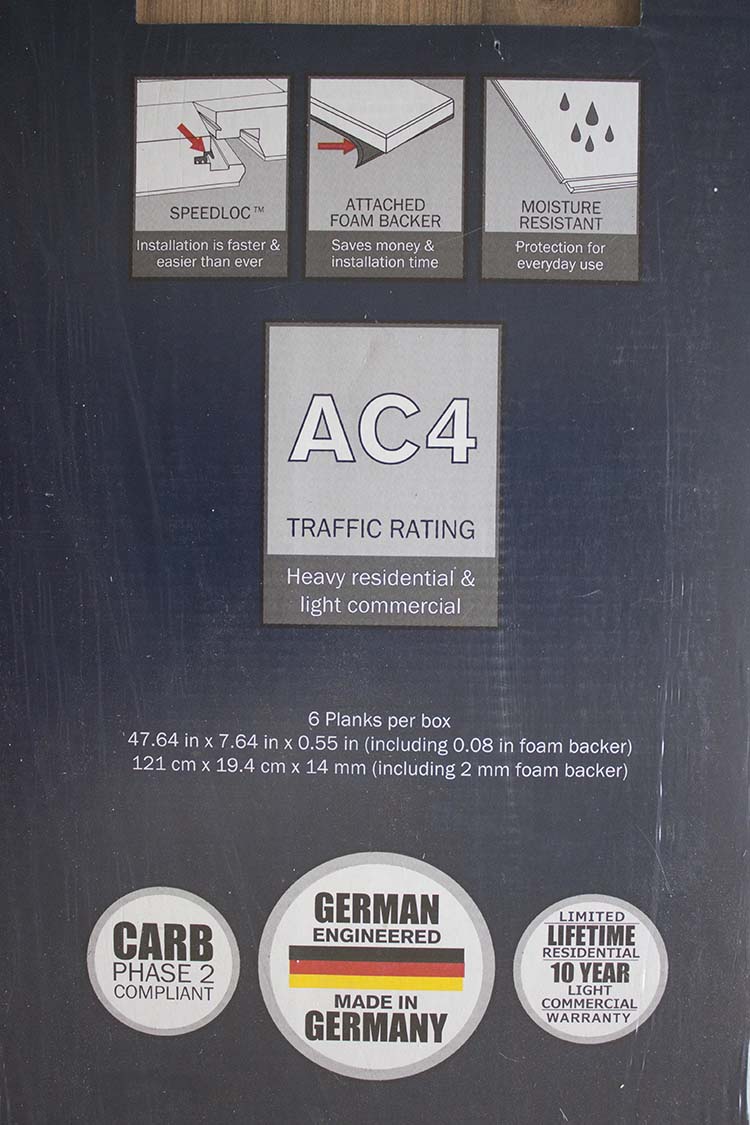 Select Surfaces Elite Laminate
So when I discovered Select Surfaces Elite collection I realized that I could have all of that and afford it. Just like all those expensive options I sampled, these laminate floors come in a wide plank and are 14mm thick! That's twice as thick as the flooring we currently have and rivals even the most expensive options I've come across. Which not only lends to the expensive appearance, and feels solid underfoot, but also eliminates that hollow sound you get from other laminates.
And you know what, you can get Select Surface flooring at your local Sam's Club. Cue mindblown emoji here!
Greenguard Gold Certification
It's also sustainably sourced and Greenguard Gold certified. Geenguard certification helps buyers identify interior products that are low in emissions. Gold standard products meet stricter criteria designed to keep even the most sensitive individuals (like children and the elderly) safer.
Pre-attached Foam Backer
What really blew my mind though is that the underlayment is already attached! Just when you think you've got a quote (that often breaks your heart and then the bank) you realize you haven't thought about all those other things like underlayment, moisture barrier, or tape. And possibly even base molding or, at least, quarter round if you're installing in an existing room. That's when you realize it's even more expensive than you thought. All those extras really add up. Having the underlayment already attached saves you a lot of  time and money and it's nice to have one less thing to think about
We chose Select Surfaces Elite Laminate in Praline. It looks and feels like real hardwood plus it's really durable, rated AC4 for heavy residential (read: has cats, dogs, and children) and light commercial use. It is extremely durable—it will not dent, stain or fade in high-traffic areas.
Aside from the fact that you've got one less step with the pre-attached foam backer, this laminate floor is the easiest to install thanks to the advanced SpeedLoc™ installation system. It is literally the fastest and easier installation on the market today.
One of the best ways to save money on your floors is to do the installation yourself and this flooring is made for the DIYer!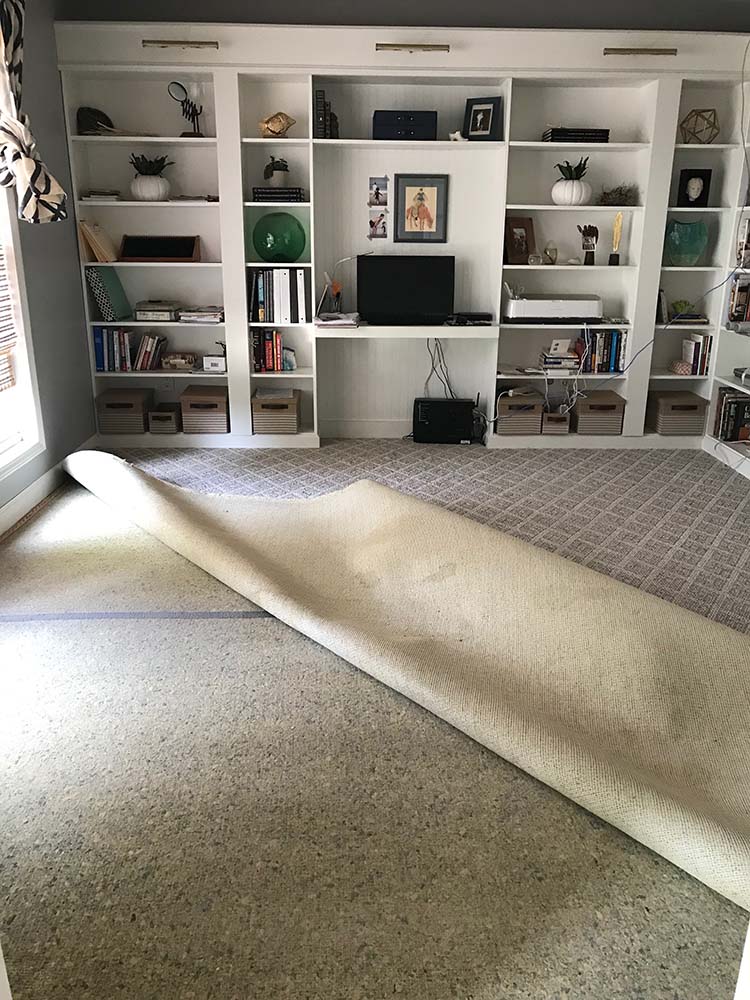 I hadn't originally planned on changing the flooring in our IKEA Hack Home Office but having an aging dog made the transition from carpet to laminate necessary.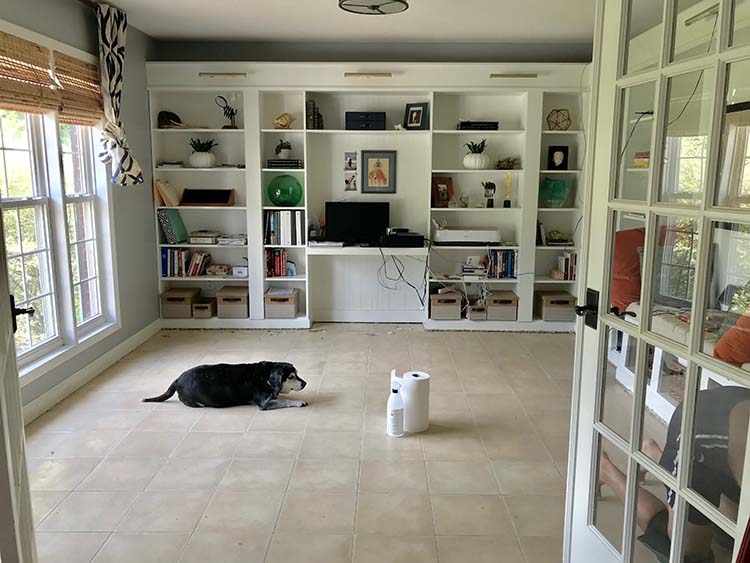 It took me two days to take out all of the carpet and padding. Partly because I had to cut around all those built-ins but also because of all those carpet tacking strips to pry off of the floor.
Totally forgot there was linoleum under there before!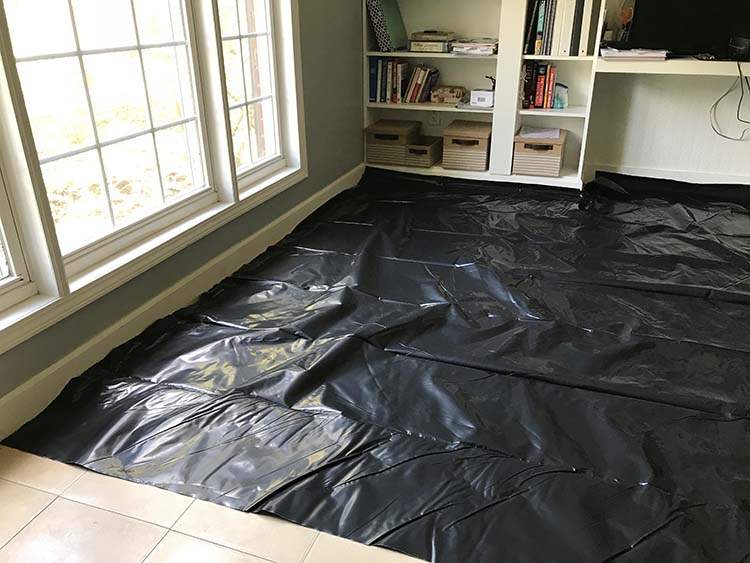 It only took us half that time to install the floors!
We started by laying down the moisture barrier over the existing linoleum, because there's a concrete slab under there, and taping the moisture barrier together where needed.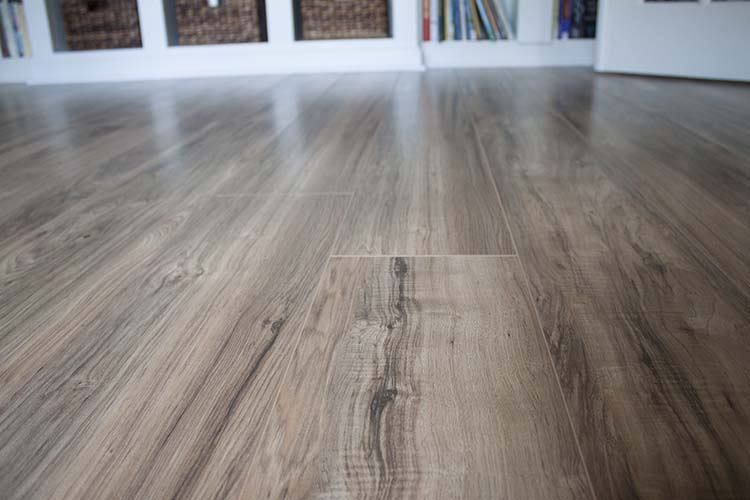 After that, we followed the extremely helpful installation instructions on their website and we rocked and rolled through the process and had the room done before the end of the day.
Cue that Top Gun song, Take My Breath Away...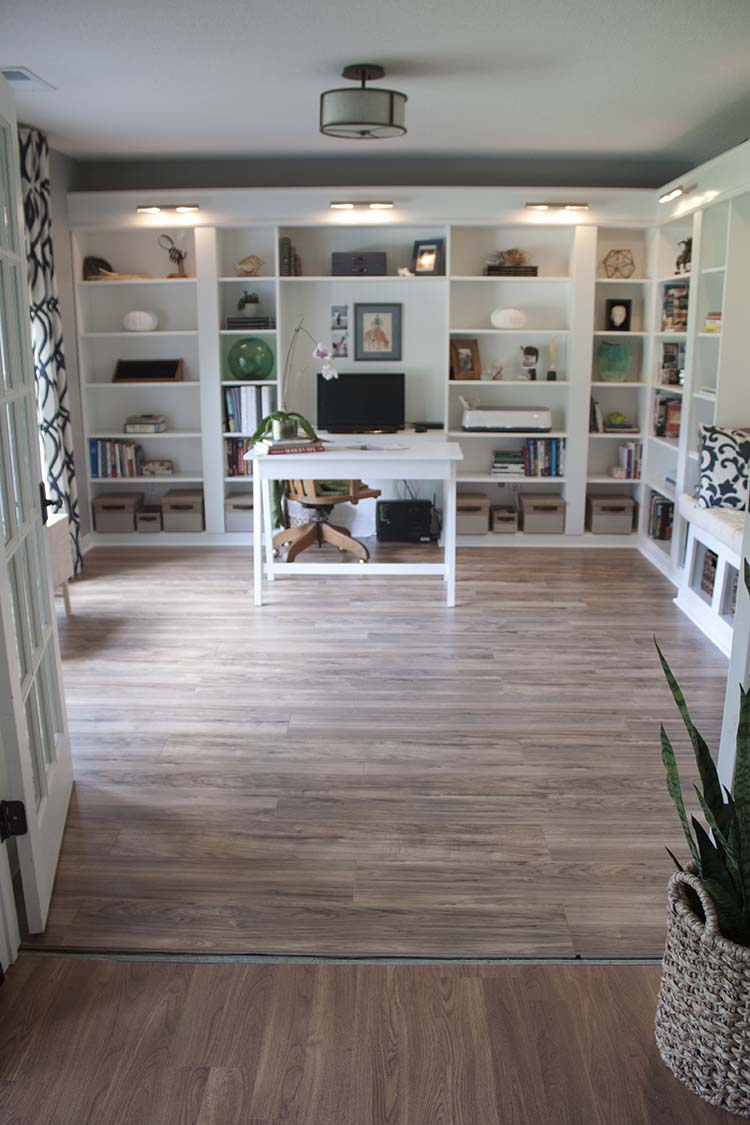 It cost just over $300 to do this entire room – including the flooring, moisture barrier, tape, and replacement quarter round. Game changer!
The color we chose, Praline, which is truest in the picture just above this one, is warm while still being neutral. Even though it has a cast a redder undertone in this picture (thanks to the reddish flooring I'm standing on to take the pic) it is neutral enough that it goes with anything. And I love the modern vibe!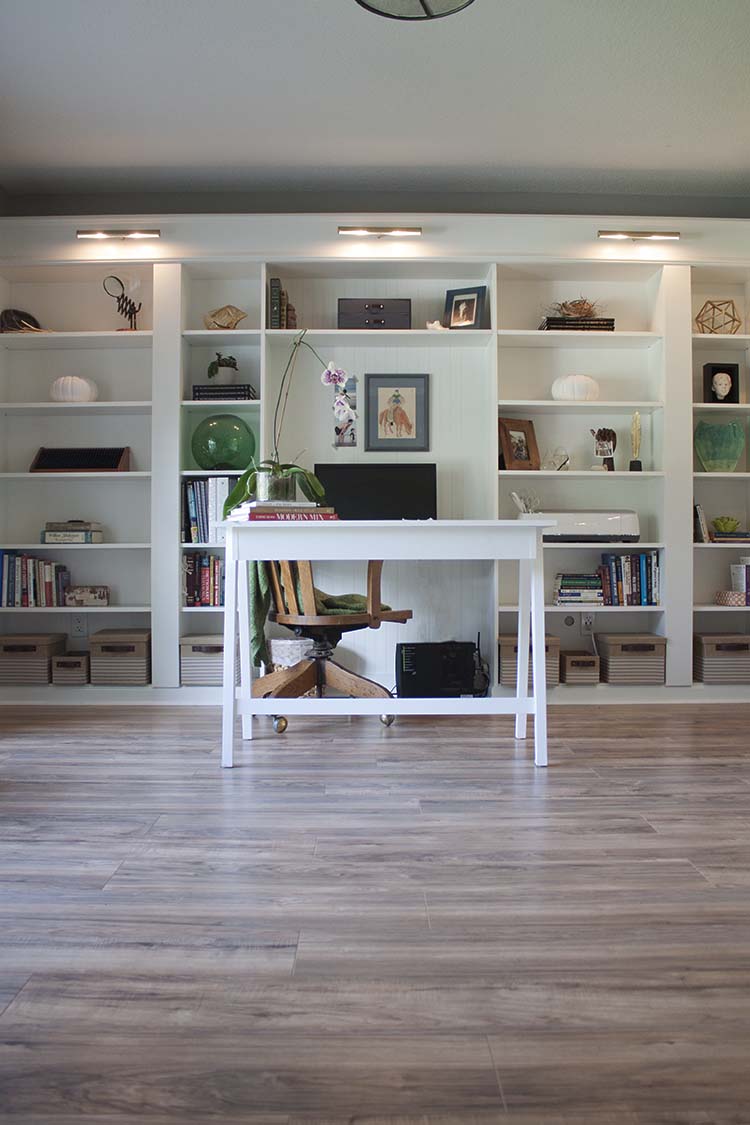 I still have a few more updates for this space like a new rug and a comfy reading chair but I'm so pleased with the update so far. The master bedroom, which hasn't had an update in a while, and the teen boy's room, that we just finished for the ORC in April, are next. I can't wait to get the whole house finished. I'll share the process along the way.