This is a sponsored post brought to you by danze® by GERBER on behalf of their Vaughn and Draper kitchen and bath collections.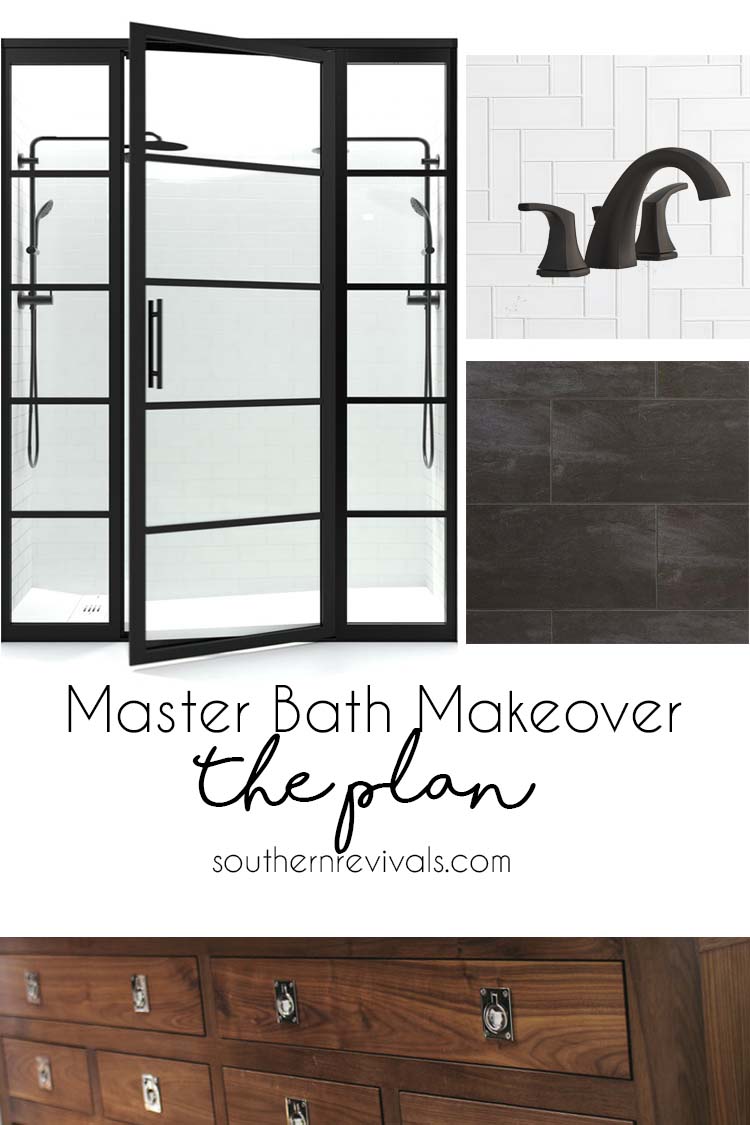 This master bath makeover plan was like the slow drip of a maple tap in the middle of a Vermont winter, very slow in coming! But just putting together this post has given me hope of finally getting our master bath back.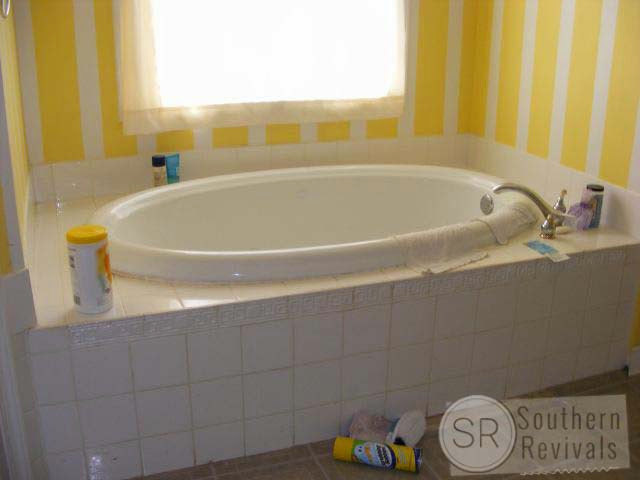 Before you judge, this was the master bath the day we moved in. Just after we realized the wires to all three of our A/C units had been cut. And it was the middle of July in south Georgia.
Our home was a foreclosure and, as such, you pretty much get it in as-is condition and you don't get it at all until you officially close. So it wasn't until the day we closed that we were allowed to get the electricity turned on.
The house had been empty for a really long time. There was a lot to clean so I'd hired two ladies to come out and help me, not knowing there'd be no air conditioning. It was a long, hot day! Needless to say, they vowed never to come back. Literally. Like she actually said to me, please don't ever call me again. I didn't know whether to laugh or cry.
Inspiration
VIA
I've been told that, for resale purposes, it's important to have at least one bathtub in the house. This is especially true if your buyer is a family with small children. Since this is a home with 5 bedrooms, it's a pretty safe assumption that, if we ever sold, we'd likely be selling to a family who'd appreciate a tub.
So I've gone round and round with myself about whether we'd keep a tub in here. For the longest time, my plan was to replace this garden tub with a beautiful stand-alone. I almost died once trying to clean the monster we have now because you basically just have to crawl into it to clean it and then it just turns into a giant bowl-shaped slip n slide. So keeping the garden tub was out of the question because bubble jets do not soothe a broken neck.
Since we already have one in our guest bathroom though, I finally gave myself permission to forgo the tub altogether. Now, instead of a closet-sized shower, I get a double shower (like the one above). I'd love to add a shower seat under the window (maybe I'll shave my legs more often!) and another lower shower wand for washing the dogs in an enclosed space. No more shaking water all over the bathroom!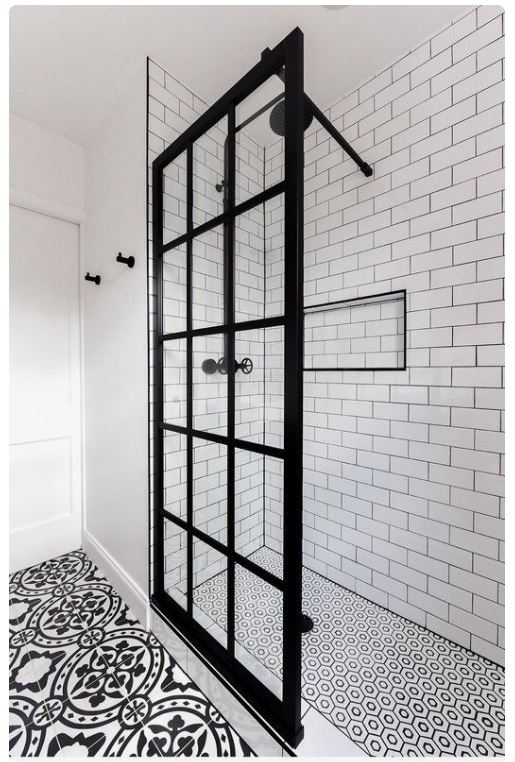 VIA
Instead of a shower curtain though, I'm completely obsessed with these black grid shower doors. I haven't decided the on sliding or swing out option yet, but I'm leaning toward the sliding option. It's kind of like a glass barn door for your shower. Sign me up!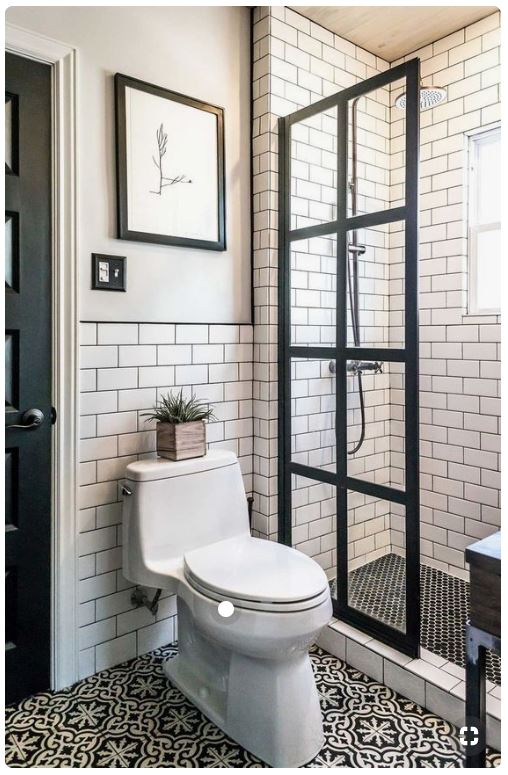 VIA
If you've seen my teenager's bedroom makeover or our fancy farmhouse chicken coop, you're likely not surprised by my love of black and white.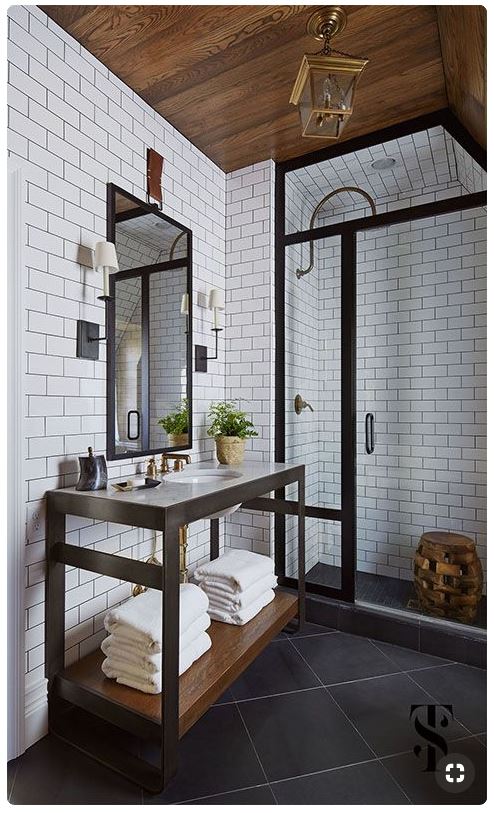 VIA
In addition to the black and white, I definitely want some warm wood elements that I'll probably incorporate with the vanity. I'll either build a double sink vanity or turn another furniture piece into a vanity.
I think I've settled on the tile for the floors and the shower walls. I'm still iffy about the shower floors though.
Design Elements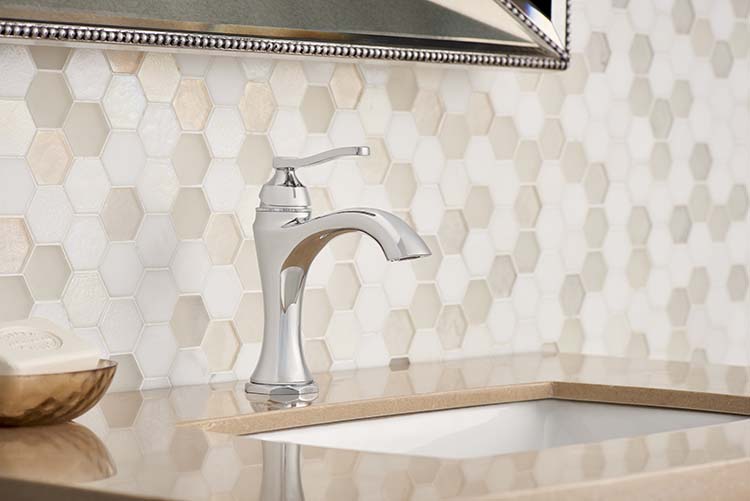 Then it's on to the finer details, which seems like the small stuff, and I know you're not supposed to sweat the small stuff, but, then again, the small stuff can really make the space!
For example, the classic style of the new Draper kitchen and bath collection from danze by GERBER offers chrome or a brushed nickel finishe and, while I gravitate toward brushed nickel, I'm not sure I want all the fixtures to be the same.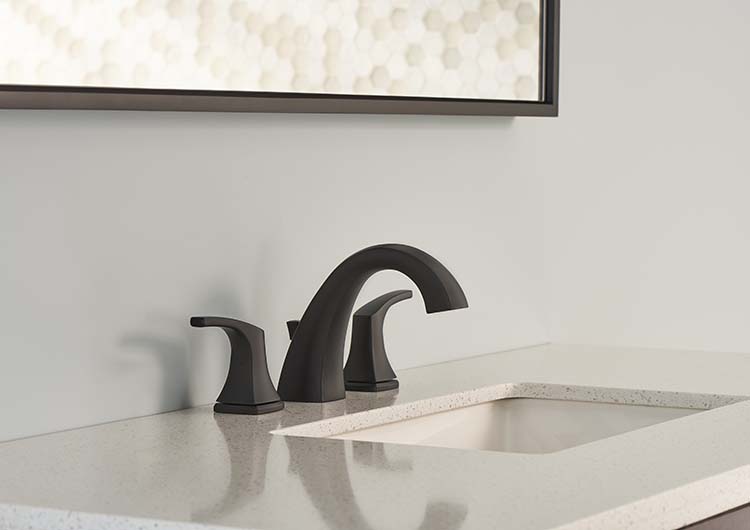 I love the idea of using the more modern fixture from the new Vaughn kitchen and bath collection in satin black while using brushed nickel in the shower. But then I'll need to consider any other metals that might be in the light fixtures or mirrors.
See? It's all in the details!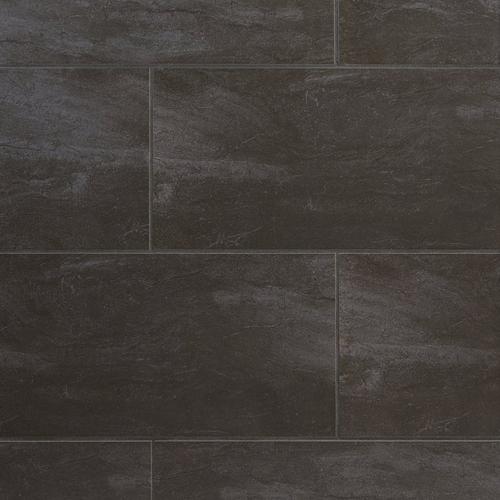 I'm really confident about going with this charcoal black flooring though and we're starting on that soon. There's linoleum to be scraped on concrete subfloor first. Le' sigh.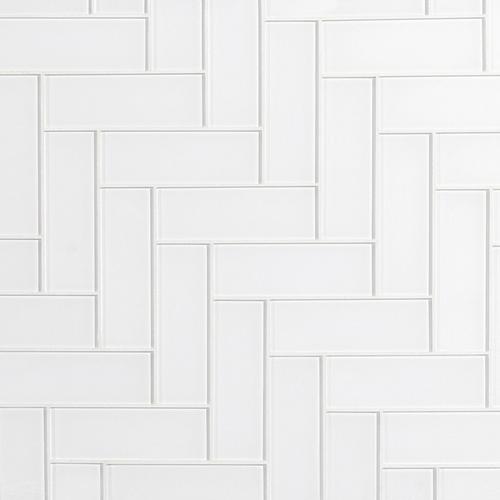 I'm also seriously considering this white glass tile for the shower walls but I can't decide on something with this much modern flair without deciding what I'll do with the other walls first.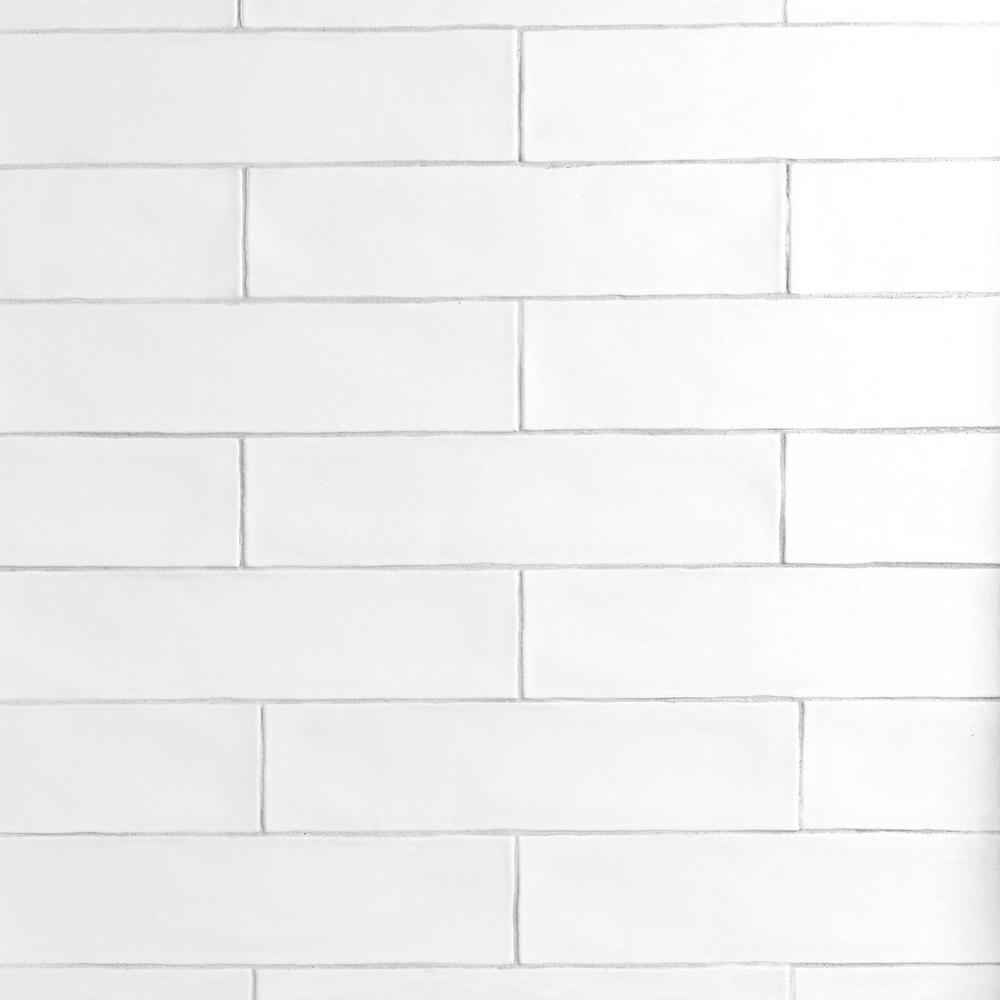 As far as I'm concerned though, you can never go wrong with subway tile. In another house, perhaps not out in the country, I might seriously consider something truly modern, like puzzle-piece or fish scale tiles. But, for this house, subway tile isn't just a safe bet but a timeless one, too.
We've so many projects going on at the moment, from client work to installing new flooring, that I don't yet have a timeline on finishing the master bath, but if I can just get the tile floors put in and a new toilet installed so I don't have to keep using the powder room in the hallway (with teenager boys in the house!), I'll be happy!
What are the most important elements for you when designing a new space?