I'm passionate about quality, environmentally-friendly products and I'm excited to partner with Pure & Original to bring you this vintage stereo cabinet makeover. This post also contains an Amazon affiliate link. Please see my full disclosure policy for additional information.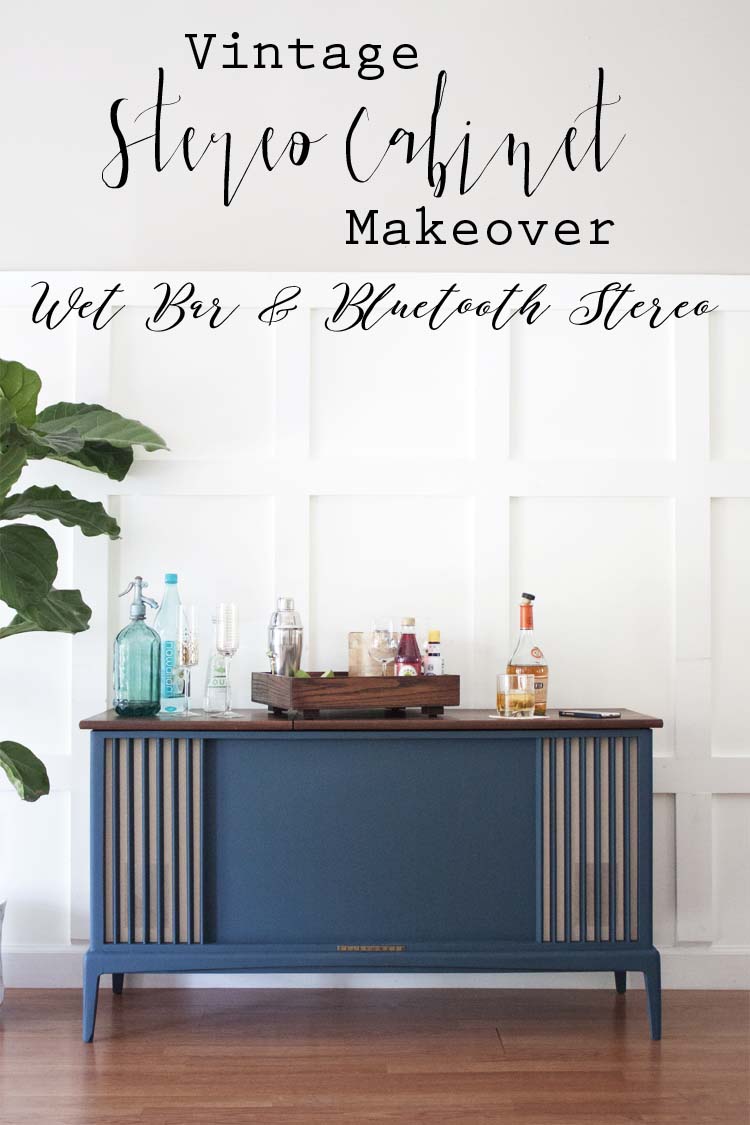 This is one of those projects that just kind of takes hold of you and won't let go. It's also the kind where everything that could go wrong did. Until it didn't and then I was left with what I feel like is a pretty ingenious vintage stereo cabinet makeover where bulky vintage becomes Bluetooth with space left over for a wet bar.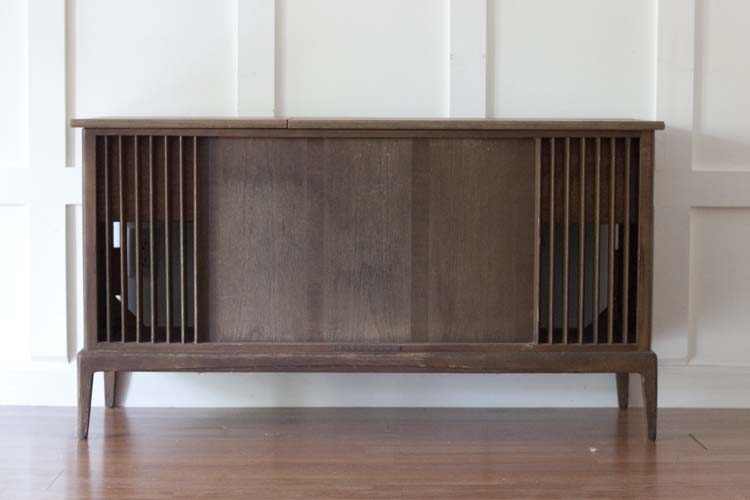 With all of it's stereo components missing I was left with this gorgeous shell of a stereo cabinet. Except the veneer was peeling and the plywood underside was turning to dust. I love the idea of being able to fully restore one of these some day but since all I have is the cabinet the possibilities are a little more limitless. What should I do with it?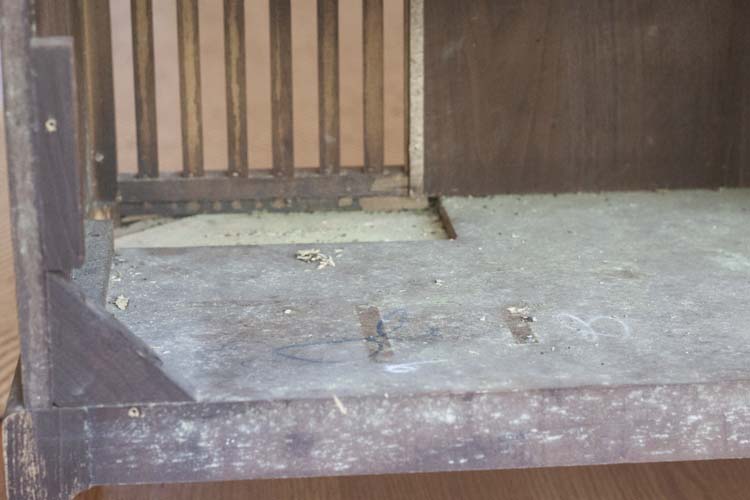 The cabinet had seen a lot of water damage and really needed a major cleaning. I vacuumed (and vacuumed, again) and cleaned it thoroughly with a vinegar solution.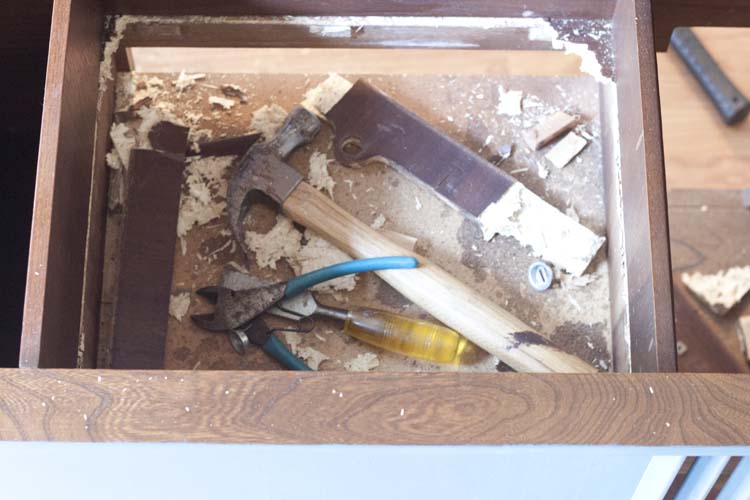 The truth is turning it into a wet bar was the first thing I thought of. Once I began working on it though it was like I just knew it had to play music again, too.
I started by cutting out the shelf where the old turntable sat to completely open that compartment up.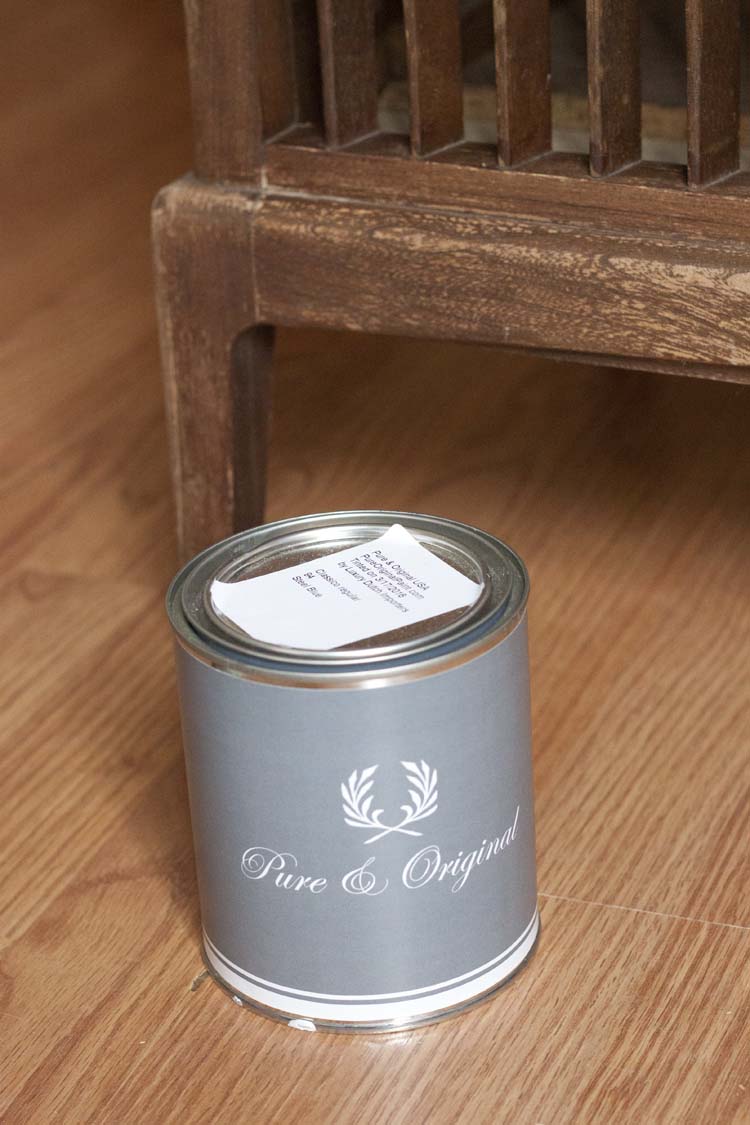 Then I decided to paint it. To be honest, it was a tough decision on whether to restore or redo. It would have been gorgeous either way. But in the end it was already decided for me. Returning it to its former glory was impossible given the shape the wood was in.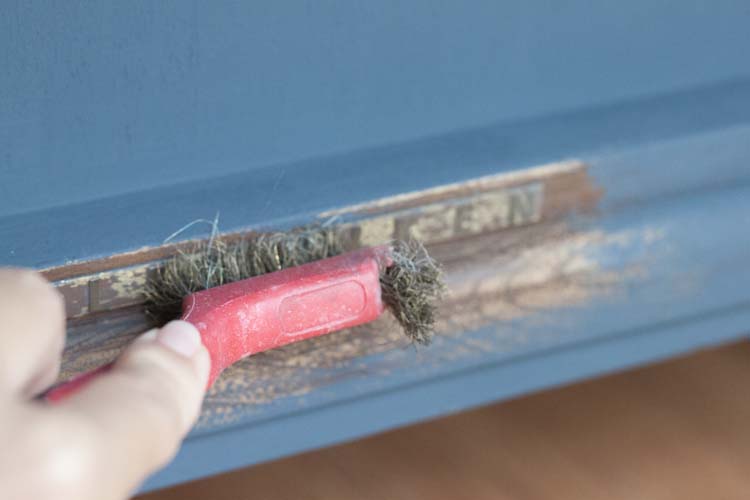 So I decided on Steel Blue, similar to the blue I used for Uncle Joe"s Dresser, from the Pure & Original Classico paint line. I hadn't worked with this paint before but I was extremely impressed. The coverage is amazing but it isn't overly thick. This highly pigmented paint is a water-based chalk style paint that uses 100% natural pigments. Not unlike that blueberry mascara my crunchy sister in law gave me. And it just works.
The paint goes on buttery smooth without the need for primer. I painted the bottom half of the cabinet and restained the top since it was in the best condition. I polished off the brass Telefunken plate and cleaned it up.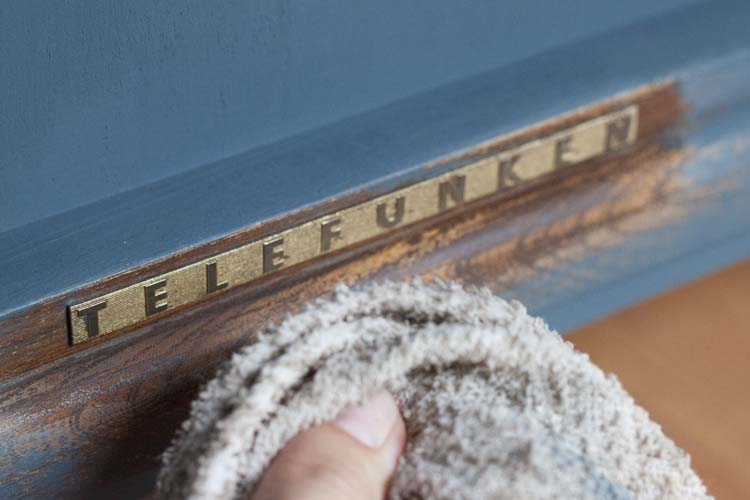 Telefunken is a German company founded in Berlin in 1903. I really wanted this to stand out against the blue.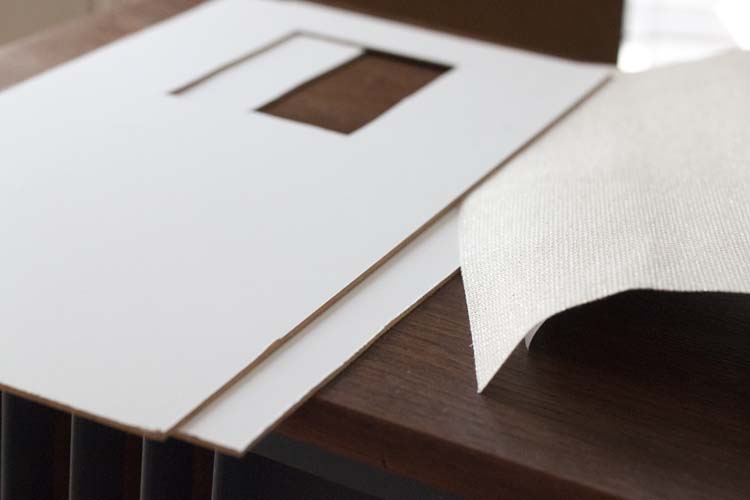 I used the backing pieces from the bookshelf I used in The Man Closet Makeover, since I just wound up attaching that one directly to the wall, to create the speaker covers. I cut holes for the Bluetooth speakers. Since it's really flexible it allowed me to slip it into the speaker panel slots.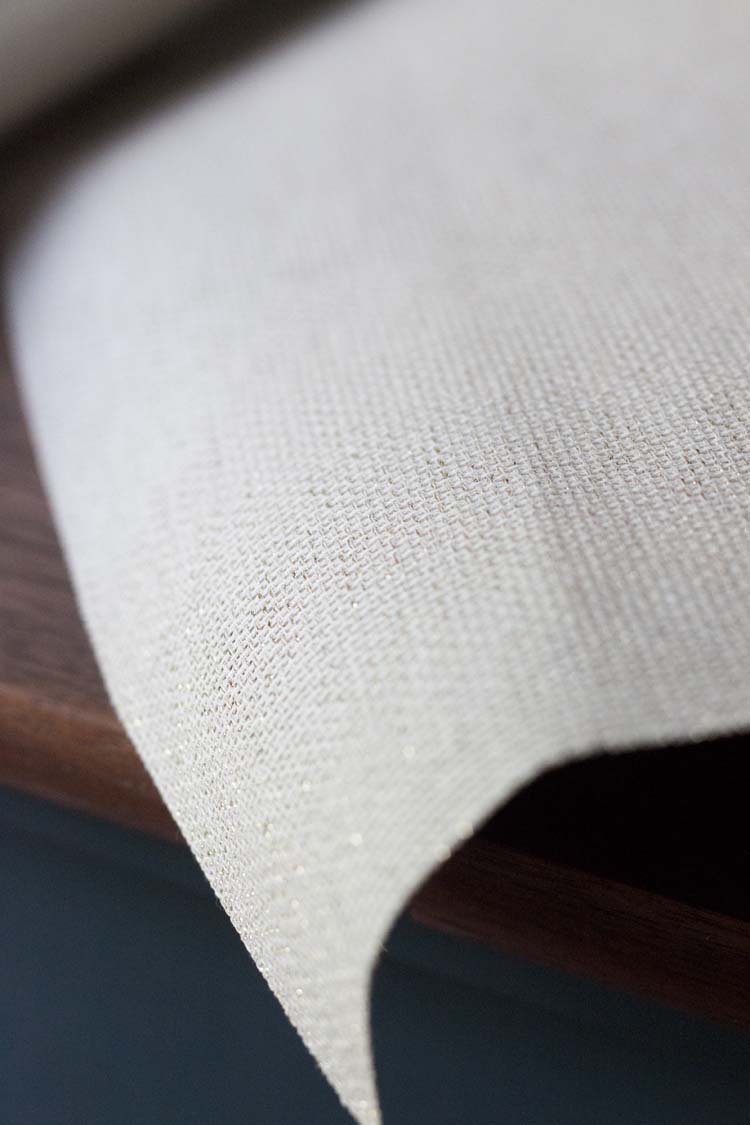 For speaker cloth I used a sparkly embroidery cloth. It isn't professional grade speaker cloth but it's a pretty great substitute.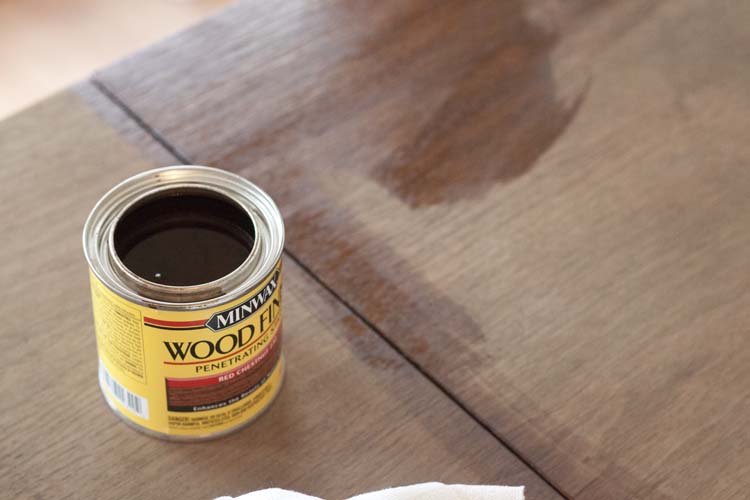 For some reason the top was in the best shape. It was almost like it had been sitting in water. All but the top. I sanded it well, stained and sealed.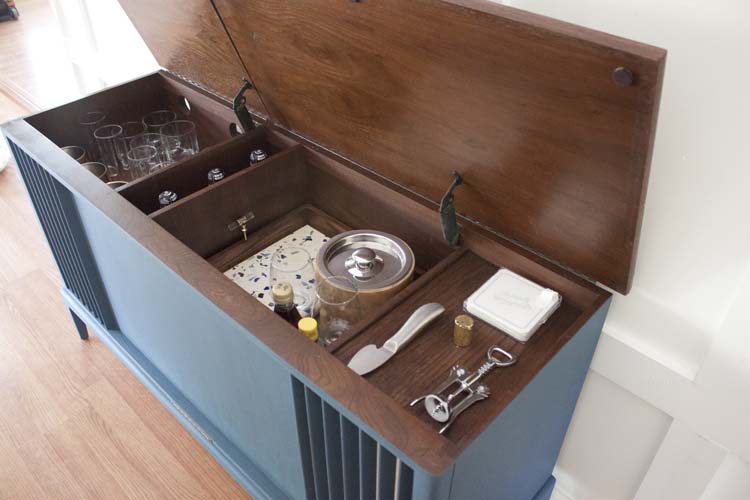 The first compartment I used for glasses. The second, where albums once went, for wine bottles.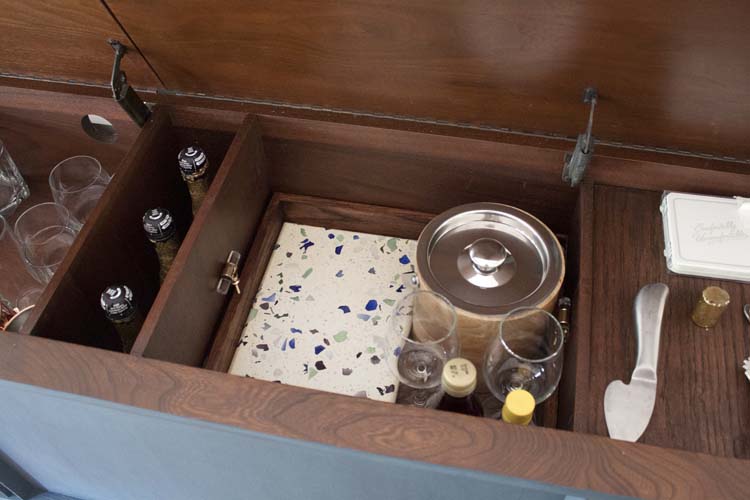 The middle compartment used to hold the turntable. I built a tray that fits down into that compartment and lifts out with a cutting board, ice bucket, wine glasses and mixers. The final compartment is a secret…for now.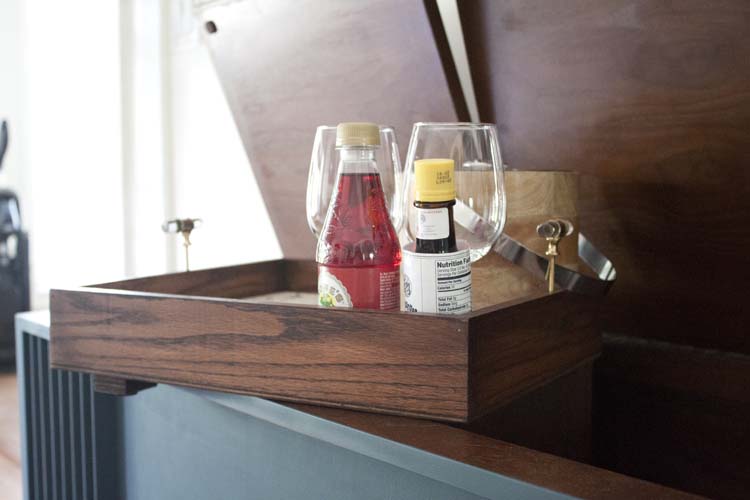 The tray lifts out easily with the addition of brass and glass handles making it super simple to take out and put away supplies.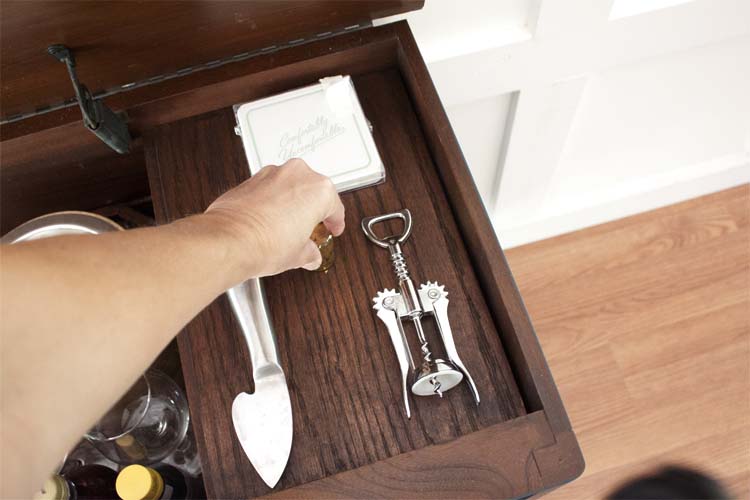 And that final compartment? It used to house the receiver but without it there was just an empty hole all the way to the bottom. I used the little wooden ledge that used to hold the receive in place and created a lift-able cover to access…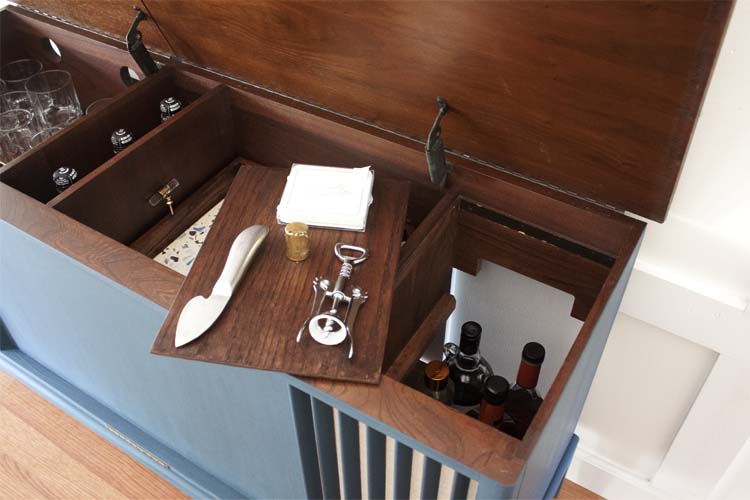 The good stuff! This offers extra storage room and also keeps things out of sight.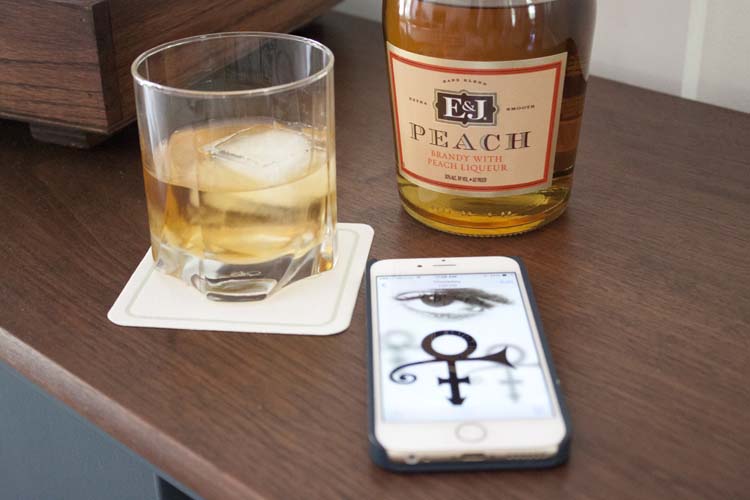 And then there's the music. I know this won't really impress any hardcore audiophiles. It isn't the original German engineered sound it once knew. It's a new sound, digital instead of analog. Modern instead of vintage. But it is music.
I added these Dual Bluetooth Stereo Speakers behind the speaker panels. Now I can play music from my iPhone or up to 7 other devices.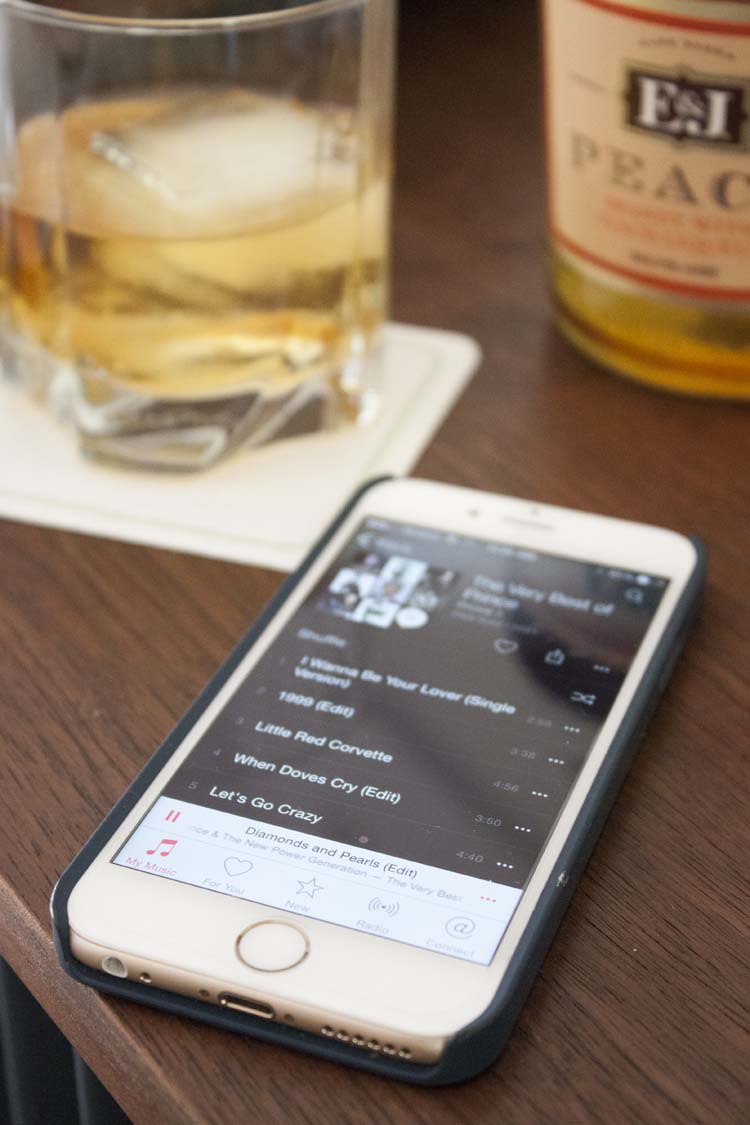 It's fitting that I finished this when I did. It's a modern sound with a little bit of a Throwback Thursday vibe. The first thing it played was Prince. It's isn't my original vinyl album but it isn't a sad and silent empty cabinet anymore so I'm okay with that.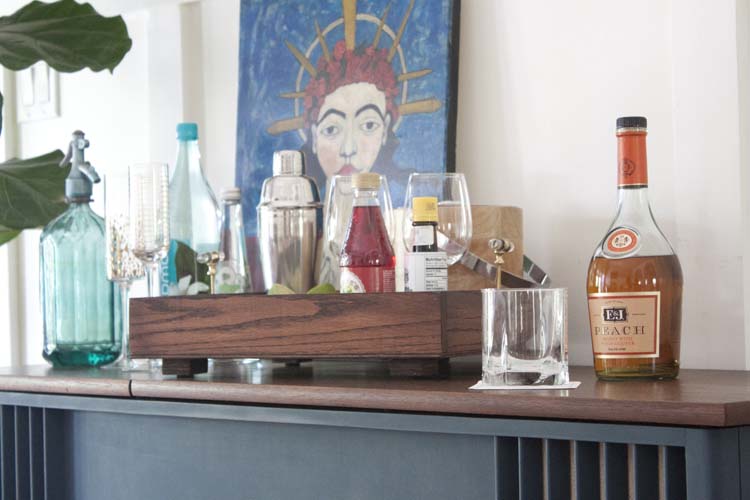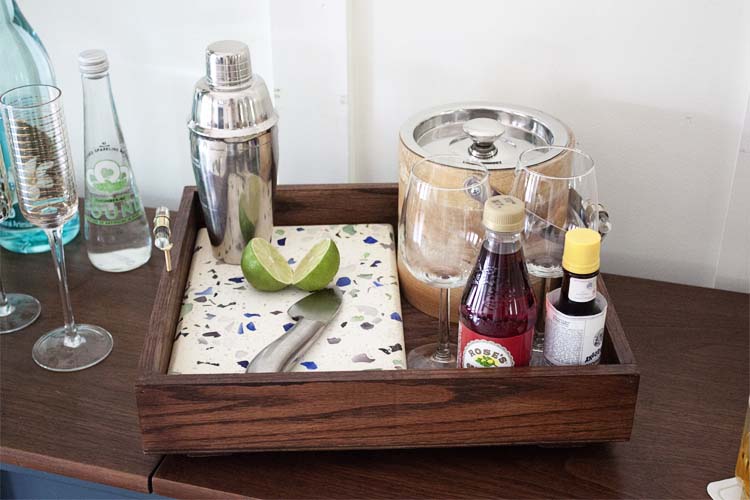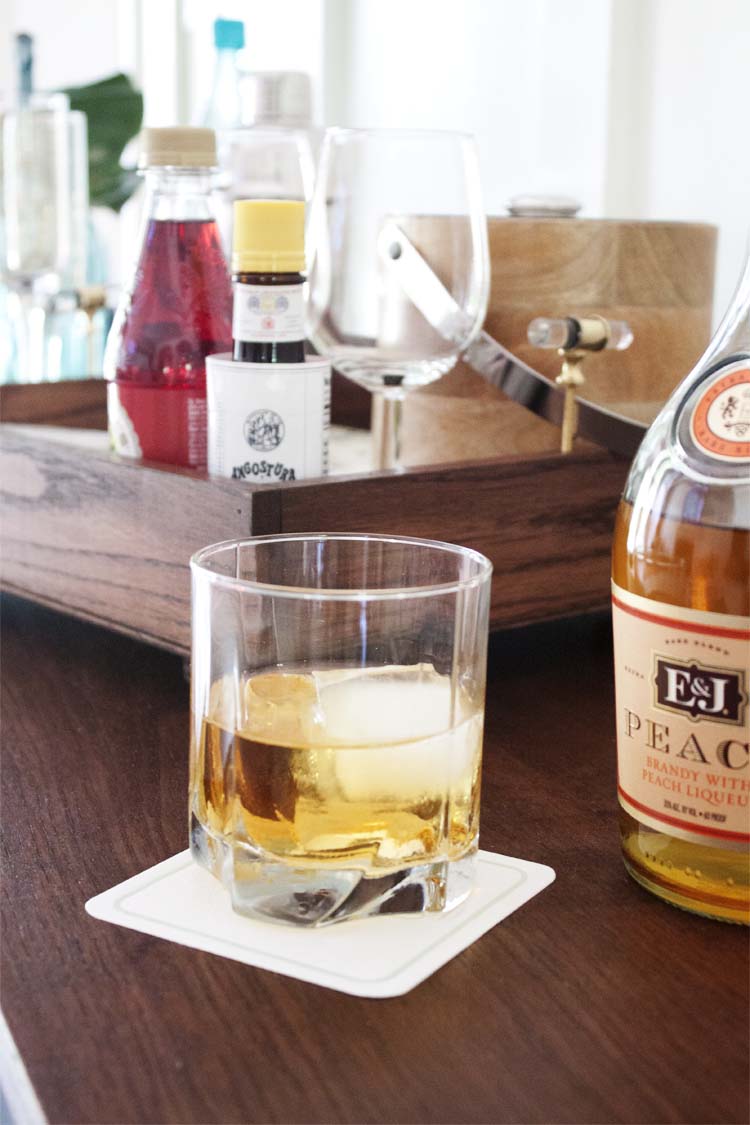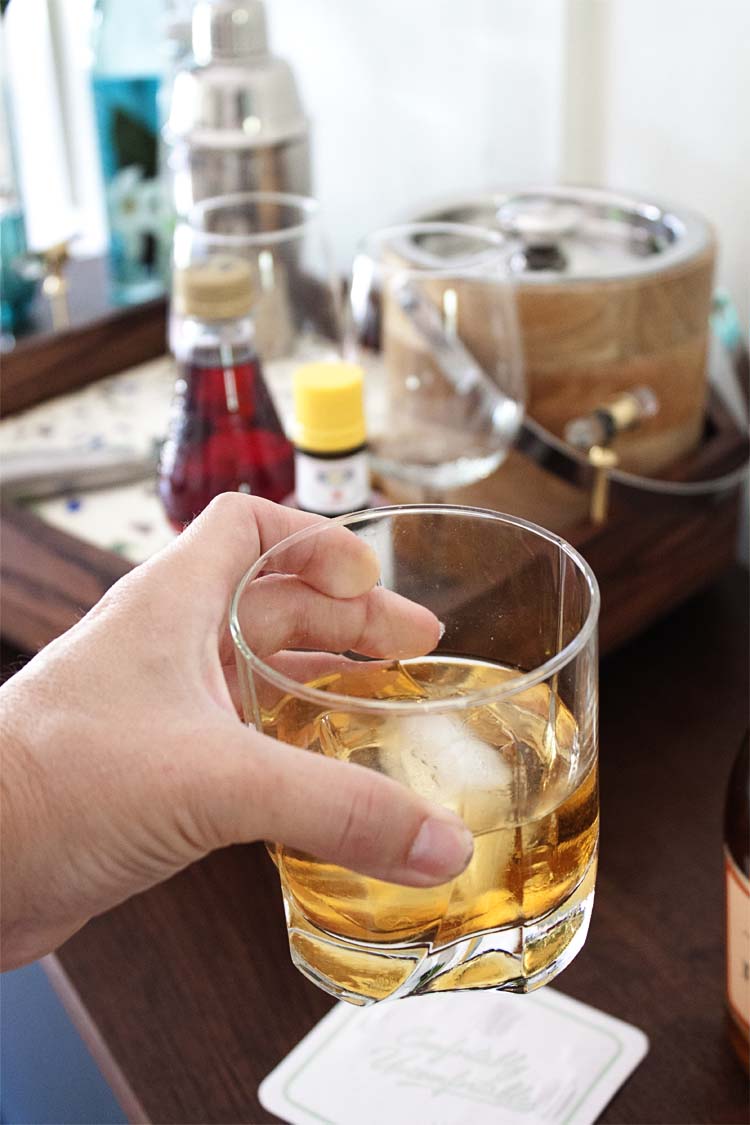 Cheers!
This post was brought to you as part of the The Fab Furniture Flippin' Contest™ and April's theme: Pure Colors, Original Elegance. Please visit this month's hosts: 38th Street and Anastasia Vintage. Interested in participating in future contests? Contact [email protected]