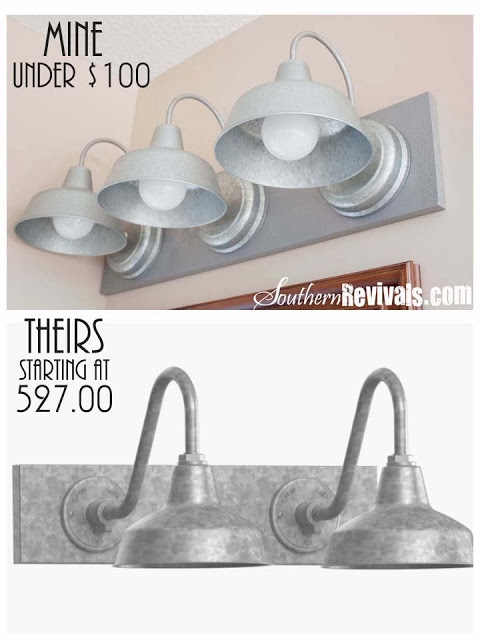 I first discovered these fabulous galvanized light fixtures in Lowes over the summer. We were contemplating a bathroom reno for our boys' bathroom. When I saw this fixture I knew I had to have it. By the time we got it put up in the bathroom it was well past dark and I knew we had a problem.
Apparently these fixtures are more your decorative outdoor sort and, as such, are more like a nightlight than an actual light. I tried different bulbs for about a week before I gave up and sadly packed it away in its box for the trip back to the store. What it boiled down to was I needed more than one.
I found a fixture online with just 2 lights starting at 527.00! So instead of taking back my sad little light, I went back to Lowe's and got two more. A 1×8, some small screws, toggle bolts, extra wire and large wire nuts. And a can of Rustoleum Hammered in Silver. All for around $100.
Tools we needed:
Drill, drill bits, router, router bit, box cutter or knife
Cut (or have your hardware store do it!) your board the length you wish your light fixture to be. Sand lightly if necessary. Spray paint your board with Rustoleum's Hammered Spray Paint in Silver- 2 coats should do it. Lay out your light fixtures on the back of the board. Once you have them evened up, trace their outline so you'll remember where they're going.
Using a flat wood drill bit or hole saw, drill a 1 1/4″ hole in the center of each circle. The center hole will need to be slightly larger to accommodate all of the wires.
Then, using a router with a 3/4″ straight (or comparable) router bit, router a channel from one hole to the next. This will house your wires in the back of your board so your fixture will have a snug fit to your wall.
Once that's done check for any nicks and touch up the paint if necessary. If you don't have, or aren't comfortable with using, a router you could always build out the back of your board with 1/4″ strips of wood along the back to make extra room for your wires. This would just make your fixture "thicker" but still give you virtually the same look.
You will need extra wire for the two end lights because the wires they come with won't be long enough. Don't let this scare you! While you're in the store pop that fixture out of the box and have an employee help you find the wire you need. You will need extra lengths of the black wire (or "hot" wire), the white wire (or neutral wire) and a ground wire.
To attach these wires to your fixtures' wires simply run a box cutter or knife along the coating at each end of the extra wire leaving about a half inch of exposed wire. Match these ends up with the corresponding wires of your fixture twist together and attach with a wire nut. Attach mounting bars across the center of all three holes in the board in preparation for installing the fixtures.
After you've connected the two fixtures on both ends to the extra wire, run the wires through the holes in the front of the board along the channel in back. Then run wires up and out through center hole. Now drill holes for your toggle bolts anywhere around your two end fixture holes where they will be covered by the fixture.
Place board onto wall with level on top of board to level out your board. Once the board is level use the toggle bolt to mark the wall by pushing it through the board. Take the board down and drill 3/8″ holes on your toggle bolt marks. As you replace the board onto wall bring wires from inside the wall through center hole and follow instructions for toggle bolt installation found on packaging. Checking that the board stays level as you tighten the toggle bolts.
Your final step is to attach the middle light keeping in mind all black wires together and all white wires together. You will need to use your large wire nuts to accommodate the four wire connections. All ground wires attach to metal brackets. Finally, attach lamps to mounting bars.
Now that's a satisfying DIY! We've nearly completed they Boys'/Guest Bath. To find additional posts on the DIYs we've done and the Befores and Afters, click here: Boys' Nautical Bathroom Remodel
*PLEASE NOTE: Turn power off at breaker box before starting
I am not a licensed electrician. You are reading and following my advice at your own risk. Please always use safety precautions when performing a DIY project and using building materials or products and always read and follow manufacturer's directions for the products and tools you use.