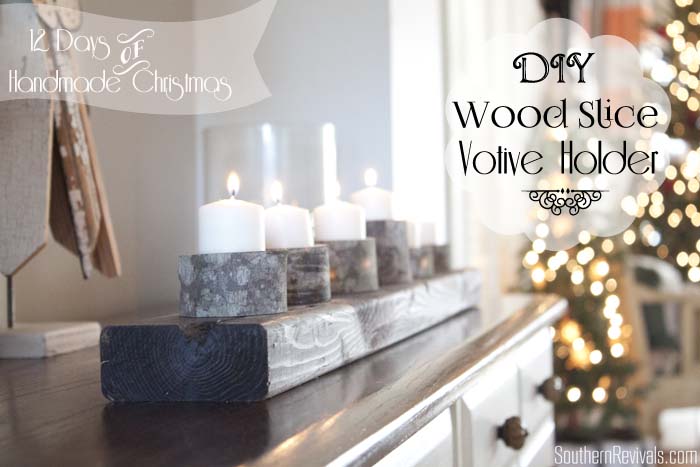 While there may be only 16 days left until Christmas there's still plenty of time to DIY some amazing handmade gifts and decorations. And my favorites are the kind that cost you almost nothing but still look absolutely stunning. Join me over the next 12 days for handmade Christmas gift and decoration ideas, from my home to yours.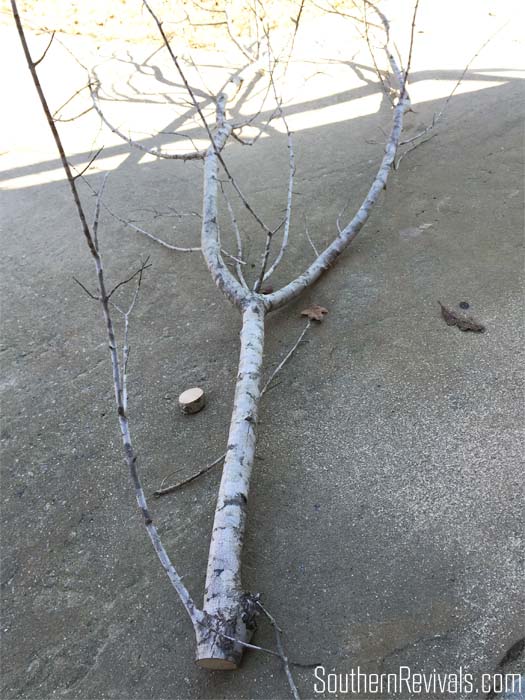 Remember that freak ice storm that I mentioned back in February that inspired my Wood Slice Cake Pedestal Stand? Well there's still plenty more where that came from! I've been hard at work incorporating this gorgeous wood into my seasonal home decor and I'll be bringing all those ideas to you over the next several days. Today I'm showing you how I made a wood slice votive holder centerpiece.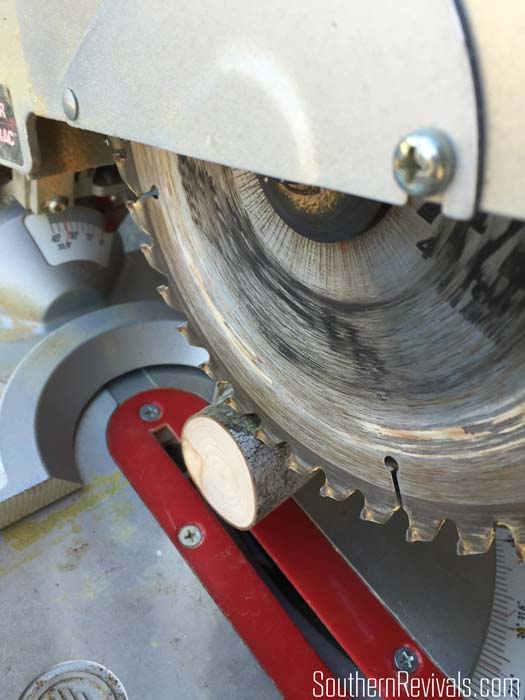 I have cut a ton of this wood with my chop saw lately and am using it for all kinds of things. One word of caution though, since this wood isn't straight, making it difficult to hold securely while cutting, it means it can kick back on you. Be sure to wear protective gloves, glasses and have your wood secured.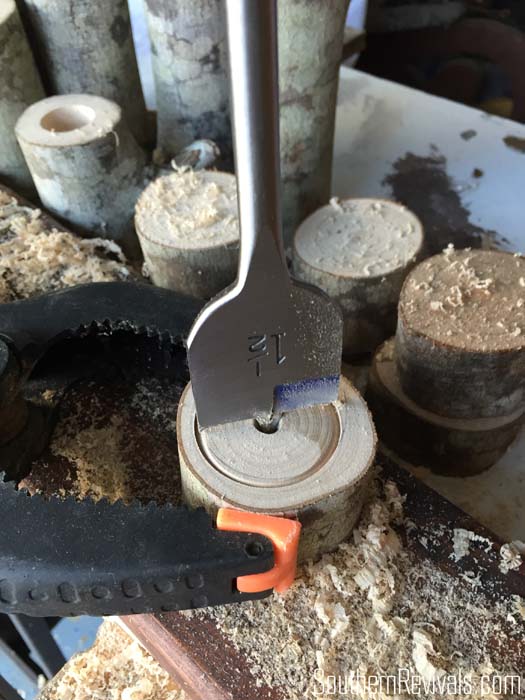 The only thing I didn't have on hand for this project was the correct size spade bit needed to accommodate a votive sized candle. This 1 1/2″ spade bit only cost me a few dollars at Lowe's.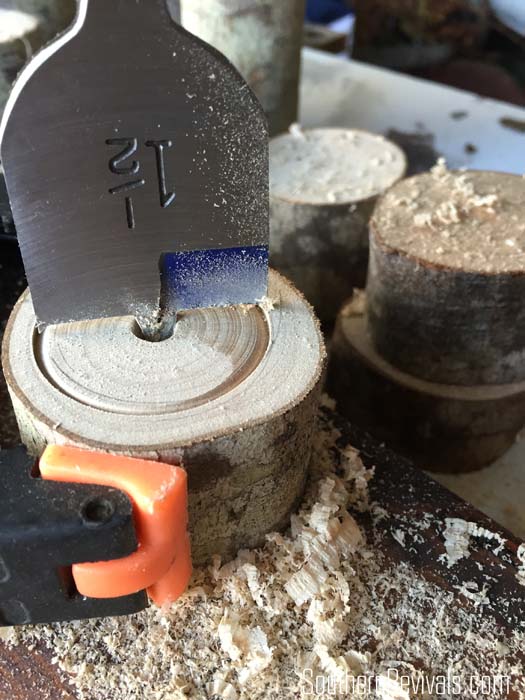 I initially tried using my clamps to hold the wood in place while boring out the wood but that was a no go. I wound up having to clamp it into my work table. DO NOT use your hand to hold the wood pieces while doing this. Not only is it pretty impossible, even if wearing gloves, it's a good way to get hurt, too.
Here's a video on how to do it properly – except, ignore the fact that I'm not wearing gloves…..tut, tut, tut
Once you've got it secured, you simply bore a hole into the wood to your desired depth.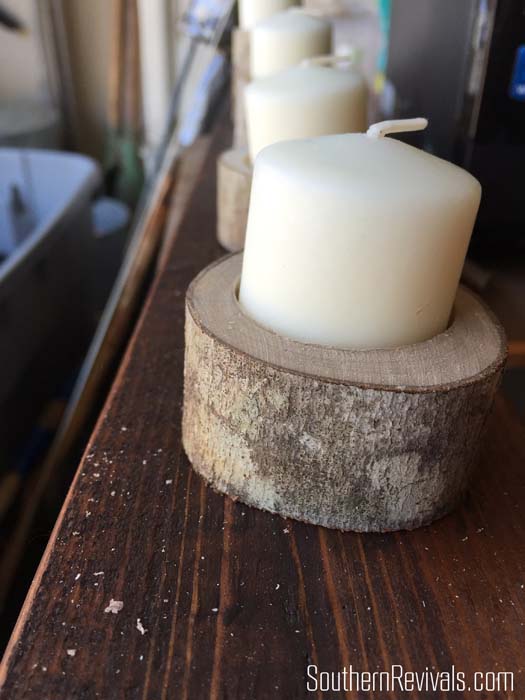 Once I'd finished I gave it a test run by putting in the votives to see how they looked. I'd had some scrap 2 x 4 left over from building picnic tables over the summer and decided to use that to make the wood slice votive holders into a centerpiece. The boards were the perfect size for this project.
I stained my 2×4 with what is, hands down, my favorite stain color these days: Carrington by Rustoleum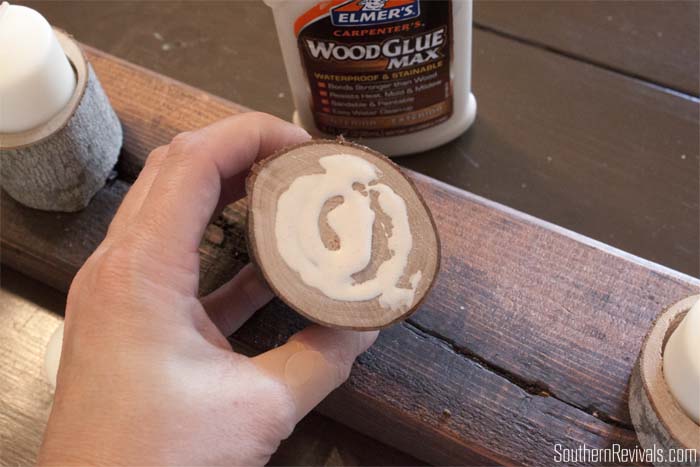 Then I simply used wood glue to attach my wood slice votive holder to the board.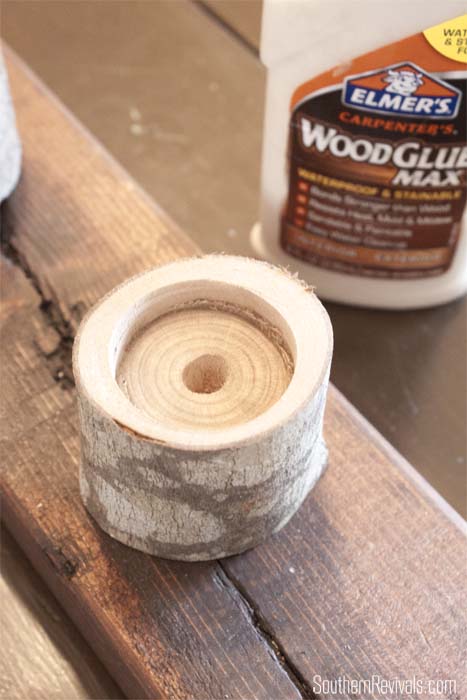 Allow to dry thoroughly.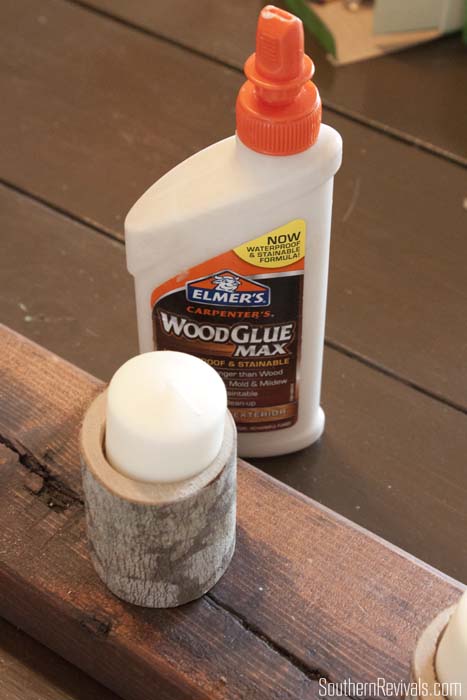 And then just pop in your votives!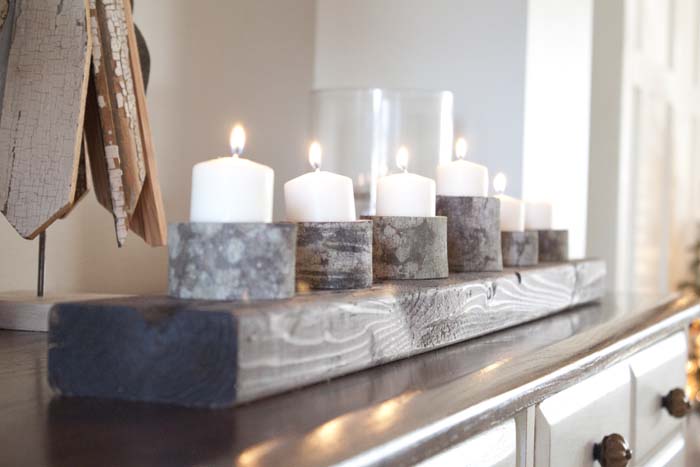 It looks great on the buffet in my foyer.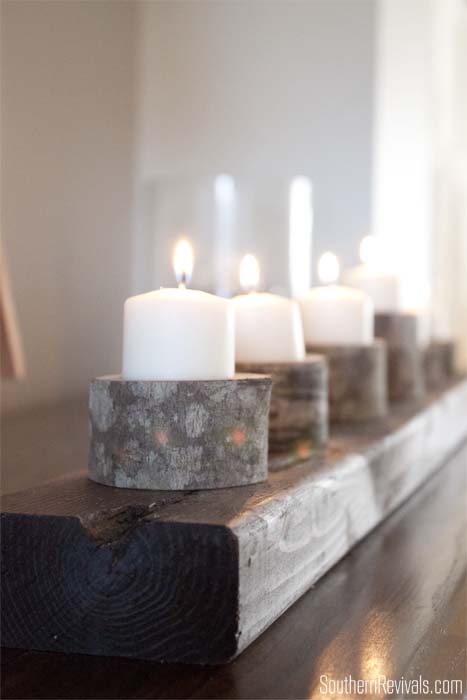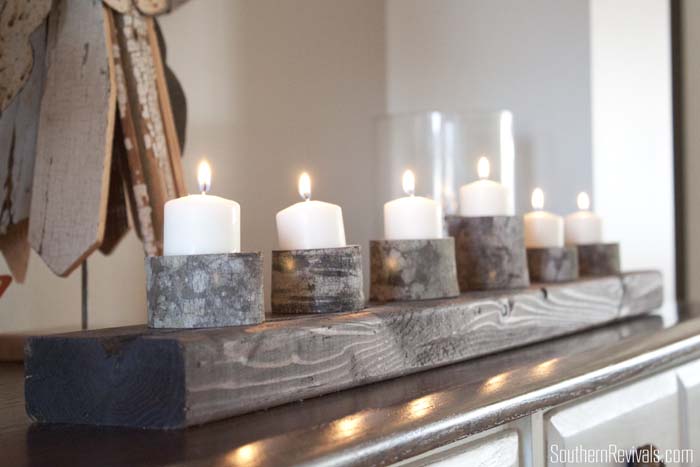 But my plan is to move it to the center of my farm table for Christmas dinner.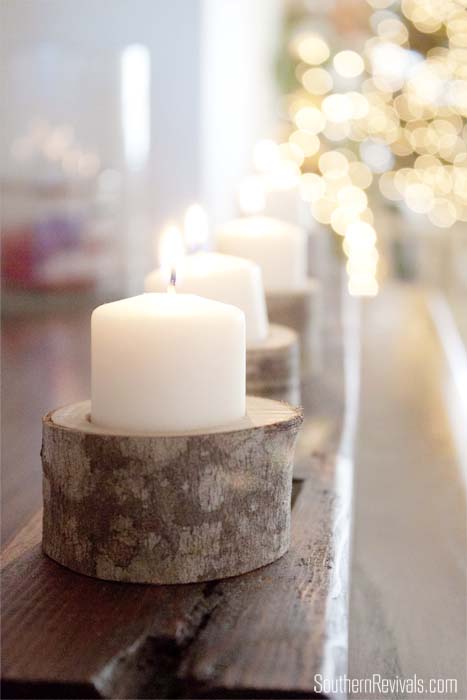 It'll look amazing there with some greenery. But that means I'll have to finish up all of my projects and get them off of the table first!
This would make a great centerpiece anywhere you might want to put it. You can cut the slices as large as you like and you could even add some extra bling by giving them a dipped paint look with some metallic spray paint. The possibilities are endless. They also make great gifts, too. I'd be excited to receive this, wouldn't you?