This shop has been compensated by Collective Bias, Inc. and its advertiser. All opinions are mine alone. #BIGDeal #CollectiveBias.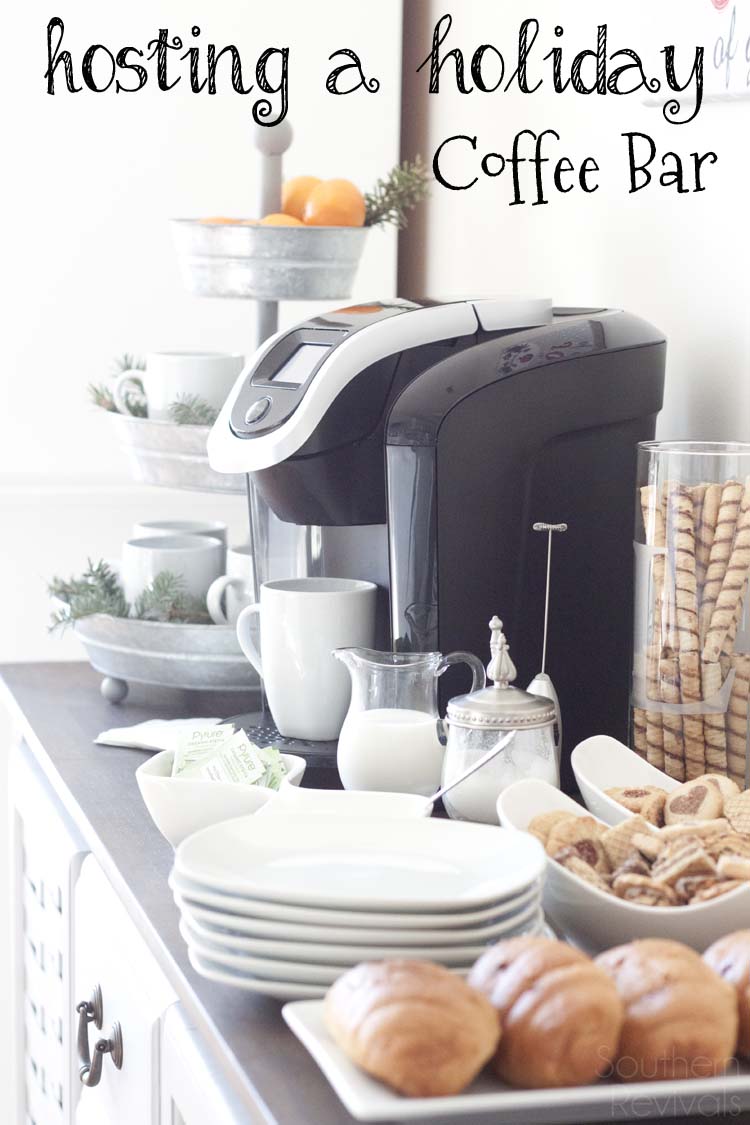 I was reading the Ask Heloise column in Good Housekeeping recently and someone asked if there was a way to host a holiday gathering on a really small budget. And man, I get that. This year more than any other. The great thing about hosting a holiday get together is that they don't all have to be baked hams with dressing and all of the trimmings. Some of them can be simple, elegant and easy on your wallet. Here's how I am hosting a Holiday Coffee Bar this year without spending a ton of time or money to wow my guests.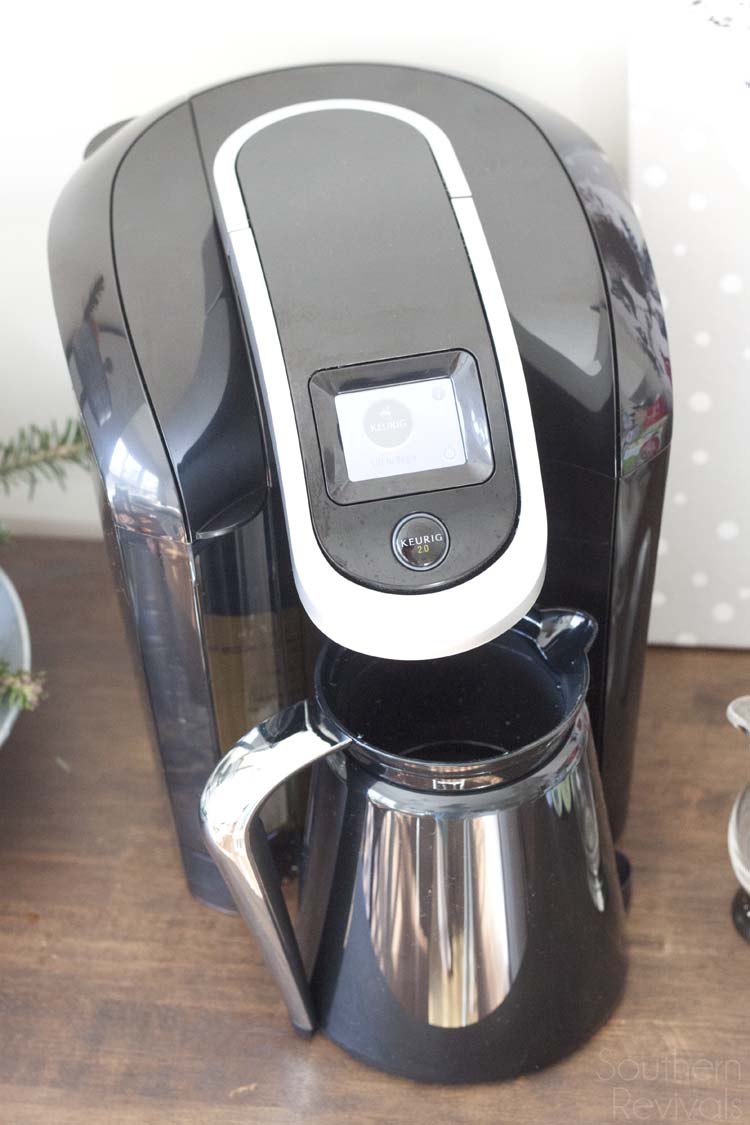 The Orthodontist's office where we go has one of these Keurig brewers. It's weird because I always look forward to going to our appointments and getting my afternoon coffee. Even though I already have one at home.
When we were first married, before we had kids, we weren't big coffee drinkers. Sure we'd make a pot here and there but then we'd never drink it all and sometimes we would forget about it. And if you've ever forgotten about a pot of coffee you know it isn't pretty. But as we got older, and had kids, our appreciation for coffee grew. We've had a Keurig for more years than I can remember but we didn't buy it ourselves. It was a gift. Because as much as I love the newest and best thing, especially when it comes to technology, I'm also pretty frugal. But I have loved every single minute of owning one. This way my husband and I can have our one cup in the morning (I can have the flavored kind, he can have plain), then I can get my afternoon coffee and he get his late night coffee. And there is never any mold growing in a forgotten pot. (Thankfully that is a bad habit that died in my youth)
Last year when the new Keurig 2.0's were introduced I really, really wanted one. Like enough to buy one for myself. I loved the idea of having the versatility of a one-at-a-time cup brewer but also having the ability to brew a pot when having company. I had almost talked myself into getting one and then I saw the price tag. But on my last shopping trip to Big Lots I saw this…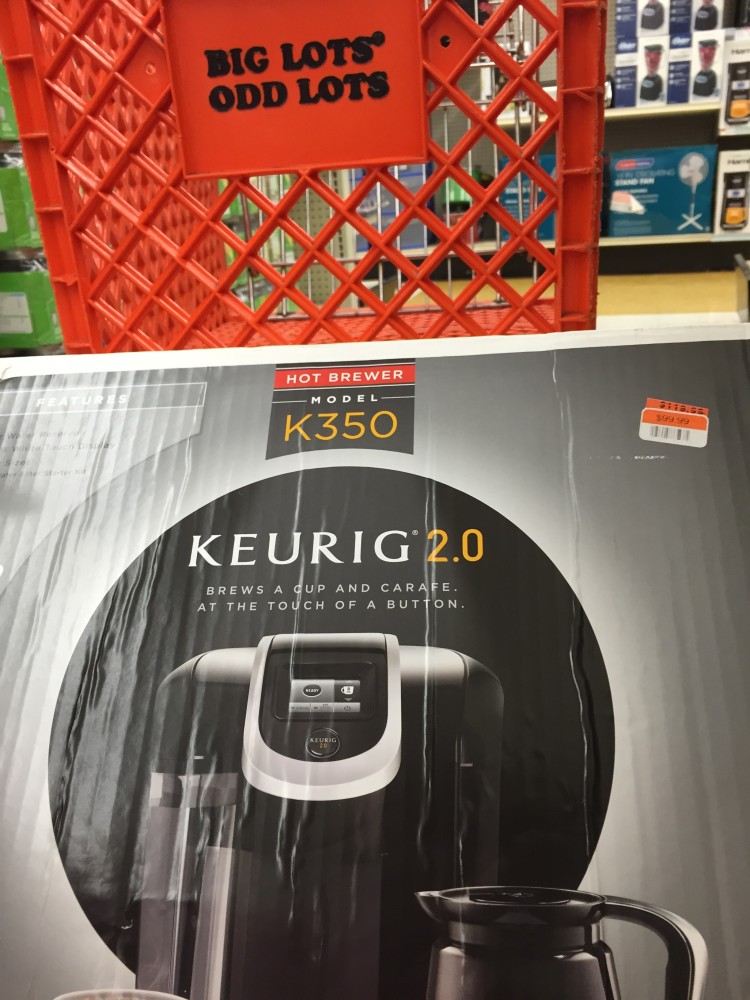 And it was under a hundred bucks. I'm certain the folks in the aisle over probably thought I was having a panic attack. I couldn't help it. I was just so excited.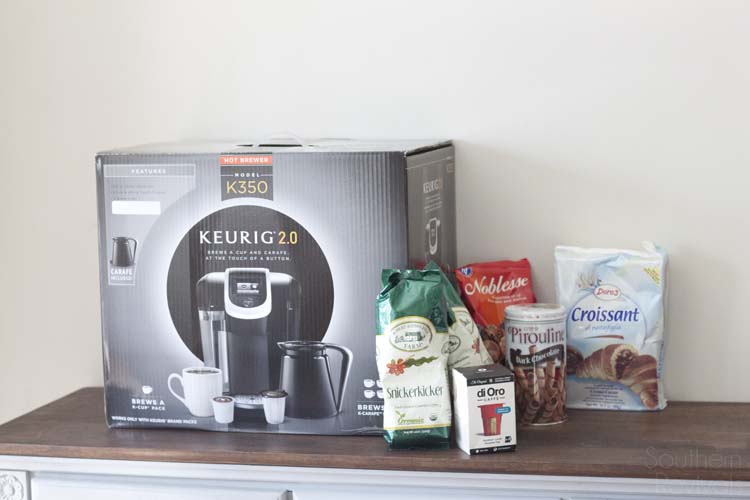 I knew immediately that it was meant to be and I also knew immediately what I was going to do for my holiday get together this year!
My friend Andi and I get together every year for Christmas. We live closely enough throughout the year that we see each other but we both have crazy busy lives so we make sure to take an intentional moment or two during the year to really just be together and reconnect, our birthdays and what I've started to refer to as Friendsmas. I make the kids Pigs in Blankets (and as they've gotten older and our two boys now eat like 3 grown men each, there are a lot of pigs in a lot of blankets. There's always good food, the kind we stay away from most of the rest of the year. We love that time together. And we love coffee.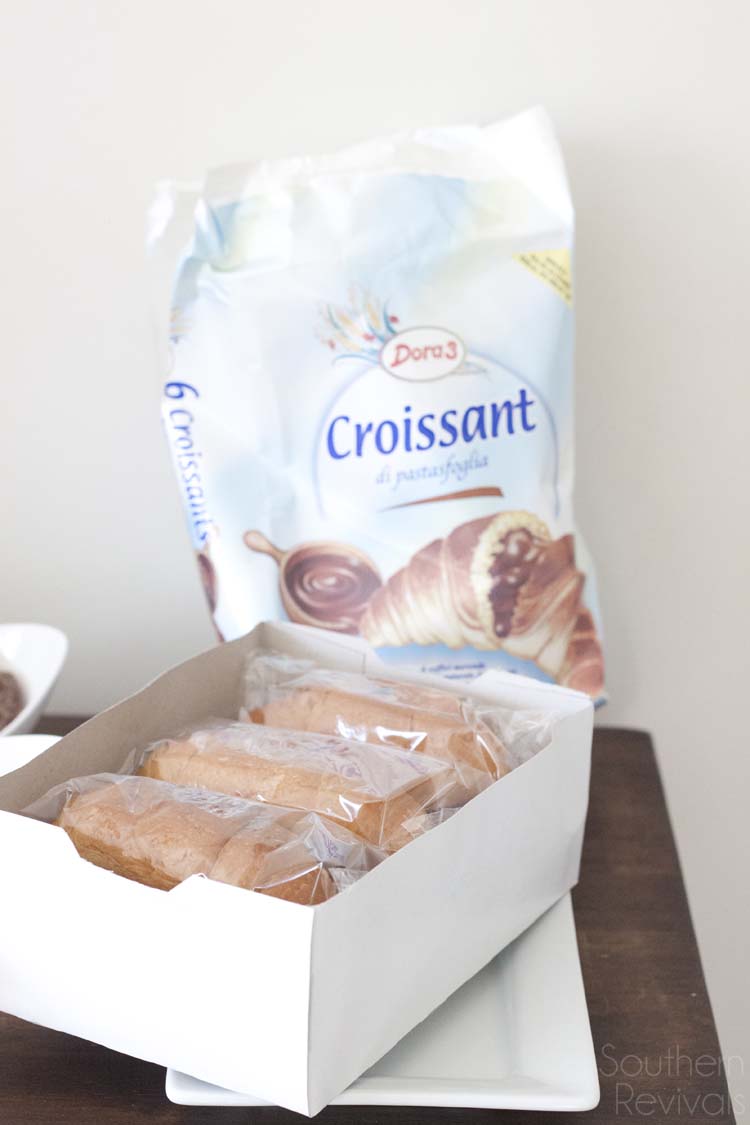 Something I don't enjoy so much is all the time it can take to prep for holiday gatherings. By the time the guests arrive all you want to do is nap. So this year I've decided that in addition to the Pig in Blankets we'll also have some gourmet sweets. That I didn't have make and that didn't cost a fortune. Like Italian chocolate croissants!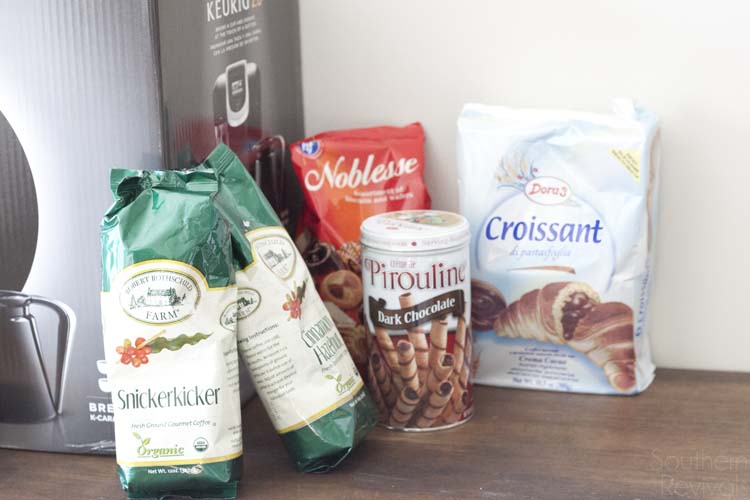 And something I've always done since our first Keurig brewer is to brew my own coffee in a reusuable filter. So when I picked up our new brewer I grabbed a few bags of our favorite flavored coffees. Snickerkicker and Cinnamon Hazelnut. Delicious, organic and around $5 a bag!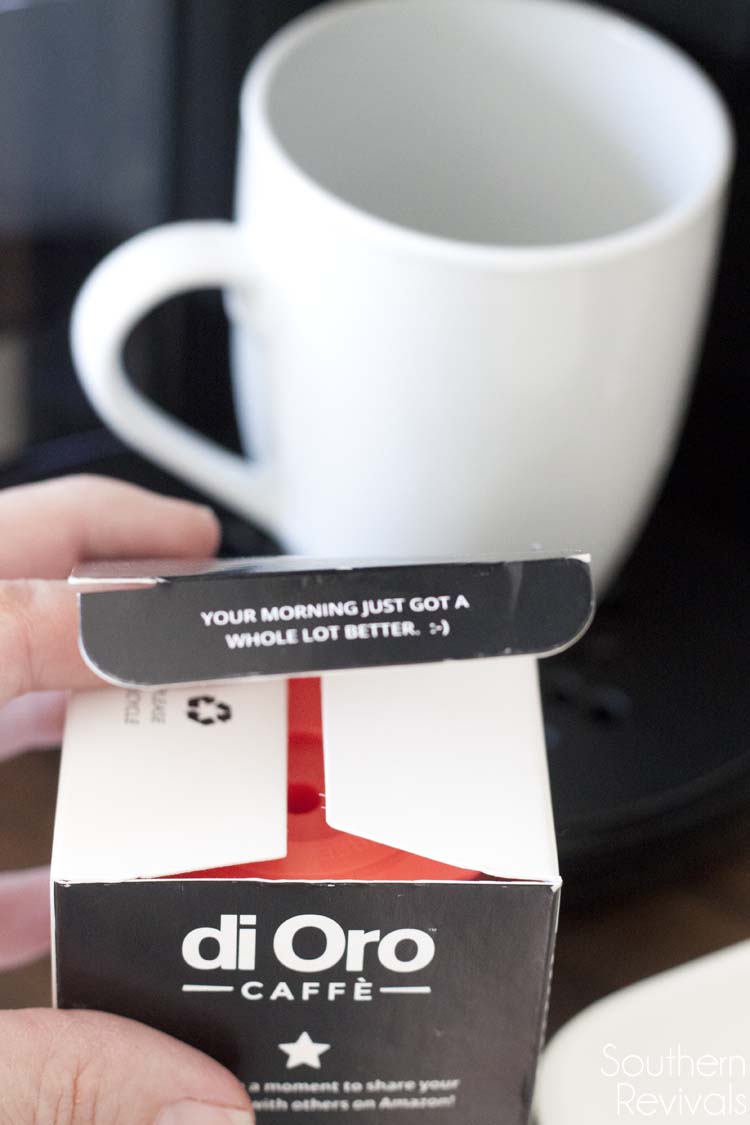 And in case you're confused about any of the functions of the new 2.0 brewers, you can use them with a reusuable filter.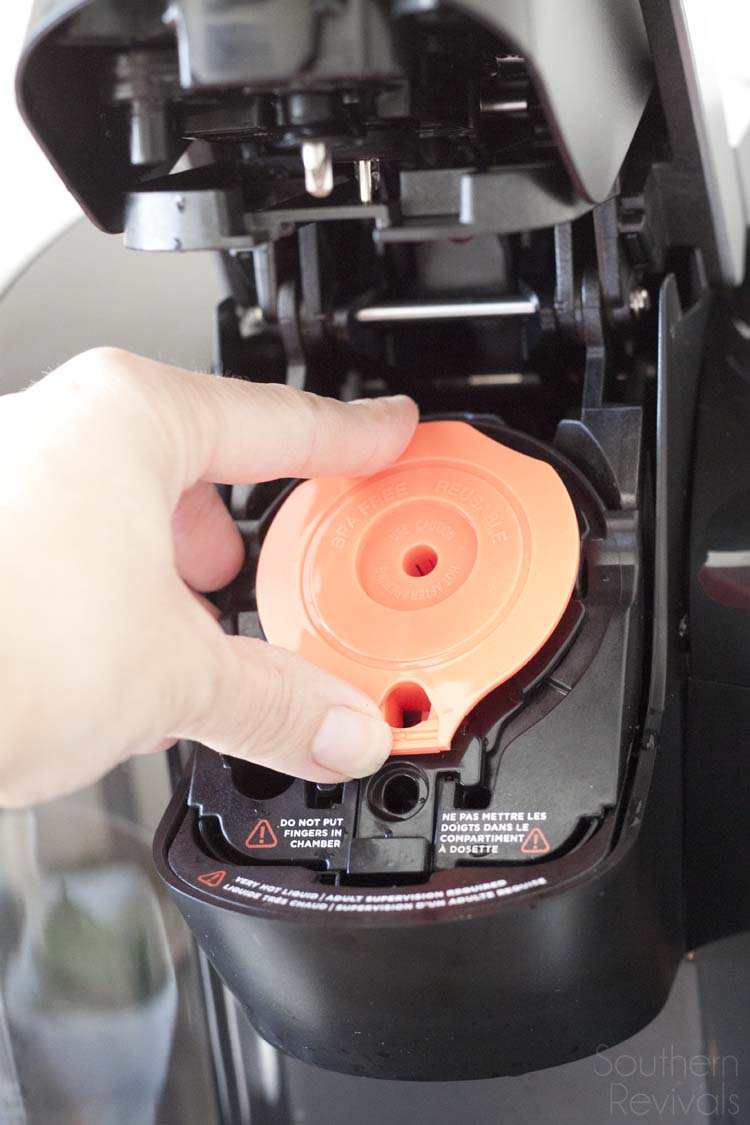 If you get one like mine it'll allow you to brew anything from one cup to an entire carafe.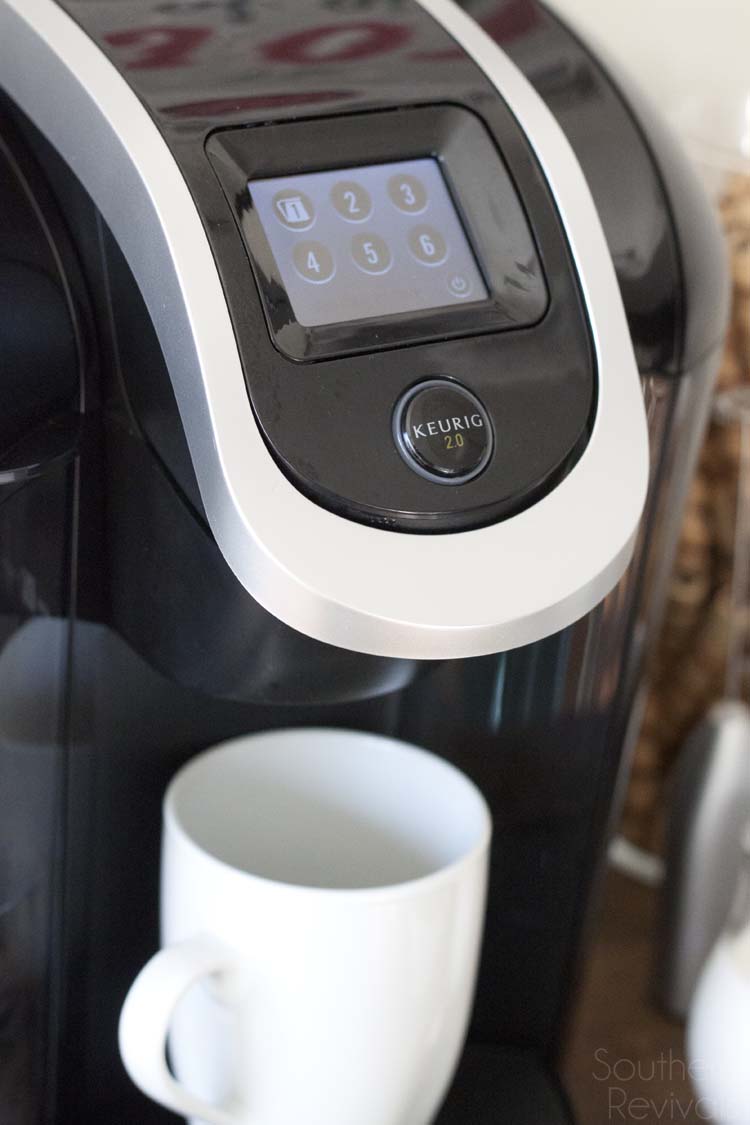 Pop it in, close the lid and choose any option from the 2.0 menu. A carafe, a 6, 8, 12 or 14 oz cup. And if you like it strong you can just check that off on the touch screen and let your new best friend take care of it for you!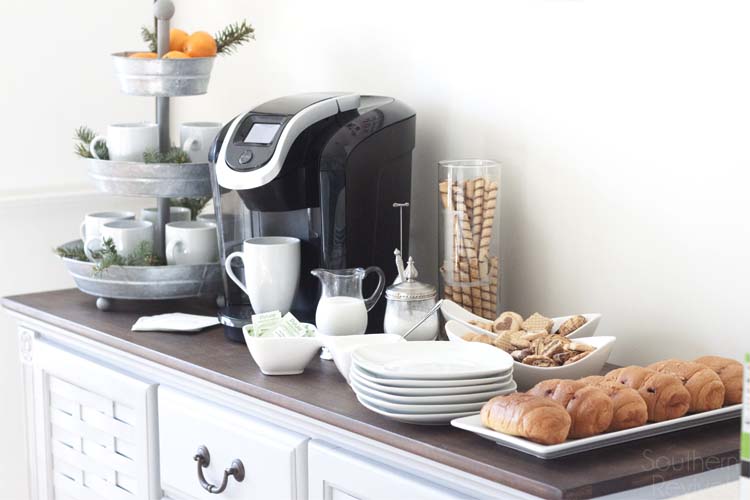 But enough about me and my BFF. These are my tips on hosting a low-key coffee bar that will have your friends oohing and ahhing without you needing a nap and your wallet needing CPR.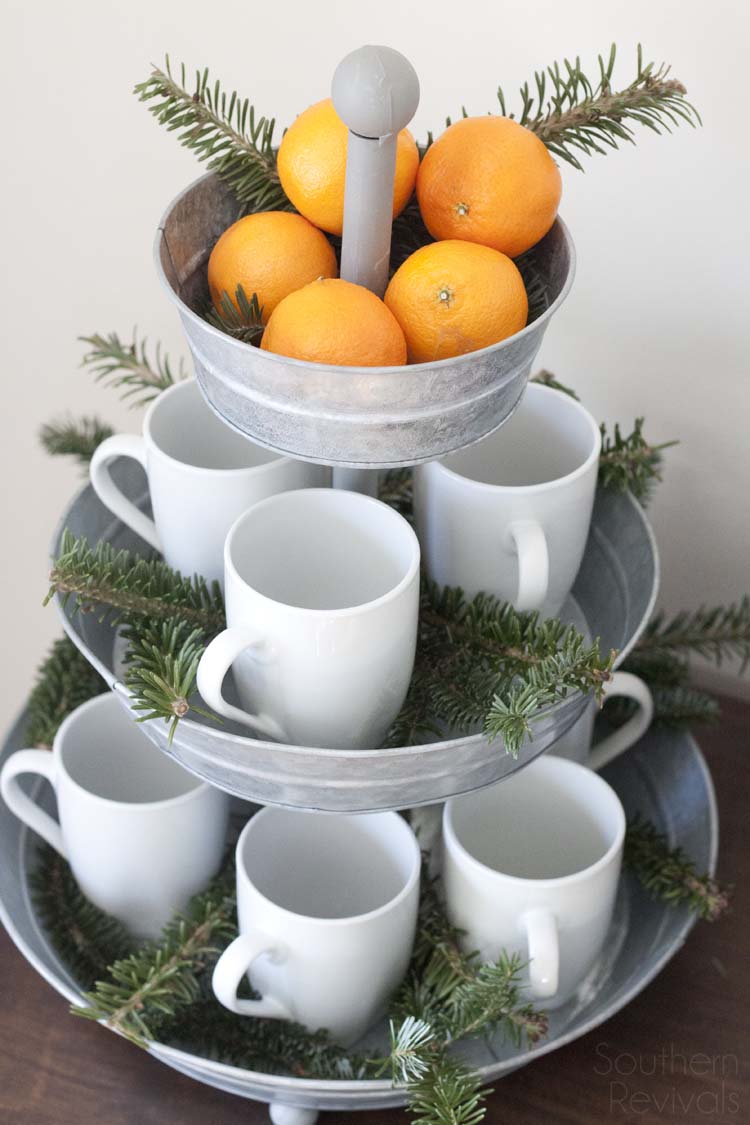 Remember those dishes I got from Big Lots as part of Thanksgiving Tablescape? Well here they are making an appearance again. Isn't white so timeless and classic? I knew getting two sets was a good idea!
To make the coffee bar feel extra special I placed all of the coffee cups onto this tiered container, dressed them up with some of our tree clippings and the kids' tiny oranges on top. Didn't cost me an extra anything.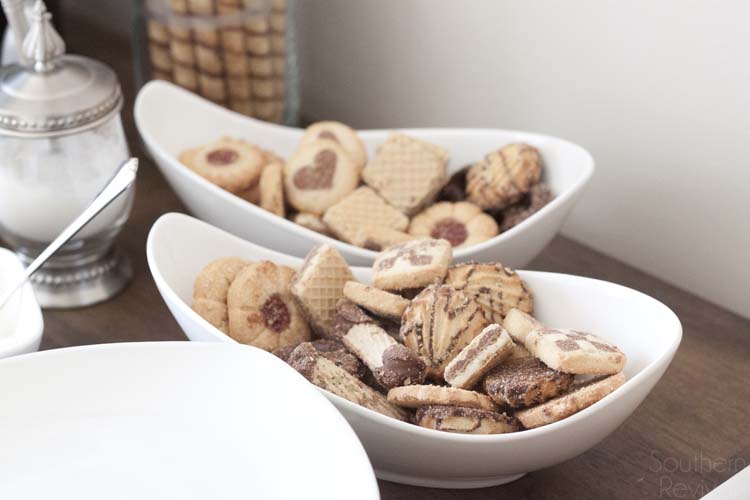 I am a sucker for a cookie assortment and these include wafers, linzers, pretzels and just about everything in between. And chocolate. They include chocolate.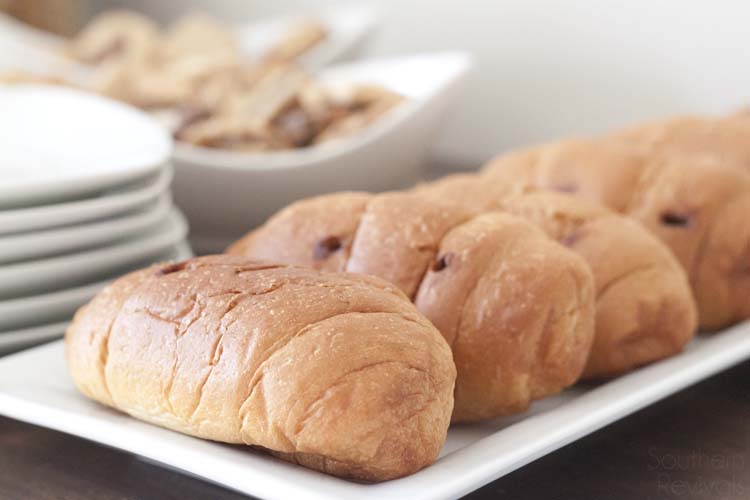 Speaking of chocolate…how about some chocolate croissants! A half dozen for under $3, heat them on 350° for about 5 mins and then try not to shove it in your mouth all at once. I dare ya.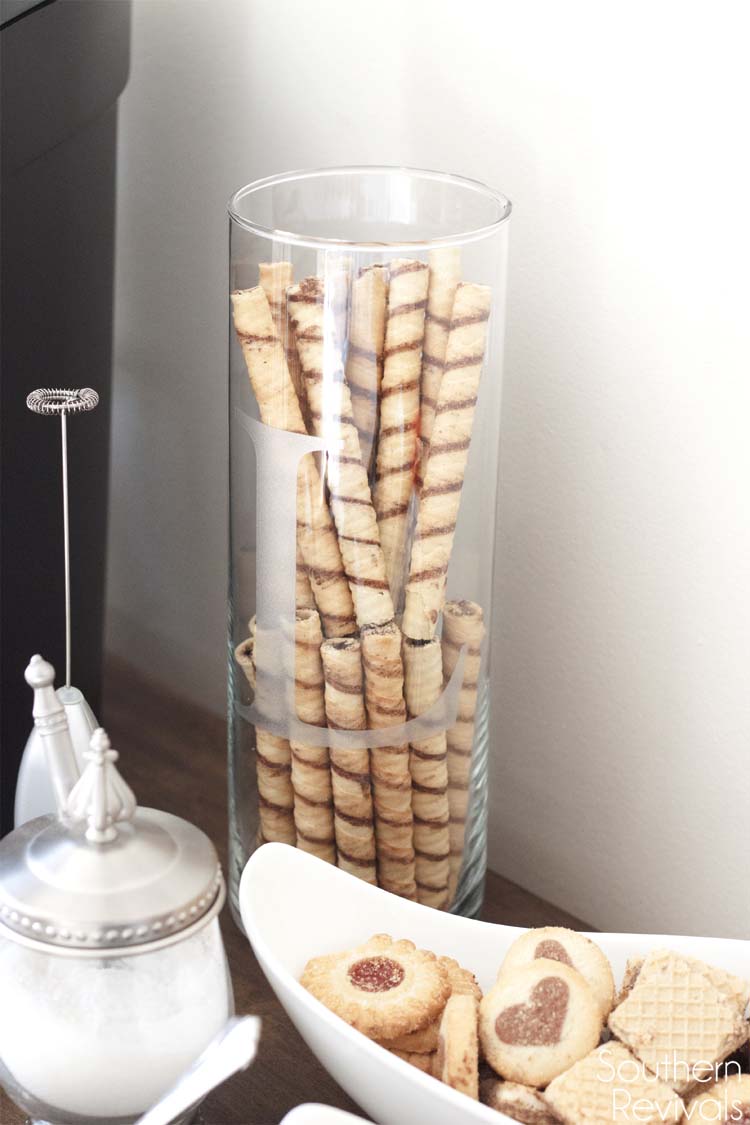 And do you even know a person who doesn't love those chocolate filled wafer rolls? Can't. stop. eating. them. Plus, there are several in a tin container so one is all you need.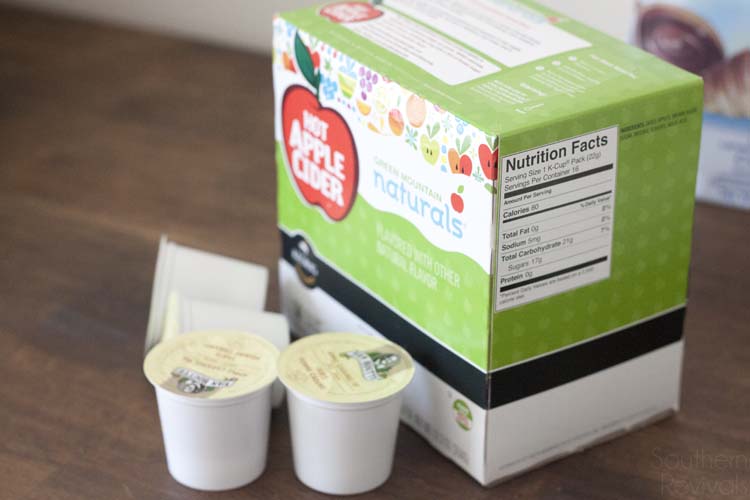 Then I make sure to offer a variety of coffee, teas and even apple cider or hot cocoa. The new Keurig makes it so easy to switch from one to another. On a day to day basis we use our reusuable filter. For special occasions I may splurge for some K-cups especially since I can get those at Big Lots, too.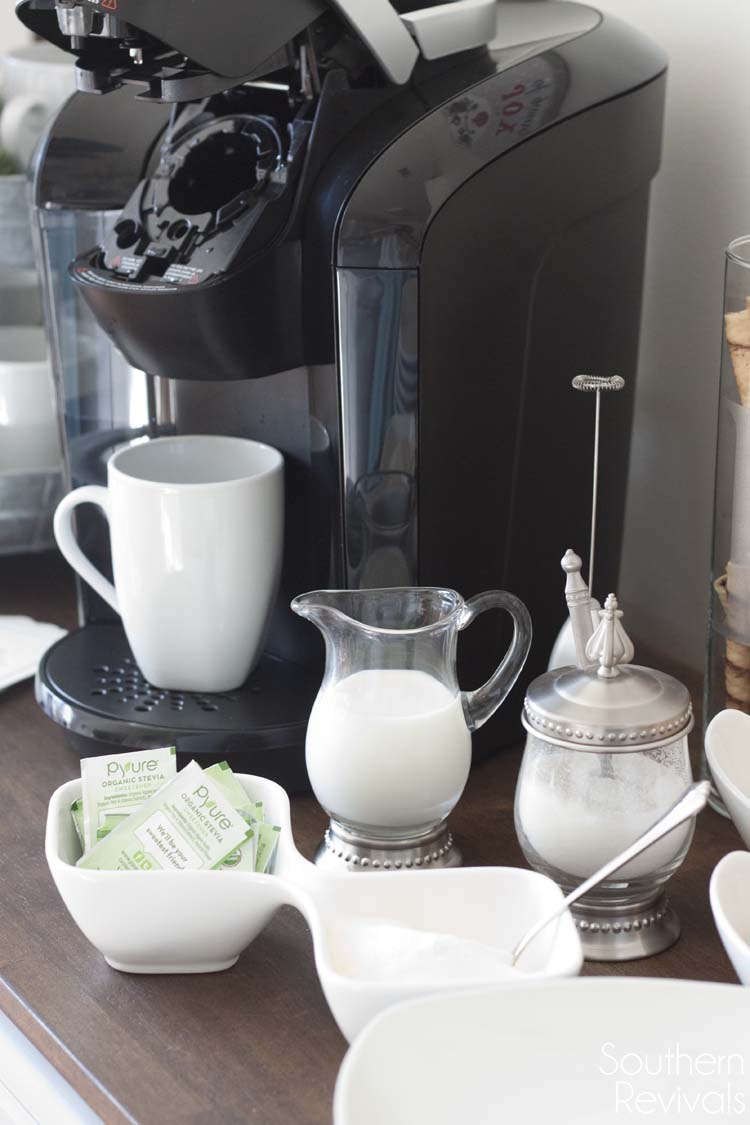 I also make sure to have all the good stuff one might want to mix in: sugar, stevia, cream and non-dairy creamer.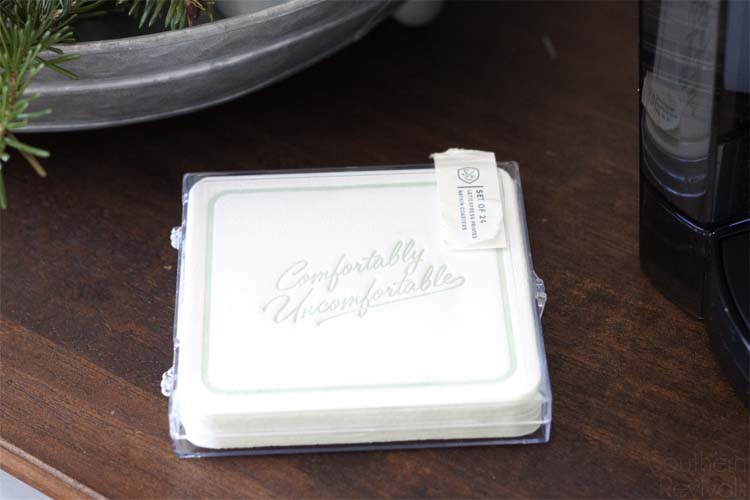 And if you know me in real life (or you've read my About Me page) and get a kick out of me being an Introvert who loves to throw a party (it means I get to stay home, y'all!) then you'll love these paper coasters on the coffee bar. I had to chuckle when I found them in my swag bag from my trip to NYC with Better Homes & Gardens. It's like they know me so well.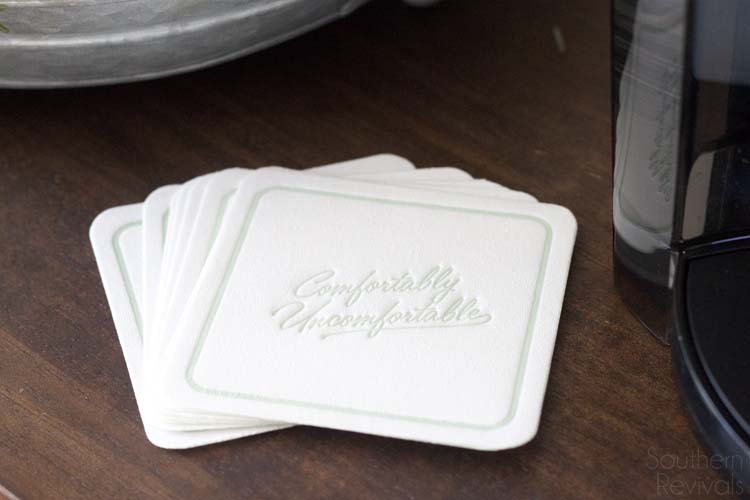 I have never seen anything sum up the best possible scenario for an Introvert than, Comfortably Uncomfortable! Where are my fellow Introverts at?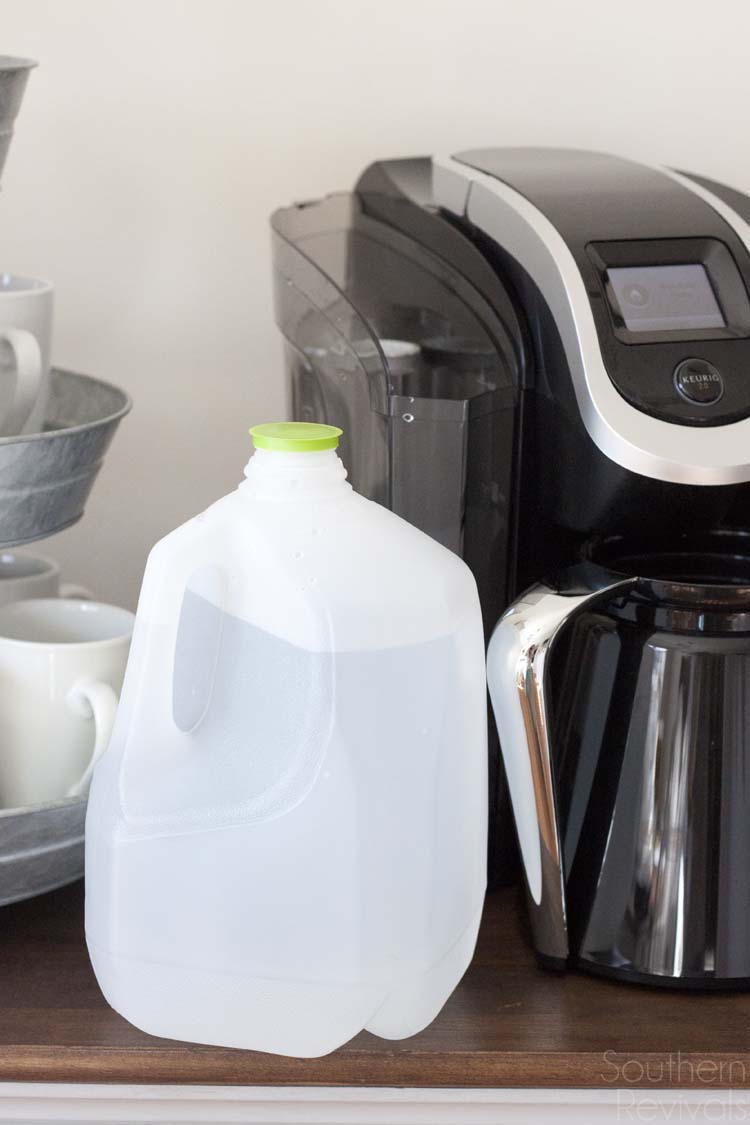 I also keep a gallon of purified water on hand for quickly refilling the reservoir. It isn't necessary since you can easily lift up the reservoir and fill it under the sink I just find that it saves a step or two and isn't something that keeps me from the party.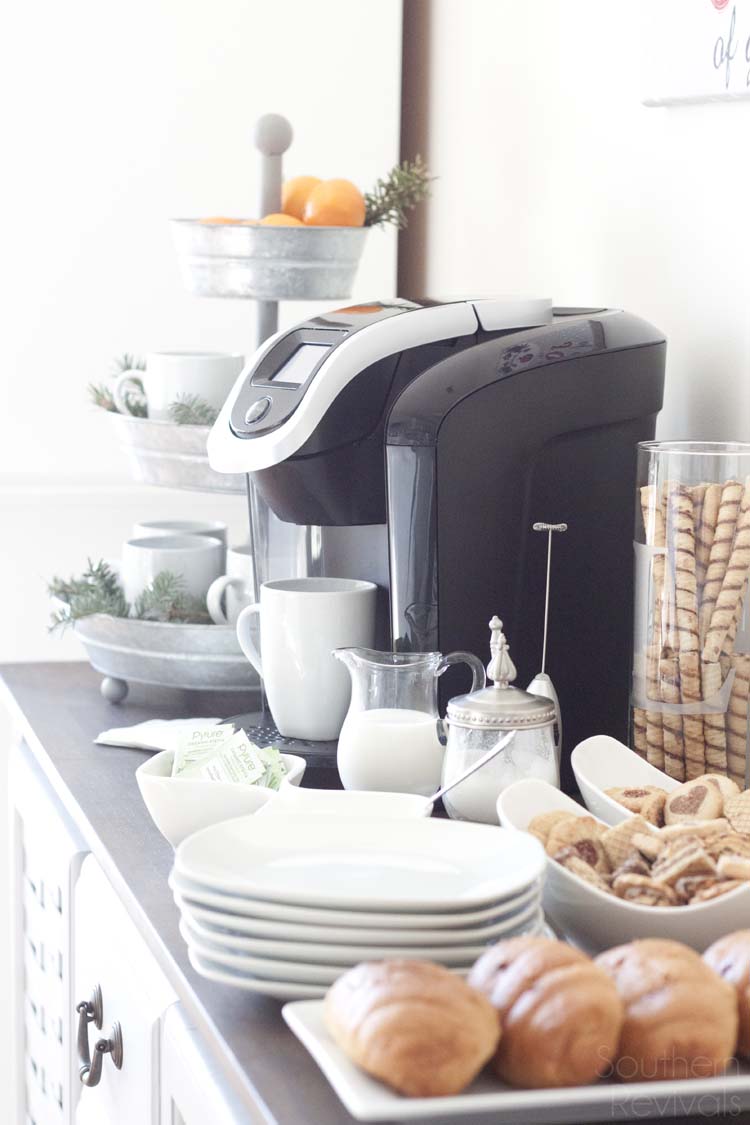 So let't take a peek at possibly the easiest party you'll ever throw, shall we?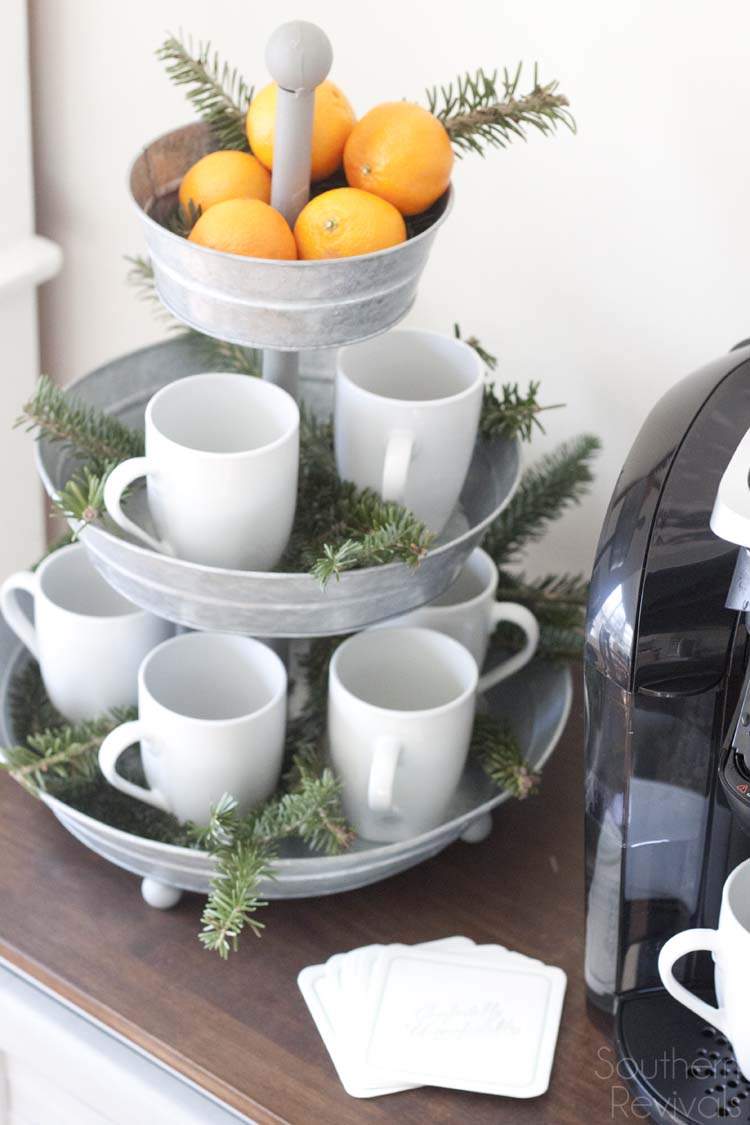 Where your guests are guaranteed to feel pampered…
The food, though effortless, will be delicious…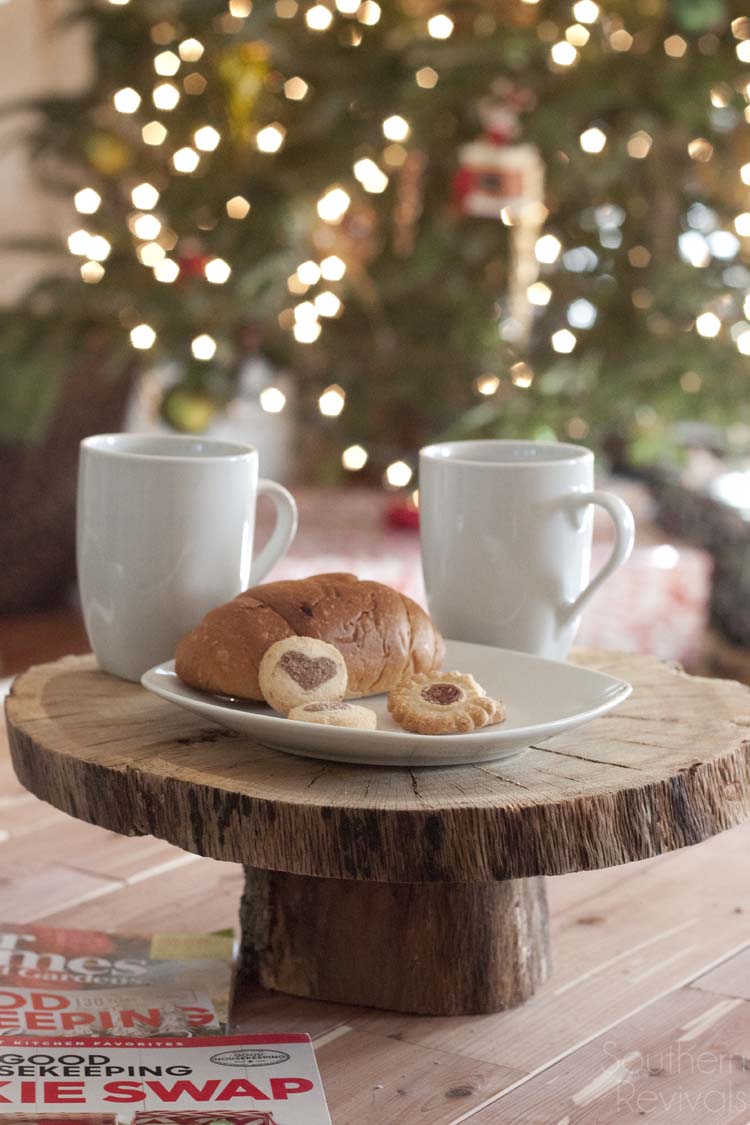 And that time of year that's known as holly jolly but in reality is far more hustle and bustle will be cozy and relaxing instead.
What's better than throwing a simple and elegant holiday party where you not only save money but you get to buy yourself a Keurig 2.0 as a present. Uh. I mean, as a party hosting tool.
I hope you've enjoyed my final post brought to you by my friends at Big Lot's. I'm sad to see it end. Be sure to check out the rest of my Big Lot's Ambassador posts below. And for even more inspiration, be sure to follow Big Lots on Pinterest, Twitter, Facebook and Instagram.
DIY Etched Glasses,Easy & Affordable Holiday Tablescape,
Gluten Free Raspberry White Chocolate Cake