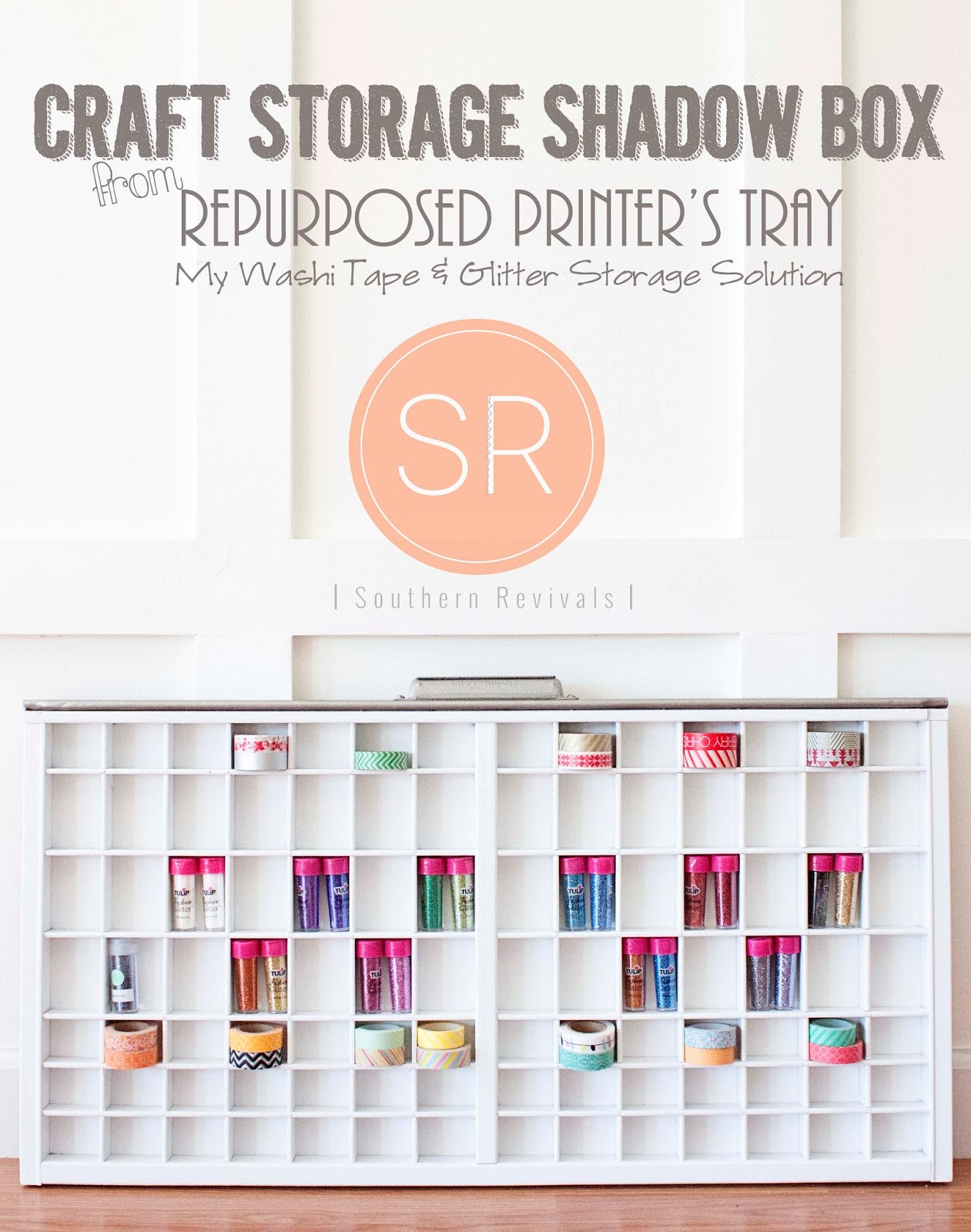 If you cannot resist the dollar spot craft section, no matter which store you're in, this post is for you.
I love collecting "supplies" for my "work". The truth is though, sometimes I forget what I have if it's not right in front of me. And some craft supplies are so small they get stuck under papers or drop behind things.
Take my love of Washi tape for example. I have to buy some every time I see it no matter where I am. The other day, I had some that just happened to be sitting on the table in front me because I'd only recently bought it. I was working on another project, saw it sitting there and knew immediately I had to use it for that project. I don't think it would have ever occurred to me to use it if it hadn't been sitting right in from of me.
Currently, it sits at the end of a dark hallway upstairs. There's a window in there, the only one on that side of the house upstairs but because the door to the room is a solid one, no light gets through. The hallway is a little depressing, much like the room itself at this point. I already have an old heart pine door with wavy glass panels to let in some of that amazing light from East facing window and now I have an amazing storage solution for every growing glitter and Washi tape collection.
But this time I wanted something light and bright. Something to act as a beautiful backdrop for my glitter and Washi tape collections. Something that would allow them to be front and center at all times. Something to inspire me.
painter's tape
tin foil or plastic
spray paint of your choice (I used Krylon in White and Brushed Nickel)
D-hooks to attach to back for hanging
Lightly damp cloth for wiping down
First, I taped off the metal drawer front and handle and the metal strips on the sides. Then I sprayed it with several coats of white spray paint until I achieved my desired finish.
Once that was dry, I wrapped tin foil over the finished white sections and affixed with painter's tape to protect it from overspray. Then I sprayed the metal drawer front and handle with two coats in a brushed nickel finish.
Including dry time, this took me just a day to complete! And I. Am. In. Love.
Not only are my supplies in easy reach and ready to inspire but they are little works of beautiful, colorful art!
And since not all of my sections are full, it gives me complete license to purchase more "supplies" for my "work".
Or. For my work of shadow box wall art.
I think I'll add a Washi Tape & Glitter label here in the future. But for now I am just enjoying the crisp cleanness that is brushed nickel against white.
I couldn't bare to part with the patina of the metal sides so I left those just as they were.
Now, all I have to do is head down that dark scary hall, put on that new, old door to let in the light. And the first order of business will be to hang my Washi Tape & Glitter Storage Shadow Box on the wall!
So what do you think?  The possibilities are endless and I have created a Printer's Tray Shadow Box Inspiration eBay Collection to help inspire you to create your own. You can check it out here: Repurposed Printer's Tray Collection. And be sure to follow me on eBay for more inspiration. We have so many more projects to complete on The Revival House and eBay is a great source of supplies and inspiration.
What would you put in your repurposed printer's tray shadow box?
Jamie Lott