This shop has been compensated by Collective Bias, Inc. and its advertiser. All opinions are mine alone.  Cherry Cheesecake Fried Ice Cream #SoHoppinGood #CollectiveBias
Last year I made a 3 Layer DIY Ice Cream Cake but let this go down in history as the time I actually deep fried ice cream! This isn't your Mexican restaurant's "fried" ice cream either. This is the real deal Holyfield – Homemade Cherry Cheesecake Fried Ice Cream.
I'll never forget the first time I ordered a fried ice cream at a Mexican restaurant. It was not at all what I was expecting. It came out as something akin to orange sherbet covered in warm cornflakes. I was so disappointed. Not because it wasn't good (I've never been one to turn my nose up at ice cream) but because I thought someone had figured out a way to put ice cream in hot oil and still have something leftover to eat. And I'm from the South, y'all and that is not how you fry things!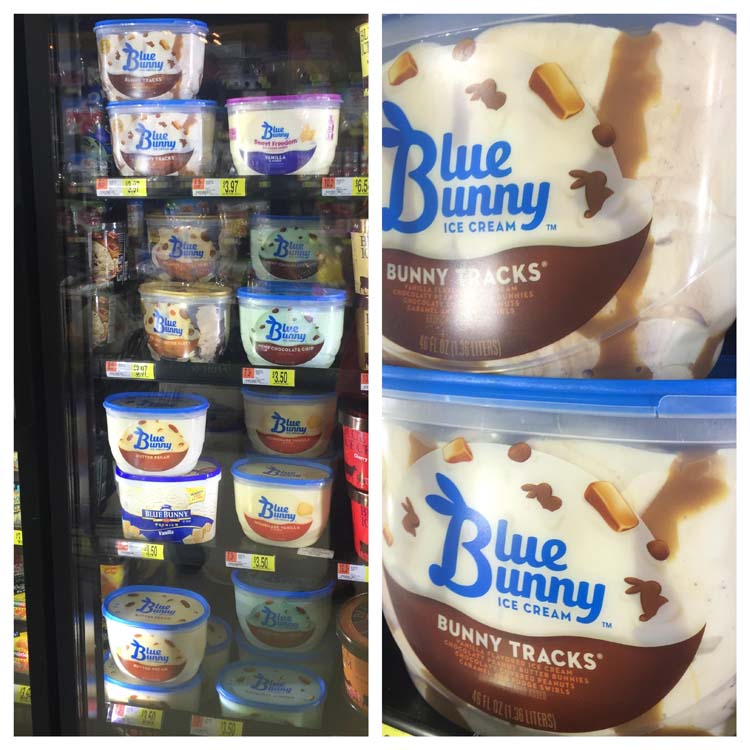 So when I encountered the new Blue Bunny® flavors at Walmart, namely the Blue Bunny® Cherrific Cheesecake, I knew what I must do.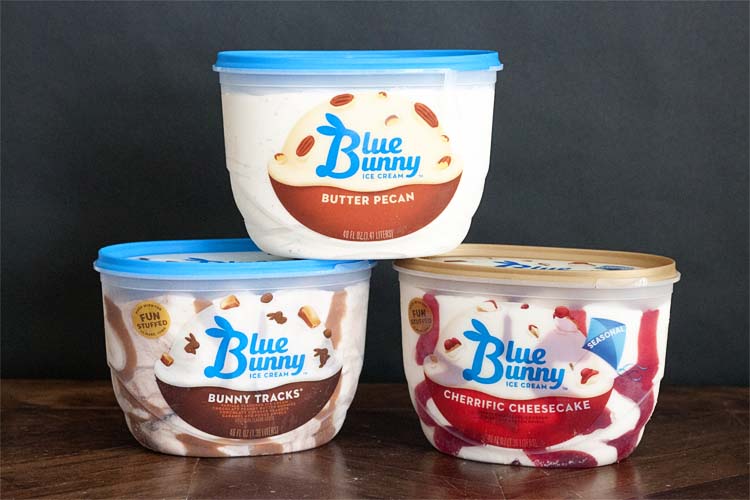 The first thing I must do is get more than one because…ice cream. Blue Bunny® Butter Pecan because it's what my Papa always used to get me when he took me out for a ride, Blue Bunny® Bunny Tracks because how cute is that! And the Blue Bunny® Cherrific Cheesecake because when I ordered fried ice cream I really wanted fried ice cream and because this local restaurant used to serve fried cheesecake with cherries and ice cream and those two thoughts combined culminated in what I think is a pretty amazing idea.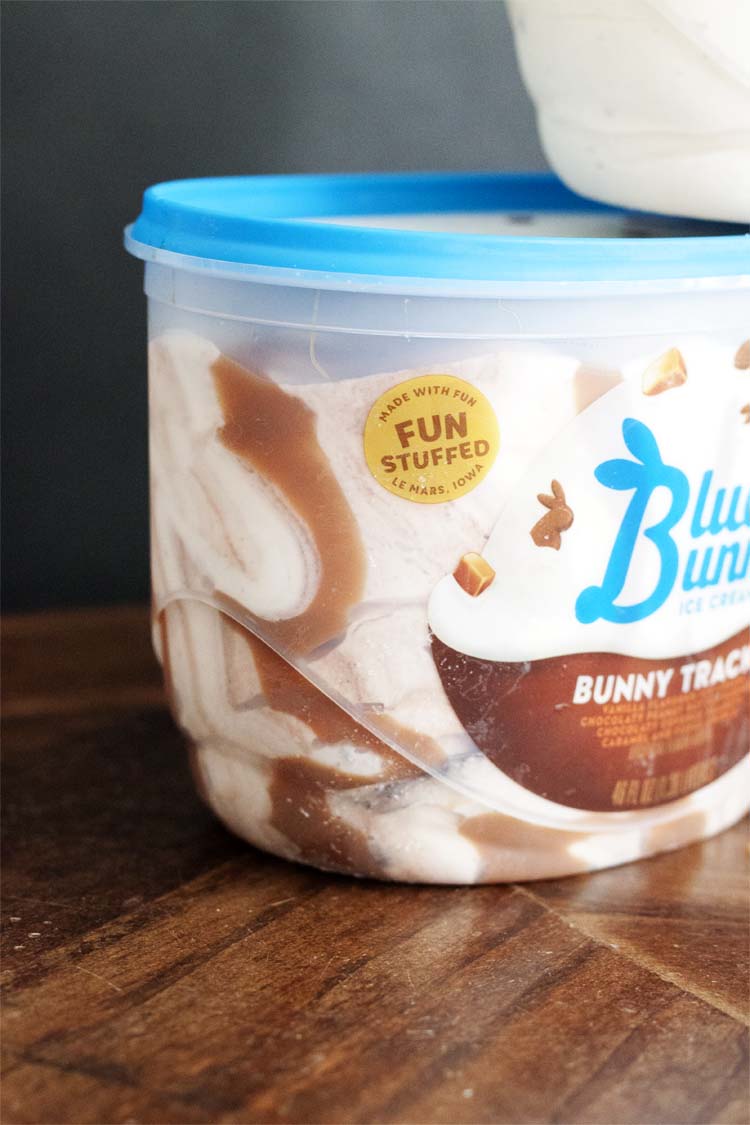 I love how these new clear containers that let you see all the good stuff on the inside. It's a little like a try before you buy feature.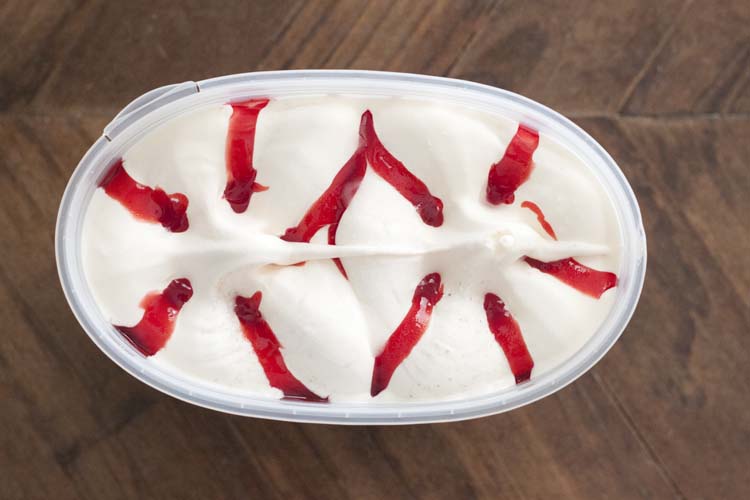 Anyway, ever since I discovered Blue Bunny® Cherrific Cheesecake all I could think about was cherry cheesecake fried ice cream. I mean, it's crazy good all by itself.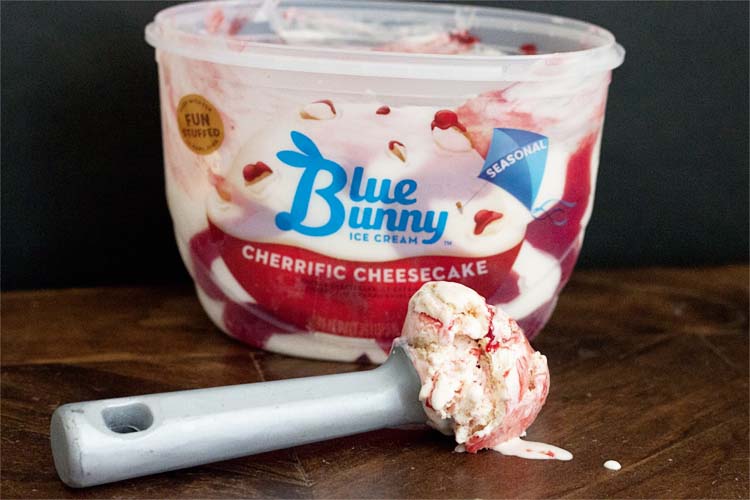 Cheesecake flavored ice cream with cherry swirls and chunks of graham cracker crust, what's not to love! But if you want to take it another step forward – to culinary genius – here's how to turn that delicious ice cream into fried ice cream.
What you will need:
Blue Bunny® Ice Cream of your choice
Metal sheet pan
Deep fat thermometer
Pot for frying
Slotted spoon
2 slices of bread per treat
Vegetable or Canola oil
Cinnamon & sugar
Dark chocolate syrup, cherries and whipped cream, to garnish
Step 1:
Blue Bunny®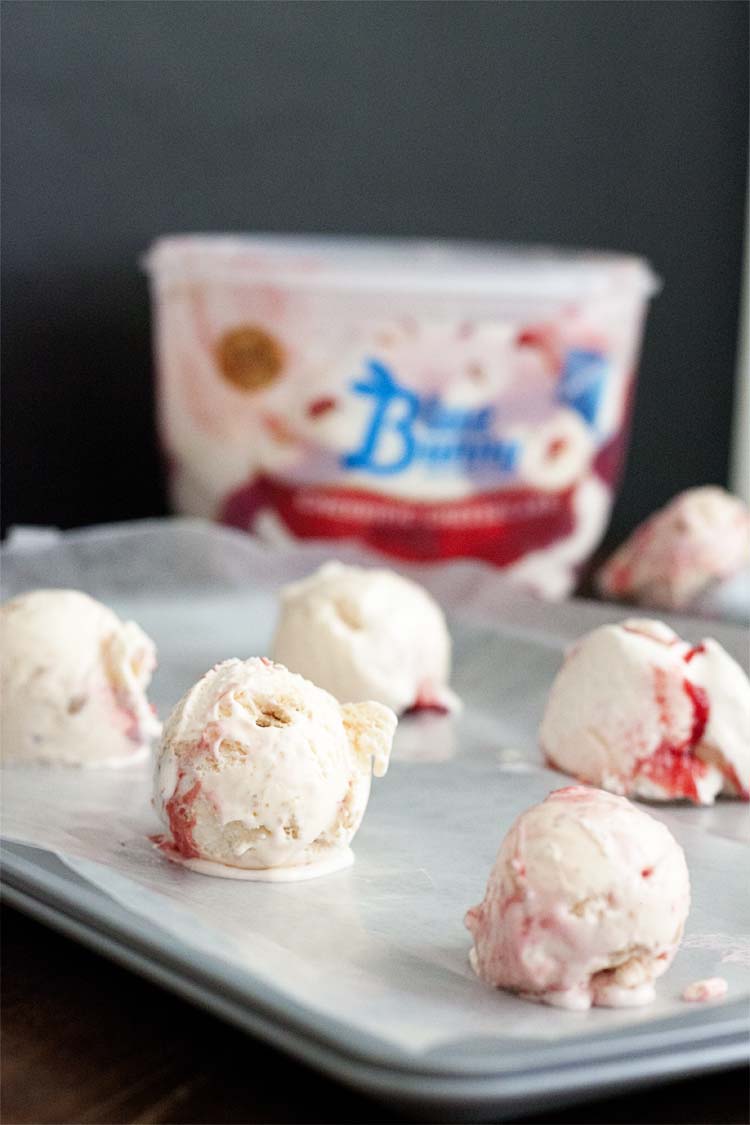 Scoop 2″ ice cream balls onto a frozen metal pan, cover in wax paper for easy clean up. Return to freezer until frozen solid – about 2 hours.
Step 2: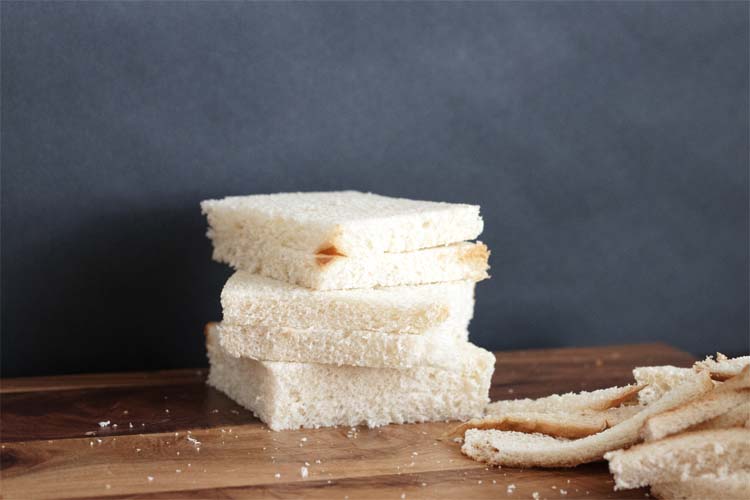 In the meantime, remove the crusts from white bread slices. Two slices per treat.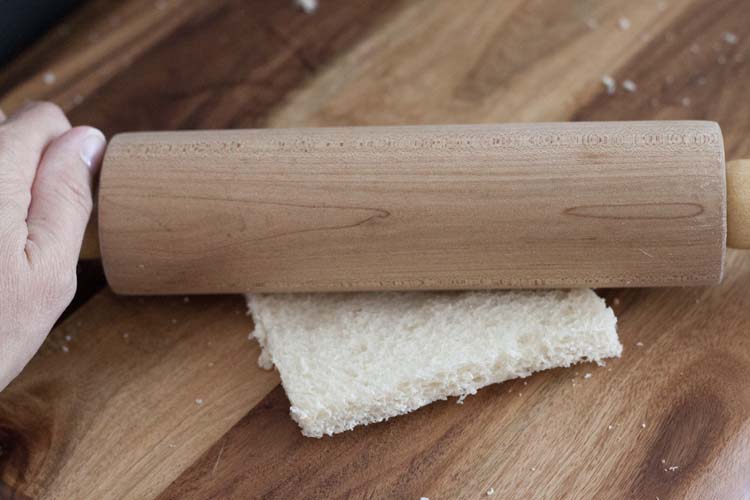 Using a rolling pin flatten out each slice.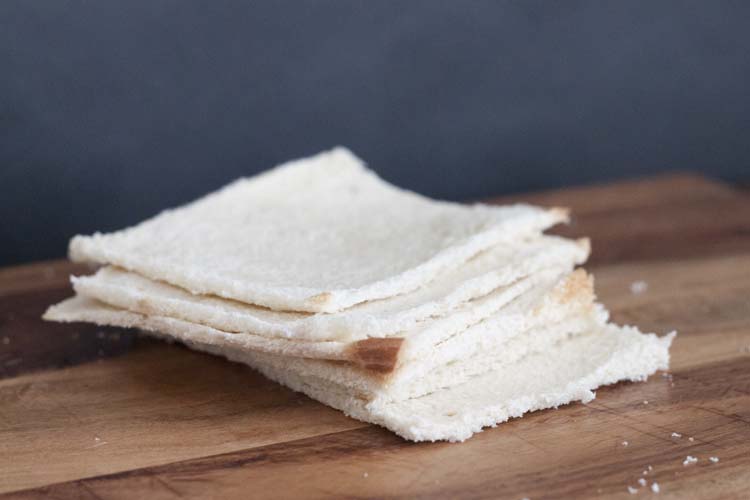 Until they look like this!
Step 3: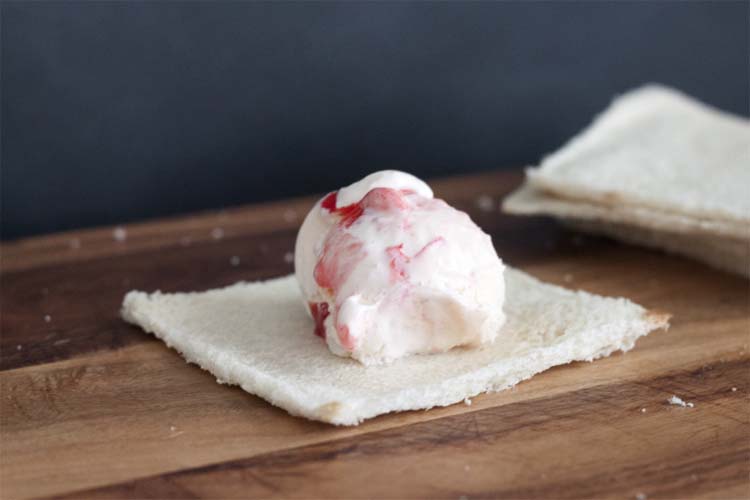 Place ice cream balls onto a bread slice, mold it around the bottom.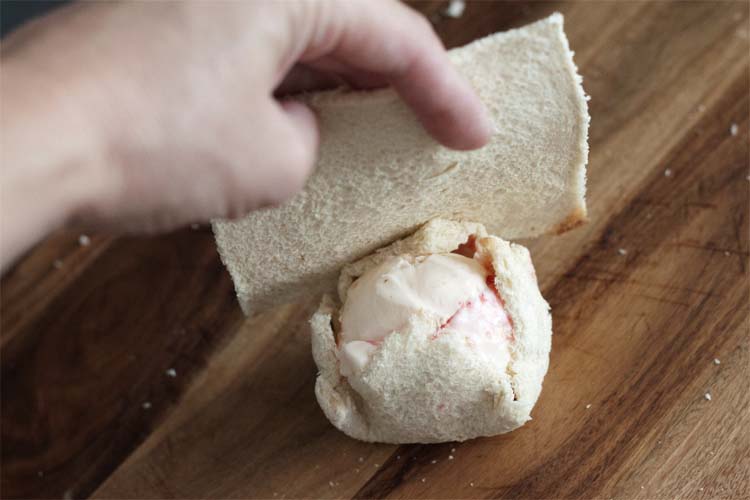 Then cover the top with an additional slice. Mold it into a tight ball.
Step 4: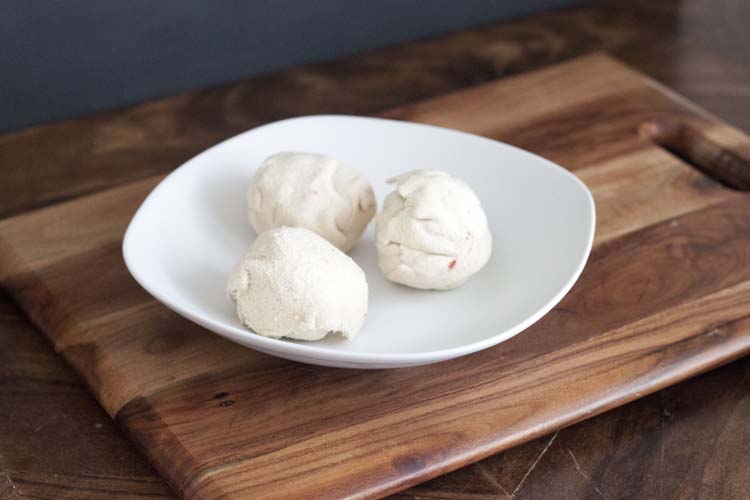 Place them back into the freezer until frozen solid. I like to do this step the night before and let them freeze overnight. That way there's no question whether they're ready to fry and it makes for less prep work the day of.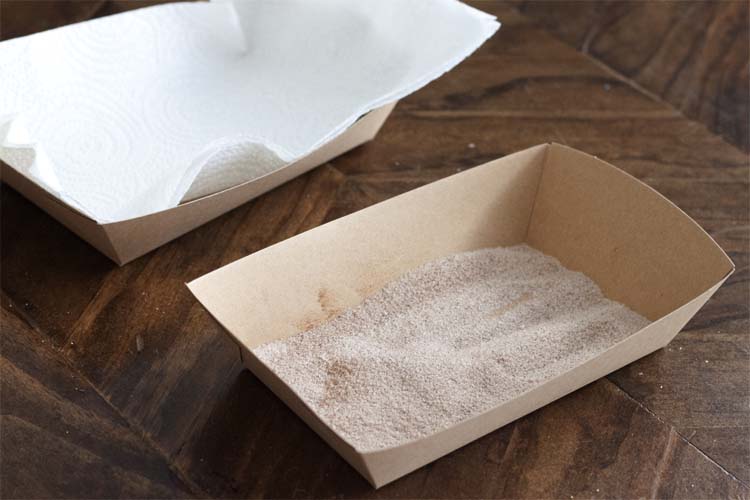 While my oil is heating I make sure I have a container ready to drain fresh batches and to cover in cinnamon sugar coating.
Step 5: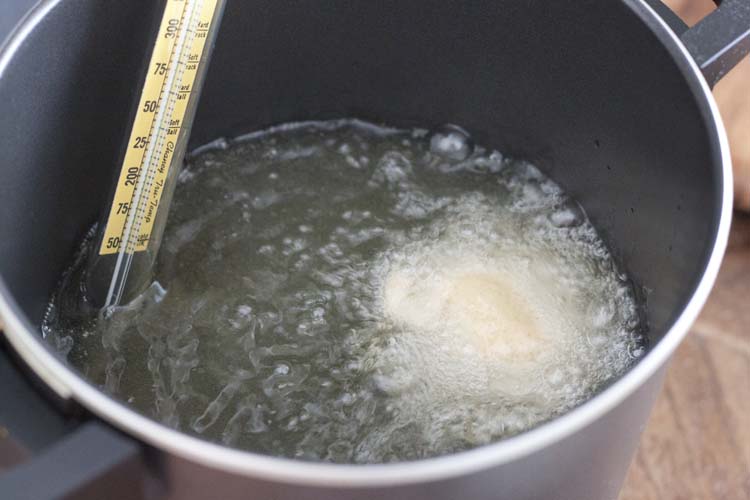 Fill pot with enough oil to to completely cover the ice cream ball and begin to heat.
Allow oil to reach to 350 degrees, thermometer should be placed in oil prior to the start of heating. Once your oil is ready place a treat or two into hot oil and fry for 15 to 20 or until golden brown.
Step 6: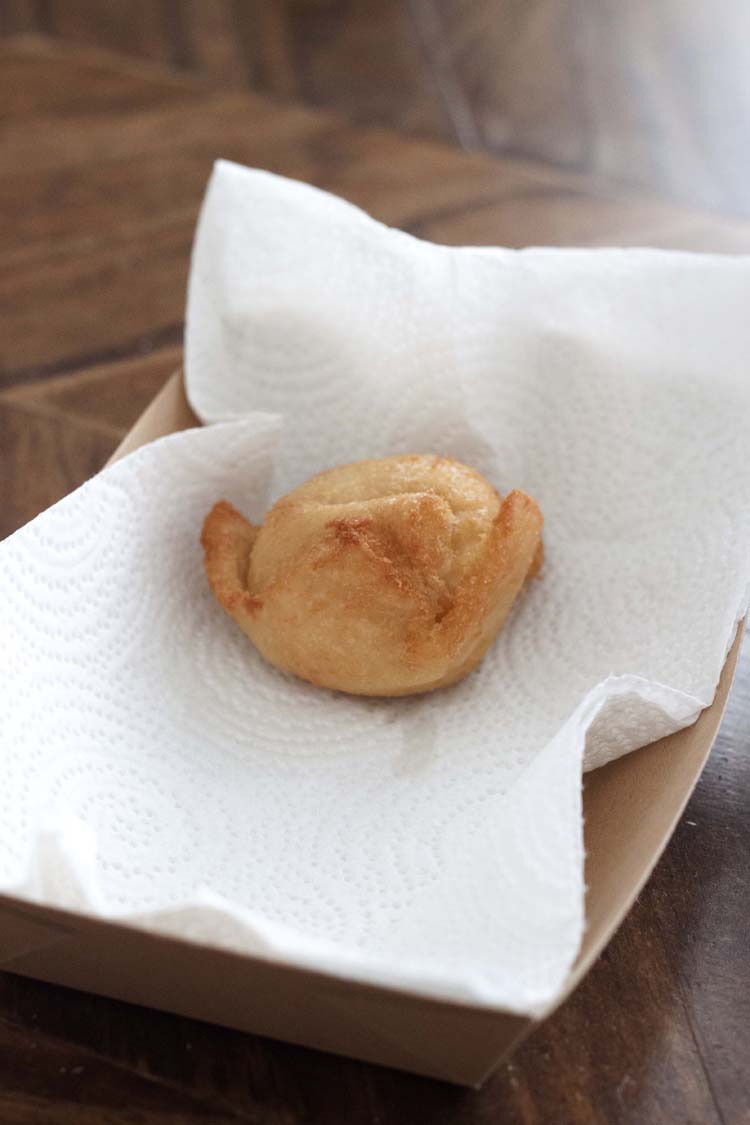 Drain treat on paper towel for a few seconds and then transfer to cinnamon sugar coating.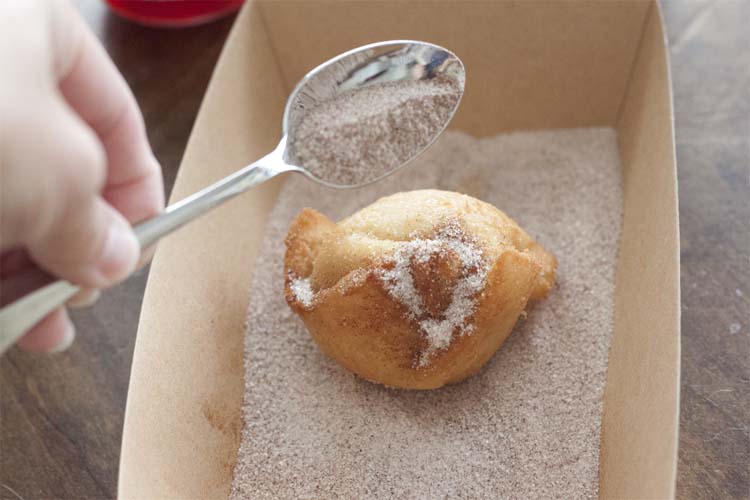 Using a spoon so that you don't  burn your hands sprinkle on cinnamon sugar mixture.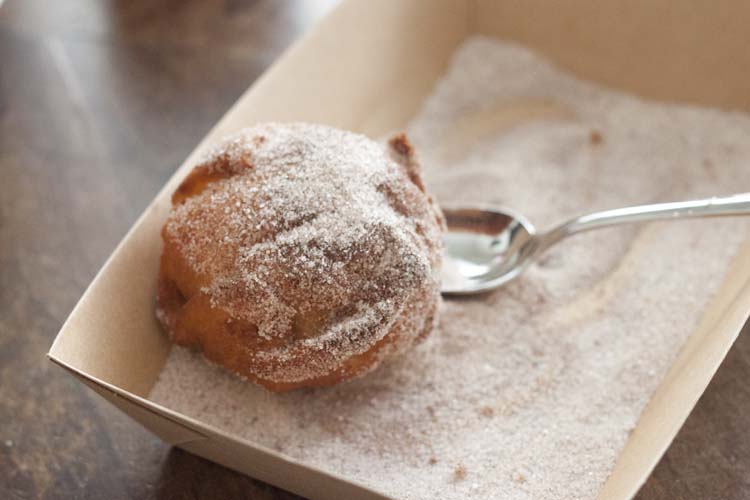 Be sure to cover all sides.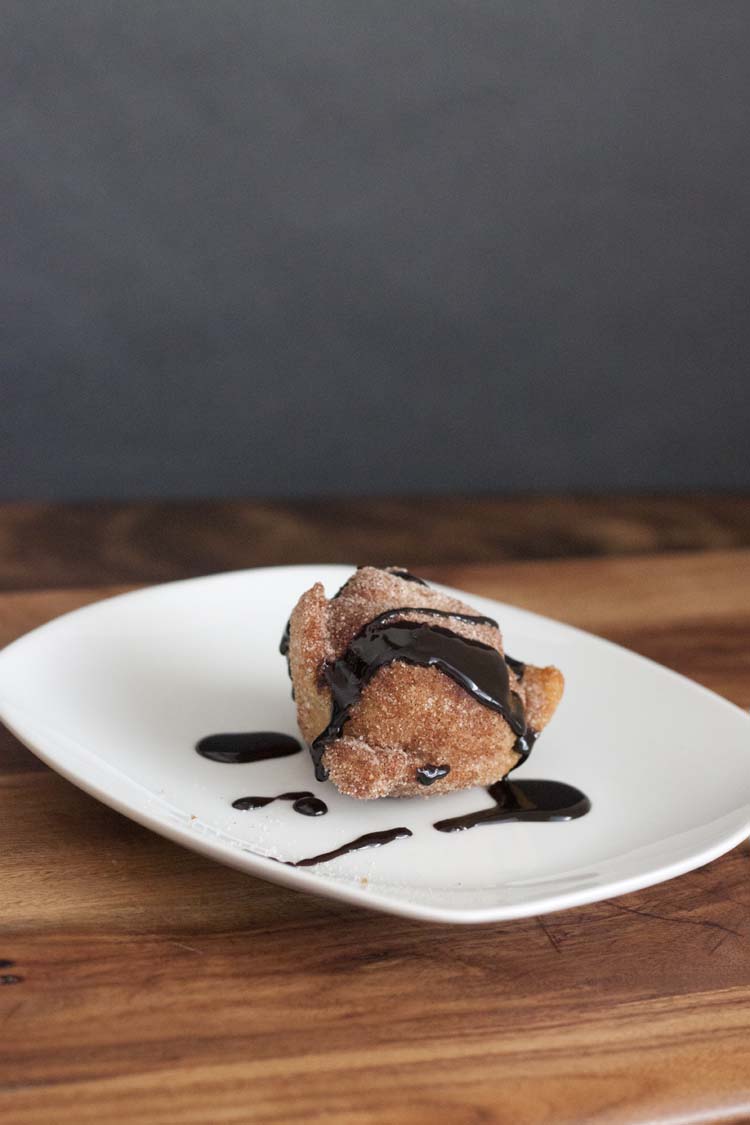 Now comes the fun part, garnish. I drizzled on dark chocolate syrup for good measure and then popped a cherry on top.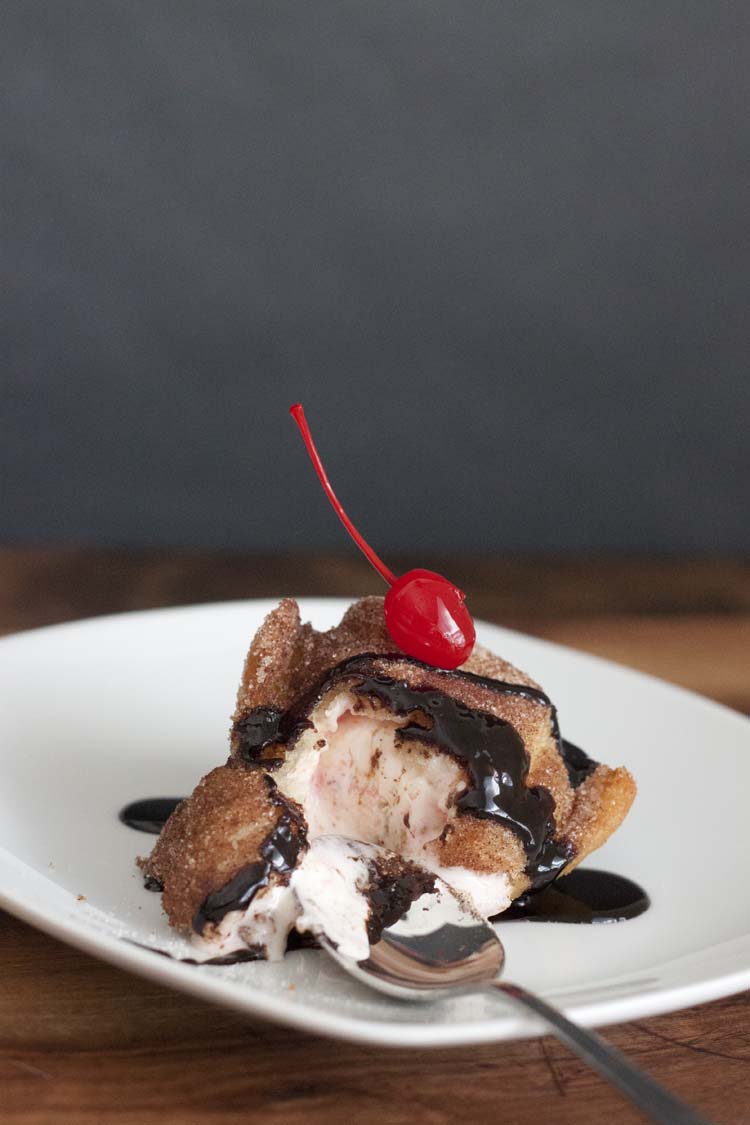 I couldn't wait to tear into one to make sure there was really still ice cream in there!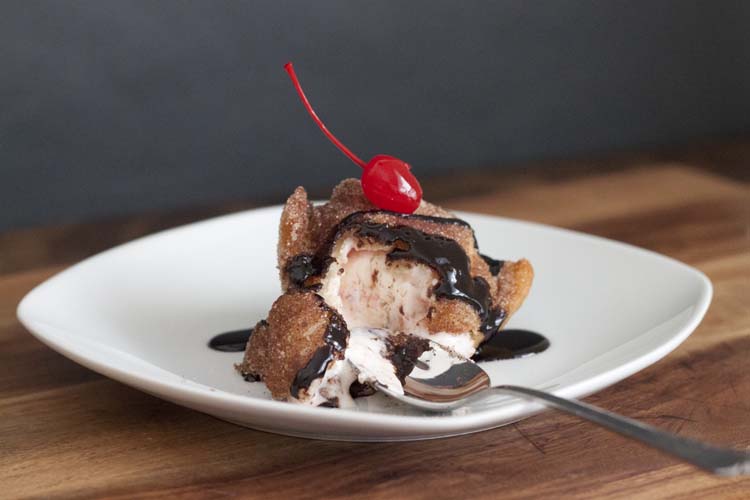 And, miraculously, there was. Crispy and warm on the outside and still cold on the inside. It defies logic.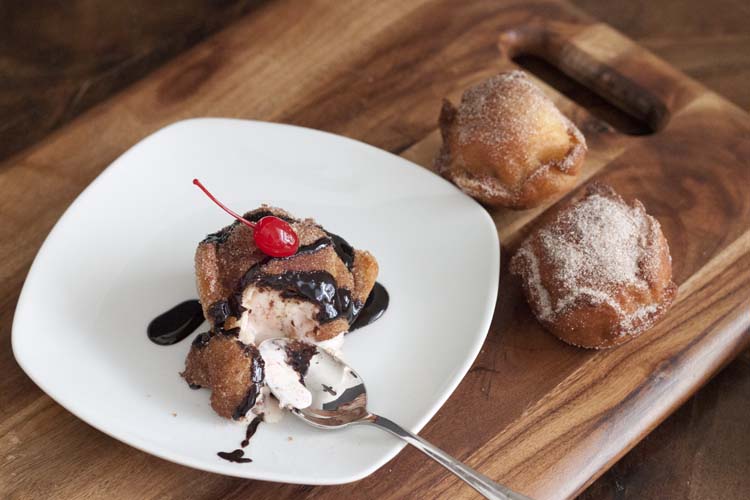 I was honestly surprised at how easy it was and before I knew it I had six orbs of pure perfection in front of me.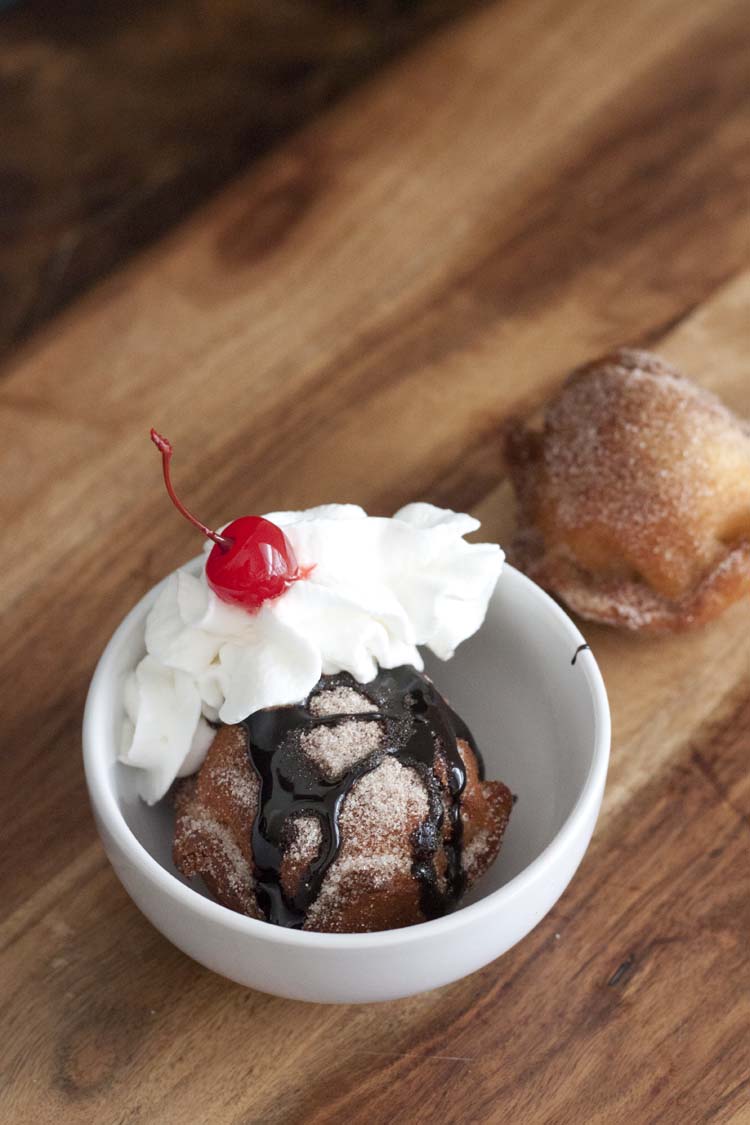 And then people started coming into the kitchen with their, 'Ohhh what's thats' and their 'where's mines'.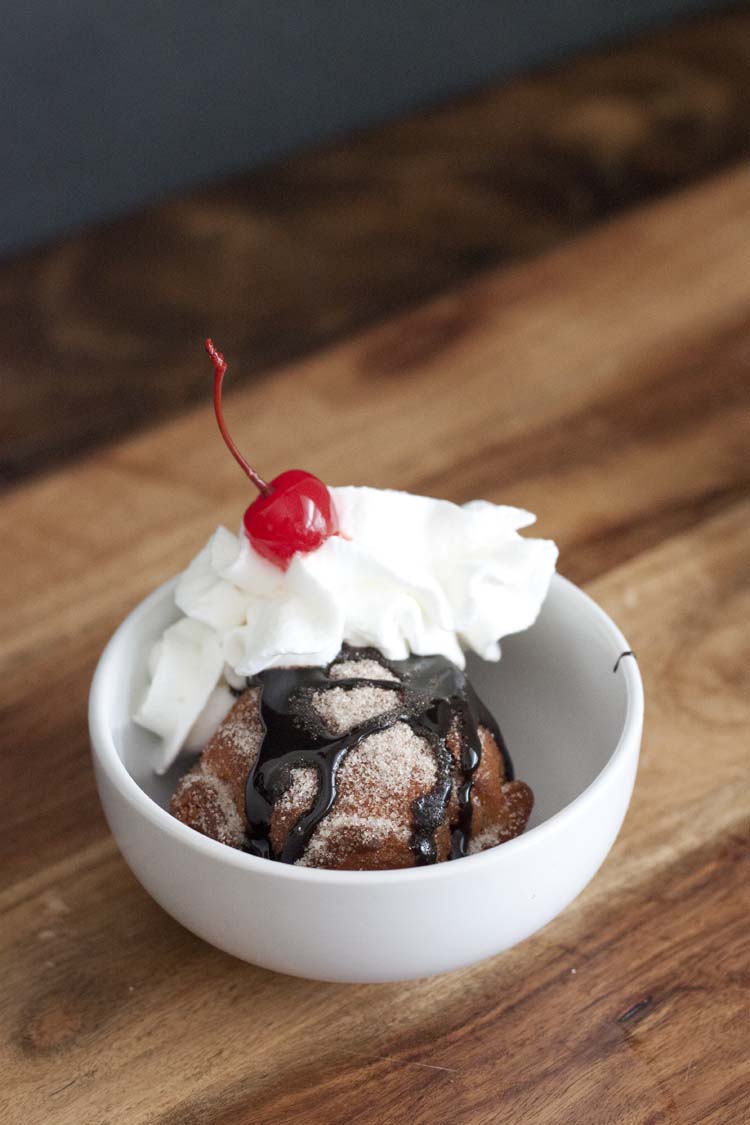 So I put another one together….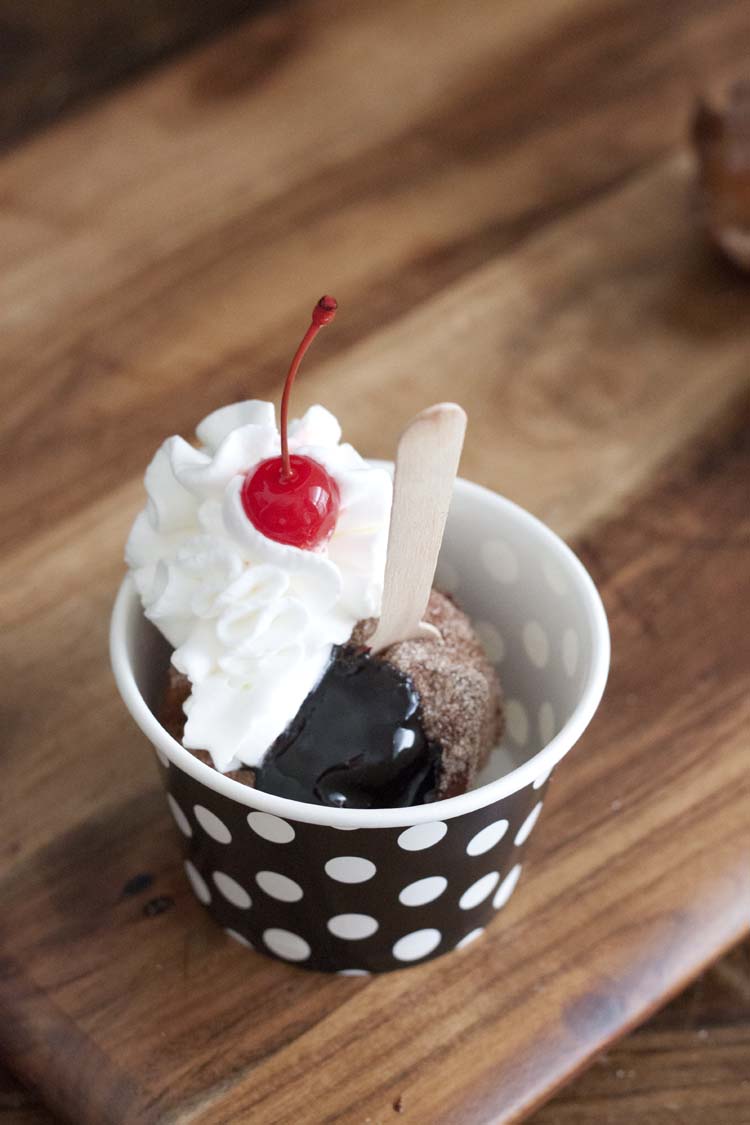 And another. And I still haven't even tried one yet. Until someone came back into the kitchen with their, 'You've got to try this' and so I did. And that's how you fry ice cream! Who's coming over?
You can find more great Blue Bunny® recipes and ideas at SunsOutSpoonsOut.com. And if you find Salted Caramel Craze, Super Chunky Cookie Dough, Super Fudge Brownie or Vanilla Cupcake – SEND ME SOME!!
3-Layer DIY Ice Cream Cake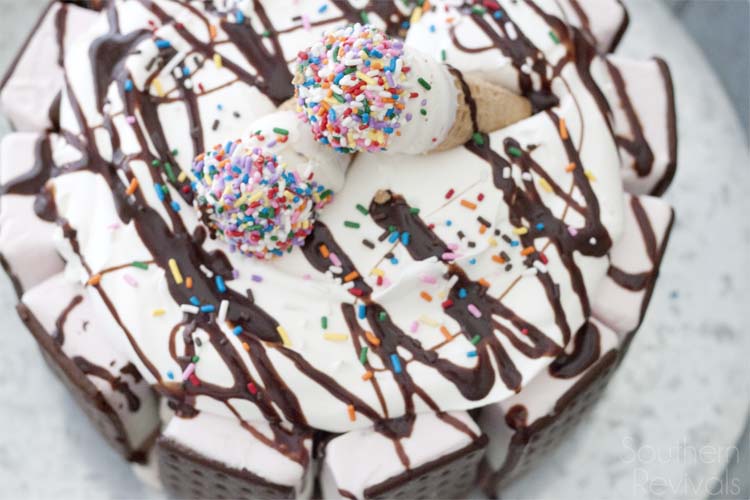 See the how-to here: 3-Layer DIY Ice Cream Cake