Today I've partnered with Tree Classics to tell you what I love most about fall. Honestly, I could write a book but I'll try to keep it simple. This is my Halloween home tour.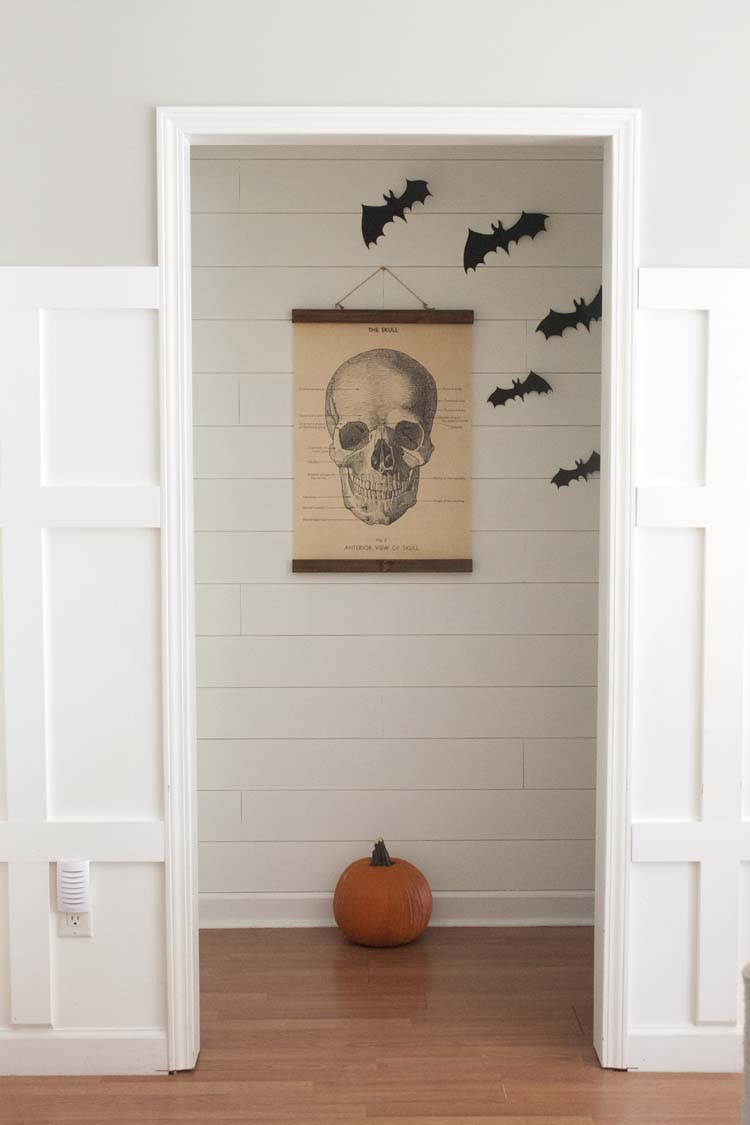 Vintage-style anatomy poster I got from the  Country Living Fair last year.
If I thought last week was the longest week of my life it was only because I hadn't yet met this week. The week before last I got stranded in NYC because my flight was grounded due to weather. I was home less than a week before hurricane Matthew came through and wiped out our power for 5 days and one of our large oak trees, too. But all of that paled in comparison to what the following week brought, not the least of which was all of the catch up.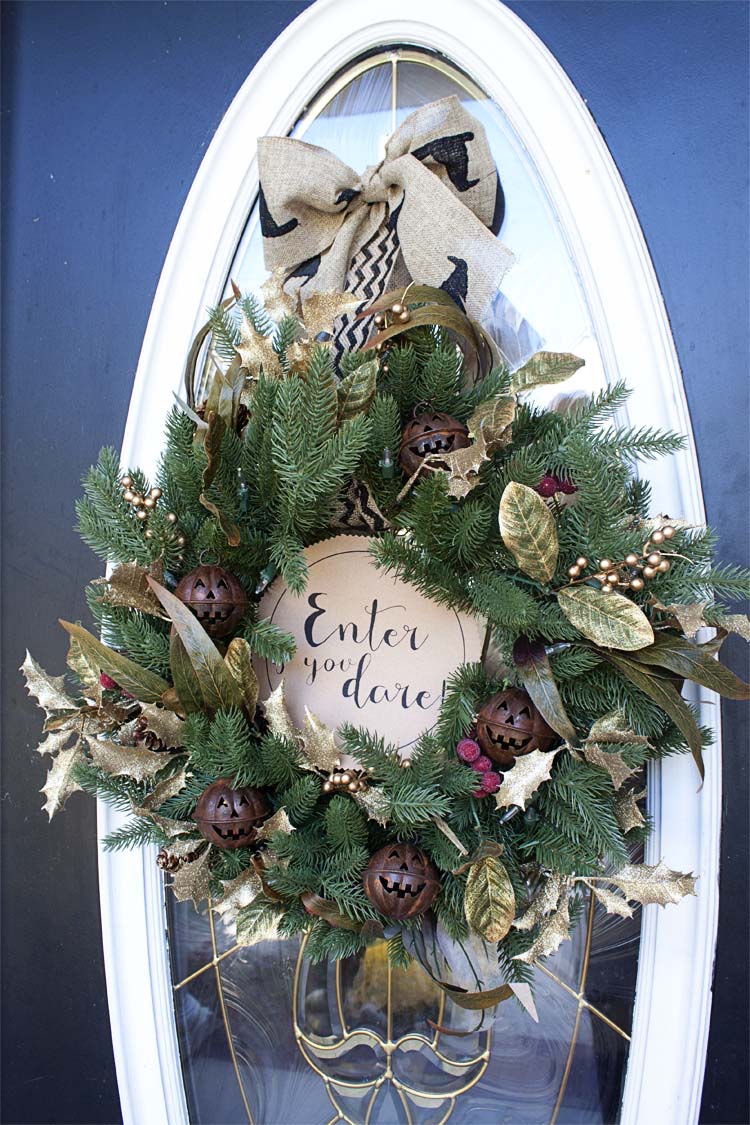 One thing all of that down time gave me was a chance to really think about the question: What do you love most about fall? I could say the smell of pumpkin spice, the crisper temps or just that cozy feeling fall brings. I could even say decorating. But everything I love about fall can really be summed up in one word, nostalgia.
You know that thing that happens to you when you smell a certain smell and it brings you right back to some childhood memory? And living in those kinds of memories, even for just a moment, make you feel as if it will all be alright. Decorating for fall, or any holiday really, gives me that.
Tree Classics was kind enough to supply a gorgeous wreath of my choice for this post. I chose the Kennedy Fir Harvest Wreath and added this free, Enter if you dare, printable from Family Circle.com to the center. Then I added some rusty metal Jack-o-lantern ornaments and ribbon to hang. I love that it lights up, it's battery operated and it's easy to transition from one holiday to the next.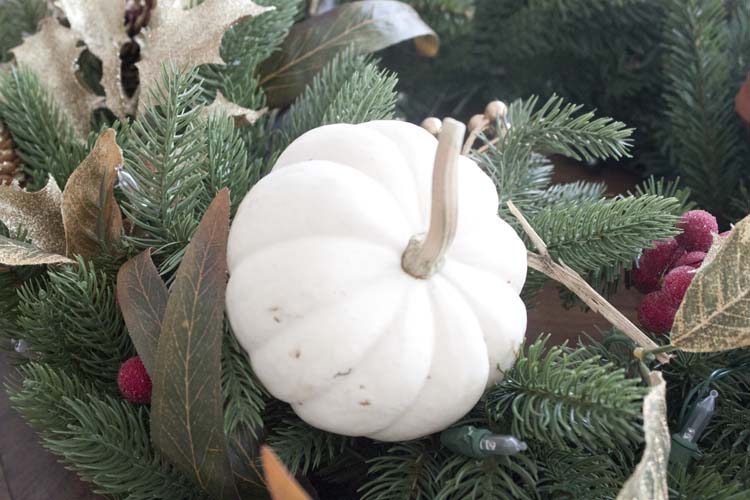 To carry me through the rest of the fall season I'll trade the Jacks for these white baby boo pumpkins and then trade those out for Christmas ornaments and ribbon.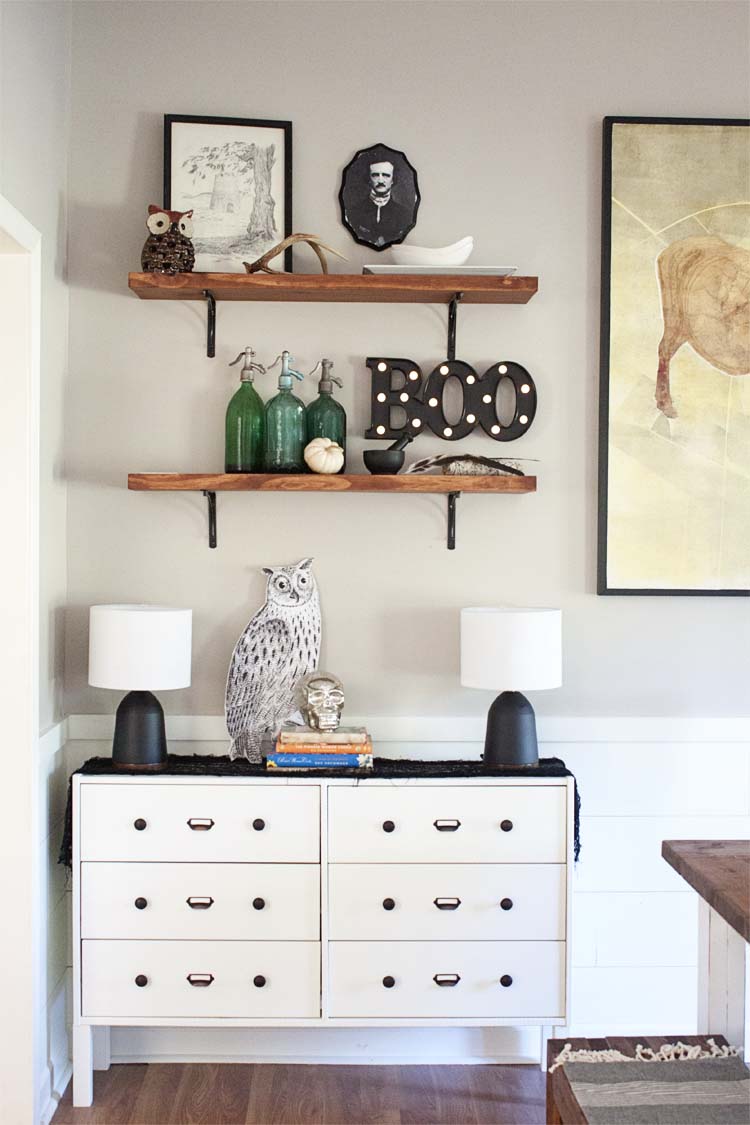 I was excited to get to decorate our newly made-over dining room. It's the first holiday I've decorated for since it was completed. I'm torn between my love for Edgar Allen Poe and this giant owl I made.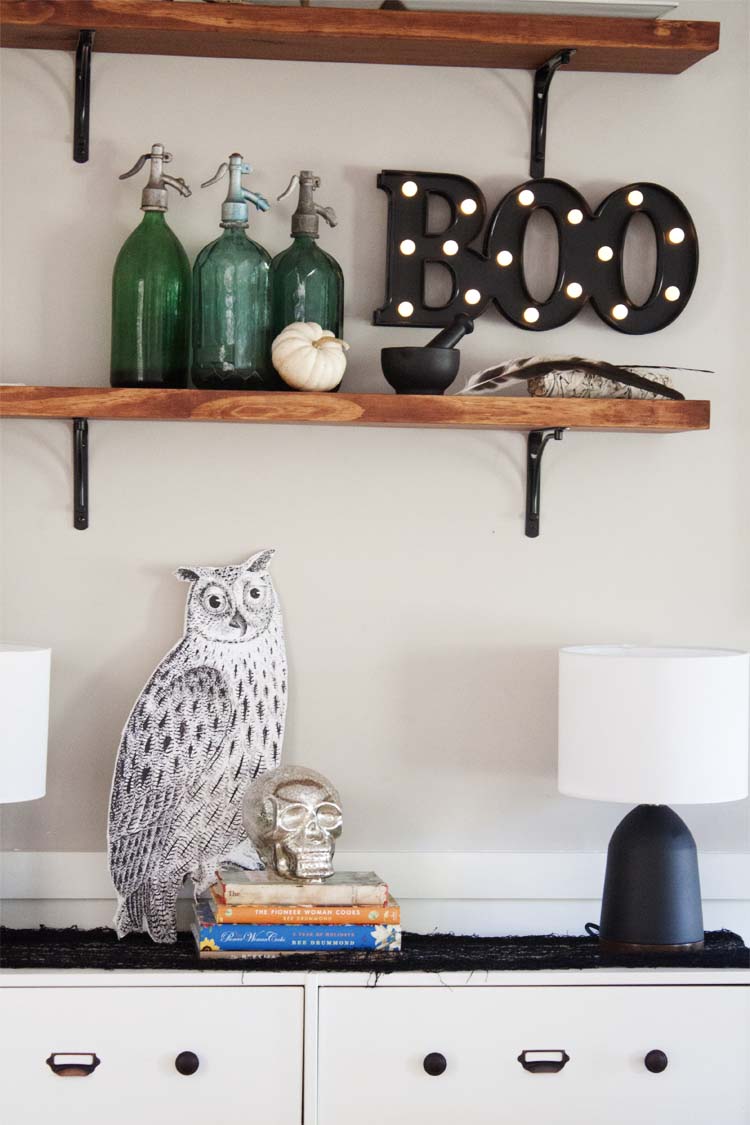 The owl I made using this free printable also from Family Circle.com (see above).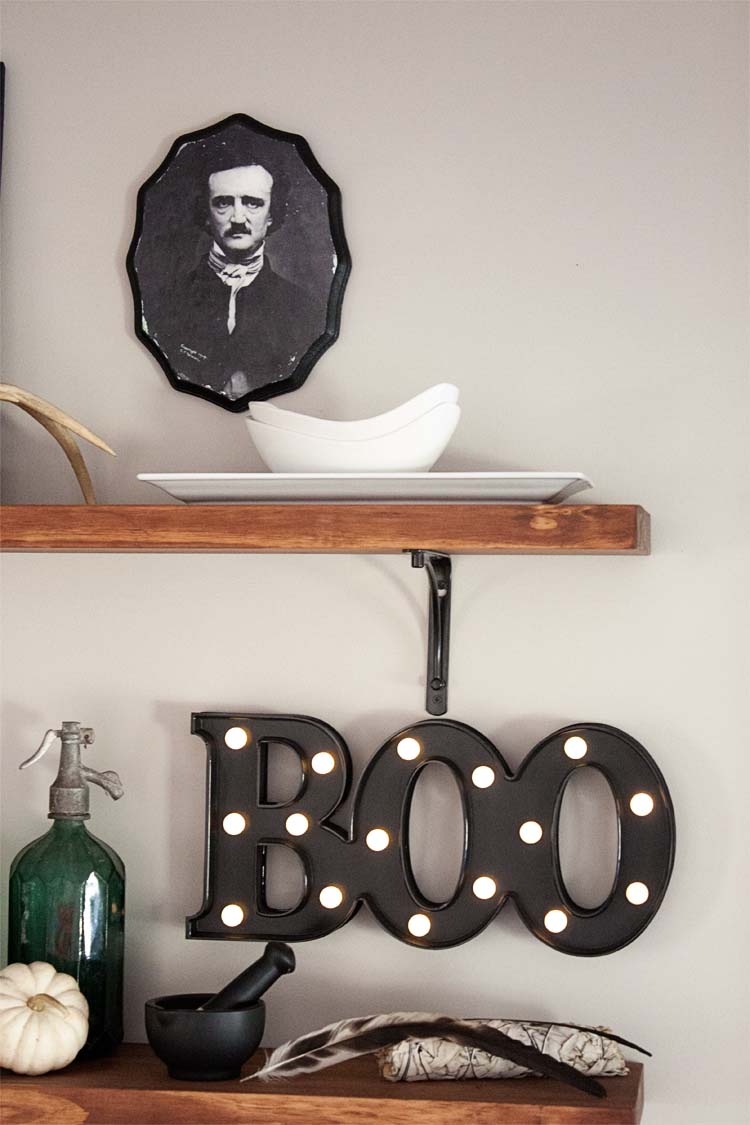 The rest I've had from Halloweens past.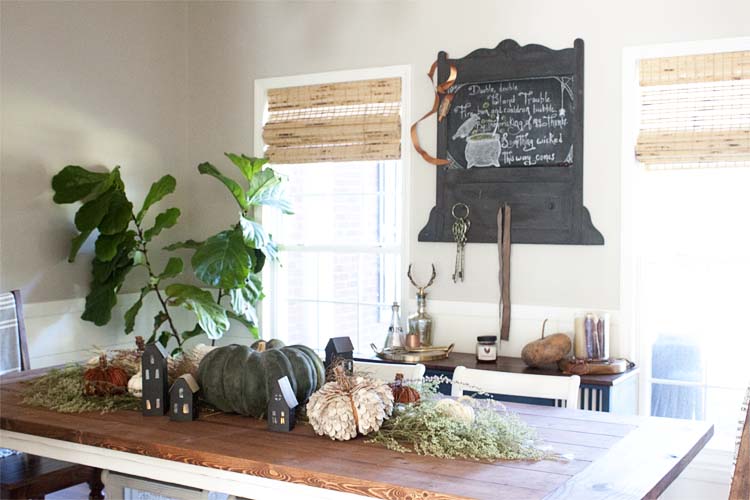 I added just a couple of little things to my fall farmhouse table that give a little nod to Halloween.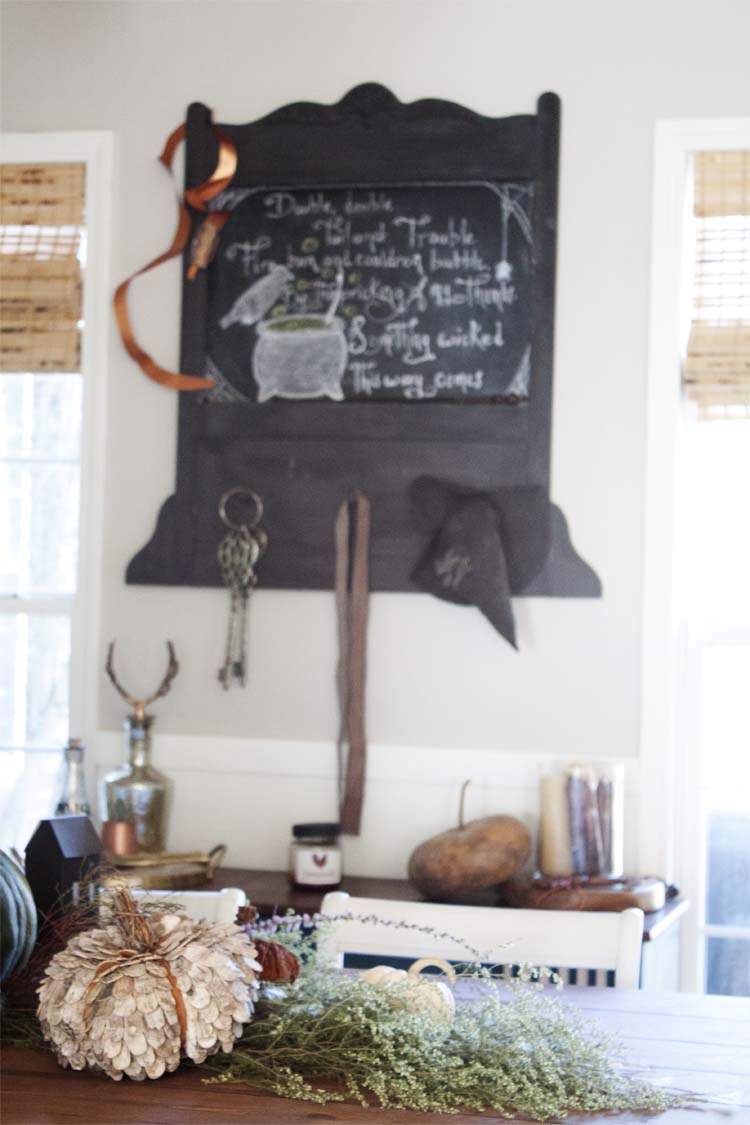 And you know I'm still rocking those free flowers I always gather along the path to my home. In place of the round mirror above our stereo cabinet turned wet bar I've hung my chalkboard with a snippet from Act IV, scene 1 of Macbeth.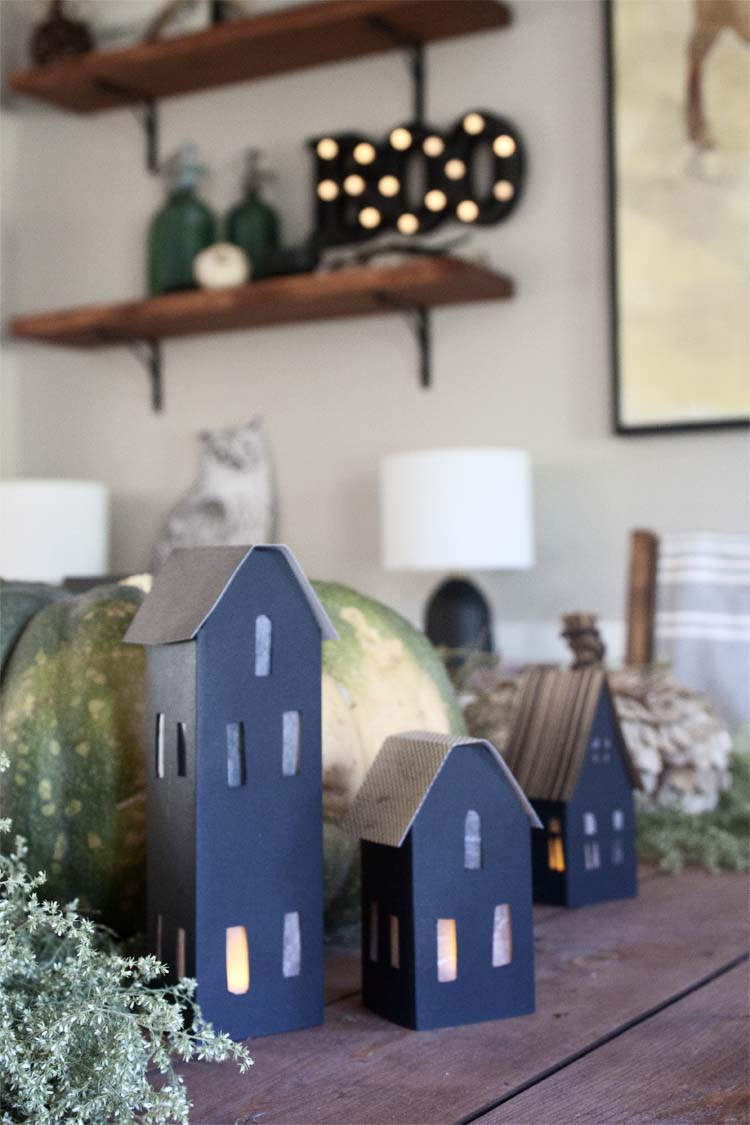 And I found these great little house templates from BHG.com. I love these at night with their little flickering tea lights inside (battery operated, of course). I find myself imagining who might live in them.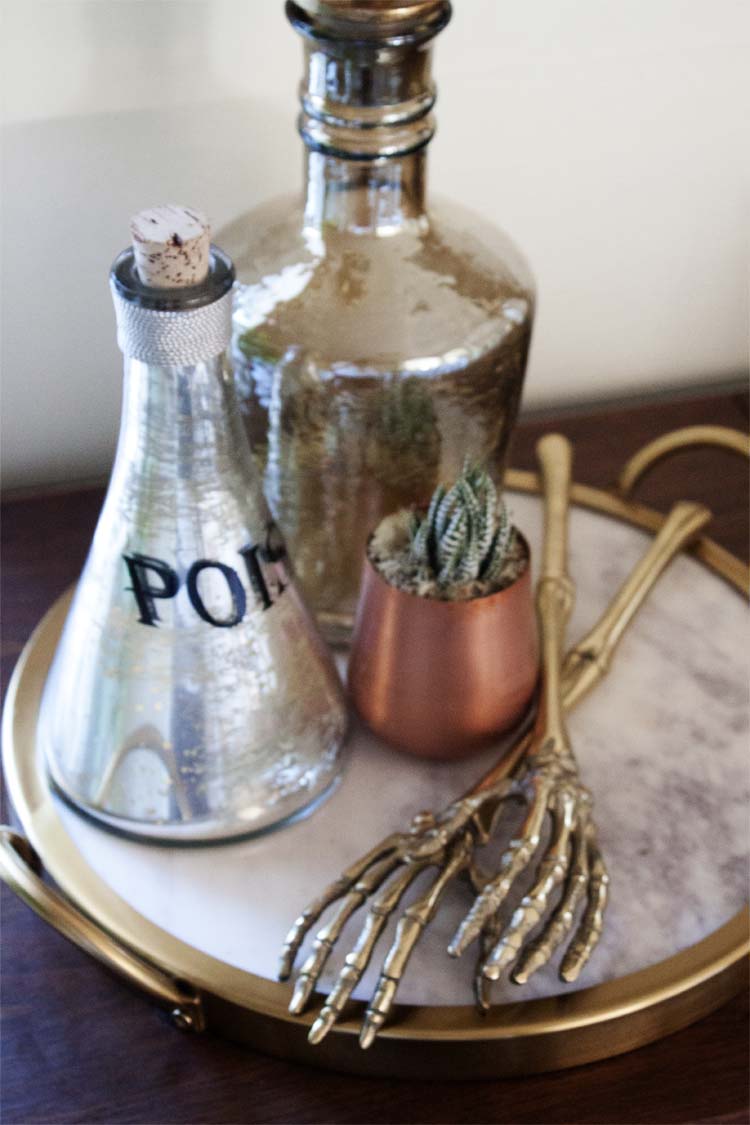 My favorite skeleton salad tongs…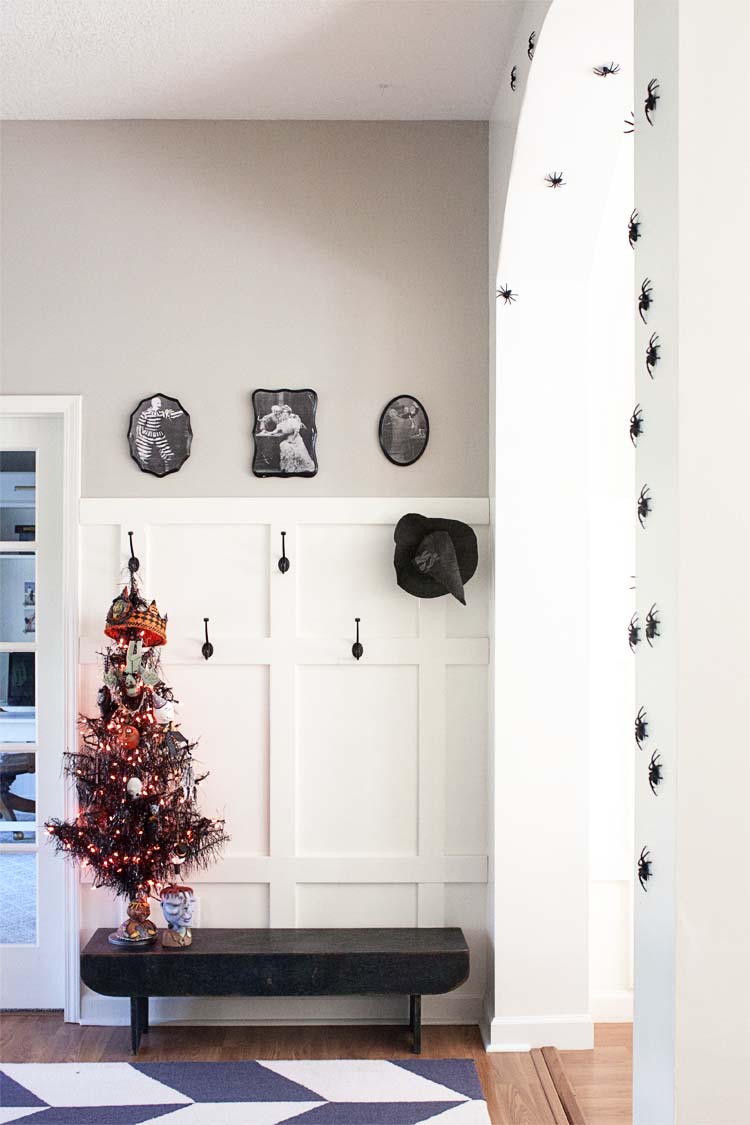 I have a small Halloween tree with enitrely handmade ornaments from fellow folkart friends of mine. The Halloween portraits, including Poe above, are an easy DIY that you can find here: DIY Halloween Portrait Gallery.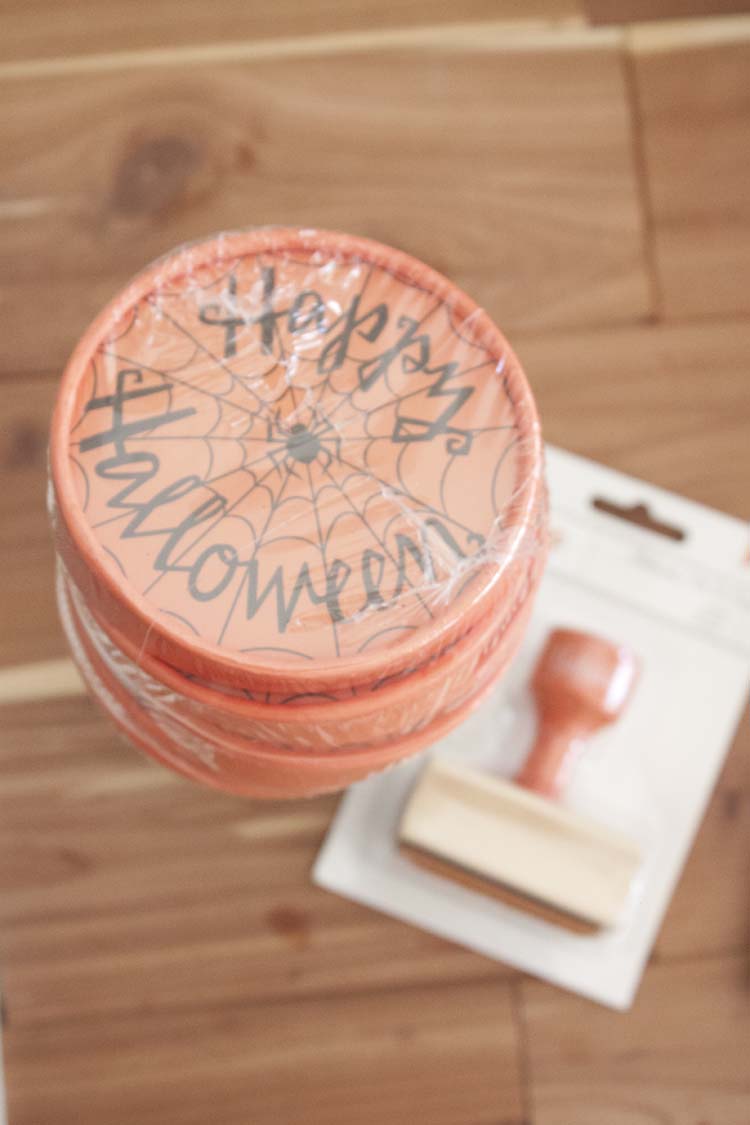 A few of my favorite fall things are:
Favorite Pumpkin Spice Cookies recipe
Favorite Fall Pinterest Board
What do you love most about fall?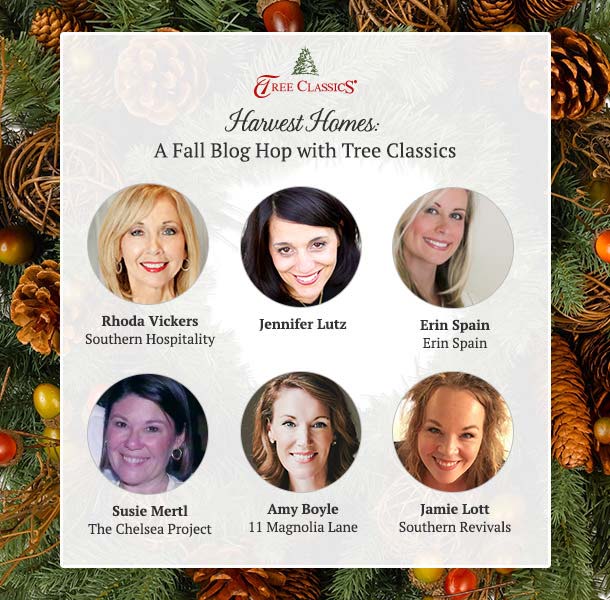 Please visit
Friday – Southern Revivals
Welcome the Holidays with Tree Classics Giveaway
Tell us what you're most excited about for the holidays this year and get a chance to win one of five $100 gift cards!
(October 15-October 30)