This post, DIY Metallic Print Holiday Napkins, is brought to you as part of DecoArt's Core Blogger Program. All ideas and opinions are my own.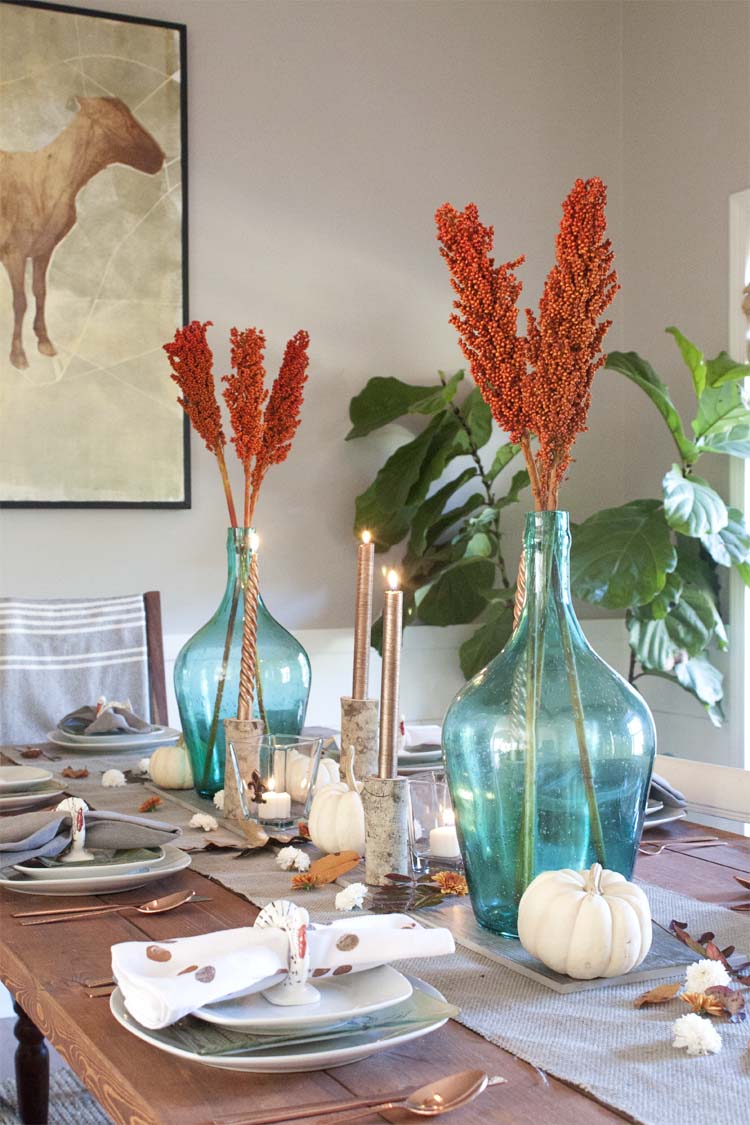 I saw this gorgeous tablescape in my November Family Circle that I was dying to recreate but when I went to track down the placemats (used as napkins) they were no where to be found (probably because everyone else wanted some, too!). Obviously the only thing left to do was to make my own. This quick, easy and inexpensive idea can be used to create your own DIY metallic print holiday napkins in virtually any pattern and colors you like.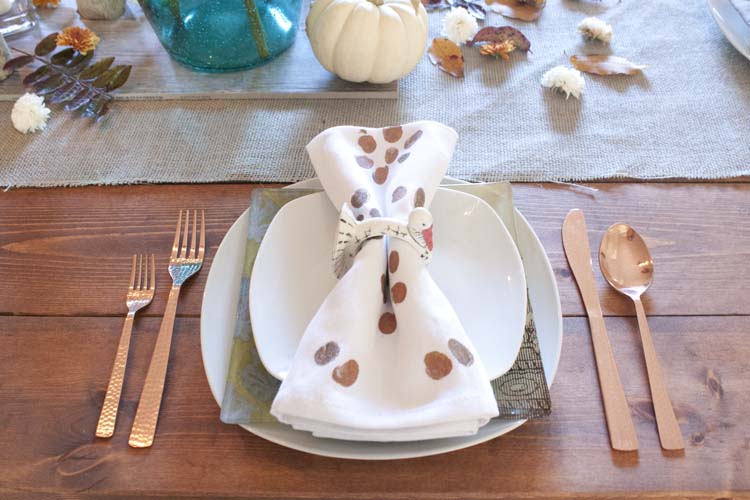 I went with something a little more organic in nature, like the inspiration napkins, but you could easy do a leaf print or something more modern like stripes or a geometric shape.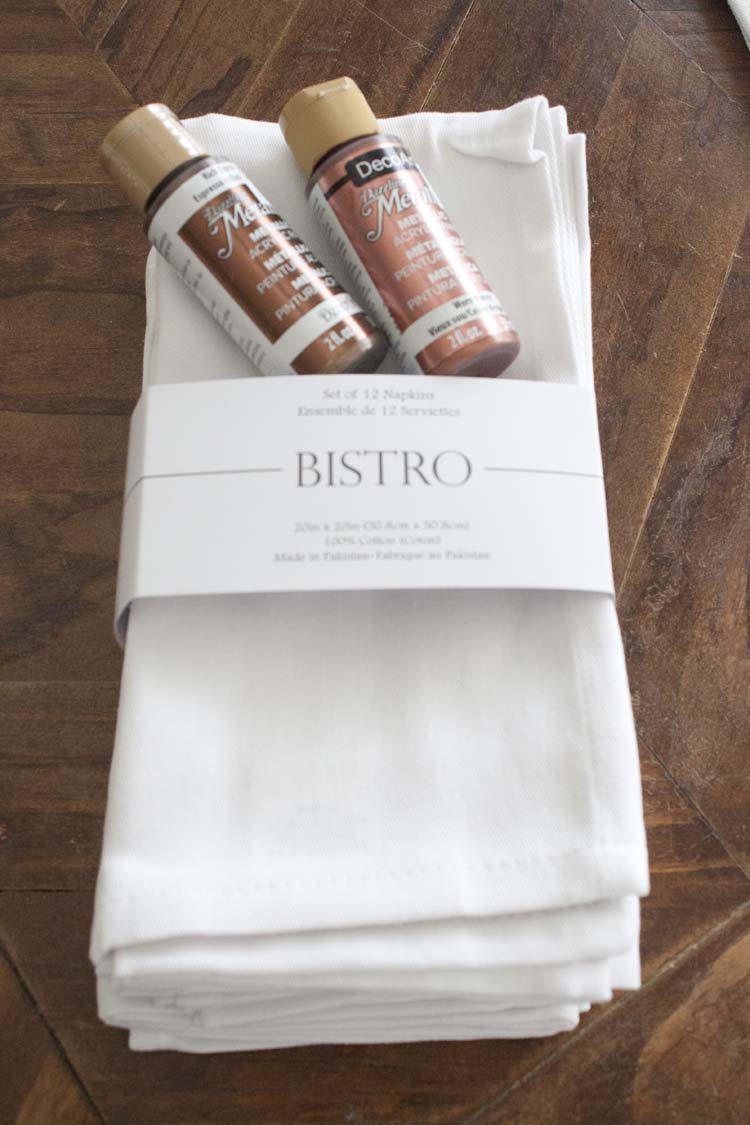 Taking into account my current love affair with copper it will probably come as no surprise that I used coppery colors for my napkins: Worn Penny and Rich Espresso but DecoArt's Dazzling Metallics come in a rainbow of metallic colors. Metallics are great for adding a bit of dazzle and warmth to your holiday tablescape.
I got a set of inexpensive plain white napkins, poured my paints onto a paper plate and set to work. You'll want to make to sure to protect your work surface under the napkin in case any paint seeps through.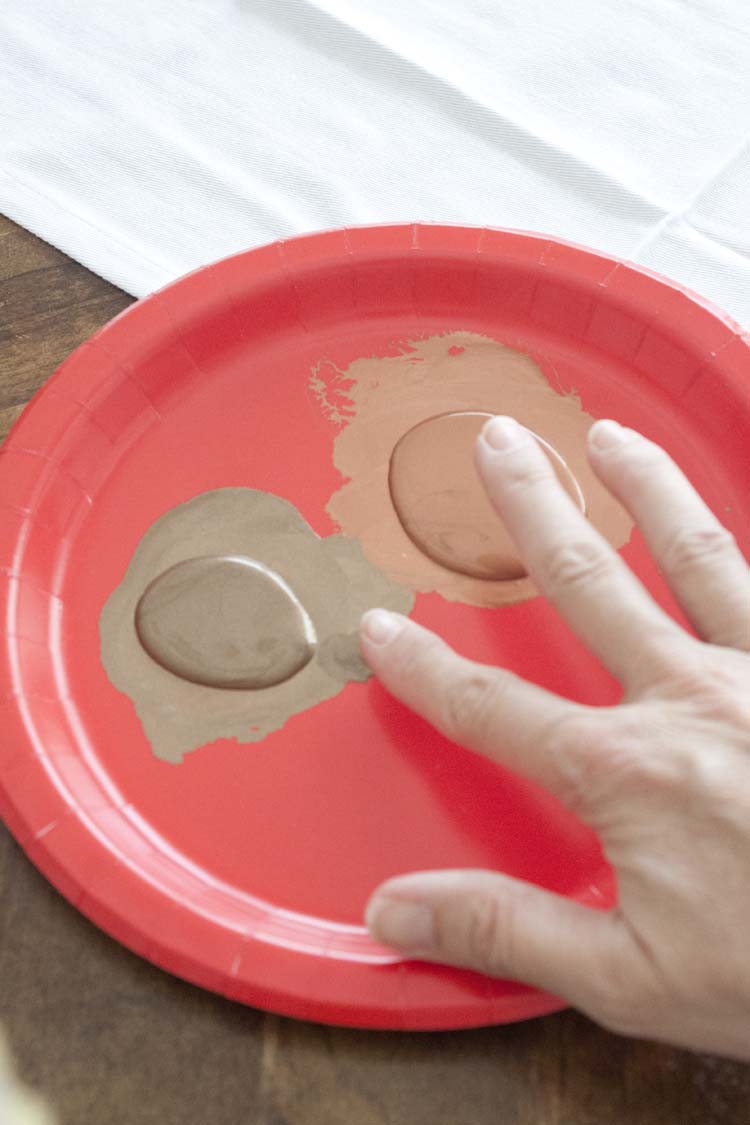 You could use a paint brush, or pouncer, but I decided to use my fingers for more of an organic pattern. Just dab your tool, whichever you choose, into the paint and offload it onto the plate a bit before transferring it to your napkin.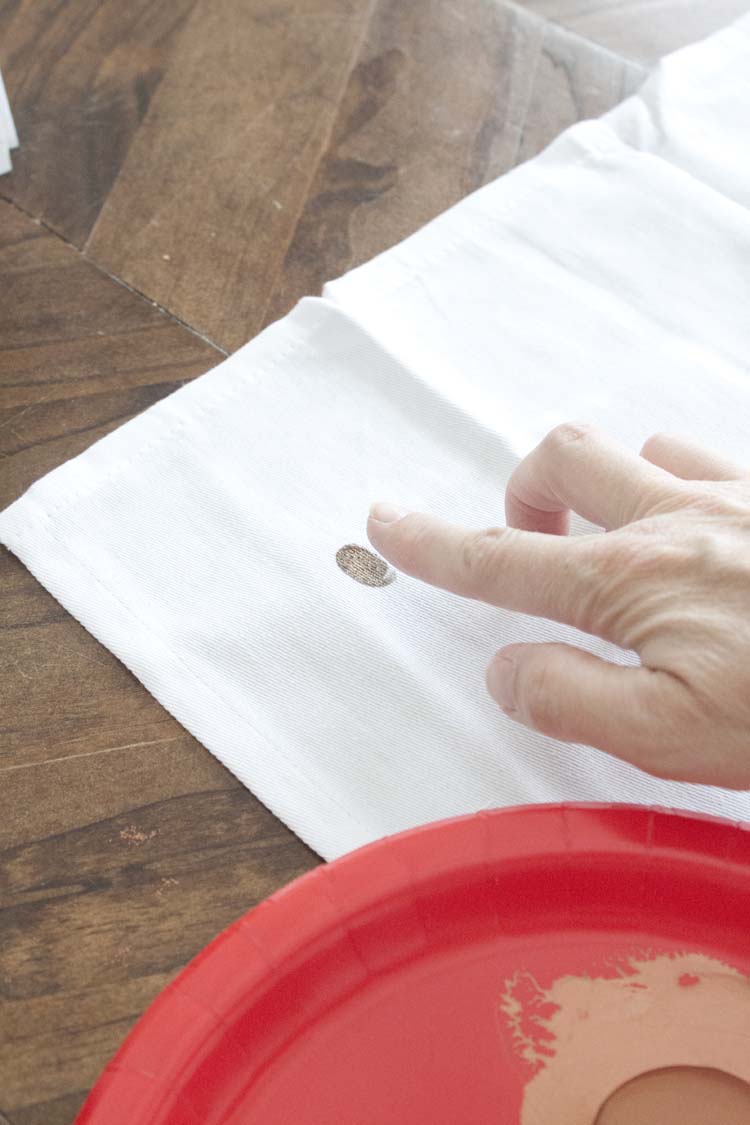 I generally love symmetrical, or rather I have a tendency to make everything symmetrical even without trying, but this time I wanted something really organic or natural. So I just placed dabs of paint randomly onto the napkin and went back and added dabs of paint here and there.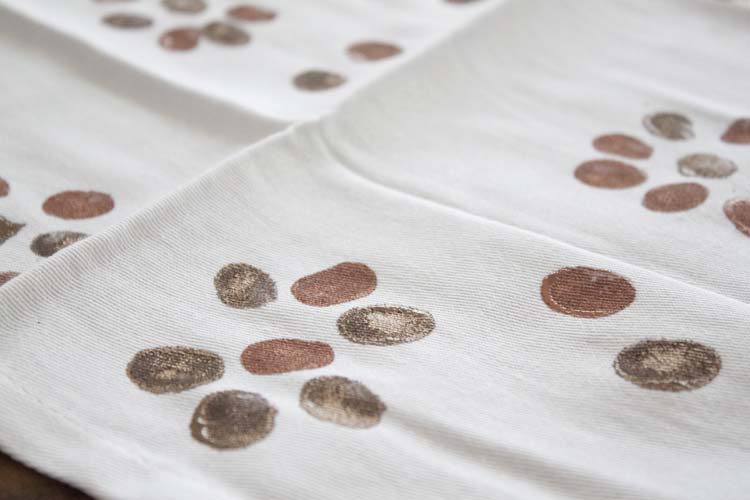 This is what I ended up with. I wish you could see all the dazzling, glittery bits. I am pretty pleased with how it turned out. They have a bit of watercolor vibe to them which is an added bonus. They took about 30 minutes to dry.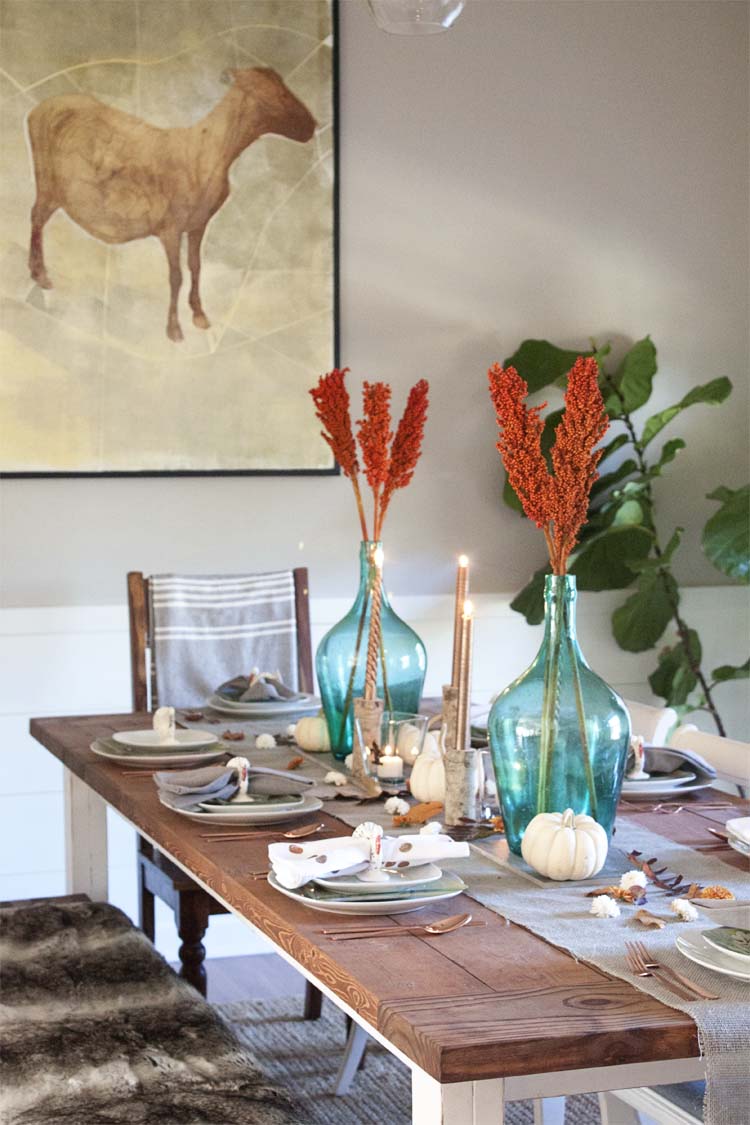 They add a nice touch of shimmery metallics that pair nicely with my copper flatware and candles.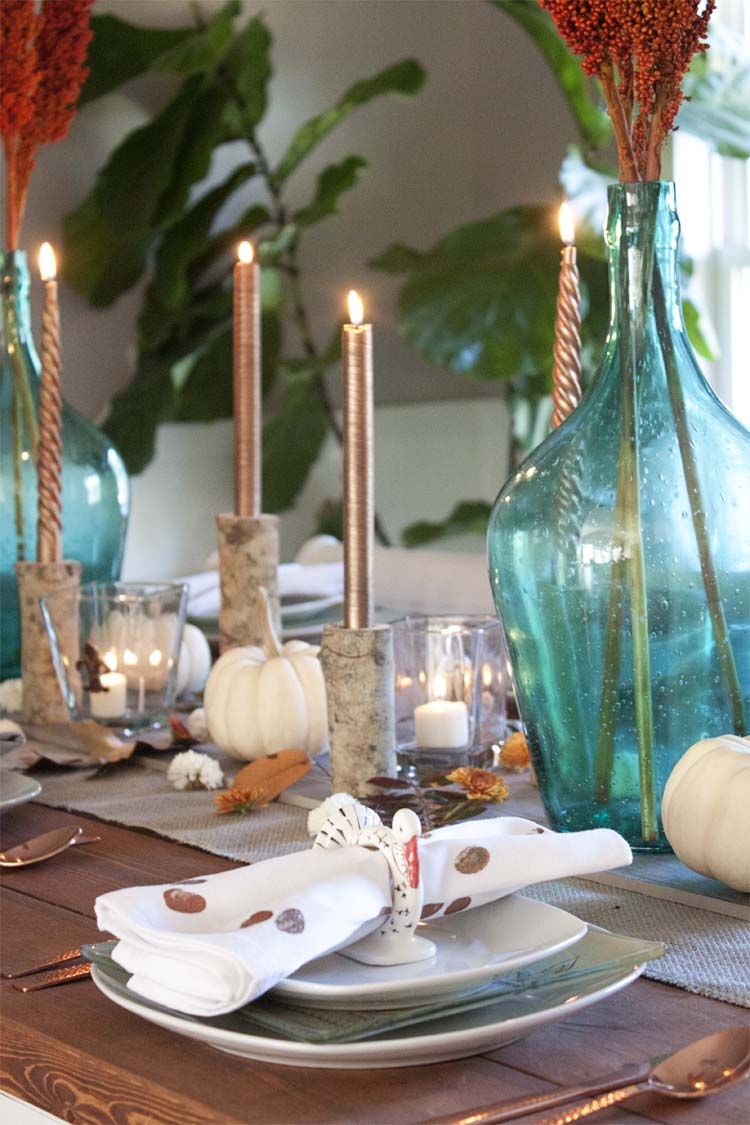 For Thanksgiving I wanted something a little modern and natural but that wasn't fussy. In addition to these DIY metallic print holiday napkins I also made a gray burlap table runner (because my farmtable is so long I can rarely find one that fits). On top of that I placed a 6×48″ piece of faux wood ceramic tile from Lowe's. Not only does it add texture and dimension (plus, it looks like real old barn wood!) but it also doubles as a trivet for hot dishes.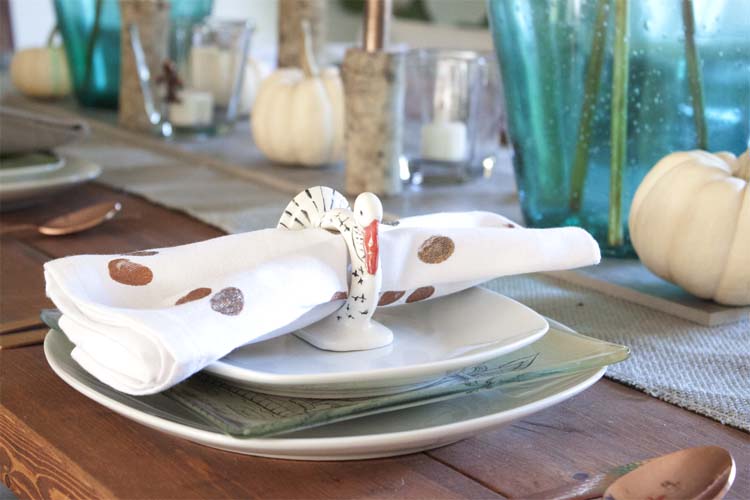 It only took me a day to put this entire tabletop together, including the DIY holiday napkins and the DIY burlap tablerunner. I can't get enough of our Modern Farmhouse Dining Room but you might be tired of seeing it by now. I really do need to get on to another makeover, huh? Maybe the living room should be next!