You know that furniture from the 80's, the heavy, over-the top wood kind often carved with some sort of floral pattern. Of course, to pull this look off one had to pair it with a luxe velveteen couch. Ahh the 80's! My favorite decade. Something things I'd keep, like the neon colors and the totally tubular music. The furniture? Not so much!
This is the top drawer that I took out and replaced with baskets. Someone asked me this week when you do you decide to remove the drawer? Just when it's missing or broken? And the answer to that is, Yes. Usually. In this case, I loved the slatted look of all of the bottom drawers, gave it a very cottage-y feel, but this top drawer really dated it.
Sure I could've painted it or even filled in that handsome carving and stuck it right back in. But I've got a better idea that I'll be sharing with you soon. I think you'll agree, this was a case when a perfectly good drawer had to go!
And as it is, I think it turned out pretty amazingly!
Adding baskets is one of my very favorite things to do. I love the look and it adds so much more interest in my opinion.
To leave the pulls or remove the pulls? That is always the question. In this case they stayed, got a little coat of La Craie in Vanille, plus some distressing for good measure.
Ya'll don't point out the fact that I spelled Picasso's name incorrectly on that chalkboard up there, m'kay?
Can't wait to show you the rouge drawer! I'll bet you won't even recognize it!
Check out what I did with that dated drawer: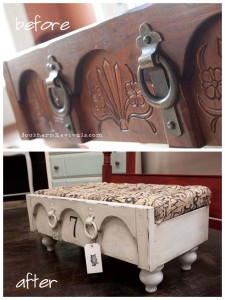 Jamie Lott