This shop has been compensated by Collective Bias, Inc. and its advertiser. All opinions are mine alone. Copycat Crispy Chicken Sandwich #CrispyCreations #CrispyChicken #CollectiveBias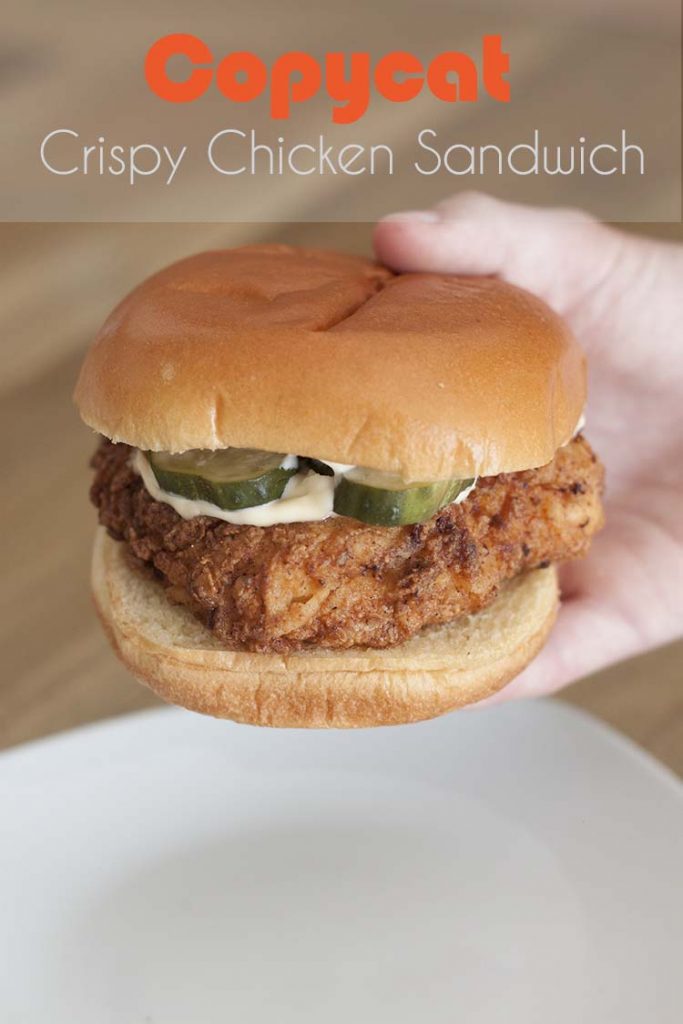 My grandma was known for her pies: coconut creme, lemon, and my favorite, chocolate. All piled high with the most delectable meringue. But her greatest dish, the one we could never seem to replicate, was her super crispy chicken.
Then my teenager began learning to cook and, from his newly developed interest in Asian cuisine, I learned something, too. I learned the secret ingredient for the crispiest chicken.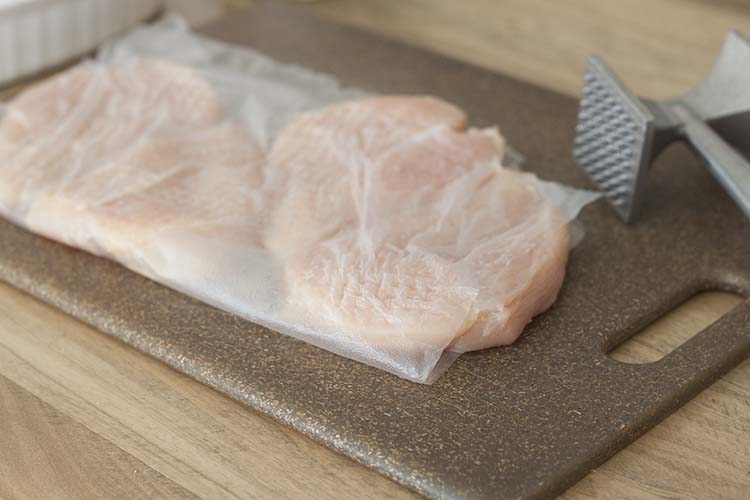 I know what you're thinking…you learned the secret to a Southern staple from Asian cuisine?! But, if you've ever enjoyed some crispy chicken with sweet and sour sauce, you've likely already experienced this secret ingredient and you don't even know it!
And while I did get my grandmother's pie recipes, sadly, I never got her fried chicken recipe. Likely that's because she didn't technically use one. But I do think I've finally gotten it figured out.
Copycat Crispy Chicken Sandwich
Step 1 – Tenderize Chicken
With all the hoopla surrounding chicken sandwiches lately, I decided to try my newly gained knowledge on an at-home version with this copycat crispy chicken sandwich recipe. No impossibly long lines, no BYOB (bun) to a restaurant, and no disappointment when you learn it's no longer a menu item. Just a good old fashioned sit-down meal with your family!
I got breast portions for the recipe but you can use whole breasts, too. You might decide to divide them widthwise, depending on their size, to better fit the bun.
Place chicken between plastic wrap and use a meat tenderizer to pound the meat down to about a 1/2″ thickness.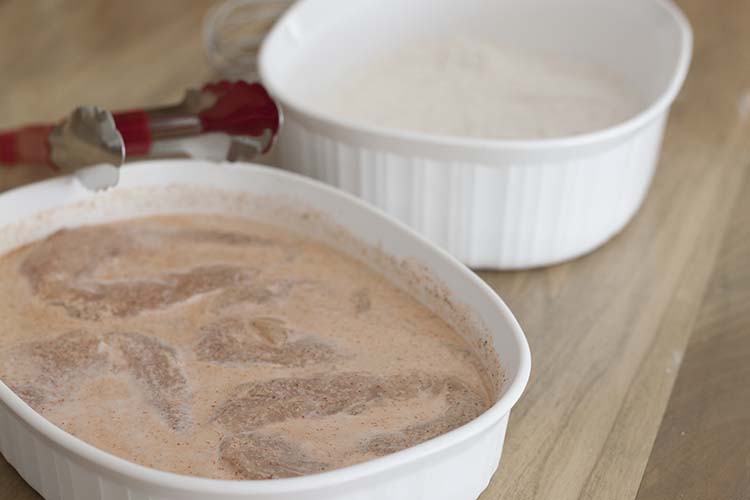 Step 2 – Brine Chicken
Thanksgiving taught me you can't have good poultry without a good brine. This brine, of buttermilk and spices, can be used for a couple of hours and up to 24. Obviously the longer you brine the more tender, juicy, and flavorful your chicken will be.
Step 3 – Secret Ingredient to Crispy Chicken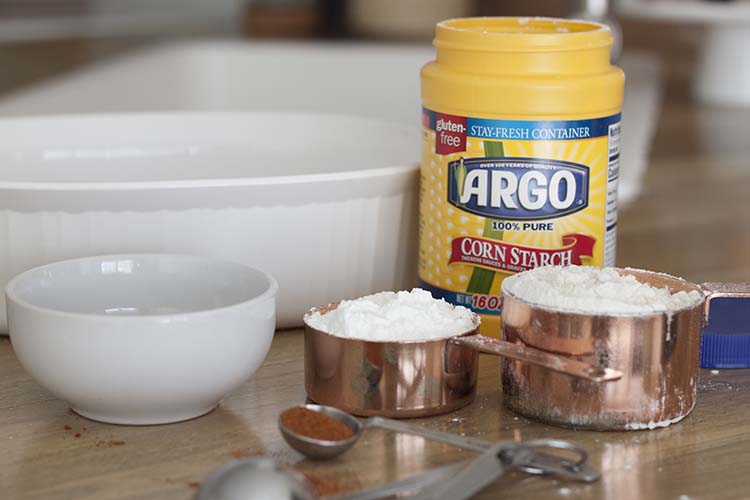 For decades we thought the secret to the crispiest chicken left us when my grandmother did. That maybe only grandmothers and chain restaurants held the secret. But then I discovered that mixing Argo® Corn Starch into my batter was the trick I'd been missing all along.
Most everyone knows that corn starch is often used to thicken sauces and gravies, and in baked good as a binding agent (the glue that holds desserts together), but it's also used to crisp meats and veggies quickly especially in Asian cooking! Argo® Corn Starch is the leading corn starch brand with over 100 years of quality and trust over multiple generations. It's a "secret" that I'm sure my Nene knew.
Step 4 – Crispy Chicken Batter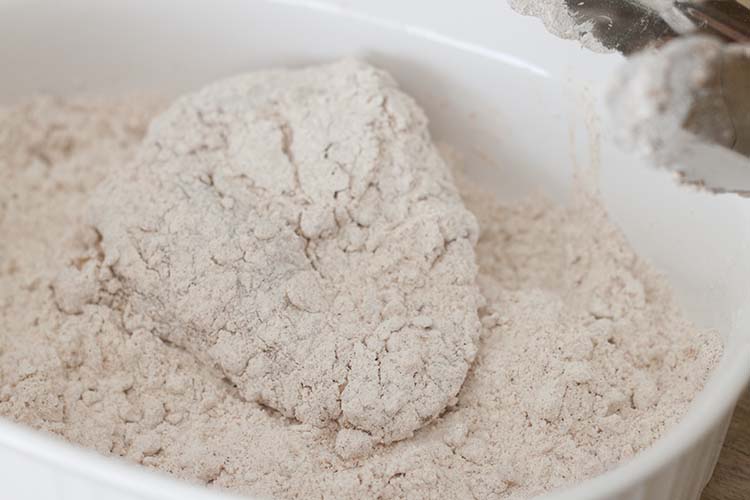 I can now independently verify that if you mix in corn starch with your batter, you'll get airy, crispy chicken! Here's how:
After you've allowed your chicken to brine, mix in a tablespoon or 3 of the brine mixture to your flour mixture in order to create some "texture" in your batter. It should still be relatively dry with some crumbly bits throughout. Press this mixture thoroughly onto each piece of your chicken.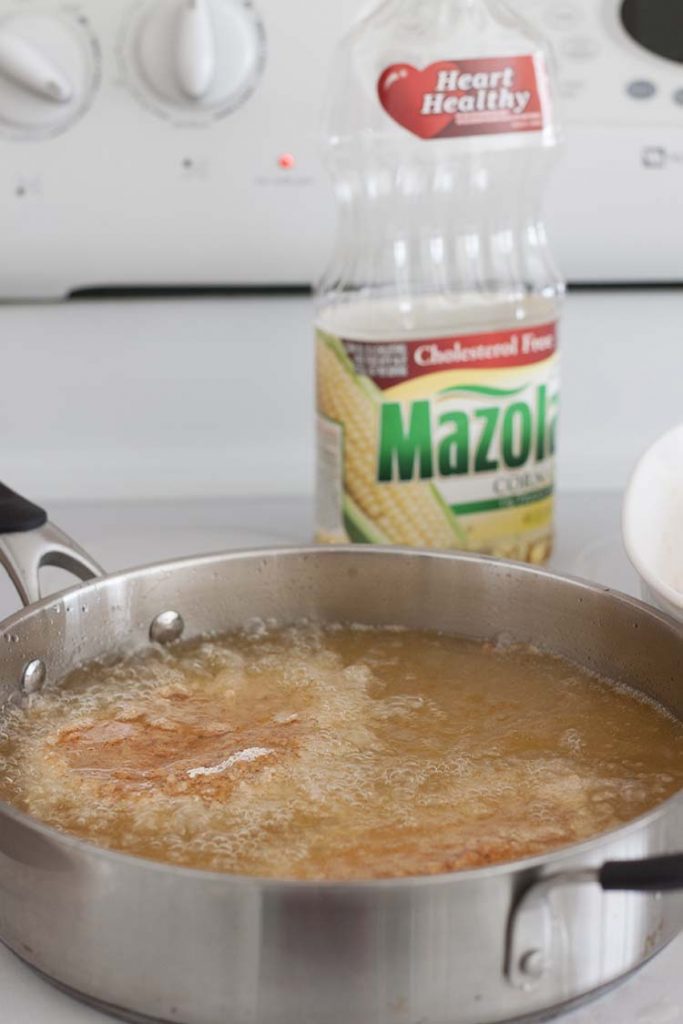 Step 5 – Fry Chicken
If you're new to frying, and even if you're not, hot oil can be intimidating. The trick is to get it hot enough to fry but not so hot that it burns. It's kind of a fine line. You can use a high-temp thermometer to keep your oil at optimal temps but a good rule of thumb is if your oil sounds angry while you're frying, it's too hot.
You want it peacefully boiling so that it's cooking the inside of your chicken while also gently crisping, and not over-cooking, the outside.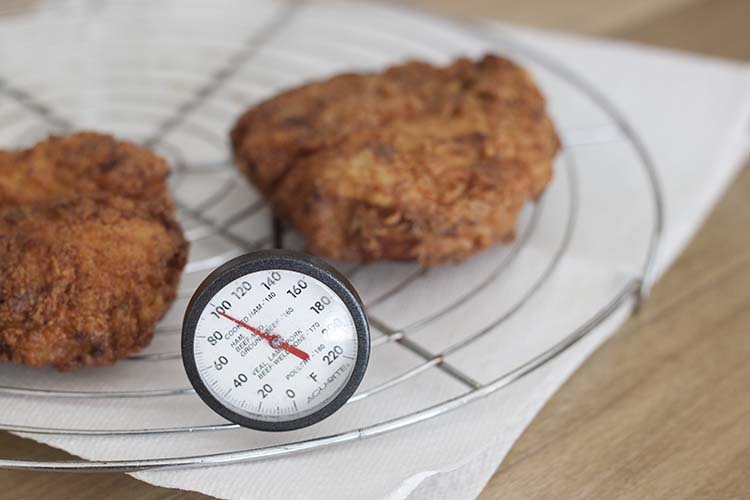 Use a meat thermometer to test the doneness of your chicken. Place the thermometer horizontally into the thickest portion of your chicken. It should read at least 165 degrees Fahrenheit.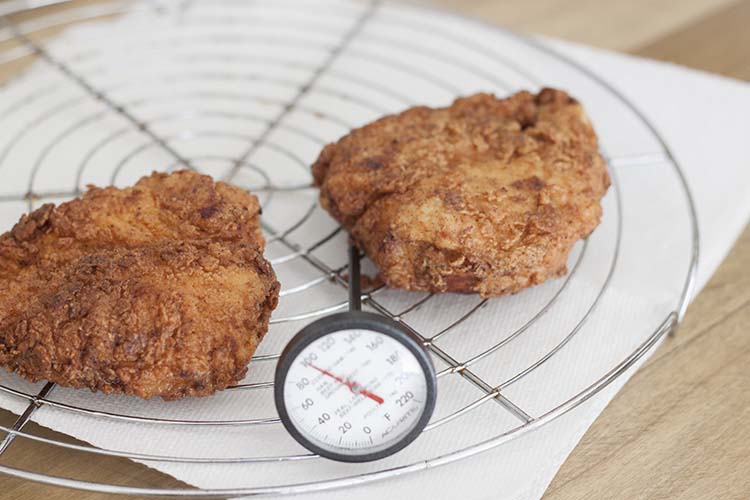 Allow your chicken filets to cool slightly on a wire rack before placing onto a bun. I like using Brioche or potato buns.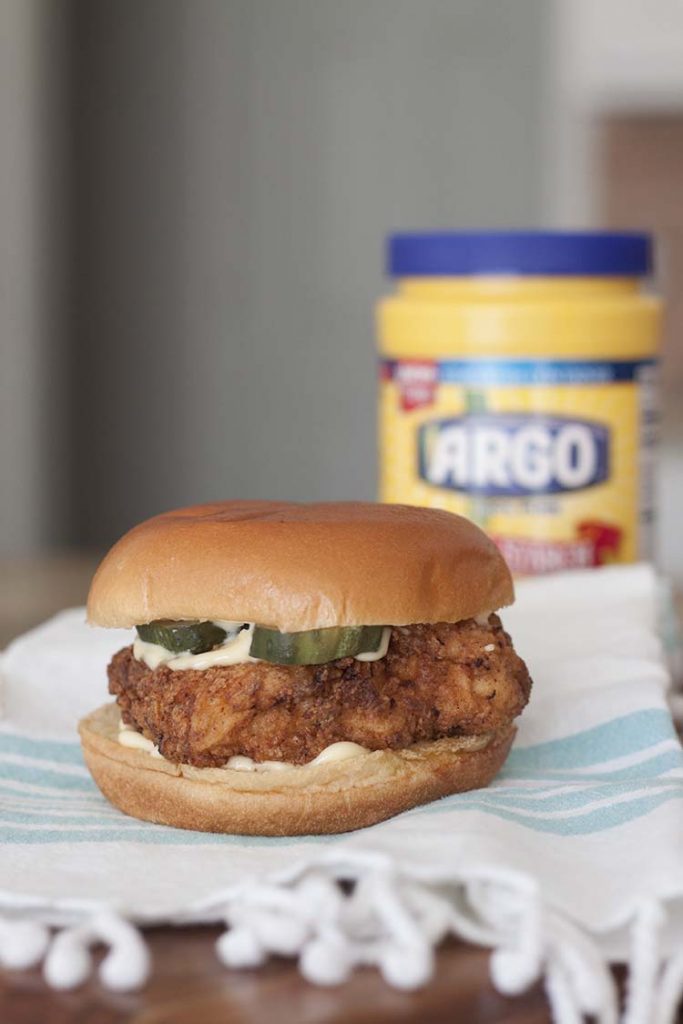 Add mayo and some pickle slices. I sliced my own pickles from some jumbo garlic spears that I recently got so that I could get a good chunk of pickle in every bite.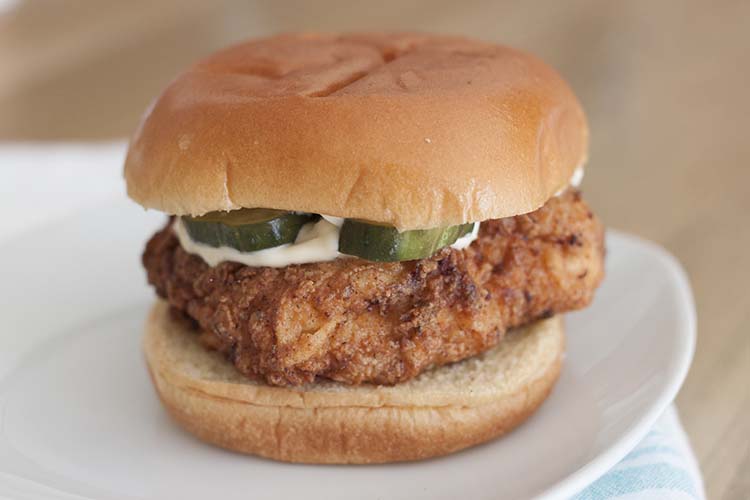 It only requires a little planning ahead, some cajun spices, and ingredients that you probably already have on hand to put together this amazing copycat crispy chicken sandwich.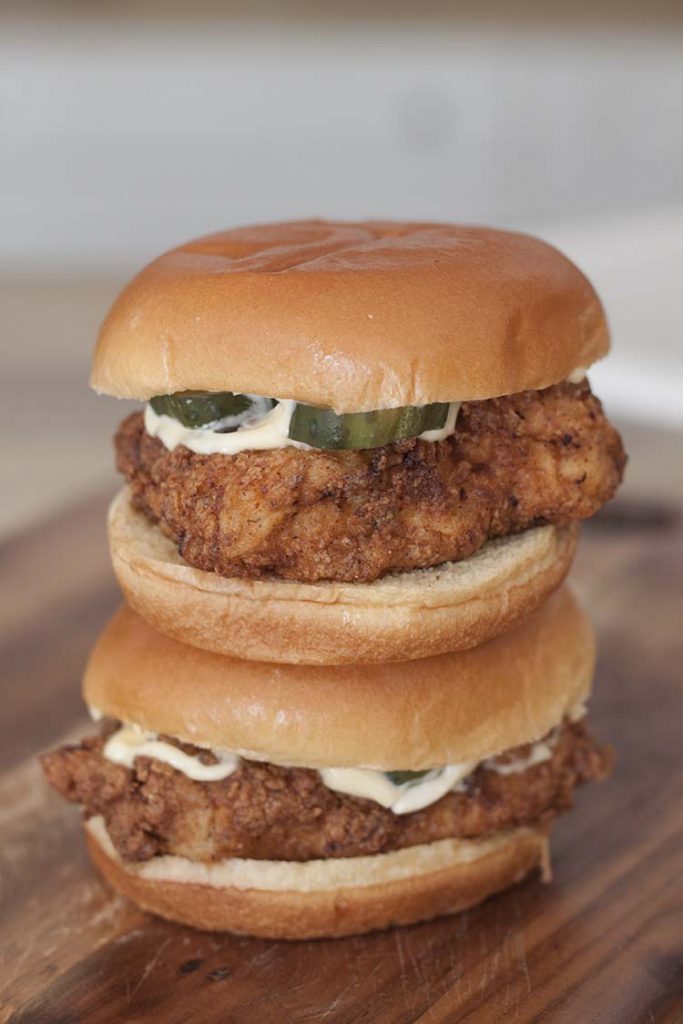 And the best part is, you can tweak the recipe to your liking. A little spicier. A little less. Up to you!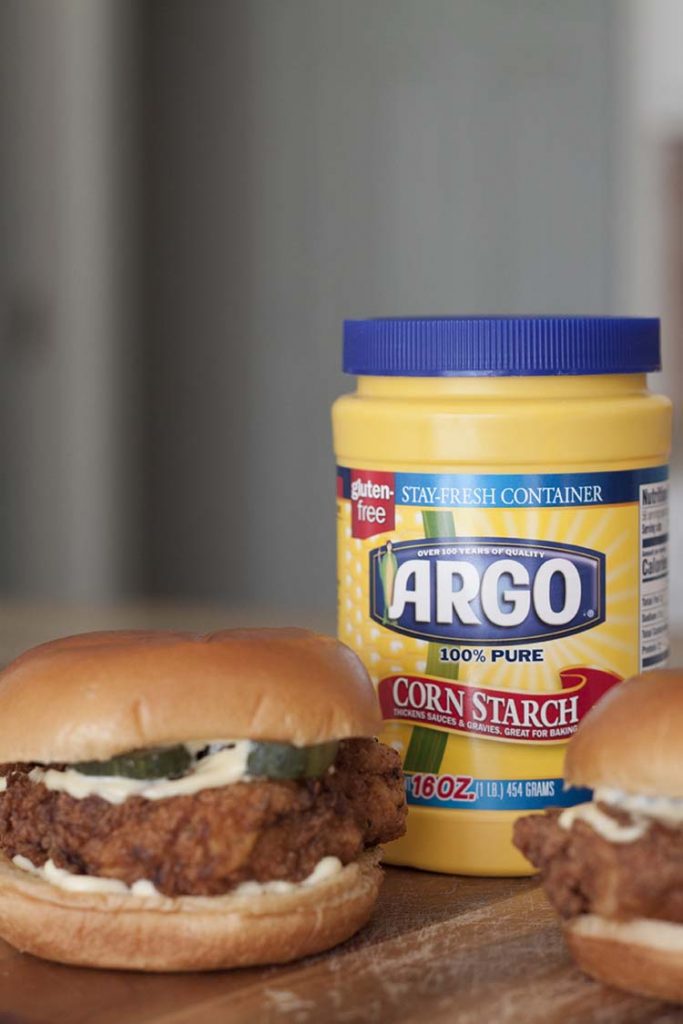 Just don't forget the Argo® Corn Starch for the crispiest, airiest chicken ever!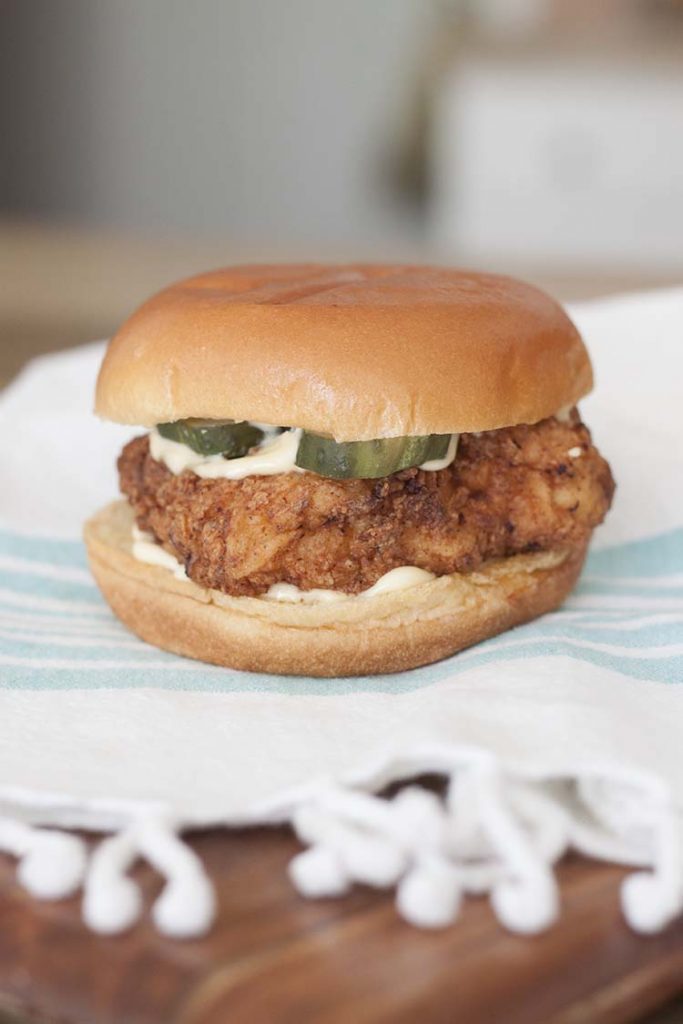 Enjoy! And be sure to visit Argostarch.com for unique ways to use corn starch and more delicious recipes like this one.
Yield: 4 servings
Copycat Crispy Chicken Sandwich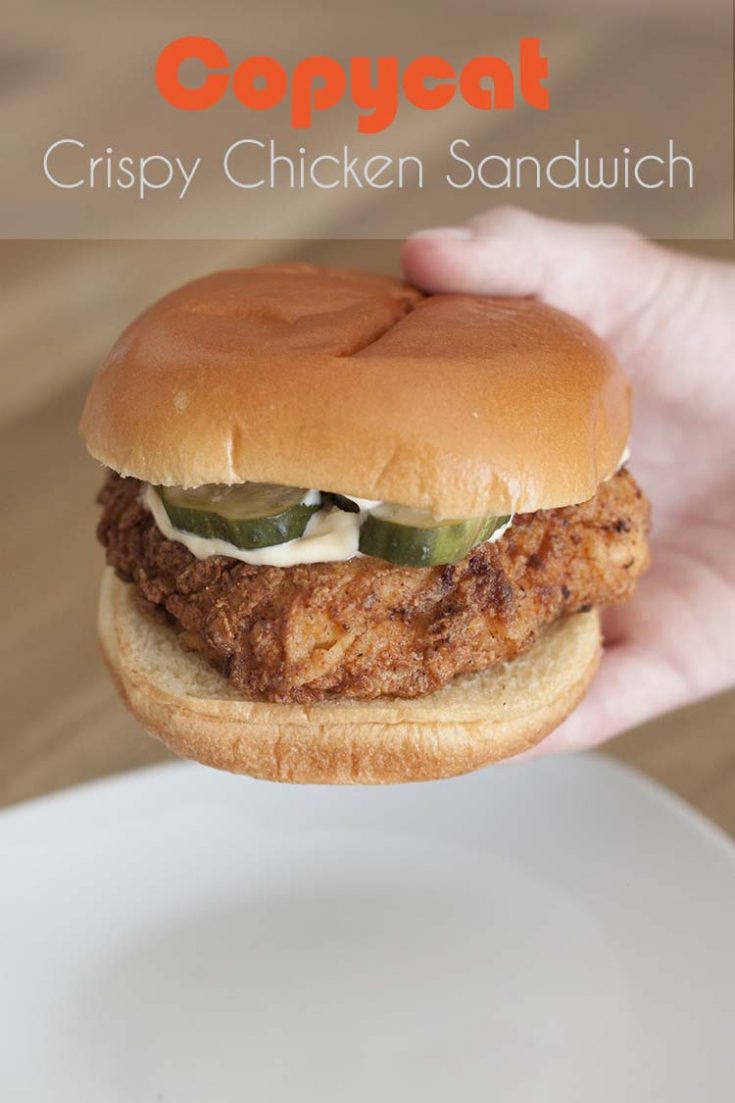 Crispy chicken sandwich at home? With this secret ingredient recipe, you get all of the flavors of a restuarant-style chicken sandwich right from your own kitchen.
Total Time
1 hour
35 minutes
Ingredients
For Brine
2 - 4 chicken breasts, depending on size
1 cup buttermilk - homemade buttermilk = 1 cup milk + 4 1/2 tsp vinegar or fresh lemon juice
1 tsp salt, black pepper, paprika, garlic powder, and onion powder 
For Breading
1 cup flour
1 cup corn starch
1 TBS paprika, garlic powder, and onion powder.
2 tsp salt and black pepper
1 tsp - 1 TBS cayenne (optional, to taste)
2 - 4 TBS brine mixture
3 - 4 cups oil for frying
Extras
Brioche buns (potato buns are good, too!)
Mayo
Pickle slices
Instructions
Brine
After tenderizing and dividing filets (if necessary), combine buttermilk with spices, place chicken and buttermilk mixture in a shallow dish and allow to marinate up to 24 hours.
Breading
After brining is complete, in a shallow dish, mix flour, corn starch, spices, and 2 - 4 TBS of brine with flour mixture to create crumbly, yet, relatively dry, breading.
Dredge filets in flour mixture, pressing breading into the chicken, until well covered.
Frying
Heat oil in frying pan or fryer to between 350 - 375 degrees F (too low and you'll get greasy chicken, too high and it'll burn).
Place one to two prepared filets into the oil. Fry 3 - 5 mins per side (depending on thickness, size) and fry to a golden brown. Chicken is done when internal temperature reaches 165 degrees F.
Allow fillets to cool on wire cooling rack.
Assemble
Place warm filet onto bun and dress with mayo and pickles. Enjoy!