This post is a collaboration with DecoArt as part of their Core Bloggers Program. All ideas and opinions are my own. #decoartprojects #outdoordecor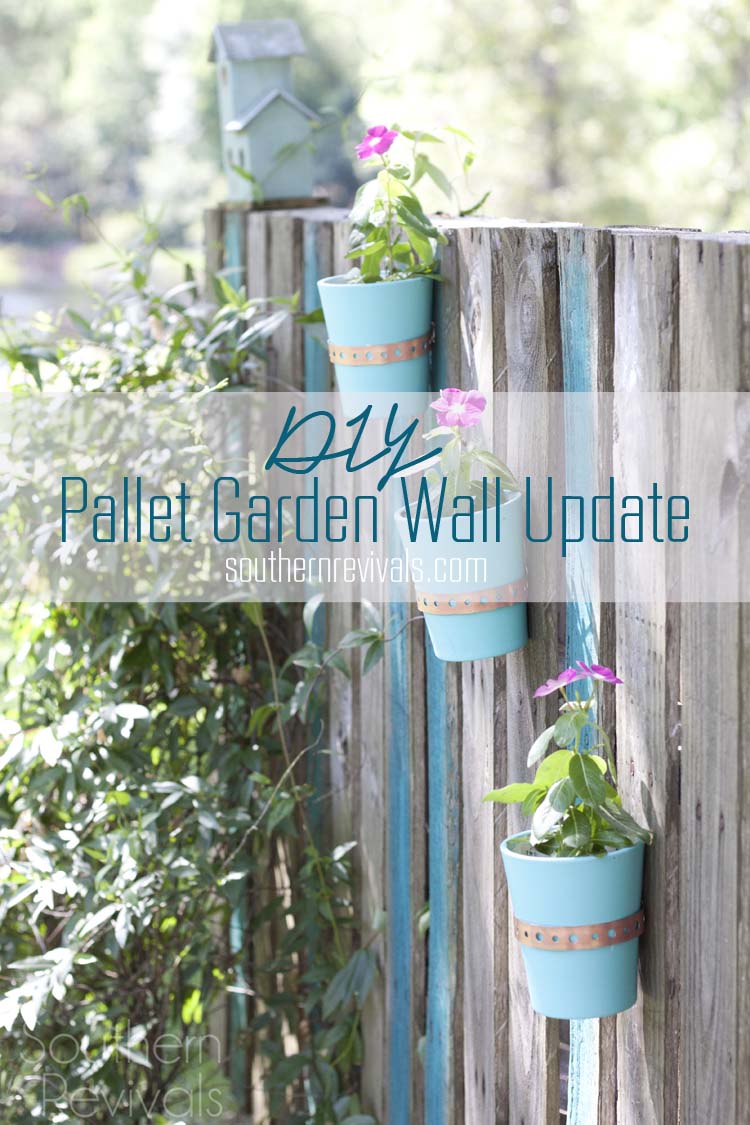 You might remember our DIY Pallet Garden Wall that we built a few years ago to hide our propane gas tank in the back yard. This year the Confederate Jasmine has completely climbed the wall, my original pot hangers have completely rusted and my planters were chipped and rust stained. Today I'm reintroducing you to an oldie but a goodie and showing you how I spruced up the pots with DecoArt's Patio Paint.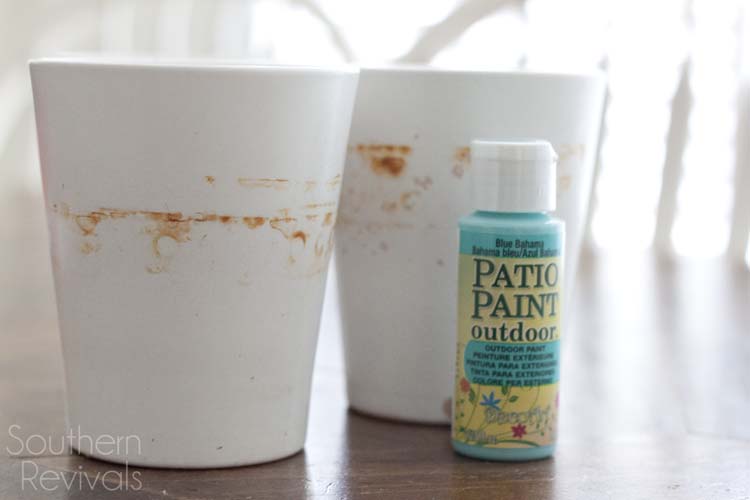 I've been looking at these sad pots since last year. I debated on just buying new ones but that's just a waste really and it was very easy just to repaint them. And since DecoArt's Patio Paint is made for outdoors it was the perfect choice. Not to mention that Blue Bahama was the perfect color for fitting in with my Pallet Wall.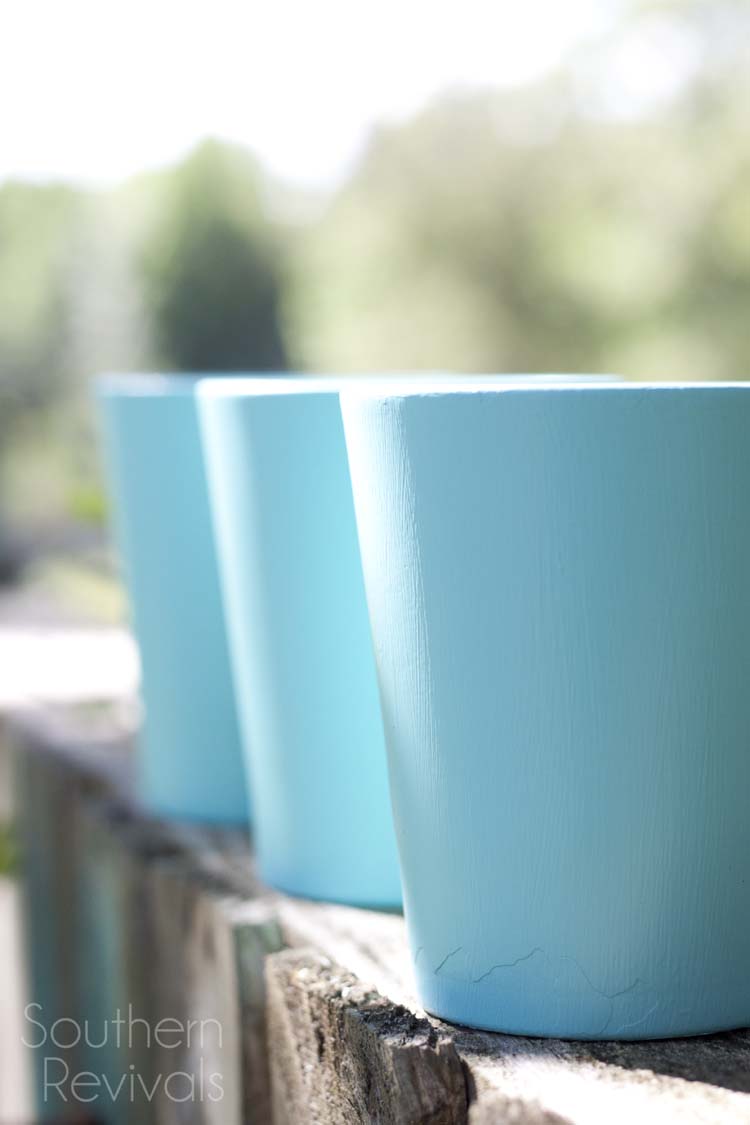 Isn't that a gorgeous color! To paint them, I made sure they were completely free of any dirt, debris or chipping paint. Then I brushed on just two coats and allowed to dry for 72 hours before putting them to use.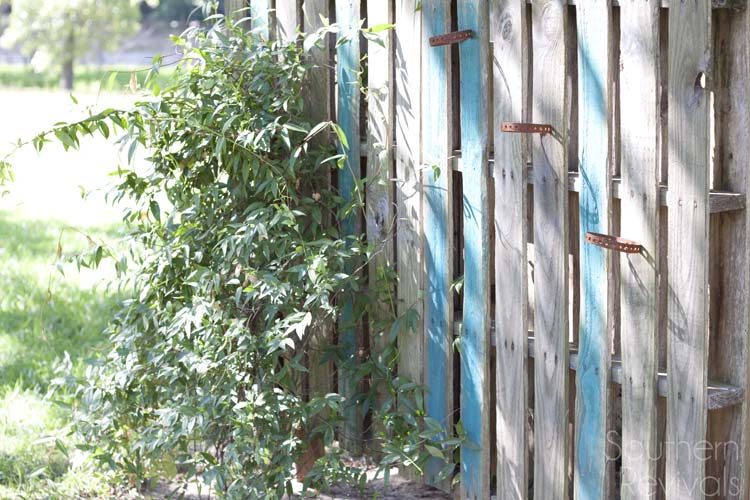 In the meantime, I tackled my rusty copper hangers. To see how I made these, see Phase II Pallet Garden Wall Decorating.
I had hoped that they would patina instead of rust but that's only because I was naive enough to believe I was working with something like real copper (and not just a pretty color coated metal) in the first place. But I love the copper look so much and I still had plenty of copper tape left over from the first time so I just used that again.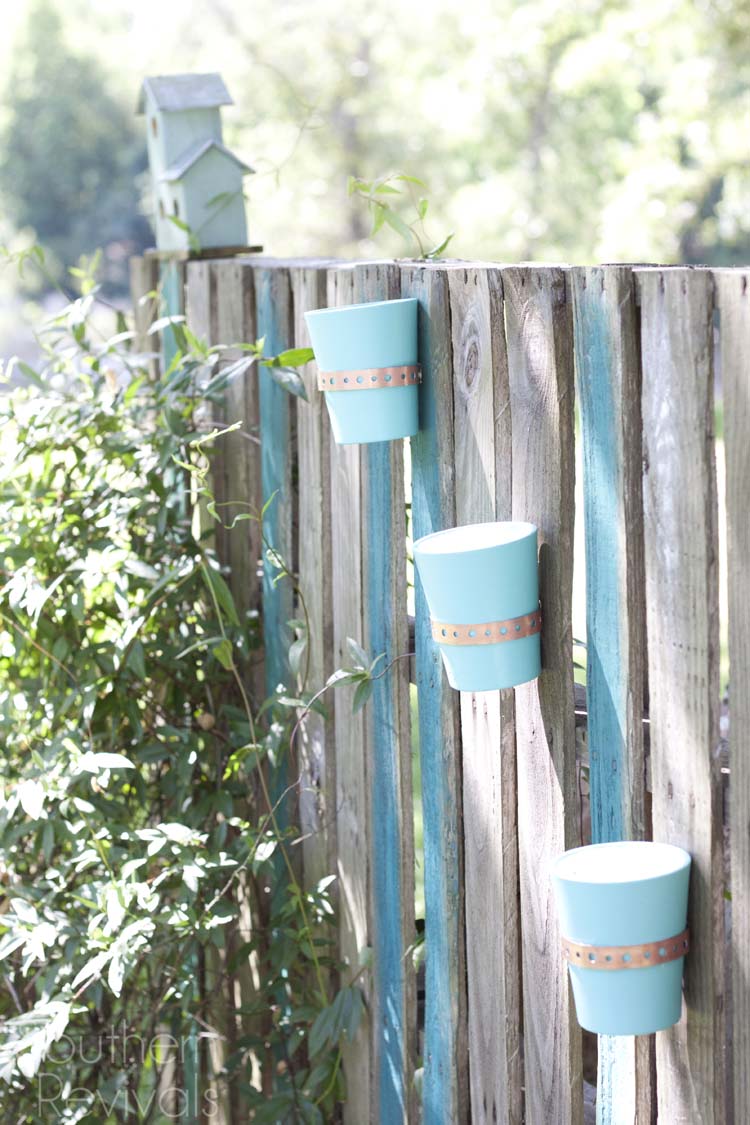 Ten minutes, tops, and I was done. So, once the pots were ready to hang and be planted, in they went.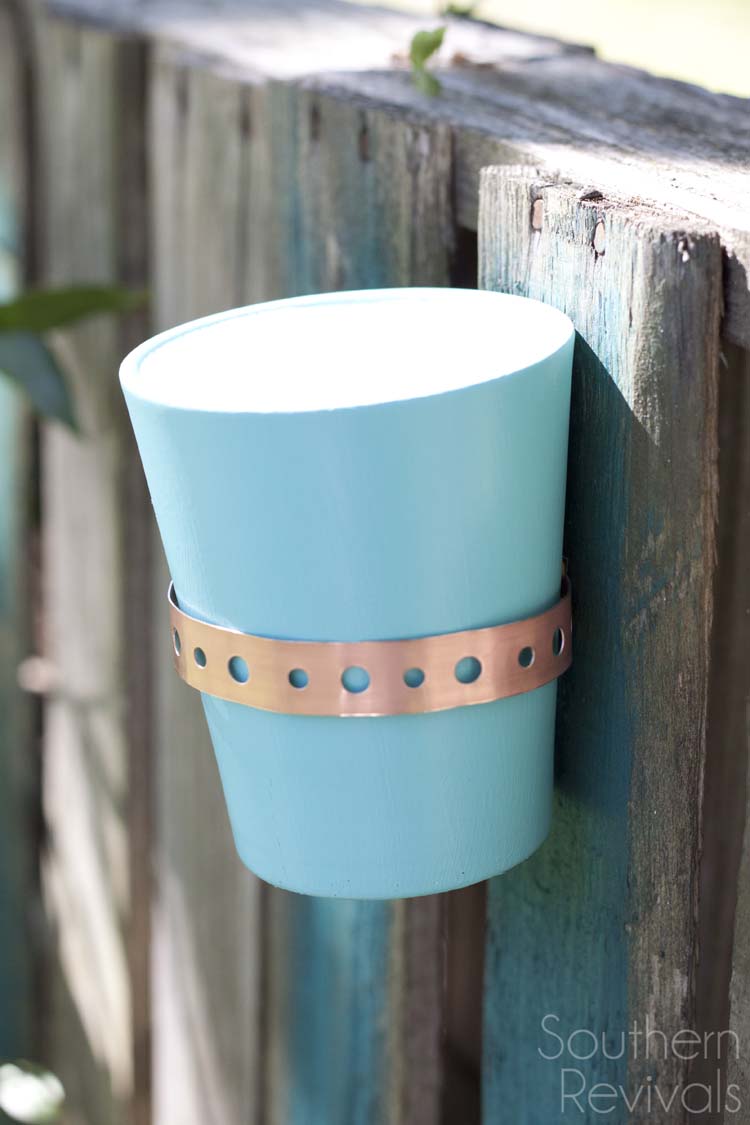 See! Isn't that copper with the blue fabulous?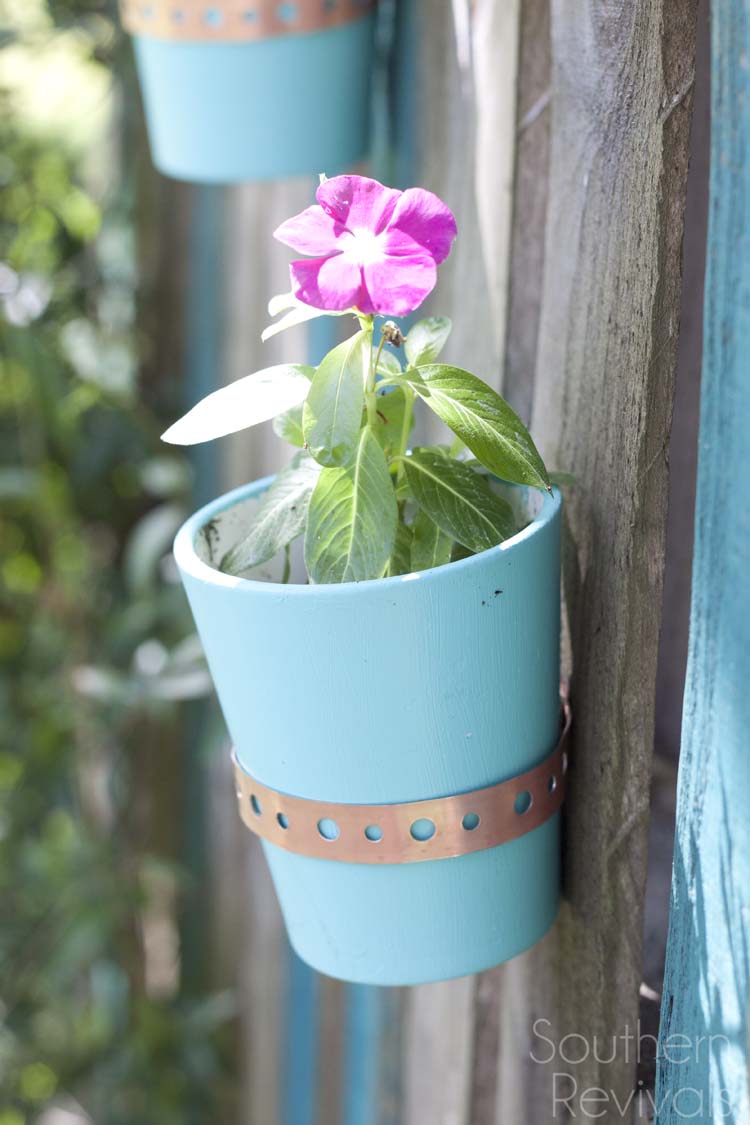 And the pretty purpley pink flowers just pop so nicely, too.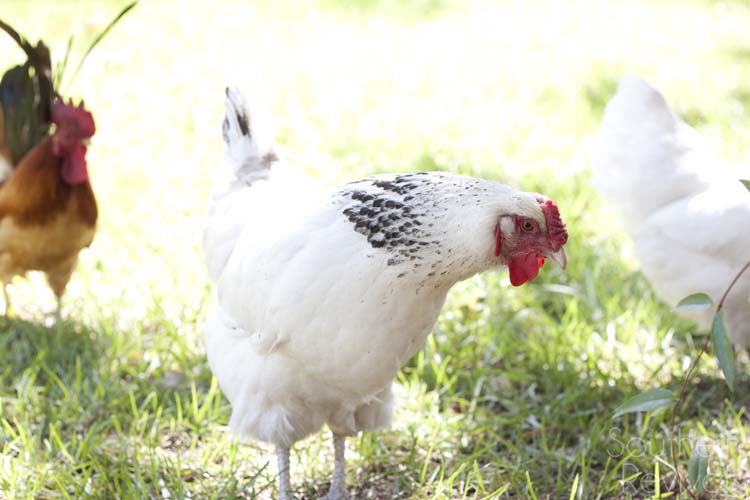 And I got them planted not a moment too soon. My little supervisors can't resist pretty purpley pink flowers anymore than I can. Except they prefer to eat them. Oreo, my Columbian Wyandotte, is always first in line for a flower buffet.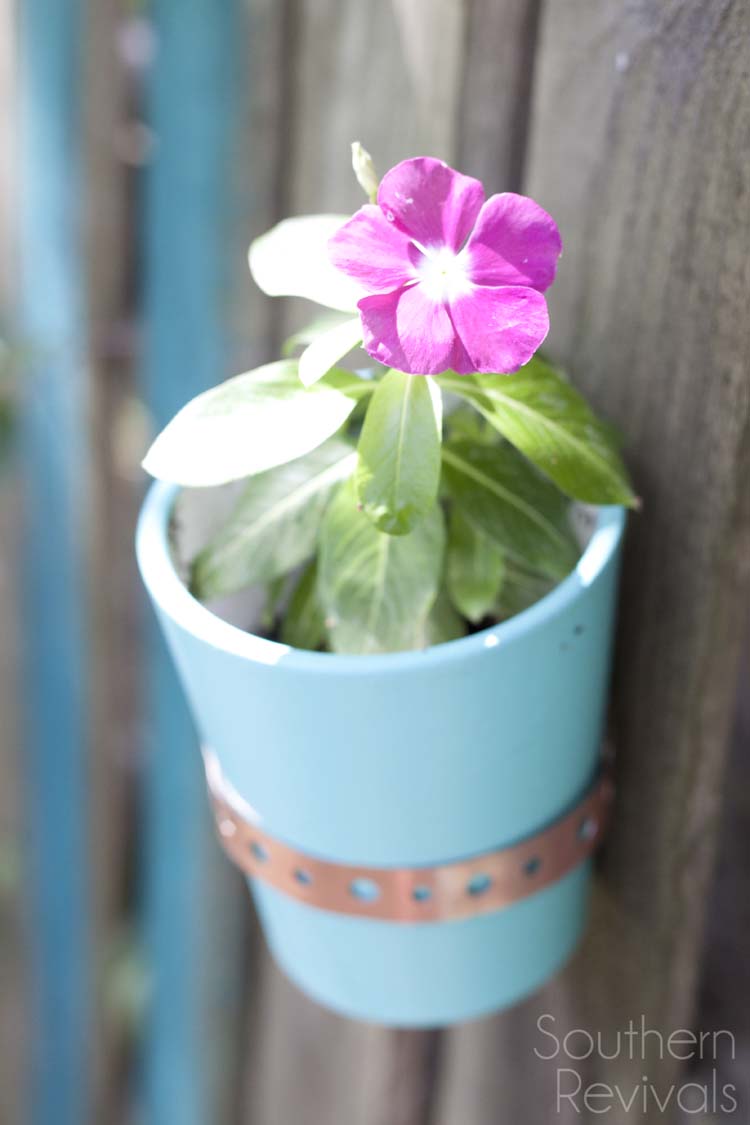 Then again, she may have realized that there were four flowers in the pot and Mama only needed three! Smart girl!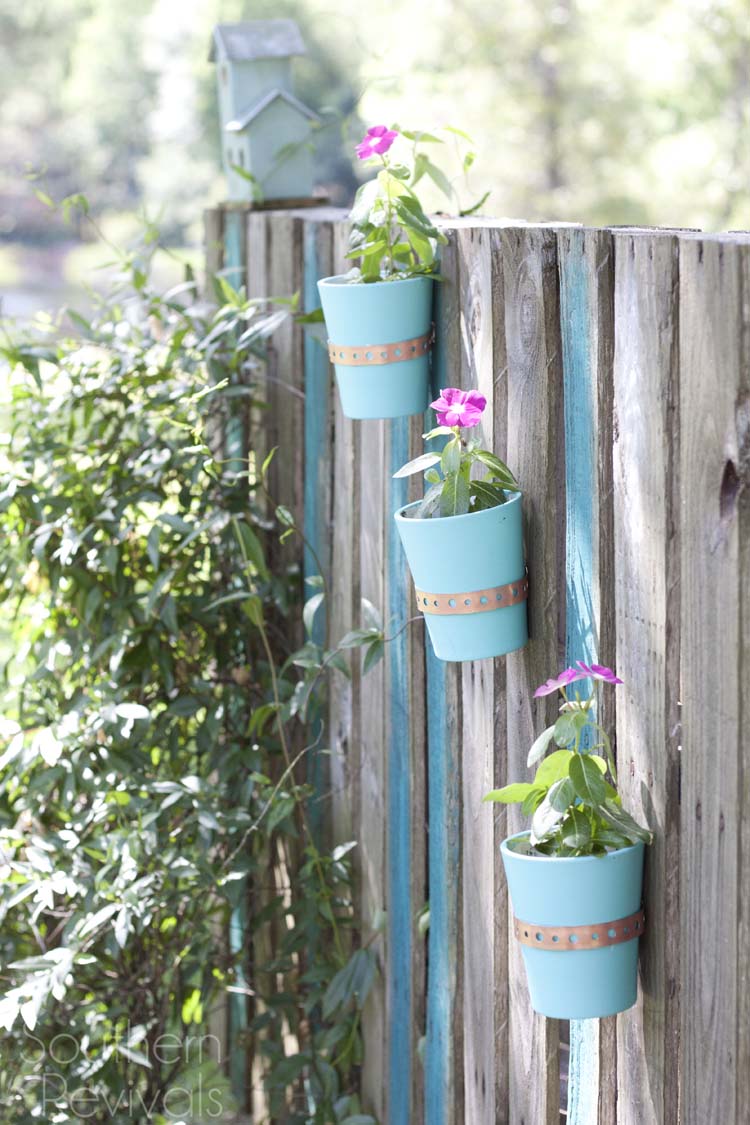 We are having gutters installed next week and I am silly excited about it because it means my mulch will finally stop swimming away every time it rains AND my front porch wont' be like Niagara Falls. Which means….I can finally turn my boys' old crib into a bench to put out there. I couldn't stand to get rid of it but I can't keep everything in the attic! The front porch really needs something and this will be perfect. Come to think of it, I probably have a few more pots that need painting! Do you have any outdoor projects planned?