Thank you to LP SmartSide Trim & Siding for sponsoring this post, offering sustainable products made in the USA and for showing me how great my (ugly) metal building can look with a little help from engineered wood siding. Opinions and ideas 100% my own.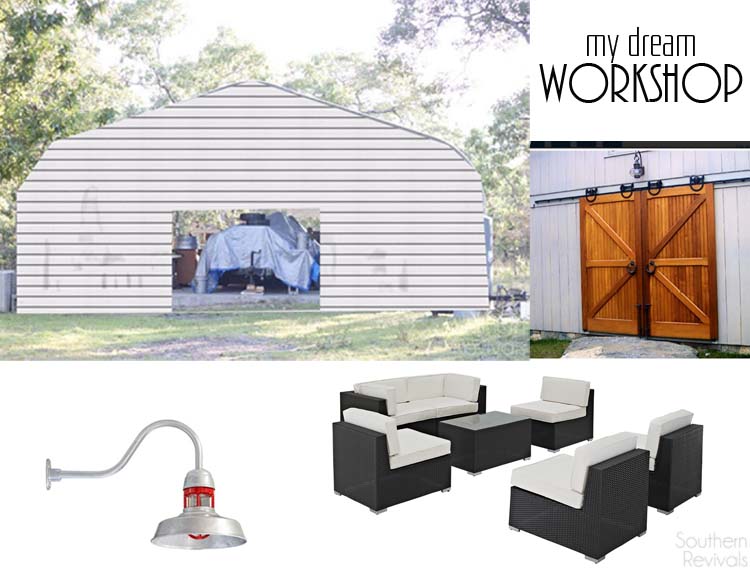 It's been a long time coming, as they say. I'm finally finishing my outdoor workshop. And since it's right in my backyard I'll need it to be an attractive space so working with LP SmartSide Trim & Siding and utilizing their visualizer tool to help me plan a space that's worthy of a wedding as it is a workshop. Now…I just need a She Shed to help me unwind after I get the job done!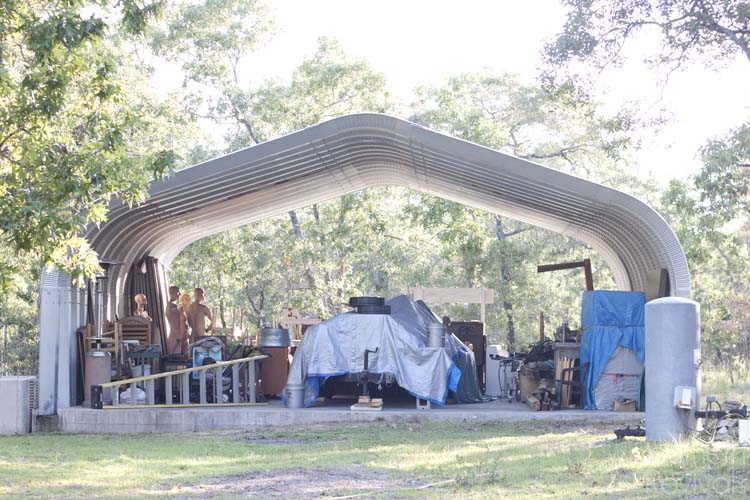 I'm going to tell it to you straight. We got a great deal on this eyesore. When we originally priced these metal buildings they were anywhere between 8 and 10 thousand dollars for the size we felt we'd need. That was a no go! But then we got a phone call from the company that we'd been talking with telling us that someone had skipped out after their initial deposit for a 30 x 40 building, would we like it for less than half price? Why yes, yes we would!
Then it arrived. On a pallet. About 5 feet tall and 5 feet wide. What in the world were we supposed to do with that? I had NO IDEA the labor intensiveness of putting together one of these. No idea. Thankfully we have good friends who teamed up and helped us put together after the ginormous slab was poured.
Now, it's finally time to put some walls on this ugly bad boy so I can get some work done. But first I'll need to actually pull that trailer full of yard sale stuff out of there for my yard sale in a couple of weeks. And you're wondering about those mannequins aren't you?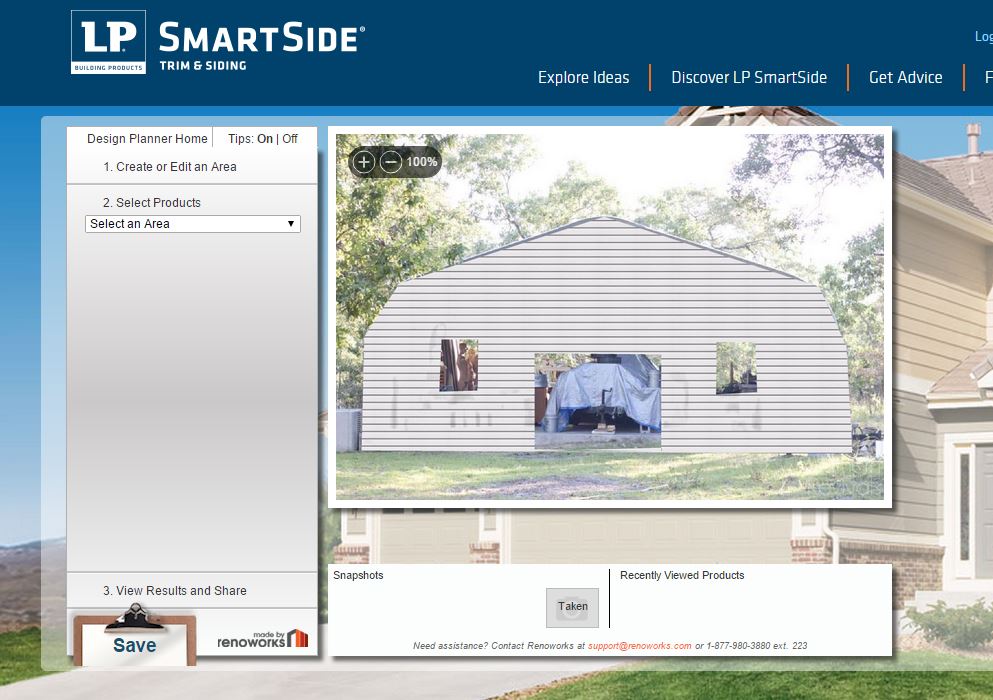 In the meantime, I'm using the LP SmartSide Visualizer tool to get a plan in place for finishing out these walls. It was as easy as upload a pic, selecting areas to "erase" for windows and doors and choosing the products I wanted to see on my building. I went with LP SmartSide lap siding in white with cedar texture.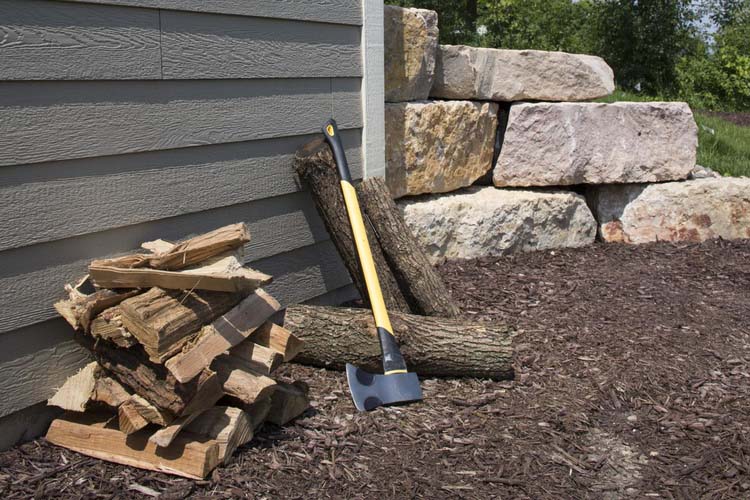 In case you aren't familiar with LP SmartSide treated engineered wood siding it's a sustainable option made in the USA and it offers a great alternative to traditional vinyl siding. You get the look of real wood with less maintenance, up to 18 years maintenance free! The benefit of working with engineered wood is not only its strength and durability but it also cuts like real wood. It accepts nails and screws they way real wood would plus all you need for installation are your ordinary woodworking tools, which is great for us DIYers. Plus, you can't beat that amazing real wood texture!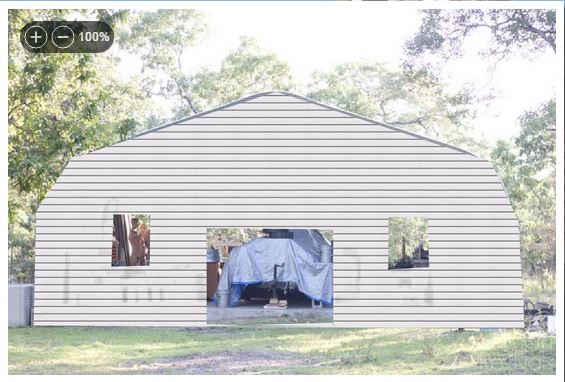 The only trouble I'm having is deciding: windows or…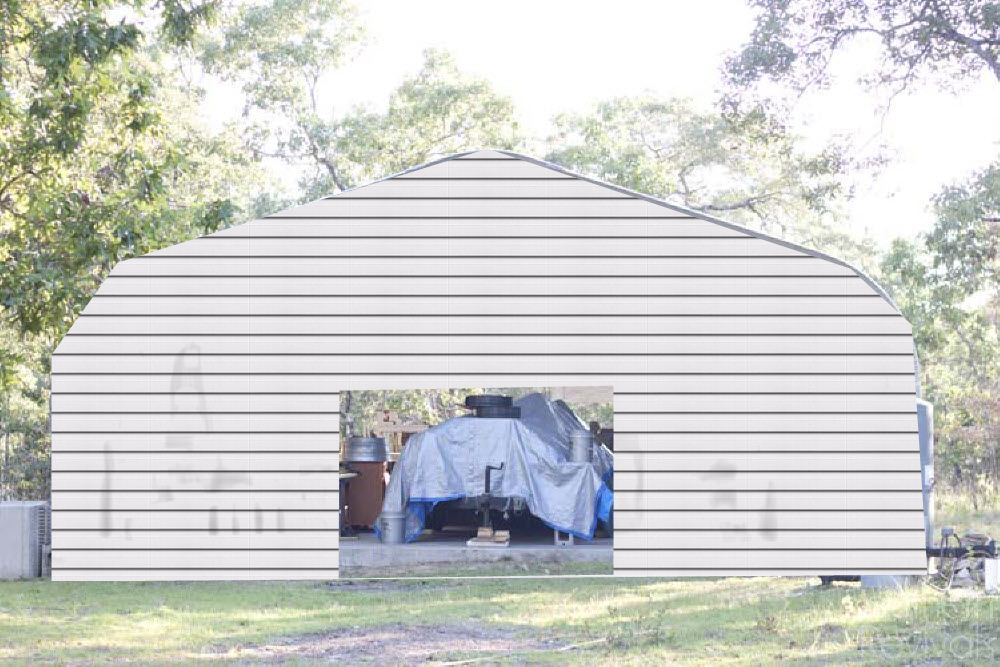 No windows! To give you an idea what I'm going for, here's my inspiration: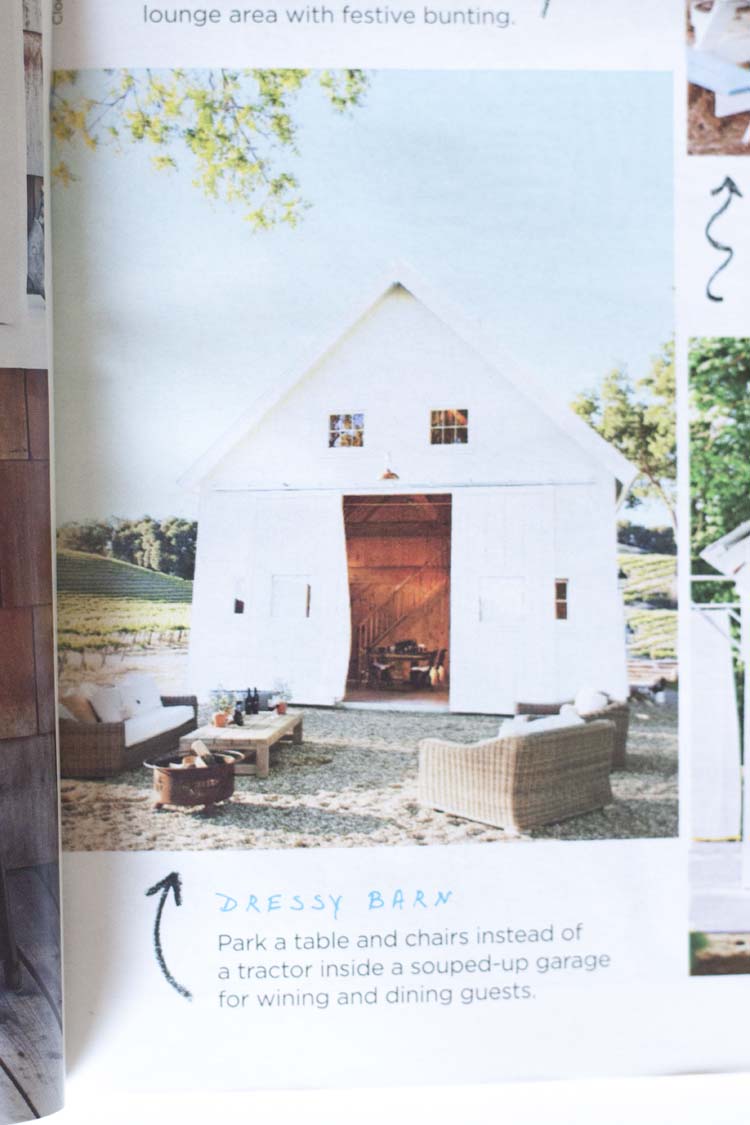 While my building isn't this gorgeous barn from Hammersky Vineyards (found in my July issue of Good Housekeeping) I'm still desperate for the look of this gorgeous building.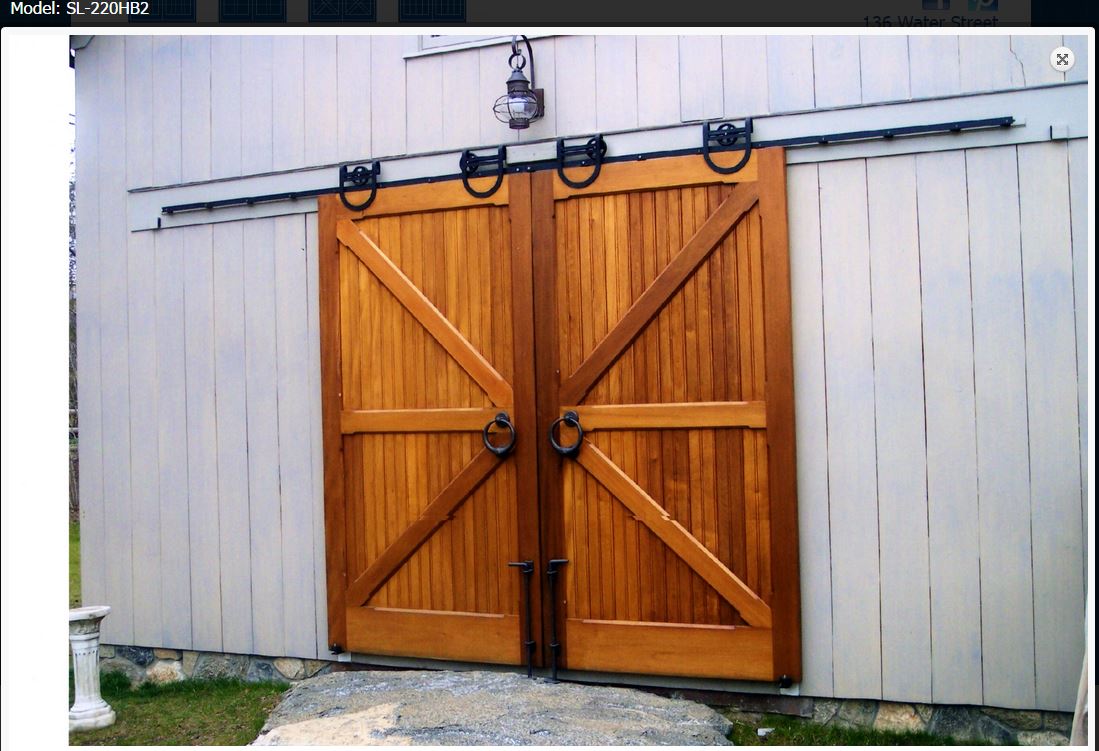 credit: Ed's Garage Doors
What doesn't look with sliding carriage doors, or barn doors as they're commonly called? These beauties from Ed's Garage Doors are amazing. I love the rich wood color of these against the white.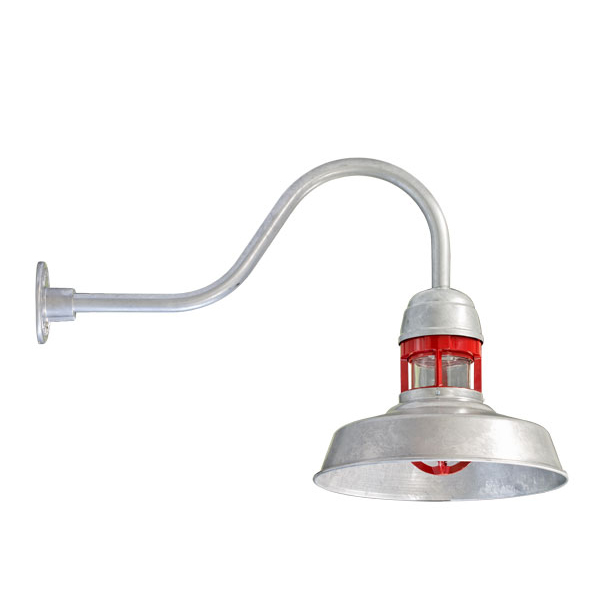 credit: The Sydney Gooseneck Light from Barn Light Electric
You can choose from galvanized, red, black or brass and copper but I loved the look of the funky galvanized option from Barn Light Electric. To be honest, I'm a sucker for all barn lighting and you know how much I love a Gooseneck Light Fixture ever since I DIYed my own.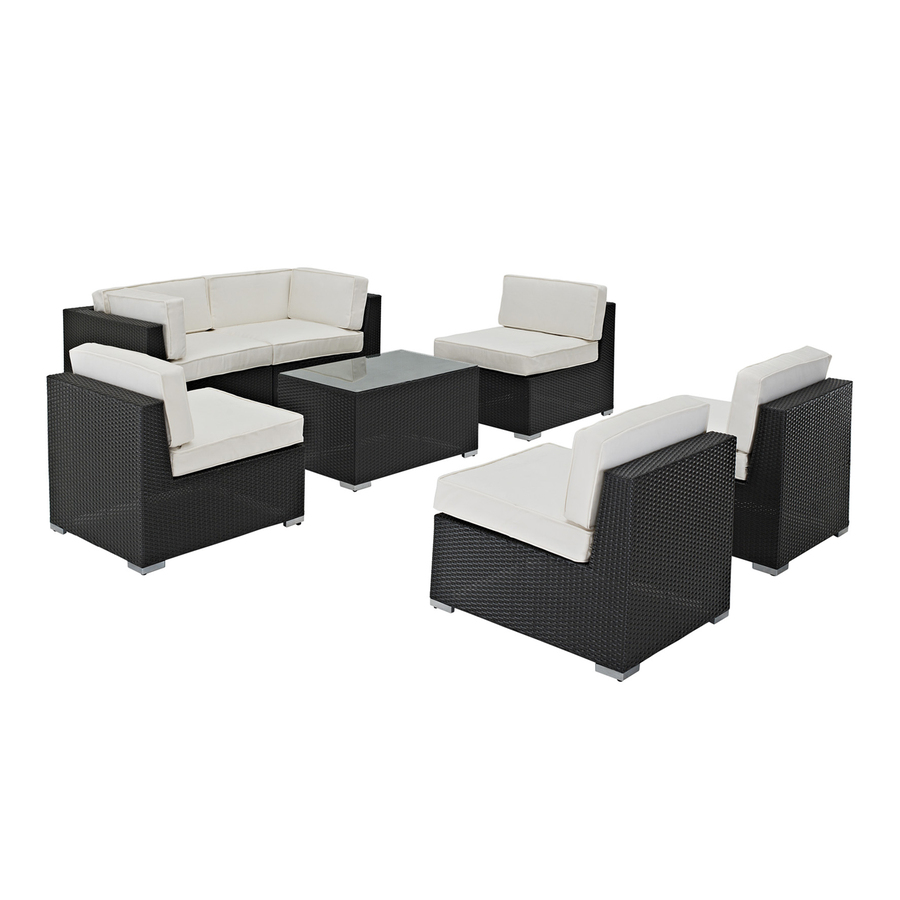 credit: Modway 7-Piece White All-Weather Wicker Patio Conversation Set from Lowe's
Then, of course, I could decorate by adding some crushed rock and landscaping the front. It wouldn't hurt to have a nice patio set and fire pit out front either, just like my inspiration pic. Especially since I love to entertain.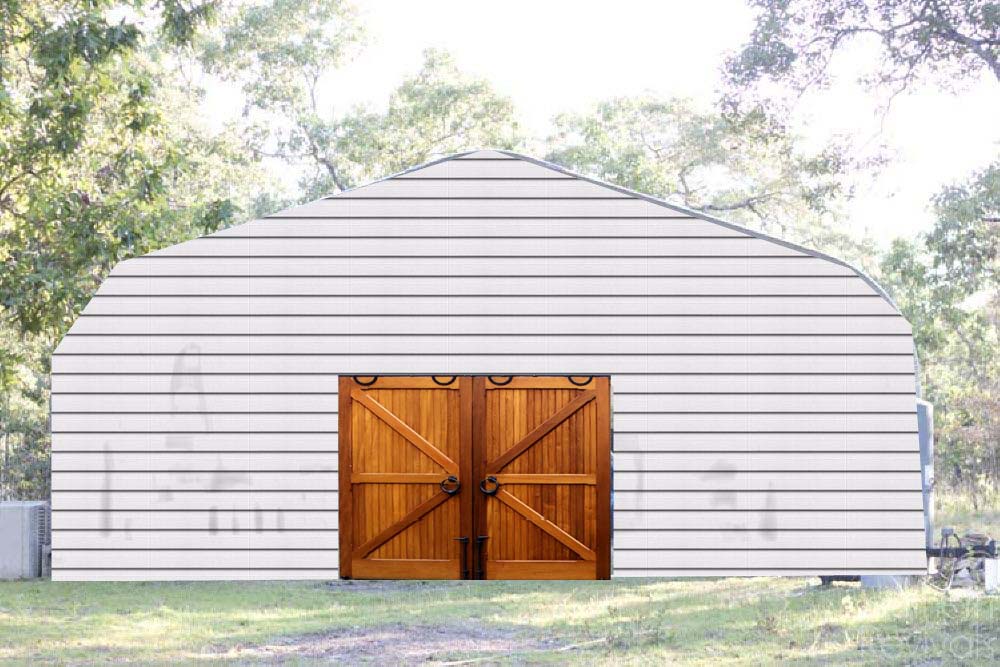 But for the moment I can dream and imagine. My eyesore looks SO much better already, huh? (disclaimer: I added the doors with Photoshop!)
Have you considered using engineered wood siding? I had no idea it was even an option until recently and I am in love! I can't wait to show you the new home of Southern Revivals once she's completed. Honestly, I can't wait to hide those mannequins away for good.
Still wondering why I have those? They were my Mom's. She used to put up a life-size manger scene every Christmas complete with the stable we DIYed way back when I was in high school. They may look a little creepy standing there all on their own but it was amazing a Christmastime. I'll have to drag out some pics and share them some time. What do you think of my plan so far? Could your home or storage building use some help?