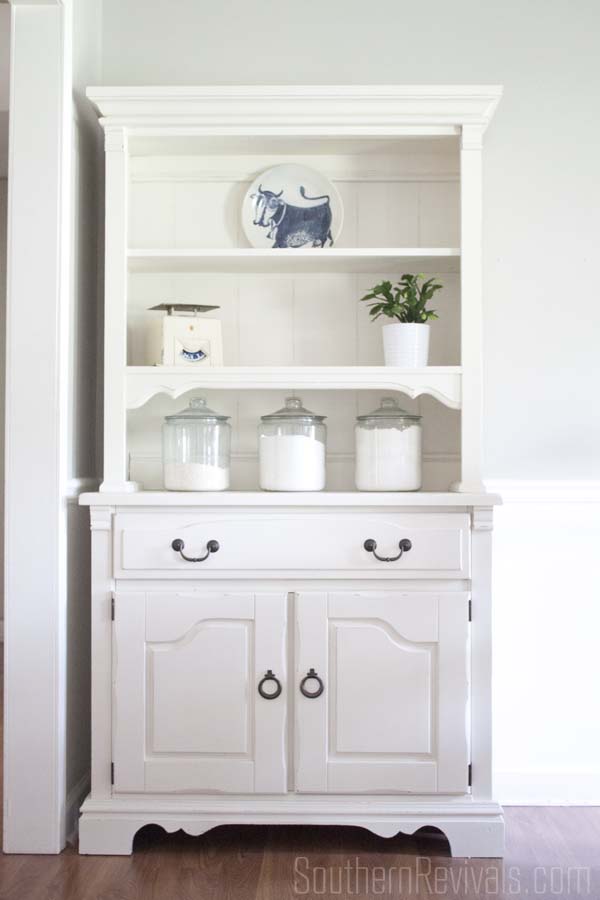 It's another Client Files makeover and this time a 1970s china cabinet gets a gorgeous farmhouse-style makeover with the help of Fusion Mineral Paint – paint and finish all in one!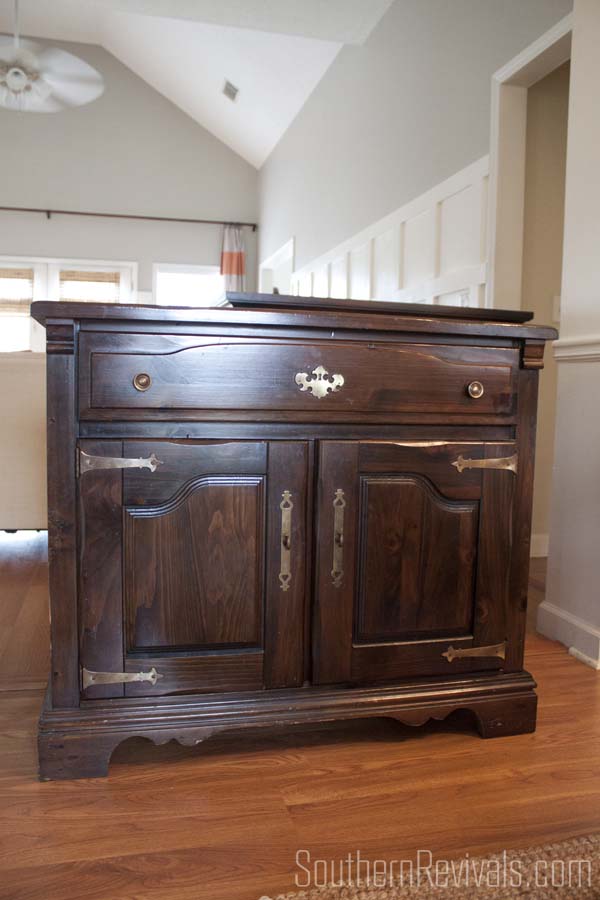 Get a load at that glossy vintage finish, will ya! Know what it means?
It's never fun to hear the first time (or to have to say it) but back when I owned a store and people came in for "that paint that means you don't have to sand", I sometimes had to tell them, "You might still need to sand that piece prior to painting it." And that confused and crestfallen expression almost always followed. The truth is, even the best paints out there, need some "tooth" or something to stick to.
Now by sanding I don't mean breaking out your orbital sander and having to sand until you reach raw wood. Just a light sanding to scuff up the surface. But still who wants to do that? When in doubt it is ALWAYS your best insurance policy. A thorough cleaning with a degreaser or white vinegar (which is what I use) and a light sanding. But still. Who wants to do it? Certainly not me.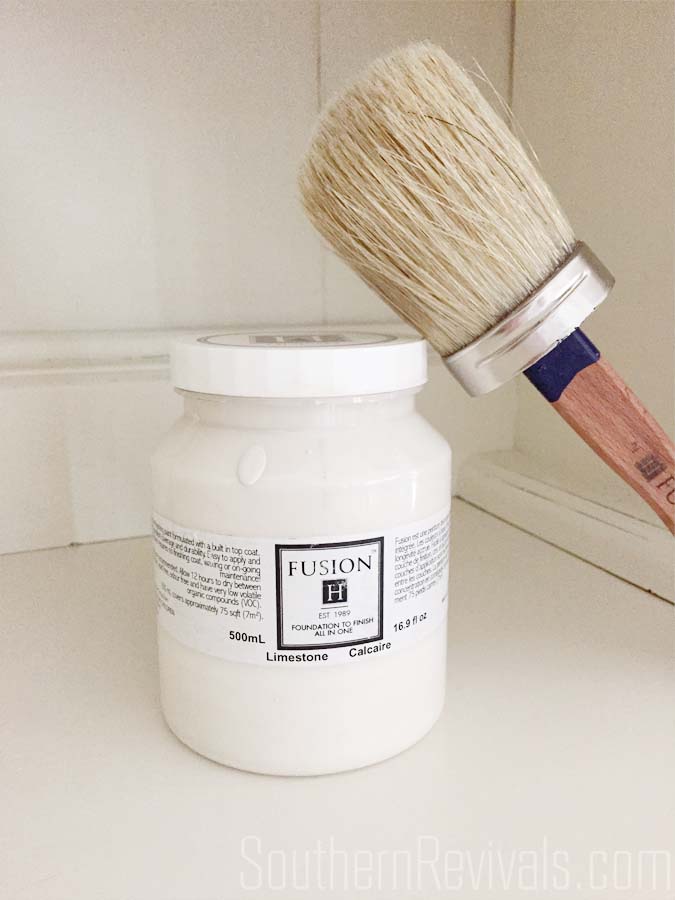 So being the rebel I am, I almost always take the opportunity to break my own rules. And there was never a better time to try skipping the sanding part than when you know you can trust the paint company who developed it.
Remember that time I traveled to Toronto for my official Miss Mustard Seed retailer's training? I 'd been with the company for years but had never done the retailer's training (they didn't even have it when I started!). And even though there were closer trainings I chose to go to Toronto which if you've been around here even for a minute you know was an unregrettable decision especially since I talk about how much I love Toronto. All. The. Time.
Anyway, while I was there I got to try out one of their new paint lines – Fusion Mineral Paint. It's a "Foundation to Finish All in One". For this client piece, I decided to put it to the test for my first time using it. I never skip cleaning, mind you. But this time I DID skip the sanding and I laughed manically the entire time. Especially after allowing the first coat to dry, going back and doing the scratch test to find that this stuff wasn't going anywhere. It was a good day, y'all!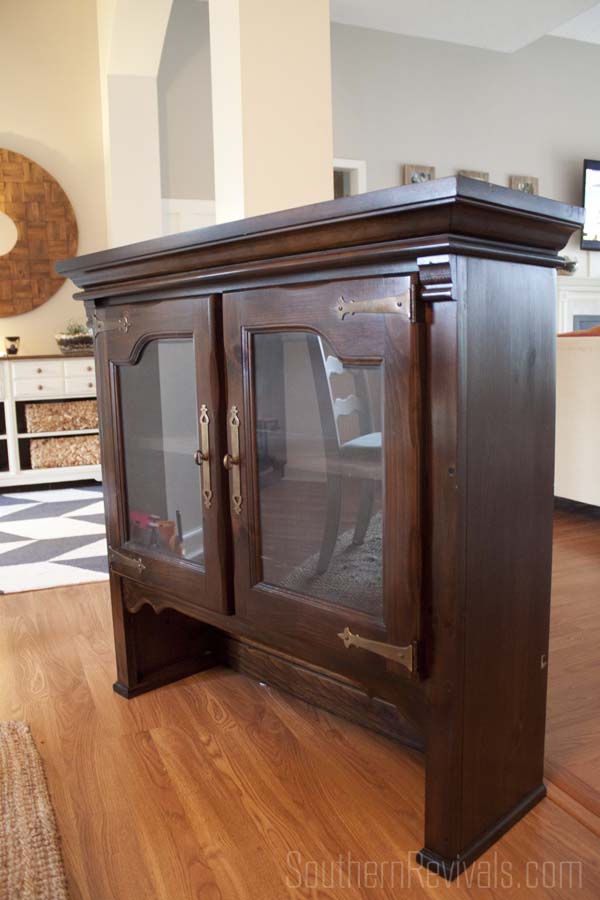 Another thing you might know about me by now is how much I love hardware. It's like the jewelry of the furniture world. And while paint can do wonders for updating an aged piece sometimes changing out the hardware is even more important.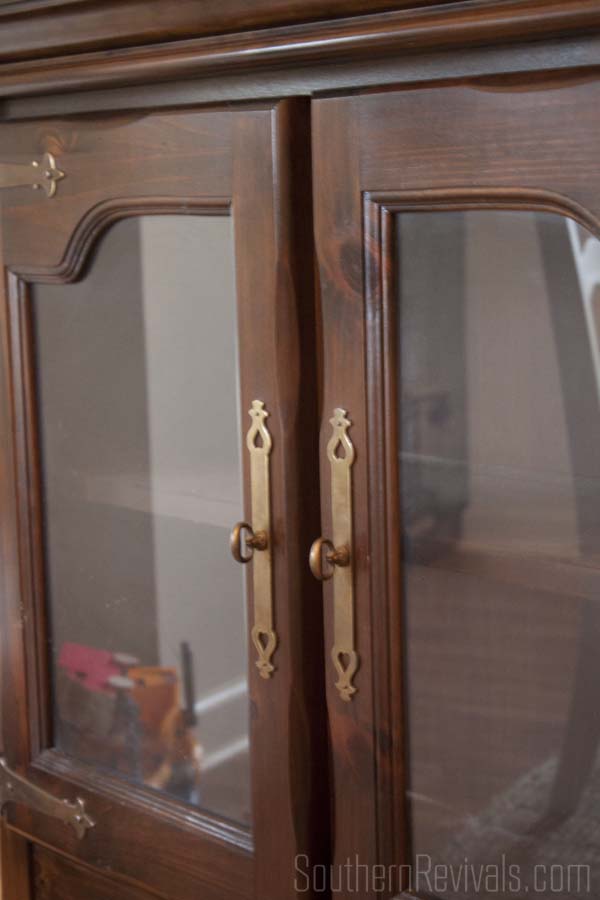 Then there's always the question of, to keep the top doors or to not keep the top doors?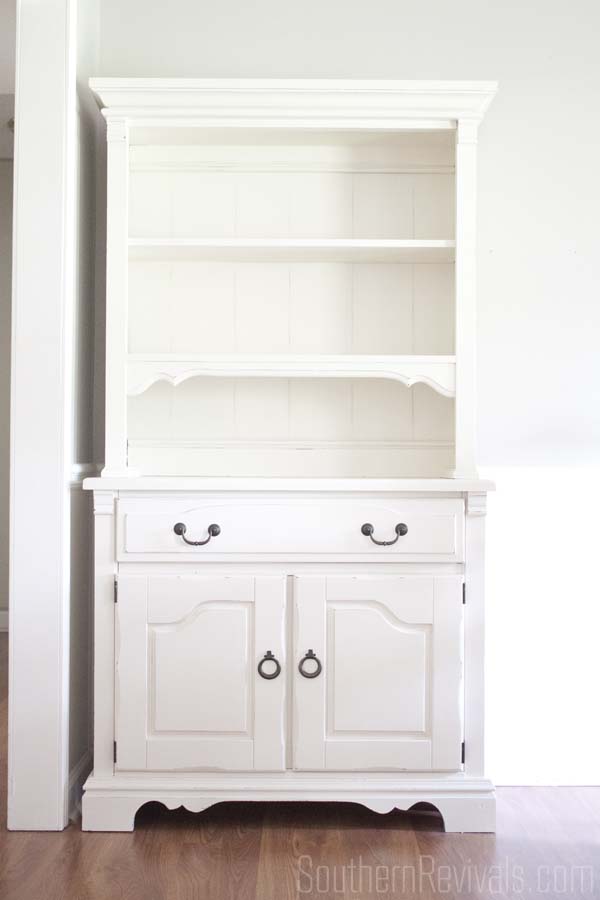 These days I'm almost always in favor of open shelving. It serves three purposes 1) It's pretty and 2) It's pretty because it forces you to keep only what you need and 3) You are far more likely to make use of things that are kept easily within reach.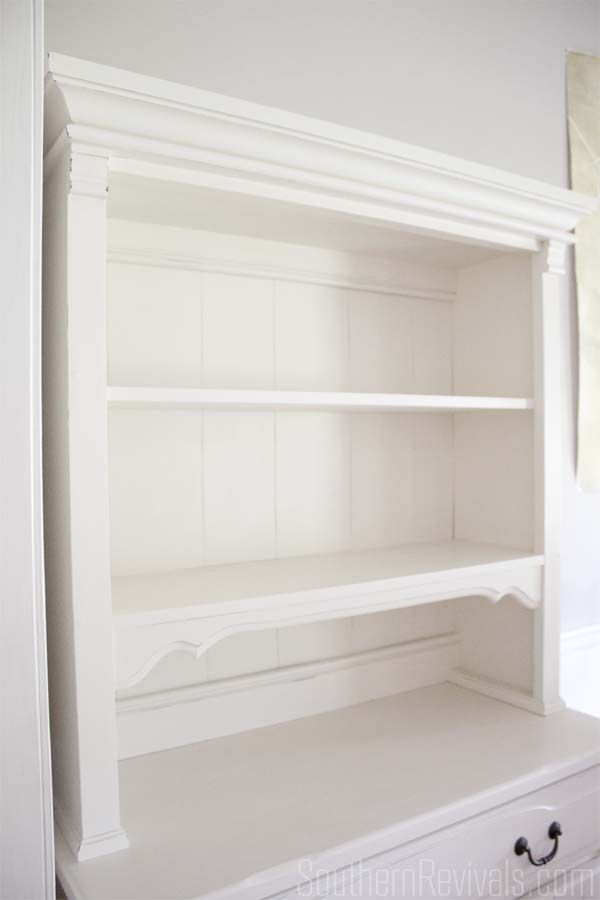 And did I mention it's pretty?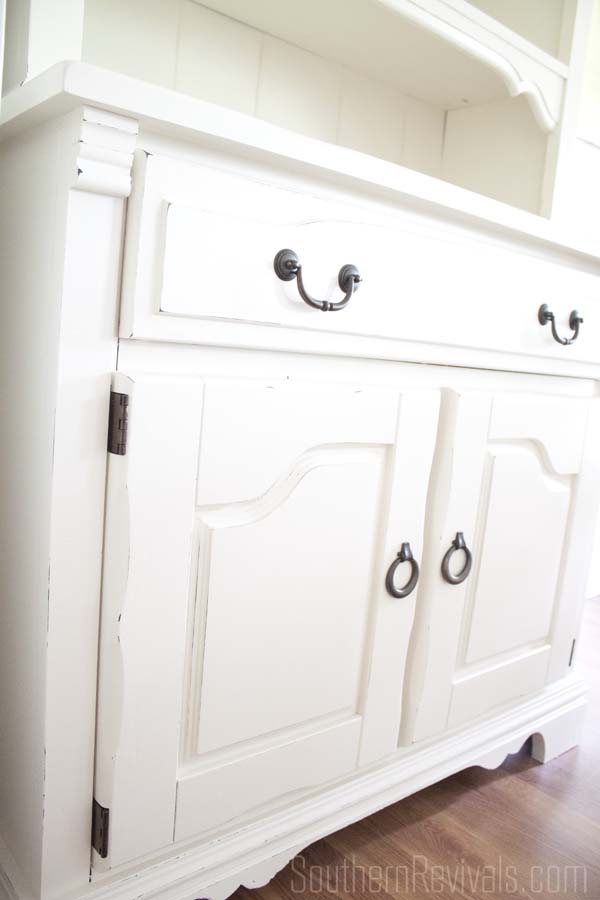 My client was looking for some pulls similar to a makeover by Joanna Gaines of Fixer Upper and Hickory Hardware generously provided us with the perfect ones.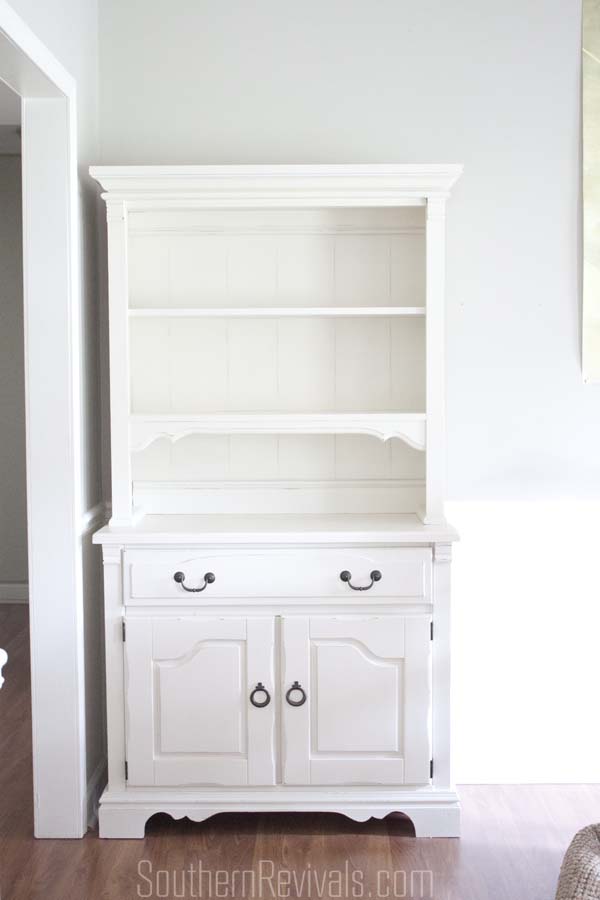 I think the plan is for her to live out her days in a lovely farmhouse but no matter where she's at, she brings lovely farmhouse with her.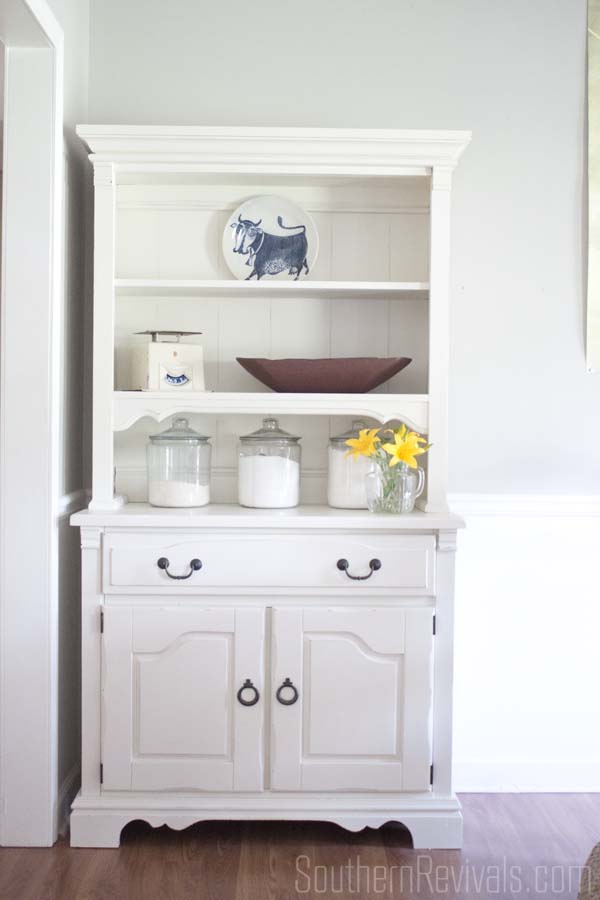 In fact, I kind of wanted to keep her myself. See, my baking jars fit perfectly!
*New hardware generously provided by Hickory Hardware. All opinions on Fusion Mineral Paint line are my own and I wasn't compensated in any way for mentioning them. In fact, I bought the paint with my own money and I just ordered more for another piece!