This shop has been compensated by Collective Bias, Inc. and its advertiser. All opinions are mine alone. Peanut Butter Fudge Brownies #EasterSweets #CollectiveBias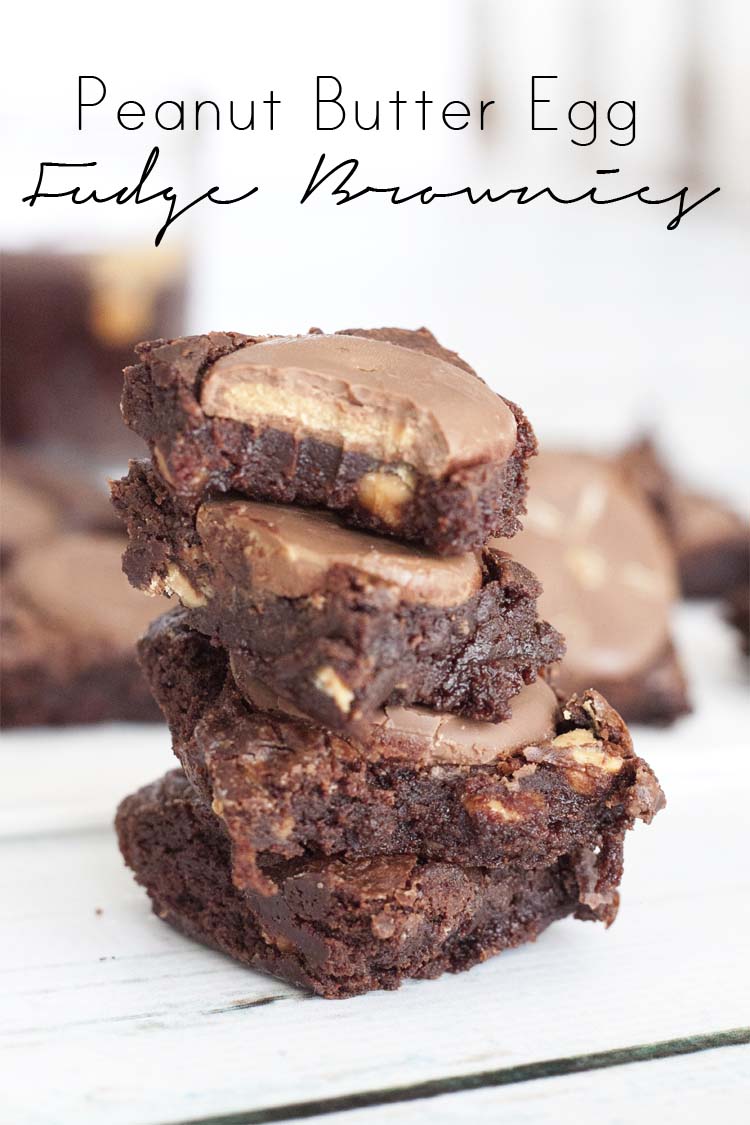 It's Eastertime and that can only mean one thing…the candy aisle is full of fun Easter candies just waiting to be baked into delicious desserts, like these DOVE Eggs Peanut Butter Fudge Brownies. Come to think of it, it means another thing, too. It also means I will inevitably find myself at Target and for at least the first 30 mins you'll find me in the Dollar Spot.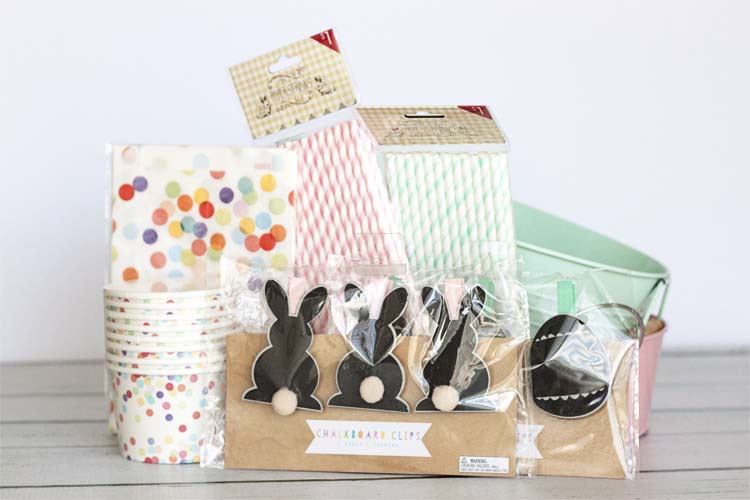 And this is why! How cute is this stuff! Perfect for making those Easter baskets for the neighbors this year.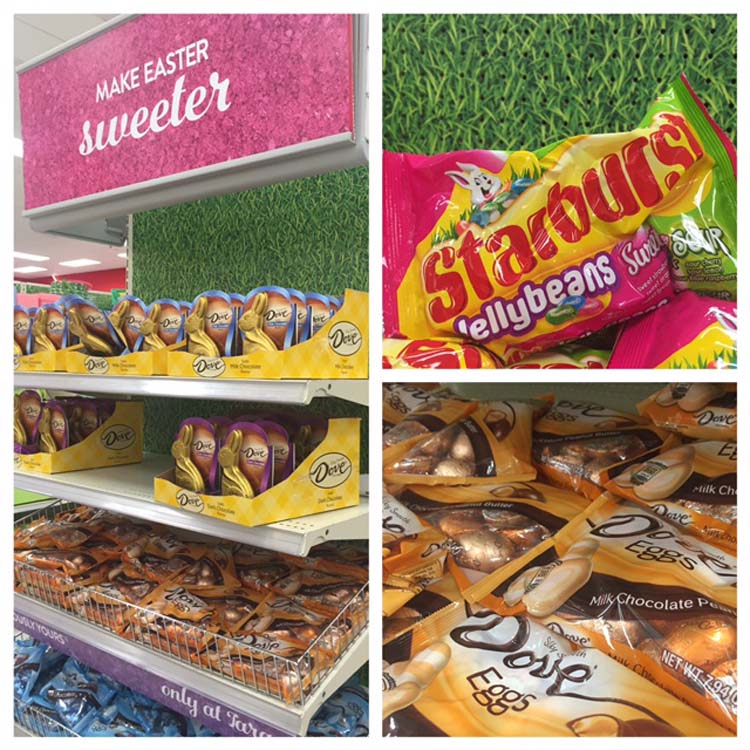 And then, my modus operandi, is to head to the seasonal section. It doesn't matter what season it is.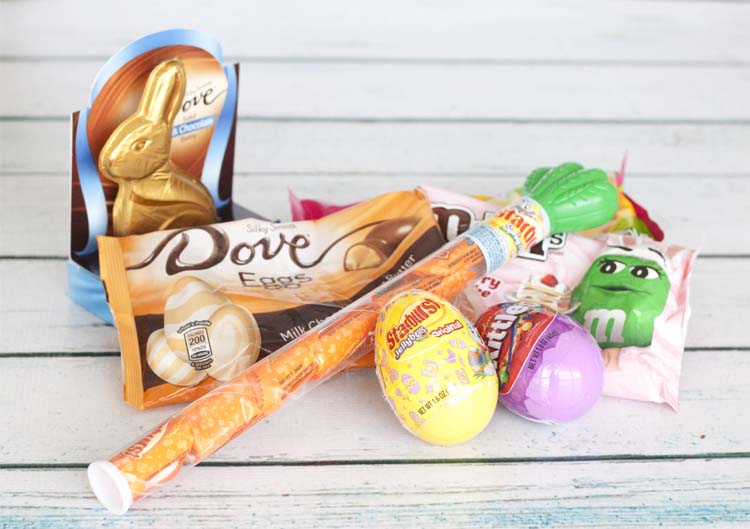 They always have goodies I can't find anywhere else like these M&M's White Strawberry Shortcake, remember when I made Strawberry Shortcake Blondies with those? And they're only available at Target for a limited time so if you're like me, stock up!
This time I got some more of those and some DOVE Peanut Butter Eggs, DOVE Milk Chocolate Bunny and some other Easter basket fillers like a Starburst Carrot. Right now get 10% off select M&M's Chocolate Candies and DOVE Chocolate as well as 10% off select Starburst and Skittles Candies. Super Target stores are hosting a sampling event March 20th so it's a great time to pick up everything you need for the perfect Easter basket.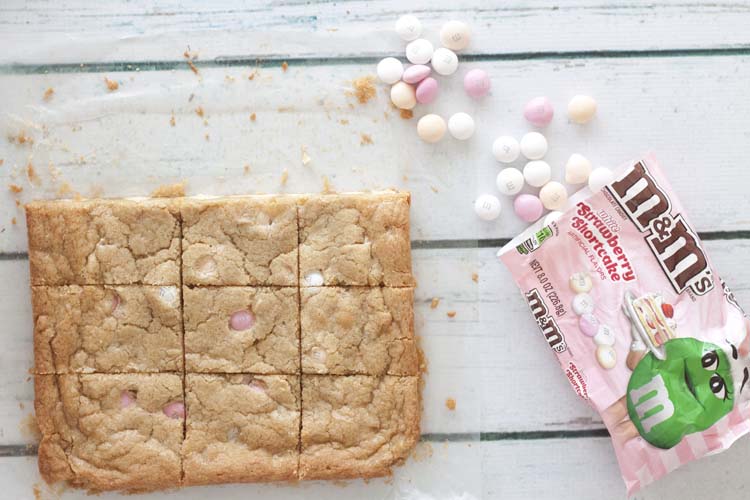 Naturally I had to make another batch of the Blondies just to be sure they were as delicious as the first time.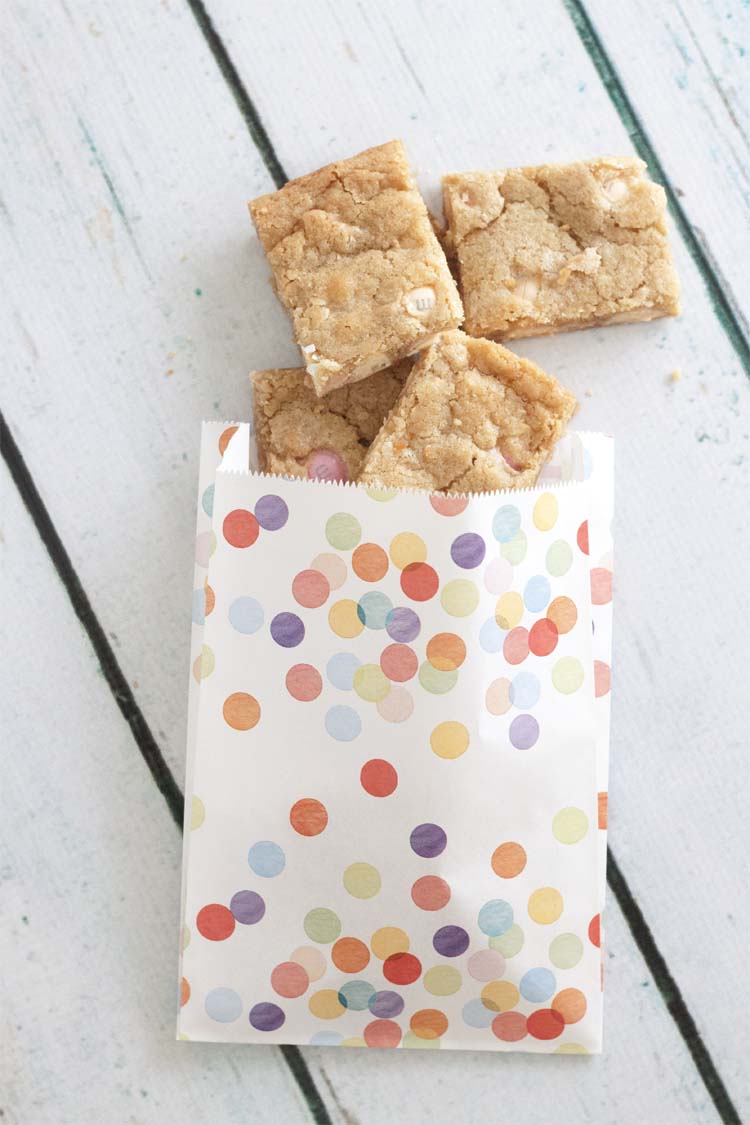 I only tasted a few and packed the rest up in these cute paper favor bags. Told you I was obsessed with these. (See that time I made my own here: DIY Party Favor Bags)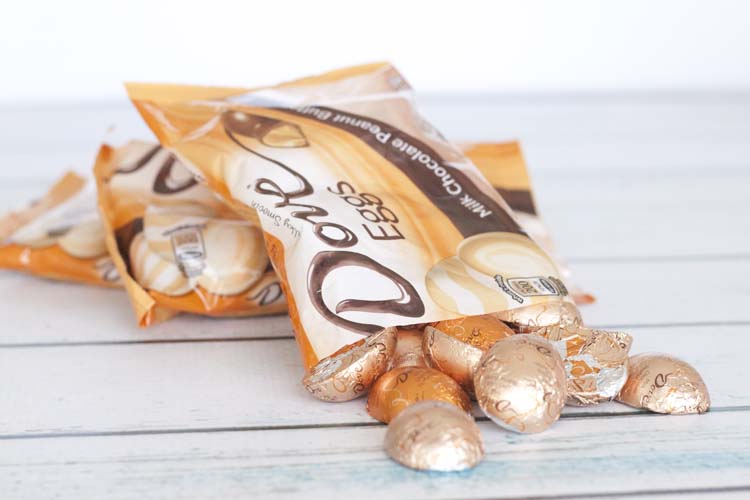 I had something special planned for these. I knew I wanted to bake them into brownies but then…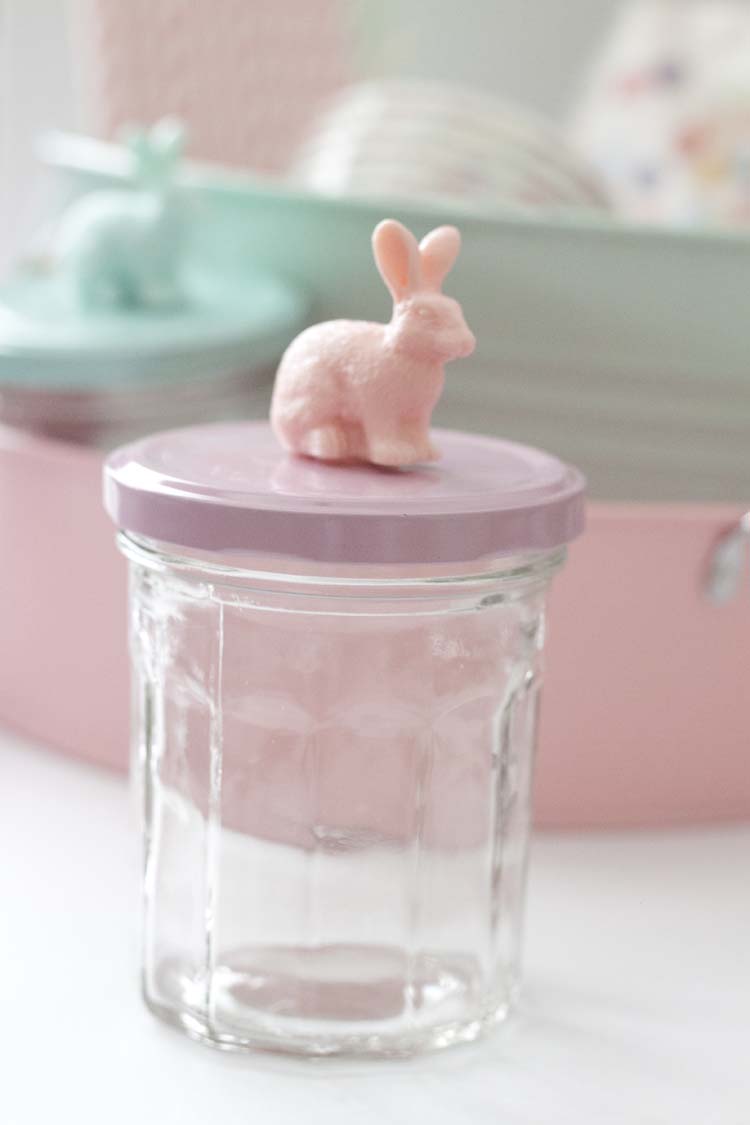 I saw these crazy cute bunny topped glass jars and knew I had to also bake them in a jar.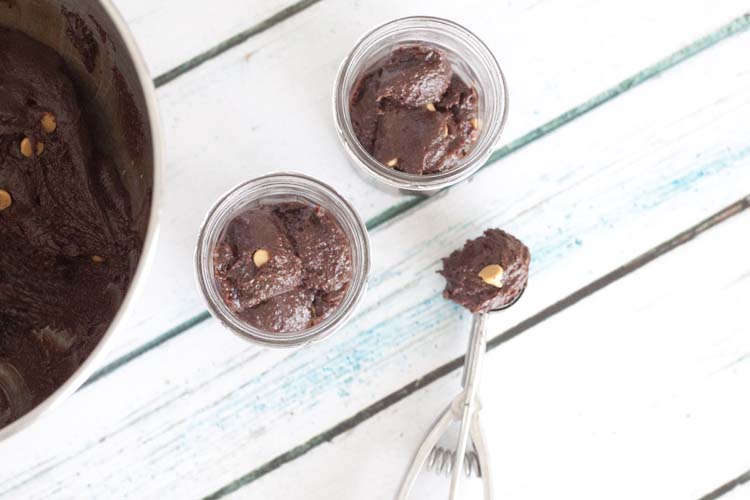 Step 1
Remove lids, wash. Wash jars and dry completely. Spray jars with cooking spray.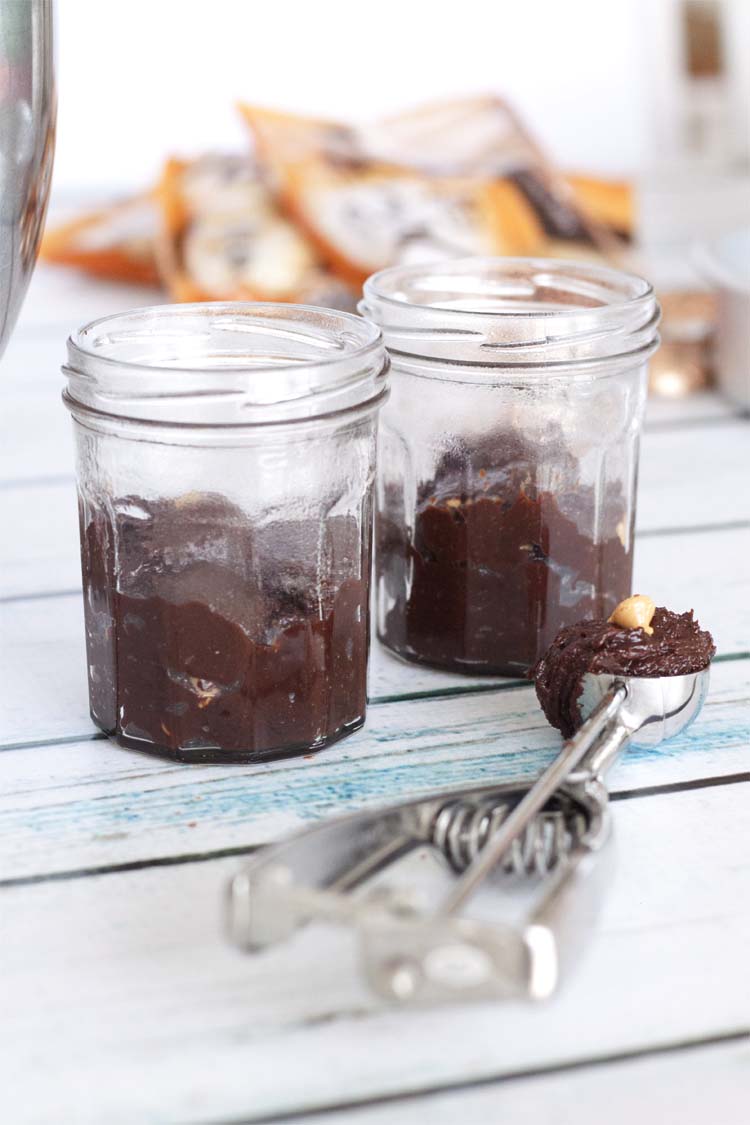 Step 2
Fill jars half full with batter (See recipe at bottom of post)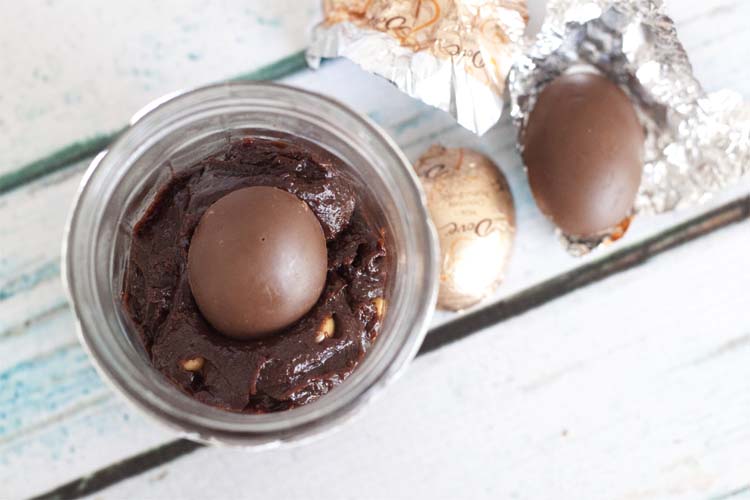 Step 3
Top with DOVE Peanut Butter Egg pushing it lightly into batter.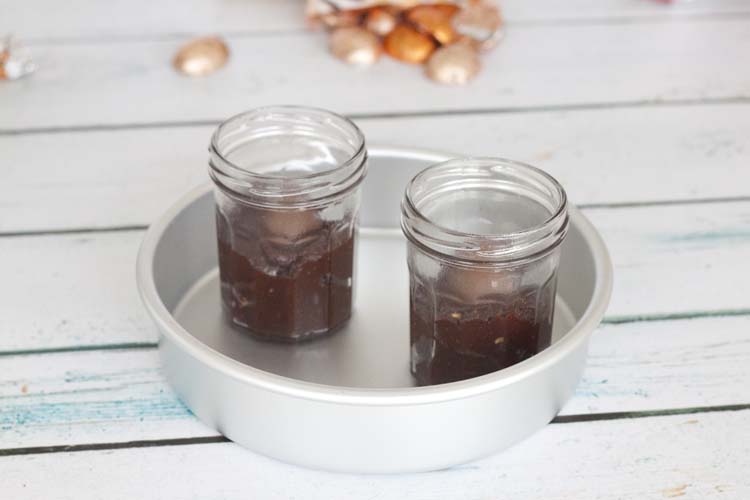 Step 4
Place jars into baking pan before placing in oven. Bake according to recipe instructions. (See below)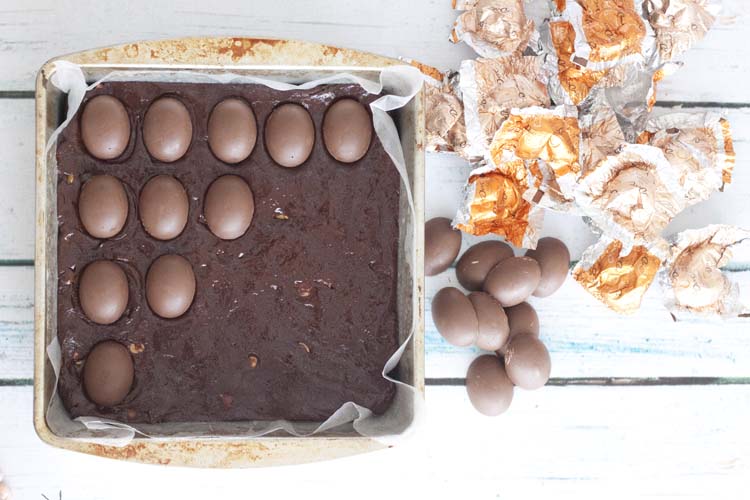 Since I was only making two jars I decided to bake the remaining batter in an 8×8 baking pan lined with parchment paper and sprayed with cooking spray. As with the jars, I pushed the eggs lightly into the batter to keep them from spreading. I lined them evenly into the pan so that each brownie would have its own delicious peanut butter egg.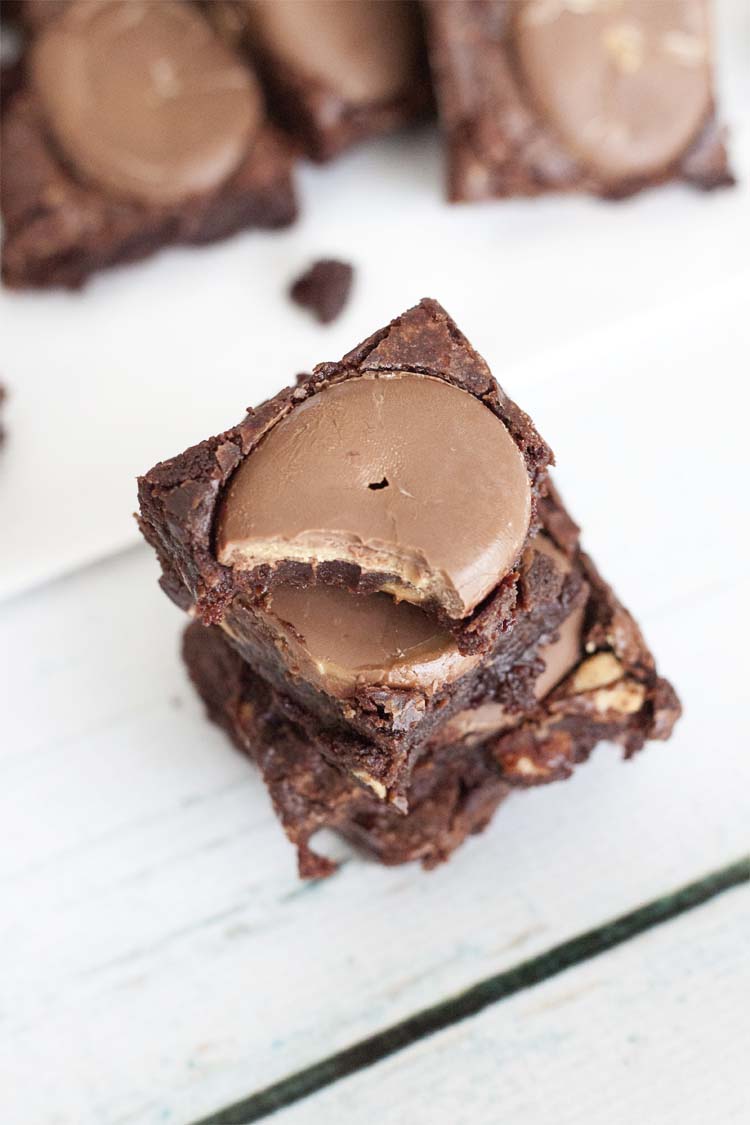 Since DOVE Eggs have a soft thick chocolate shell they're perfect for baking and hold their shape very well. Plus you get a little bit in every bite. They taste even better than they look so now I have to hurry up and get them out of the house before I eat them all myself.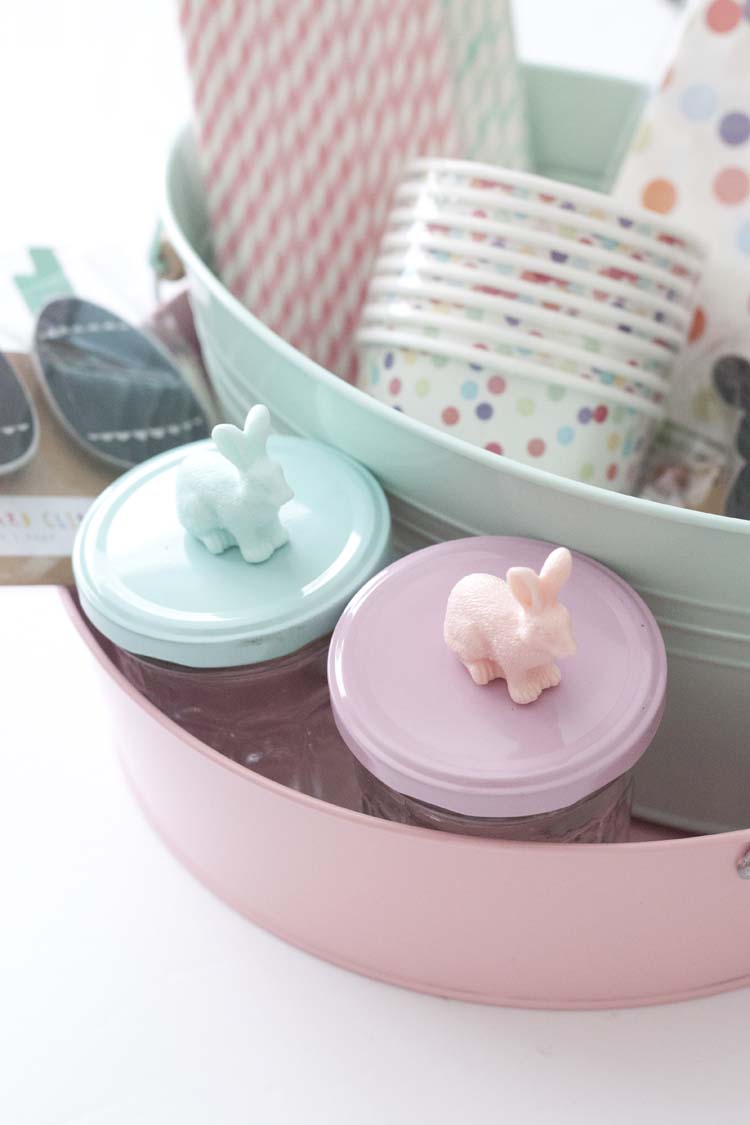 So I got my Easter basket supplies ready and got to work.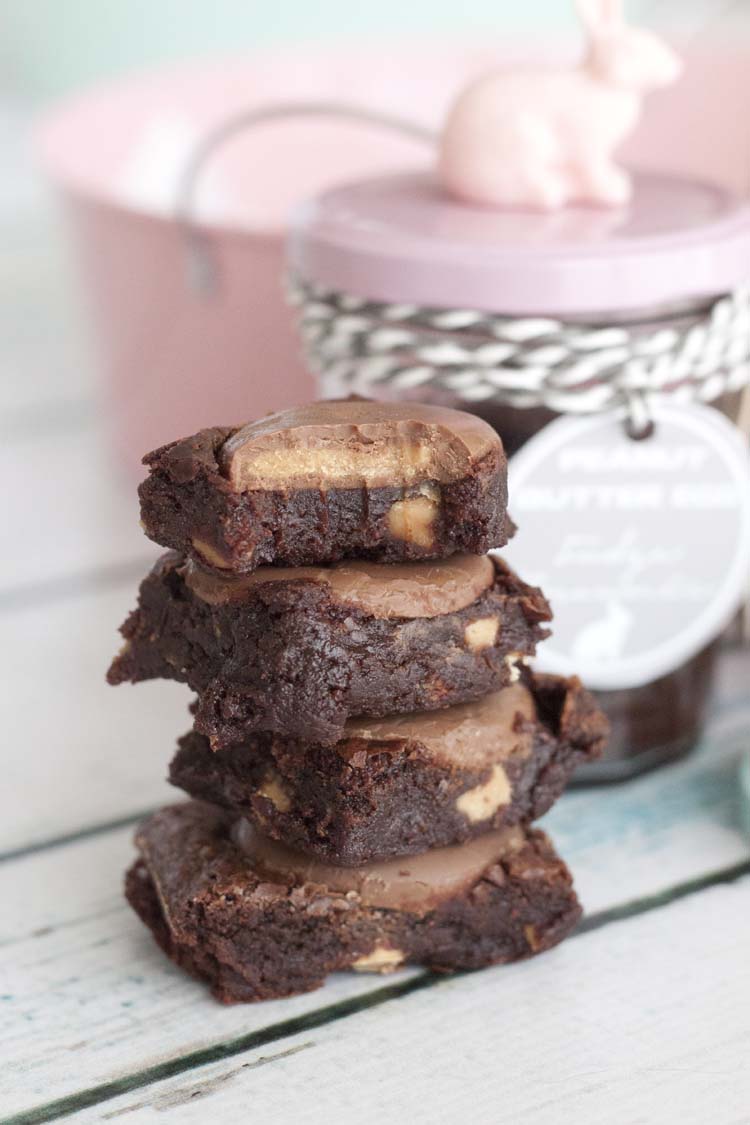 I'll pop the jars into the Easter baskets and give the rest of the brownies away in the favor bags. That is, whatever is left after my family has a go at them.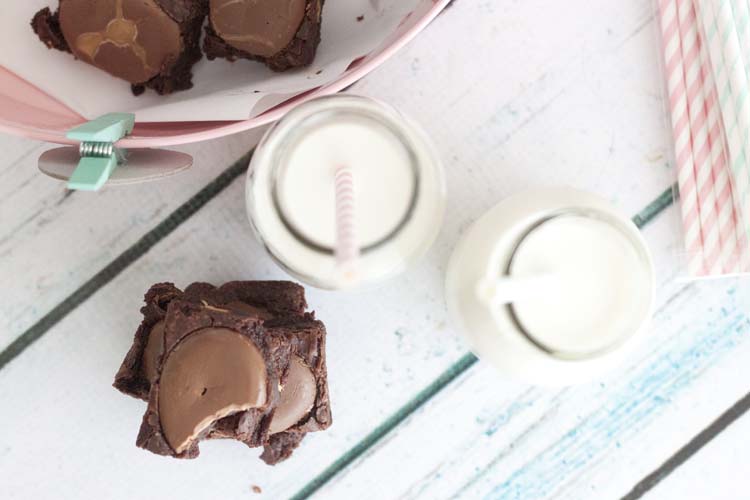 They taste even better with milk and even better still if the milk has cute paper straws. I'm obsessed with those, too.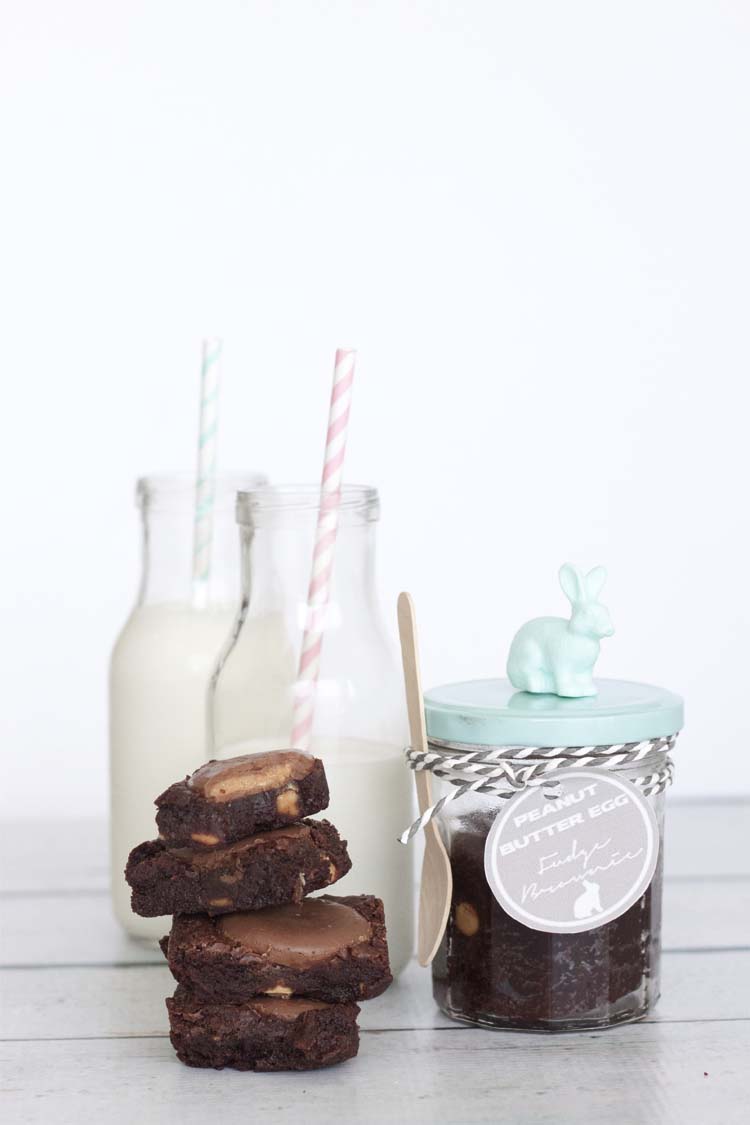 I wrapped the jars with twine and added a wooden spoon and jar tag (FREE printable below).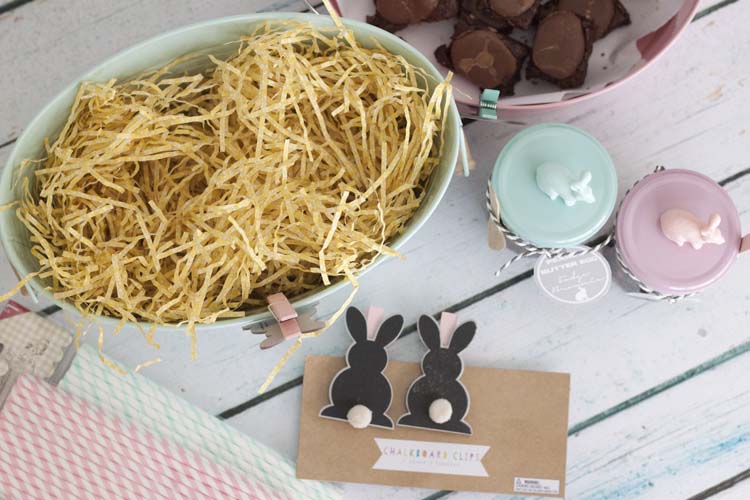 I added paper grass to the basket and clipped on a bunny chalkboard tag.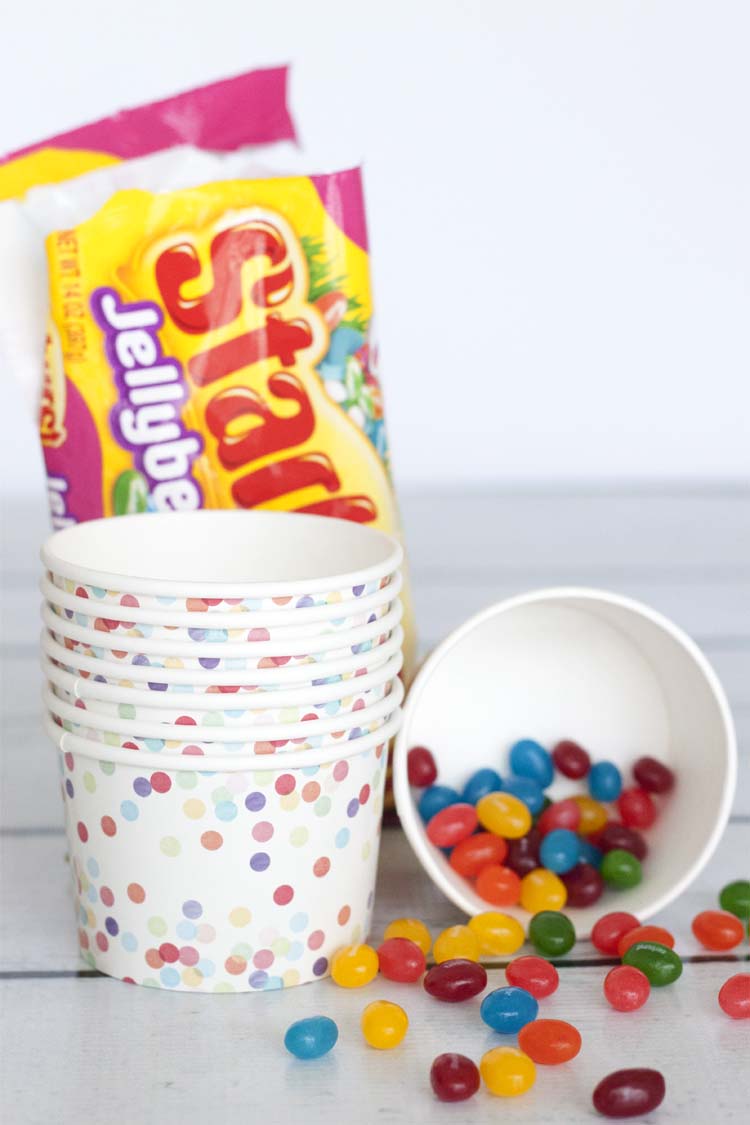 Filled treat cups with Starburst Sweet & Sour Jellybeans
Added a few extra treats in here and there…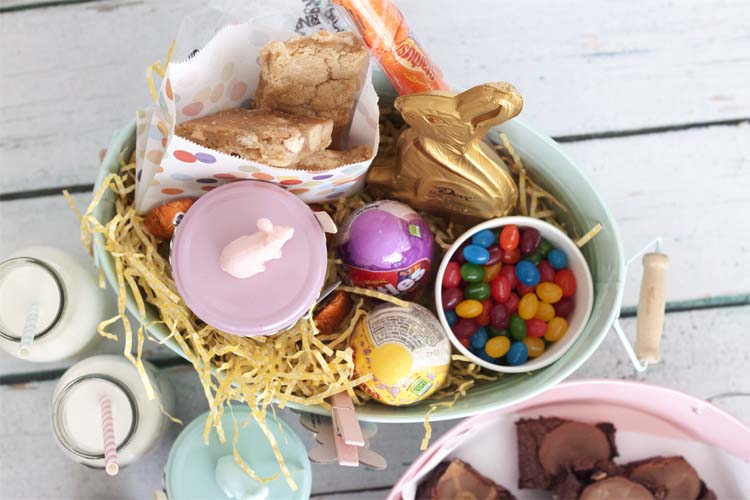 Looking pretty delicious isn't it?
DOVE Eggs Peanut Butter Fudge Brownies | FREE Printable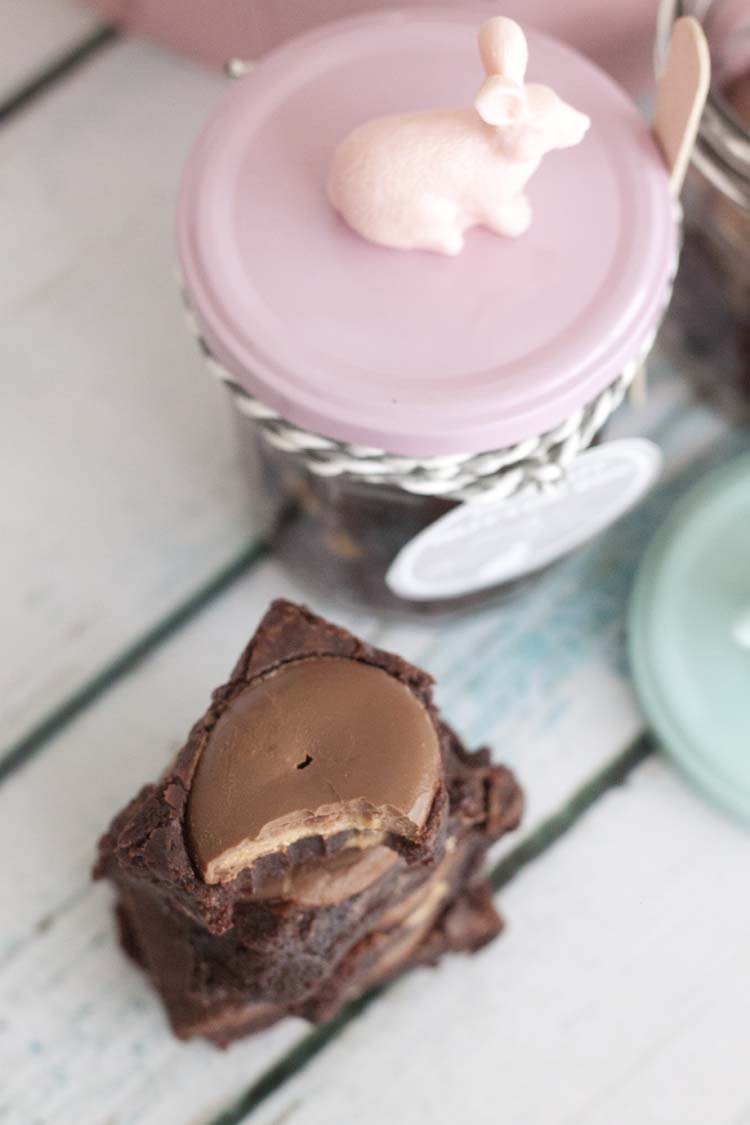 Ingredients
1 cup all purpose flour
2/3 cup unsweetened cocoa powder
1 3/4 cups sugar
1/4 tsp salt
1/4 tsp baking powder
3 large eggs
1/2 cup butter, melted
1/4 vegetable oil
2 tsp vanilla extract
1/2 cup peanut butter chips
Instructions
Preheat oven to 350°. Lightly grease a 9x13 pan and line with parchment paper.
(*If following steps above place all batter into glass jars or just a portion of it and bake the rest in appropriate sized baking pan. I used an 8x8)
Place all ingredients into a mixing bowl, in order listed expect for peanut butter chips, stir and beat until smooth. Fold in peanut butter chips.
Spoon batter into prepared jars or baking pan. Top with DOVE Peanut Butter Eggs, pushing them light into batter.
Bake 25 to 30 mins or until they just begin to pull away from pan sides.
Remove brownies from oven and allow to cool completely before slicing.
FREE Printable jar tags below
https://www.southernrevivals.com/dove-eggs-peanut-butter-fudge-brownies/
©Southern Revivals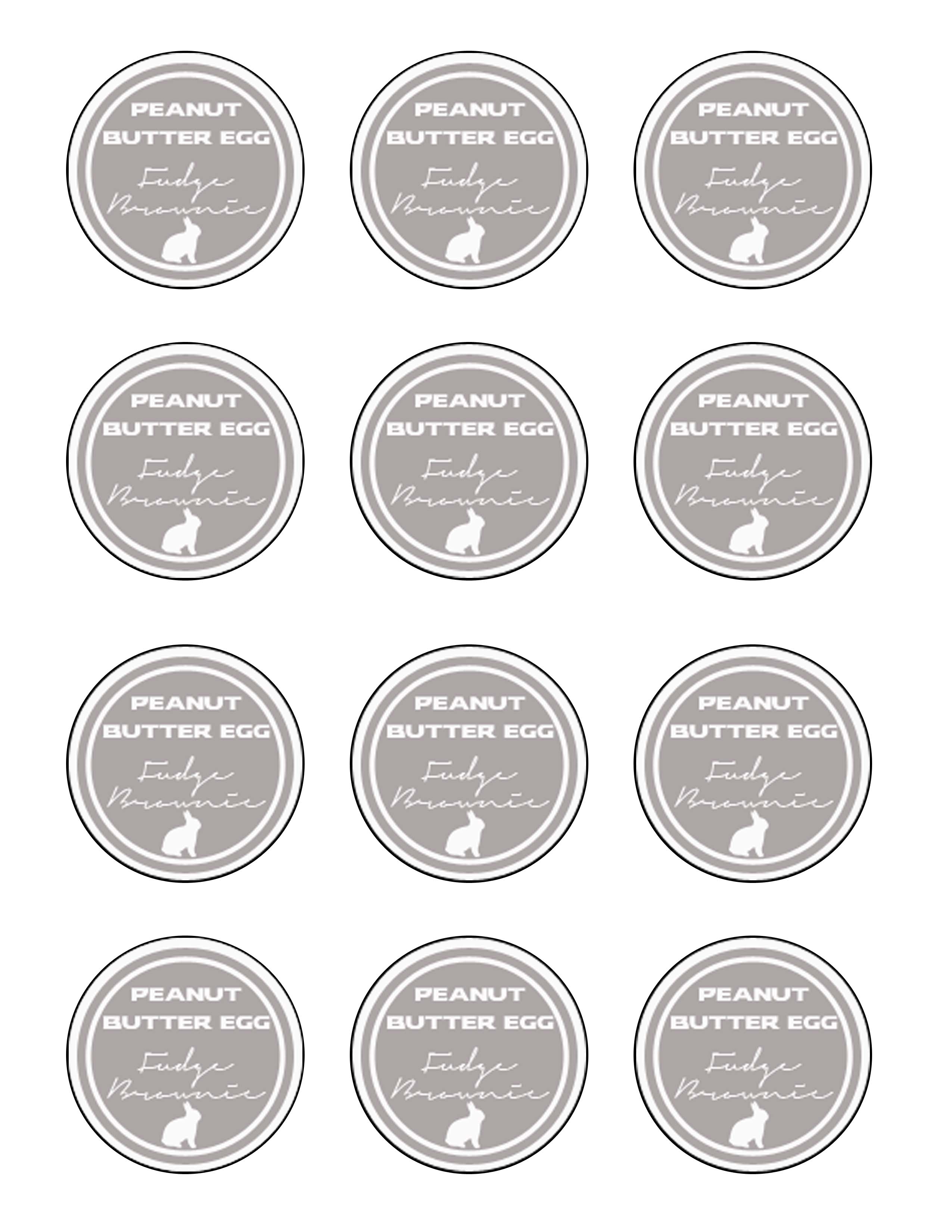 Right click to download and save to your computer. Print on white cardstock.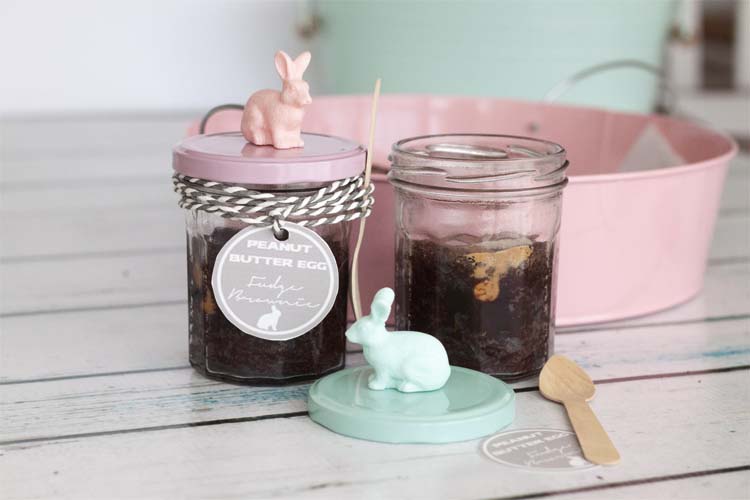 The provided wooden spoons are a must so your Easter basket recipient doesn't have to wait until one's handy to dig in.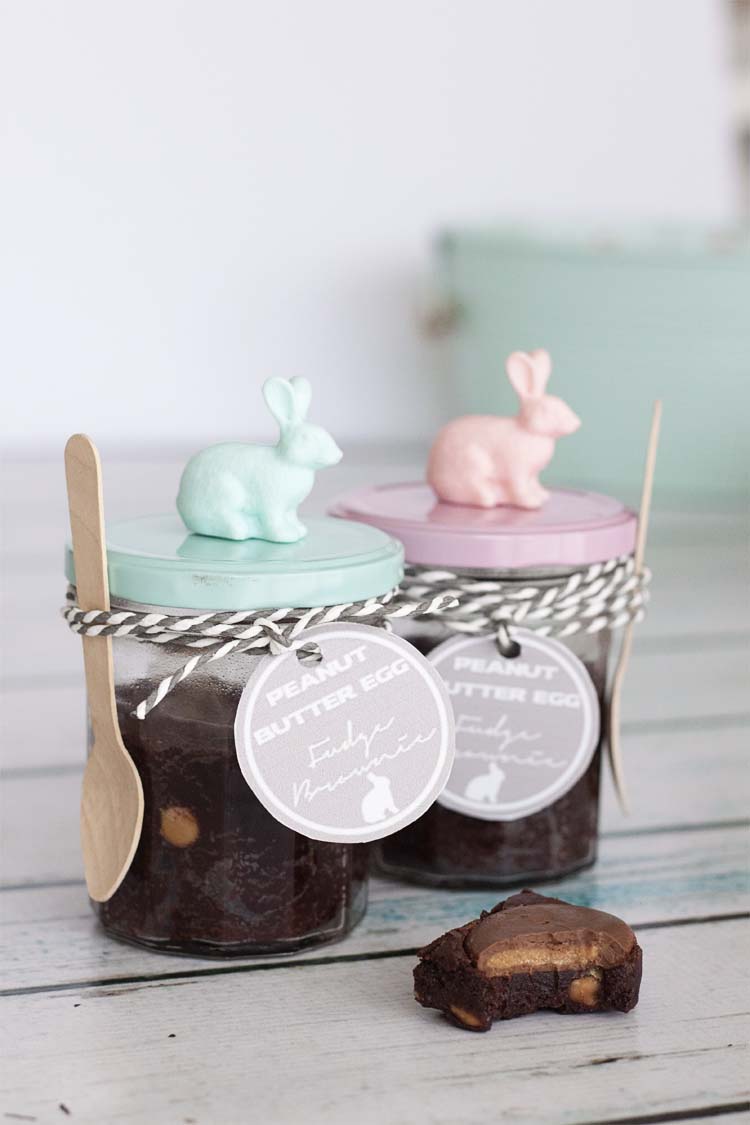 Pop on the cute little tag so they'll know exactly what brand of deliciousness they're getting.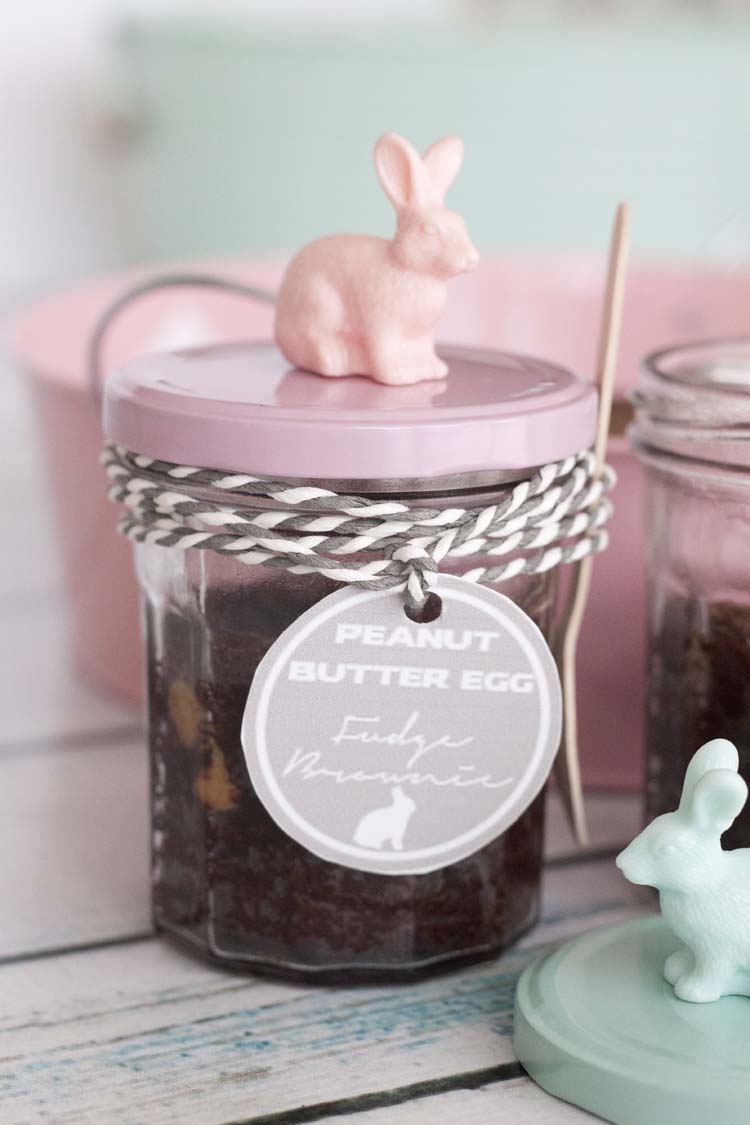 Mention that you've left a little room at the top for ice cream and all they have to do to enjoy it warm and fresh from the over is to place it in the microwave (minus the lid!) for about 15 or 20 seconds.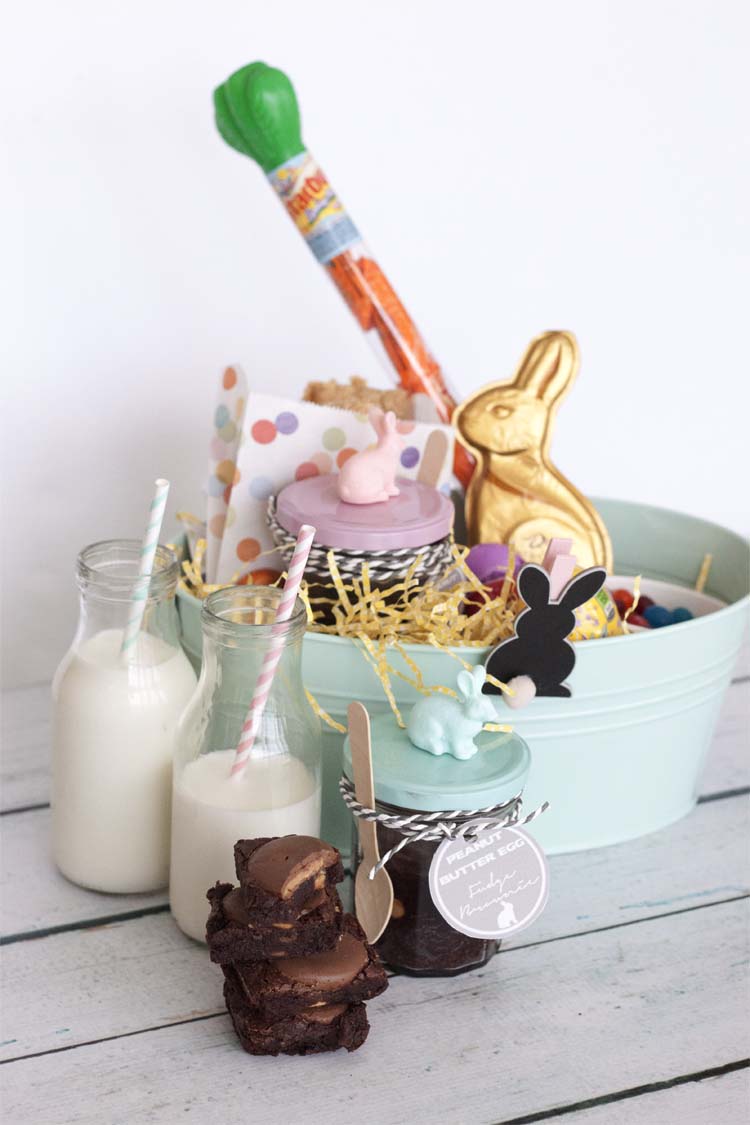 And just like that you're the best neighbor ever! If I were Mr. Rogers and I said, 'Won't you be my neighbor?'….what would you say? Happy Easter!