This shop has been compensated by Collective Bias, Inc. and its advertiser. All opinions are mine alone.#Disney #VillainDescendants #CollectiveBias

You already know that we're wild about Disney. And you're probably well aware of how much I love to throw a party. What you may not know is that I am a pretty keen on Disney villains as well. We were so excited for the premier of Disney's Descendants and today you're invited to our Disney's Descendants party where I'll show you how to throw a wonderfully villainous party that's sure to wow every guest on your list.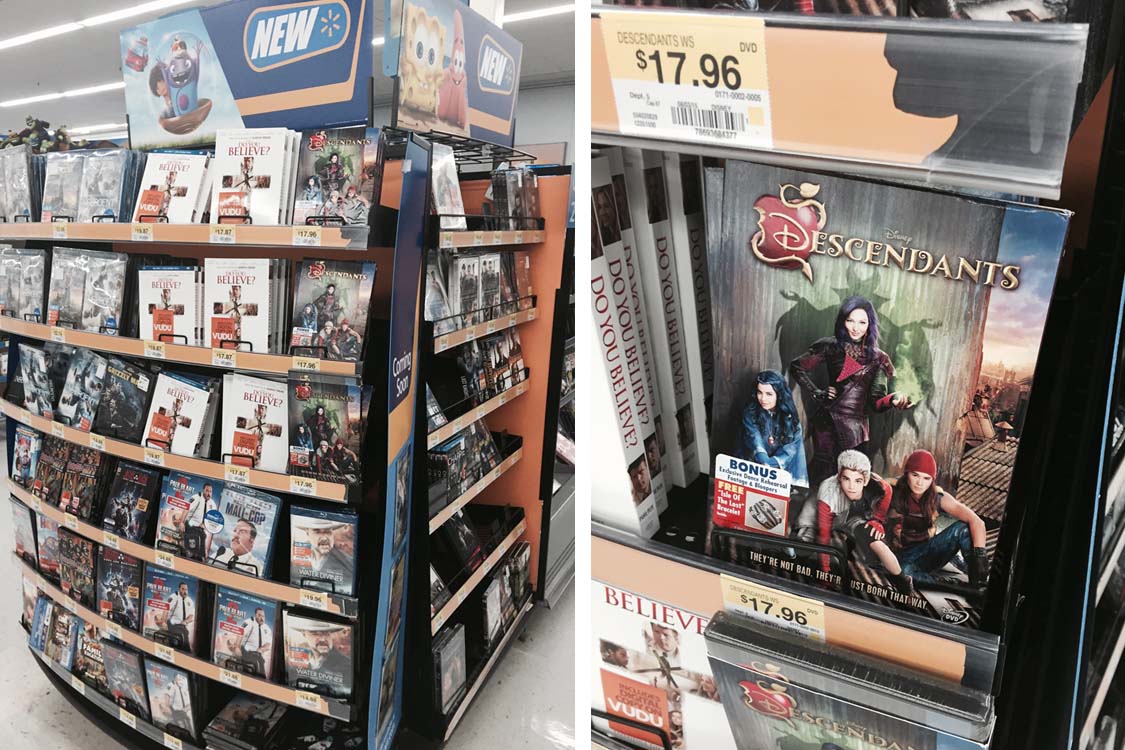 We might have been first in line at Walmart for the DVD's release on July 30th. Ok, so there wasn't a line but if there had been, we'd have been first. Ok. Ok. Ok. My kids were in school. I would have been first.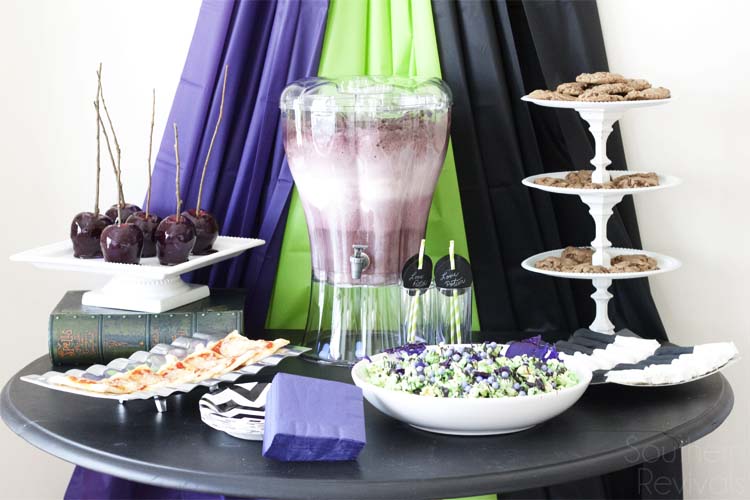 I think the reason I generally gravitate to the darker side is because it makes table setting and food themes so much more fun. The possibilities are endless, edgy and oh so much fun!
Evie's Enchanted Apples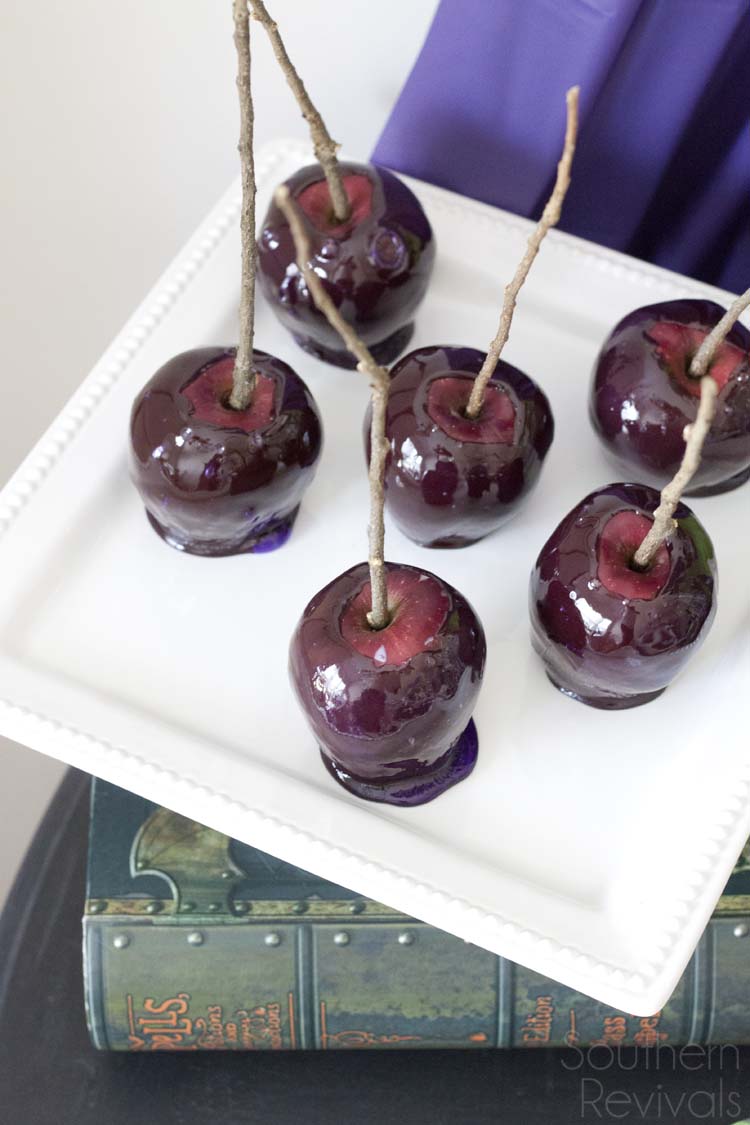 Any Disney villains party must start with apples.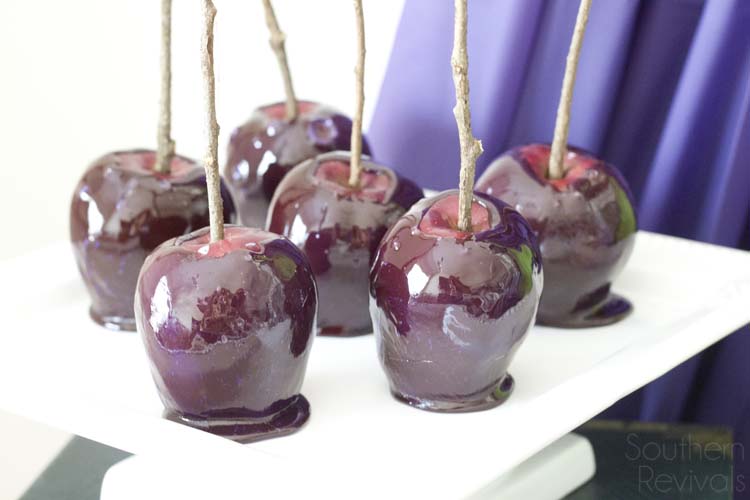 In this case, Evie's Enchanted Apples. These quirky candy apples aren't poisonous, mind you, they're just not your ordinary everyday apples.
Mischief Munch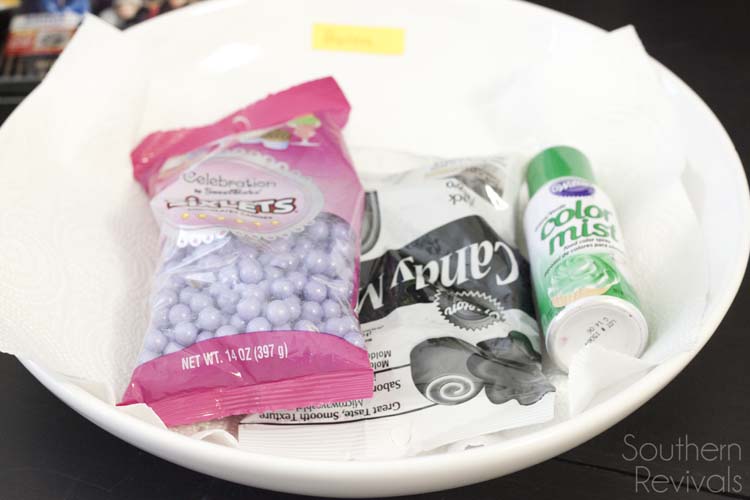 And popcorn is a must for any movie party but in this case plain or buttered just won't do.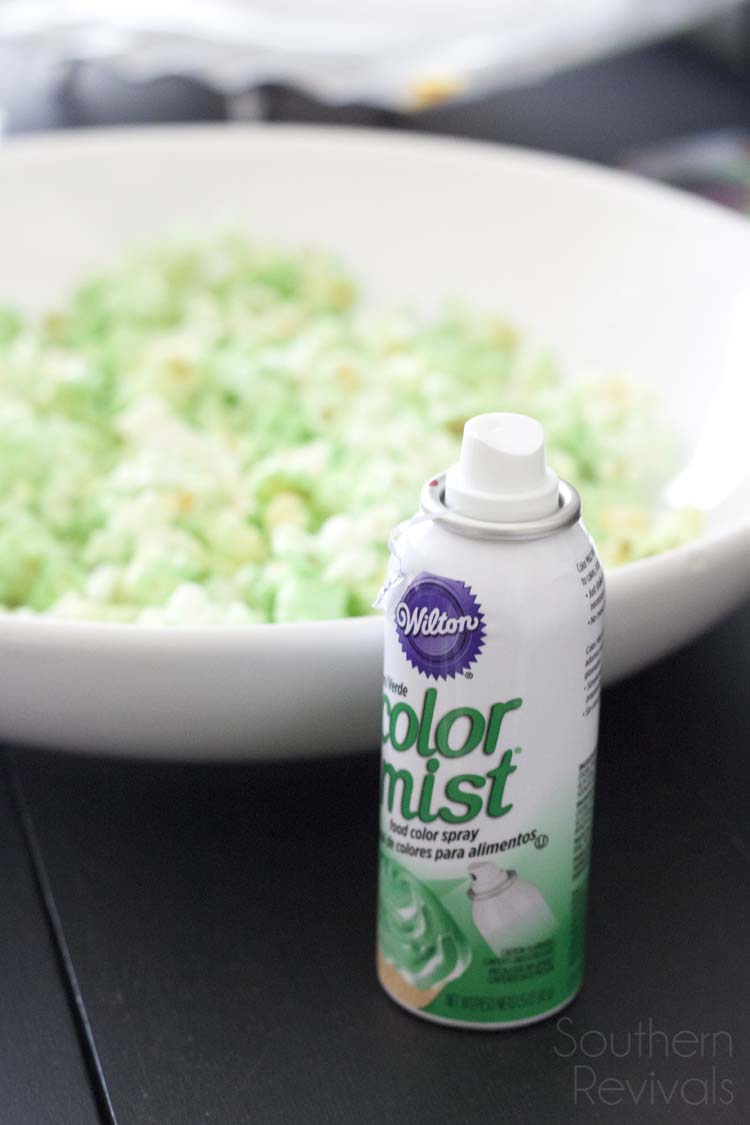 I started out by misting popped corn with green (edible) color mist.
Then I layered it with black candy coating drizzles and round purple candies found in the cake decorating section at Walmart. Remember my candy layered popcorn from our Avenger's Party? This is very similar and it is SO good!
I had extra candy from the apples and since I hate to let things go to waste…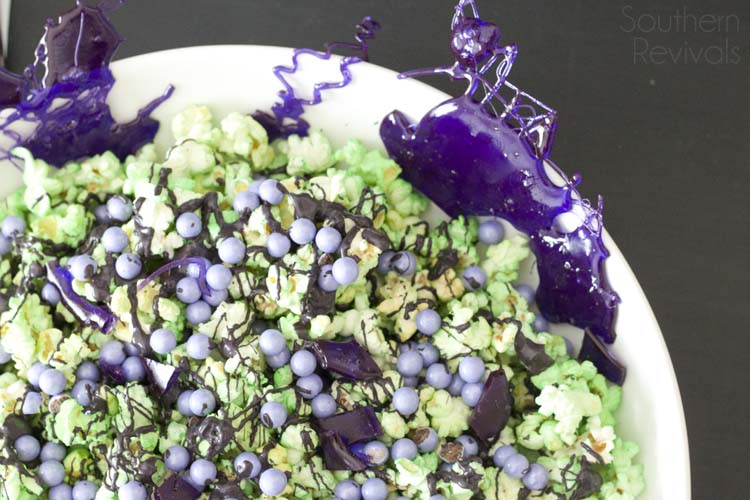 I allowed it to harden  on parchment paper and then used it to decorate our Mischief Munch.
Love Potion Punch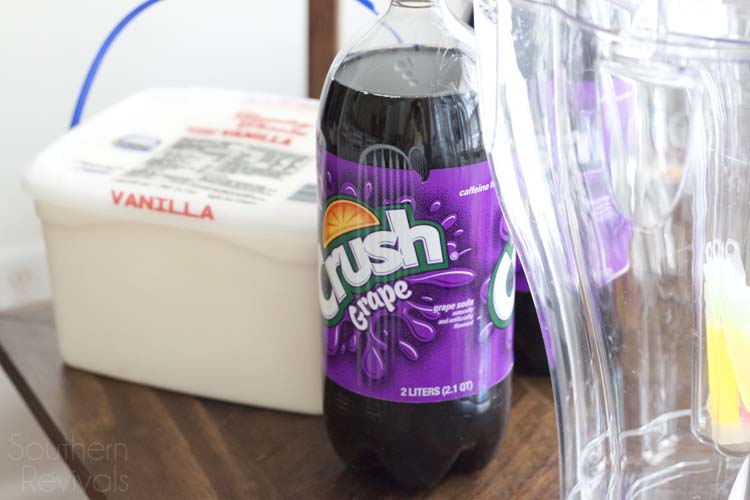 One of my favorite things to drink at a party is my quick and easy ice cream punch. You first saw it at our Minecraft party and it was a huge hit. I got so many emails about how-to make it. No one believed how simple it was.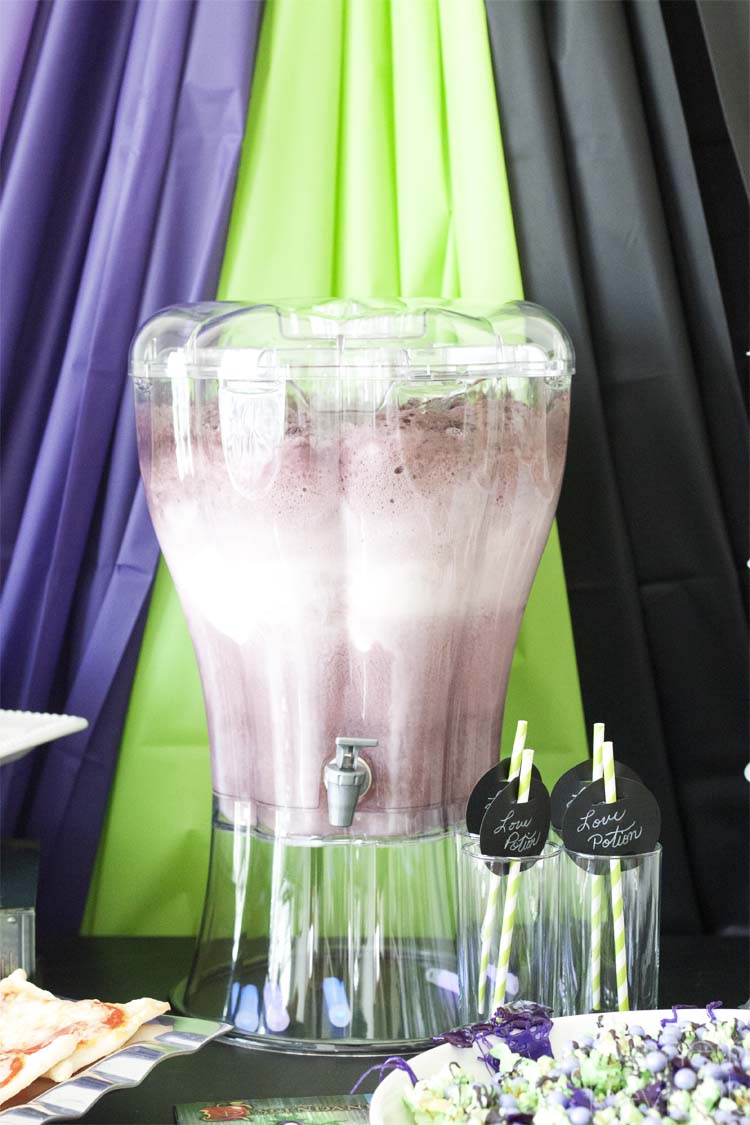 This one was just as easy! A gallon of vanilla ice cream and 2 2-liter grape sodas. Allow your ice cream to soften slightly. Add it in layers alternating with your soda and, BAM, you're done. Simple, delicious and worthy of being called Love Potion Punch.
Jay's Flying Carpet Pizzas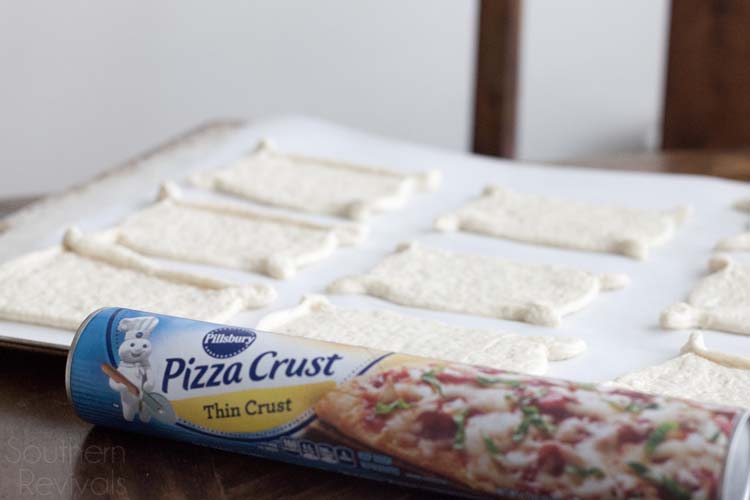 I don't think any party food is more fun than pizza. You can never go wrong with pizza, right? Especially when it's Flying Carpet Pizza!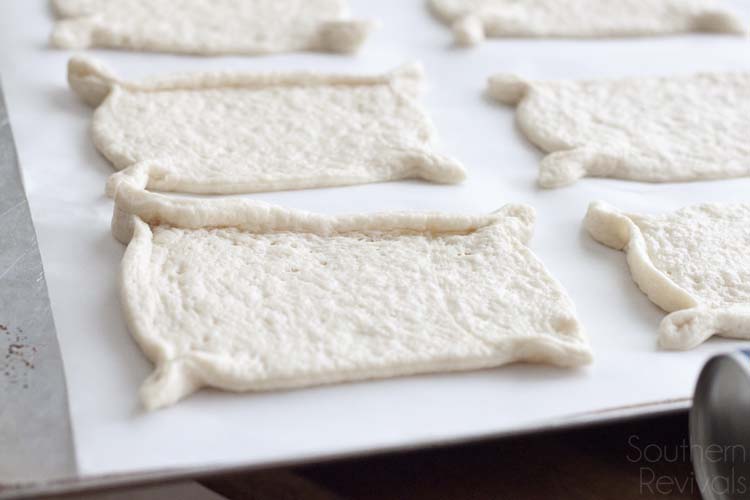 Simply roll out a thin crust pizza dough, cut into rectangles and pinch the edges to form tassels.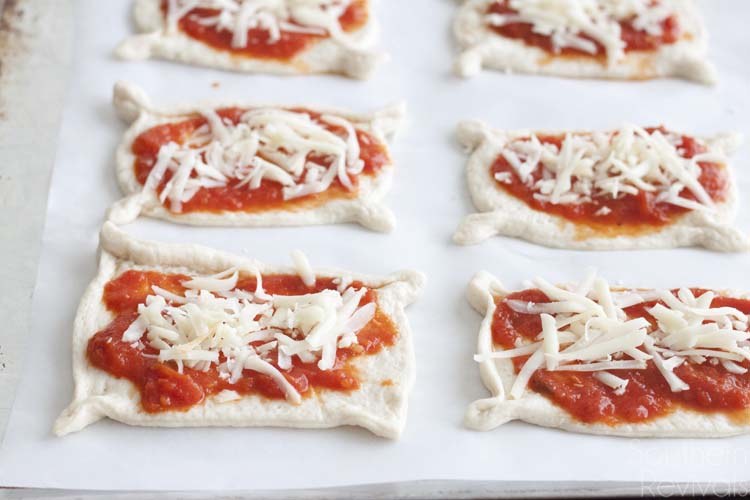 Top with your favorite toppings.
It would be great to get creative here, the more colorful the better, but my kids prefer cheese. So, cheese it is.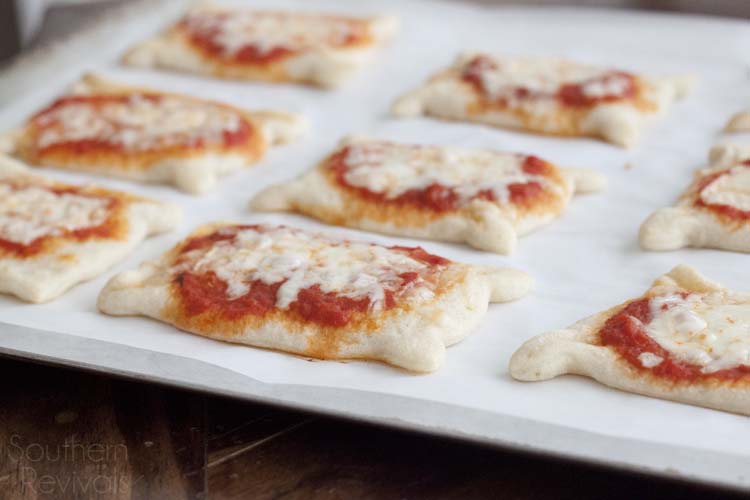 Bake according to package directions and you've got yourself some pretty adorable little Flying Carpet Pizzas. Jay would be proud.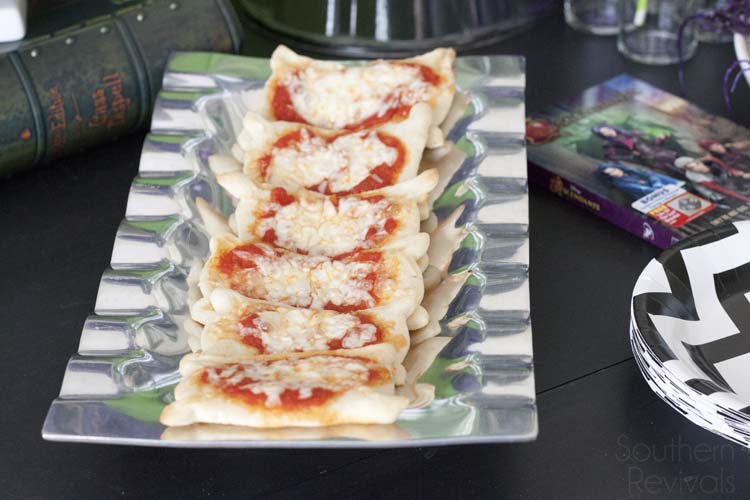 These might even impress Jafar!
Carlos' Sugar Cookies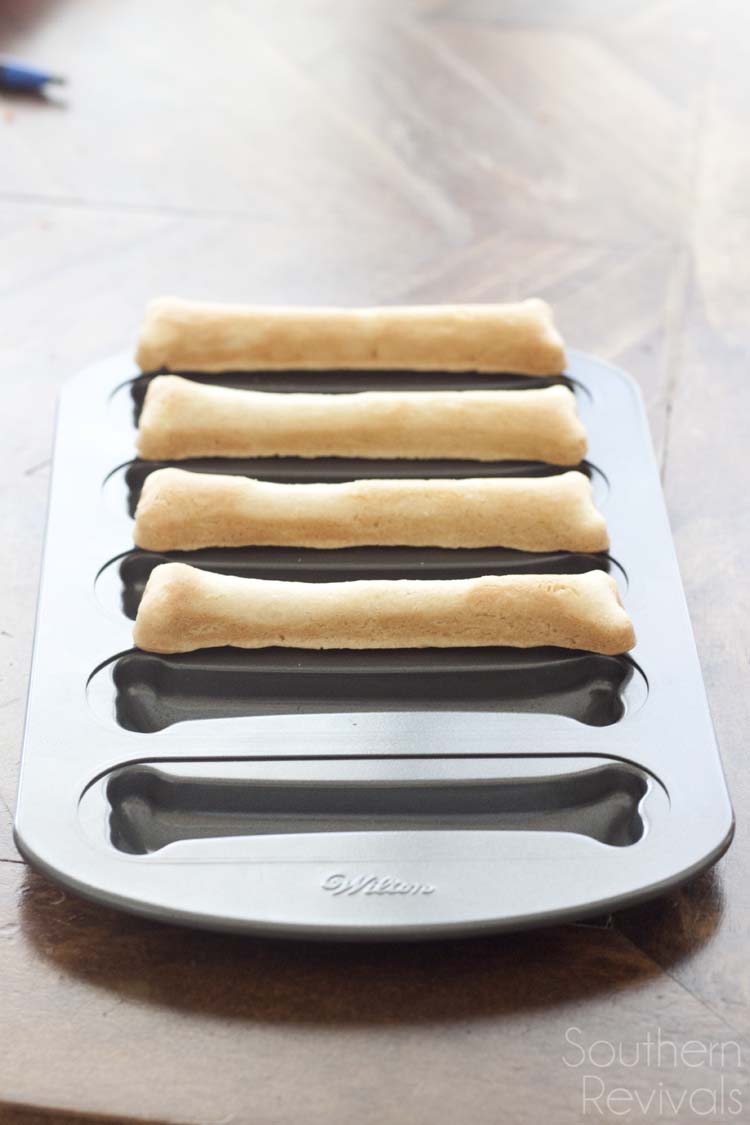 I have had this bone pan for FOREVER and have been dying for an excuse to use it. I finally found one!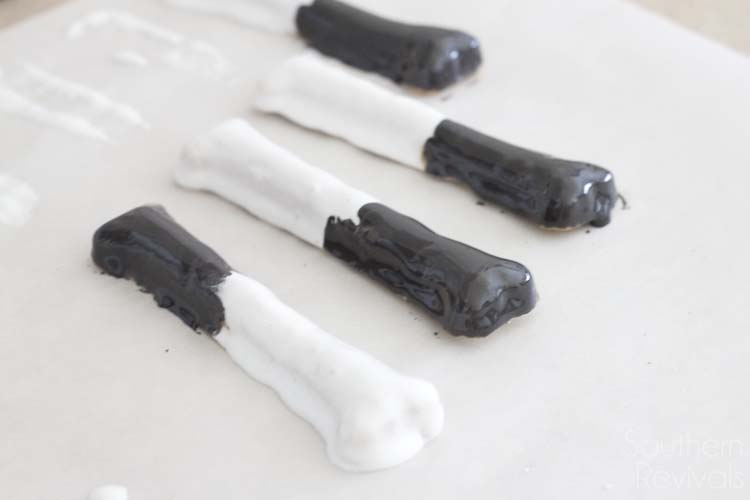 Carlos is no meanie like his mom so these sweet cookies, iced with royal icing, have a surprise almondy sweetness.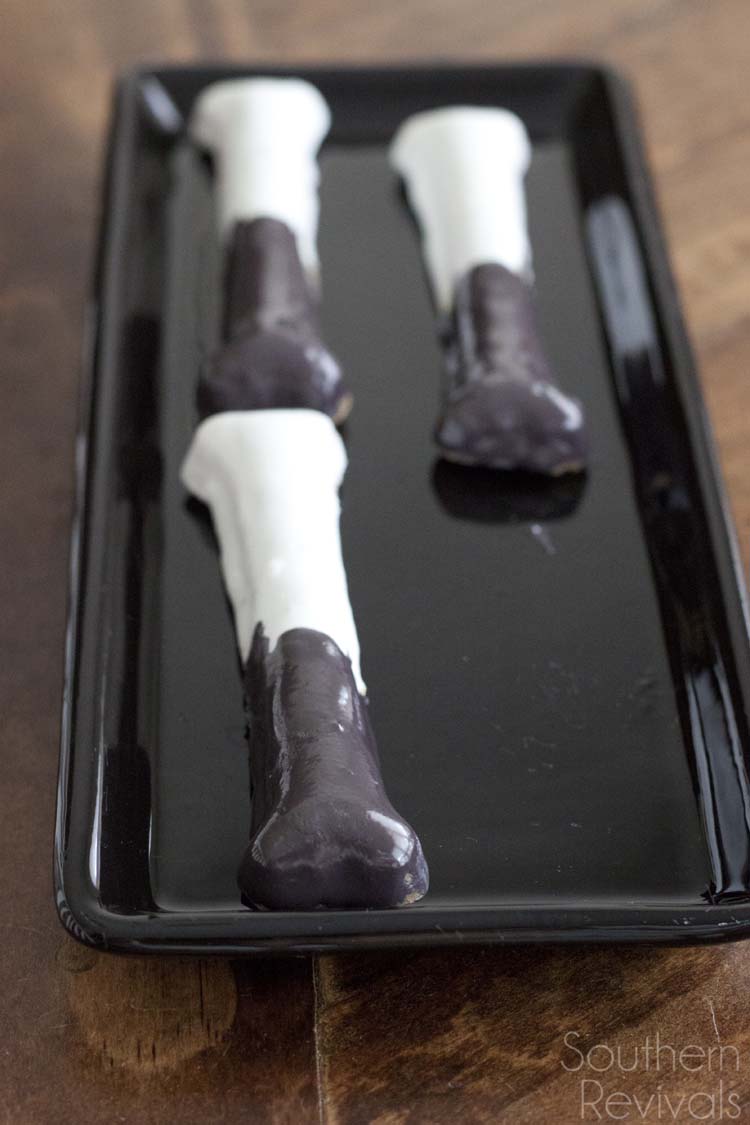 They are almost cute enough to make Cruella change her ways. Almost.
Mal's Walnut Chocolate Chip Cookies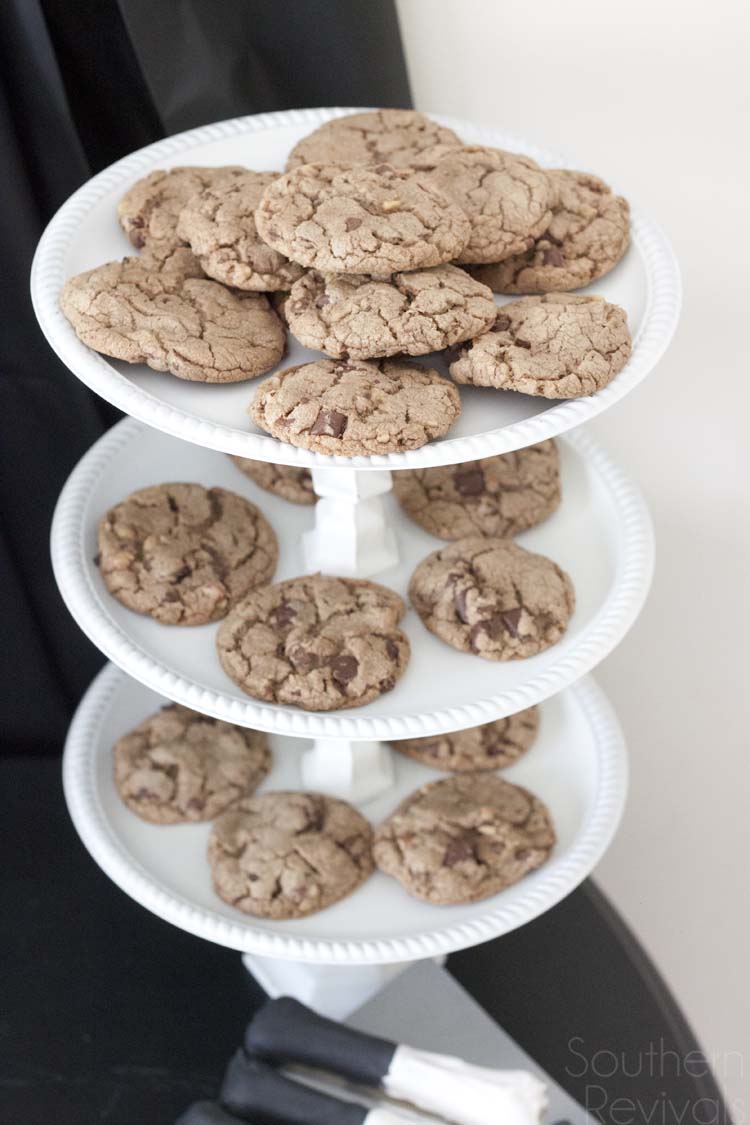 Everyone will fall in love with these. They're packed with milk chocolate chips, semi-sweet chunks and lots of walnuts. What's not to love?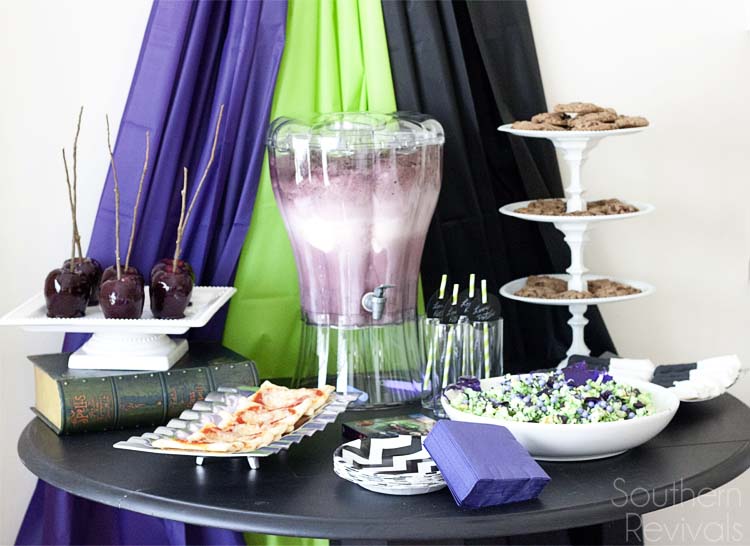 So whether you're hardcore Disney lovers like us or you're just looking for a really fun and unique way to celebrate Halloween this year, you can't go wrong with this party theme.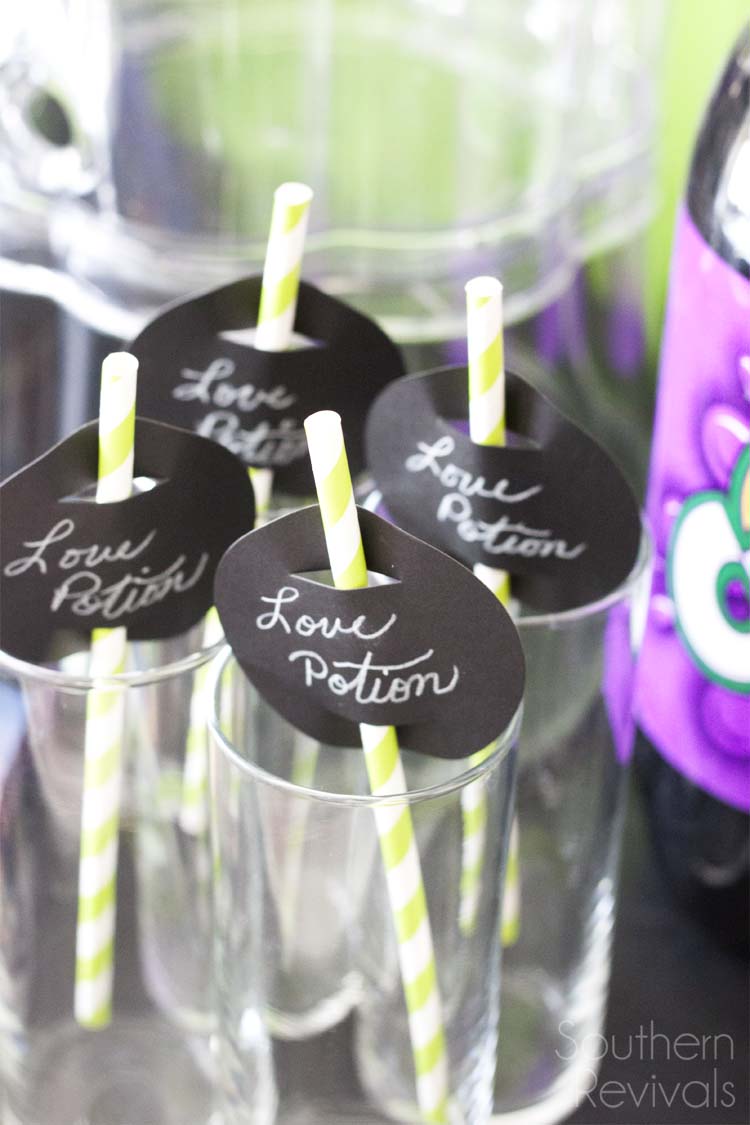 After all, who wouldn't love a party where you're served love potion.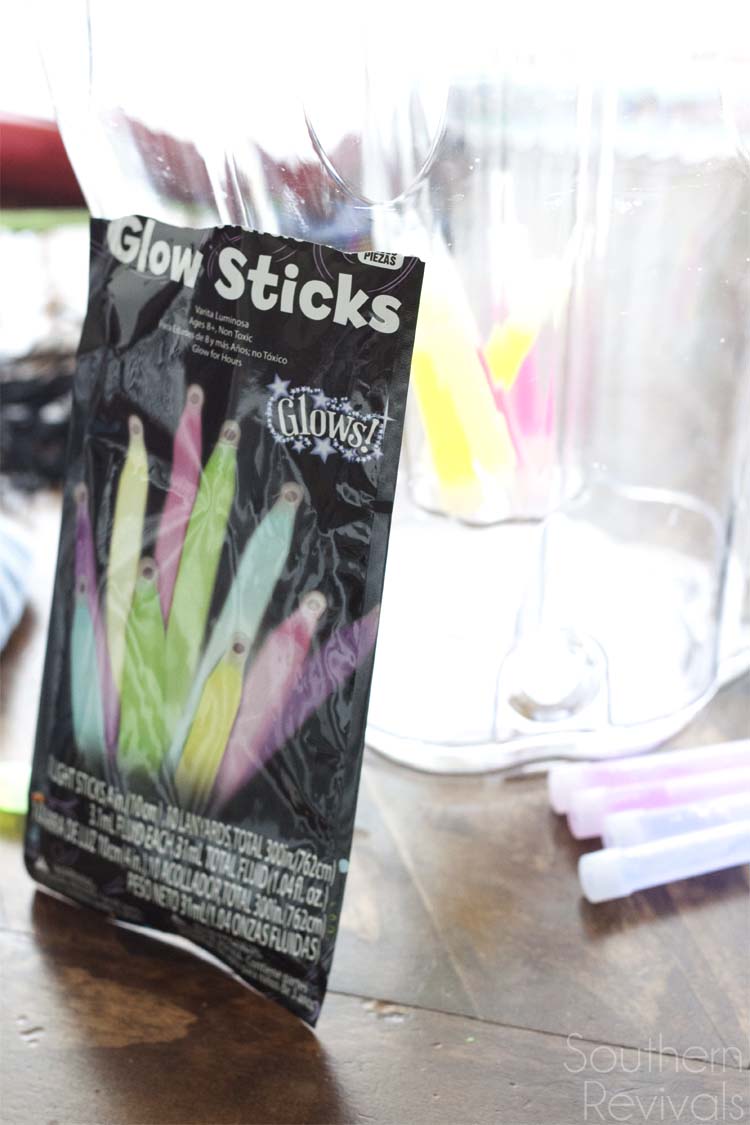 If you have a fun dispenser like mine, you can even throw in a few glow sticks inside the ice container. It goes down into the punch but keeps the ice (or the glow sticks!) from coming into contact and watering down your beverage.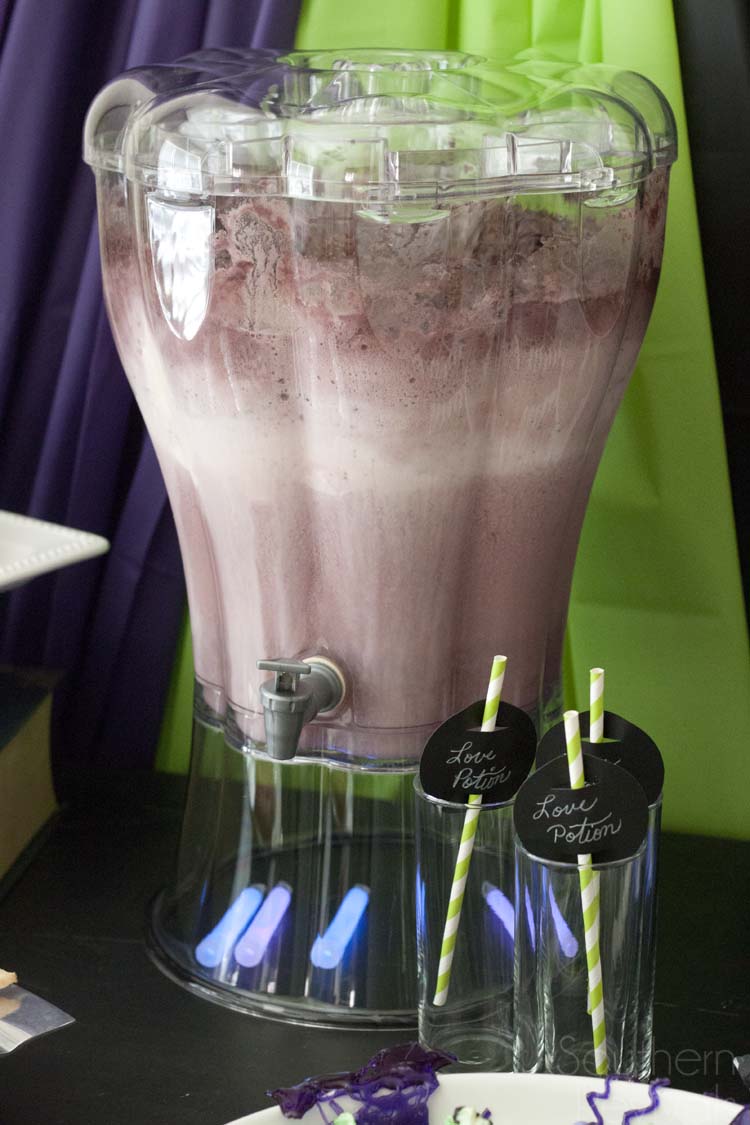 You can also toss a few under the base. It's an effect that doesn't pick up well on camera but is really fun in person!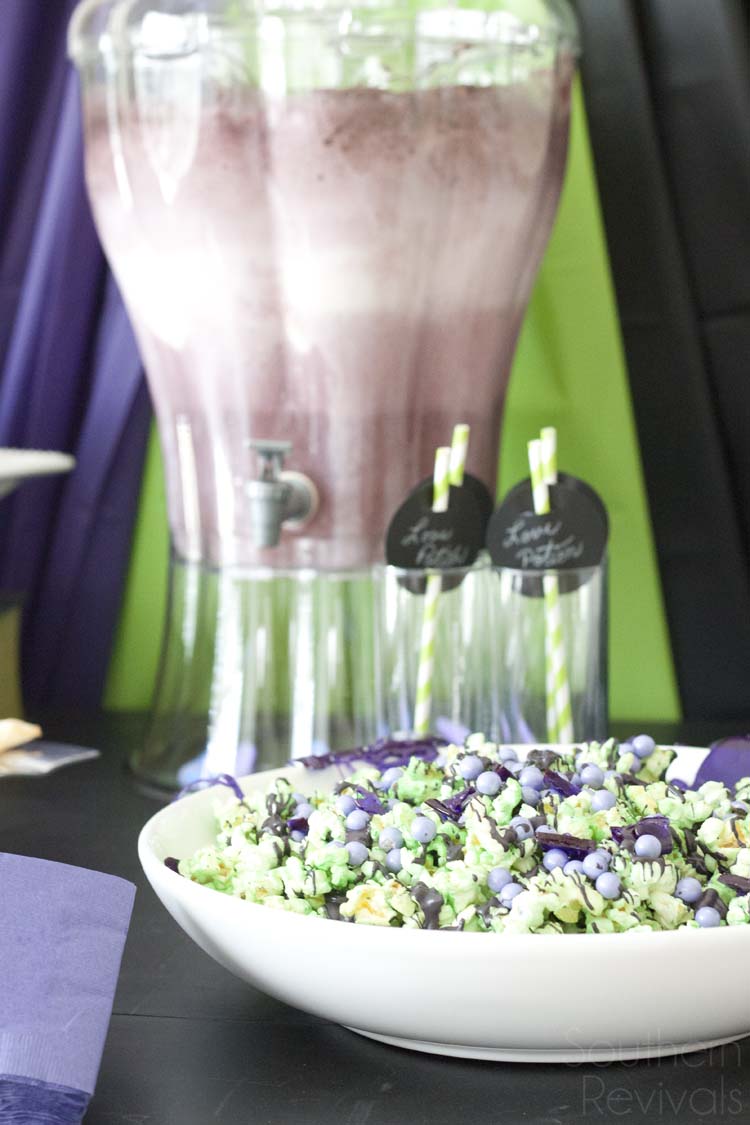 This is such a fun party to throw and attend that you really don't need any excuse to have one. But if you're Disney nuts or Halloween freaks like we are, even better.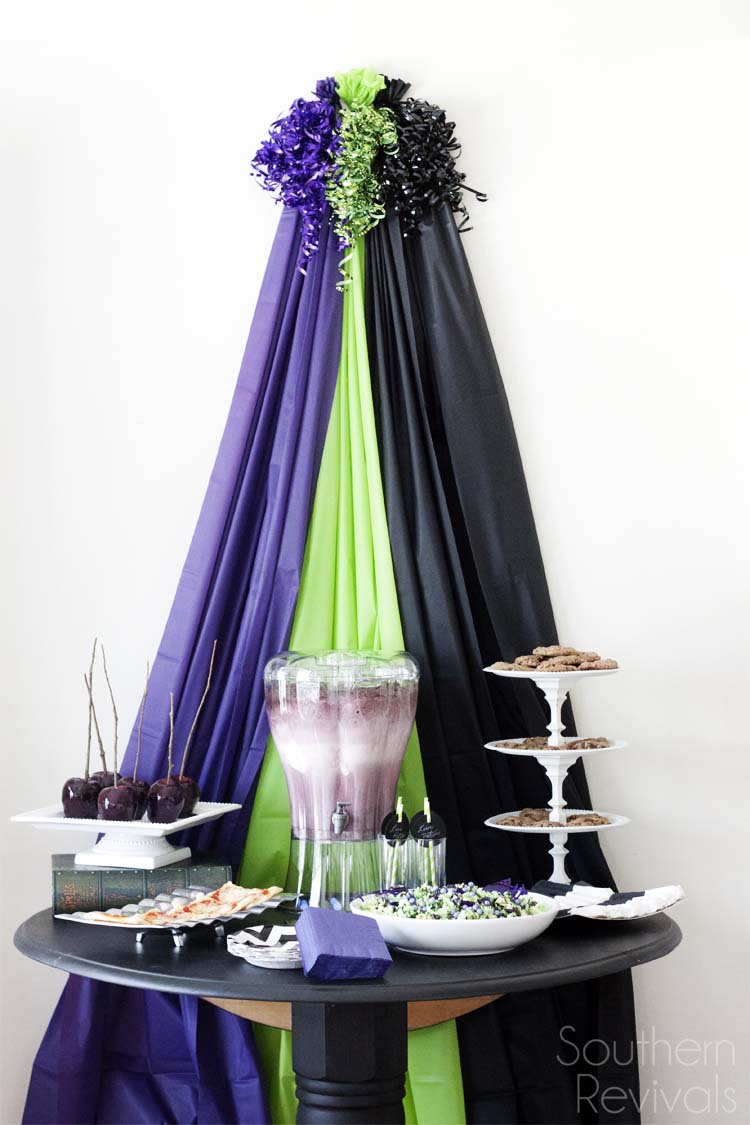 Are you more of a "good guy" Disney lover? I suppose everyone loves Cinderella, it's an underdog story after all. But then again, so is this one. You get all of the mischievousness without the evil. Now that's my kind of party! What about you?